Gareth Harle's Mac, iOS, and watchOS setup
October 10, 2016
Every week we post a new interview with someone about what software they use on their Mac, iPhone, or iPad. We do these interviews because not only are they fun, but a glimpse into what tools someone uses and how they use those tools can spark our imagination and give us an idea or insight into how we can do things better.
New setup interviews are posted every Monday; follow us on RSS or Twitter to stay up to date.
---
Who are you and what do you do?
My name is Gareth Harle, and I'm an ICT Network Manager for two secondary schools and one primary school in and around Doncaster, UK.
I manage and develop all aspects of ICT infrastructure and support services in these organisations. I'm also heavily involved with Microsoft Learning as a Microsoft Certified Trainer and MCT Regional Lead for the UK.
What is your current setup?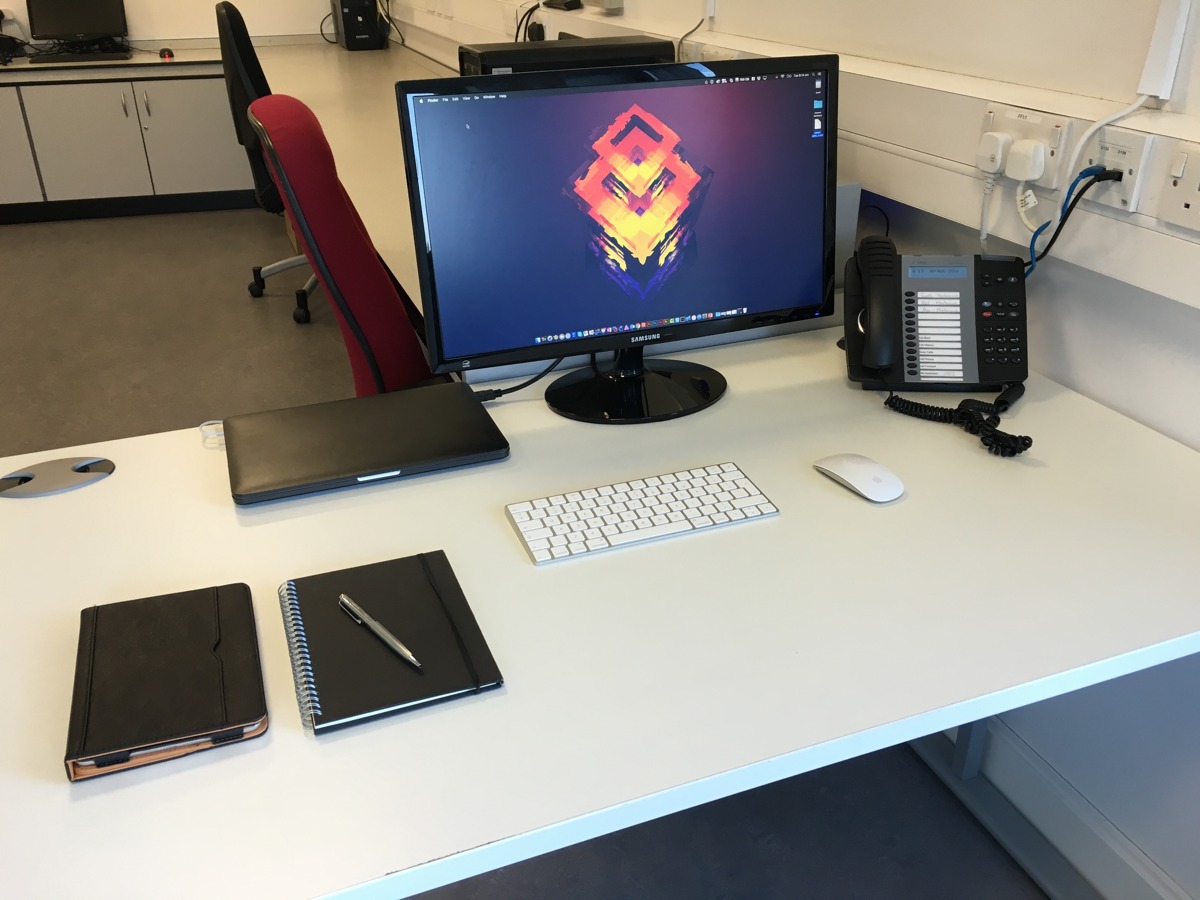 Because I need to move between offices all the time, I use my early 2015 MacBook Pro Retina 13-inch for everything. It has a 3.1Ghz Core i7 with 16GB RAM and a 1TB SSD. The MacBook Pro also has a neat 265GB SD Card that provides a bit of extra
storage.
At each of my workspaces, I have an external monitor and I always use the MacBook Pro with the lid closed using an Apple Magic Keyboard and Magic Mouse 2. Many people in my profession insist on multiple displays, but my minimalist nature means I do just fine with one.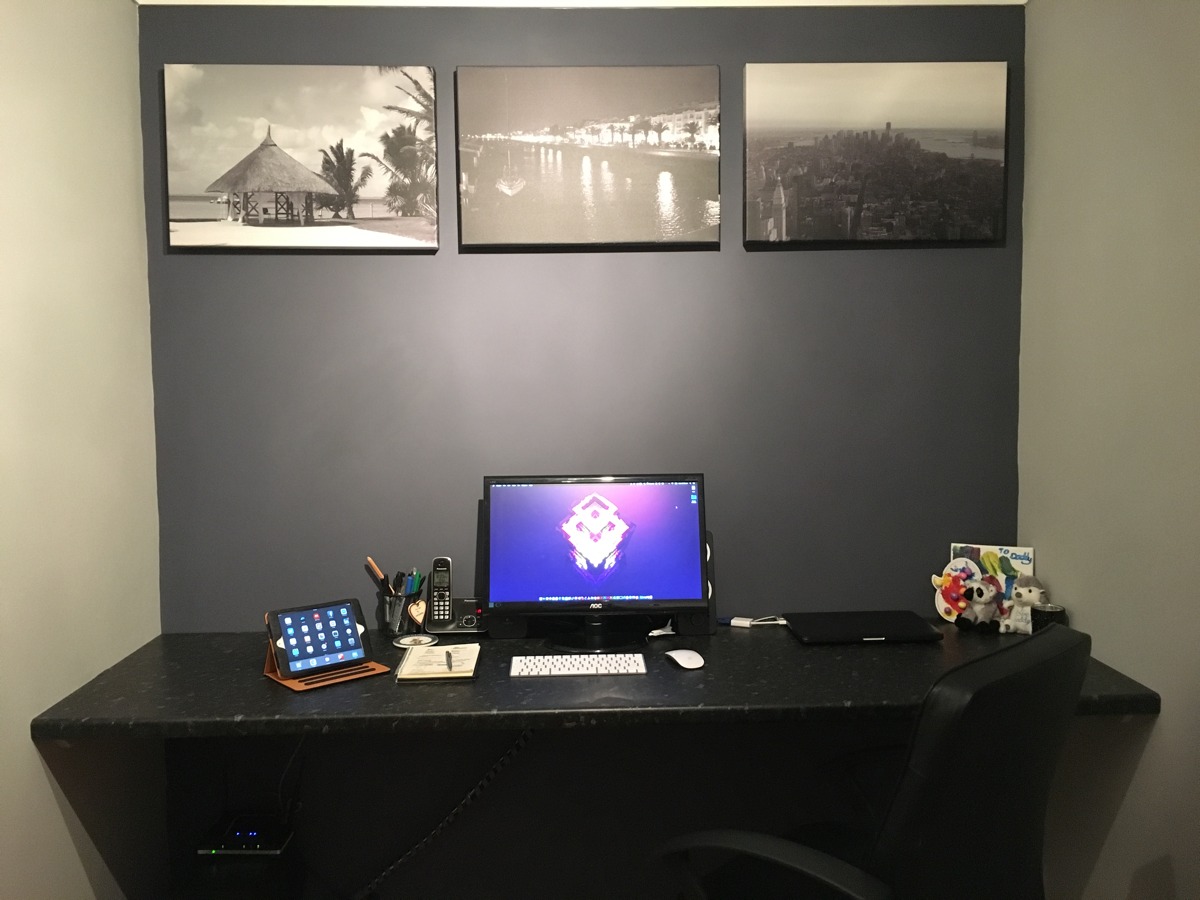 Where can we find your OS X wallpaper?
I'm honestly not sure where my current wallpaper came from originally, but you can find it here on my blog. I do change my wallpaper often so I lose track.
What software do you use and for what do you use it?
I use Microsoft Remote Desktop to connect to my mainly Windows work environment.
I also use VMWare Fusion often for any local Windows work that I need to do.
All three schools utilise Microsoft Office heavily, so that's a key part of my software. I also like to make my systems look pretty to users, so I have the Adobe Creative Cloud suite for graphics and documents.
My tasks and projects are managed by Things, and I love MindNode. I'm quite a visual person, so I use MindNote a lot in project planning or taking study notes.
vSSH is useful for SSH and Telnet connections to switches.
Skype is the communication method of choice for my team, and we use 1Password for Teams for sharing credentials.
I'm looking into learning a bit of Swift and Web Development, so I also currently have Xcode and MAMP installed too.
All my files are held in Google Drive and I use Google Chrome for web browsing. I know people say it's a memory hog, but the bookmark sync and plugins make it worth it.
How would your ideal setup look and function?
Not too far from what I have. I love my MacBook Pro and it does everything I need. I think if money was no object, I'd love some high resolution displays. I do miss the Retina quality when using external displays over the built-in MacBook Pro display.
---
What iPhone do you have?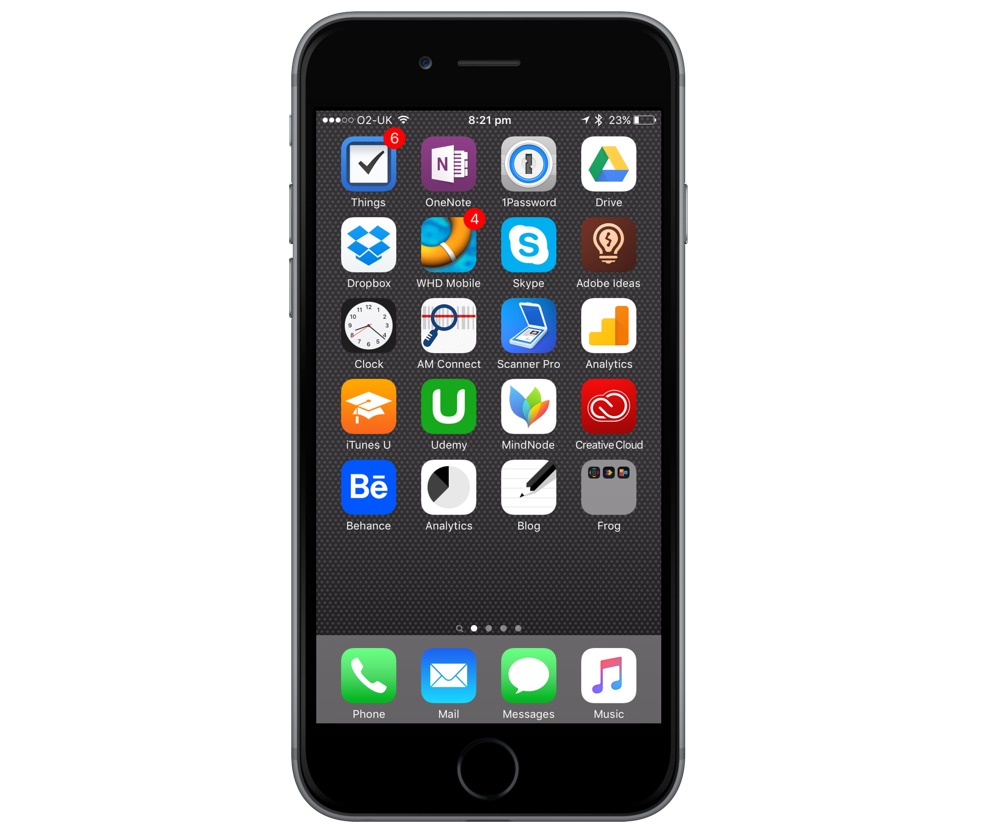 I currently use an iPhone 6S 16GB.
Where can we find your wallpaper online?
It's the default grey dots wallpaper from Apple.
What apps do you use the most, and why?
I use Things a lot as it syncs my tasks and projects.
OneNote is useful for jotting notes down on the go.
Skype is my team's communication method of choice, so that is used quite often.
I use Overcast for podcasts on my daily commute, which can be anything from 10 to 50 minutes each way. I love the TWiT network for technical podcasts. Windows Weekly and MacBreak Weekly are a must for any Windows and/or Mac geek.
All my data is in Google Drive, so having that synced up to my phone is really useful, and using Chrome on iPhone means my bookmarks are always in sync.
I was an early adopter of the Apple Watch and find that having some key apps on my wrist has become really useful. Things has a nice watchOS app as does OneNote and MindNode. I'm looking forward to the software advances in watchOS 3 to really make the watch more reliable and speedy.
Which app could you not live without?
Things — it has my life in it, personal and professional.
---
Which iPad do you have?
I use an iPad Mini 2 16GB.
Where can we find your wallpaper online?
It's the built-in grey dots wallpaper from Apple.
How are you using your iPad on a daily basis?
My iPad comes around with me when I'm on-site but out of the office. I still like to use a pen and notebook for taking notes, but having Things, MindNode, PDF Expert, OneNote and email to hand is something I couldn't now do without. I'm also a keen drummer, so I have my drumming apps, KR Player, Groove Freedom, and the Rhythm Magazine app.
What apps do you use the most, and why?
Which app could you not live without?
Again, it would have to be Things. Without it, I couldn't keep track of anything. I'd be a disorganised mess.
---
Which Apple Watch do you have?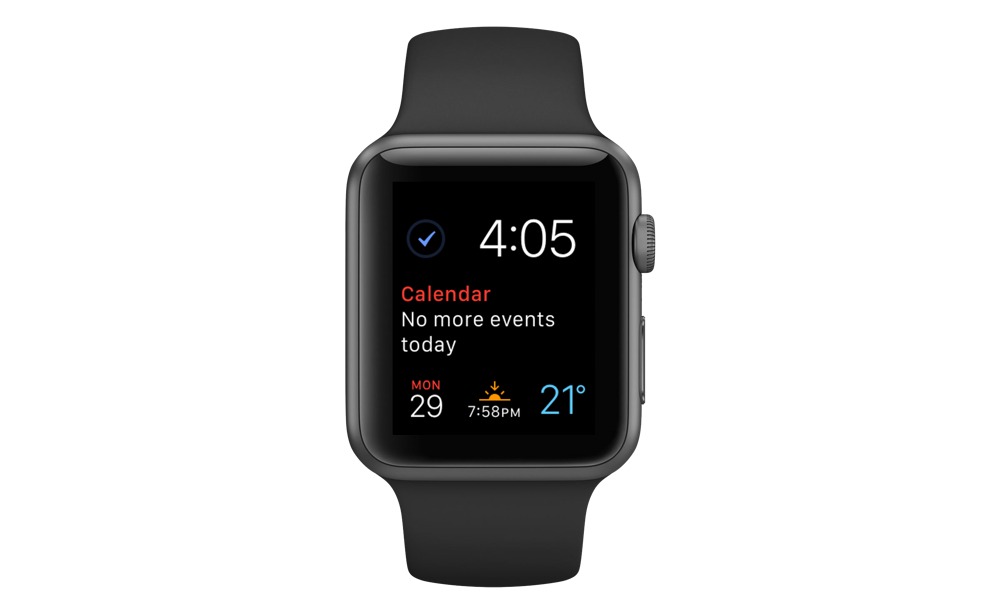 I own an Apple Watch Sport 38mm in Space Grey.
Which Watch face are you using?
I use the multicolour modular watch face with Things, Calendar, Date, Sunrise and Temperature complications.
How are you using your Apple Watch on a daily basis?
The watch is mainly used for notifications. I use it to notify me of new email coming into my work account. The Things watch app is useful to check my progress towards my daily task lists throughout the day, and the glances view it provides gives me a weekly summary of my completed tasks.
I don't really use any of the health features.
What apps do you use the most, and why?
The Things app is really useful to have on my wrist, and the built-in email app is great.
I also use the built-in alam as my daily alarm clock as the watch charges next to my bed. And let's not forget the clock! Yes, people sometimes forget that it's a really nice watch.
I often plug my iPhone into my car for music while I drive, and having the music controls on my wrist has also been really useful. Siri is great at taking music commands, too.
---
There are more Sweet Setup interviews right here.
Want to share your setup? We'd love to hear from you. Just fill out this form with some basic information and we'll be in touch.
---
Free Productivity Guide: Download our simple guide to productivity to help you improve your workflows and be more focused with your time and attention. Get it here.