Francesco D'Alessio's Mac and iPhone setup
June 26, 2017
Every week we post a new interview with someone about what software they use on their Mac, iPhone, or iPad. We do these interviews because not only are they fun, but a glimpse into what tools someone uses and how they use those tools can spark our imagination and give us an idea or insight into how we can do things better.
New setup interviews are posted every Monday; follow us on RSS or Twitter to stay up to date.
---
Who are you and what do you do?
My name is Francesco D'Alessio, and I am a freelancer currently working with a handful technology startups. I'm based remotely in the South West of the UK in a city called Plymouth.
I'm a massive fan of productivity apps and resources, reviewing them on my YouTube channel.
What is your current setup?
I have a mid-2016 MacBook Air with 8GB RAM and a 128 SSD. This is my daily driver. I don't have any plugins to this resource — no monitors and mouses to distract me. My paper setup is also simple: a Baron Fig Confidant 2 notebook combined with an orange Rhodia squared pad. I also have an Amazon Echo on my desk that helps me connect to other services like Todoist, Newton, and other useful apps.
On my home desk I have some Phieffer Evernote pencil pots, which are very handy for the few pencils I have.
Where can we find your macOS wallpaper?
My wallpaper changes every 2-3 days. I download all wallpapers from a site called unsplash.com.
Sometimes I'll include a personal photos I've taken on my iPhone — it just depends.
What software do you use and for what do you use it?
Software is the biggest thing in my setup.
I have a host of software on my MacBook, iPhone, and Echo that are useful for work. I have a lot of software that isn't used on a regular basis, due to working on reviews.
How would your ideal setup look and function?
I think my ideal setup is always current in that whatever I'm using now is where I want to be. There's no ideal setup for me, and I'm pretty flexible, which makes my current setup perfect. I used to have a Chromebook which was a massively slow device against the MacBook, so I'm very appreciative of the move to the Mac. Moving into a new house would bring the opportunity to create an office, but we'll see.
I tend to work from coffee shops in Devon, so having a larger setup isn't practical right now.
---
What iPhone do you have?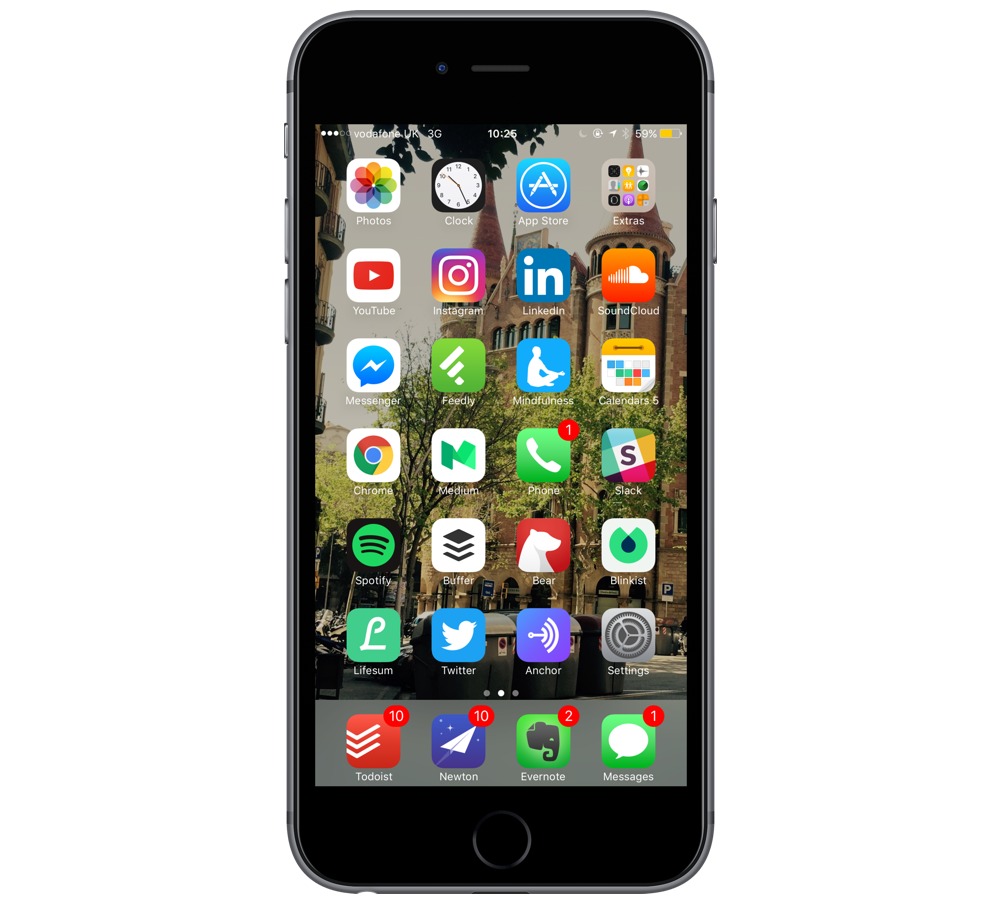 I currently have an iPhone 6 Plus in Space Gray with 128GB of storage. I managed to chat with my Dad when he upgraded and convinced him to pass this one down. I tend to only replace my phone every 1-2 years, dependent on whether I need to.
Where can we find your wallpaper online?
Again, this changes. I use unsplash.com to get new iPhone backgrounds.
What apps do you use the most, and why?
Apps on my smartphone are a riot. My first page is the most organized page.
These are all great applications for their specific uses. I have about 50-100 other apps untouched all for YouTube reviewing — it's mad!
Which app could you not live without?
Todoist. It's available on all devices, too! This task manager is the best thing since sliced bread. It's flexible and perfect for all those looking to collect things that need to get done across your day.
---
There are more Sweet Setup interviews right here.
Want to share your setup? We'd love to hear from you. Just fill out this form with some basic information and we'll be in touch.
---
Wait. There's a Bonus….
Custom Productivity Templates
We have a set of custom productivity templates that work well with the iPad app, GoodNotes. And if you want to try them out, we've put together a free guide that can help you.
We'll show you…
How to create and save custom page templates in GoodNotes.
How to use those page templates to transform GoodNotes into your own productivity notebook (or any other type of notebook replacement).
Plus, we also have included a couple of our custom productivity templates for you to get started with. These templates are right out of our popular productivity course.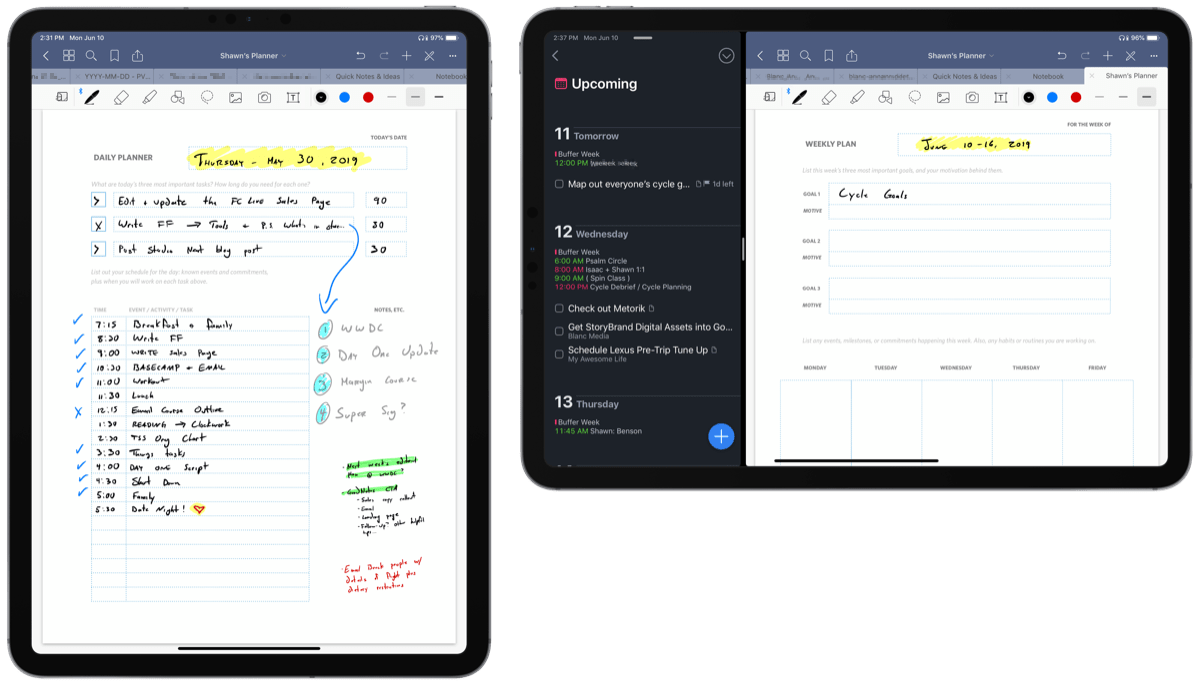 The custom templates and the guide are available for FREE to our email subscriber community. And you can get it right now. By joining the Sweet Setup community you'll also get access to our other guides, early previews to big new reviews and workflow articles we are working on, weekly roundups of our best content, and more.