First Impressions of the Canon EOS R
February 25, 2020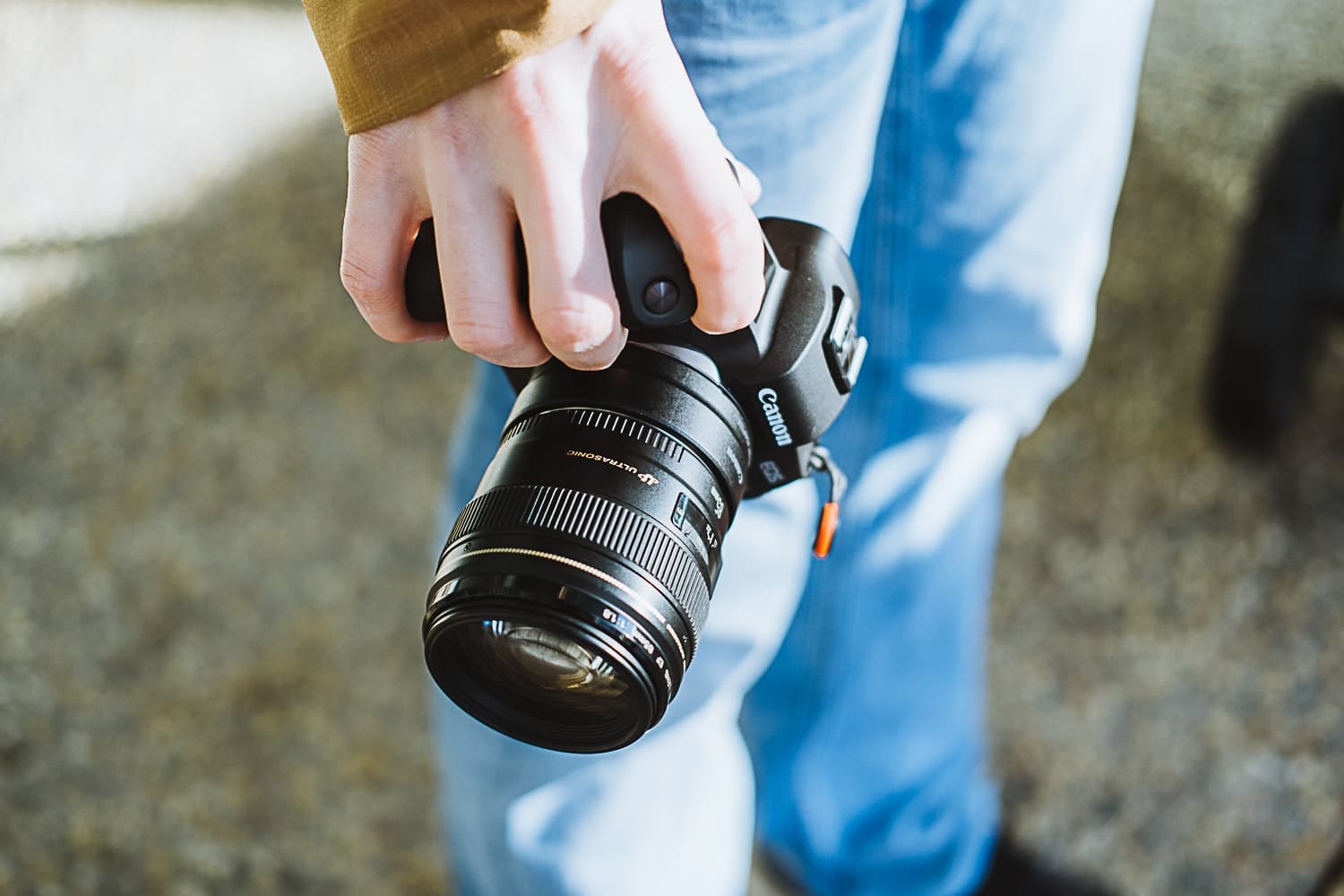 A vast swath of the photography here on The Sweet Setup has been produced with a very simple setup: A FujiFilm X-T2, one of the 23mm and 35mm ƒ/2 "Fujicron" lenses, and some cheap Cactus RF60 strobes. It's an inexpensive and simple setup that has met the needs of online publishing for the last couple years.
A few new opportunities have arisen recently, offering up an equally exciting opportunity to reassess my camera kit. Now, I have friends — knowledgeable friends, very wise friends — who have made it clear I have very little rational reason to make any changes. But want is a pretty significant factor, specifically when it comes to photography kit.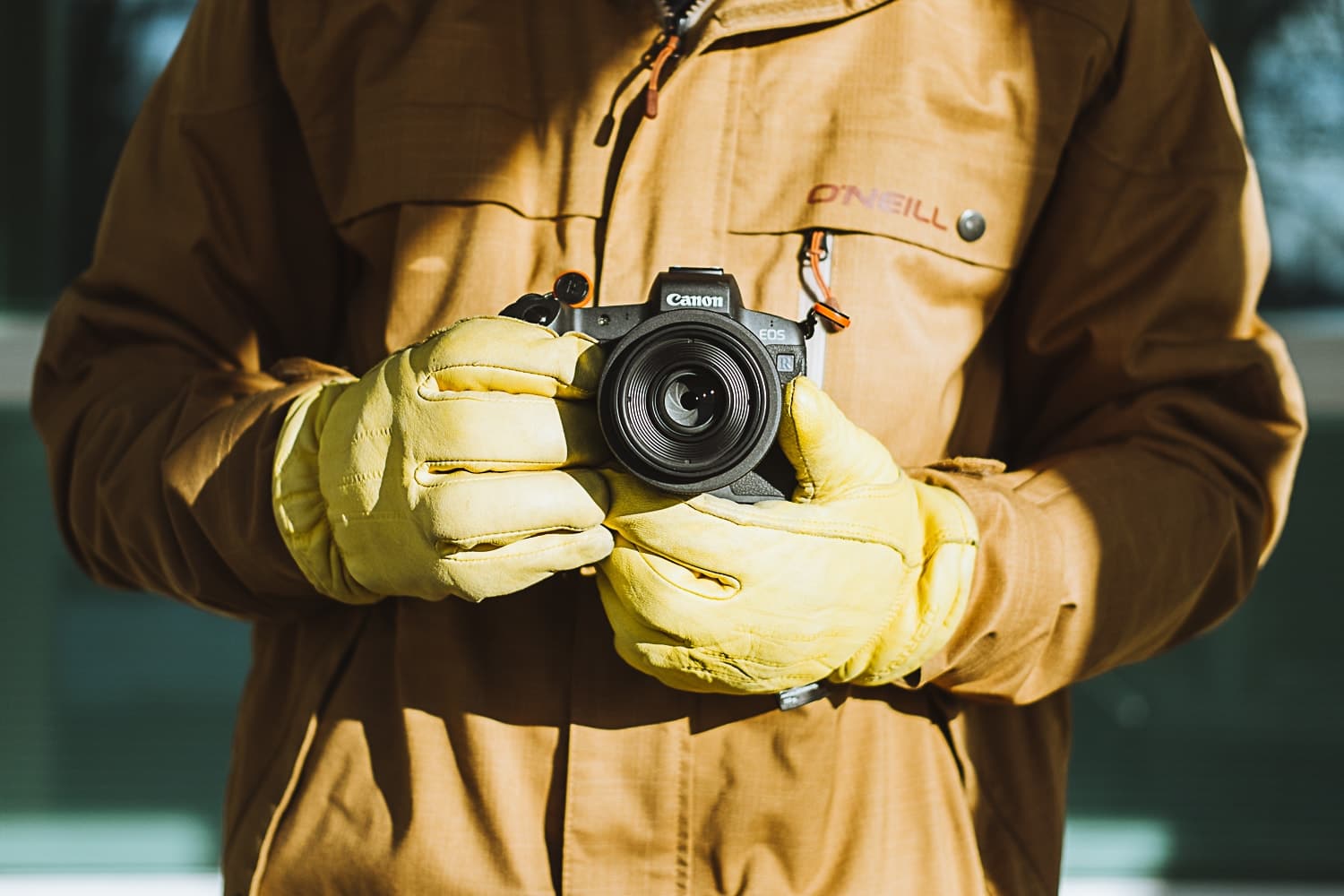 So shortly after Christmas, I took advantage of the worldwide sales on Canon's first serious mirrorless camera, the EOS R.
The EOS R is a 30MP full-frame mirrorless camera sporting Canon's new RF mount. It debuted in 2018 to little fanfare, as the camera's spec sheet and certain design decisions had original reviewers and owners raising their eyebrows, especially at the original selling price. A few firmware updates and a significant price drop made the EOS R an intriguing camera, if but a promise of what's to come from Canon.1
It has become very clear to me why Canon has been the leader for so many years in the digital photography world. Canon does things its own way — coining continuous AF as "Servo AF" or shutter priority mode as "Tv" mode (raises eyebrow) — but once you get past the intricacies, there's a lot of user-friendly features under the hood with output that makes me smile everytime.
After spending the better part of a month with the EOS R and the RF 35mm ƒ/1.8 IS STM Macro lens, I have some impressions on what it's like to move from 2016 camera technology to 2018 camera technology, as well as some thoughts on the significant mindset change when flipping from the Fuji X-T2 to the EOS R.
Shooting Mode Mindset
Something that has made the Fujifilm X-Tx line so unique has been its array of dials, knobs, and buttons for physically changing camera settings on the fly. There's basically a knob or dial for everything: ISO, shutter speed, aperture (on the lens), metering mode, drive mode, and more. There are so many physical buttons and dials on the X-T2 that I've actually never used a bunch of them.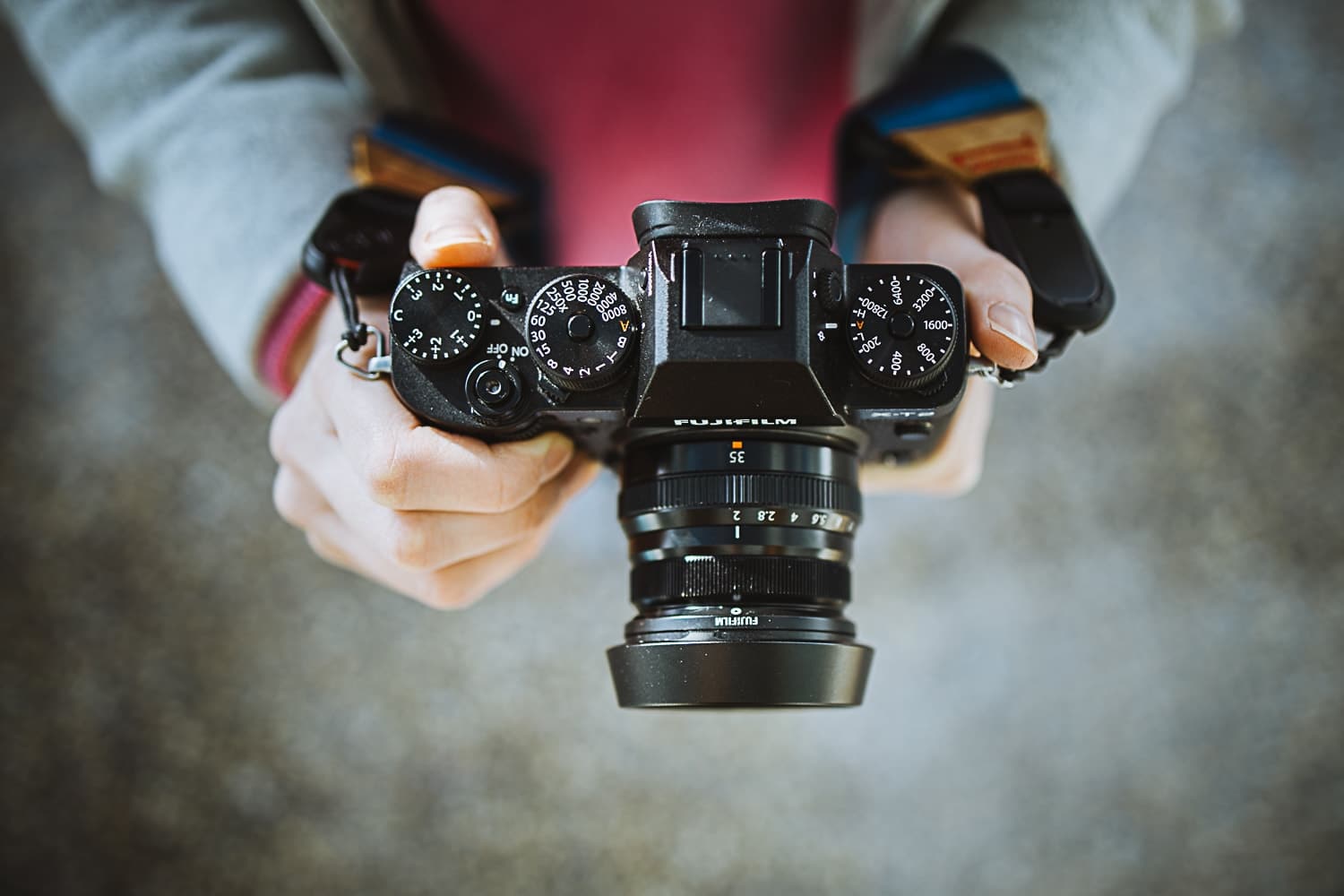 Having the main three photographic settings glued to a physical dial is one of the biggest changes I've experienced when moving to the EOS R. On the X-T2, there really isn't a "shutter priority," "aperture priority," or "auto" mode to be had. Instead, you swing the dial to A for any one of the settings you want automatically chosen by the camera. Full auto requires all three dials to be set to A, aperture priority requires shutter speed and ISO to be set to A, and so on.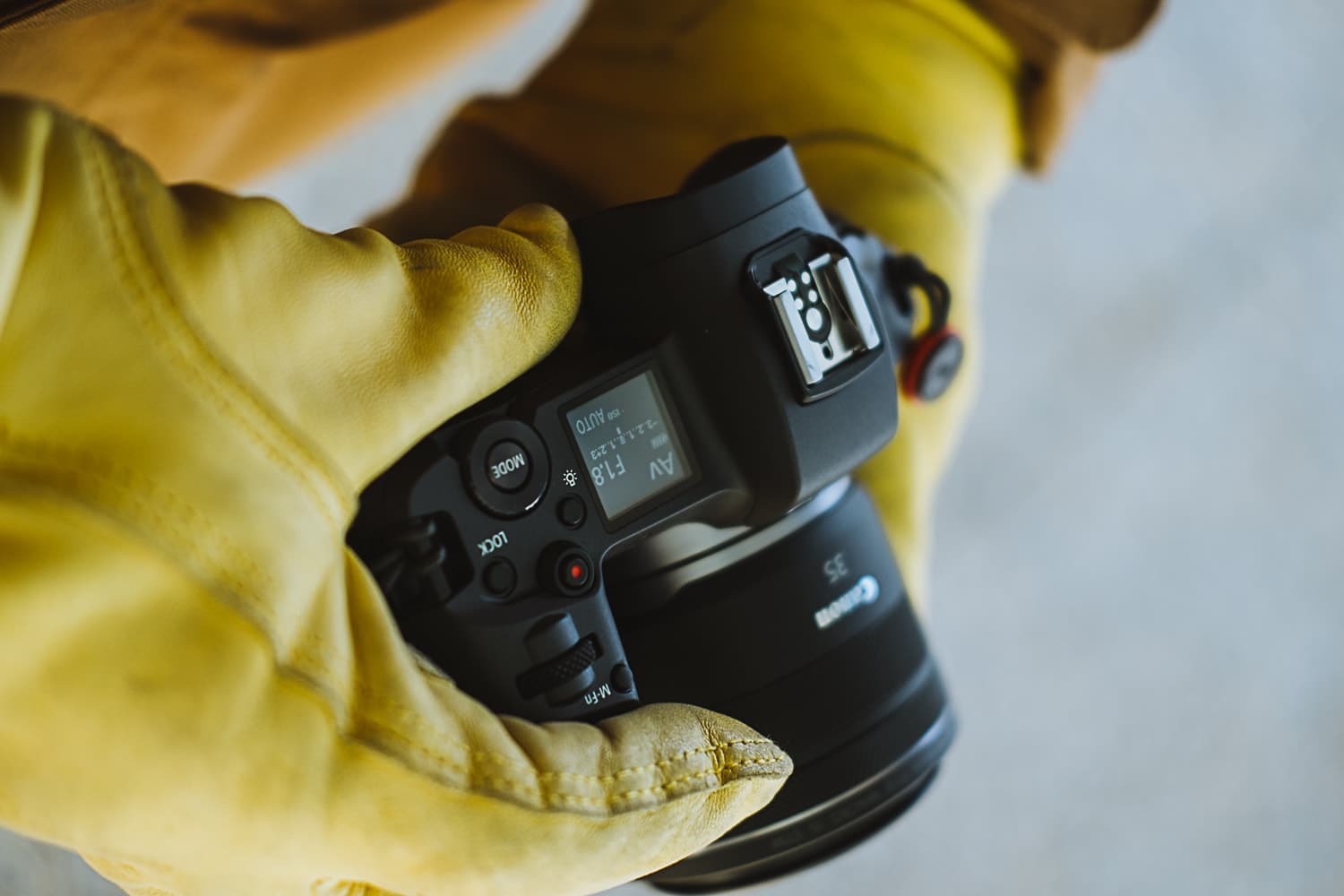 The EOS R has regular old shooting modes. Throw the camera into Av mode and the front/top dial changes your aperture while the back dial moves exposure compensation. Full manual mode puts aperture settings to the front dial, shutter speed to the back dial, and ISO can be changed either by holding a button and spinning a dial, or by linking it directly to the Control Ring found on all new RF mount lenses.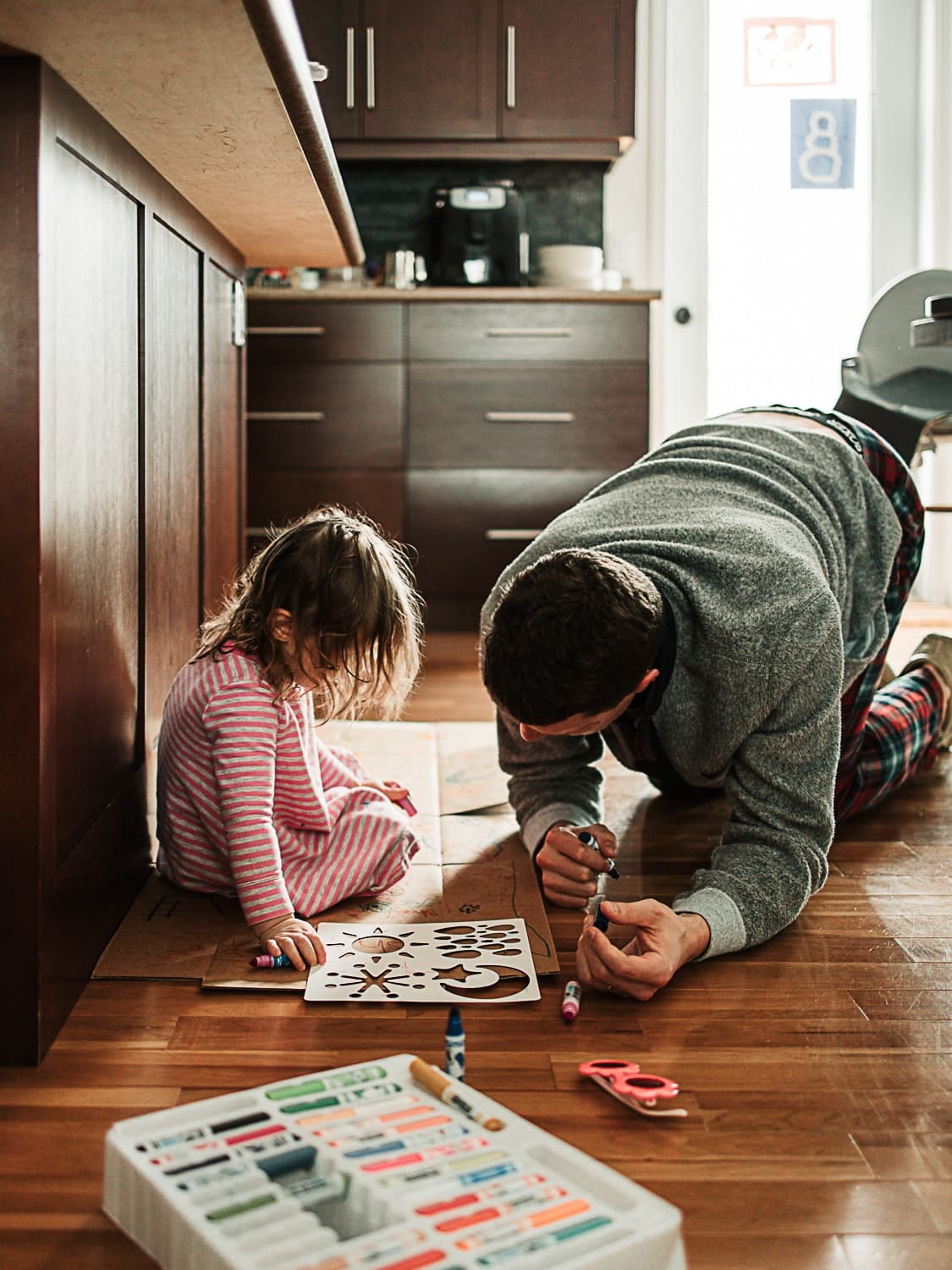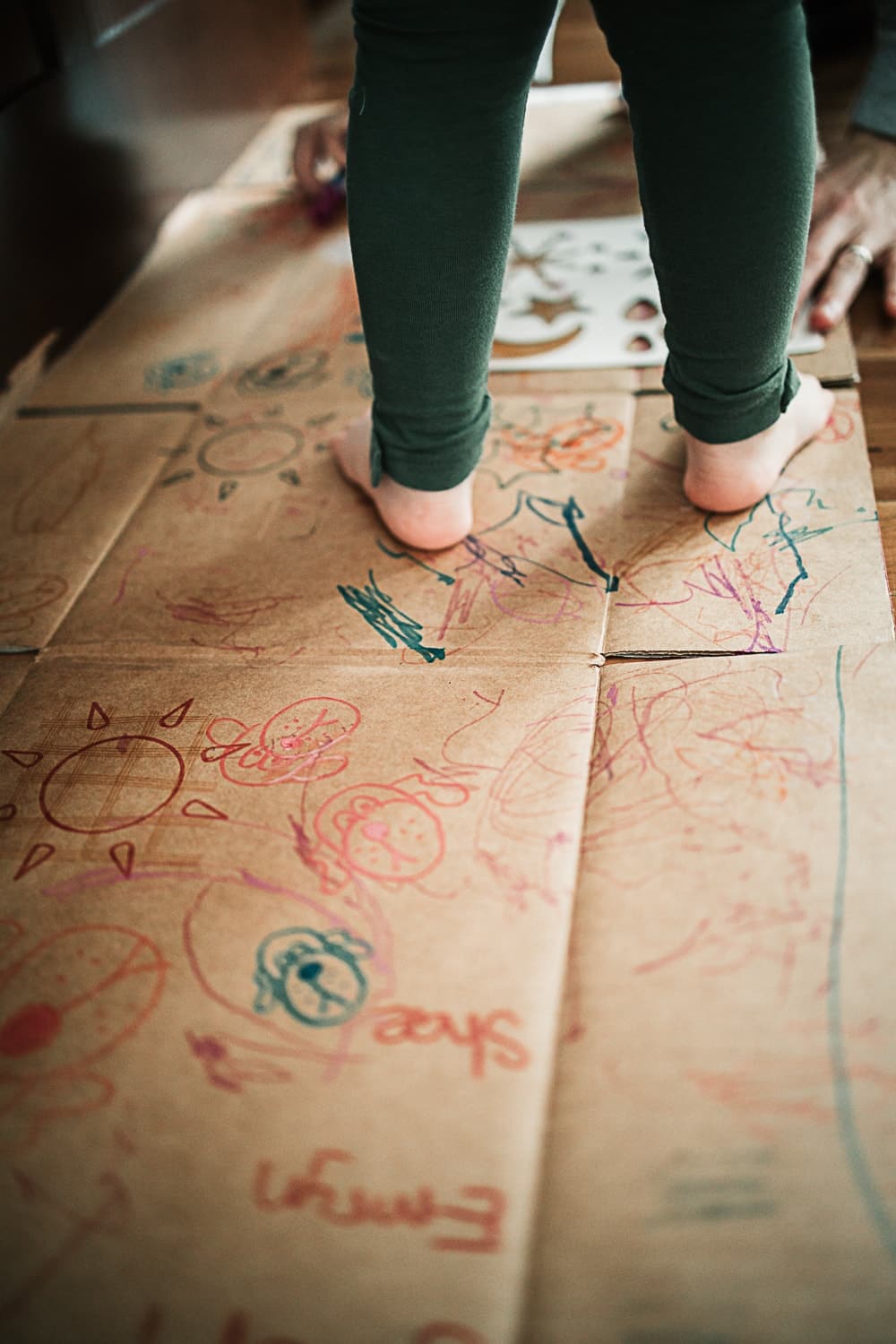 Nitty gritty details aside, this is the single biggest change moving from the Fujifilm X-T2 to the Canon EOS R. In my short photographic career, Fuji has the most manual camera experience of any camera I've tried. It's unique in its own right — and many may prefer it — but it's quite different than using a dedicated shooting mode on the EOS R.
Actual Working Continuous AF and Eye AF
(Erm, I suppose I should call that "Servo AF" now that I am part of the Canon world.)
There were a number of features on the X-T2 I tried once and never returned to. Two of those core features were continuous AF and face detection/eye detection AF. Continuous AF on the X-T2 was spotty and hit and miss at the best of times, while face and eye detection AF was only available in AF-S modes, and struggled to nail an eyeball even in great light. I'm sure more patience and practice would have resulted in more usable photos, but I literally never pulled eye detection AF out of the box after I first tried it.
Canon's EOS R makes continuous autofocus and Eye AF some of the most accessible features on the camera, and it has helped to shoot more usable photos of my young family than I've ever had before. Wrapping your head around how Eye AF works isn't too difficult — there's an AF mode with an icon of a face that gives it away — and the camera is great at grabbing the eyeball and holding onto it, even in low light.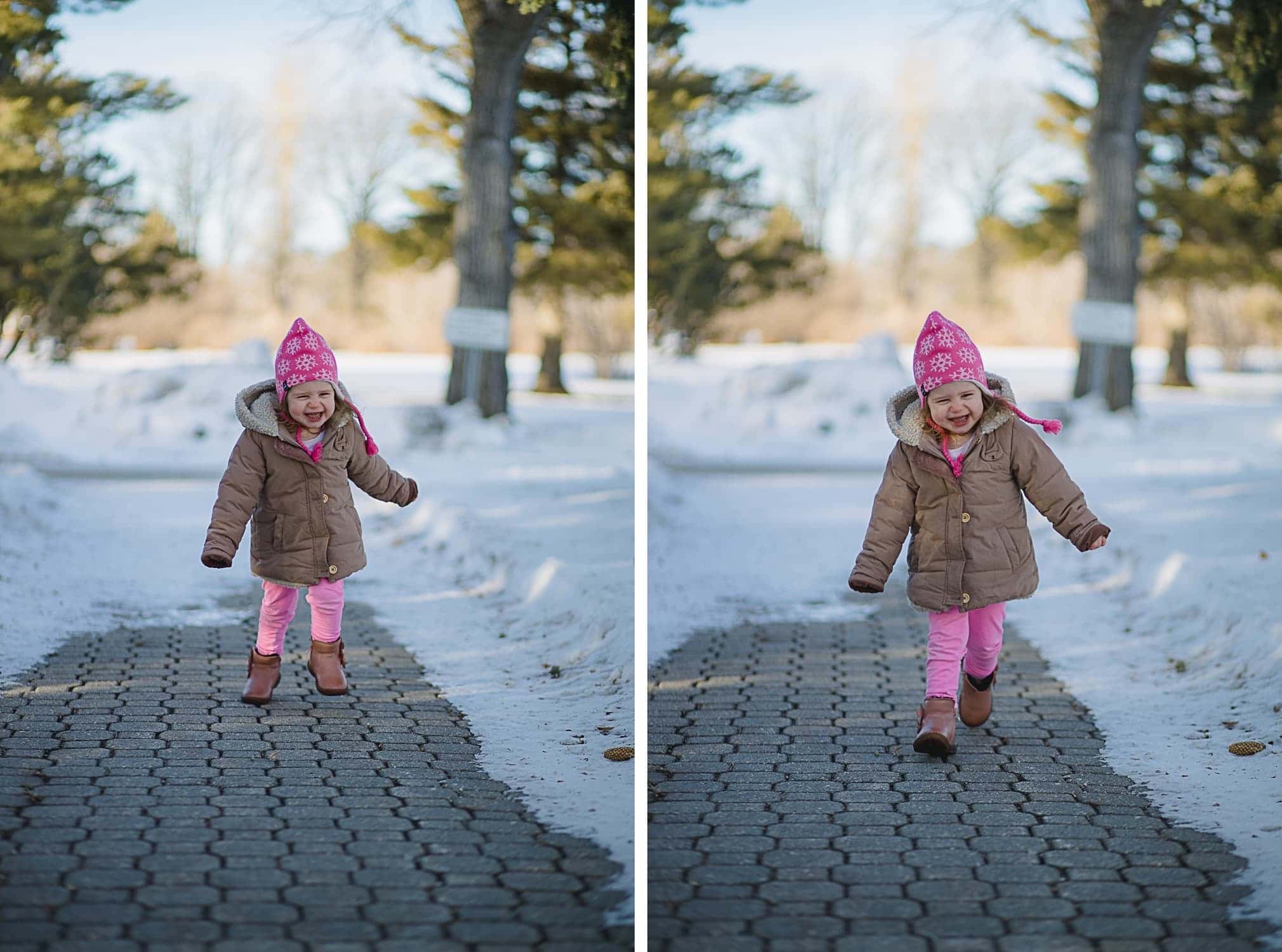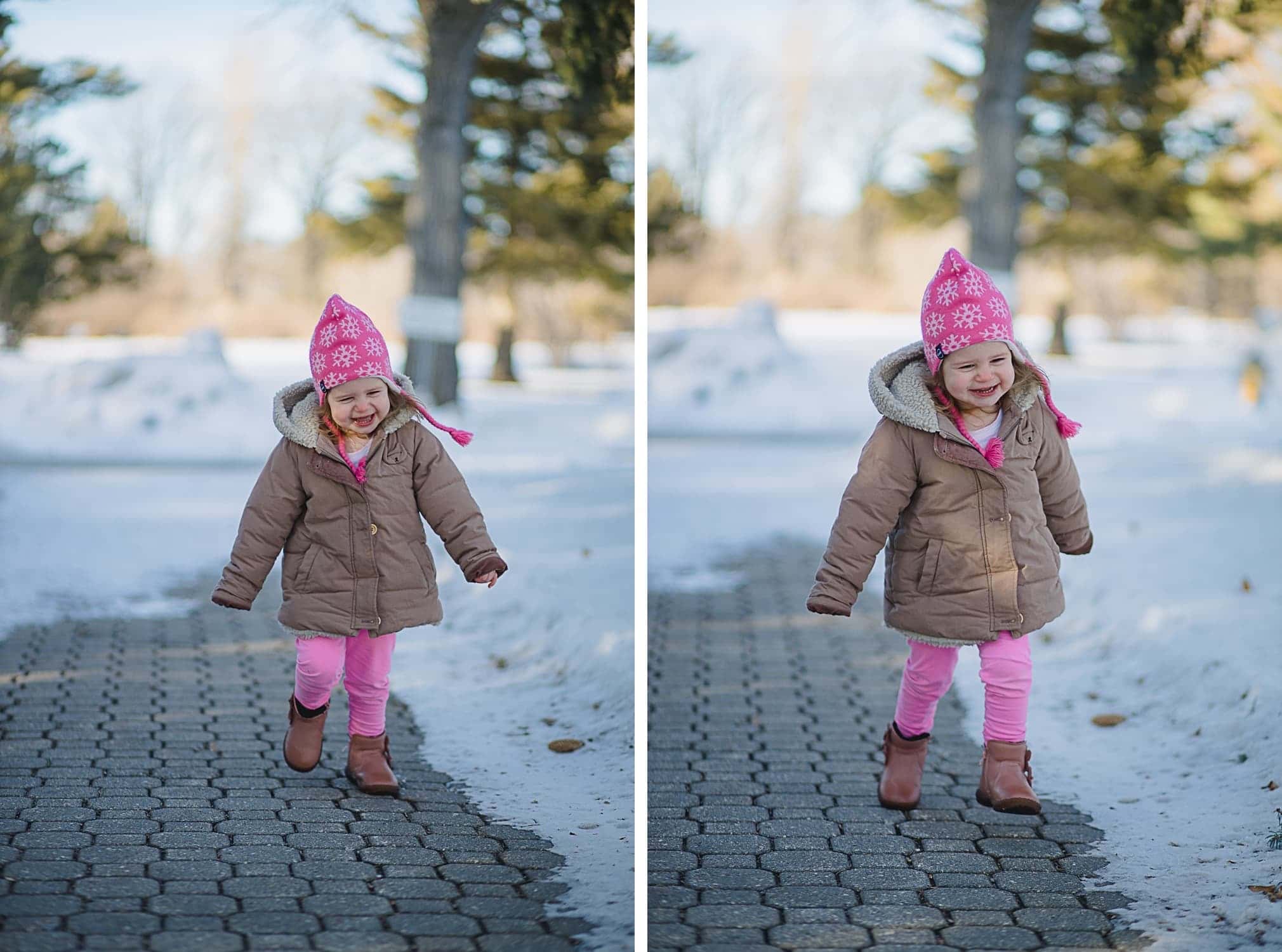 Check out the continuous AF examples above. I had the EOS R in low continuous shooting mode (shoots three photos per second) with Eye AF and the Canon EF 85mm ƒ/1.8 lens adapted to the camera. I shot five photos, four of which you see above and the fifth you'll see below. Every single image had nailed focus. I was just ecstatic when perusing through these images in Lightroom — for the first time ever, my camera could keep up with my fast moving toddler.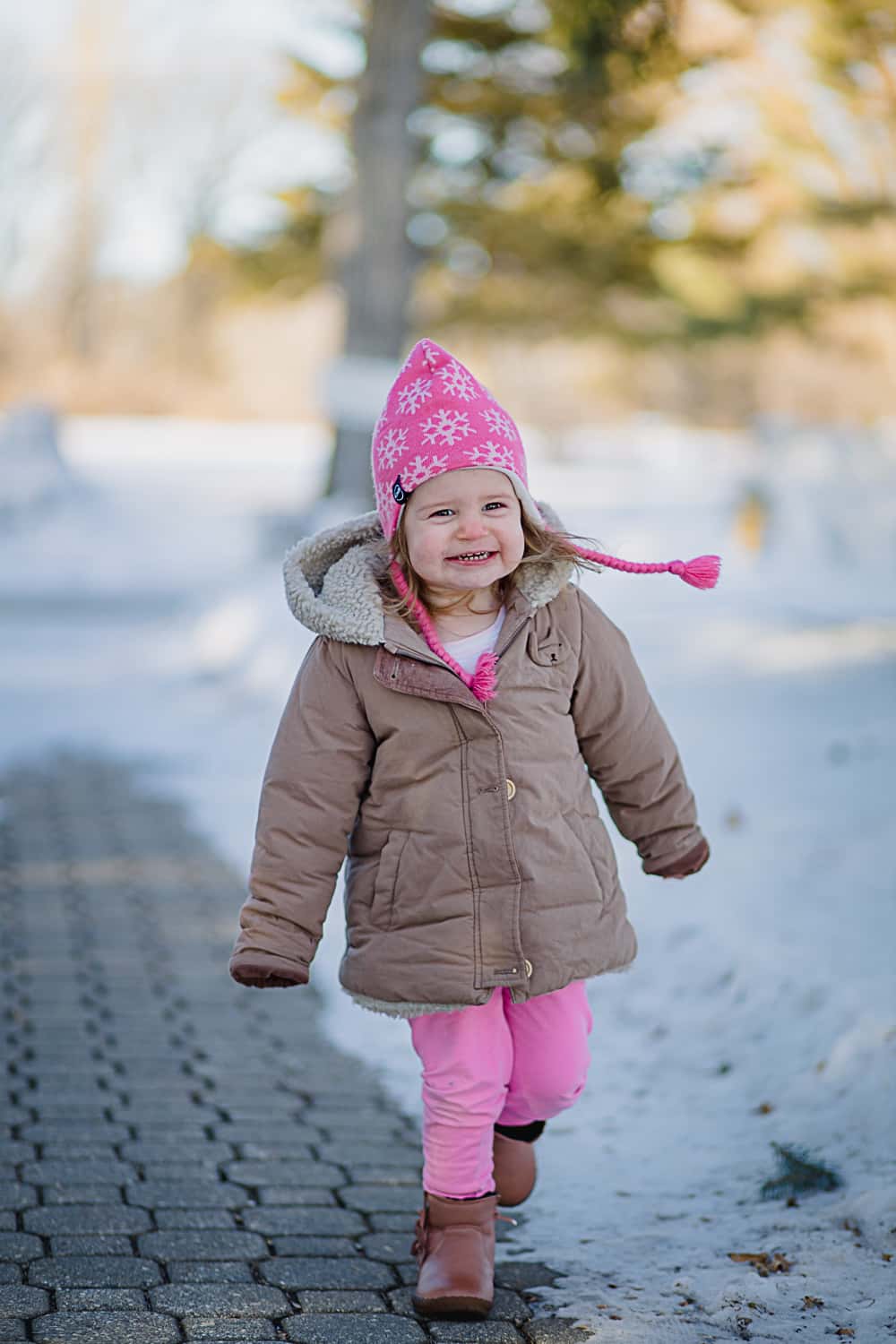 I've used Eye AF and continuous AF on the EOS R almost exclusively since it arrived, and it has dramatically impacted how I shoot everyday photos. I may hop into AF-S single shot for product photography, but the rest of the time, the EOS R is locking onto my moving children and delivering indoor results like I've never experienced before.
Get Our Best Photography Tips & Workflows
Transform your photos and edits from average to awesome with our in-depth, mobile photography course. It's jam-packed with training, ideas, and lessons that can literally transform your photography overnight.
Ergonomics and Body Design
I had a chance to shoot with a few of Fuji's "larger" lenses over the last couple years, providing at least a glimpse into how the camera feels with some added heft. In short, the X-T2's lack of hand grip made handling any lens larger than my small Fujicrons far less comfortable than I'd prefer.
The EOS R takes a completely different approach to ergonomics, and rightfully so — the deep grip makes using larger full-frame lenses an actual possibility. Many of Canon's newest RF lenses are gigantic compared to competitors, so the deep grip is an absolute must for the camera.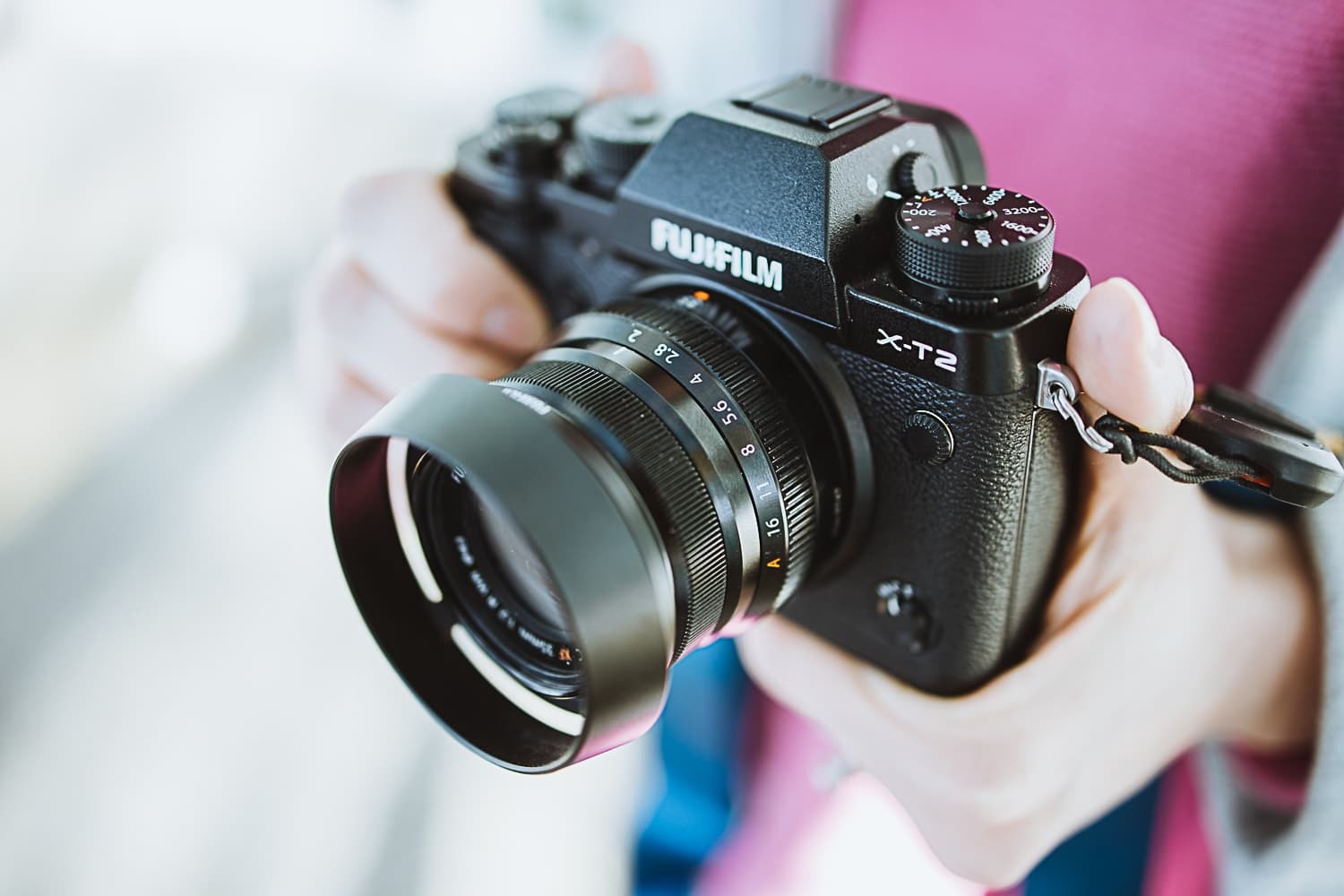 But even more important in my mind is the placement and positioning of the dials and buttons you need to make settings changes on the fly. The EOS R is endlessly customizable, allowing you to morph each button to the setting you prefer. Many of the same buttons and dials can be altered on the X-T2 as well, but the wide assortment of dials makes the X-T2 more of a two-handed camera than the EOS R.
Take the AF mode switch on the front of the X-T2, for example. If you want to move from AF-S to AF-C or manual focus, you need to take your left hand and physically make the switch between AF modes. Because of the EOS R's ease of customization, you can make any button on the right side of the camera an option for toggling through single shot and continuous AF.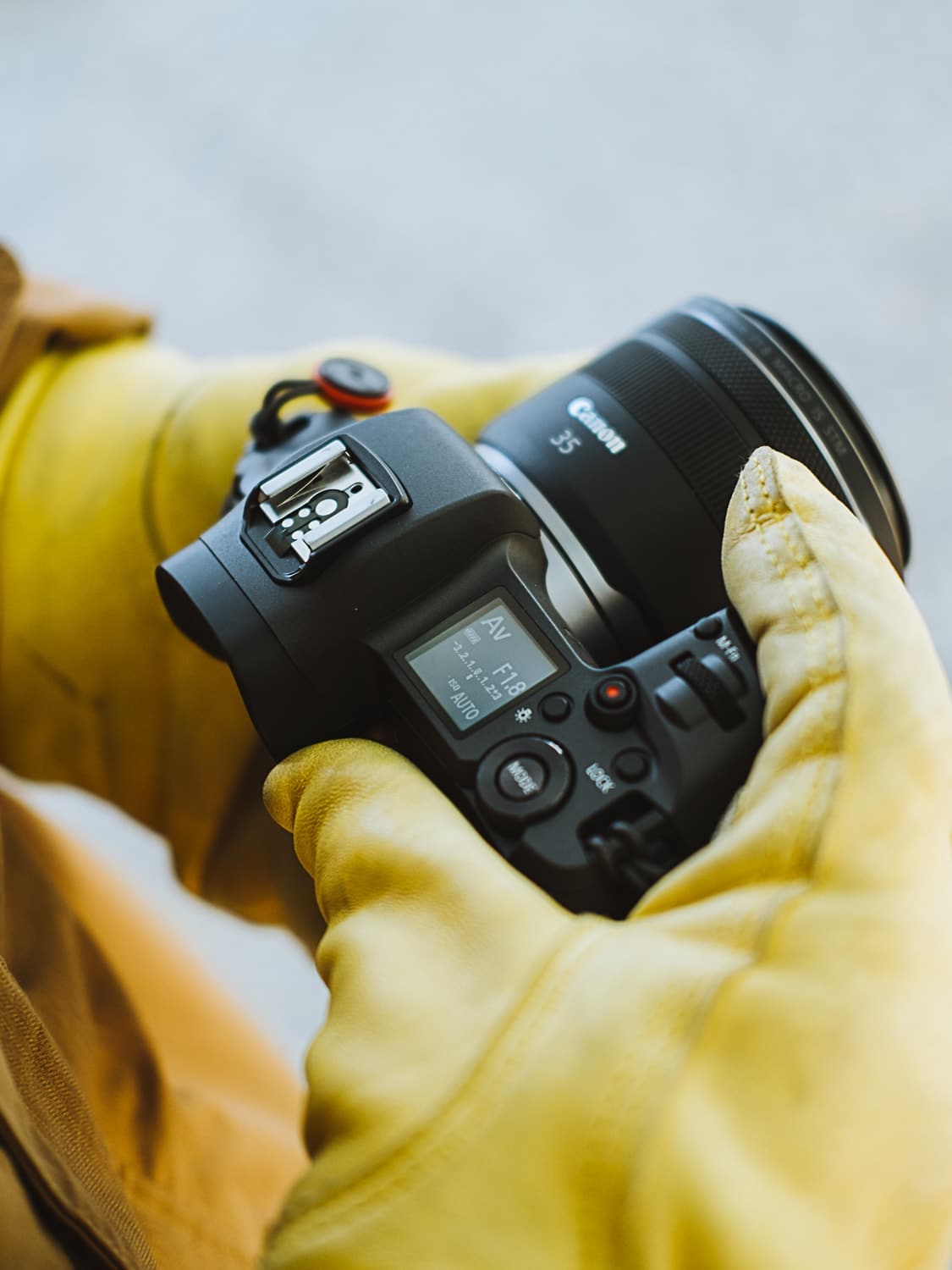 In short, the EOS R places all but one of its buttons and dials on the right side of the camera within a finger's distance of your operating hand, making this a very easy camera to operate one-handed.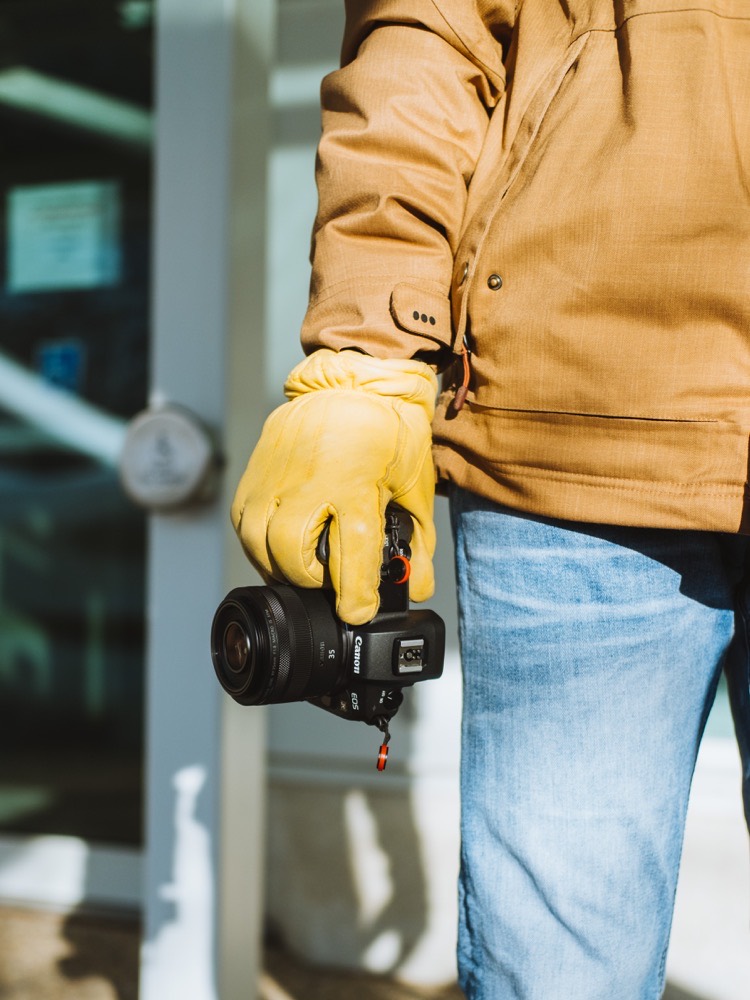 The obvious shortcoming: The On/Off switch has maddeningly been placed on the left side of the camera. Why, Canon? Why?
The Huge Array of Canon's EF Lens Lineup
If the promise of Canon's next generation lens technology in the RF system isn't enough to catch your attention,2 then the near perfect support for Canon's older EF lenses is sure to have you nodding your head. The EOS R and an attached EF-to-RF mount adapter provide perfect — in many cases, better — access to Canon's renowned EF lens lineup.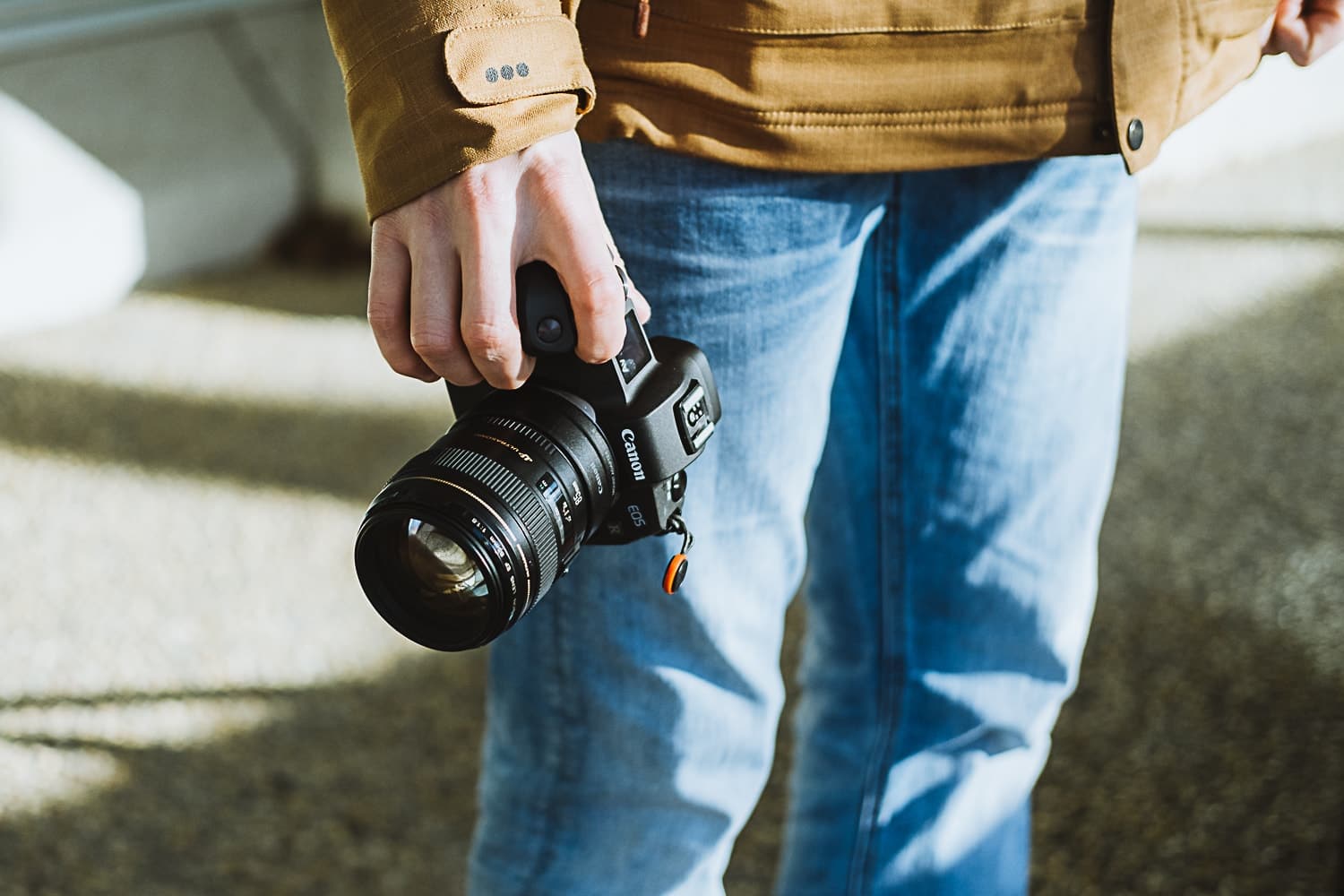 Because Canon is so prevalent, it's easy to find inexpensive used EF lenses to test with the EOS R. I had the chance to borrow the EF 85mm ƒ/1.8, the EF 16-35mm ƒ/2.8L II, and the EF 70-200mm ƒ/4 for a few weeks, and, in many ways, each EF lens performed at least as good as my native 35mm RF lens. The EF 16-35mm ƒ/2.8L II lens in particular was one of my favorites —  there's nothing quite like having an extra wide-angle lens for fun family photos around the house.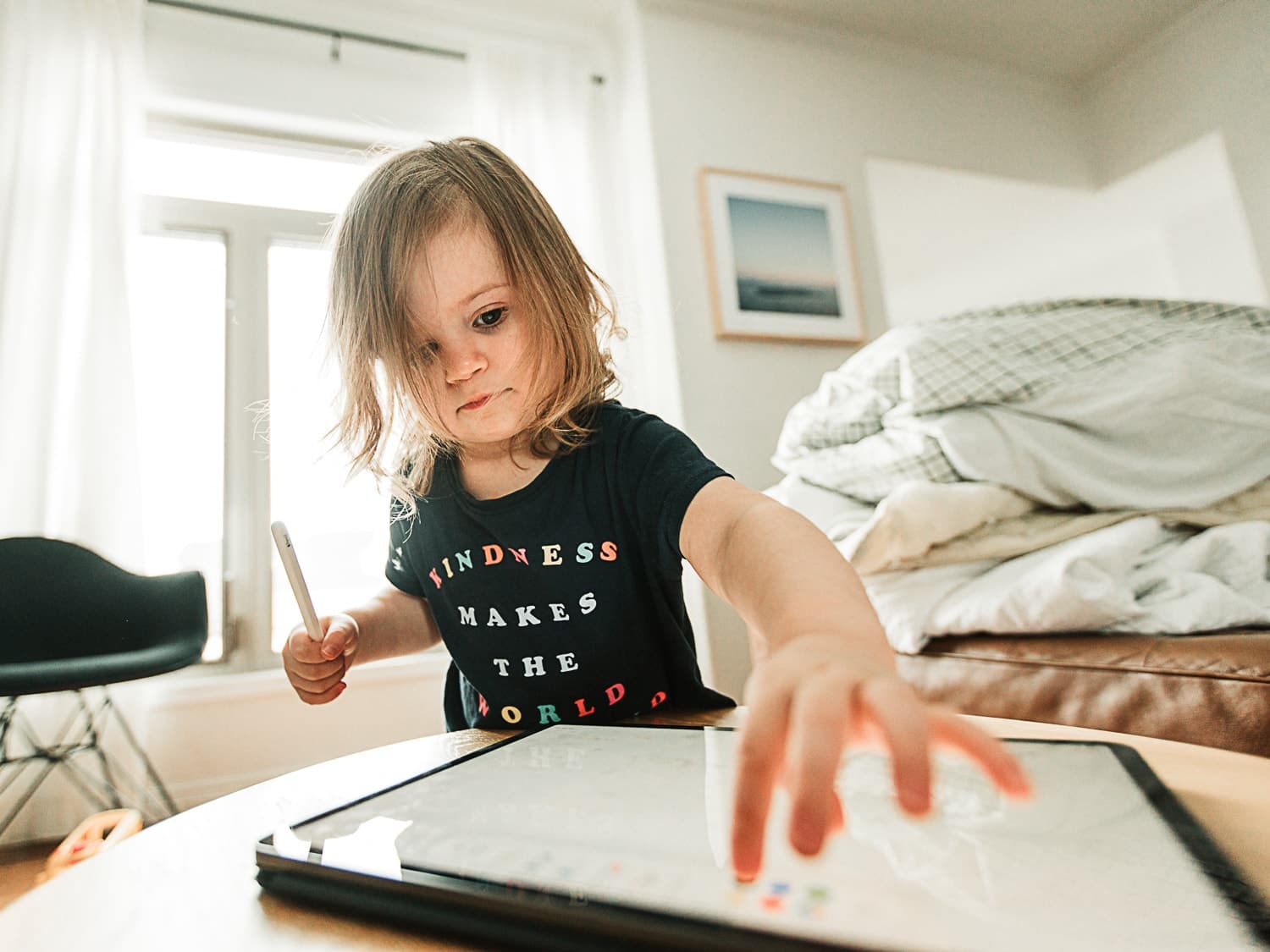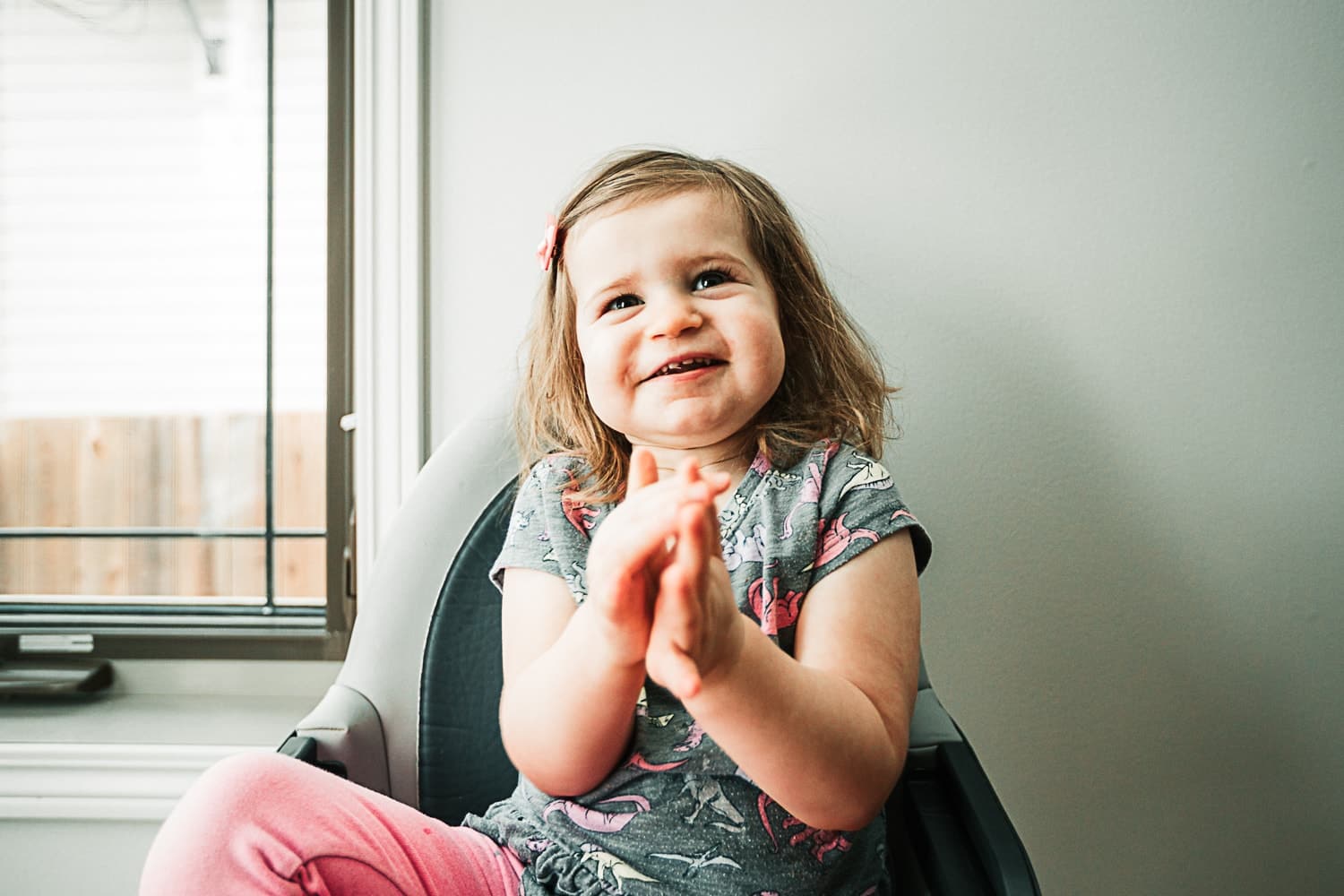 Both photos above were shot with the adapted Canon EF 16-35mm ƒ/2.8L II.
I switched over to the Fujifilm X-T2 a few years ago in order to save money — Fuji's lens lineup in general is less expensive than native offerings from Canon and Sony, so I figured I was investing in an inexpensive system that would give me access to a wide array of lenses. While native XF lenses are indeed less expensive than current RF lenses, the ability to access any of these older Canon EF lenses on the cheap makes Canon's EOS R one of the least expensive mirrorless options available right now. If you really want to save some money, you can purchase an EOS RP for less than $1,000 and attach any old EF glass you or your friends have. Full-frame mirrorless kit at these prices is really hard to beat.
Plus, Canon has made some exceptional EF lenses in the past that are simply too good to pass up. If you experience some sticker shock by looking at native RF lenses for the EOS R, rest assured nearly all the same lenses are available for the EF mount at a fraction of the cost.
Other Anecdotes So Far
I'm three-quarters of the way through this first impression piece and you'll notice I haven't talked megapixels, FPS, video, dual SD card slots, focus point joysticks, battery life, and more. For all the specifications that initial reviewers and photography sites have said that the EOS R falls short, my experience with the camera hasn't brought any of these specifications to the forefront.
The 30MP sensor indeed provides plenty of resolution to work with when editing and cropping photos in Lightroom, but to say there's been an impact on any photos I've taken would be a lie. The Fujifilm X-T2's 24MP sensor provided all the resolution I needed. If you need more resolution, you already know the EOS R's 30MP won't cut it.
Changing the EOS R's drive mode to its highest setting yields burst shooting of 5 frames per second, substantially less than the upcoming EOS R5 and most other cameras at this price point. I guess I could use a few more frames to potentially capture an additional moment or two in a burst, but there are times where the best 10 FPS and 12 FPS shutters only provide additional unusable photos rather than usable ones. I haven't been disappointed in the 5 FPS burst shooting mode and I suspect I won't be disappointed until my needs change.
I've never shot video on any of my cameras. I apologize if that's what you came here for.
Dual SD card slots and a focus joystick were two of the major features I looked forward to in the Fujifilm X-T2 when I made that switch. Indeed, having a backup card of all your work and the ability to physically move that AF point around was a pure joy. But there were a few implications I ran into:

Managing two cards per camera instead of one requires more storage, more photo backup management, and more overhead time (at least in my current workflow) overall.
Canon's touch screen is simply awesome and comes with a Touch to Drag AF setting that allows you to move your thumb around on the screen to move the AF point. I've found this to be a bit more tedious than with a physical joystick (especially since I have a long nose and the touch screen often moves focus points if I accidentally press my nose tip to the display) but it hasn't been too much of an adjustment.

Battery life has been exceptional in my use, but this is mostly because the comparison camera (the X-T2) has bewilderingly bad battery life. The EOS R uses the same LP-E6N battery as Canon's DSLRs, so they are big, abundant, and cheap.
Ever since the switch to macOS Catalina and the latest versions of Adobe Lightroom CC, I've had problems previewing Fuji's raw file format (.RAF) before importing. Canon's compressed raw file format (.CR3) works with Lightroom CC's preview window, so you can actually see what you're importing from the SD card. The bigger implication in these raw files is actually file size — .RAF files have weighed in at 27MB to 30MB per photo, while .CR3 photos come in at 17MP to 20MP per photo. Two-thirds of the file size with, to my eye and workflow, the same ability to edit is a win in my books.
A Few Quick Quibbles
There's always something to improve — evident in the many improvements coming to the EOS R5 this year.
Each RF lens comes with a Control Ring, which is an additional ring built into the lens that can be customized to change a setting to your liking. I am still trying to figure out the best way to use this Control Ring — right now I have it set to change ISO. As a whole, it's great to have more customization, but I'm unsure of the pure usefulness of this ring.
The back of the EOS R has a Manual Function Bar — dubbed "Touch Bar" from here on — which is Canon's shot at implementing modern technologies on the camera. The Touch Bar is fairly poor in practice. Sliding your finger along it works to change certain customized settings, but the bar itself is not overly responsive. If you have it locked, it's flat out tedious to unlock before changing your settings. Overall, I've set my Touch Bar to jump quickly to Auto ISO and a predetermined ISO level, and to move between photos in preview mode. Otherwise, I basically never use it.
The top LED screen showing off the EOS R's camera settings is awesome. I think it could be a tad brighter for outdoors, but overall, this screen is very useful. My quibble is what is displayed when the camera is turned off — your previous shooting mode is displayed in the top left corner and nothing more. I'd love for there to be a battery indicator on this screen when the camera is turned off.
The On/Off switch is on the left side of the camera, effectively requiring two hands to operate this camera. This is borderline infuriating, especially since every single other control is on the right side of the camera.
The EOS R's EVF is good — not great — but good. EVFs are so good these days, I haven't found myself being bothered by the EVFs performance or size. In reality, because the EOS R's touch screen is so well done, I find myself shooting in "Live" view more often than ever before.
Wrap Up
Reading reviews of cameras online can sometimes be dreadful. Cameras are absolutely laden with advanced features, settings, and future-proof technology, and sifting through all the numbers and statistics can make one's head want to explode.
In my first month with the EOS R, the camera feels to me like the "anti-spec" camera. The EOS R doesn't have as good Eye AF as Sony's jaw-dropping cameras. It doesn't have dual SD card slots for wedding photographers or a focus joystick on the back which so many shooters rely on. It has extraordinarily expensive lenses that make it hard to invest in, and as I've read in reviews, many of Canon's video decisions for the EOS R are head-scratchingly confusing. If all you did was read reviews of this type, the EOS R would likely be a non-starter.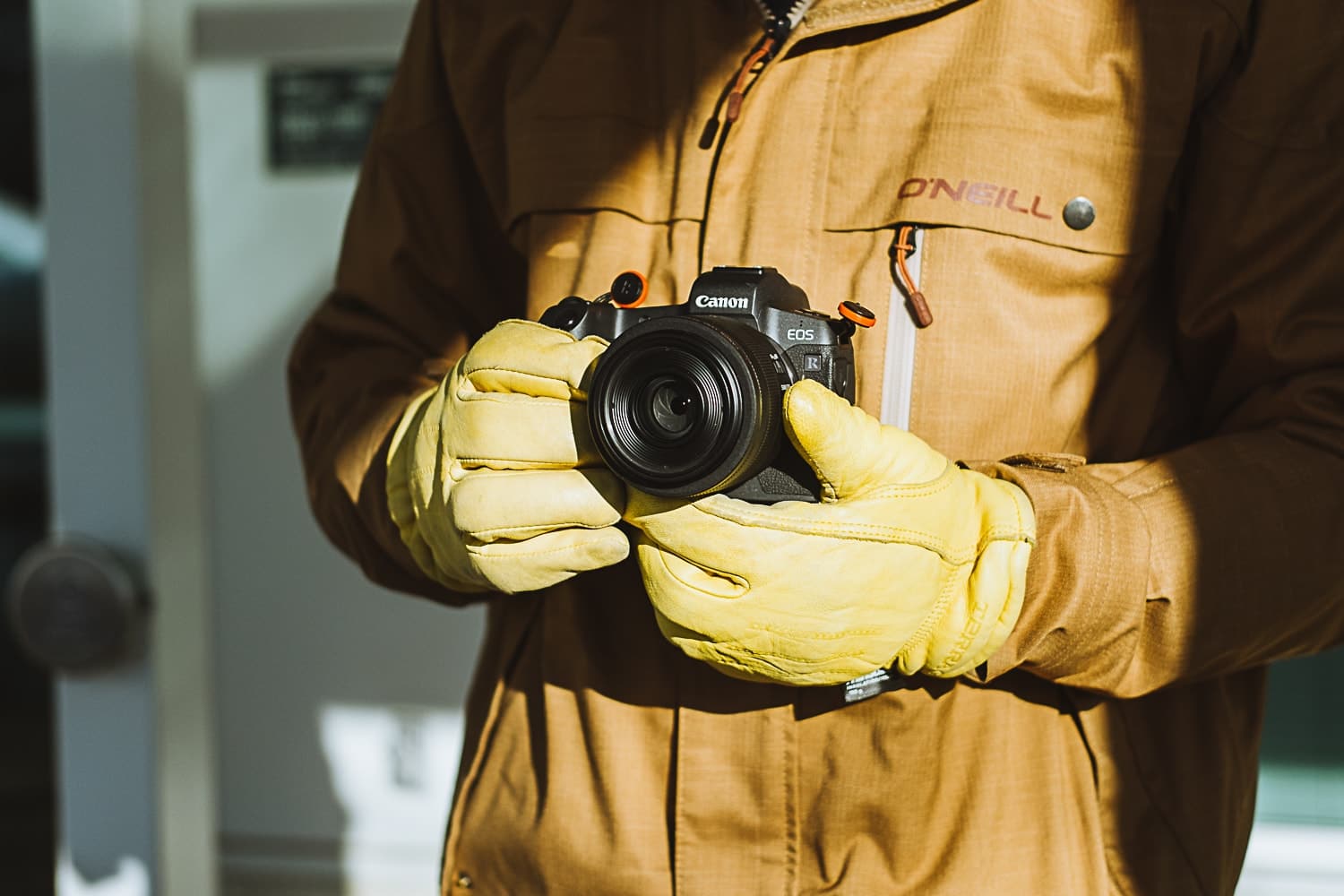 Despite all this, this camera has quickly become my favorite camera ever. I haven't talked about the RF 35mm ƒ/1.8 lens at all, but its small size, fast aperture, and macro capabilities opened a new world of photography for my shooting here on The Sweet Setup. The EOS R's autofocus and functioning Eye AF have captured more in-focus photos my fast-moving two-year-old daughter than in the six months prior with the X-T2. And while normally building out a lens lineup exhausts the bank account, being able to adapt cheap and high quality EF lenses to the EOS R has made this camera and EF/RF system an easy one to invest in.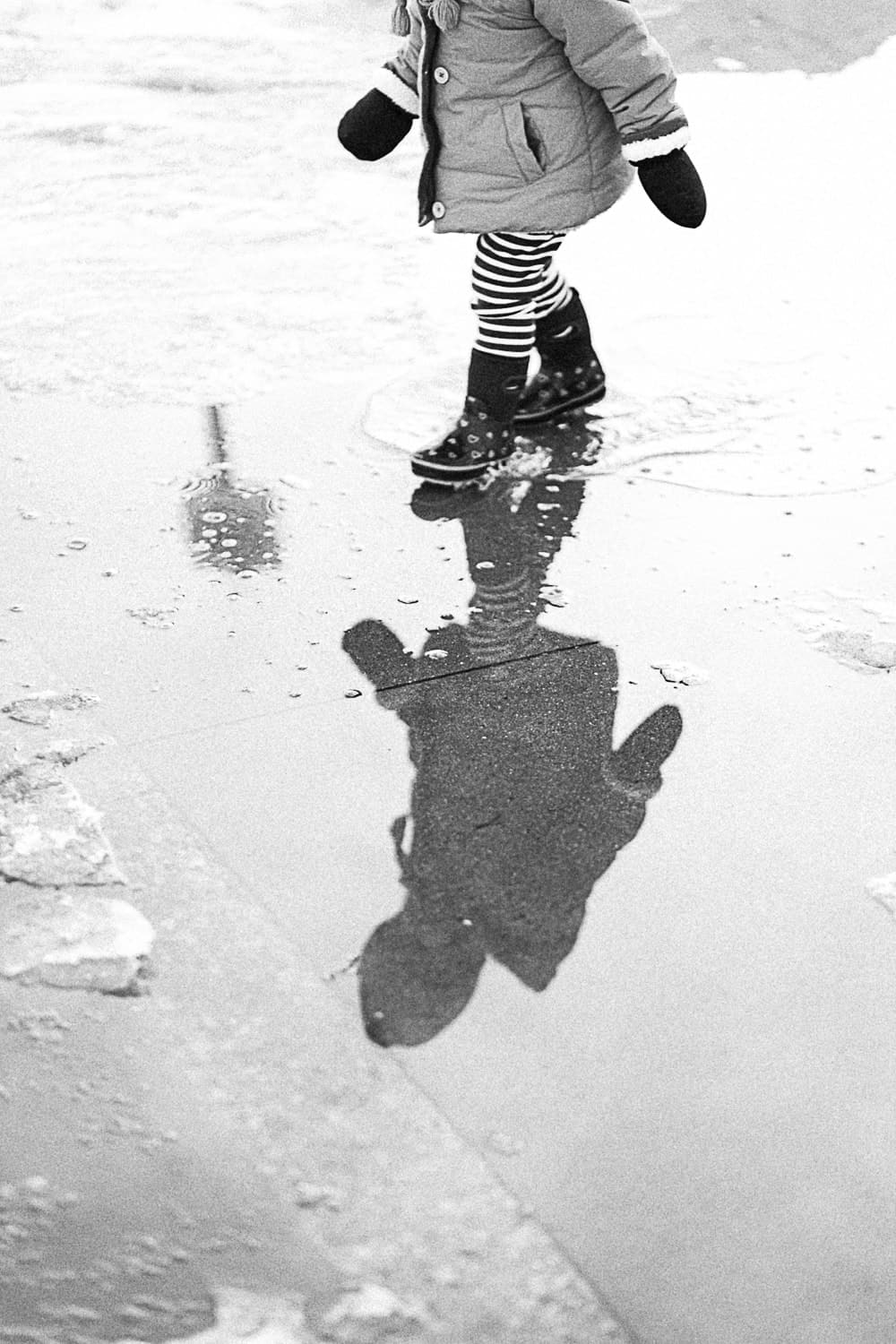 I think it's safe to say Canon has arrived on the mirrorless camera scene with the EOS R. It took a little while for all the firmware improvements to filter through, but the result is a wonderful camera that provides access to a wonderful (and huge) array of great lenses with performance and features where it counts. A year ago, those moving to mirrorless camera systems likely would have chosen Sony thanks to the incredible technology in the bodies and the fairly-mature lens lineup.
Today, it's a toss up between Canon and Sony, in my opinion. That will be a photographic competition worth watching for a long time to come.
Get Our Best Photography Tips & Workflows
Transform your photos and edits from average to awesome with our in-depth, mobile photography course. It's jam-packed with training, ideas, and lessons that can literally transform your photography overnight.