Edwin Leong's Mac and iOS setup
March 27, 2017
Every week we post a new interview with someone about what software they use on their Mac, iPhone, or iPad. We do these interviews because not only are they fun, but a glimpse into what tools someone uses and how they use those tools can spark our imagination and give us an idea or insight into how we can do things better.
New setup interviews are posted every Monday; follow us on RSS or Twitter to stay up to date.
---
Who are you and what do you do?
My name is Edwin Leong, and I'm a Senior Compliance Analyst with the British Columbia Securities Commission in Vancouver, Canada. My agency regulates the securities industry in the province — e.g., the stock market and stock brokers. My department visits assets managers (portfolio and mutual fund managers) to assess their compliance with the provincial Securities Act.
My professional life has nothing to do with my use of Mac computers, but in my personal life, my Mac systems are key. I used to be a weekend warrior wedding photographer over a decade ago, which required investing in good photography equipment and computer systems, as digital imaging became widely accepted in the mid-oughts. However, I cut my teeth as a photographer with film, that quaint analog medium that no one born since 2000 likely has any memory of.
I left wedding photography many years ago, as having four kids means having a busy family life. However, I keep the photography hobby alive by photographing my sons playing hockey. Although I bought my first Mac in 2008, I didn't become a 100% Mac user until 2015 when I bought a 2013 Mac Pro to replace an old, custom-built Windows PC.
What is your current setup?
2013 Mac Pro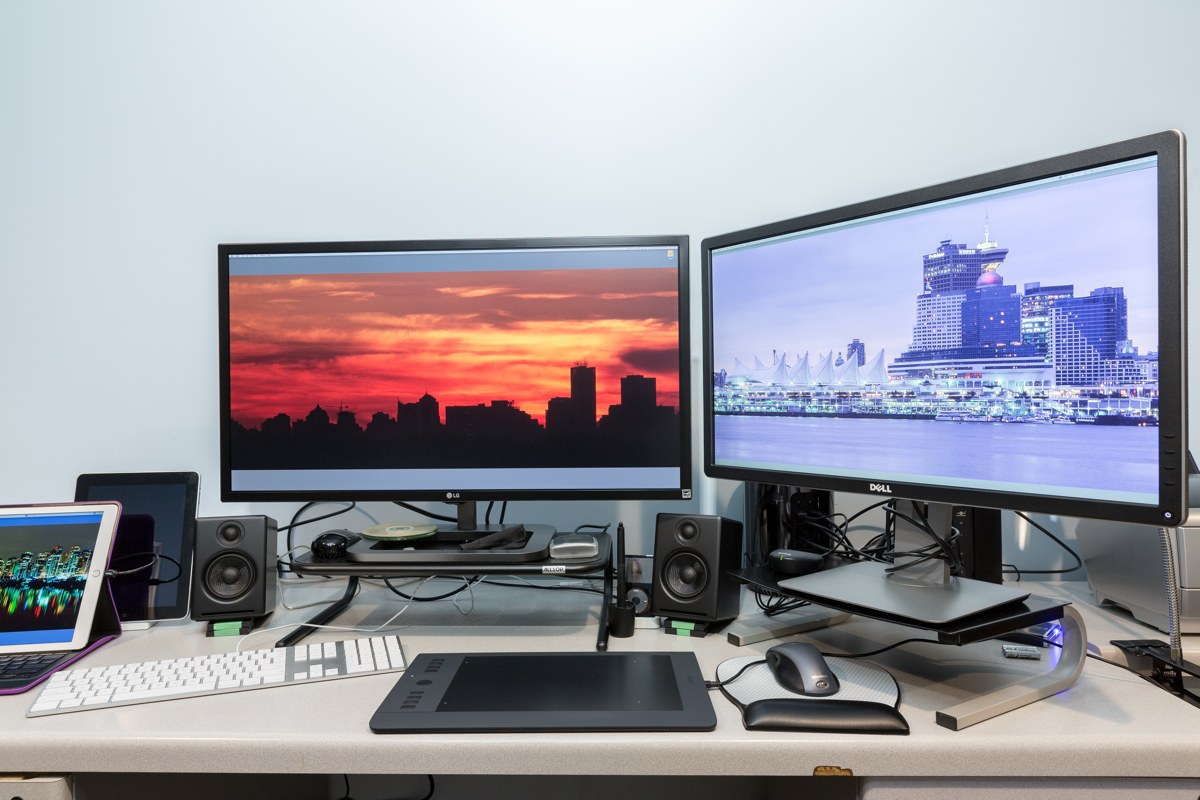 This is my primary photo editing system with all sundry peripherals connected to make up a pretty decent and efficient running computer. I do nothing else with this system, i.e., no web surfing unless I'm uploading photos to a Google Photo gallery, and no word processing, etc. I got the idea of keeping the desktop system clean and minimal for apps and usage from noted Photoshop guru, Scott Kelby.
The computer, dual 4K monitors, and two printers are spread out over a modular desk system that I got from a relative who was moving his business from one building to another and wanted to get rid of his old desks.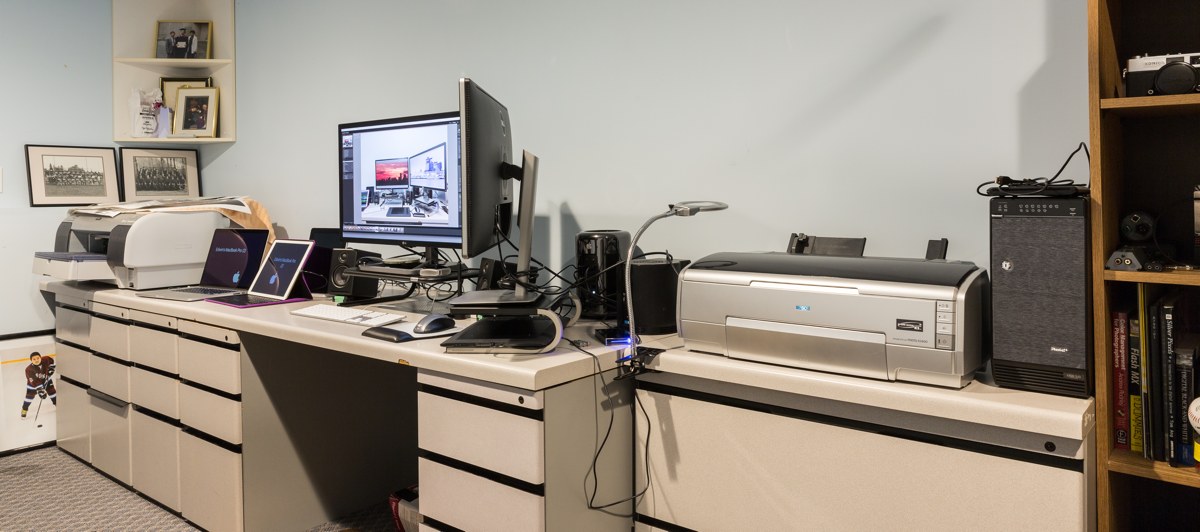 Switching from a huge, loud, and heat-generating Windows PC to the nearly silent, compact, and cool running Mac Pro was a revelation. Silence is golden and is now a non-negotiable quality I will need for any future desktop upgrade.
My two Epson printers are old holdovers from my wedding photography days, but they still output excellent photos and it's only been since 2016 (some 10 years later!) that Epson has introduced new printers that can be considered markedly better than these old units.
2015 15-inch MacBook Pro
Another holdover from the wedding photography days is the notion of belts and suspenders (having backups and backups to backups for cameras and lenses.) Although I already have a 2014 13-inch MacBook Pro, the lack of a quad-core CPU and a smaller screen nagged at me, so I was mulling over buying a new 15-inch MacBook Pro (MBP).
I was really looking forward to the new MacBook Pro introduced in late 2016, but was a bit underwhelmed with what Apple introduced. Instead, I bought the previous generation MBP as a nicely powerful backup to the Mac Pro and I get the legacy ports that are still very important to me. One awesome way to make the 15″ MacBook Pro much more efficient as a mobile editing system is to use Duet to connect a 12.9-inch iPad Pro as a second monitor.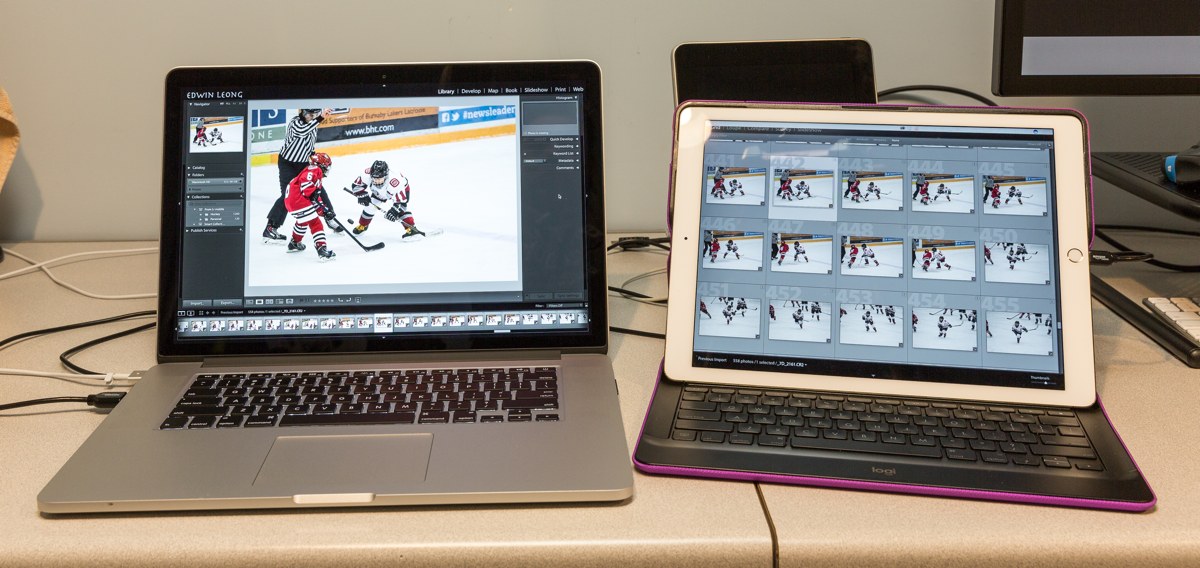 When using the Mac Pro for editing, I often have the MacBook Pro setup on an Amazon Basics laptop stand with a wireless Apple keyboard and Trackpad to do research on the web when something pops into my head, check email, etc.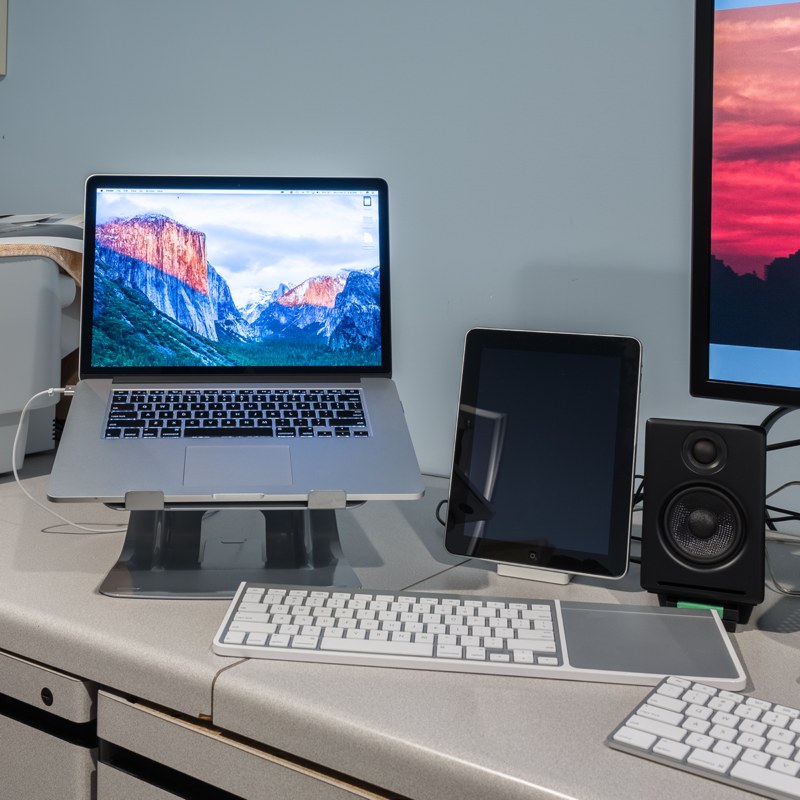 2015 MacBook
This is a laptop that I would never have bought new because the specs seem so underwhelming for the price. However, I bought this one from a relative who was so disappointed with its performance that, like the Godfather, he made me an offer I could not refuse. And, you know, this tiny and lightweight MacBook is not as bad as I had presumed, although it does stagger now and again, especially when trying to multitask.
For having in my work bag as I commute to and from work, it's a nice addition to my Mac systems. A very nifty feature of the USB-C port is the ability to use a portable battery pack to recharge the MacBook.
2012 13-inch MacBook Pro
Once upon a time, I was an audiophile with a nice, speaker-based system, but with four kids running amok, I've had to pack away the system and now get my audio fix via headphones. It was a natural that I would gravitate toward using a computer as a music server, and I picked up one of these old warhorse laptops from Apple's refurbished store.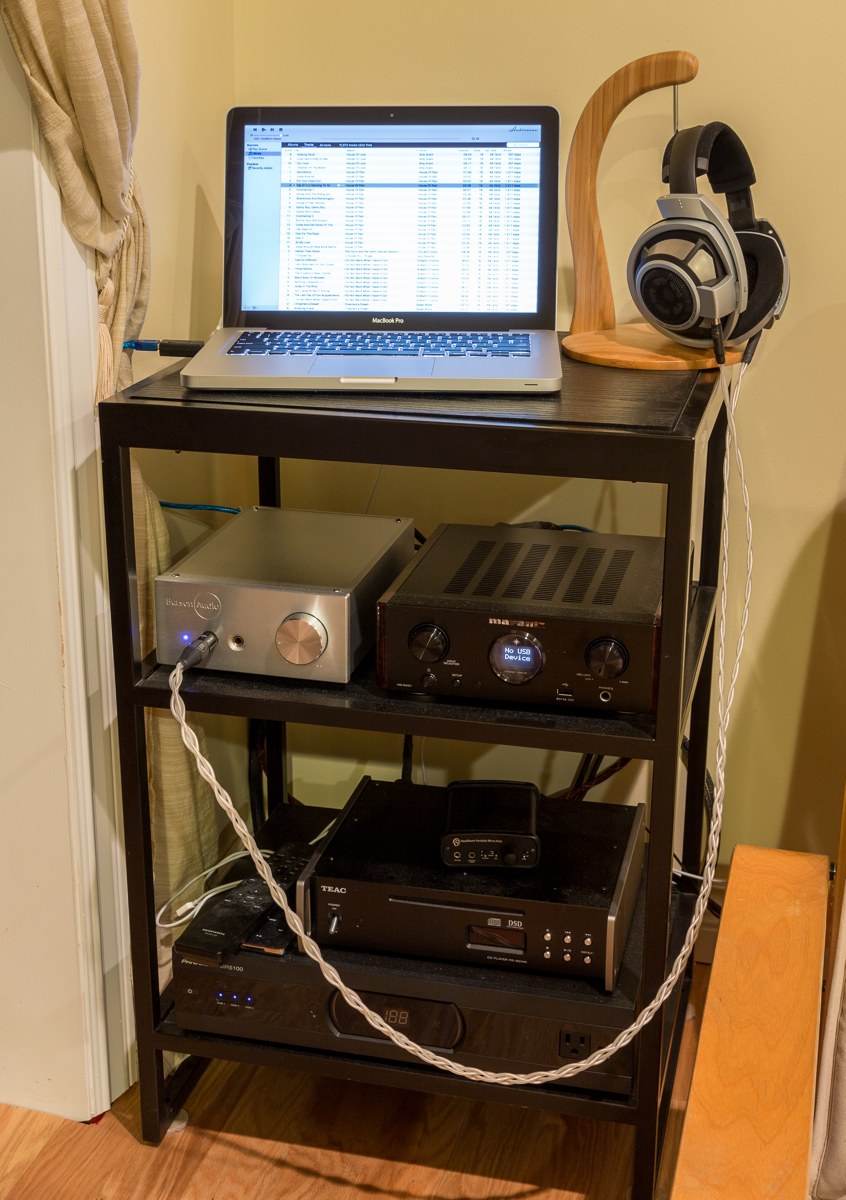 While thick and heavy compared to current MBPs, the 2012 model has the legacy ports and an optical drive to rip my music CDs (do people still buy CDs?) The RAM and hard drive upgrade make this MBP still relevant today and I love the ability to easily upgrade the SSD to a larger unit as my music library grows (over 11,000 songs and counting). My primary DAC is a Marantz DAC-1 and it allows me to connect an iPod, iPad, or iPhone directly to it via USB to bypass the iOS device's built-in DAC, so I don't always have to use the MBP13 as the music source.
Other sundry Macs kicking about the homestead:
Where can we find your macOS wallpaper?
I either use my own photos or the standard desktop photos that come with every Mac.
What software do you use and for what do you use it?
As a photographer, my editing world revolves around Adobe's software through its Creative Cloud subscription service. I subscribe to the photographer's package that provides me with Lightroom, Photoshop and Bridge.
I shoot in RAW mode with my Canon SLRs (5D Mk III, 6D, 7D Mk II), so Lightroom is what I use 90-percent of the time and I only fire up Photoshop when I'm doing composites with multiple layers. The Photoshop projects are usually custom hockey posters and calendars that I create, print out, and give to my sons' teammates.
I also use GoodSync for syncing backups between the primary drive and the secondary backups.
Not really software per se, but I use iCloud to store current files that I can open with and work on any of the Macs or iOS devices.
How would your ideal setup look and function?
I'm pretty good with my current setup. But, since you're asking… I would love to have three 32-inch BenQ SW320 4K monitors for color consistency and screen real estate across multiple monitors. I've been using dual-monitors for many years, but always from different brands. The Mac Pro can support three 4K monitors, so why not set up a three-monitor system? For a future desktop, I'm hoping Apple will introduce a dual-CPU option with the ability to use state of the art GPUs. Allowing easier access and user-configurability for RAM, SSD, and GPU upgrades is a huge desire amongst Mac Pro users.
---
What iPhone do you have?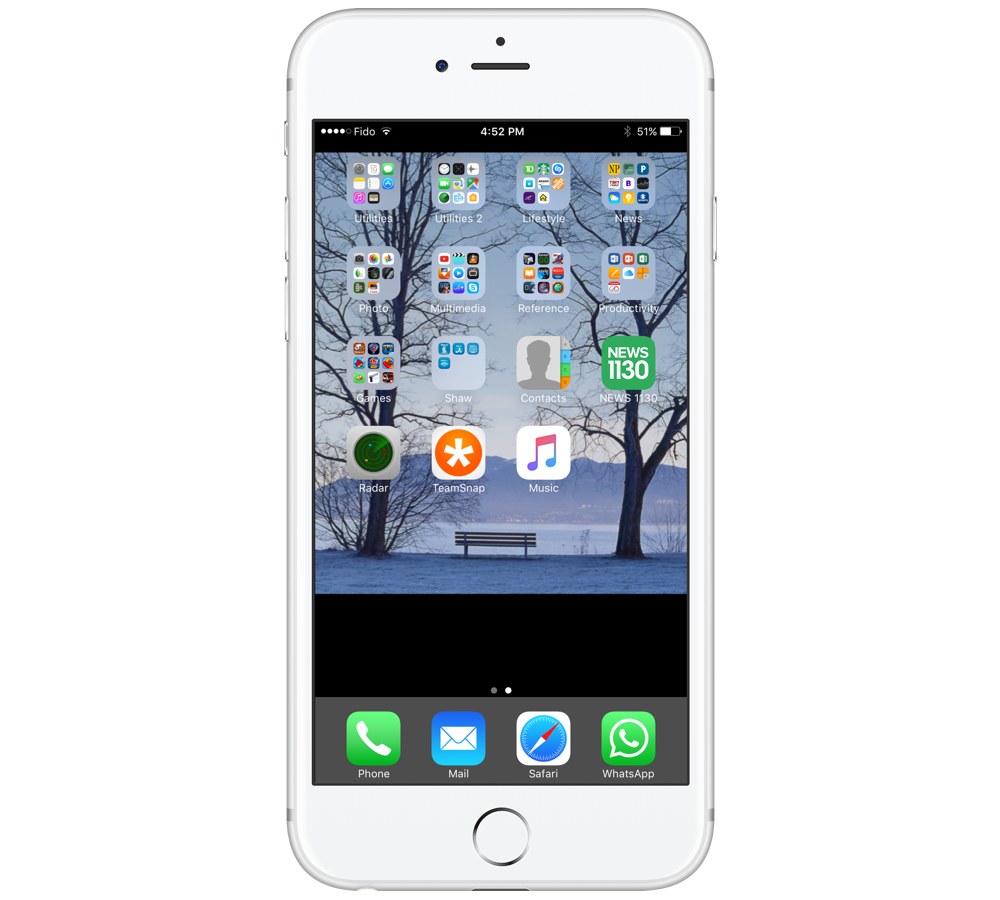 I currently use a Silver 128 GB 6s Plus.
Where can we find your wallpaper online?
This is a photo I took many years ago during a cold January winter morning in Spanish Banks beach in Vancouver. I took it with a 6×6 inch, medium format film camera using Fuji chrome film.
What apps do you use the most, and why?
I commute to work in downtown Vancouver via transit, so the Radar app is indispensable for knowing where the buses are, as it provides near-real time tracking (typically, only a one-minute lag). There have been times when using Radar that I could tell that an accident has happened along the route due to the way the buses were backed up on either side of a street. To confirm that an accident really did happen, I use the News 1130 app to listen to the latest traffic reports. During the commute, I always have iTunes playing music through Sennheiser in-ear monitors. Sometimes, I read an e-book via Amazon's Kindle app.
To keep track of hockey practices and games, the hockey teams use TeamSnap to post dates and times, as well as to send messages to the players and parents.
I no longer subscribe to newspapers, as I use the local newspaper apps that provide free access so long as I use an iPhone (paywall applies if using other devices). These include the Vancouver Sun, Vancouver Province, and the National Post newspaper apps.
Which app could you not live without?
iTunes, because the commute may be the only times I get to listen to music due to the busy home life.
---
Which iPad do you have?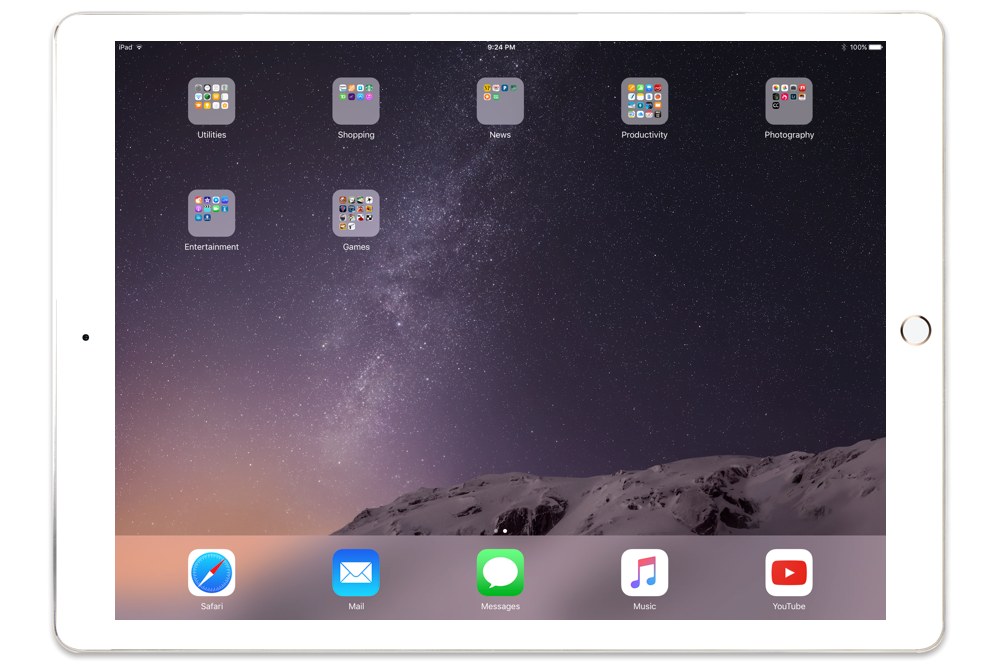 I currently have a 12.9-inch Gold 32 GB iPad Pro with a Logitech Create Keyboard cover and Apple Pencil.
Where can we find your wallpaper online?
I'm just using one of the included desktop photos that come with the iPad.
How are you using your iPad on a daily basis?
As much as I love all my Macs, when I sit back to relax and consume content (surf the web and watch videos on YouTube), the iPad Pro is my preferred device. Over the years, I've tried to use various iPads to create content, but I'm just too old-school and need a keyboard along with a mouse or trackpad to navigate my way around efficiently. However, I'm really liking how good the Apple Pencil is and am thinking that when the next generation 9.7-inch iPad Pro is introduced, that this combo will finally replace my paper notebooks (I like scribbling down notes, ideas, and diagrams as they come to mind).
What apps do you use the most, and why?
Safari for the web and YouTube to watch way too many truck reviews (my next hoped-for vehicle if I can ever convince my wife).
Which app could you not live without?
YouTube, because I've become a video-watching junkie with too many subscriptions to car-review channels.
---
There are more Sweet Setup interviews right here.
Want to share your setup? We'd love to hear from you. Just fill out this form with some basic information and we'll be in touch.
---
Wait. There's a Bonus….
Custom Productivity Templates
We have a set of custom productivity templates that work well with the iPad app, GoodNotes. And if you want to try them out, we've put together a free guide that can help you.
We'll show you…
How to create and save custom page templates in GoodNotes.
How to use those page templates to transform GoodNotes into your own productivity notebook (or any other type of notebook replacement).
Plus, we also have included a couple of our custom productivity templates for you to get started with. These templates are right out of our popular productivity course.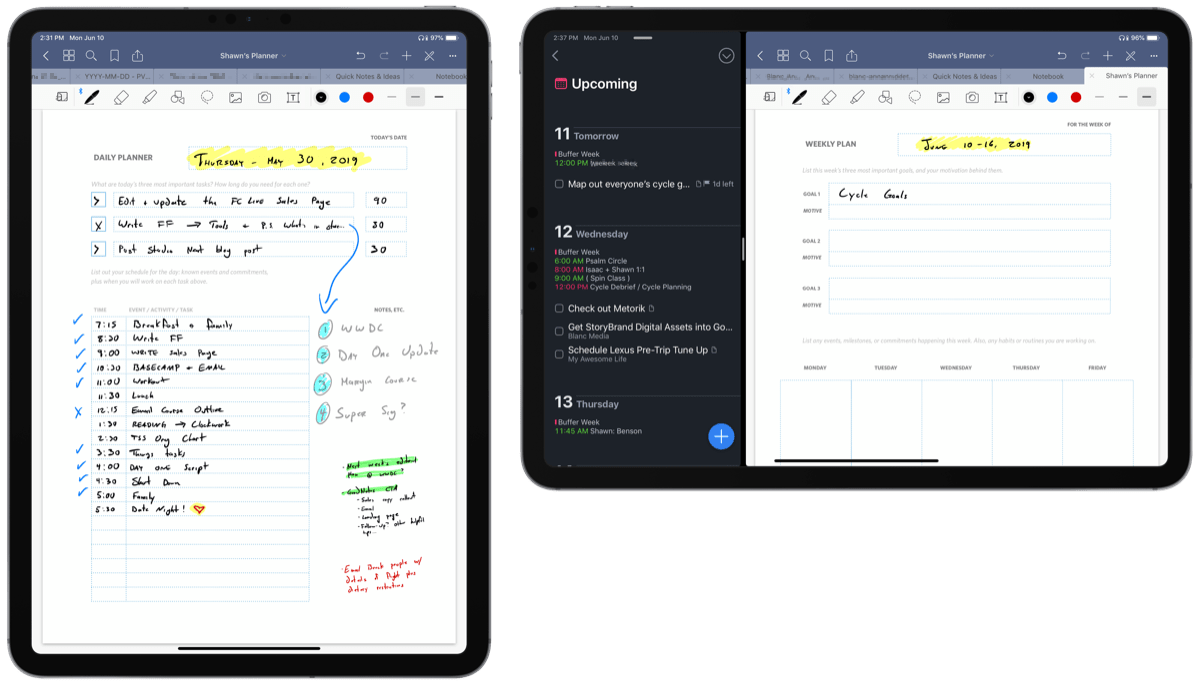 The custom templates and the guide are available for FREE to our email subscriber community. And you can get it right now. By joining the Sweet Setup community you'll also get access to our other guides, early previews to big new reviews and workflow articles we are working on, weekly roundups of our best content, and more.