Drafts 5 launches with tagging, workspaces, advanced scripting functionality, and much more
April 18, 2018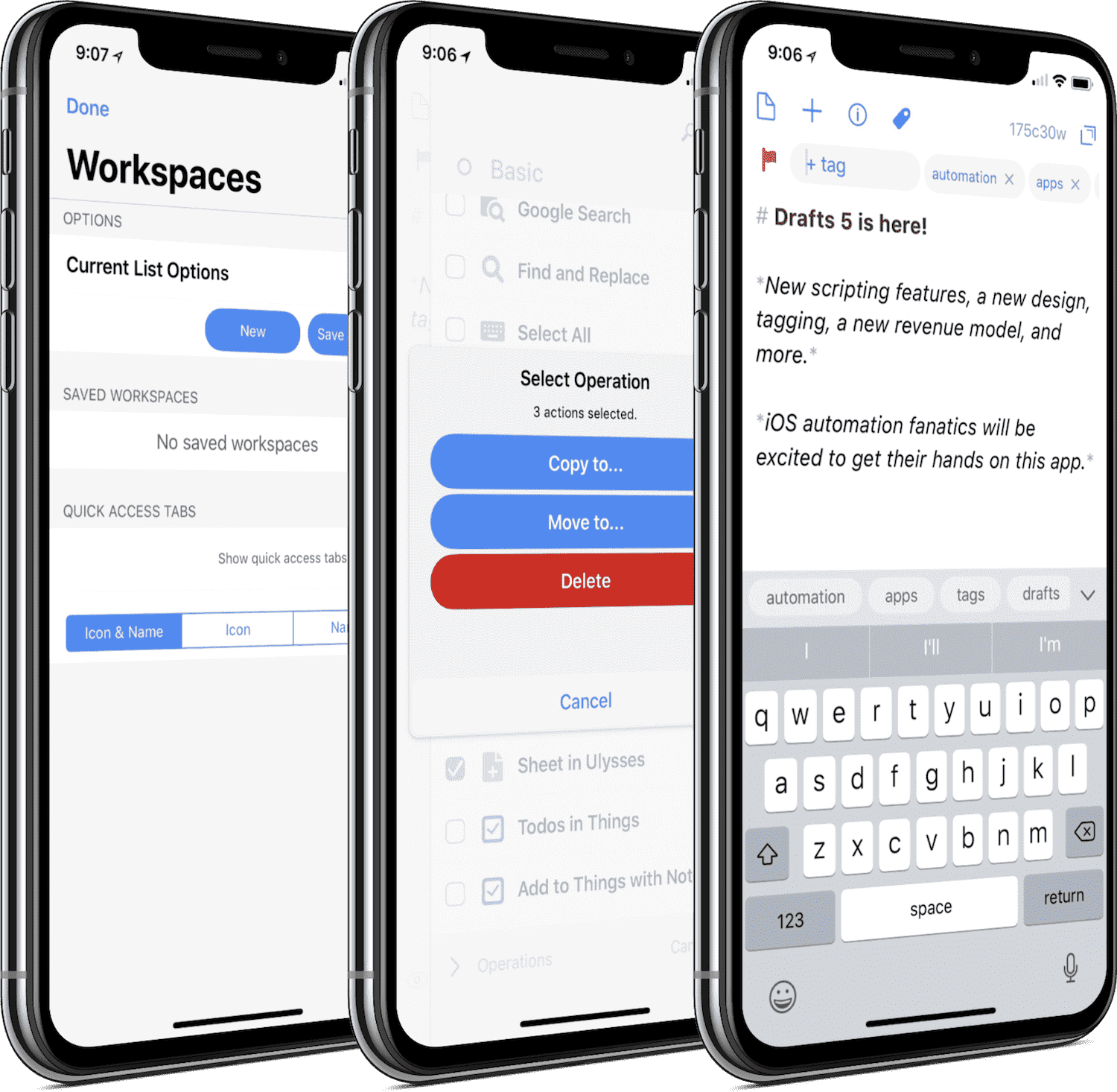 There are a bajillion text editors available for the iPhone and iPad. They range from git editors like Working Copy, to writing apps like iA Writer, Byword, or Ulysses, to note-taking apps like Bear or Simplenote. Somewhere in that range of editors, Drafts has always had a home. Be it as a place for all your thoughts and ideas, a place to start with any text related task, or as a starting, mid, or endpoint in an iOS automation, Drafts has long been one of the most powerful text editors for iOS.
Drafts struck a chord with users with its quick capture and fast process workflow. Drafts opens to a blank note and a cursor ready for text. After hammering out your idea, you can quickly process that draft with one of its built-in actions or with any of the hundreds (thousands?) of downloadable actions in Drafts' Action Directory. After awhile, Drafts becomes the starting point for many users' muscle memory.
Greg Pierce's jack-of-all-trades app has officially reached version 5, bringing with it a slew of improvements, a range of new designs and features, and an entirely different revenue structure. Thanks to Drafts' new scripting features, Drafts is sure to be the backbone of many iOS automation processes in the years to come.
Wait. There's a Bonus….
Custom Productivity Templates
We have a set of custom productivity templates that work well with the iPad app, GoodNotes. And if you want to try them out, we've put together a free guide that can help you.
We'll show you…
How to create and save custom page templates in GoodNotes.
How to use those page templates to transform GoodNotes into your own productivity notebook (or any other type of notebook replacement).
Plus, we also have included a couple of our custom productivity templates for you to get started with. These templates are right out of our popular productivity course.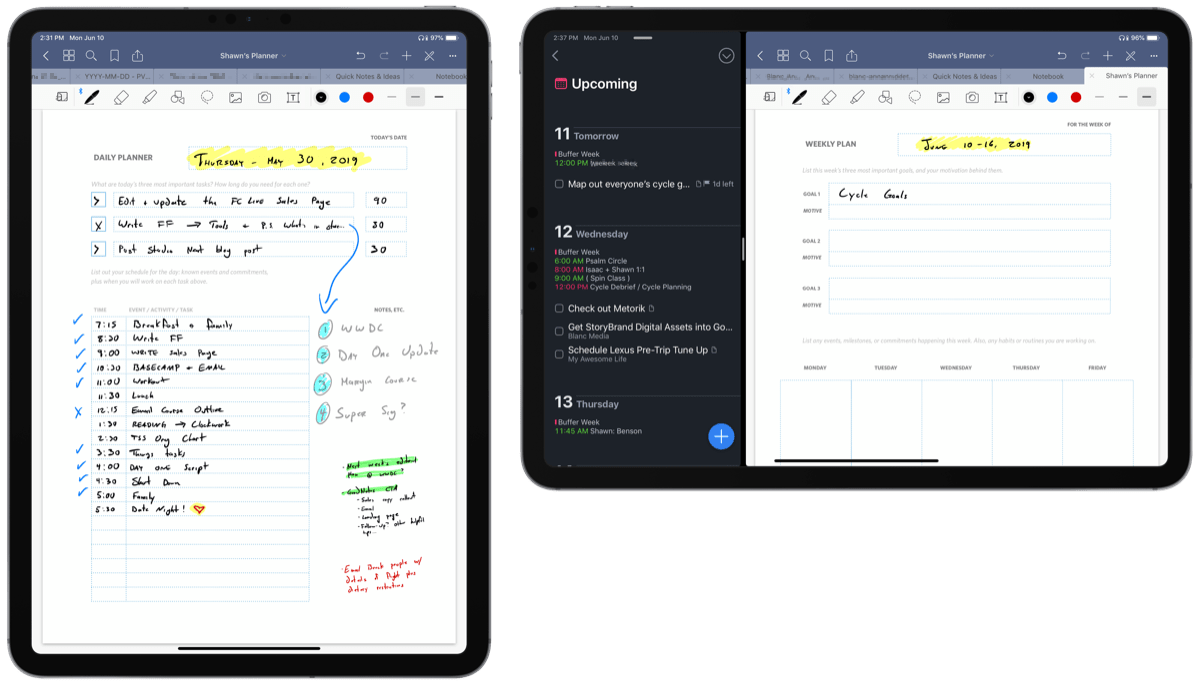 The custom templates and the guide are available for FREE to our email subscriber community. And you can get it right now. By joining the Sweet Setup community you'll also get access to our other guides, early previews to big new reviews and workflow articles we are working on, weekly roundups of our best content, and more.
Subscription
First and foremost, Drafts 5 is a free download with an optional app subscription to unlock all features in Drafts Pro. Drafts 4 isn't going away either, for anyone who has a multitude of workflows and automations built with the old app and who need to port those workflows over to the new Drafts 5.
Initially, I wrote off the idea of subscribing to Drafts Pro. I'm a lackluster beta tester, signing up to get an idea of where features are headed and to stay on top of release dates. Throughout the Drafts 5 beta, Drafts Pro loomed large, suggesting a range of features would be hidden behind the subscription.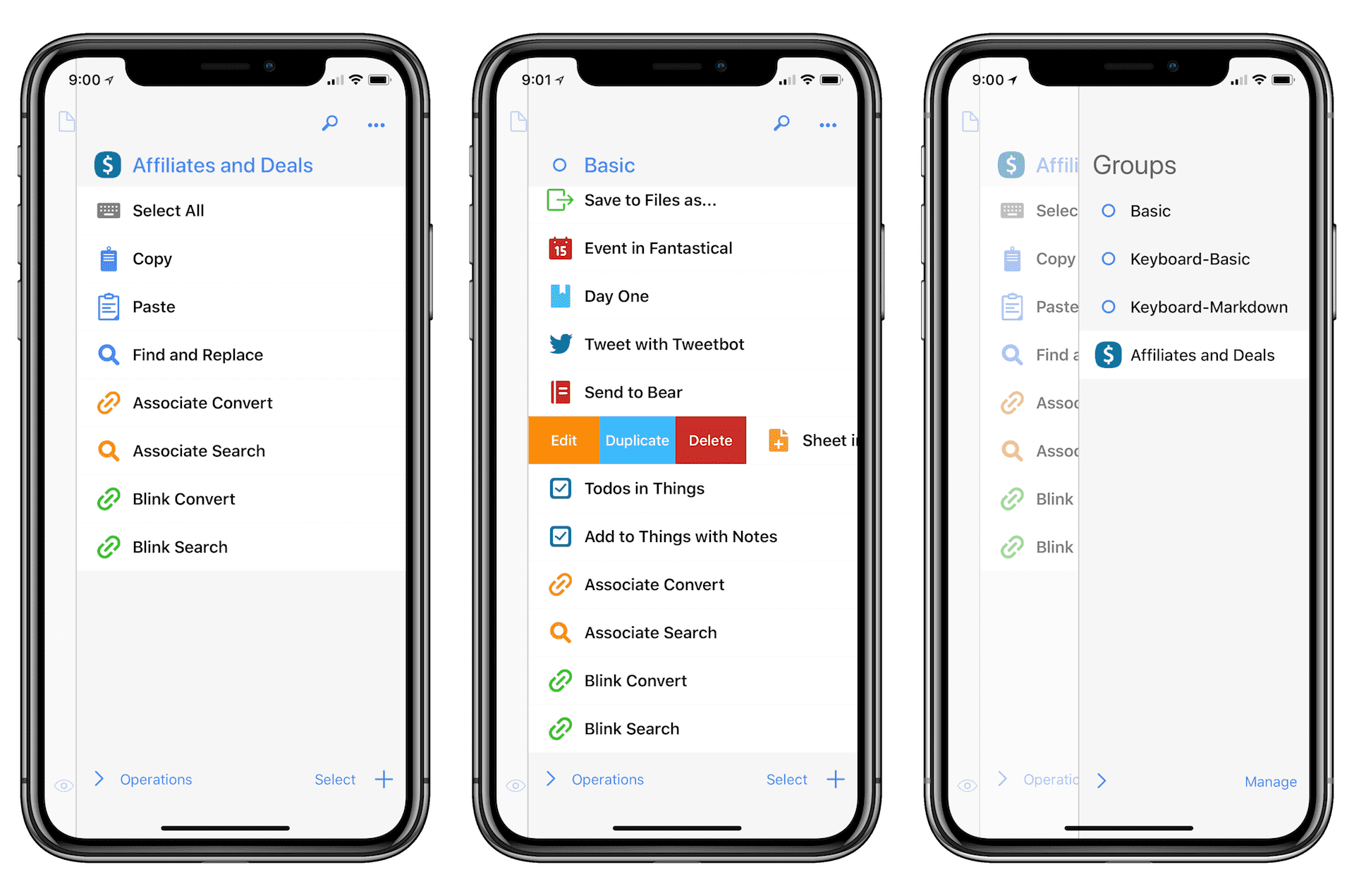 After actually reading the release notes, however, I'm convinced this is one of the most feature-complete "free-with-subscription" apps available on the App Store. Draft syncing and creation, action use, the customizable editor, multiple keyboards, tags — they're all part of the free version of Drafts 5. If you were initially disappointed to hear of the subscription pricing, you have no need to worry.
Drafts Pro does take the app to new levels, however. For $1.99/month or $19.99/year, Drafts Pro unlocks more custom themes and the ability to change the app's home screen icon. A subscription also unlocks workspaces (a saved setting of filters and tag groups to keep all your drafts organized), the ability to create and edit actions, and enhanced URL automation to make even quicker work of tedious processes. If you were a power Drafts user before, Drafts Pro offers a huge expansion of capabilities over and above the free Drafts 5 app. 
New Editor, Design, and Themes
Drafts has always maintained a simple, straightforward design. The blank, white text editor and simple icon have felt at home in all iterations of iOS. Drafts 5 brings that design into the world of iOS 11 and beyond utilizing color in new ways, allowing for customizable themes and fonts, and new layouts and buttons available for your thumbs to reach as efficiently as possible.
Customization
Drafts 5 is easily the most customizable version of Drafts to date. Everything is customizable. Fonts, icons, themes, spacing, text positioning, autocorrect, and spell checking are all up for grabs. Drafts Pro, as mentioned earlier, unlocks all these customization features and introduces a range of extra themes. The standard blank, white scratchpad is still my favorite design, but the true black theme looks awesome on the iPhone X.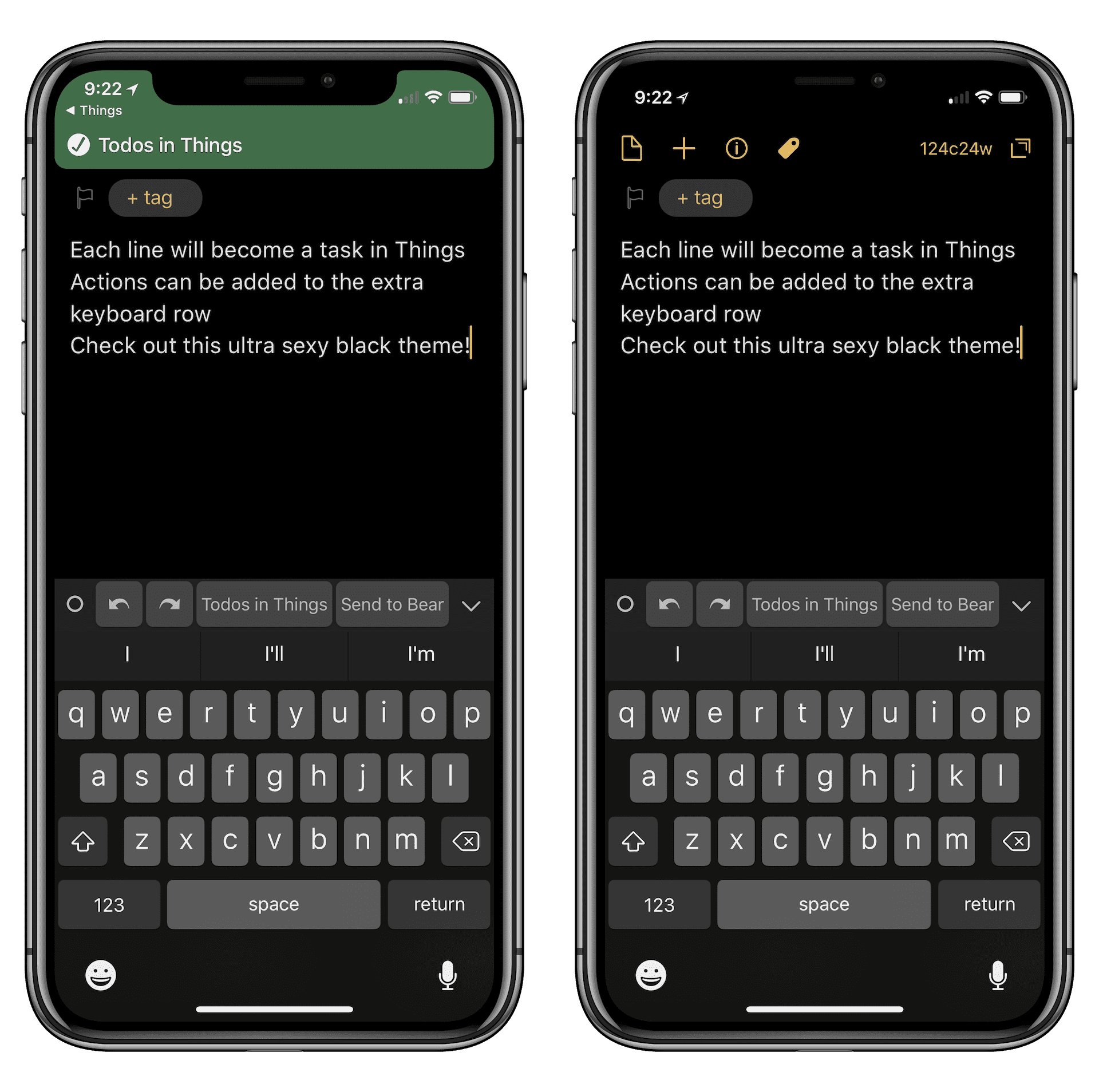 Fonts and text can be changed to your heart's content. You can use the system font or any of the other pre-installed fonts and Drafts 5's new syntax highlighting features will show inline code blocks in monospace fonts. Of course, everything from margins, to paragraph spacing, to line height, and other font customizations are in-house and ready for editing.
Editor
There are a range of new features in Drafts 5 editor itself. Drafts 5 introduces Siri integration, allowing you to create a new note by simply starting with "Hey Siri, create a note using Drafts…". This is ideal for taking notes and recording your thoughts when your hands are all tied up.
Drafts has a clever hack to get around iOS 11's 45-second limitation for recording via dictation and allows for unlimited dictation timeframes.
Drafts has always had features for creating a new draft each time the app is opened, or a timer could be set to create a new note after so and so many minutes between uses. Drafts 5 provides an option for going the other direction: Focus Mode eliminates the creation of a new draft and allows you to return to the previously created draft either a day or a few weeks after its' been created.
I'm a major fan of having as many actions as possible available in Drafts' extra keyboard line above the regular iOS keyboard. Actions like "Todos in Things" sends all the lines of text over to Things 3, or "Send to Bear" creates a new note in my favorite notes app. If you want to keep your todos in Drafts, Drafts 5 now has tappable x /   task check marks like other text editors have adopted.
Best of all, you can create multiple custom extended keyboards with like-actions and switch between them by tapping the little "O" button on the far left of the extended keyboard line. You can group any set of actions you need in multiple extended keyboards. I like dropping in some text in the editor and then processing that text with multiple actions by tapping actions in the extended keyboard in a left to right fashion. This is particularly useful for processing affiliate links with differing affiliate tags (say, if you have multiple Amazon affiliate tags).
And, if all this wasn't enough, Drafts 5 now has a built-in Find and Replace action. Am I the only guy puzzled as to why this wasn't included earlier? In my limited use of Drafts, find and replace was one of the actions I yearned for most. Fortunately, my yearning has subsided — you can now quickly find any text in a draft and replace the bits you need.
Tagging and Workspaces
There seems to be a tagging revolution in the world of apps these days, and Drafts 5 is jumping aboard. This will be welcome news for those with hundreds or thousands of drafts and allows for more custom organization structures.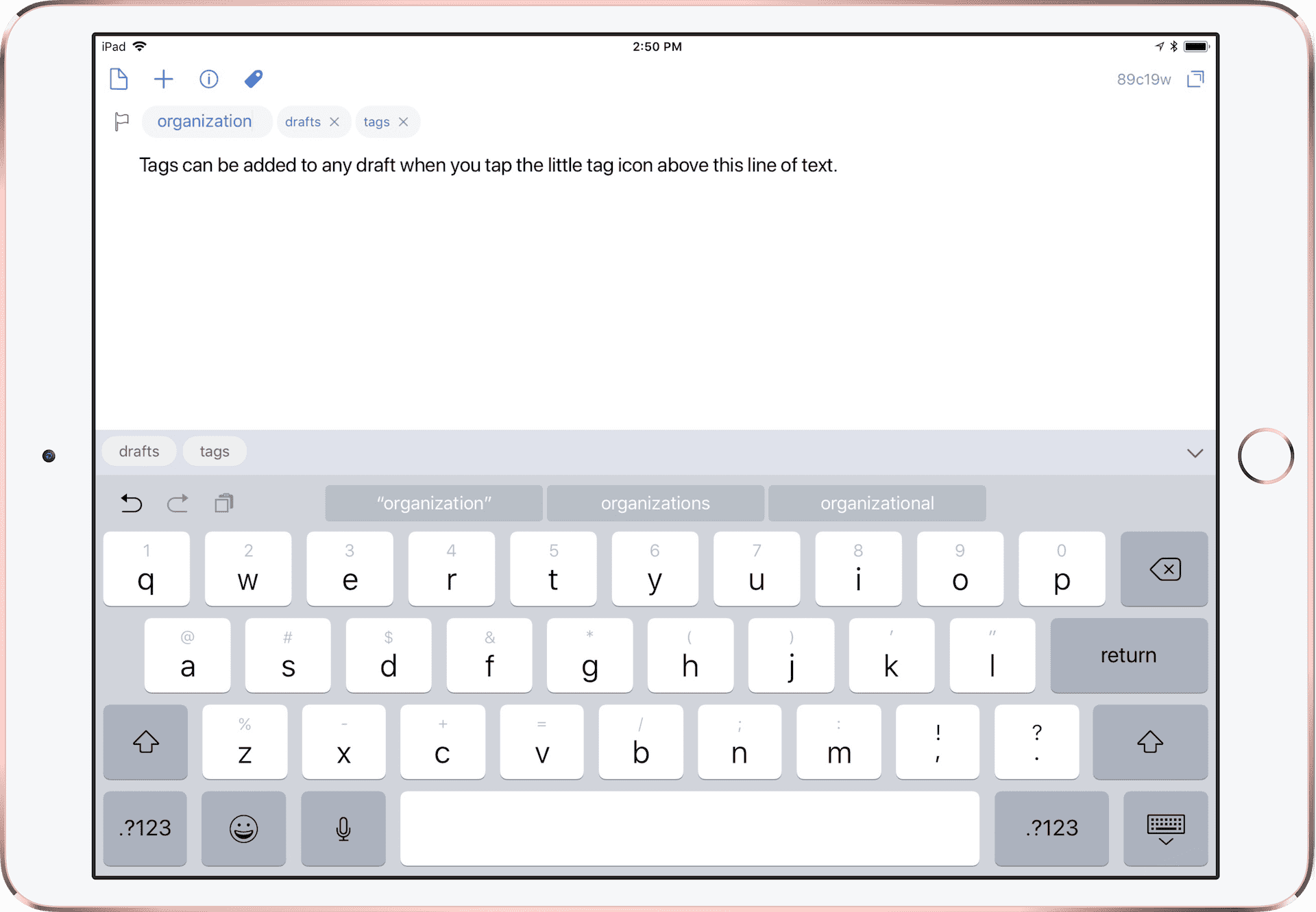 Tags can be added to each draft in the top left corner by tapping the tag icon, or previously created tags can be added by tapping any of the tags above the keyboard.
In addition to tags, you can still archive and delete unnecessary or completed drafts. Plus, you can now flag drafts to specify importance or to bring your attention to a specific draft.
All these tagging and flagging filtering options can be saved to a specific workspace. As part of Drafts Pro, workspaces extend the organization structure that tags create in Drafts 5 by allowing you to save specific filters and tags to quickly jump into later. If you need to consistently access a specific tag of filter, you can jump into one of your saved workspaces instead of recreating your filter list over and over.
Actions and Scripting
Drafts 5 introduces an all-new Action Directory. Users can submit their own custom actions to the Action Directory for other Drafts users to download and use. Now they can also update or remove prior actions and submit action groups to be downloaded.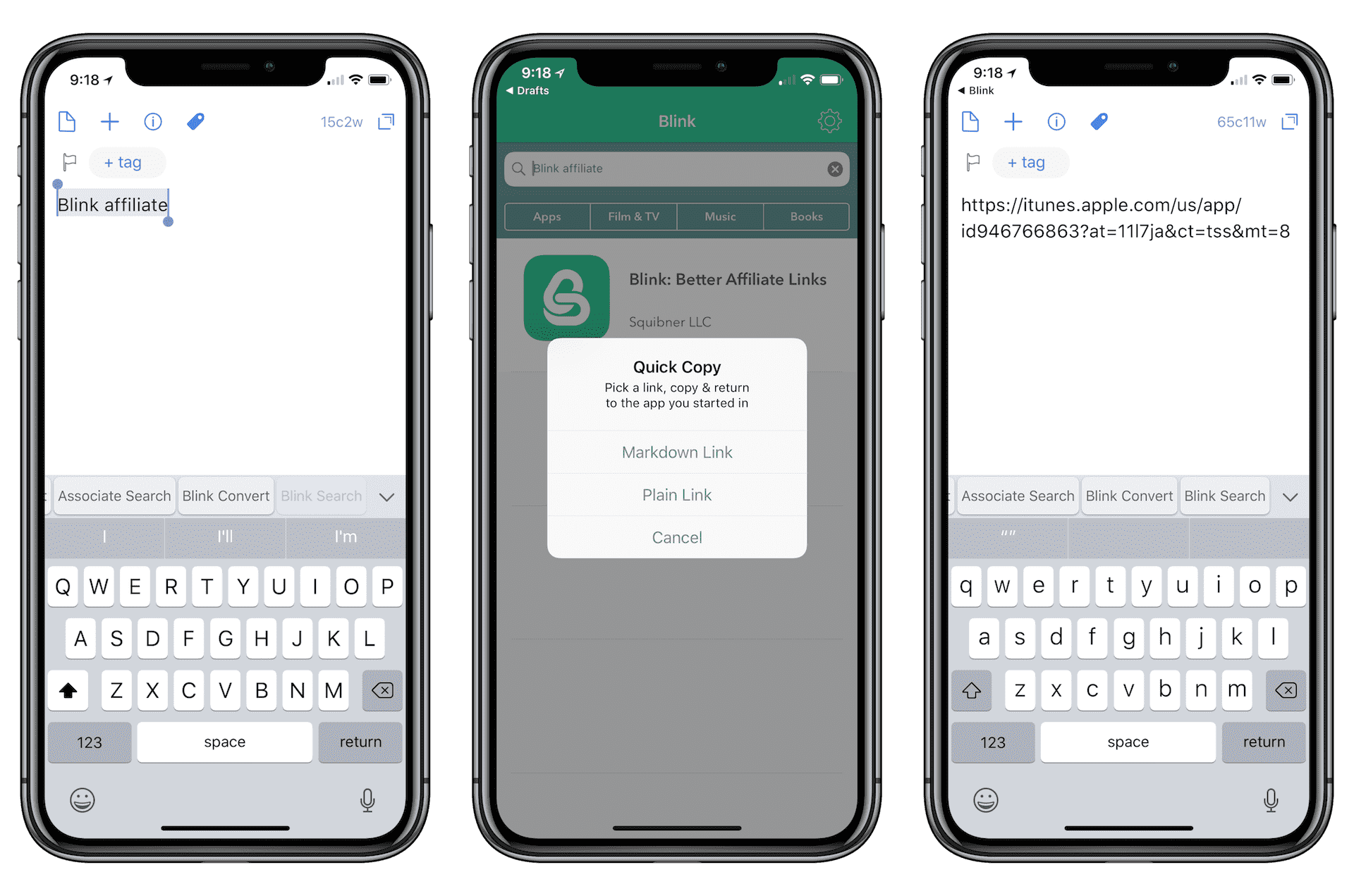 The new Action Directory does mean most Drafts 4 actions need to be recreated for Drafts 5. Some of my most used actions from Drafts 4 — like the ability to drop in an Amazon affiliate link and run an action using Associate to convert the affiliate tags — are not yet available in the Drafts 5 Action Directory.
Fortunately, if you subscribe to Drafts Pro, you'll be able to create and edit actions in Drafts 5. And one of the steps available when creating actions in Drafts 5 is to run an action saved in Drafts 4. If you don't immediately find a prior Drafts 4 action and you subscribe to Drafts Pro, running Drafts 4 actions inside Drafts 5 couldn't be any easier.
Drafts 5 introduces improved support for Workflow and Callback URL as well. Drafts is, by and large, a fundamental or backbone app for automations and workflows on iOS. We expect these improvements to be great news for those looking to automate on iOS.
Most importantly, of all the automation and workflow improvements in Drafts 5, the biggest introduction in Drafts 5 are the dramatically improved scripting capabilities. Using the new scripting capabilities, you can update and query drafts, integrate with web services, and generate a range of reminders and events.
Included in these new scripting capabilities is the inclusion of JavaScript, opening a whole world of opportunities to advanced Drafts users. In his overview of Things 3.4, Federico Viticci teased some of Drafts 5's built-in Things and JavaScript functionality. Using the new scripting functionality, Federico effectively created a full-fledged prompt in Drafts for creating tasks in Things — tasks which could be added to a pre-existing project or pre-existing area with ease. The potential of Drafts' implementation of JavaScript is very exciting and we can't wait to see what types of actions people create to speed up text processing on iOS.
Other New Features
With the launch of a brand new app and with such a huge release, there are many improvements that won't be noted or listed. Here are just a few that caught our eyes:
New features for Apple Watch to create and process drafts through the increasingly popular wearable.
New Drafts Community forum to find the latest tips and tricks to help new and experienced users get the most out of Drafts 5.
New Spotlight and Handoff capabilities for better seamless work between an iPhone and iPad.
And, quite excitedly, Greg Pierce has announced the intention to develop a Drafts for Mac app, completing the cross-platform trifecta. Very little is known about Drafts for Mac at this point, but if the power of Drafts on iOS can somehow be ported over to the Mac for even better automation on Apple's notebook and desktop operating systems, users will be sure to make the most of it.
Drafts 5 Has Surprised Me
I jumped into the Drafts 5 beta about six weeks or so before the launch announcement to stay on top of the app's upcoming features. I opened the beta, looked around, admired the new use of color and general overall improvements, and quickly relegated the beta to my second home screen. Automation apps like Drafts 5 have almost never stuck for me. The cards were stacked against the app from the start.
However, as I broke out the Drafts 5 Overview to write this piece and as I dug deeper into the app, I began to unwrap just a smidgen of the app's potential. I moved a few of my favorite Drafts 4 actions into Drafts 5 (I almost never used the actions, but found them to be cool when I discovered them) and threw some text at the app to see what it could do. Within seconds, I realized what I'd been missing.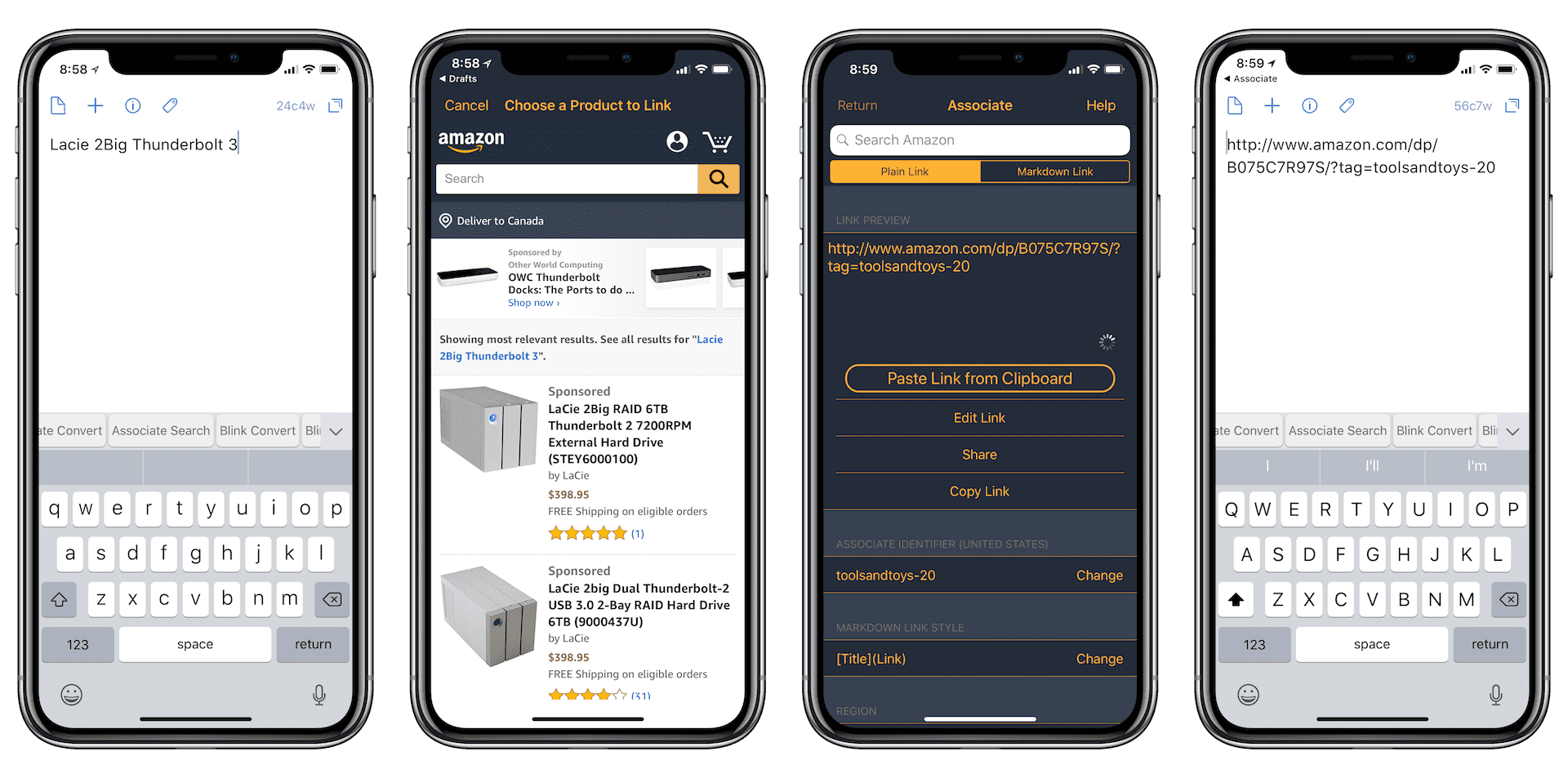 Drafts is at the heart of automation workflows on iOS that actually make iOS better than the Mac in many ways. I have to generate a range of affiliate links for The Sweet Setup, my own personal blog, and for Tools & Toys on occasion, and each of those sites have different campaigns and affiliates. Keeping track of all the tags on the Mac has been a chore. However, combining apps like Drafts, Blink, and Associate (by MacStories' John Voorhees), creating these affiliate links is as simple as dropping a search query or an Amazon/iTunes affiliate link into Drafts and tapping an action in the extended keyboard. Within seconds, I have a shortened Amazon or iTunes link with the correct affiliate tag ready to be pasted back in Drafts or whichever app I came from. This experience is faster and far more pleasing on iOS than on the Mac and is but one example of how Drafts has the potential to move iOS beyond the Mac.
Greg Pierce's Drafts has been a handy note-taking scratchpad for each of its iterations, but Drafts 5's under-the-radar automation and scripting features will be the talk of the town as users get their hands on the app's capabilities. If you want to automate workflows on iOS, Drafts ranks right up there with Workflow for bending iOS to your will. Drafts 5 continues to bring the future of iOS to the present and I can't wait to see what Drafts users create with the latest instalment.
You can pick up Drafts 5 on the iOS App Store for free.