Dr. Drang's sweet Mac setup
April 21, 2014
Every week we post a new interview with someone about what software they use on their Mac, iPhone, or iPad. We do these interviews because not only are they fun, but a glimpse into what tools someone uses and how they use those tools can spark our imagination and give us an idea or insight into how we can do things better.
New setup interviews are posted every Monday; follow us on RSS or Twitter to stay up to date.
---
Who are you and what do you do?
Dr. Drang: consulting engineer by day, scripter/blogger by night, benevolent snowman on Twitter.
What is your current setup?
My office machine is a late-2012 27″ iMac with 24 GB of RAM and a 3 TB Fusion Drive. This was the first of the iMacs that were so "incredibly thin" that they couldn't accomodate a DVD drive. It sits on a computer desk in a corner of my office along with two backup drives (one for Time Machine, one for SuperDuper!), a USB hub, an SD/CF/MS camera card reader, and an external SuperDrive (see "incredibly thin" above).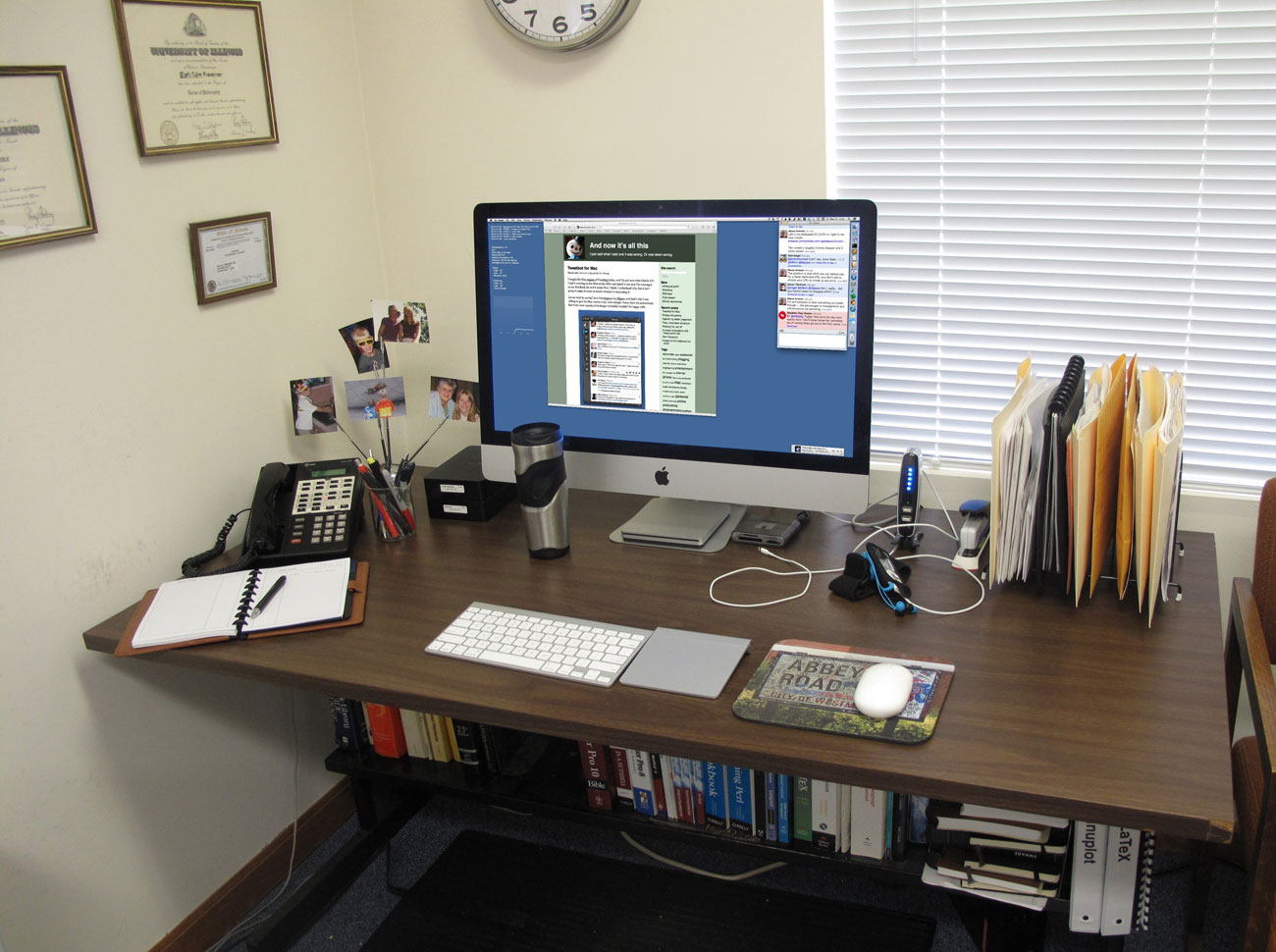 I use both a Magic Trackpad and an old Apple (don't call it Mighty) Mouse. I tend to use the trackpad more, switching only to the mouse when drawing. When I bought the iMac, I decided to go with Apple's standard keyboard instead of the one with the numeric keypad because I wanted Bluetooth. This is the first time I've been without a keypad since my Fat Mac in 1985, and I was half expecting to switch back. But even though I do a lot of numerical work, I don't key in numbers very often, and the lack of a keypad hasn't been an issue.
The computer screen shown in the photo is fake. It didn't turn out well in the photo, so I comped in a screenshot using Acorn's Instant Alpha tool. I also used Acorn to obscure my name on the diplomas and PE license on the wall. Thanks, Gus!
My home computer is a late-2010 13″ MacBook Air with 4 GB of RAM and 128 GB flash storage. This was the first of the "good" Airs, and it came out just in time to replace my dying iBook G4. Although it's coming up on four years old, I still think of it as a new machine, because it's plenty fast for what I do. It's my favorite Mac since the SE/30.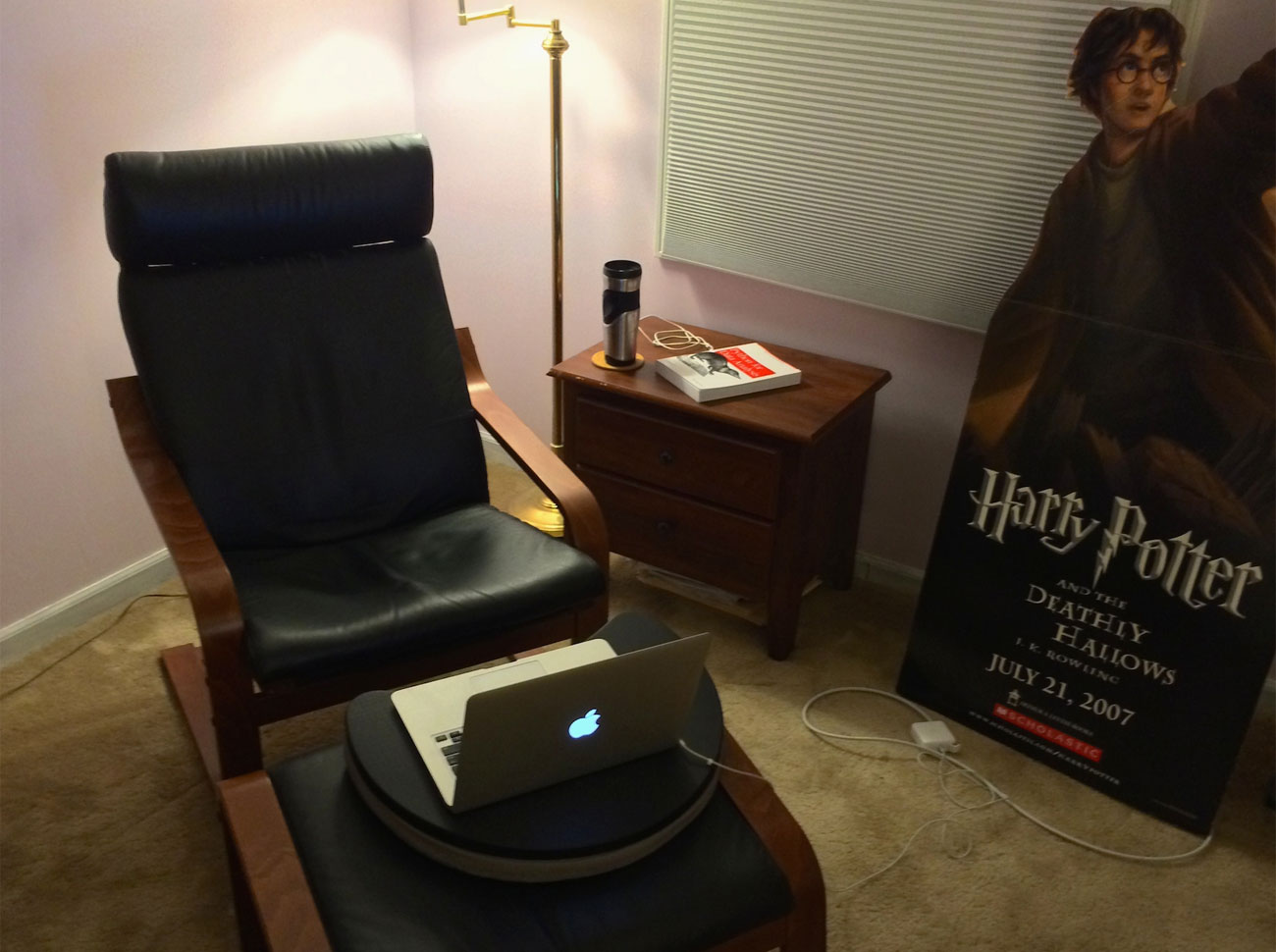 What software do you use and for what do you use it?
I spend most of my work time in Safari, Preview, BBEdit, and Terminal. I sometimes use Numbers for data entry, but I never use it for analysis or graphics because it's just not up to the task. I do most of my drawing in OmniGraffle, with occasional dips into Acorn when I need to do bitmappy things. I never use a word processor because I have this Markdown/LaTeX workflow for generating reports.
Because Apple screwed the pooch on both Mail and Calendar, I've recently switched to MailMate and combination of Fantastical and BusyCal. Contacts is still working for me—I was even able to stick with it during Lion—mainly because I access my contacts info almost exclusively through LaunchBar, which I can't imagine living without.
Of course I use TextExpander and 1Password. I've been playing around with Keyboard Maestro recently, but it still isn't second nature to me. Often as not, I revert to my old ways and work up scripts in either AppleScript or Python and access them through FastScripts.
My greatest power user apostasy is that I don't use Hazel. I'm sure it's wonderful, but I've yet to see an example workflow—and I've seen many—that appealed to me.
I read RSS in ReadKit and Twitter in Dr. Twoot.
How would your ideal setup look and function?
I'm happy with the speed of both computers right now. The MacBook Air is light on disk space, but I have a few external drives around to take the load off. What I'd really like for home is a good network attached storage system, but I'm paralyzed by the choices. Since I don't have a podcast, the Synology people haven't seen fit to send me a system and make the decision for me.
---
There are more Sweet Setup interviews right here.