Denny Henke's Mac and iOS setup
October 31, 2016
Every week we post a new interview with someone about what software they use on their Mac, iPhone, or iPad. We do these interviews because not only are they fun, but a glimpse into what tools someone uses and how they use those tools can spark our imagination and give us an idea or insight into how we can do things better.
New setup interviews are posted every Monday; follow us on RSS or Twitter to stay up to date.
---
Who are you and what do you do?
My name is Denny Henke, and I'm a freelance web and graphic designer at Beardy Guy Creative. Also, I'm an avid science fan and amateur astronomer. I write fairly often at Beardy Star Stuff.
What is your current setup?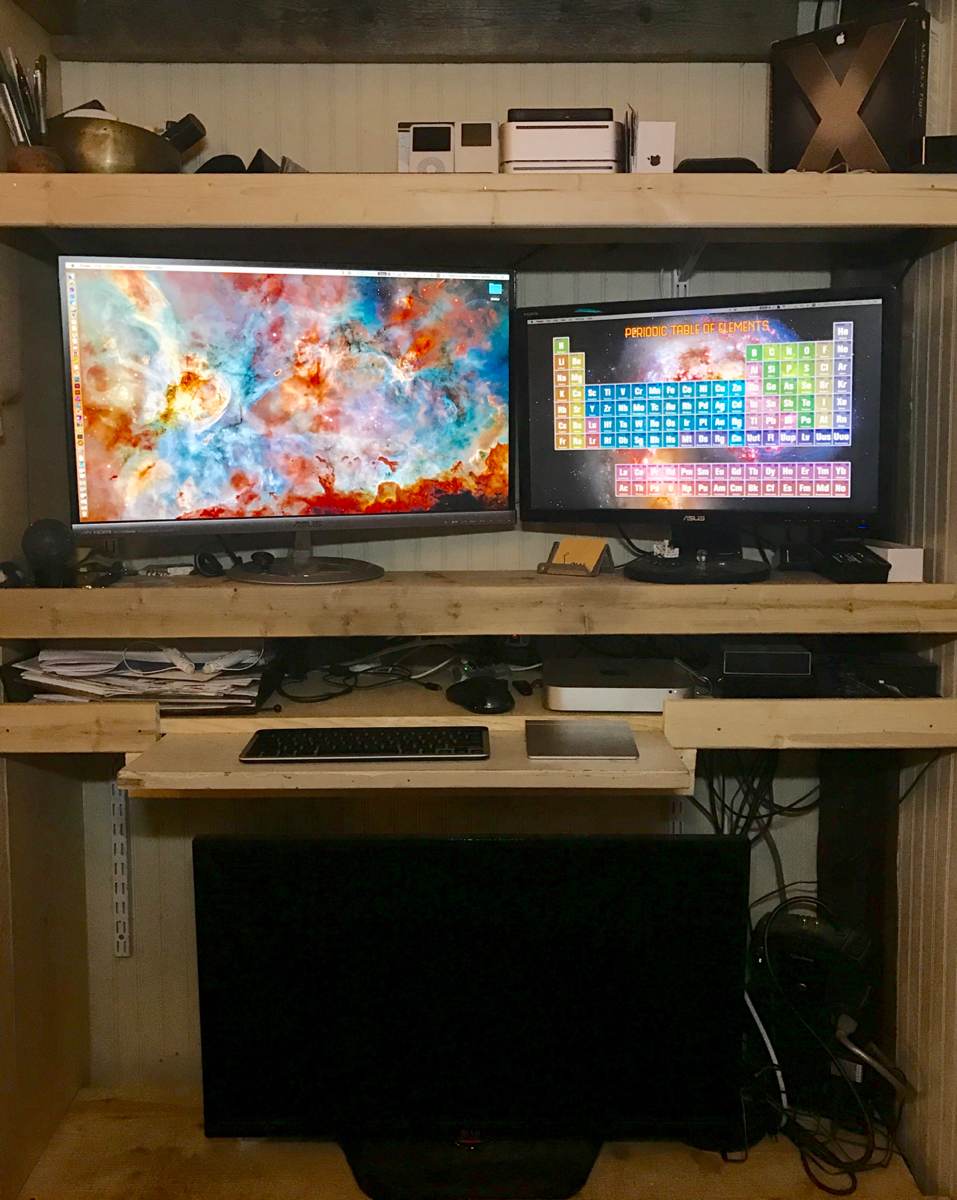 I live and work out of a "tiny house" in rural Missouri. Interior space is limited, so I have a standing desk integrated into a set of wall shelves that also houses my media center (AppleTV and LCD). For design work, I like to have extra screen space so I've got two ASUS displays attached to a 2012 Mac Mini with 16GB RAM and a 256GB SSD that also serves as an iTunes/Plex server. Media files are stored on a 4TB external drive. All work files are kept in Dropbox.
Due to the small space, I tend to move around a good bit (both inside and outside). So, if I'm not working on a project that requires the Mac, I'm likely using the iPad while reclining on the futon, sitting at a shelf/desk by the window, or outside somewhere.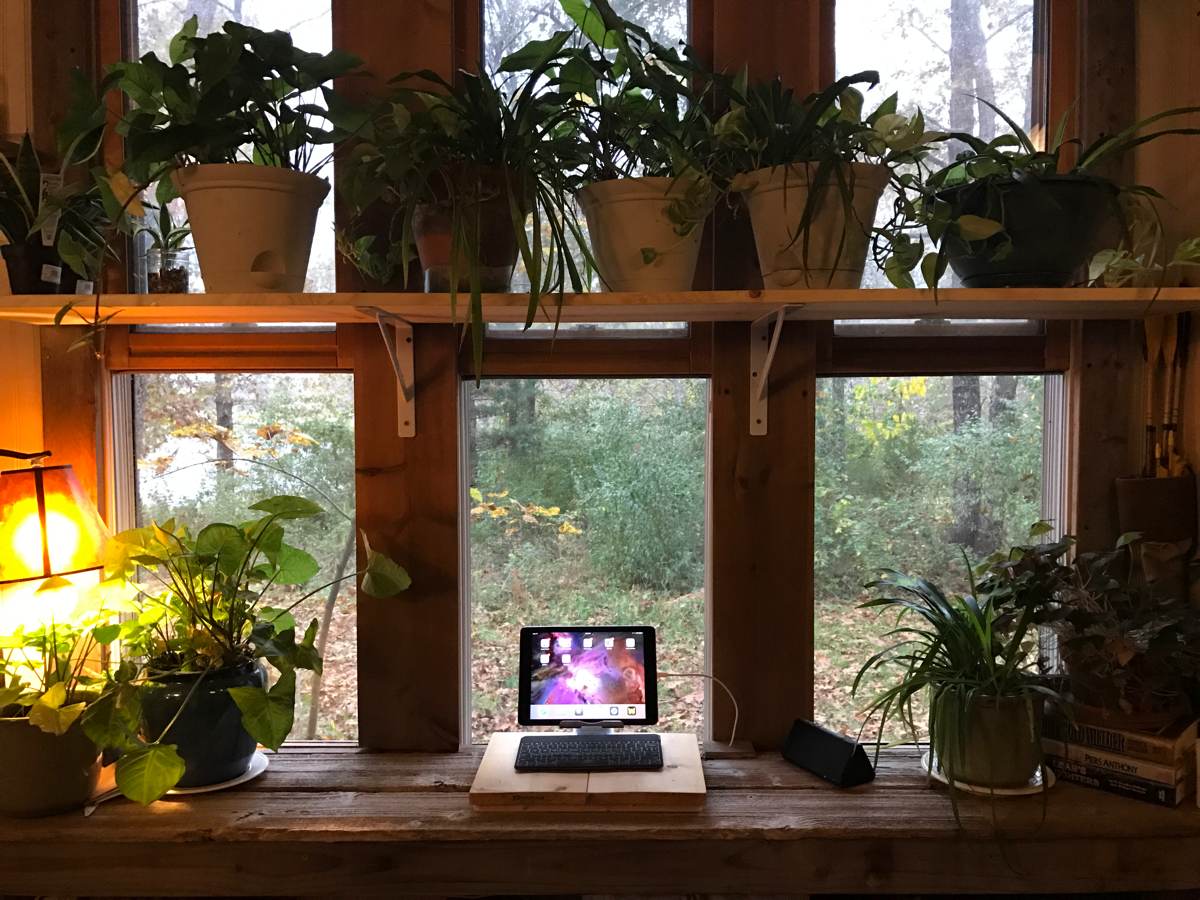 I use an Apple Trackpad or Logitech M510 mouse along with a Logitech K811 keyboard which is great for easily switching between my Mac, iPad and iPhone.
Where can we find your OS X wallpaper?
It's an image of Hubble's view of the Carina Nebula. I've actually got about 12 astronomical images from that site which are set to change every 30 minutes. The other is one I made of the periodic table of elements placed over the Antennae galaxies.
What software do you use and for what do you use it?
Coda for coding HTML/CSS, though most of that happens on the iPad.
Affinity Designer and Affinity Photo for graphic design work. I've mostly transitioned away from Adobe apps, though I still use InDesign for multi-page documents. Affinity is going to be releasing a page layout program, so I'm looking forward to that and hoping it will allow me to rely less on InDesign.
iTunes and Plex for media.
Pages for the occasional quick brochure or flyer.
FileMaker Pro for invoicing and for recording astronomical observations.
Numbers for a variety of tasks from budgeting, tracking utility usage, to astronomy related tasks.
Photos for managing, er, photos. I've used Lightroom and Aperture in the past, but Photos seems to get the job done these days. If I had something other than satellite internet, I'd like to store it all in the cloud.
Notes is very handy for a central repository of text between devices to serve as a sort of temporary clipboard.
Slack, Messages, and the stock Mail.app for communications.
Dropbox for file management with the exception of Apple's apps that default to iCloud. In both cases, I have easy access from any Apple device.
How would your ideal setup look and function?
This set-up has been great and I expect to use it for another 2-3 years. Maybe more. I'm a big fan of the Mac Mini form factor, and this 2012 machine has plenty of horsepower for the work I do. I'll likely add the larger iPad Pro to the mix when they are updated next.
---
What iPhone do you have?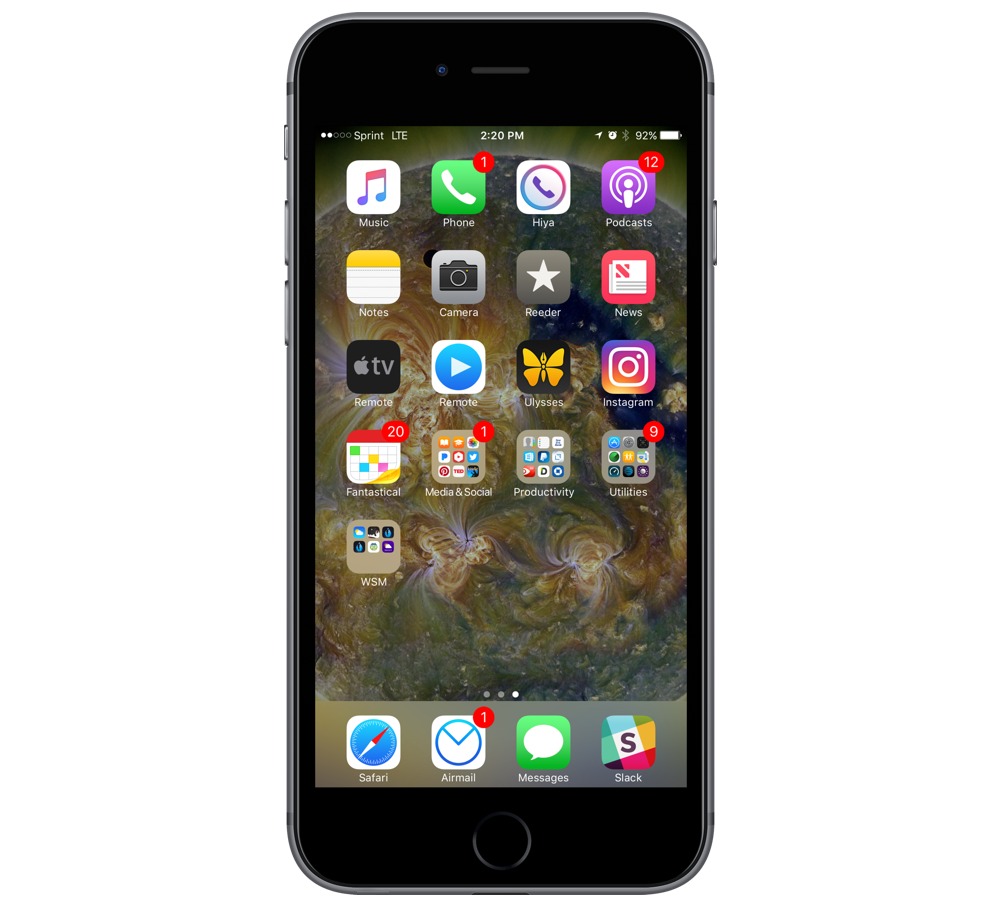 I have a Space Gray iPhone 7 Plus, 128GB.
Where can we find your wallpaper online?
It's a photo of the 2012 transit of Venus in front of the Sun. It's a composite put together from photos taken by NASA's Solar Dynamics Observatory's Atmospheric Imaging Assembly camera.
What apps do you use the most, and why?
Because my satellite internet is somewhat limited and my Sprint data plan is unlimited, my iPhone has become my primary mode of internet access for everything that is not work related. It's especially nice for streaming music and video.
Safari, Reeder, and News for reading and research. I've been using Apple's News app a lot more since iOS 10.
Notes for easy sharing of text between devices.
MyFitness Pal has proven very useful in helping me keep my diet in check.
Fantastical and Reminders for task management, mostly because I wanted the Siri integration. It's rare that I use apps to track work-related tasks. More often than not, I'm working on just a couple projects at a time and have never felt a need to pre-enter tasks. I tend to use them for shopping lists, the occasional client meeting, family/friend gatherings, and around-the-house projects.
Which app could you not live without?
---
Which iPad do you have (color, size, etc.)?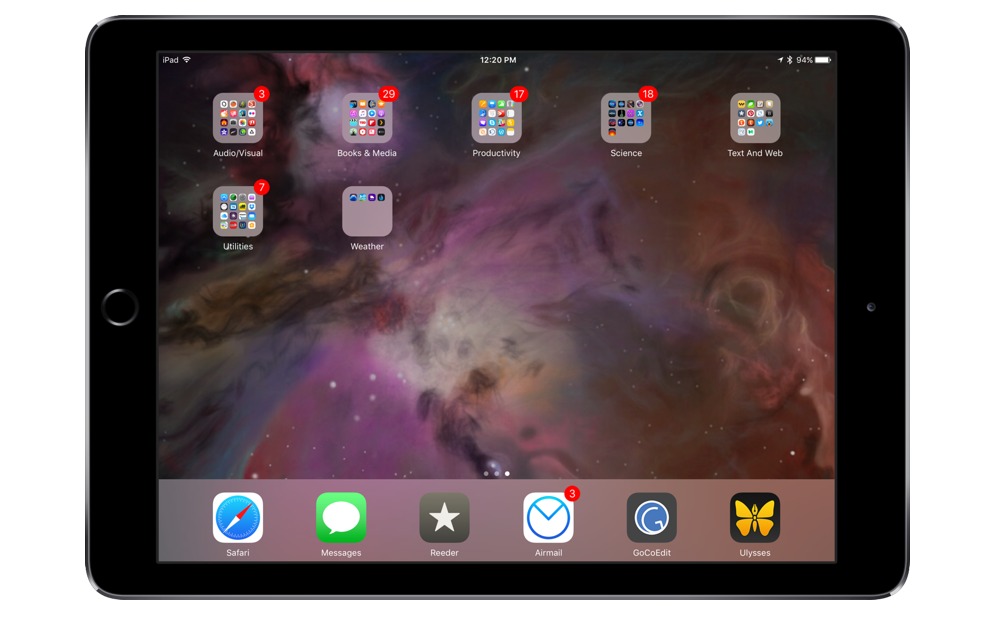 I have an iPad Air 2 in Space Gray with 64GB.
Where can we find your wallpaper online?
On both iPhone and iPad, I keep all my apps on the second screen so I can enjoy the wallpaper. At the moment, my iPad wallpaper is one of my own — a painting of the Orion Nebula.
How are you using your iPad on a daily basis?
My iPad is probably the most used of my devices. In terms of work, it is my primary device for managing my clients' websites. I also use it for writing/blogging, email, spreadsheets, photo editing, and some initial graphic design. The key to the iPad becoming my primary work device was the introduction of split screen mode in iOS 9 as well as a decent bluetooth keyboard. Also, a variety of stands that allow for flexible usage around the home or on the go. I've often heard it asked, why use an iPad if you're just going to turn it into a laptop? The key for me is flexibility. For work, I always use a keyboard but I can position the iPad and keyboard in so many different ways depending on where I am. The bonus is that when I'm not using it with a keyboard I can comfortably hold or carry it in ways I could never do with a laptop.
Also, it is invaluable as a tool for amateur astronomy. It is essential for finding objects at the telescope as well as recording the details of observations.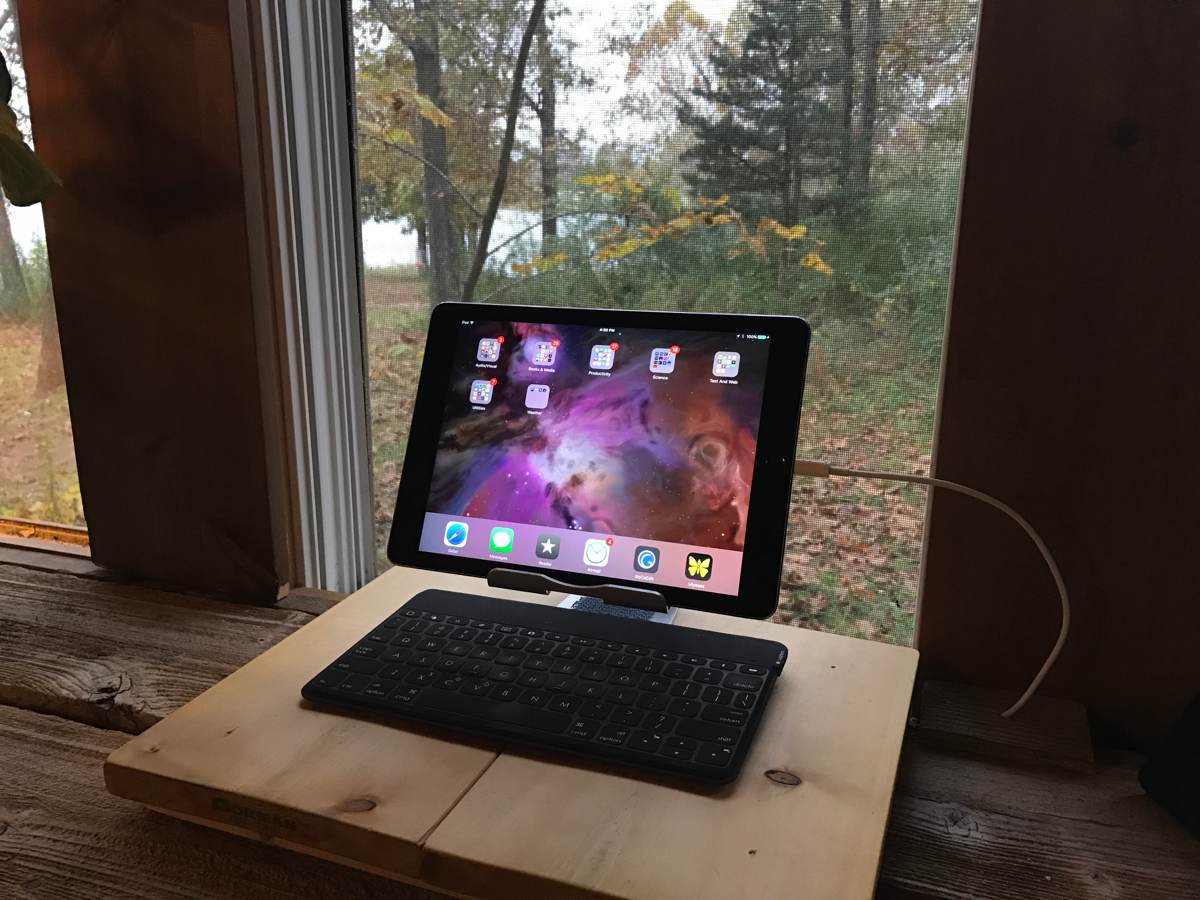 What apps do you use the most, and why?
I have a pretty well-developed split screen workflow for managing client websites. On one side I code HTML with GoCoEdit which edits the "local" files in place on Dropbox. On the other side, I use Coda for iOS to update the server files via copy/paste. It probably sounds a little kludgy, but it actually works very well. Using Dropbox as the source for the HTML files ensures that everything stays neatly organized by project. If I need to do site-wide find and replace, I'll work from the Mac in Coda. Regardless of the device, I know the HTML source files are always in sync.
Which app could you not live without?
For work, GoCoEdit and Coda. SkySafari for astronomy.
---
There are more Sweet Setup interviews right here.
Want to share your setup? We'd love to hear from you. Just fill out this form with some basic information and we'll be in touch.
---
Free Productivity Guide: Download our simple guide to productivity to help you improve your workflows and be more focused with your time and attention. Get it here.