Dean Elliott's iOS setup
December 7, 2015
Every week we post a new interview with someone about what software they use on their Mac, iPhone, or iPad. We do these interviews because not only are they fun, but a glimpse into what tools someone uses and how they use those tools can spark our imagination and give us an idea or insight into how we can do things better.
New setup interviews are posted every Monday; follow us on RSS or Twitter to stay up to date.
---
Who are you and what do you do?
My name is Dean. I recently quit my job as an Account Manager to back-pack across Southeast Asia with my girlfriend. We plan to be on the road for 8-10 months and hope to take in Thailand, Myanmar, Laos, Vietnam, Cambodia, Malaysia, Singapore, Indonesia, and possibly Japan / China. You can follow our progress on our blog, One Way Ticket.
What iPhone do you have?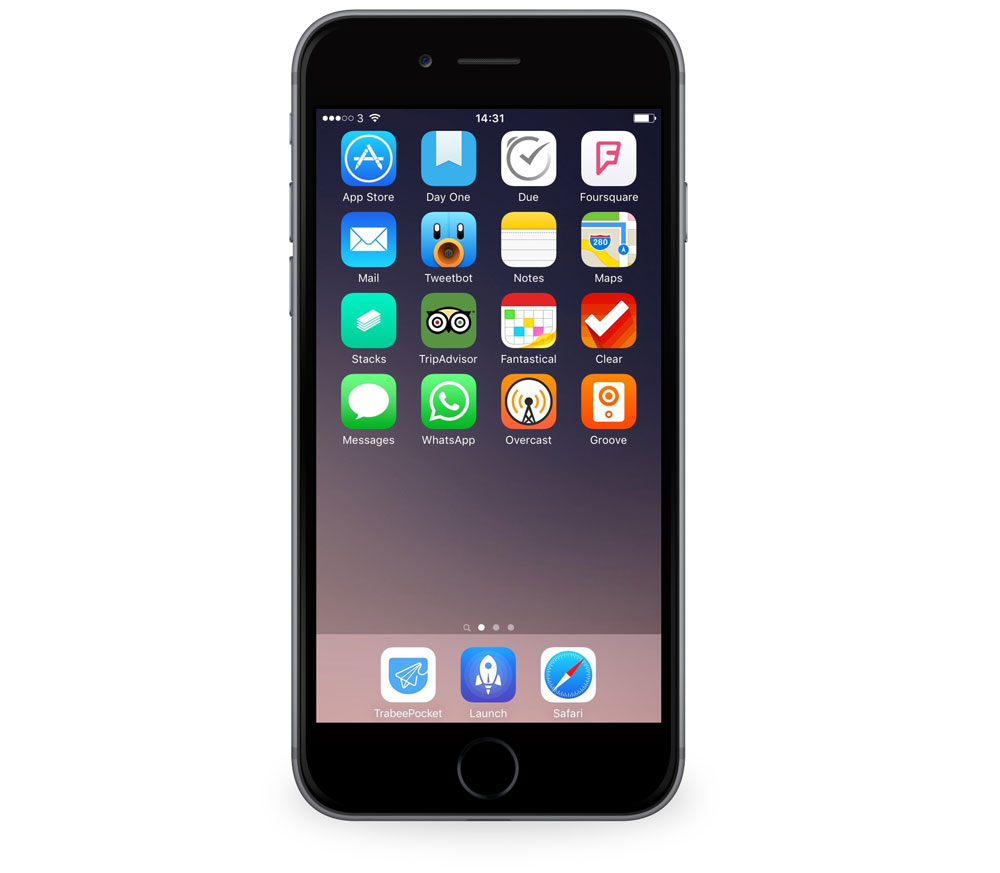 Editor's note: You can find Dean's wallpaper here.
I have a 64 GB Space Gray iPhone 6. I am currently using a Caseology Wavelength case and an Anker tempered glass screen protector to try and avoid damage whilst on the road.
I created the background using a simple app called Photo Blur. I can't remember what the source photo was, though!
What apps do you use the most, and why?
When traveling, the most important app to me is TripAdvisor. It's invaluable to have access to a wealth of recommendations and tips from other people that have been to (and stayed in) places we plan to visit. I use TripAdvisor to ensure that we stay in the best hotels/hostels and find good places to eat and drink when we get there. Foursquare (and Swarm) are also good for surfacing the best places in a given town/city.
To track our expenses, I use TrabeePocket, which is a really powerful expense tracker that automatically displays your spending in both local and your base currency. I like the fact you can export the data, which I then save down into a shared Numbers spreadsheet backed up to iCloud.
Stacks is a great currency converter that also has a really nice today widget for quickly looking up reliable FX rates. Another useful today widget I use frequently is Klok, a time-zone widget that lets me check what time it is back home.
I keep in touch with friends mostly via iMessage and WhatsApp. I use the default Mail app for email, and all booking confirmations, flight receipts, etc. are forwarded to Kayak for automatic itinerary building.
Having a 64 GB iPhone is handy when it comes to audio. Overcast and Groove really help with long flights or bus trips. I have a lot of music stored on my phone and the automatically created playlists within Groove are fantastic. I also pair my iPhone with a UE Mini Boom bluetooth speaker for listening to music in a more social setting.
Finally, I have a lot of actions added to Launch Center Pro for quickly adding items to a list within Clear, starting a new post in Day One, or for just launching other apps that I don't want on my home screen.
Which app could you not live without?
I'd have to say Overcast. I've had the app since launch and have used it every day since. Smart Speed has saved me close to 70 hours by cutting out silences. I love the Smart Playlist features and notifications for new episodes. I have even uploaded some audiobooks to Huffduffer just to be able to use Overcast for playback. As mentioned previously, with so much time during this trip being on buses, boats, trains, and planes, having my favourite podcasts is essential.
---
Which iPad do you have?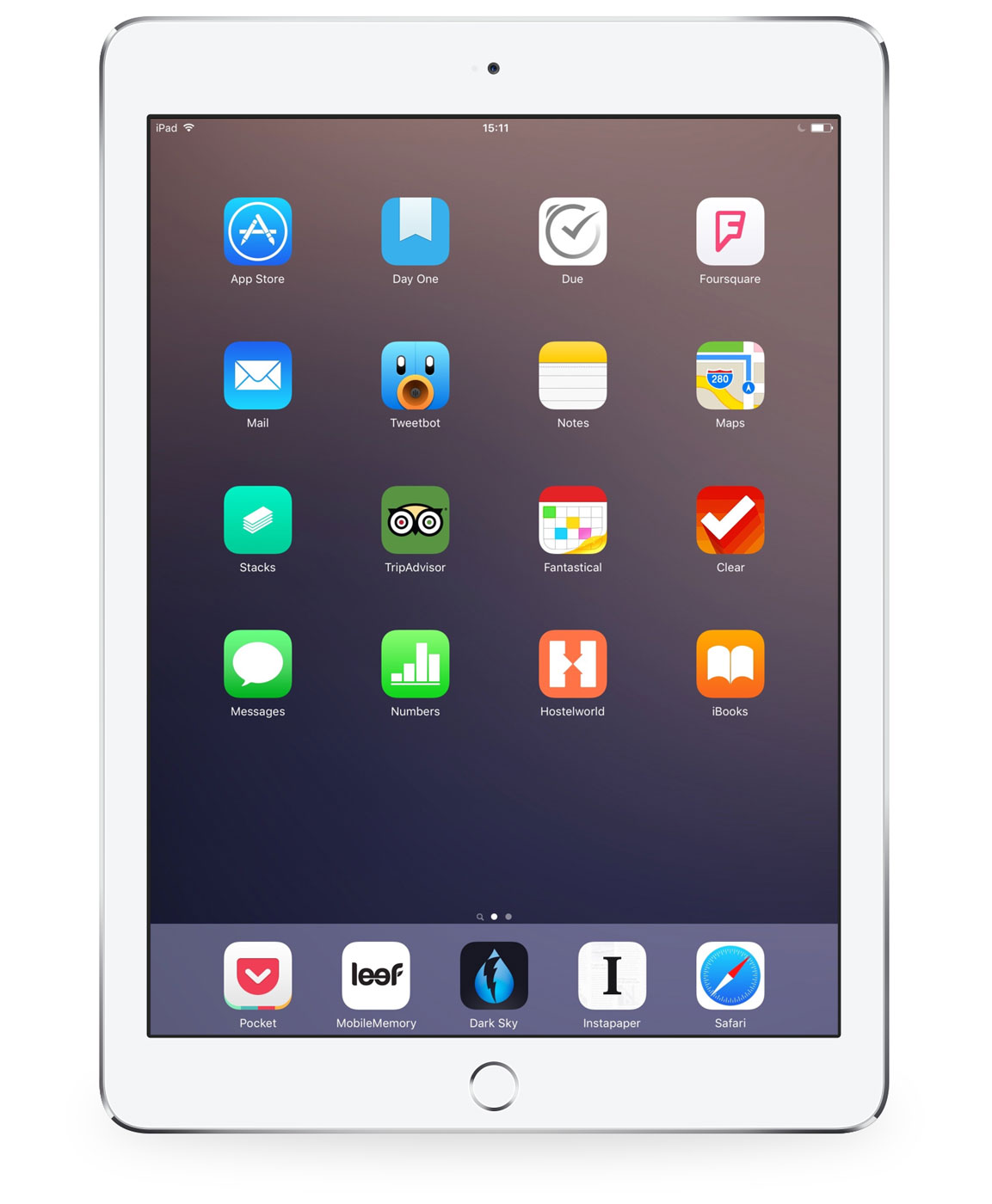 Editor's note: You can find Dean's iPad wallpaper here.
A 16 GB iPad Air in white and silver. At home, my iPad is 100% a streaming device, so the WiFi-only model and 16 GB storage option suited me just fine. However, now that I'm traveling, 16 GB is simply not enough space, which is why I purchased a 32 GB Leef iBridge external memory stick. The iBridge is loaded with my favourite TV shows and movies which can be played directly on my iPad (or iPhone) using the Leef Mobile Memory app.
How are you using your iPad on a daily basis?
I mainly use the iPad for planning our trip. Using apps like TripAdvisor, booking.com, Hostelworld, Kayak, Momondo, and Skyscanner to book our travel and accommodation ahead of time.
I also use the iPad to write and post to my blog using the Tumblr app. Photos are edited in VSCOcam and Pixelmator.
I like to read books with the iBooks app or read articles in Pocket. I use Instapaper to save interesting links or recommendations for our trip so that its separate from my main reading list in Pocket. I'm a big fan of both apps so I'm happy to have a reason to use both. As mentioned above, the Leef Mobile Memory app is great for viewing video stored on my iBridge stick, and I also use it to back up my photos locally.
What apps do you use the most, and why?
Tweetbot is one of my most used apps, and the version 4 update for the iPad makes it easily the best Twitter app on the iPad in my opinion. I find so many interesting links in Twitter that are then saved to either Pocket or Instapaper for reading later.
With WiFi in Asia being pretty hit-and-miss, I'm glad to have pre-loaded a decent library of books into iBooks before setting off.
Lastly, I use Dark Sky to keep an eye out for any torrential downpours or storms since that can impact our travel plans because boats/buses are occasionally cancelled as a result of the weather.
---
There are more Sweet Setup interviews right here.