David Hepworth's Mac and iPhone setup
September 11, 2017
Every week we post a new interview with someone about what software they use on their Mac, iPhone, or iPad. We do these interviews because not only are they fun, but a glimpse into what tools someone uses and how they use those tools can spark our imagination and give us an idea or insight into how we can do things better.
New setup interviews are posted every Monday; follow us on RSS or Twitter to stay up to date.
---
Who are you and what do you do?
My name is David Hepworth, and I'm a small (but growing) YouTuber making videos about technology (mainly Apple products). I currently have just over 7,000 views and 49 subscribers, but hope to have 10,000 views soon so I can start monotizing my content.
What is your current setup?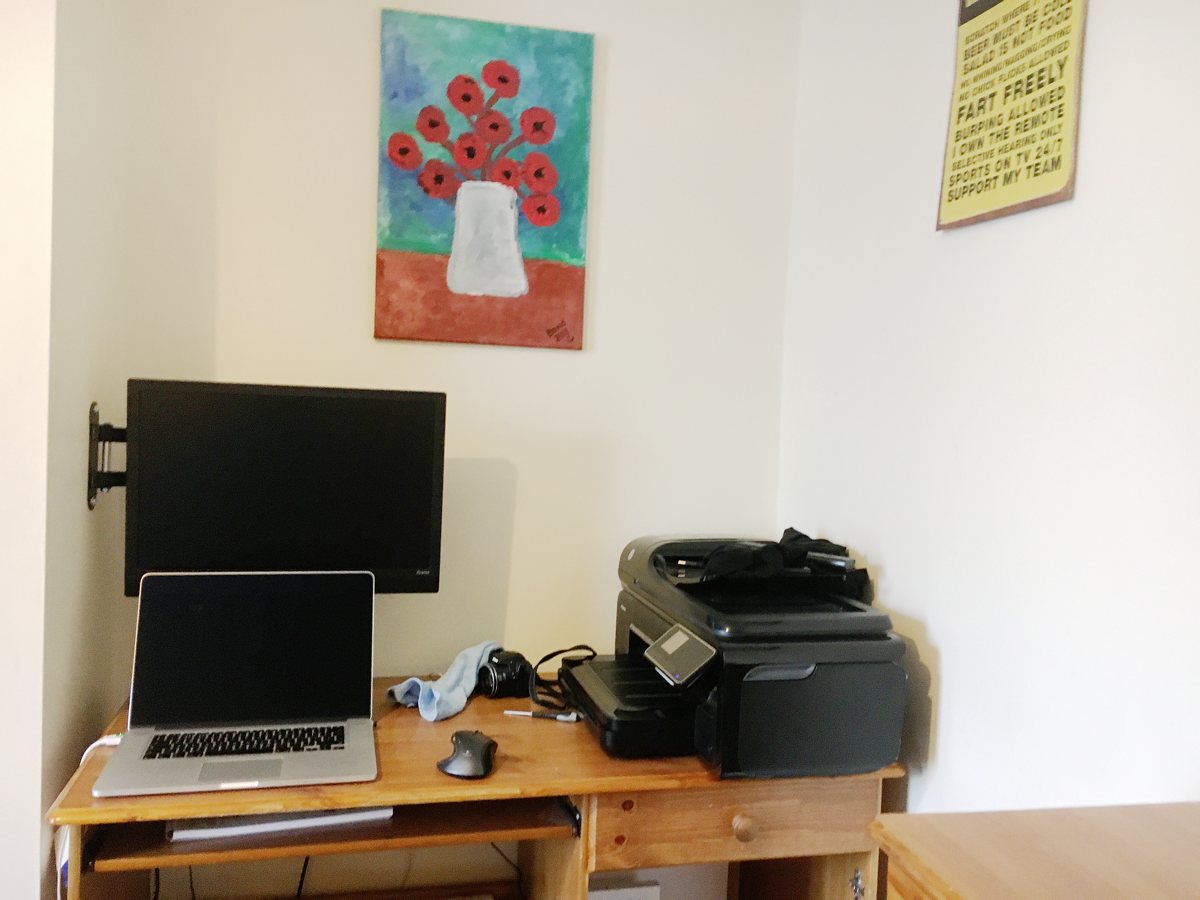 I use a base model mid-2014 15-inch MacBook Pro connected to a 22" monitor with a Mini DisplayPort to VGA adapter. I use this to edit my videos in Final Cut Pro. I don't do much editing, but I cut bits out and enhance the audio. For my mouse, I use the Logitech Performance MX, it's great for editing and I only need to charge it every few months. I have a 6TB external drive for storing videos, Time Machine, and as a scratch disk because I only have 256GB of internal storage.
Where can we find your macOS wallpaper?
I use lots of different wallpapers from wallpaperswide.com, and they change every time I log in.
What software do you use, and for what do you use it?
I use Final Cut Pro for video editing, Tweetbot for Twitter (as it has more features and has no ads), and a few other apps. I have other productivity apps like Pages for writing video ideas and Todoist for managing lists.
How would your ideal setup look and function?
I would like to get a 4K monitor in the future to give me more space for editing with a longer timeline and maybe get a 27" iMac to upgrade the MacBook Pro so I can get 32GB of RAM and a larger internal drive.
---
What iPhone do you have?
I currently have a 64GB iPhone 6s in silver, but I'm getting the iPhone 8 next month. I use this for checking Twitter, Instagram, and my views on YouTube using the Creator Studio app.
Where can we find your wallpaper online?
I'm using a wallpaper from wallpaperswide.com (can't remember which one it is).
What apps do you use the most, and why?
I use Tweetbot for Twitter like on my Mac because it has no ads and has a cleaner design. I also use Creator Studio for managing my YouTube channel. I use Fantastical for my calendar because it works better than the stock calendar app and the natural language input is great. I use FiLMiC Pro for recording my videos because I can manually adjust the focus and do lots of different things that the native camera app can't do.
Which app could you not live without?
I'd have to go with Tweetbot, FiLMiC Pro, Creator Studio, and Fantastical.
---
There are more Sweet Setup interviews right here.
Want to share your setup? We'd love to hear from you. Just fill out this form with some basic information and we'll be in touch.
---
The 5 Best Productivity Apps (Sweet Setup Favorites)
Download: We spend an inordinate amount of time sorting through hundreds of apps to find the very best. This list of must-have productivity apps includes app links, quick-start info, and pro-tip workflow recommendations for each app.