Dan Mitu's iPhone setup
May 31, 2016
Every week we post a new interview with someone about what software they use on their Mac, iPhone, or iPad. We do these interviews because not only are they fun, but a glimpse into what tools someone uses and how they use those tools can spark our imagination and give us an idea or insight into how we can do things better.
New setup interviews are posted every Monday; follow us on RSS or Twitter to stay up to date.
---
Who are you and what do you do?
My name is Dan Mitu. I'm a philosophy and computer science student. My main interest is in Machine Learning, though recently I've started experimenting with iOS development. Having a STEM and a liberal arts background means that I do a combination of programming, note taking, writing, and task management.
What iPhone do you have?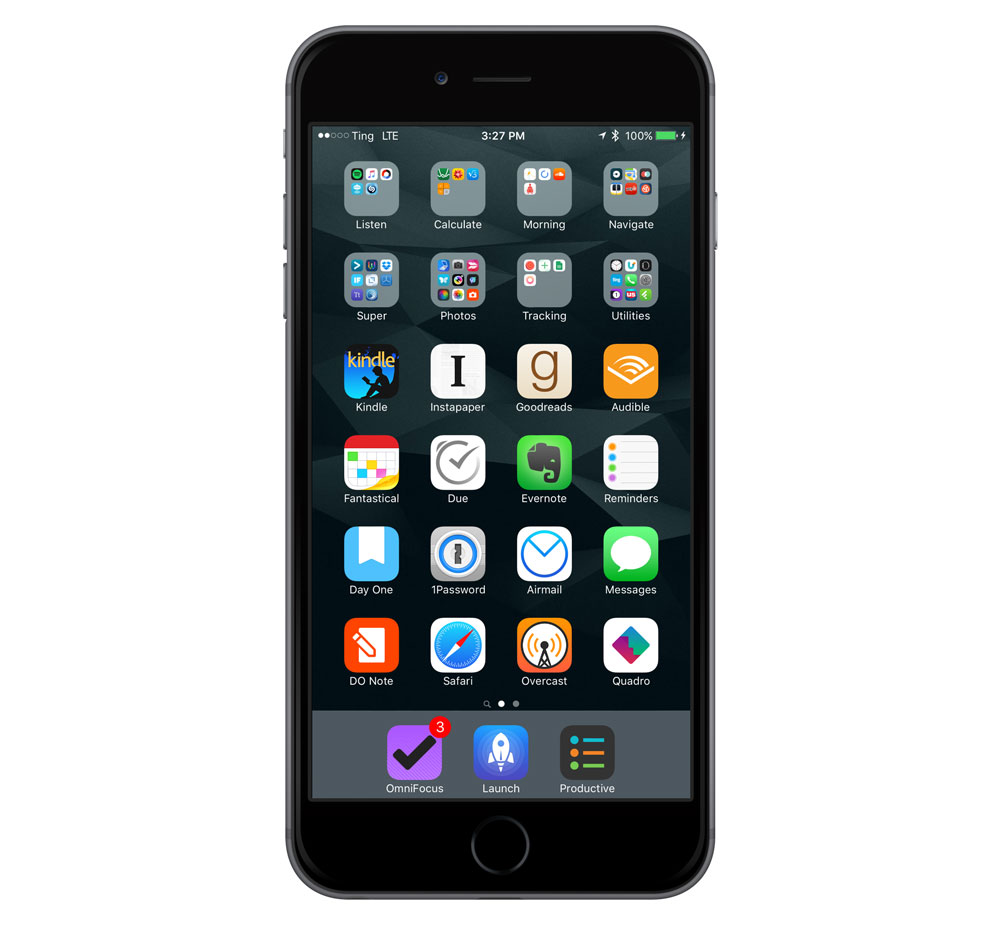 You can find Dan's wallpaper here.
I have a 64GB iPhone 6s Plus.
What apps do you use the most, and why?
Productive — There are plenty of habit tracking apps out there with their own strengths and weaknesses. I've found that Productive works best for me because it manages to pack in a lot of features without becoming an ugly mess. It does a great job at scheduling habits and at showing habits when they matter.
OmniFocus — This app is the salvation of all GTD users like myself. The thing that makes OmniFocus stand out amongst the competition is its focus on being a GTD productivity tool rather than trying to do everything (like 2Do). This means that OmniFocus remains undiluted, and perfectly fulfills a particular use case.
Day One — Writing a daily journal is my way of living deliberately, and my main tool for this is Day One. I love having Day One natively both on my phone and Mac. Anything else would be a deal-breaker. The Day One people also added IFTTT integration recently, and I'm using that to save my Facebook posts, tweets, Instagram pics, etc. Basically anything I might find interesting in the distant future.
Quadro — I don't think this app has received enough attention. Quadro basically turns your iPhone or iPad into a peripheral for your Mac which allows you to customize shortcuts and macros. If you work at a computer, you probably have, at a minimum, two screens with you. Quadro basically makes that second screen a useful part of your workflow. Designers, specifically, should look at it.
Workflow — This app is the main weapon of every iOS power-user's toolkit. I have about twenty workflows that I use regularly to do things like generate my routine checklists or create a template for a Day One journal entry. I've found that it works well in conjunction with Pythonista. It really is the elbow grease of repetitive iOS tasks.
Evernote — This is basically the software equivalent of a commonplace book. I like to think of it as an external hard drive for my brain. As a student and a lifelong learner, I have a lot of information to consume, and it has to go somewhere. I use Evernote to save things like book notes, my class schedule, and articles off the web. Anything I want to reference later goes into Evernote. I think that it's even more important on iOS because of the great Workflow integration. I basically use Evernote as a database for things like checklist templates.
Launch Center Pro — I have all these wonderful apps, and so many workflow scripts. They all come together in Launch Center Pro. When I use my phone, I'm typically doing the same list of things (e.g. check my To-Do list, save a photo to Evernote, generate a list of everything I need to pack in the morning). These repetitive tasks have a shortcut in Launch.
Which app could you not live without?
Hands down, Productive. It's rare that a single app can actually make a noticeable change in my life the way Productive has. I believe that the best use of my limited time on earth is to fill my life with structure and rituals. Productive is basically the master checklist for all of this. If I'm not sure what to do next, I can always fall back onto this app.
---
There are more Sweet Setup interviews right here.
Want to share your setup? We'd love to hear from you. Just fill out this form with some basic information and we'll be in touch.