Dan Johnson's Mac setup
July 17, 2017
Every week we post a new interview with someone about what software they use on their Mac, iPhone, or iPad. We do these interviews because not only are they fun, but a glimpse into what tools someone uses and how they use those tools can spark our imagination and give us an idea or insight into how we can do things better.
New setup interviews are posted every Monday; follow us on RSS or Twitter to stay up to date.
---
Who are you and what do you do?
My name is Dan Johnson, and I am a professional architect working in Alberta, Canada for an international firm. I immigrated to Canada from the UK five years ago and used to run my own architecture practice back in England. As a result I have amassed a lot of information, drawings, and photos that I need to manage and access.
I am also a keen blogger and maintain two main sites, one focusing on Architecture & Design (Architecture & Design Muse) and the other, my interest in all things Apple (How to…everything Apple).
What is your current setup?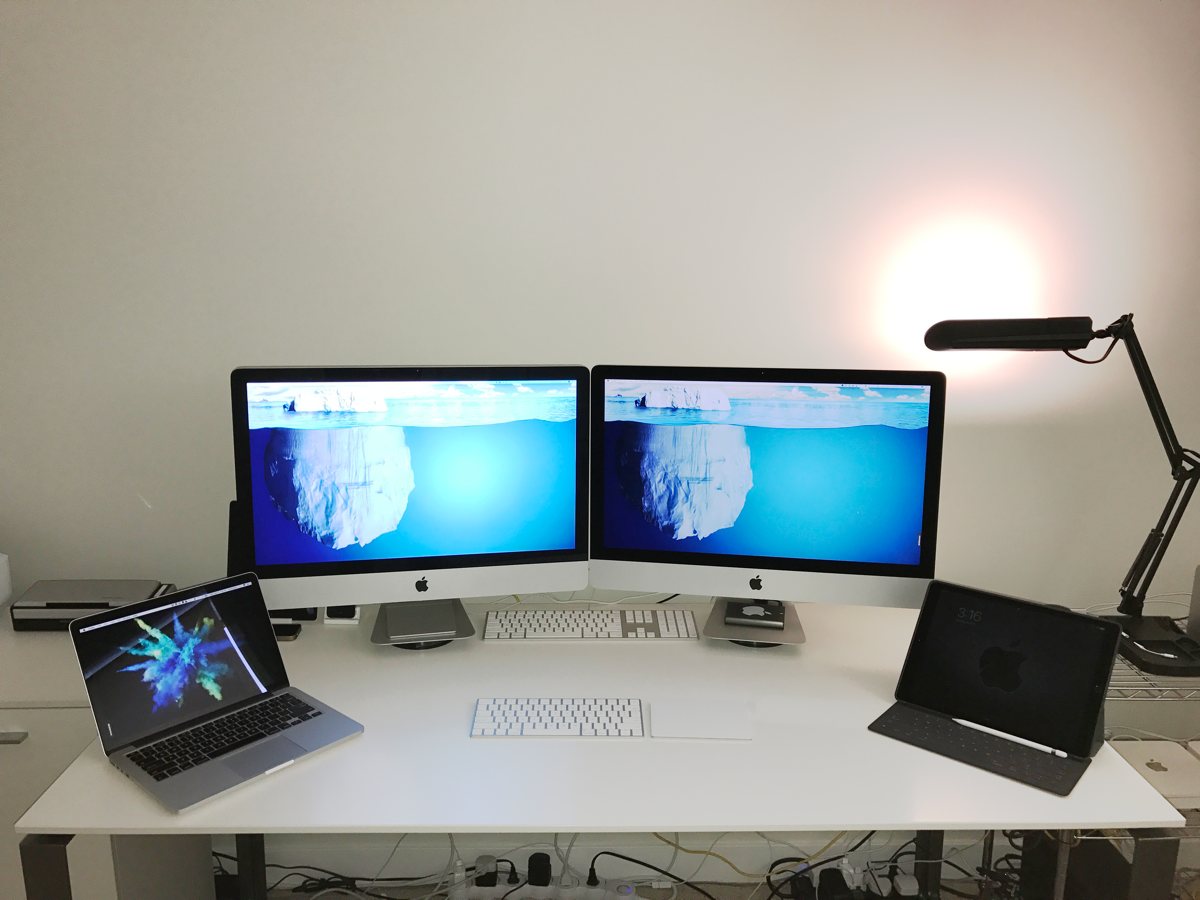 My desktop setup is based around a Retina 5K iMac using macOS Server. This is connected via ethernet to my older iMac which I use the 1TB HDD as a "library" for professional data and information that I don't need to access frequently. I use the older iMac as a second screen using Display Port to the Retina iMac's Thunderbolt port.
iMac27 Retina 5K, Late 2015

4GHz Intel Core-i7
16GB Memory
500GB SSD

iMac27 Late 2009

3.06GHz Intel Core 2 Duo
12GB Memory
1TB HDD
I run Server across my network for my family's use and more for controlling file permissions and drive access.
The Retina iMac is connected via Thunderbolt to a Western Digital external drive that provides two 2TB drives. I use one of these drives to store documents and my family's individual documents and the second drive for sharing music, photos and videos. I have set up iTunes on the Retina iMac, but have the iTunes library stored on the external drive to save space. We use Apple TV and the Remote.app to access iTunes anywhere in the house. We also have a significant library of ripped CDs and DVDs and can access those in the same way.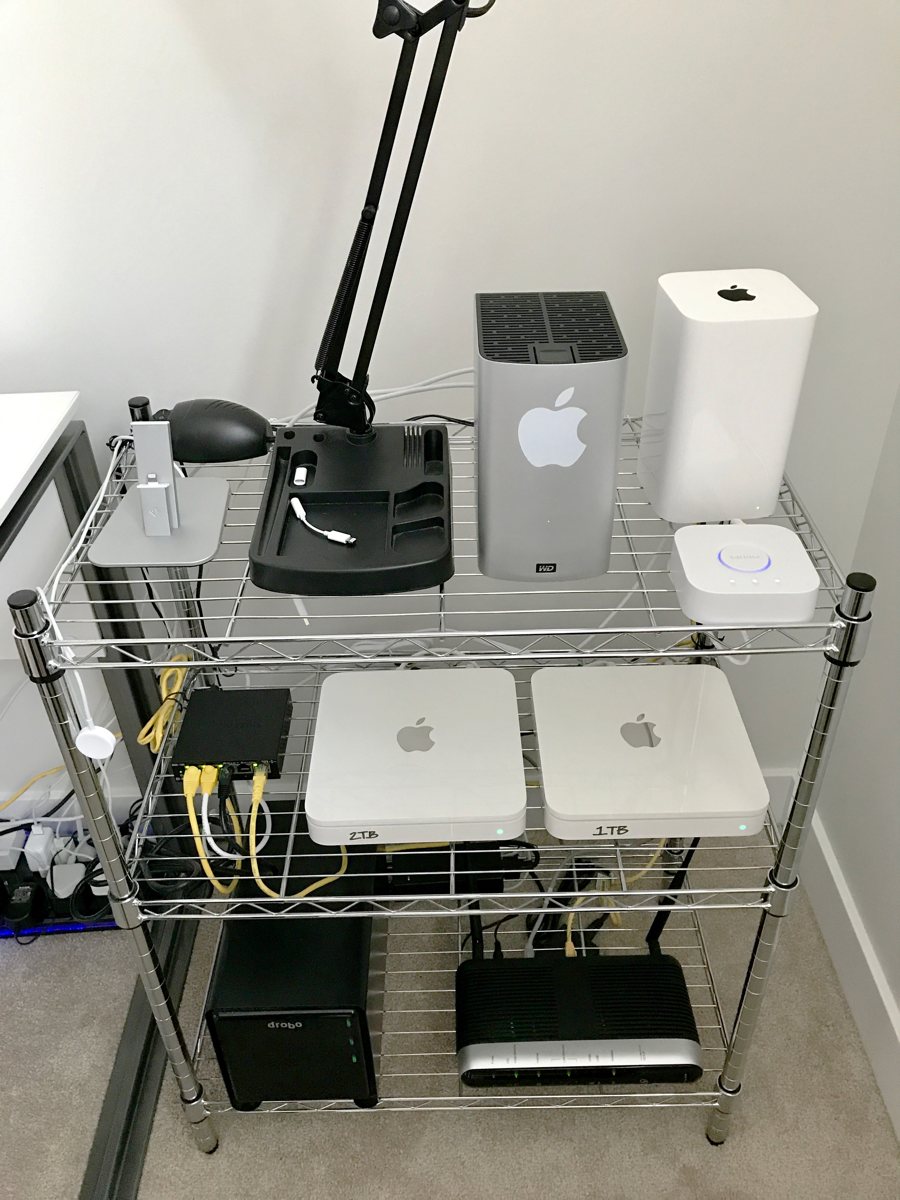 In addition, I have a Drobo 5N connected via ethernet. This provides archive storage and additional server back ups via Time Machine.
I run a 3TB AirPort Time Capsule as my main router coming off my incoming ISP router. This network is then "extended" via an AirPort Extreme and an AirPort Express on the other floors of our house. I have a stereo system connected to the Express and a Home Theatre setup connected to the Extreme so that we can wirelessly access media anywhere.
I use the 3TB AirPort Time Capsule as the principal backup drive to the Server, but also maintain two older Time Capsules to provide backup disks to the multiple devices in my family from 4 Apple users. These are all connected to the Time Capsule router via ethernet and a D-link Gigabit switch.
I also back up to two external Thunderbolt/USB 3.0 drives using SuperDuper! These drives are then stored in a fireproof safe for added security.
I also run a Retina MacBook Pro 13" (2.4GHz Intel Core i5, 16GB Memory, 256GB SSD) for recreation and blogging use. This used to be my mobile platform for my professional work, but I now use a 12.9" iPad Pro for that purpose.
Where can we find your macOS wallpaper?
I try and "theme" my various macOS and iOS devices based on the screensaver for personal or work-related use. I therefore use the "exploding paint" wallpapers from iOS and have saved the image to Photos for use on my Macs.
My personal space on my iMacs uses a variety of wallpapers from www.wallpapershome.com.
What software do you use and for what do you use it?
I tend to try out new apps on a regular basis and then I have a distinction between my personal and professional life.
Personal
Apple Calendar
Apple Mail – I have recently returned to Mail from Airmail to make use of it's integration with DEVONthink
Reminders (for shared lists with my family)
OmniFocus – personal projects
DEVONthink – my information hub for "everything"
DayOne – journaling
MarsEdit – blogging
Professional
Fantastical – I track my billable time to the nearest 15minutes and the natural speech entry is a time saver!
Apple's Mail – once again to make use of DEVONthink
Wunderlist – shared project-based lists with my design teams
OmniFocus – I manage between 20 and 50 professional projects using the Pro features and synced to my iPad
DEVONthink – my information hub for "everything," including note taking
SG Project Pro – Gantt chart scheduling
SketchUp Pro – 3D CAD modelling
PDFpenPro – PDF management
Pixelmator – Image manipulation & presentation
I also use Moom, Hazel, and Copied across both set ups – all essential utilities!
These are only the main day-to-day applications.
My employer uses an Enterprise-based Windows system, and I run a Parallels Windows setup using my iPad Pro as the best way to keep it all in sync.
How would your ideal setup look and function?
I am fortunate that my setup meets my needs currently, and I value having both the 27" screens for 3D modeling work and project management with multiple applications running simultaneously. I used to use a 27" Thunderbolt Display, but this ran into the infamous "sleep" issue, and I have not been able to get it working since. Having that additional screen real estate would be cool!
I use a standing desk at my work studio and often miss that when at home, so that would probably be what I would change in this current set up.
If I was to work for myself again, I would be tempted by the new iMac Pro so I could keep my personal and work setups distinct from each other. Maybe one day!
---
There are more Sweet Setup interviews right here.
Want to share your setup? We'd love to hear from you. Just fill out this form with some basic information and we'll be in touch.
---
Wait. There's a Bonus….
Custom Productivity Templates
We have a set of custom productivity templates that work well with the iPad app, GoodNotes. And if you want to try them out, we've put together a free guide that can help you.
We'll show you…
How to create and save custom page templates in GoodNotes.
How to use those page templates to transform GoodNotes into your own productivity notebook (or any other type of notebook replacement).
Plus, we also have included a couple of our custom productivity templates for you to get started with. These templates are right out of our popular productivity course.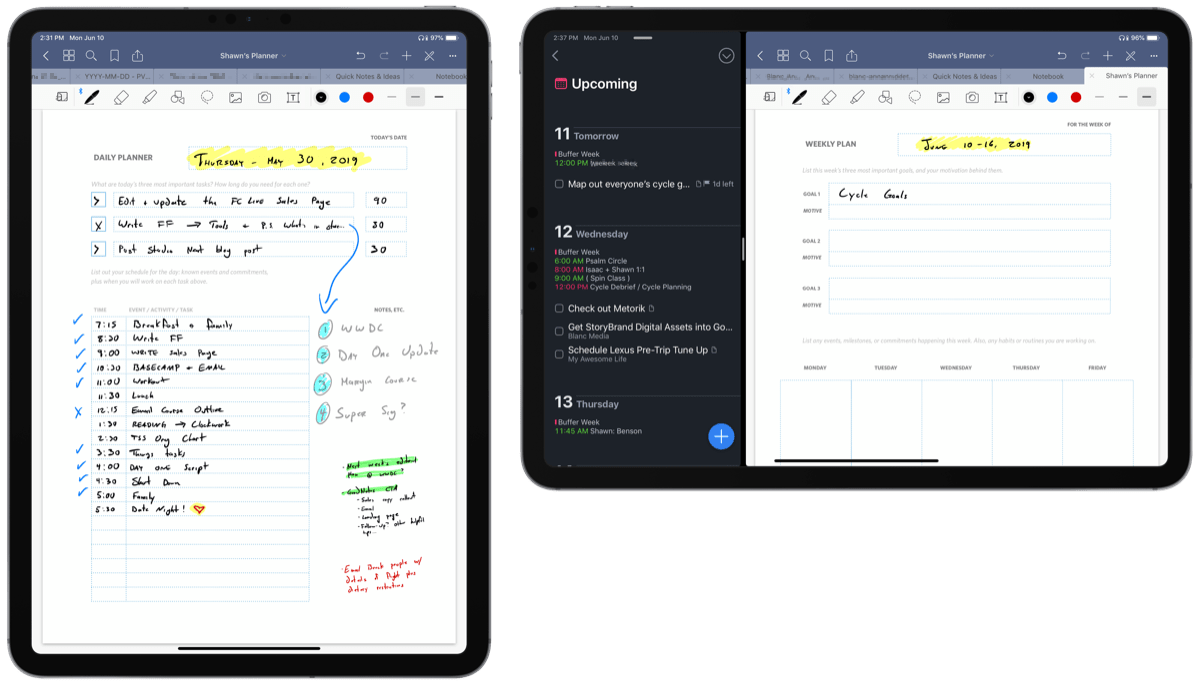 The custom templates and the guide are available for FREE to our email subscriber community. And you can get it right now. By joining the Sweet Setup community you'll also get access to our other guides, early previews to big new reviews and workflow articles we are working on, weekly roundups of our best content, and more.