How to Use Custom Planning Templates Inside of GoodNotes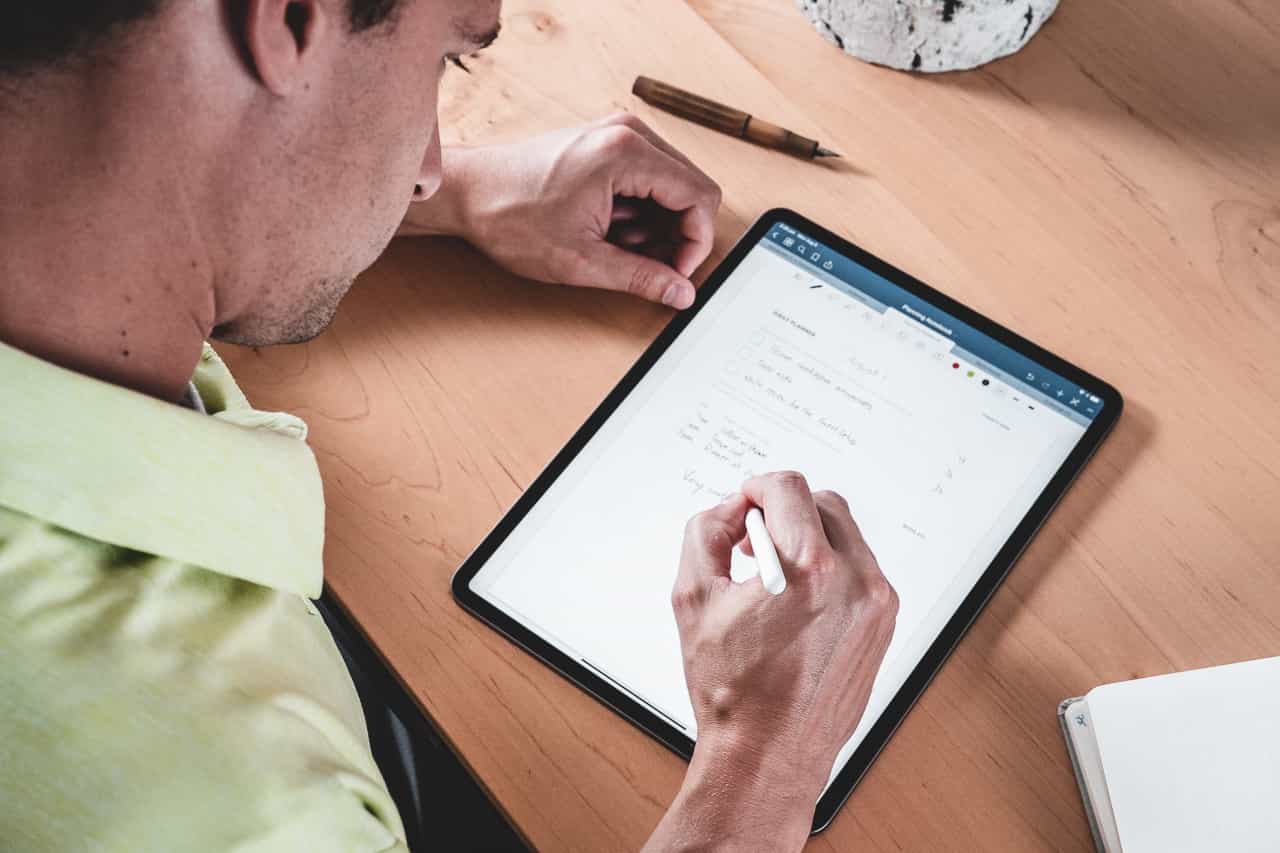 Analog vs. Digital
The battle for analog vs. digital for productivity tools has never been more fierce.
On the one hand, what digital tools are able to accomplish continues to amaze as technology advances. On the other hand, technology also opens the door to distractions and interruptions and there's a lot to be said for analog tools and the focus they help you achieve.
But by using GoodNotes along with custom notebook templates, you can literally have the best of both worlds:
Pre-designed page templates that are exactly what you want to use.
The analog feel of writing using the Apple Pencil.
Complete flexibility to use whatever page template you need, when you need it.
The ability also export individual pages as PDFs or images and even convert your handwriting into plain text.
With GoodNotes, custom page templates, the iPad Pro, and an Apple Pencil, you have the ideal use-case scenario for the iPad as a paper notebook replacement.
Your Two Free Downloads (PDF Files):
Once you have saved the above PDF templates on your iPad, follow the instructions below to import them into GoodNotes and begin using them.
Saving and Using Custom Page Templates Inside of GoodNotes
One of the less obvious (but very powerful) features in GoodNotes is the ability to use your own page templates. This allows you to upload your own PDF files as templates for new notebooks in GoodNotes.
To add your own templates:
From the Documents screen, tap the Settings icon in the upper-right and select Notebook Templates.
Tap the + icon in the upper right to create a new section and give it a name (i.e. "Planning Templates").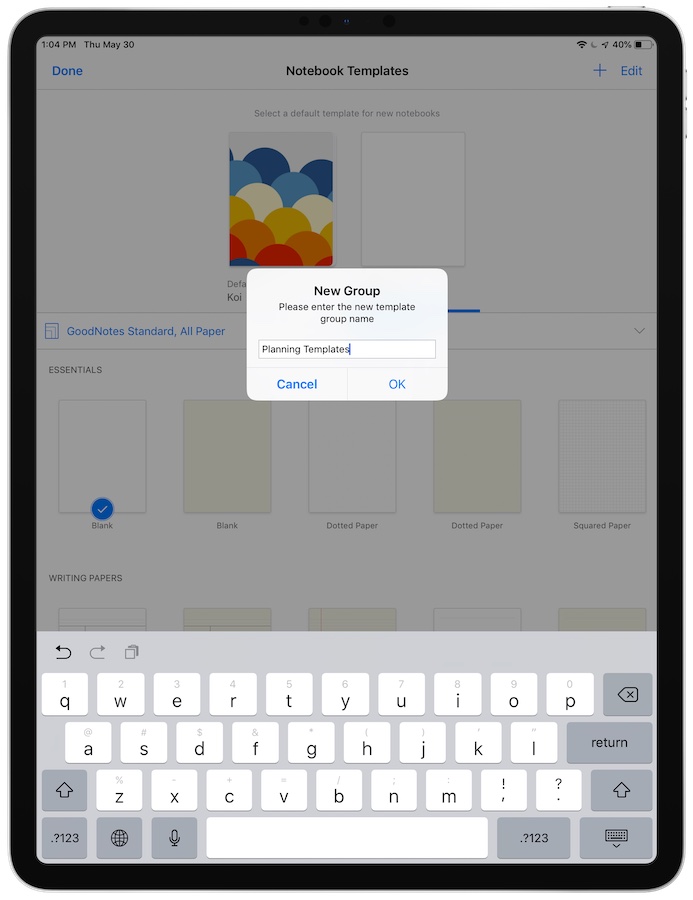 Tap the Import button and select the PDF file you want to add as a template from the File Picker on iOS.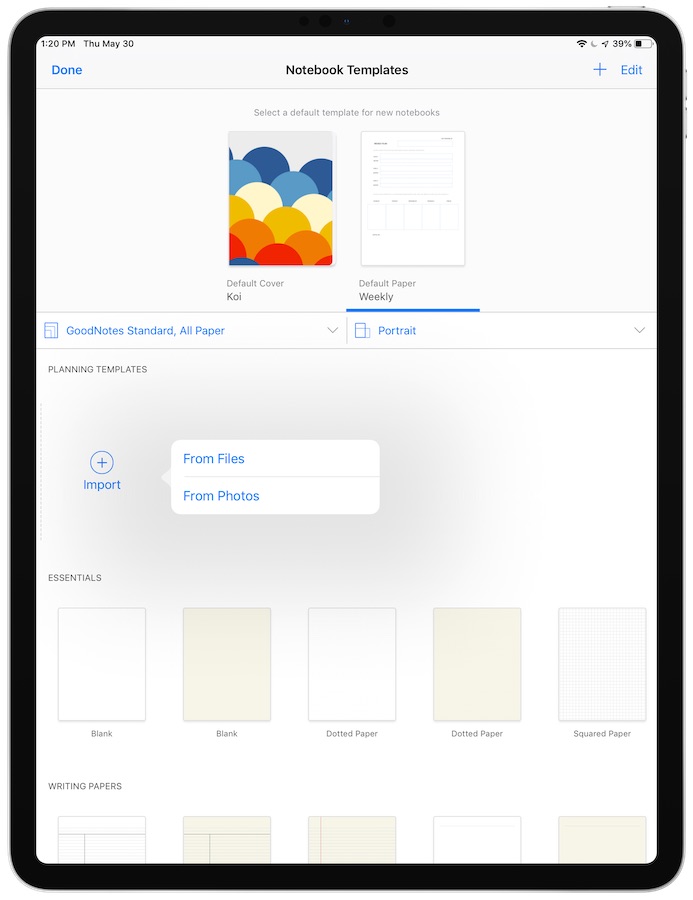 Once you have your Notebook Template pages added, tap Done to go back to the Documents screen.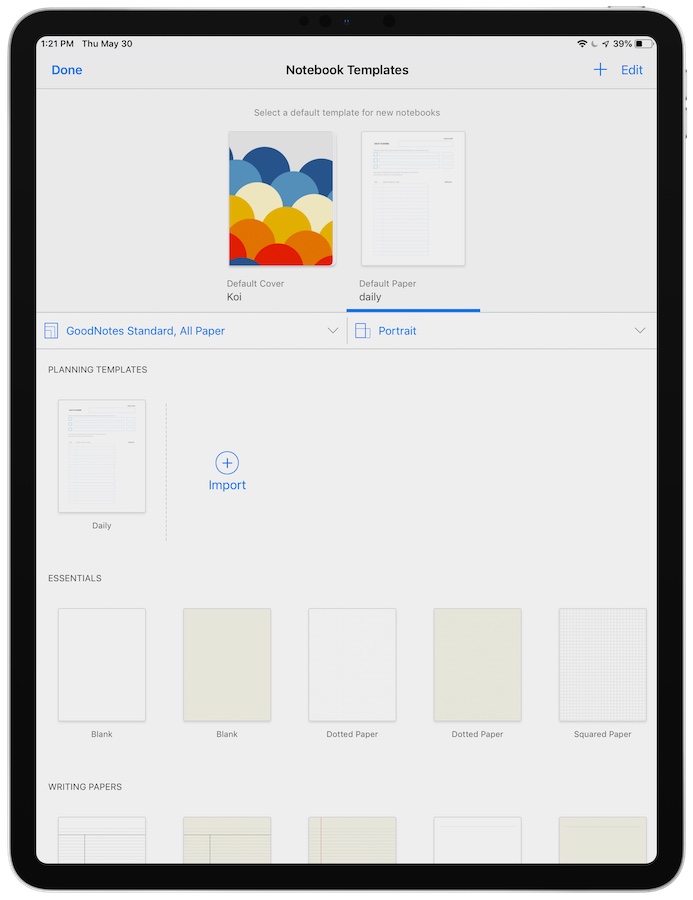 Next, tap on the plus icon and select Notebook to create a new notebook in GoodNotes.
Select the cover style and the paper template from the PDF you just uploaded, then give your new notebook a name and tap Create.
You can now use your Apple Pencil on your iPad to fill out the planning template on your iPad.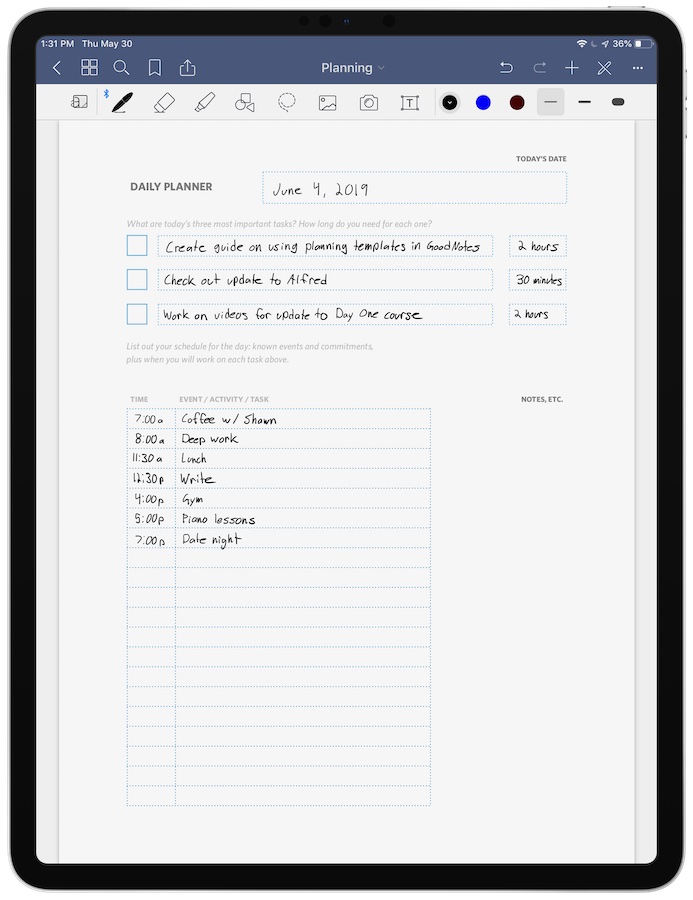 To create a new blank page, drag from right-to-left until the new blank templated page appears and release.
You can use any PDF file you'd like as a notebook template, but we've included our own Daily and Weekly planning templates from the Pro version of All The Things course for you. Addition task and time management templates (as well as a video walkthrough of Shawn's system) are available inside All the Things.
OCR and GoodNotes
Another great benefit of using GoodNotes is that all of your notebooks automatically have Optical Character Recognition (OCR) applied. This allows you to search your digital notebooks and find text, even if you wrote it by hand. GoodNotes also has very impressive handwriting recognition, so I can search my entire library of notes at once – all my notebooks across all my folders – and instantly find what I'm looking for.
To use the OCR functionality inside of GoodNotes, just go to the GoodNotes Search screen and search for the work you're looking for.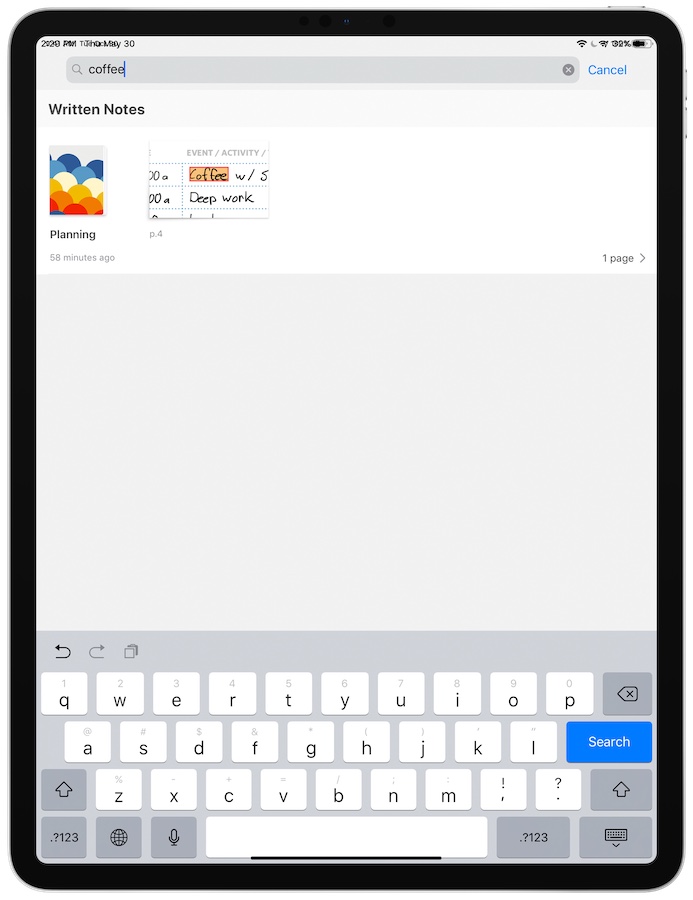 GoodNotes will search your entire library and return any results – even if they are written by hand.
There are several advantages to using GoodNotes as:
Everything is on one device
Everything is searchable
You can have years worth of archives all in one spot, at your fingertips
You can quickly share notes, ideas, etc with your team by exporting a page
You can move things around easily
---
Even More Templates and Tutorials

For More Training on how to use GoodNotes, as well as our complete library of templates, check out this in-depth course.