Cultured Code Releases Things 3
May 18, 2017
Things, a well-known Mac and iOS GTD application, has been updated today to version 3.0.
The headlining feature is the app's all-new design. While Things 2 was no slouch, it felt a little dated. Things 3 is clean and crisp, with lots of white space on both the Mac and iOS versions.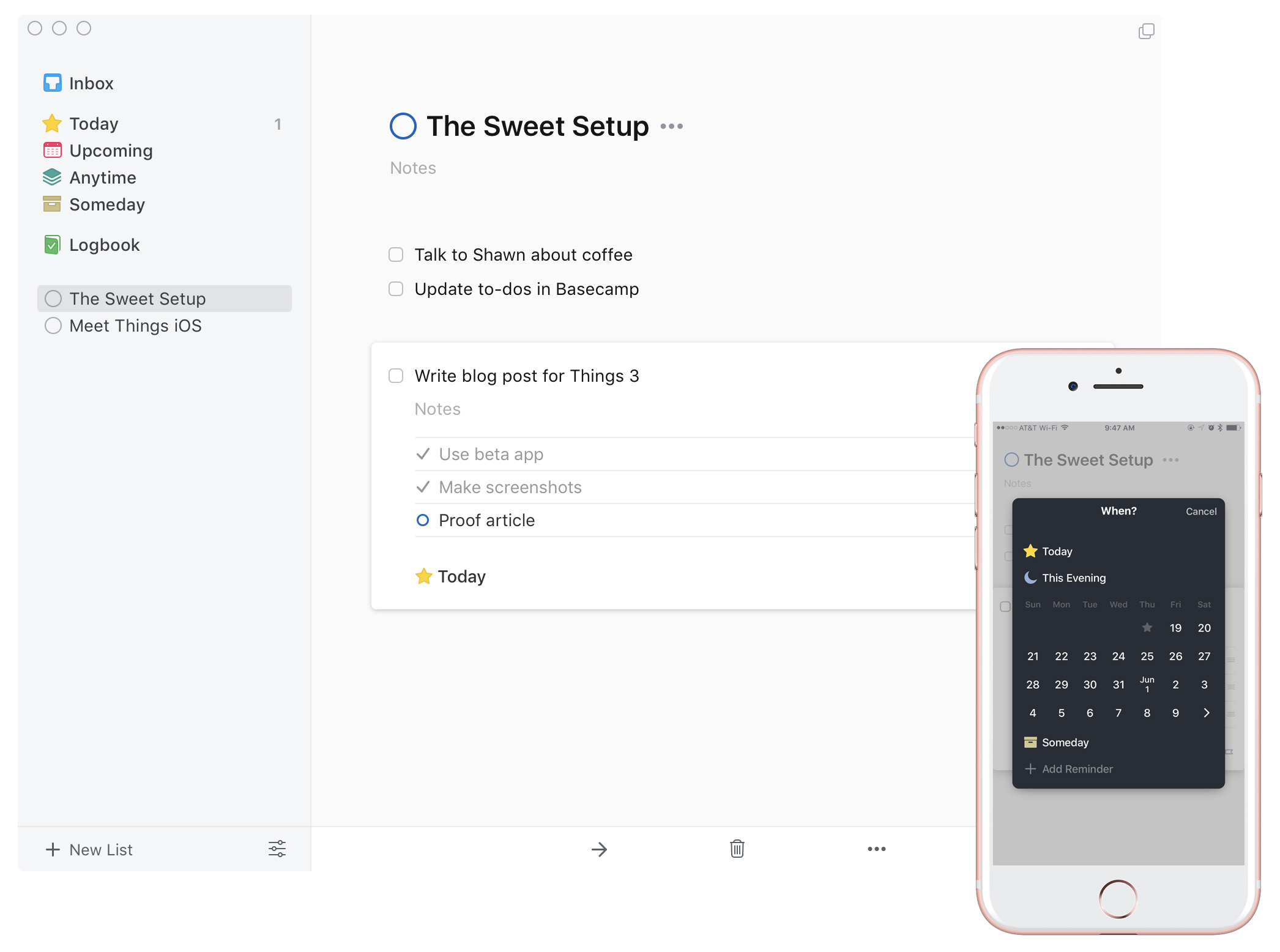 Task entry is quicker and more streamlined with something called the Magic Button. Like an increasing number apps, Things 3 uses a floating + button to add tasks, but it has a trick here. The button can be dragged around the UI, indicating where a new task should live. Drag it over a project, and the new task will be assigned to that project. It's a new way of thinking about this, and one I really like.
Task metadata like due dates and tags are applied in large, dark pop-ups that make it easy to quickly adjust something and move on. All in all, I wish more apps looked like this.
Things' "Today" view now has a section named "This Evening," as a way to list both daytime and nighttime items. If you are like me and use one app for work and personal tasks, this can be a nice way to separate things out a bit.
The update also brings in-app search, calendar integration, multi-window support on the Mac, Touch Bar support, an update Apple Watch app and more. Things Cloud, the developer's syncing engine, is just as fast and reliable as it has been in previous versions.
Not everything is perfect, though. Currently, Things 3 does not allow repeating tasks to be inside of projects, which may be a big deal-breaker for some.
Update: The company says this is coming in a future update.
Things 3 is a paid update. Like before, the iPhone and iPad apps are separate items, not a single universal app.
Things for Mac offers a free trial. For the first week, the apps are 20% off, so go check it out: