Craig Camp's Mac, iPhone, and iPad setup
July 24, 2017
Every week we post a new interview with someone about what software they use on their Mac, iPhone, or iPad. We do these interviews because not only are they fun, but a glimpse into what tools someone uses and how they use those tools can spark our imagination and give us an idea or insight into how we can do things better.
New setup interviews are posted every Monday; follow us on RSS or Twitter to stay up to date.
---
Who are you and what do you do?
My name is Craig Camp, and I'm the General Manager at Troon Vineyard in Oregon. We make natural wines in the Applegate Valley in the mountains of Southern Oregon. I also publish The Wine Camp Blog.
What is your current setup?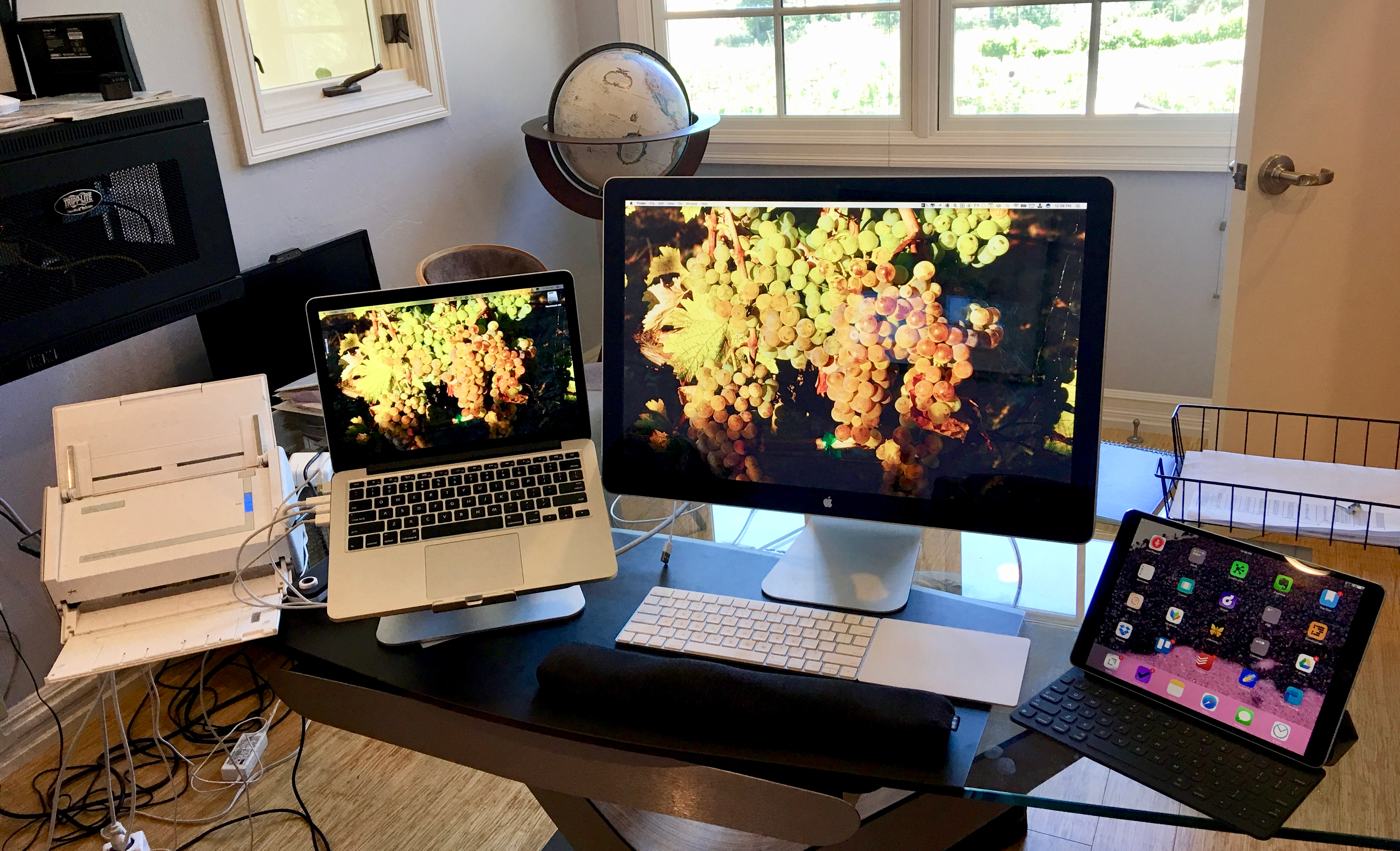 13″ 2014 MacBook Pro Retina with 16GB RAM and 512 GB SSD
24" Cinema Display
10.5″ iPad Pro – 512 GB with cellular
iPhone 6s Plus 128 GB
Apple Watch Gen 1
Apple Pencil
AirPods
Several Apple TVs
Where can we find your macOS wallpaper?
I rotate through my harvest photos on all of my devices.
What software do you use and for what do you use it?
Apple Mail, Pages, Numbers, Keynote — these are just so built into macOS that it's just easier to use them. Indeed, I actually like all of these apps for the most part, and Keynote is exceptional. The key to making Apple Mail work for you is MailButler.
OmniFocus, Safari, Chrome, DEVONthink, Apple Notes – These apps are where I spend my day. A good bit of what I work on is in the cloud. For general browsing I use Safari, but for G Suite I use Chrome. OmniFocus controls my day and DevonThink organizes everything. Apple Notes is perfect for anything short term.
General workhorse apps for specific purposes are PDFpenPro, Focus, Pixelmator, 1Password, TextExpander, BusyCal, BusyContacts, and Ulysses. These are apps I use almost every day to get my work done. For my team at the winery, we work with G Suite, Todoist, and Trello.
As I abhor paper, it is always digested by my ScanSnap and sent to DEVONthink.
How would your ideal setup look and function?
I very much wanted to replace my 2014 MacBook Pro with a new 2017 15" MacBook Pro, but when Apple did not upgrade the RAM beyond 16GB, I decided to wait. I wanted to replace the Cinema display with the 15" MacBook as that display looks terrible next to the Retina screen on my current MacBook. I like the idea of a simple set up with a larger screen MacBook Pro, iPad, and iPhone — totally portable and at the same time powerful. Also, with the arrival of iOS 11, I'm sure I will be much more productive on my iPad.
---
What iPhone do you have?
I have an iPhone 6s Plus in space gray with 128 GB of space.
Where can we find your wallpaper online?
I rotate through my harvest photos on all of my devices.
What apps do you use the most, and why?
Which app could you not live without?
Tough choice. OmniFocus is my control center, but all my information is in Dropbox and DEVONthink. As I can't pick, I'll say MLB at Bat.
My Apple Watch is a wonderful extension of my iPhone that helps to simplify my life.
---
Which iPad do you have?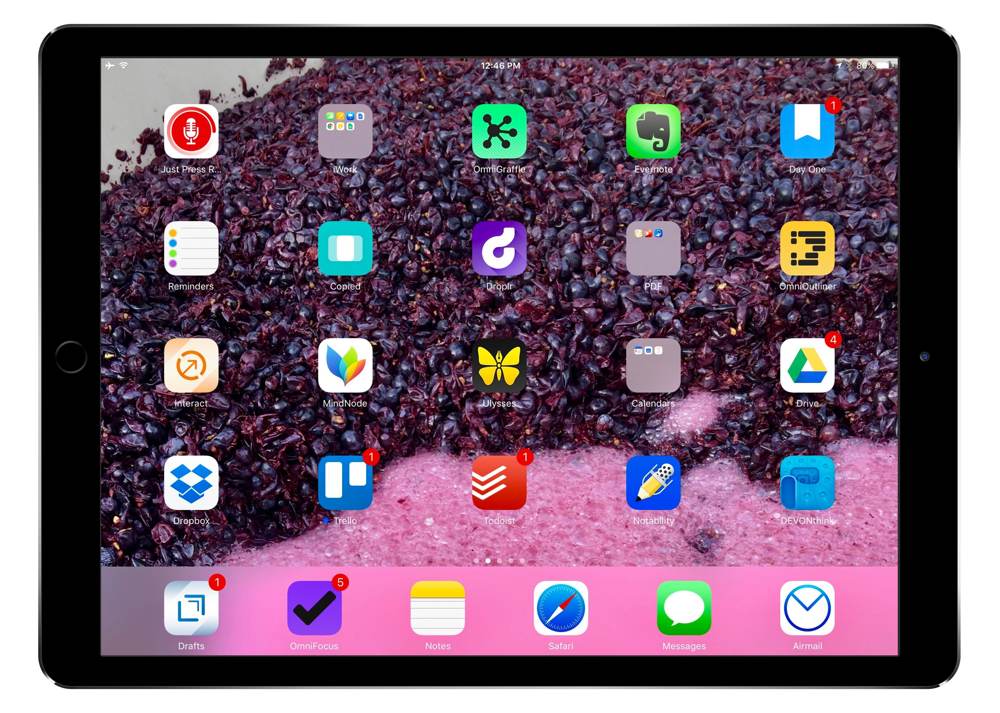 I have a new 10.5″ space gray iPad Pro with 512 GB, which is awesome by the way. I can't wait for iOS 11.
Where can we find your wallpaper online?
I rotate through my harvest photos on all of my devices.
How are you using your iPad on a daily basis?
Planning, social media management, email, reading, news, and writing. My first hour of the day is spent on my iPad catching up, setting up social media posts for the day, and planning my day. On my days off, I try not to use my Mac and just engage with my iPad. It seems to relax me more and I think it's good to give my hands a break from the keyboard. It is also making me learn to use iOS more fully. I use the Apple Pencil extensively.
What apps do you use the most, and why?
For productivity, I use Airmail, OmniFocus, Apple Notes, Drafts, DEVONthink, Dropbox, and Pixelmator for the same reasons as above.
NYTimes, Kindle, and iBooks to keep my brain alive, and Reeder to process my RSS feeds, which I also use for content marketing via Buffer. I also send important articles as PDFs to Notability where I can add my comments and highlighting, then I file them in DEVONthink.
I also use MindNode for creative planning and Day One for personal evaluation and memories.
I watch a lot of baseball on MLB at Bat on my iPad when I travel.
Which app could you not live without?
There's never one as they all blend together as part of my daily workflow. What is important to me is that the apps exist on both macOS and iOS. If I can't access it on all of my devices, it is not very useful to me. I want to be able to use any key app or retrieve any important information on any of my devices based on what is convenient, efficient, and pleasurable.
---
There are more Sweet Setup interviews right here.
Want to share your setup? We'd love to hear from you. Just fill out this form with some basic information and we'll be in touch.
---
Wait. There's a Bonus….
Custom Productivity Templates
We have a set of custom productivity templates that work well with the iPad app, GoodNotes. And if you want to try them out, we've put together a free guide that can help you.
We'll show you…
How to create and save custom page templates in GoodNotes.
How to use those page templates to transform GoodNotes into your own productivity notebook (or any other type of notebook replacement).
Plus, we also have included a couple of our custom productivity templates for you to get started with. These templates are right out of our popular productivity course.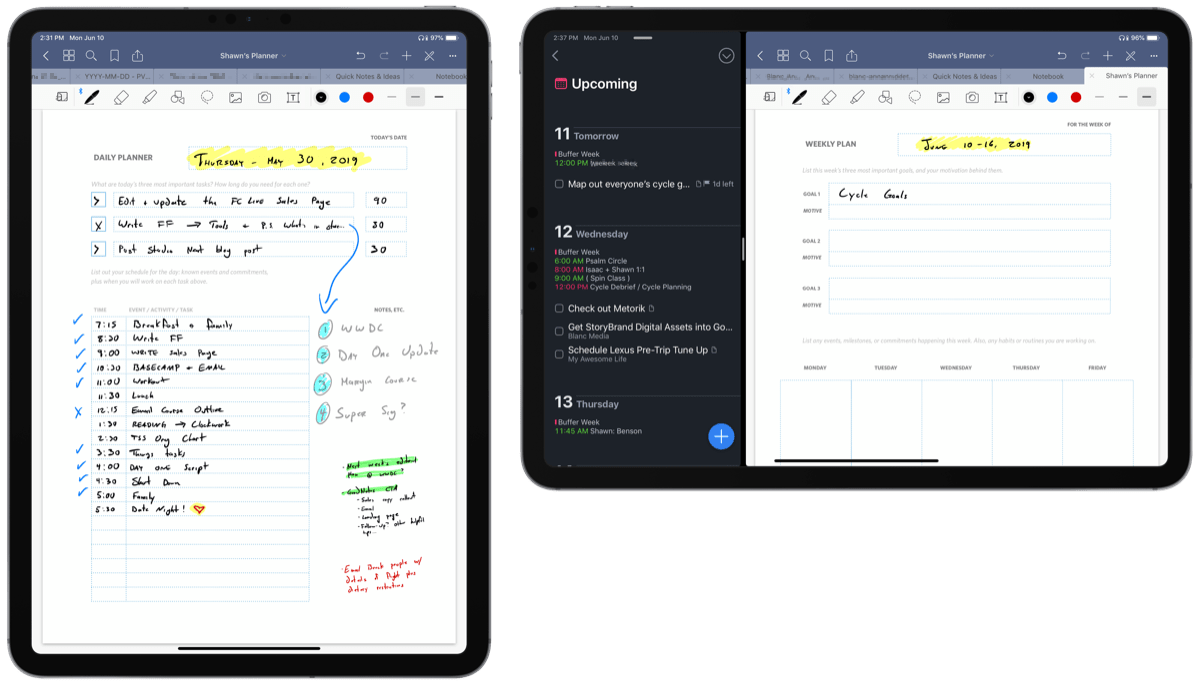 The custom templates and the guide are available for FREE to our email subscriber community. And you can get it right now. By joining the Sweet Setup community you'll also get access to our other guides, early previews to big new reviews and workflow articles we are working on, weekly roundups of our best content, and more.