Clay Russell's Mac and iOS setup
August 14, 2017
Every week we post a new interview with someone about what software they use on their Mac, iPhone, or iPad. We do these interviews because not only are they fun, but a glimpse into what tools someone uses and how they use those tools can spark our imagination and give us an idea or insight into how we can do things better.
New setup interviews are posted every Monday; follow us on RSS or Twitter to stay up to date.
---
Who are you and what do you do?
My name is Clay Russell. I am a Director of Operations for a popular restaurant chain based in Texas. I oversee 6 restaurants employing about 300 employees. I also run the TEKSide Network, which hosts 2 blogs and 11 monthly podcasts centered on casual conversation from people passionate about technology. 
What is your current setup?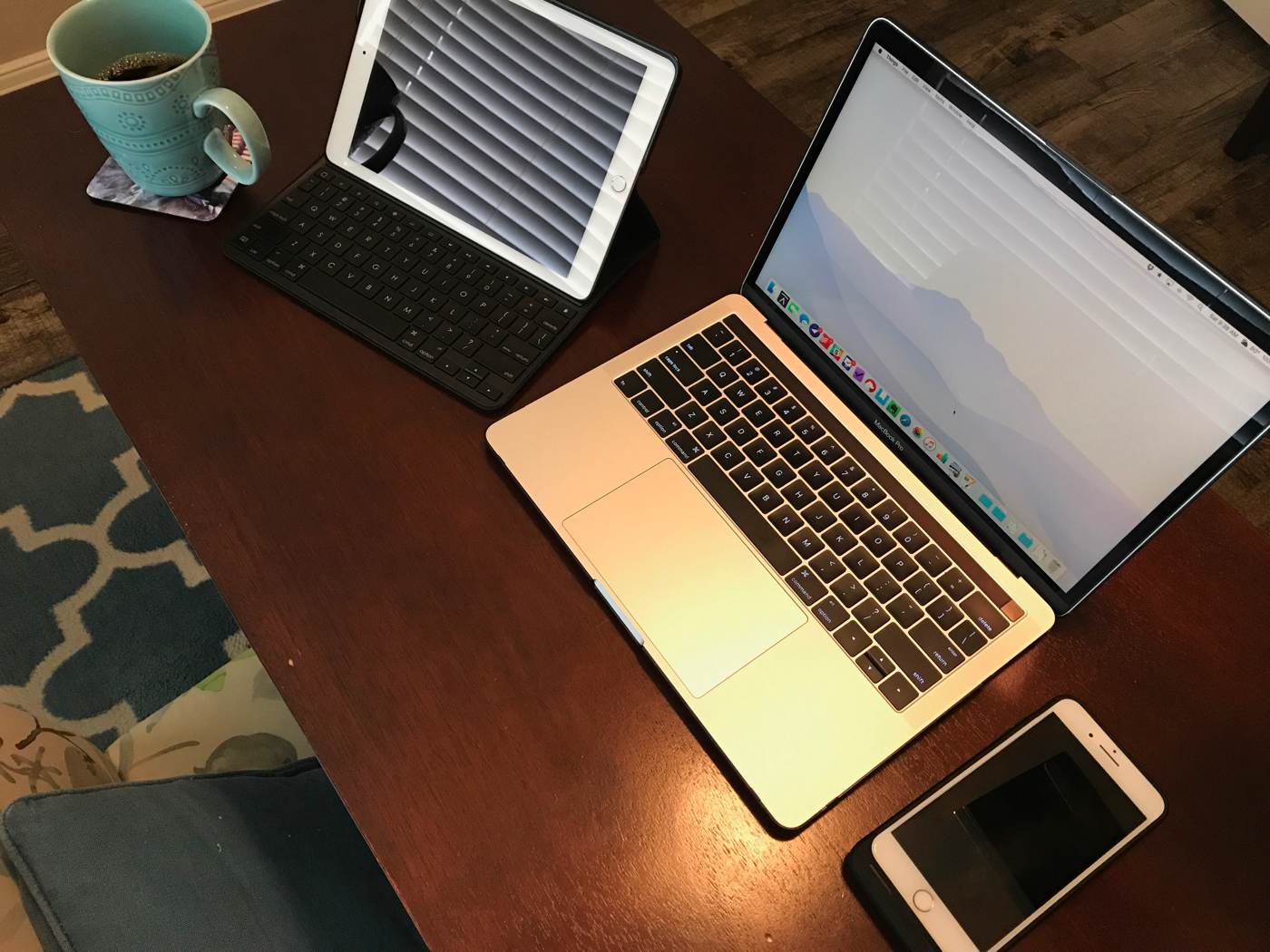 I'm all in on the Apple ecosystem of products. My current device lineup consists of a MacBook Pro, iPad, iPhone, Apple TV, and Apple Watch.
I use a MacBook Pro at the start and at the end of every work day. The 13″ late-2016 MacBook Pro with Touch Bar is my daily driver for the heavy stuff, whether it be highly-formulated spreadsheet work in Numbers or recording and editing podcasts in GarageBand.
Where can we find your macOS wallpaper?
My current macOS wallpaper has had some staying power. It's minimal in color and design and has a serene feel to it. You can find it here.
What software do you use and for what do you use it?
I am a task management junkie. My favorites are Todoist, OmniFocus 2, and Things 3. I use them all in different ways, and because I love using all of them, I try to use them differently so that they all have a legitimate use case. 
OmniFocus 2: multi-action projects, project templates, custom perspectives, and contextual lists.
Things 3: single action tasks and brainstorming.
My other favorite and most used Mac apps would be Newton Mail, Bear Notes, Evernote, Day One, and Slack.
How would your ideal setup look and function?
I dream of a device powerful enough and portable enough to be my one and only machine. Will Apple ever create a MacBook with the full power of macOS but feature a detachable display that is essentially an iPad Pro when you need iOS? A man can dream. Another idea would be to replace the trackpad with your iPhone. And while you are at it, how about charging your phone while it's docked there?
---
What iPhone do you have?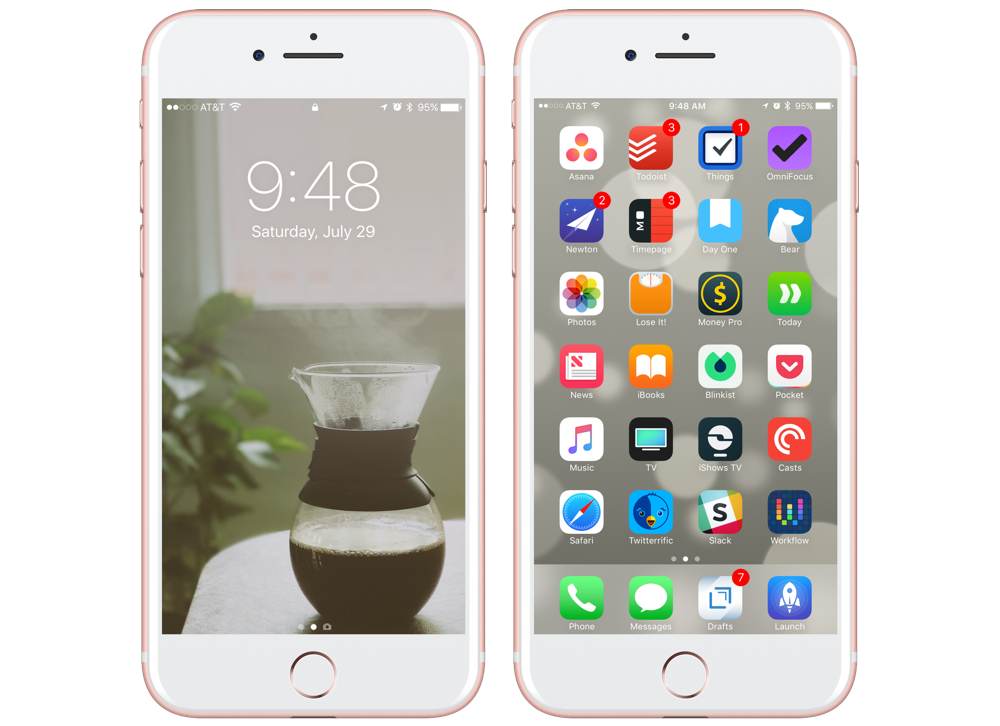 I currently use a Rose Gold iPhone 7 Plus 256GB — This is the essential center of my digital life. Whether it be my work life, network life, dad life, or for my own personal growth, it keeps me focused and on time with all related events, tasks, and projects. I keep it juiced up with a Mophie charging case and have additional wireless charging accessories available that allow me to wirelessly charge in my truck, at my desk, or while I sleep. 
Where can we find your wallpaper online?
My current lock screen wallpaper can be found on our blog. It was a recently featured Weekly Wednesday Wallpaper that TEKSide contributor @iBees posts on the iPhonaddict Blog regularly. The home screen is one of the stock dynamic wallpapers. 
What apps do you use the most, and why?
The same ones apply to my phone as on my Mac: Todoist, OmniFocus 2, Things 3, Newton Mail, Bear Notes, Evernote, Day One, Slack, and 1Password for the reasons mentioned above. But on the iPhone, I would have to add a few to that list: Lose it!, Money Pro, Today, Pocket Casts, Twitterrific, Workflow, Drafts and Launch Center Pro. I also am in love with the Apple News app.
Which app could you not live without?
Launch Center Pro: So much work went into setting up these custom URL schemes. This app saves me an obscene amount of time every single day. Here is a setup video I did a few years back that demonstrates the power of LCP. 
Apple Watch
I also wanted to mention that the watch has been extremely helpful in helping me prioritize and triage notifications throughout my day. Being in the restaurant industry, there are many instances where I need to have my hands free and clean to work in the kitchen preparing food. The Apple Watch allows me to do this way more efficiently. 
---
Which iPad do you have?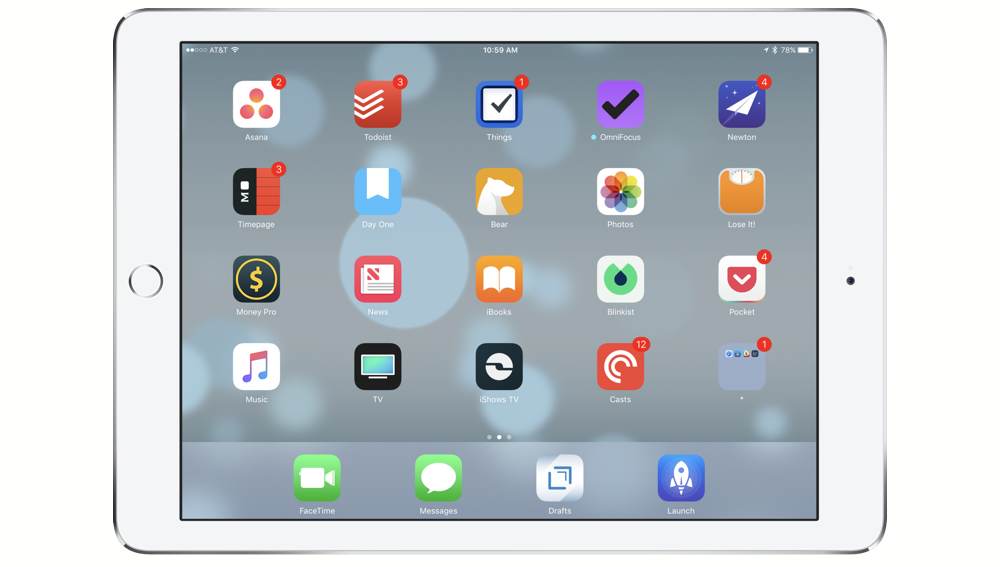 I currently use a silver iPad Pro 9.7" with 128GB of space.
Where can we find your wallpaper online?
You can find it right in the Settings app. I love the simplicity. 
How are you using your iPad on a daily basis?
This is primarily a media consumption device, but with the Logitech Create keyboard and Apple Pencil, I can also bring it into meetings for note-taking and presentations or to local coffee shops to triage emails or do other light work. 
What apps do you use the most, and why?
I use the exact same apps as I do on my iPhone. Even the home screen layout mimics that of the iPhone. The iPad comes in handy when I have time to sit and could use the additional screen real estate that the iPad offers. iOS 11 may have me rethinking how I use the iPad moving forward. I'm excited about that. 
---
There are more Sweet Setup interviews right here.
Want to share your setup? We'd love to hear from you. Just fill out this form with some basic information and we'll be in touch.
---
Wait. There's a Bonus….
Custom Productivity Templates
We have a set of custom productivity templates that work well with the iPad app, GoodNotes. And if you want to try them out, we've put together a free guide that can help you.
We'll show you…
How to create and save custom page templates in GoodNotes.
How to use those page templates to transform GoodNotes into your own productivity notebook (or any other type of notebook replacement).
Plus, we also have included a couple of our custom productivity templates for you to get started with. These templates are right out of our popular productivity course.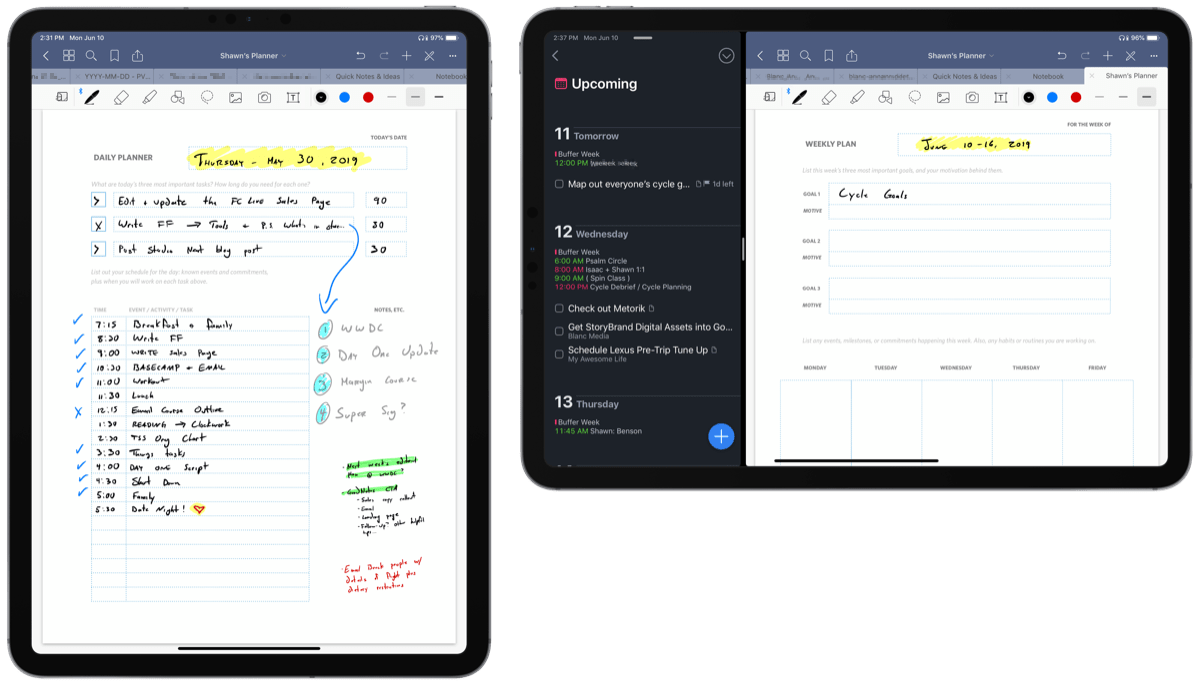 The custom templates and the guide are available for FREE to our email subscriber community. And you can get it right now. By joining the Sweet Setup community you'll also get access to our other guides, early previews to big new reviews and workflow articles we are working on, weekly roundups of our best content, and more.