Castro 3 is here
May 21, 2018
Earlier today, Supertop Software released version 3 of Castro. Along with a host of new features, it also adopts a new subscription model that provides access to premium features.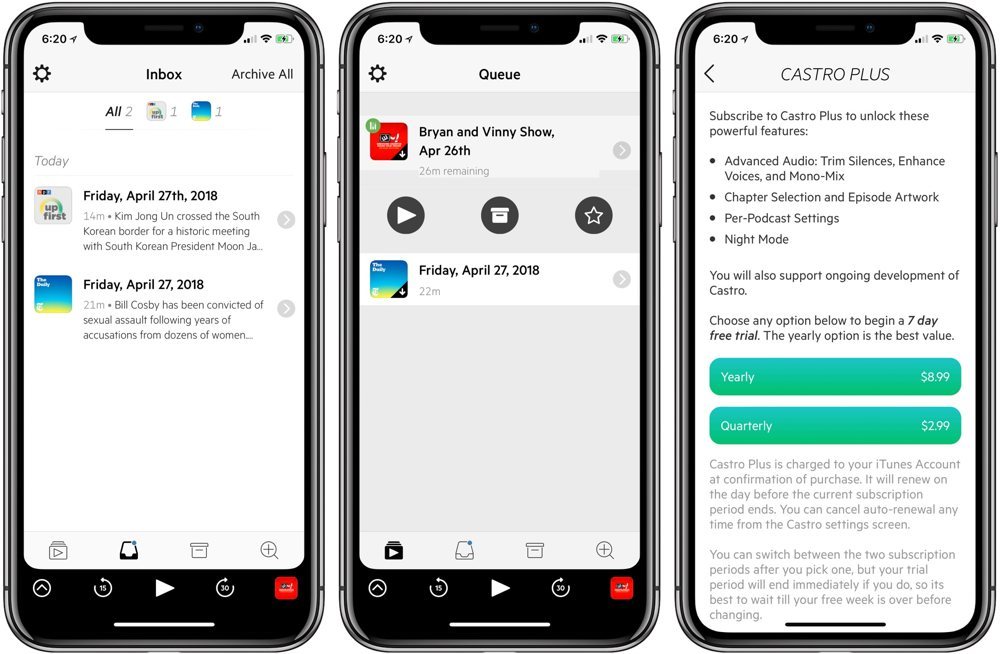 Speaking of features, Castro 3 is loaded. It brings an entirely new player engine. It includes new options to Trim Silence (similar to Overcast's Smart Speed), Enhance Voices (boosts and balances audio levels), Mono Mix (makes it easier to hear podcasts that pan some guests on left/right channels), and more reliable streaming.
The player screen has also been redesigned with a cleaner layout. It's easier to access AirPlay controls, skip chapters, and star a current episode.
One of Castro's defining new features is its queue system that lets you "queue" show episodes you want to listen to while archiving the others. You can already auto-queue certain shows, but Castro 3 also allows you to limit the number of episodes that are downloaded. This feature can be handy if you only want to keep two or three current episodes of a daily show, for example.
The Apple Watch app also received some nice updates. One of our favorite new features is that the Watch app now allows you to control playback and choose a new episode from your queue to play.
In addition to these new features, the business model is also changing. Castro will be free to download from the App Store. If you purchased Castro 2, you will automatically have access to all the features in version 3, including some that will not be available to new free users (such as Night Mode and Enhanced Voices), as well as the Watch app and all the player improvements and bug fixes.
Castro Plus is a $9/year subscription that will unlock all of the new Castro 3 features mentioned above. Users can also choose to pay quarterly for $3. Both come with a 7-day trial so you can get a feel for the features before committing to a subscription.
While I still prefer Overcast, Castro 3 is an incredible app. Their queue system is growing on me, and I may start to use it for some of the daily shows I listen to.
Day One in Depth Course
Discover how to use every function and feature within Day One. Also! Get expert tips and tricks for additional workflows and ideas for how to use Day One for increasing your productivity, creativity, and organization.