Can Akaoglu's Mac and iPhone setup
December 14, 2015
Every week we post a new interview with someone about what software they use on their Mac, iPhone, or iPad. We do these interviews because not only are they fun, but a glimpse into what tools someone uses and how they use those tools can spark our imagination and give us an idea or insight into how we can do things better.
New setup interviews are posted every Monday; follow us on RSS or Twitter to stay up to date.
---
Who are you and what do you do?
My name is Can Akaoglu. I'm possessed by pop-culture and obsessed with design, which is why I'm the Creative Director for a little mobile company based in Mainz, Germany by day and watching sports and TV shows like a crazy person by night.
Being the only guy at work who doesn't know either Java or Objective-C/Swift (shame on me), I do pretty much everything else required to run an app business from design, marketing, and product management to social media and refreshing the coffee stock.
I occasionally do UI & UX consulting for our clients and a lot of cooking for my beloved friends.
What is your current setup?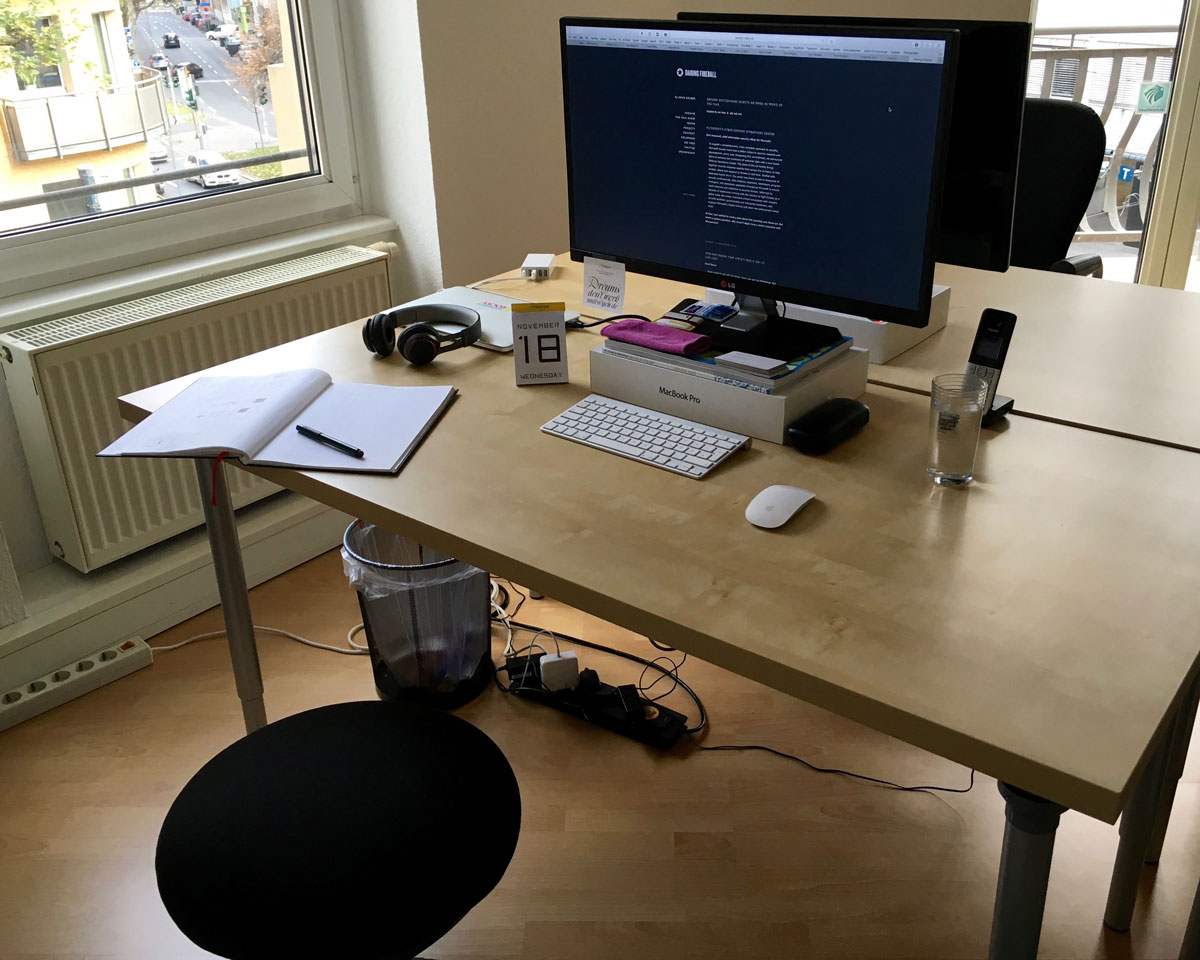 Editor's note: You can find Can's desktop wallpaper here.
I'm currently sitting on the train, writing this on the machine I've used pretty much every day for the past 1.5 years: A MacBook Pro Retina 13″ with a 500GB SSD. At work, I plug it into a 27″ LG IPS screen, and at home I use it to AirPlay anything I can't watch on Netflix, YouTube, or another Apple TV channel to my 42″ Sony TV.
Sometimes I'm sad that I look at the beautiful Retina display only about 23% of the time I use the laptop, but my horrible addiction to multi-tasking while using too many apps at a time can only be fed with size.
I still have a 4-year-old Mac mini sitting at home, but he's earned his chops during my college time — that's why I only use him for photo management these days.
What software do you use and for what do you use it?
Safari is my browser of choice, mainly because of my iCloud tabs.
My email accounts are split between Mail.app for work and Sparrow for fun.
I just recently switched to Sketch for our newest app and like what I see so far. I've been alright with Adobe products for quite a while now and use them (Ai, Ps, occasionally Ae and Id) 3 out of 5 workdays. Exporting out of Illustrator isn't easily pixel-perfect though, which occasionally makes me wake up the coders in the office because of my loud cursing.
The rest of my work is done in Tweetdeck to keep a halfway decent overview of our Twitter channels, the Microsoft Office suite for concept write-ups, documentation etc., Mantis for bug-tracking (thinking about switching to Jira or YouTrack though), Sublime Text to make the occasional updates to one of our websites (most recently: http://kreuzcards.com), and to write this.
I use the beautiful Clear for to-dos (Wunderlist is trying to lure me in though…I like their sharing possibilities), and Caato Time Tracker so I can keep an overview over multiple consulting projects.
Thankfully, my boss has inspired our team to use 1Password to manage our passwords.
While that keeps us sane, we use Hangouts for spamming each other. I personally use Telegram – happy that there's a desktop app now – to do the same to my friends.
My music setup is a mess: I combine old-school and the young/cool kids stuff by still buying the occasional Mumford & Sons or Macklemore album while streaming with iTunes Music since day one. Their playlists are outstanding. I find new gems in there nearly every time I take a closer look at a new playlist. But, to be honest, most of the time I listen to my favorites (that I can't get on the other two services, because currently 90% are remixes) in Hypemachine.
I try to be an early-adopter on mobile, and an 'early-knower' regarding desktop apps. Thanks to ProductHunt and The Next Web, I think I'm accomplishing that fairly well, but if you think you've got a great app I should try, hit me up on Twitter.
How would your ideal setup look and function?
In my ideal setup, Creative Cloud and Google Drive wouldn't have sync-problems every couple days (I'm very convinced that Dropbox has the best sync-tech/-architecture out there) and I wouldn't have to use Chrome anymore to access sites Safari doesn't want to display properly. All outside-of-mail communication would go through Telegram and Apple would buy Rdio and integrate Hypemachine while making it easier to manage my offline iPhone library from iTunes on the Mac.
In my dream setup, I'd have a Mac Pro standing on my desk powering my record-breaking number of tabs while competing for most beautiful piece on my desk with a 27″ Retina Thunderbolt screen.
---
What iPhone do you have?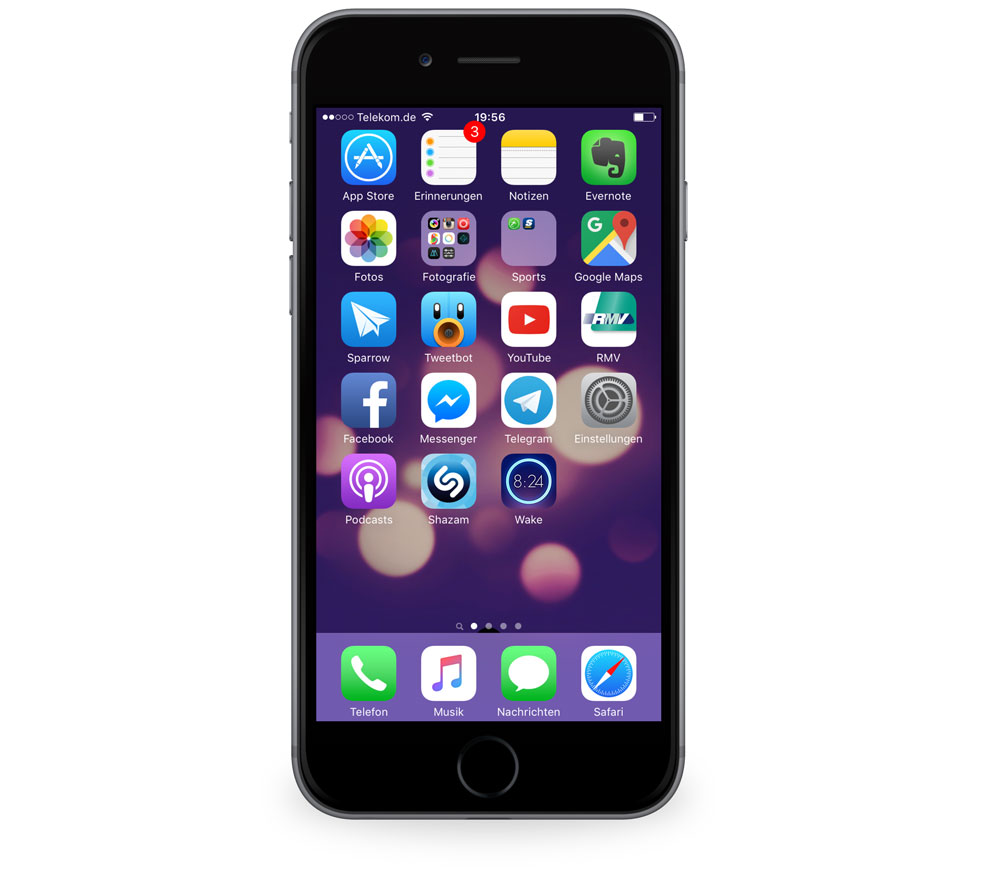 Editor's note: You can find Can's iPhone wallpaper here.
I just switched from a space gray 32 GB iPhone 5, which I dearly loved (first love is always the hardest to get over, right?), to a space gray (I don't like that the start Jony Ive voice aluminium end Jony Ive voice is so much lighter in color than my old iPhone) 64 GB iPhone 6S.
I still have to get used to the size difference, but I am very much looking forward toward what developers (like us) will do with 3D touch and am blown away by the low-light performance of the camera. Say what you will about iPhones, but anyone claiming their smartphone's camera is better than those of the latest iPhones is either living in a parallel universe or blind.
What apps do you use the most, and why?
Telegram – Most of my best friends use it (we switched from WhatsApp after the acquisition), which is obviously the biggest perk for any communication platform. I'm gladly watching the rapid improvements, like the inline previews, and still happy to have been one of the initiators of our group of friends moving over.
iMessage – For my parents and all friends who don't have Telegram, iMessage is the most convenient way to go (since most have iPhones).
Evernote – I keep all kinds of lists in there — most importantly my lists for movies and TV shows to see. I also pride myself on tracking every movie I've seen in a cinema since 2012 (count is at 97, tweet me if you've got more. I love to talk to fellow cinema-lovers). It's great across plattforms, too. I love that it's integrated with Spotlight on the Mac, but it doesn't quite work with Spotlight on iOS 9 yet.
Pocket – The best read-it-later app out there. I'm dreaming of a time in which I get an iPad, take a vacation, and just read towards Pocket-zero.
Sparrow – Yes, I still use the predecessor of Google Inbox. I was crushed when I read that the team was acquired by Google a couple years ago because I thought it was the best app I could have on both the desktop and my iPhone. As long as it works decently, I'll keep using it, but I guess I'll switch to Apple Mail in the long run since Mailbox – which I enjoy on my Android (am I allowed to write this word here?) phone – doesn't support anything but Gmail and iCloud.
Which app could you not live without?
I like to think of it as my collection of apps that is unique, so I guess I couldn't live without my iCloud account backing up that information. I'd also be crushed if all my Evernote lists were gone though — how would I know which 214 movies (as of today, chances are that number will mount the next time I go to imdb.com) I still need to watch.
---
There are more Sweet Setup interviews right here.