Building a Core Values Widget Using Widgetsmith
November 22, 2021
The first things we learn about in Focus Course Academy is the importance of values. Our values should guide the decisions we make and be the filter we need to say yes to the right things and no to the wrong things. And so, one of the initial (and, frankly, one of the more difficult) exercises we go through in the Focus Course Academy is to distill our individual values down to just two Core Values.
Shawn shares that our personal Core Values should represent who we are and who we aim to be. They should help serve as guiding principles for our life. Without these values it can be hard to know what to say yes to in our daily life that will actually move life forward.
Here's the other challenge: once you have some core values chosen, you need a way to regularly remind yourself of them. This might seem trivial, but we can easily forget what our values are and how they interact in our daily lives if we don't have reminders.
At one of our coaching calls during the Focus Course Academy, one of the members shared about how she reminds herself of her values using Widgetsmith on her iPhone.
With a Widgetsmith photo to display her two core values on her iPhone's home screen, she was able to see them several times a day. This reminded and helped her to make decisions using her values as the filter.
I loved her idea and wanted to do it myself as a way to keep my core values front and center during the day.
How to Create a "Core Values" Widget for Your iPhone Home Screen
First, I found a beautiful image on Unsplash.
I then threw it into Canva and added some text with my core values. (If you prefer, you can overlay your values on a black or colored background if a photo is too distracting.)
Then, I downloaded the Widgetsmith app and chose a medium widget, uploaded the image, and saved it as core values.

Next, go to your home screen and long-press on an app to bring up the contextual menu, then tap Edit Home Screen. You can also long-press anywhere on the home screen to enter jiggle mode.
Tap the + button in the top left corner, and search for Widgetsmith.
Swipe until you find the medium widget and tap it. It automatically adds the core values widget to the home screen, and then you can arrange it until you find the perfect place for it.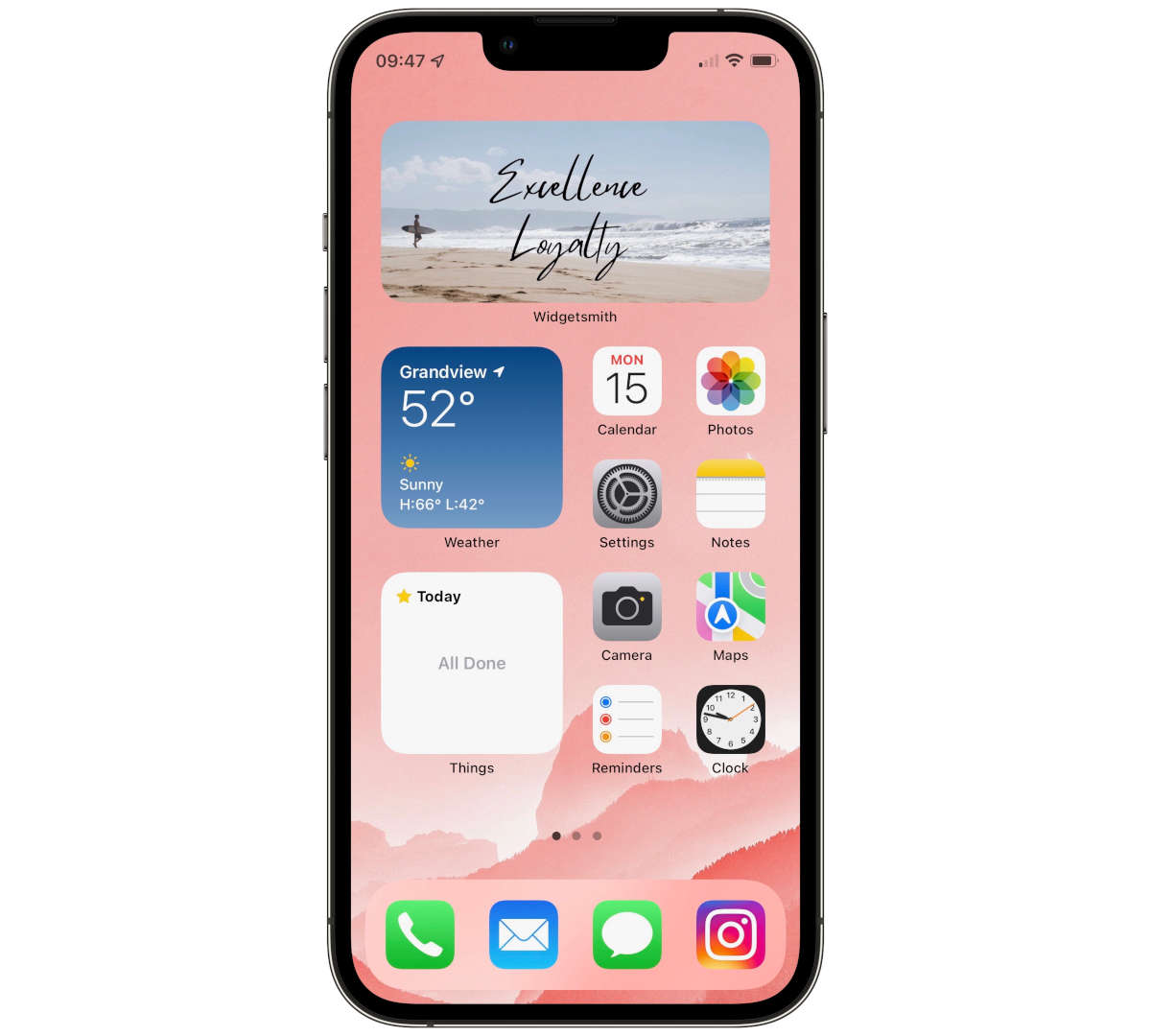 Now, every time I open my iPhone I see my core values. These are a constant reminder to me to be excellent in all that I do and be loyal to the people I care about the most.