Brian McCabe's Mac, iOS, and Watch Setup
April 6, 2020
In this series, we post a new interview with someone about what software they use on their Mac, iPhone, or iPad. We do these interviews because not only are they fun, but a glimpse into what tools someone uses and how they use those tools can spark our imagination and give us an idea or insight into how we can do things better.
New setup interviews are posted every Monday; follow us on RSS or Twitter to stay up to date.
---
Who are you and what do you do?
My name is Brian McCabe, and I am a technology Consulting Director in a global professional services firm. I've been working in IT for over 30 years (how scary is that?!) having started off as a trainee Cobol programmer on ICL mainframes. Most of my career has centred around the deployment and management of Oracle software. I spend a lot of my time on the road, traveling mainly around the UK (with a few international trips) meeting clients and visiting our London HQ. The Apple setup works well for the mix of work locations, although recent global events have allowed me to focus more on my home setup.
I live in Manchester, UK with my partner Hayley, our two grown-up children, and the family dog, Colin. He is an Irish Terrier and can be seen on my Mac wallpaper.
What is your current setup
I'm currently using a 2019 16" MacBook Pro, which is a recent upgrade from its 15" predecessor. I much prefer the typing experience on the new (old) keyboard and the slight increase in size is negligible, and very much welcomed with my rapidly degrading eyesight!
As you can see, my home working setup relegates the MBP to a secondary display and I have a few external accessories: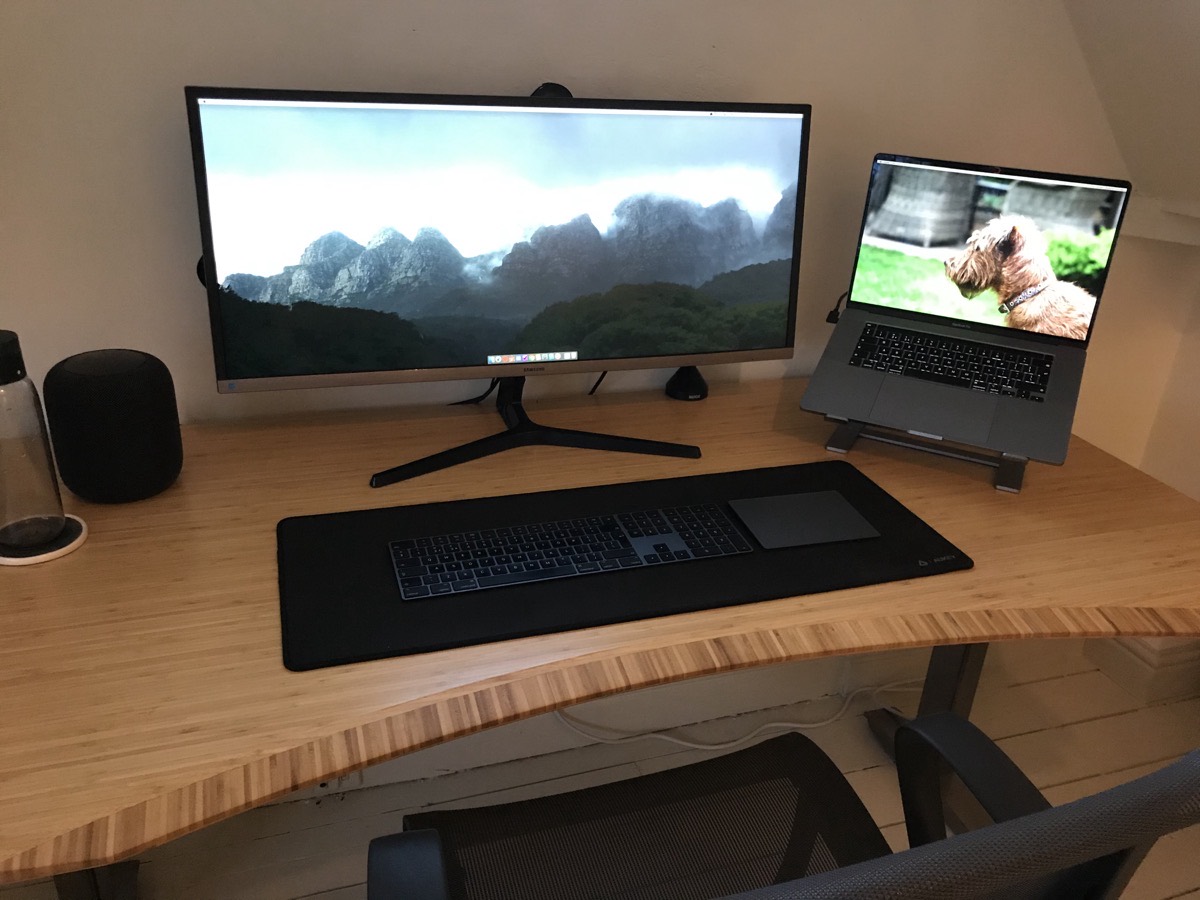 Where can we find your macOS wallpaper?
In my photos library! The MacBook has my dog, Colin, on it. The larger monitor is showing a picture of some mountains near Cape Town, South Africa. I shot this on vacation a few years ago and, although it is woefully under-exposed, I quite like the moody outcome.
What software do you use and for what do you use it?
We're all-in on the Google Suite for work, so it's Gmail, Calendar, Meet, Chat, G-Suite, etc. We've also recently deployed Kanbanchi, which is a G-Suite extension for task/project planning and I am absolutely loving it right now. Fantastic for team collaboration.
The MacBook is fairly locked down for security and data loss prevention reasons, so I am limited on what I can store outside the company network.
That said, my other key software packages are:
OmniFocus (with frequent flips per year between that and Things 3), which sync across all of my devices.
iThoughtsX for mind-mapping. I keep stumbling across exciting features — this product is so deep.
Day One for journaling, and also as a very effective meeting notes app for the multitude of meetings I attend each week. The bill-in time-stamping, templates, and a very reliable sync make it an ideal meeting mate.
Apple Notes as my knowledge repository. I have tinkered with Bear, Drafts, GoodNotes, and others, but their reliance on iCloud Drive (rather than just iCloud Sync) means I am limited cross-platform as per my note above about data loss protection. Apple Notes is a tad basic, but it works for me and syncs without the need for persistent storage in iCloud Drive.
Alfred — mainly for keyboard shortcuts, which I use a lot of, and the extended clipboard.
TextExpander — my typing is woeful, so it helps mask that and generally speeds things up.
Bartender to help with the OCD.
Moom as mentioned above for window management.
1Password, and not just for passwords (keychain alone would suffice for that);
Be Focused Pro for my Pomodoro sessions, which I need to get more disciplined about, especially now I am at home more.
Reeder to consume news, although I'll probably switch to NetNewsWire when it starts to support Feedly on MacOS in version 5.1.
How would your ideal setup look and function?
I would love to be able to justify an iMac Pro. I hear so many good things about them and, as someone who is all-in on the Apple platform, it feels like a gap.
Sadly, when the current travel lockdown ends, I suspect I will be doing most of my work away from the home environment again, so it's hard to justify the expenditure. The 16" MBP works just fine for everything I throw at it.
---
What iPhone do you have?
I am still working off of a black iPhone 7 Plus. It's a little dated (primarily because it is supplied by my employer on a 3-year replacement cycle!), but it works for me. I'm due a replacement later this year, so am interested to see what happens in terms of the iPhone 9, 12 or whatever is going to be released next.
My home screen is intentionally bereft of App icons. I am very easily distracted, so forcing myself to swipe a few times to get to Twitter, Reddit, or NetNewsWire means I might have a pang of guilt before dropping into a world of procrastination!
I have Phone, Gmail and OmniFocus, plus a small selection of frequently used apps in the one folder at the bottom. Everything else is spread across three further screens of apps, loosely grouped by type.
Where can we find your wallpaper online?
It's a photo I scraped off the web somewhere of Ian Curtis, the ex-lead singer of the band Joy Division. I also have it as the wallpaper on my iPad too.
What apps do you use the most, and why?
OmniFocus, Gmail, Google Chat and Calendar for work.
NetNewsWire keeps me updated on the news.
Apple Maps has replaced Google Maps as my personal satellite navigation whilst I walk the streets of London, trying to avoid public transport and get my step-count up.
I have a few Shortcuts set up to control Homekit, prepare meeting note templates in Day One, open the gates to my driveway, and other similar repetitive tasks. I think I could do more with Shortcuts.
The banter in CARROT Weather abuses me on a daily basis, whilst the Amazon app does the same to my bank balance.
Which app could you not live without?
OmniFocus and, sadly, Gmail.
---
Which iPad do you have?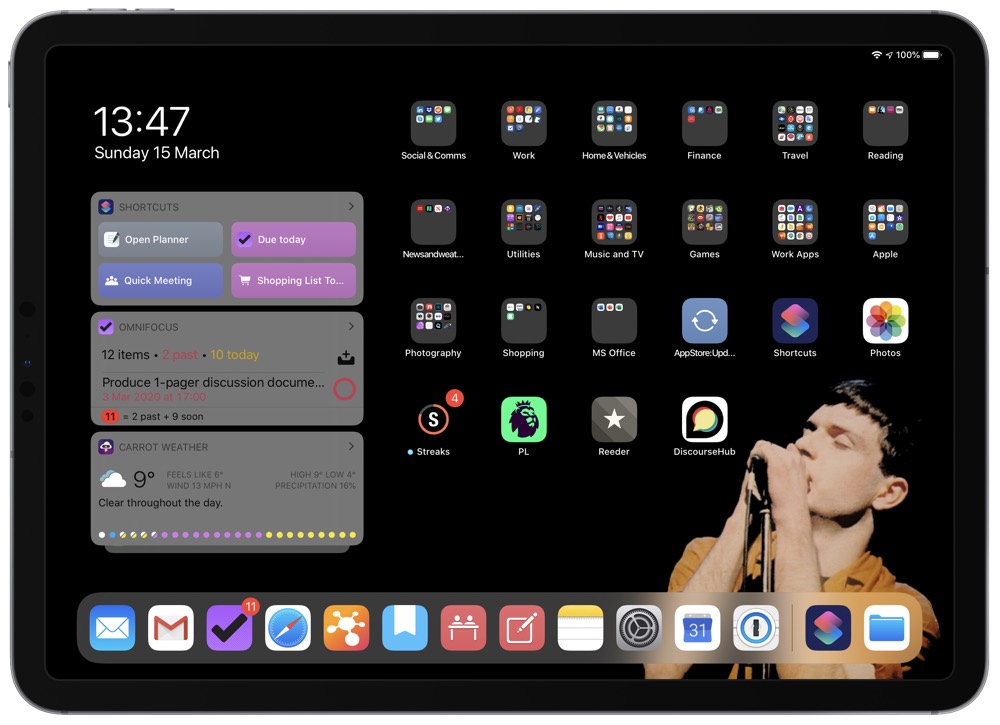 I have the 11-inch 2018 iPad Pro in space grey, with the latest Apple Pencil (mainly used for the 2020 Focus planner), and the Apple Smart Keyboard Folio.
I plan to upgrade the Smart Folio in May when Apple release it, but will stick with my current iPad Pro for now.
The home screen is busier than that of my phone, and I have managed to have a lot of apps on a single screen so as to avoid having to scroll through pages. Yes, it's the exact opposite of my phone setup, other than having the same wallpaper on both devices.
I have Today Widgets for Shortcuts, OmniFocus, CARROT Weather, Batteries, Google Calendar and a few others that I reference regularly.
The most-used shortcut is the "Open Planner" shortcut which takes me to the 2020 Focus Planner in GoodNotes. I use it several times per day and have found it to be a fine companion to OmniFocus and Day One as the three legs of my productivity stool.
The other Apps tend to mirror what I have on my MacBook and my iPhone.
How are you using your iPad on a daily basis?
Mainly to consume content in NetNewsWire, Discourse, Twitter, etc. I know it is wrong, but I read my iPad in bed at nighttime to catch up on the day's events away from my direct working environment.
At work, I often switch to the iPad from my MacBook to focus on specific tasks where it is capable of doing them, just for bit of variety. I use the Apple Smart Keyboard cover and have dabbled with the Brydge Pro in the past, but it felt too much like a MacBook. I fear for any further convergence of the two platforms as it may dilute and devalue both of them, in my opinion.
What apps do you use the most, and why?
I do all of my scheduled reviews in OmniFocus on my iPad as it is more usable than the iPhone version for this and feels like a more focussed experience than doing it on my MacBook.
I also use the Focus 2020 Planner and Day One several times per day on the iPad.
Which app could you not live without?
OmniFocus.
---
What Apple Watch do you have?
I have the 44mm series 4 Apple Watch and wear it every day. I am trying to get fit and run 3-4 times per week and keep a keen eye on my step count and activity rings.
I also use Overcast for listening to podcasts whilst out running without my iPhone.
I have skipped the series 5, but may be tempted by the series 6 when it comes out later this year. Prior to getting my current watch, I had the original series 0 which has been passed around to other family members since. It now sits in a drawer somewhere.
---
There are more Sweet Setup interviews right here.
Want to share your setup? Wed love to hear from you. Just fill out this forma>strong> with some basic information and well be in touch.
---
Wait. There's a Bonus….
Custom Productivity Templates
We have a set of custom productivity templates that work well with the iPad app, GoodNotes. And if you want to try them out, we've put together a free guide that can help you.
We'll show you…
How to create and save custom page templates in GoodNotes.
How to use those page templates to transform GoodNotes into your own productivity notebook (or any other type of notebook replacement).
Plus, we also have included a couple of our custom productivity templates for you to get started with. These templates are right out of our popular productivity course.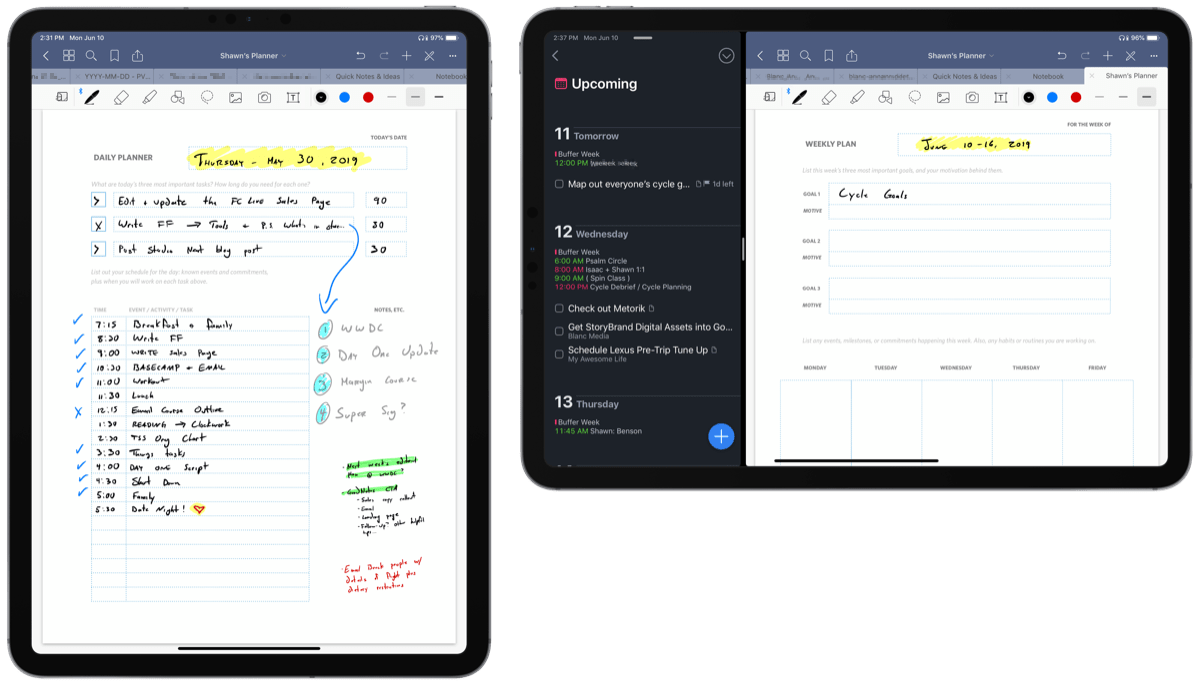 The custom templates and the guide are available for FREE to our email subscriber community. And you can get it right now. By joining the Sweet Setup community you'll also get access to our other guides, early previews to big new reviews and workflow articles we are working on, weekly roundups of our best content, and more.