Brian Baggett's Mac and iOS setup
June 13, 2016
Every week we post a new interview with someone about what software they use on their Mac, iPhone, or iPad. We do these interviews because not only are they fun, but a glimpse into what tools someone uses and how they use those tools can spark our imagination and give us an idea or insight into how we can do things better.
New setup interviews are posted every Monday; follow us on RSS or Twitter to stay up to date.
---
Who are you and what do you do?
My name is Brian Baggett, and I am a cloud management architect for Sovereign Systems in Norcross, Georgia. My job is to help companies build hybrid clouds and help customers embrace automation at the enterprise level.
In my spare time, I'm an avid comic book reader and am also loving the abundance of comic book films and television series. I enjoy traveling to new places, watching copious amounts of quality film and TV, and consuming copious amounts of coffee. I am an Apple junkie and I am usually connected to one of their products while doing just about all of these activities.
What is your current setup?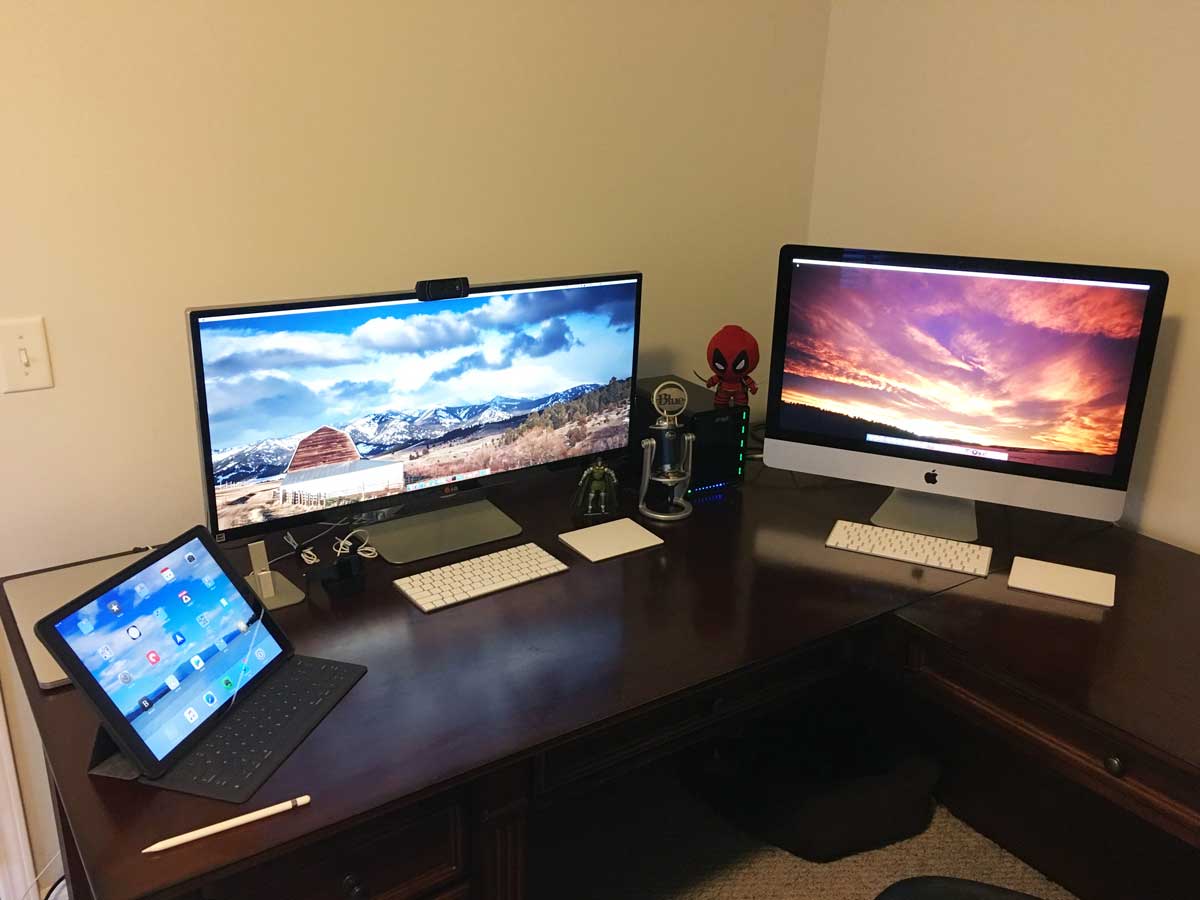 My work computer is a mid-2014 15″ MacBook Pro that I connect to a 34″ 34UM95 LG monitor. What it lacks in Retina it makes up for in sheer expansiveness. My main computer is a 27″ 5k Retina iMac and I love it. The display is so crisp that I simply can't believe it. 1 TB is a little cramped, so I also use a Drobo 5D to greatly increase my storage capacity. I used a late 2009 27″ iMac until December of 2015. It was great, but it used a spinning drive (even if I did upgrade it to 4 TB), and after using a MacBook Pro with an SSD, I just couldn't deal with it any longer. Needless to say, the jump to SSD, twice the RAM, and a much faster CPU has made the experience so much better. I can still make the fans come on with computationally intensive tasks, but it's much more of a rare event that before.
Where can we find your OS X wallpaper?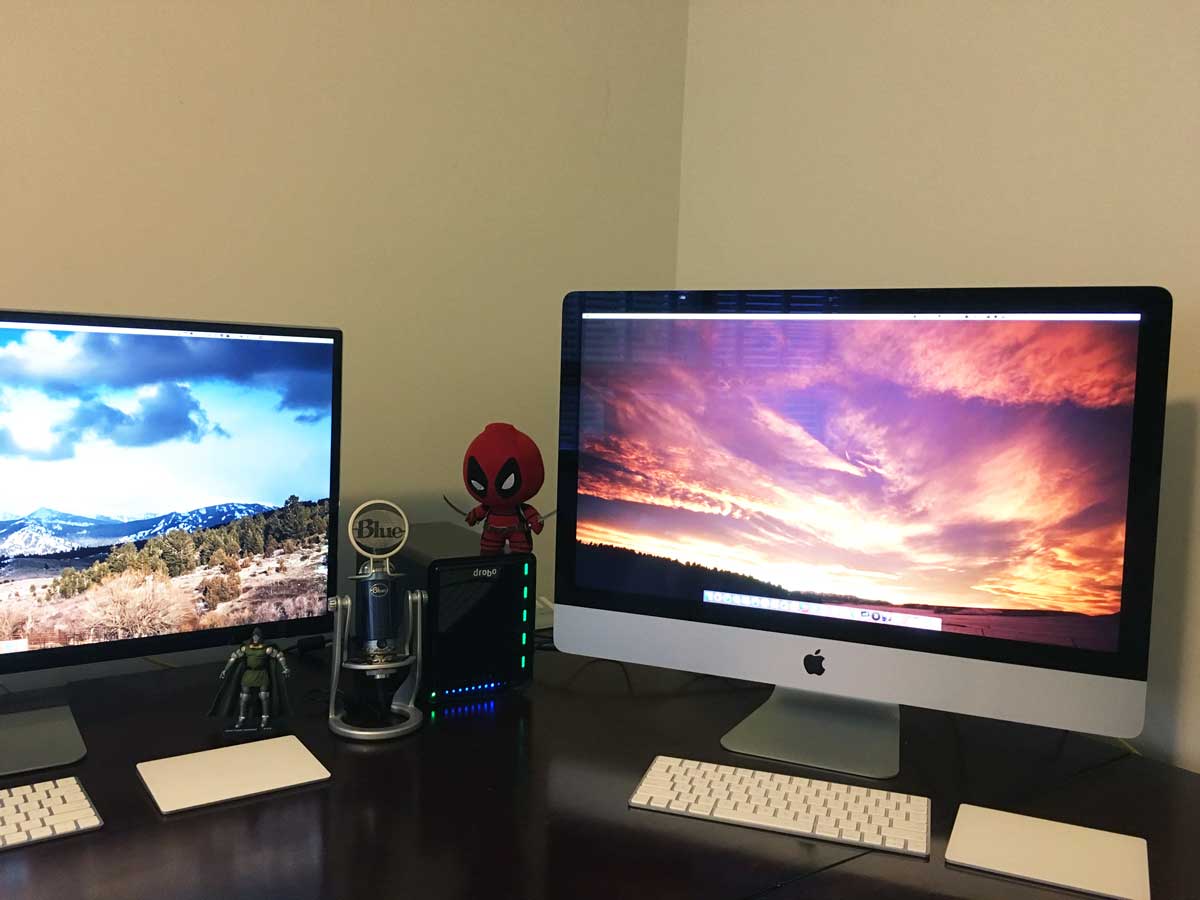 I'm an avid fan of Montana (I visit every year) and there's a photographer named Kim Tashjian that I follow on Flickr who has some of the most beautiful photos from there that I've ever seen. The iMac wallpaper is here and the one I use on my MacBook Pro is here
What software do you use and for what do you use it?
I love it when developers develop for both iOS and OS X. As a result, I tend to favor those applications that are ubiquitous on all platforms. Fantastical 2 is my most-used app by far. The interface is simple and smart, and it manages my work and personal calendars seamlessly. No day starts for me without it because I'd have no idea what was happening that day.
I am a long time Evernote Premium user, and even though Apple's Notes is so much better than it used to be, I don't see myself leaving Evernote. I am constantly visiting clients and whiteboarding solutions, and the ability to capture any image, audio, or drawing in one searchable archive that propagates everywhere is invaluable to me. I think I own every task tracking app known to man, but after seeing Federico Vitticci's praise of 2Do, I moved to it and it's working out for me rather well. I still occasionally use Clear for simple lists.
I've almost always got Tweetbot open (say hi to @brianb!).
Right now I'm using Airmail, but since I love Spark on iOS I can't wait for the Mac version of that app to ship.
I order (and sell) a lot of things online, so I make extensive use of Deliveries. I also use Macupdate Desktop to make sure all my non-Mac App Store software is up to date.
I am a big fan of Transmit and Coda 2 (both by Panic) and Loopback and Audio Hijack from Rogue Amoeba. I am about to give podcasting a go and have recently purchased Hindenburg Journalist for this purpose.
How would your ideal setup look and function?
My current setup could not be more ideal. For the first time, all of my computers are reasonably fast, have access to reliable, well-written software, and are backended by cloud services that keep my data accessible no matter where I am. These are truly amazing times. I will say that when I travel I miss the large monitor setup.
---
What iPhone do you have?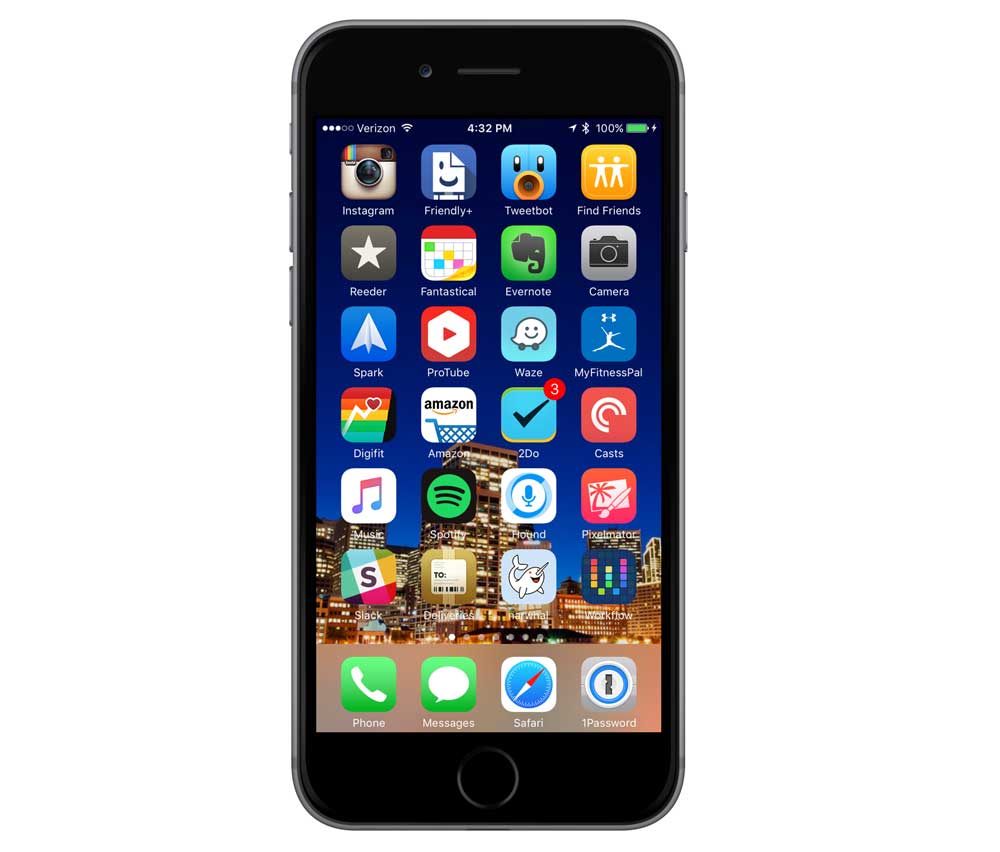 Editor's note: You can find Brian's wallpaper here.
I am currently using a 128 GB iPhone 6s and I love it. I upgrade like clockwork every fall and I just can't help it. Also, I know it's ugly and makes my phone look like it's giving birth to an iPhone 3G, but I am digging the Smart Battery case! It's "grippy," has iOS integration, and (most of all) it has an external Lightning port smack dab in the middle so I can continue using those TwelveSouth HiRise stands I love so much. I find that it keeps my phone fully charged from 9 AM to 3 PM before the external battery is depleted. I had an iPhone 6 Plus and I loved that phone and its battery, but the size was unwieldy in the pocket. Now I still have the battery life.
What apps do you use the most, and why?
The most-used would be the camera and Safari. I tend to take them for granted, but I can't help but take lots of photos.
As with the Mac, Fantastical 2, Evernote, Deliveries, and Tweetbot rule my home screen.
I love Spark. The design really fits the way I consume email.
Reeder and Pocket keep me entertained when I can't be bothered to buy in-flight Wi-Fi. I switched to Pocket Casts when Instacast ceased development, and it works well for me.
MyFitnessPal and Digifit are my go-to apps for ensuring I eat right and keep my heart rate high.
Two standout apps: Friendly+ for Facebook because it's not a battery hog and supports ad-blocking, and ProTube makes YouTube usable by blocking the deluge of ads that make plain YouTube a lot less fun on mobile.
Let me also say I've been pleasantly surprised by how great Pixelmator is on the iPhone. I've used it for years on the Mac, but the iOS version is just about as powerful as the desktop version and I've used it to do a lot of image editing when I'm on the go.
As a frequent traveler, I love Waze, but Apple Maps has gotten to the point where it's good enough in most instances. If I am walking around a new city, I like the way it will vibrate my Apple Watch when it's time to turn on to a side street. I am a fan of Take Me There, which allows me to save addresses and then choose whether to open them in Apple Maps, Waze, or Google Maps. This is useful because if I'm traveling to a new city, I can save the addresses of places I plan on visiting prior to leaving and I can quickly choose the navigation app of my choice on the fly. I also use Gate Guru to find places to dine or get coffee in airports. It's a useful app because often times you're having to move quickly through an airport and you can get an idea of what's nearby without having to explore. I've actually been able to use the SPG app to unlock my hotel room with my iPhone and Apple Watch, and I really wish the NFC key system would get wider adoption. Last month I left my iPhone in the room and was able to use my Apple Watch to let myself back in when I figured out what I had done.
I've started using App in the Air after reading about it on The Sweet Setup. Also, I'd be lost without the Uber app. Whenever I'm in a new city, I use Hound in the way I wish I could use Siri ("Show me every restaurant near me that's open now, that serves coffee, and has free wi-fi"). Cloak VPN is also a must for me as there are times when I have to connect to either client Wi-Fi or choose to use free Wi-Fi when traveling, and it's nice to know that I can do so responsibly.
Which app could you not live without?
Strangely enough, that would be Notification Center! I know it's not exactly an app, but with the swipe of a finger, I have my weather forecast, amount of time it would take to drive to work or home, my cellular data usage along with all pertinent info from Fantastical, 2Do, Deliveries, Waze, and App in the Air. No matter what I'm doing, it's all a single swipe away. I think its value is highly underrated!
---
Which iPad do you have?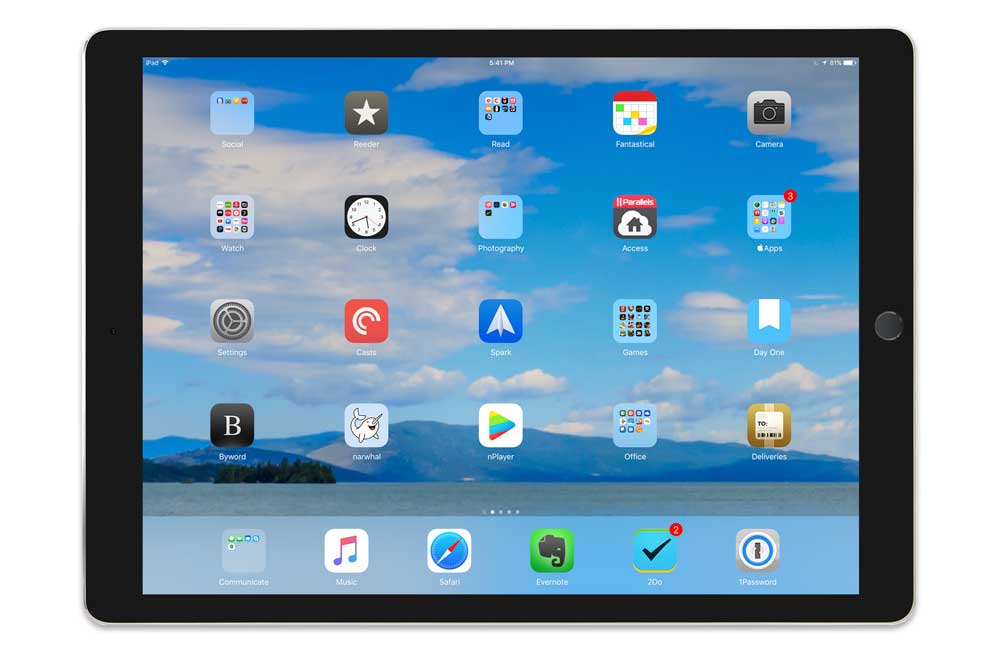 Editor's note: You can find Brian's iPad wallpaper here.
I am using a 128 GB 12.9″ iPad Pro. Prior to this, I used to buy the cellular iPads, but I have a hard time justifying it these days. I'm opposed to paying a fee to connect a device to my carrier just to use the data I'm already paying for. Tethering works fine for me.
How are you using your iPad on a daily basis?
I worried that a 12.9″ iPad would be too big, but once I used it for a week or so it became my new normal. While the iPad was always fun, I feel with iOS 9 it really started down the path of being a viable computing platform on its own. Split View is great. Having my editor on one half of the screen and iMessage or Safari open in the other half is extremely useful to me. It's not there yet, but you can see it starting to evolve in the right direction.
I find that the iPad Pro is great for killing time in airports and on planes. I use nPlayer because it supports Picture-in-Picture for the videos I load. Reeder is a time-waster, but I can't help but obsessively comb my RSS feeds daily. I hope that iOS 10 really bridges the divide between mobile and desktop a bit more than it does without compromising what I love about iOS.
I used to draw quite a bit when I was younger, but had gotten out of the habit. Now I'm back into it and am using Procreate to really get the best experience. I don't like using the Pencil for writing as I'll always type far better than I can write by hand.
I was ready to hate the Smart Keyboard, but it works just fine. It's a little troublesome to fold in with one hand, but otherwise it does what I need it to and I like that I don't need to use Bluetooth. A backlit option would be great, but it's a minor quibble.
What apps do you use the most, and why?
I'm trying to get into a journaling habit, and Day One works great. I own it for the Mac and iOS, but I find myself using it on the iPad more. The iPad feels more like a distraction-free writing environment even if I do my best to ruin that illusion by running Apple Music in the background.
As with the iMac and iPhone, I find myself using Fantastical 2, Tweetbot, Reeder, 2Do, Evernote, and Spark. Because of Spark, I actually favor my iPad Pro as the place where I respond to email more than the iMac.
I'm a big comic book reader and I use Marvel Unlimited, which is a great deal. Comics look amazing on the 12.9″ screen. I also use the DC Comics and Image app. I chucked Comixology after the Amazon acquisition nuked my ability to buy comics in the app. The standalone apps like the ones from Marvel and DC still allow you to buy apps with Comixology's backend, so now my reading and buying experience is Balkanized but manageable. I also use the Chunky Comic Reader to import older scanned comics, and it works great.
Much like to-do apps, I think I own every text editor there is. I will dabble with all, but I think Byword has been my default writing app. It's what I used to write these answers! I've tried writing on an iPhone, and I really hate it. With the iPad, it is better, but the larger screen and keyboard make it optimal now.
Which app could you not live without?
Fantastical 2 is my most-used app by far. It's great on the Mac and iPhone, but the interface seems best suited for a large touchscreen. Even my wife (who has loathed giving up physical calendars) saw the interface and wanted to try it.
---
There are more Sweet Setup interviews right here.
Want to share your setup? We'd love to hear from you. Just fill out this form with some basic information and we'll be in touch.