Brandon Jones' Mac and iPhone setup
April 6, 2015
Every week we post a new interview with someone about what software they use on their Mac, iPhone, or iPad. We do these interviews because not only are they fun, but a glimpse into what tools someone uses and how they use those tools can spark our imagination and give us an idea or insight into how we can do things better.
New setup interviews are posted every Monday; follow us on RSS or Twitter to stay up to date.
---
Who are you and what do you do?
My name is Brandon Jones. I work with an organization called All Nations. Our organizational focus is on church planting, and I work primarily in eastern Africa training, coaching, and mentoring local leaders for mission. A goal of ours is to raise up local leaders rather than relying on outsiders to do everything. This takes me everywhere from big regional cities like Nairobi to the "bush" where luxuries like power and Internet are scarce. So, I've worked hard on developing a workflow that works across these diverse environments. If you are curious about my work you can find me on Twitter or on my website.
What is your current setup?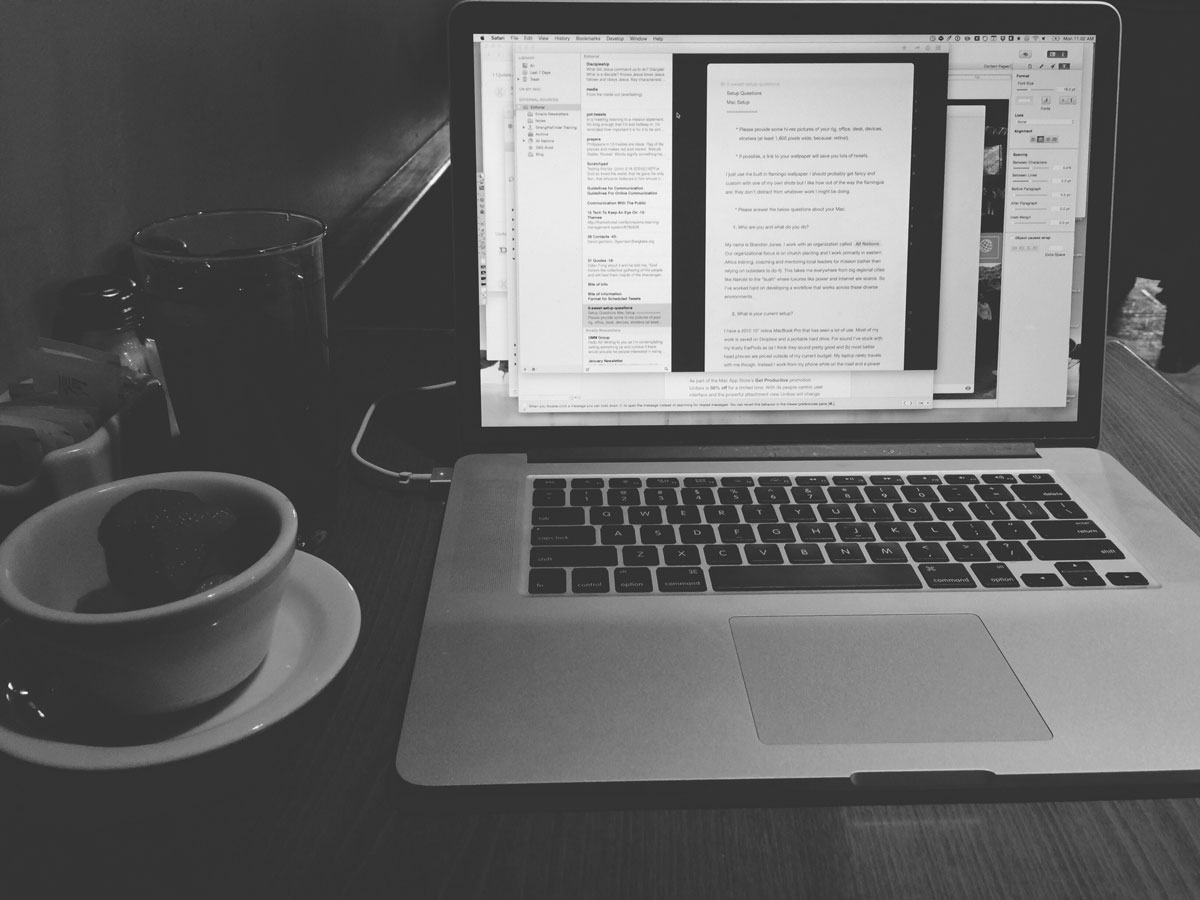 Editor's note: You can find Brandon's wallpaper here.
I have a 2012 15″ retina MacBook Pro that has seen a lot of use. Most of my work is saved on Dropbox and a portable hard drive. For sound, I've stuck with my trusty EarPods as (a) I think they sound pretty good and (b) most better headphones are priced outside of my current budget. For travel I use a Tortuga Travel Backpack. My laptop rarely travels with me anymore, though. Instead I work from my phone while on the road and a power bank saves my rear when power is scarce (I use the Intocircuit power castle).
What software do you use and for what do you use it?
While definitely necessary, my laptop is becoming less essential to my workflow. I'm actually finding I can go days now without opening and using it. I use my MacBook primarily for email and graphic work: creating training documents and diagrams, presentations, brochures and the like. Mailmate is my email app of choice. I've found it's perfect for keeping all of the different global and local threads organized and in order. Before I jumped to it a couple of years ago I could never maintain inbox zero, but now that's a cinch.
I recently started using Sketch for diagrams and have fallen in love. And I also recently jumped to Swift Publisher for document creation (I had been using Pages). It might not be as powerful as some applications, but it gets the job done.
Pixelmator takes care of any bitmap work I might need done, while Lightroom keeps my photo library edited and in order.
Deckset is my new goto app for presentations (yay for markdown!). On the productivity side of things, Mindnode is often open for brainstorming and OmniFocus keeps all my projects and tasks in order (it's basically a map of my brain). Ulysses III and Together deserve mad props here too as they keep my notes and documents in order. Other apps that help me waste away the day: Readkit for keeping up with the news and Rogue Legacy for a quick time waster.
How would your ideal setup look and function?
I've really worked hard over the past year to hone my workflow and setup, paring back where necessary and examining seriously what I need and don't need. Thus, I'm quite happy where I stand now. I'd probably enjoy a lighter Macbook Air rather than my bigger Pro, and I wouldn't mind adding a solid Bible software package like Logos into the mix. The cost for it is just prohibitive at the moment though.
---
What iPhone do you have?
I recently sold my iPad, camera and lens, and an old phone to get an iPhone 6+. While I miss the camera, I don't regret it at all. It's the best iPhone I've used.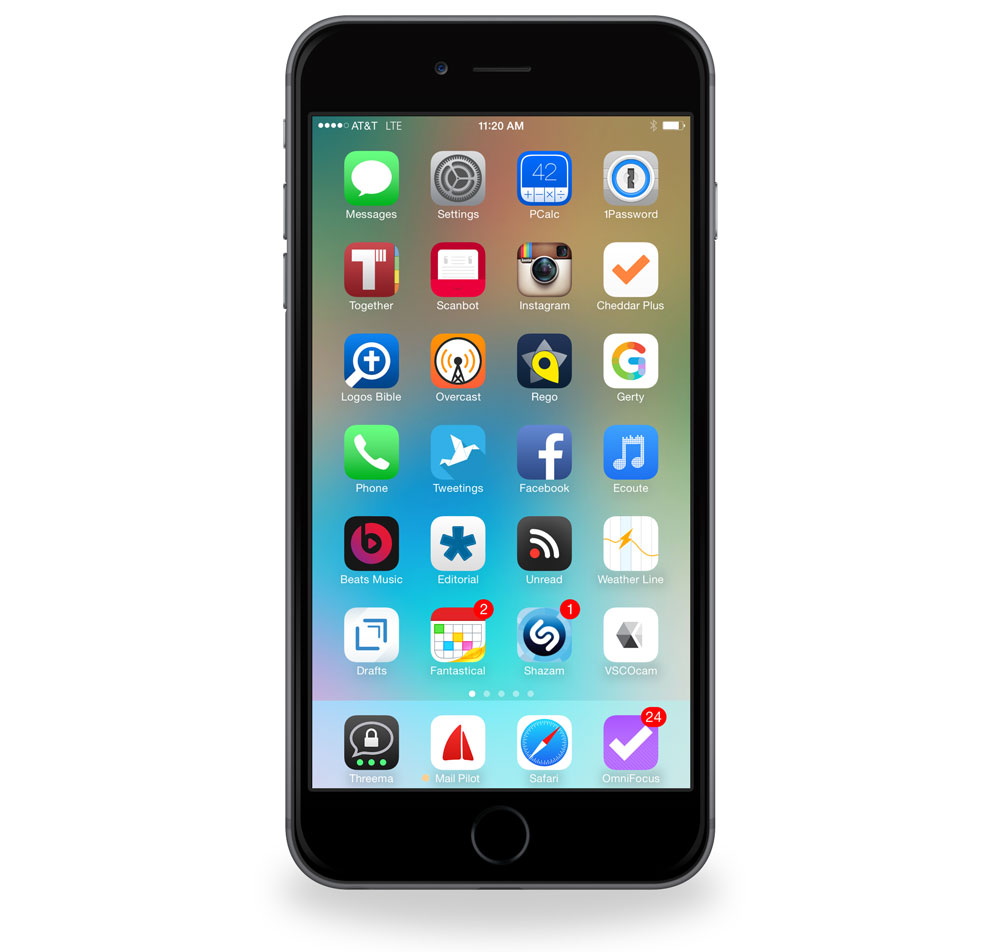 My wallpaper is actually a photo of a finger-painting my 2 year old daughter made me; I just blurred it a bit. She said it meant, "Daddy I love you" and that's what I think of when I see it. I blurred it as that makes the icons pop a bit more.
What apps do you use the most, and why?
Overcast, Ecoute, Gerty, and Unread keep me company on the road. I do a lot of regional travel and it helps having music and podcasts to listen to, as well as books and news to read.
Together keeps my document library in sync. I love that I can have access to my full library of documents anywhere I have cellular signal and that my favorites are always on my phone. This way, I ensure my training documents are always at my fingertips no matter where I am. Even though I didn't get this all set up until the beginning of December, it has come in handy a countless number of times. And yes, I know I could just stick things in Dropbox, but I find the extra sorting capabilities of Together to be extremely helpful.
Editorial allows me to keep all of my notes in sync with Ulysses III on my Mac. I love this. I'm actually typing out the first draft of this interview in Editorial on my phone. My only complaint is that it's not optimized for the 6+. For quick text, Drafts works well (especially when I use it to access specific Editorial workflows).
Scanbot gets a lot of use as too much is still based around paper in East Africa. It's nice to be able to pull out my phone and take a quick scan as you never know when it might be necessary (particularly of receipts and legal documents).
VSCOcam is great for making my pictures look great. I've tried using other camera apps, but I always end up coming back to VSCOCam.
OmniFocus is a must for task management. It's essentially my brain. Everything I need to do gets dumped and sorted there.
Which app could you not live without?
I love and rely on many of the apps I mentioned above. I've saved one to mention here, though: Threema. I love how easy it is to use and how secure it is for messaging. When traveling in places that aren't as safe as others, it's important to have this means of communication with my wife and organization. Because encryption is end-to-end and keys aren't stored centrally, it really minimizes the risk of snooping and allows for open conversation. Add to that the self-destruct tagged onto the passcode failure and you've got a communication platform in which you can be confident. I'm constantly trying to convert iOS/Android/Windows Phone friends to Threema.
---
There are more Sweet Setup interviews right here.