Brand New Course: Manage and Develop Your Ideas
February 11, 2020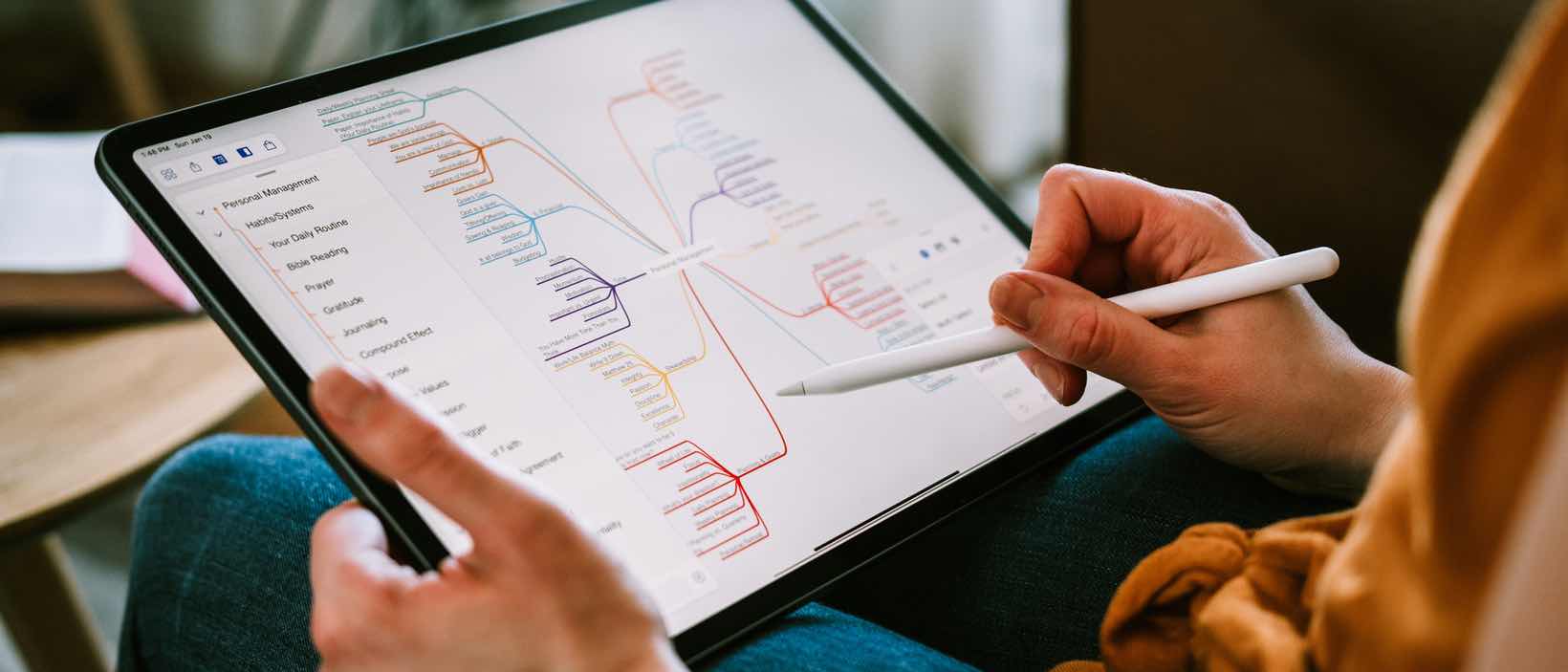 Today, we are finally opening the doors on our brand-new course for idea development.
The course — Mastering Mind Maps — is all about how to manage and develop your ideas. And it is fantastic.
Based Your Feedback and Input
Many of you may remember last year when we asked about the challenges you face regarding capturing, connecting, or developing your ideas.
This was the feedback we got from that survey: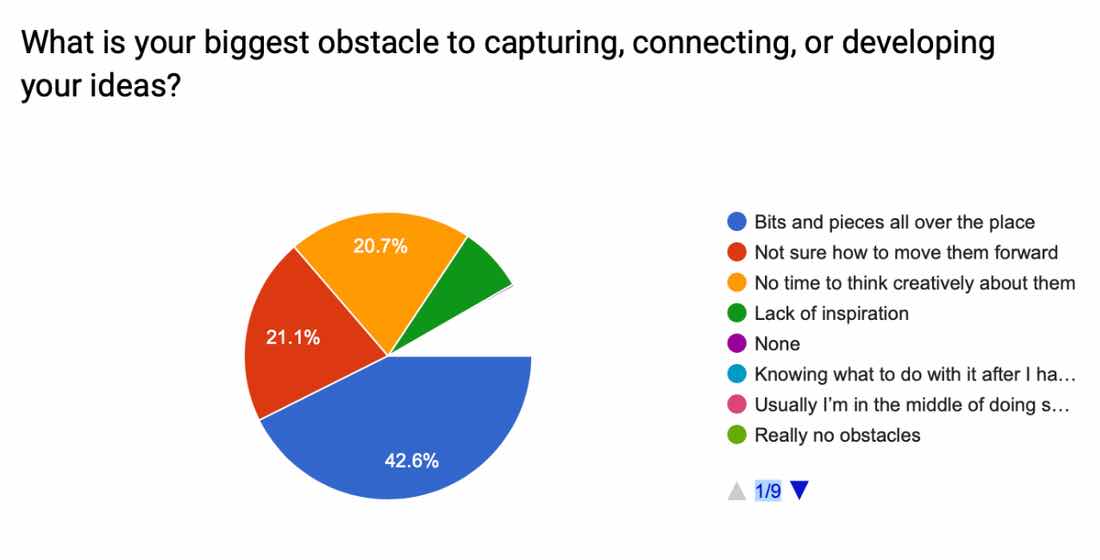 After going through the survey results and reading all your feedback and ideas, here are the top themes we discovered:
No time to think creatively.
Not sure how to best develop my ideas after capture.
Feels like bits and pieces are all over the place.
Not sure how to move my ideas forward.
And so, that is exactly what this course will help you fix.
In our new course, you will discover the tools and the systems we use that will help you organize and develop your ideas, as well as making time to think and how to take action.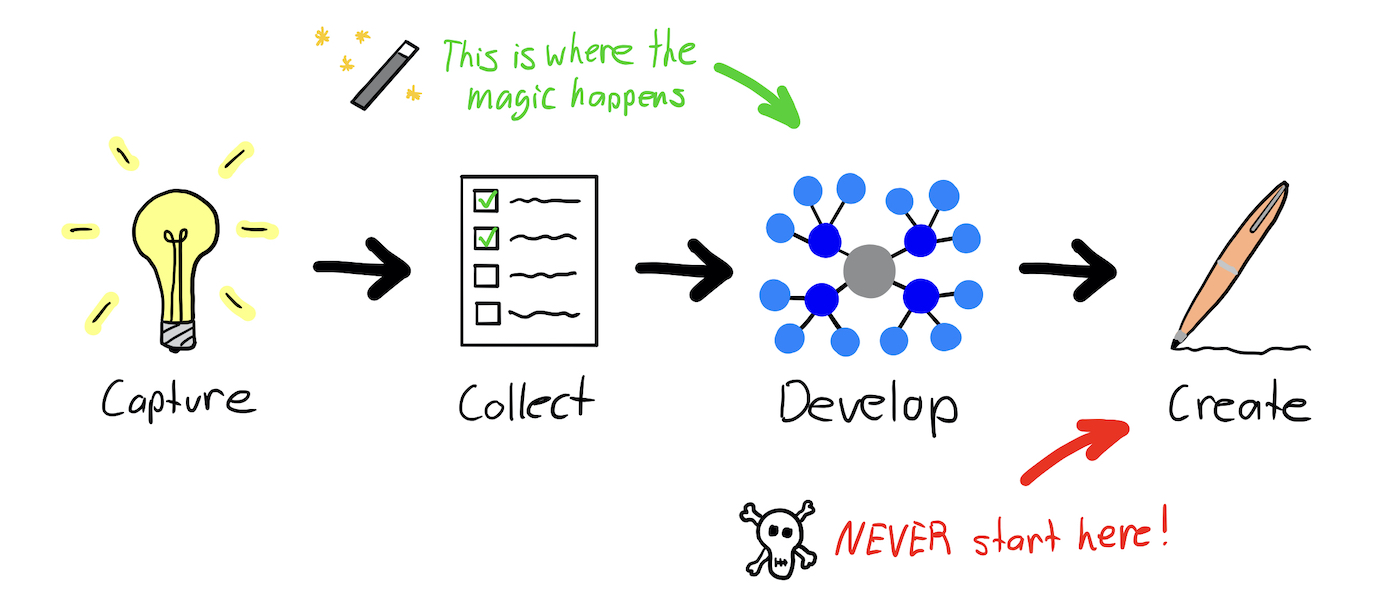 The Mastering Mind Maps course has three parts to it:
1: Your Idea Systems. This is where you will discover more about how mind maps work as a critical component to developing and improving your ideas. We'll show you why mind mapping is so awesome, how it can literally save you time each week, and much more.
2: Mind Mapping Workflow Examples. Here we will be sharing examples of practical ways you can use a mind map for things such as meeting notes, project management, book notes, and even setting goals for your life.
3: Screencasts for using MindNode (our favorite app for mind mapping app). And, of course, we have a series of in-depth screencast tutorials for how to use the best mind mapping app out there, MindNode.
---
Complete Lesson Breakdown
There are more than 25 videos included in the course.
And you can watch them in any order that you want.
Heck! Feel free to skip straight to the video you want or need right now, or binge the entire course in an evening if you want (the total run time for all the videos is about 2.5 hours).
1: Your Idea System
What a Mind Map Is: Fundamental components of a mind map and how they work.
Benefits of Mind Mapping: How to make the most of your mind maps.
Why Mind Mapping Works: A brief look at the science behind mind mapping.
Creating Your First Mind Map: A quick start guide for those new to mind mapping.
Developing Your Ideas: A simple system for capturing and developing your ideas.
Finding the Time to Think: How and why to make consistent time to think creatively.
How to Create a System for Managing All the Pieces: Tips for making sure that nothing slips through the cracks.
Turning Ideas Into Action: How to move your ideas from your brain to the real world
Analog vs. Digital Mind Mapping: Pros and cons of both mind mapping methods.
Mind Mapping Best Practices: Guidelines for next-level mind mapping.
2: Mind Mapping Workflow Examples
Because of your feedback, we are creating a library of workflow and setup examples. There are already a handful of these workflow examples in the course, and we will be adding even more over the coming weeks. They include:
Book Notes: How to take notes and create book summaries with mind maps.
Project Management: Managing project assets and tasks from using a mind map.
Meeting Notes: Using a mind map to document decisions and assign action items.
Life Map: How to keep tabs on the different areas of your life.
3: MindNode Screencasts
And, of course, a series of in-depth screencasts for using our favorite mind mapping app, MindNode.
MindNode on the Mac: Walkthrough of the MindNode interface on the Mac.
MindNode on iOS: Walkthrough of the MindNode interface on the iPad & iPhone.
Folding and Focus Mode: Essential focus tools for developing your ideas.
The Document Manager: How to manage your mind map library on iOS
Quick Entry: How to turn captured text into a mind map
Importing & Exporting: How to move things in and out of MindNode
Themes & Styles: How to customize the look and feel of your mind map
Outline View: Combining the benefits of outlines and mind maps
Notes & Links: Adding additional details to the nodes in your mind maps
Tasks: How to manage action items in your mind maps
Images & Stickers: How to add visuals to your mind maps.
Working with Tags: How and why to use tags in your mind maps.
(BTW: If, by chance, you use a different mind mapping app, then you can purchase the above two modules à la carte for a reduced price.)
---
Special Launch-Week Pricing
The new course is normally $57. But right now, during launch week, you can save 20% and get lifetime access to everything for just $45.
Consider how much time you will save by having your ideas better organized.
Consider how much easier the creative process will be with a simple system for developing your ideas.
Instead of staring at the blank page, frustrated or discouraged, you can have a structure and clarity about your idea — ready to keep moving forward.