Bodo Tasche's Mac and iPhone setup
February 13, 2017
Every week we post a new interview with someone about what software they use on their Mac, iPhone, or iPad. We do these interviews because not only are they fun, but a glimpse into what tools someone uses and how they use those tools can spark our imagination and give us an idea or insight into how we can do things better.
New setup interviews are posted every Monday; follow us on RSS or Twitter to stay up to date.
---
Who are you and what do you do?
My name is Bodo Tasche. At the end of last year, I quit my job as a CTO to work on a passion project of mine called SignDict. The goal of the project is to create a crowd-sourced sign language dictionary. Luckily, my project was chosen by the prototype fund and I'm able to spend the better part of this year on it. Besides that, I'm a host of a podcast called Bits Of Berlin.
What is your current setup?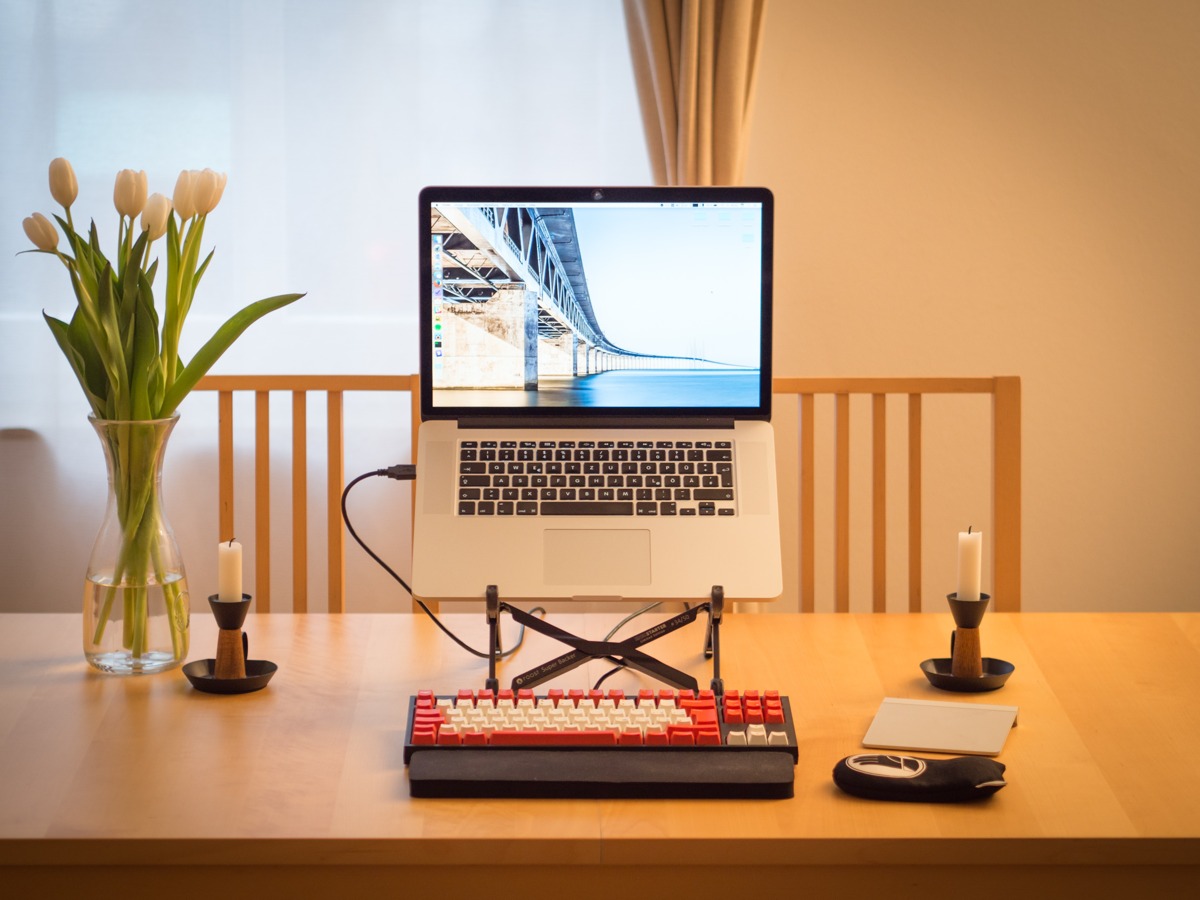 My current MacBook Pro is an mid-2014 model with 16 GB RAM and a 1 TB SSD. For working at home I am using a WASD V2 88-Key keyboard with custom keycaps. For my trackpad I am using a wristee for a more ergonomic hand position.
I am using a Roost stand to lift my laptop to a comfortable height and am a super fan of this stand. It always travels with me and makes it possible to work comfortably from practically everywhere.
Where can we find your macOS wallpaper?
I searched for wallpapers for the 29″ wide screen monitor I had at work last year and found this gorgeous photo of the Oresund Bridge.
What software do you use and for what do you use it?
OmniFocus: I've switched to a lot of different apps to organize my Life. From Trello to Wunderlist, I tried a lot. But after switching to OmniFocus, I will never be able to switch to something else. It perfectly fits my current way of working.
iTerm2: Since most of my time I am writing code in NeoVim, I need a good terminal emulator. iTerm2 has everything I need and more.
Dash: Searching the documentation of programming languages and frameworks has never been as easy as with this beautiful tool.
Rambox: Joins all chat tools in one window, from Slack to WhatsApp.
Alfred: I would be lost without this app. It's unique way of defining workflows makes my life 100% easier.
Tweetbot: I heavily rely on its mute filters when reading Twitter to hide things that I don't want to see.
Fantastical: Calendars for professionals. The price tag might put you off, but for me it is worth it.
Forklift: Since my MS-DOS days, I need a norton commander like interface when dealing with files. This is the tool I currently use on my Mac for this.
Lightroom: My go-to tool when editing photos I shot with my camera.
1Password: I hopefully don't need to explain why 1Password is important.
Firefox: I swichted back to Firefox last year and I don't regret it.
Numi: A smart scratchpad to do small calculations in.
Besides that, I have a long list of small tools that I use every day: f.lux for brightness adjustment, BeardedSpice to control my music across applications, Palua to switch the function key mode if I am in iTerm, Cloak as my VPN, iStats as my CPU usage monitor, and Bartender to minimize the clutter in my menubar.
How would your ideal setup look and function?
I plan to have a real office again pretty soon with a big wide screen monitor and a comfortable chair. Besides that I think I found my ideal setup for now.
---
What iPhone do you have?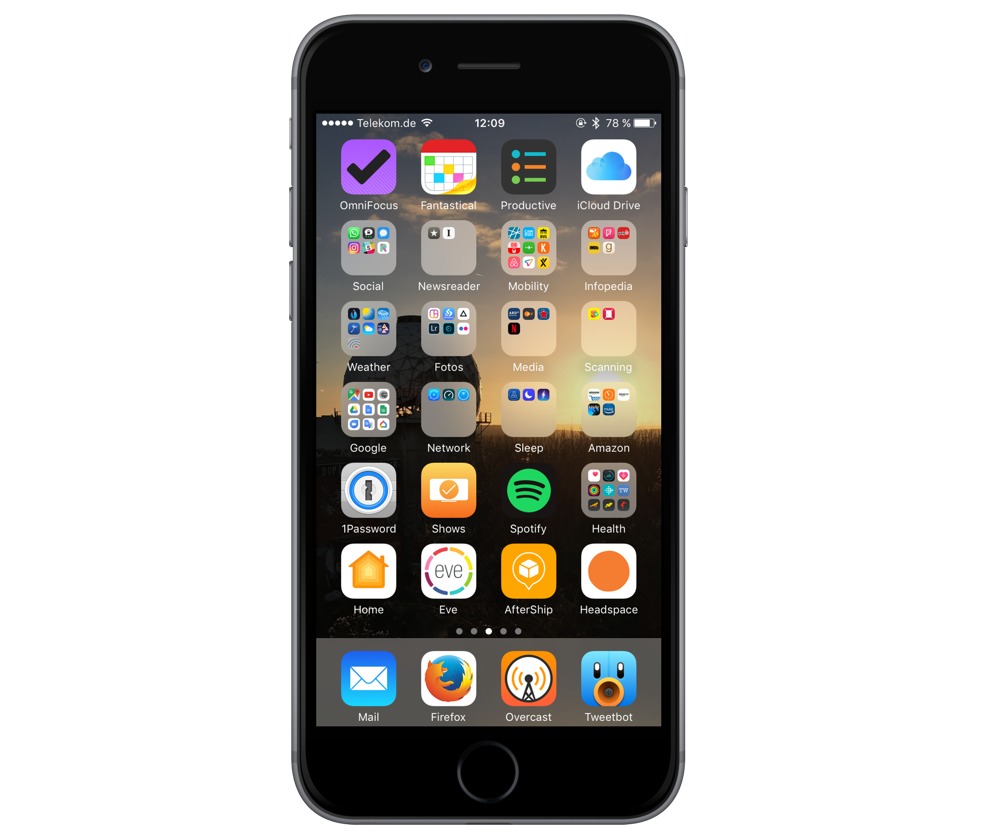 I currently have an iPhone 6S, Space Gray, 128GB
Where can we find your wallpaper online?
The photos I use on my phone show the Teufelsberg, a former NSA spy outpost here in Berlin. Nowadays it's occupied by artists. If you haven't been there, you should. An amazing place with an astonishing history.
You can find them on Flickr.
What apps do you use the most, and why?
OmniFocus: My companion that helps me not to forget important things.
TweetBot: As said earlier, Twitter without mute filters was unusable for me.
Fantastical: Even on the iPhone, Fantastical is way better than the stock calendar app.
Reeder: I am one of those people that can't life without RSS.
Elgato Eve: I have some Elgato Eve devices in my apartment and use this app to control them.
AfterShip: Tracking my shipments with notifications on status changes.
DriveNow / car2go / Citymapper: I don't own a car and rely heavily on these three apps for navigation. The first two give me an overview on cars I can rent that are near me and the last one helps me navigate the huge Berlin subway / tram system.
Activity: I started to try losing some weight and this app helps me with that.
Firefox: Since I am using Firefox on the desktop, I am also using it on the phone for easier synching between devices.
Productive: I try to keep streaks of things like taking my vitamins or doing sports with this nice little app.
1Password: I don't know any passwords. They are all stored in here.
Television Time: This app keeps track of my TV shows and notifies me when new episodes are available.
SnoreLabs: Sadly, I started to snore a bit when I started my allergy therapy. With SnoreLabs, I keep track of that and try to work against it.
Cloak: Nice little app that keeps my surfing secure on the go.
Which app could you not live without?
OmniFocus with Siri Dictation. I dictate lots of things into my watch and OmniFocus grabs it from my reminders list.
---
There are more Sweet Setup interviews right here.
Want to share your setup? We'd love to hear from you. Just fill out this form with some basic information and we'll be in touch.
---
Wait. There's a Bonus….
Custom Productivity Templates
We have a set of custom productivity templates that work well with the iPad app, GoodNotes. And if you want to try them out, we've put together a free guide that can help you.
We'll show you…
How to create and save custom page templates in GoodNotes.
How to use those page templates to transform GoodNotes into your own productivity notebook (or any other type of notebook replacement).
Plus, we also have included a couple of our custom productivity templates for you to get started with. These templates are right out of our popular productivity course.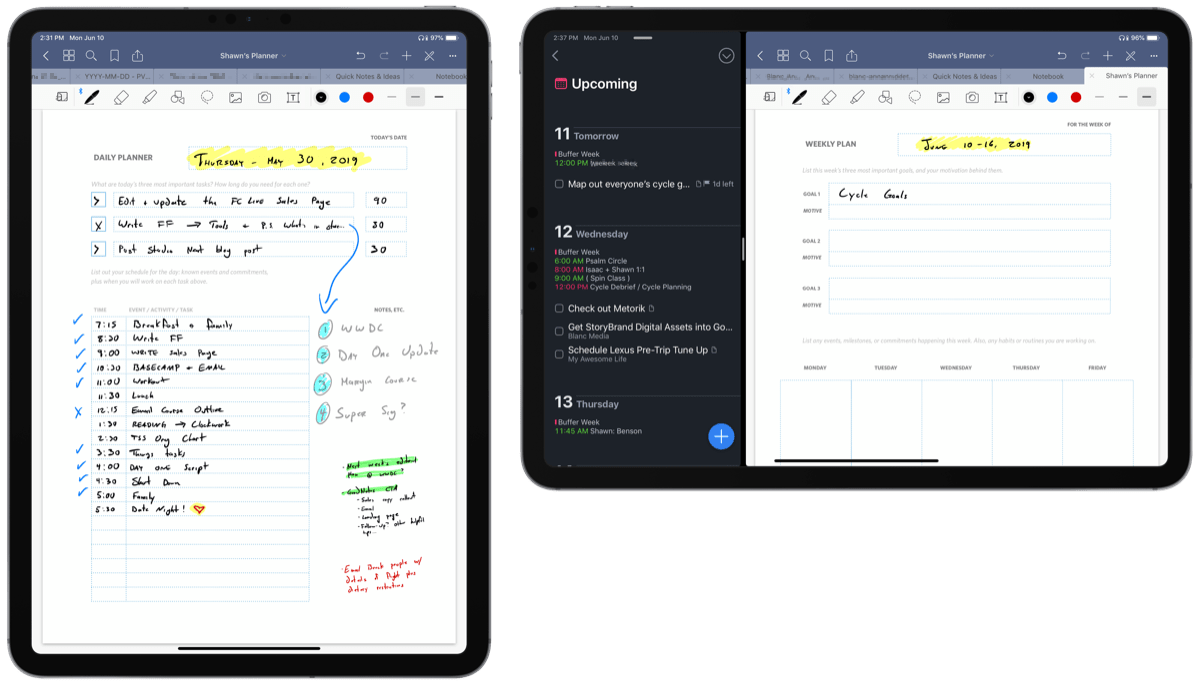 The custom templates and the guide are available for FREE to our email subscriber community. And you can get it right now. By joining the Sweet Setup community you'll also get access to our other guides, early previews to big new reviews and workflow articles we are working on, weekly roundups of our best content, and more.