Bobály Mihály's Mac and iPhone setup
November 2, 2015
Every week we post a new interview with someone about what software they use on their Mac, iPhone, or iPad. We do these interviews because not only are they fun, but a glimpse into what tools someone uses and how they use those tools can spark our imagination and give us an idea or insight into how we can do things better.
New setup interviews are posted every Monday; follow us on RSS or Twitter to stay up to date.
---
Who are you and what do you do?
My name is Bobály Mihály (Bobály is the family name, we use it the other way around here in Hungary). I run a small digital agency, named after my online nickname: JabJab. We create pay-per-click campaigns and offer digital analytics services. This practically means that besides the personal meetings, I work and exist in the digital space most of my work time.
What is your current setup?
I currently use an iMac Retina 5K (late 2014 Intel Core i7) with 32GB RAM (which I bought online from OWC and added myself). My second monitor is a 27" Thunderbolt Display, and I also use a 13″ MacBook Air, iPhone 6, and iPad mini Retina.
Since data is "mission critical," I back up to various locations. I use a 3TB Time Capsule (this is my router), I have a Drobo 5D on the desk (currrently using 5 drives, which provides ample space for music, films, pictures, and books I own), and I also have an extra redundant external hard drive in a safe at a separate location.
The towel under the keyboard is an old habit that I picked up while working for two years in a tropical resort in Bali, Indonesia. It absorbs moisture, sweat, and keyboard noise on a large table.
The desk itself is custom-made. I needed a huge desk that goes around the chair. Note to self: the working surface is never large enough. For future reference, add an extra 50% to the size.
The chair is a Herman Miller Aeron, and it took several iterations until I decided to invest in such an expensive item. It was worth it. I sit in this chair for hours each day, and it keeps my back pain in check.
Where can we find your OS X wallpaper?
Geez, this I don't remember. I just searched for "5K retina wallpapers" and downloaded some. I keep them rotating every hour, as a visual reminder for the time passing.
What software do you use and for what do you use it?
I run a virtual agency where all of us benefit from the home office environment; thus, we need to work, communicate, share, and collaborate (basically live) online. So, software is many times an online service.
For work, we use Flow, Dropbox, Google Drive, and mite (time recording).
E-mail is an unavoidable part of my work, but it seems I am still on the market for the ultimate e-mail client. Currently, I am using Mailbox (still in beta after a year or two). All my mail accounts are gathered in a Gmail account, and I reach that using IMAP protocol – so whatever device I am on, I can pick up the work.
Besides the obvious Mac apps (Photos, iMovie, etc), I use these essential apps on my machines: YNAB for personal finance, TextExpander for repetitive typing, Microsoft Office, and various browsers for testing.
I use several apps that I share and use on multiple devices: Tweetbot (bookmark feature still missing, but at least it syncs between devices), Notes, Reminders, and Calendar (stock Apple apps). With the calendars, I have Fantastical and Sunrise as additions to the Calendar app, but none of them are the perfect one for me. (Apple, please…) Clear is my ultimate solution for shopping lists, and Day One for a personal diary (mostly pictures with short annotations).
Some utilities I use are: DaisyDisk, BlackMagic speed test, and TinkerTool to change system font types and sizes.
My taskbar is very populated, so I use Bartender, CustomMenu, TripMode (I use this when tethered to my iPhone as it allows only the appointed apps to access the internet), WiFi Signal (great app — I always struggle with WiFi), iStat Menu, iBetterCharge, and Caffeine (when presenting from the Macbook).
The most important app I couldn't live without is 1Password. I wish they could integrate the desktop functionality into the iOS app.
How would your ideal setup look and function?
I am almost there. I wish there was a Retina Thunderbolt Display, as I would use it as a second display to match the iMac.
Also, I wish I could use my iPad more often, but my daughter does not yet understand "addiction," so I "lost" it (she used it without control, so the family had to ban it).
Apple really should bring itself up to the task and solve the more pressing tasks, like a lag-free high-end 5K iMac (yes, it lags when switching between desktops), and I also wish the Handoff feature would work all the time. Picking up the phone on the Mac is a great tool, but annoying since it works like a lottery (you never know if it works).
Also, photo management is getting to be a disaster now, and I am not willing to give up my pictures (on my iPhone in the folders I set) for the sake of iCloud Photo Library.
A good calendar app, and a great (good design, good functionality, and stable) mail app is all that I miss now. So all in all, I have the dream setup if everything works perfectly.
---
What iPhone do you have?
I have a space grey iPhone 6.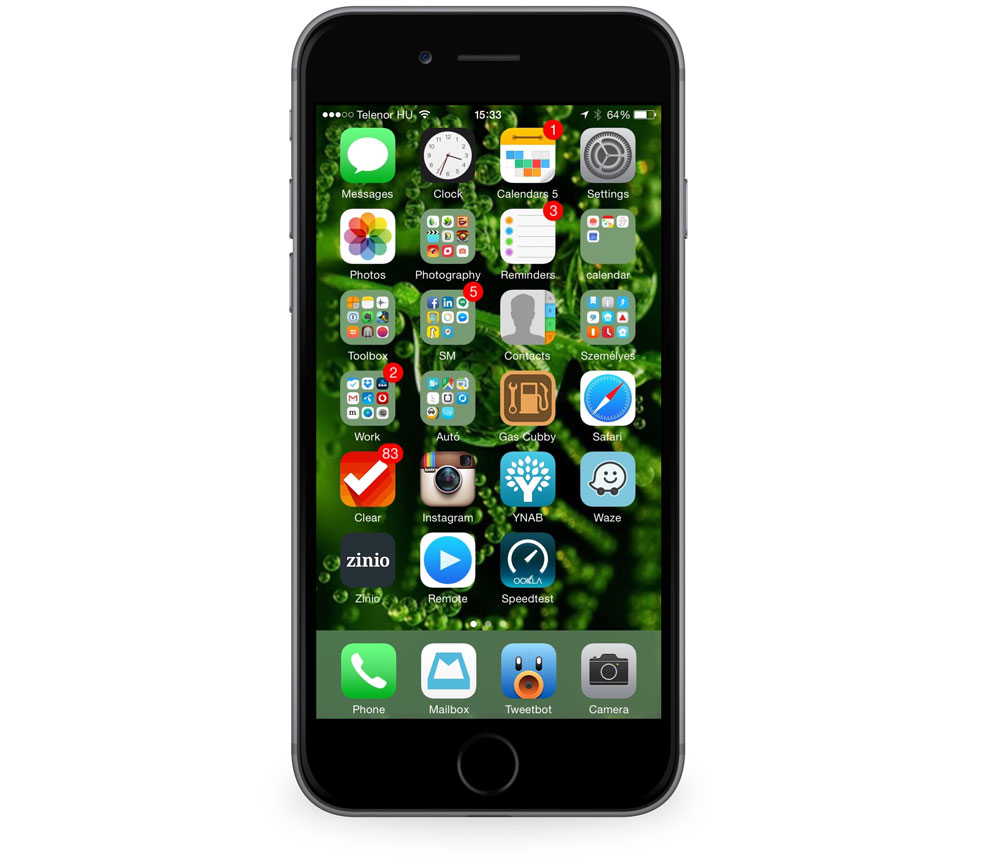 What apps do you use the most, and why?
My iPhone is the most used computer in my life. I take photos, communicate, navigate, and handle all aspects of life with it.
My most used apps are MailBox, Tweetbot, Instagram, Facebook, Timehop (I love browsing through the past tweets and pictures), Day One, and tons of photo apps.
I listen to audiobooks while driving (which is a lot). The Music app on iPhone is, again, not the best. It is a UX nightmare and a perfect companion to the iTunes monster. Recently, they moved Audiobooks out of the Music app and into iBooks.
I handle quite a lot of financial transactions via Mastercard and other payment apps (Barion), and parking is now fully mobile for me. I do a lot of shopping through apps, like eBay, AliExpress, and Vatera. There are also some financial apps that I use, like PayPal, TransferWise, iCheque, and MCM.
I love home automation, so I check in regularly on my home through Netatmo (sensors in 4 rooms in the house and one outside). I control the thermostat via the (other) Netatmo app and hardware, and I also use the app for controlling the alarm system. I can also check on the kittens through the Dropcam (two of them in the house). (OK, I check on my mother-in-law too — she loves it (not)).
Which app could you not live without?
Waze. I use Waze all the time while driving (and love the Terminator voiceover). Waze helps not only avoid traffic jams, but saved me from a highway crash on a foggy winter morning. Also, it estimates the ETA so I can phone ahead. Here in Hungary, the police actively use speed sensors, so it helps me avoid a ticket (even though I generally am not speeding).
---
There are more Sweet Setup interviews right here.