Blake Cloutier's Mac and iOS setup
March 2, 2015
Every week we post a new interview with someone about what software they use on their Mac, iPhone, or iPad. We do these interviews because not only are they fun, but a glimpse into what tools someone uses and how they use those tools can spark our imagination and give us an idea or insight into how we can do things better.
New setup interviews are posted every Monday; follow us on RSS or Twitter to stay up to date.
---
Who are you and what do you do?
I'm Blake Cloutier, a fourth year Civil Engineering student at the University of British Columbia, and a Player Support Representative with Disney Interactive. I also work remotely for an animal supply company as their technical help. I love looking at something, figuring out how it works and how it could be improved.
A typical day for a Player Support Representative involves responding to guest's emails, doing chat moderation, name approvals, and online engagement. In my time there I've started co-facilitating online engagement for our local and global offices. It's been a great chance to hone my presentation, data management, and coaching skills before becoming an engineer.
What is your current setup?
I've used my 2011 15" MacBook Pro since I started university, and it's been a huge asset to me. It's the first Macbook Pro with Thunderbolt, and the last with USB 2.0, so it's stuck in the middle of a transition to high-speed ports. I ordered it with the higher resolution display, then upgraded to 16GB of RAM, a 256GB solid state drive and replaced the DVD drive with another 500GB mechanical hard drive.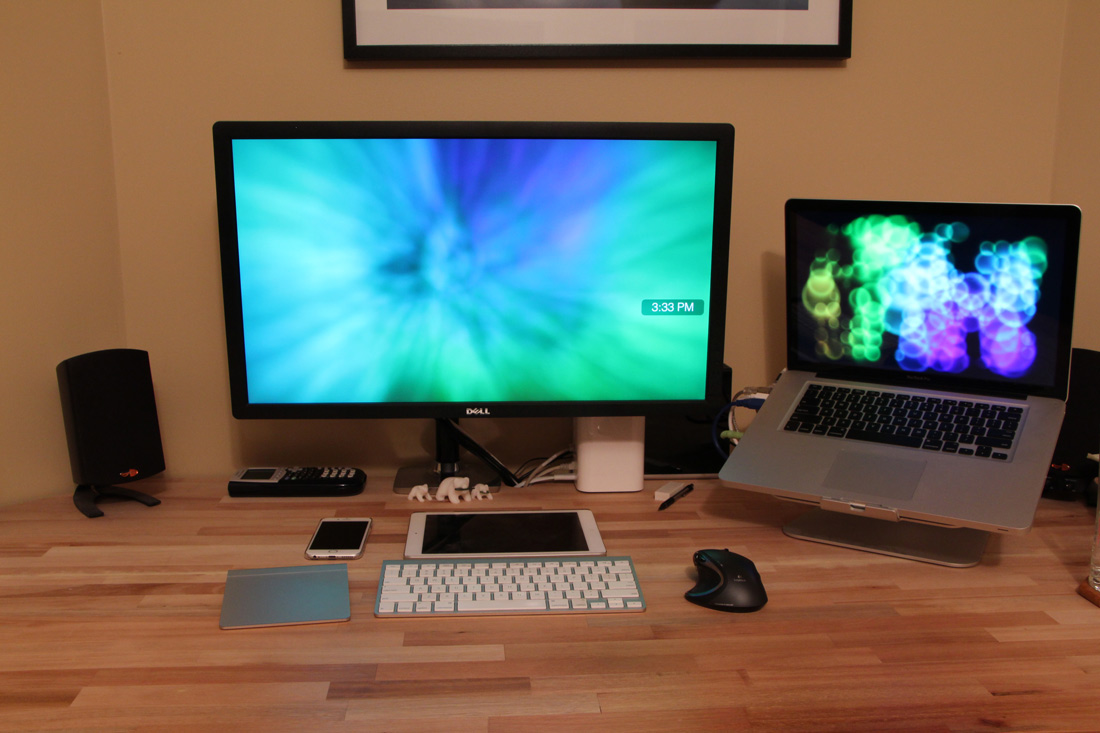 This computer has the right ratio of speed to portability for me. I'd rather lug around a slightly heavier laptop that can perform the task faster than have a lighter but slower laptop. I'm sometimes envious of my girlfriend's MacBook Air, with its lighter weight and all-day battery, but for what I do, I need the MacBook Pro.
At home the MacBook sits on a Rain mStand and is plugged into a 27" Dell UH2713HM monitor. The extra screen space that 2560×1440 resolution provides compared to 1920×1080 is light and day. I can easily have multiple Word documents open, or large Excel files without having to continuously scroll through the document to see everything.
I use the Apple Wireless Keyboard and switch between the Apple Magic Trackpad or Logitech Performance MX mouse, depending on what I'm working on. If I'm browsing through the web or files, I'll use the Magic Trackpad, but if I'm doing more precise work I'll switch over to the mouse. The trackpad usually lives on the right side of the keyboard, but if I'm switching between the mouse or trackpad often in a task I'll put it on the left side in order to use both easier.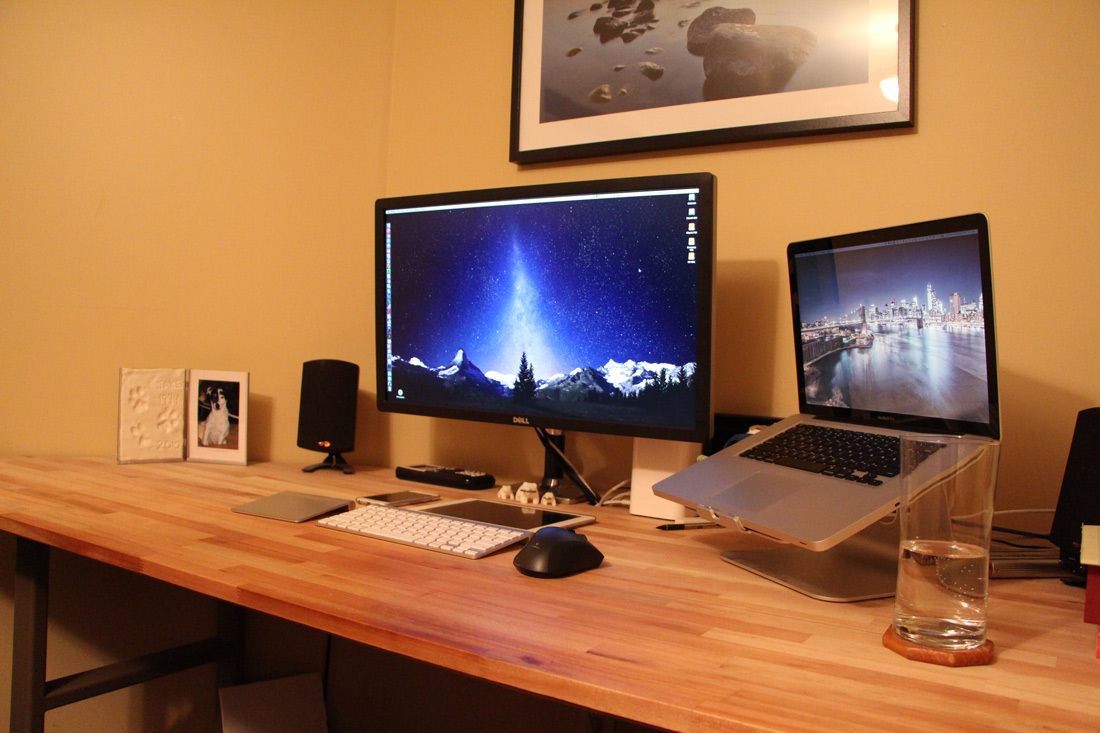 Editor's note: Blake has collected wallpapers for a long time and does not remember where he found the ones featured in this shot.
Attached to my computer are three hard drives, 750GB, 1TB and 2TB in size. The 750GB hard drive stores my movies, the 1TB is a weekly clone of it, and the 2TB backs up the two drives inside of my laptop with Time Machine. Klipsch ProMedia 2.1 speakers have sat on my desk for years now and still sound as great as they did when I bought them. We have mostly Klipsch products at home, and I've been really impressed with them. An Airport Extreme extends the wireless signal from the other end of the house and gives an ethernet connection for my laptop. I'm sitting in an IKEA chair that's now discontinued, but is very similar to the MALKOLM. It's a comfy chair and has done me well for years, but I'd like to get one of the Herman Miller Aeron chairs we have at work for my desk here too.
Everything rests on a desk that was created from workbench legs that were left by the previous owners of the house and two 16×96" pieces of wood that have been cut to fit the shape of the room. A desk this size gives me the room to spread out my work with ease. I try to keep a paper-free desk, but it never works. There are always pages of engineering paper for assignments, handbooks, or reports on my desk. All of my assignments have to be done on engineering paper, so there's no getting away from paper completely.
One thing that has helped keep down paper on my desk is a whiteboard mounted on the wall beside my desk. It lets me solve problems, erase them, and solve the next one right away, all without using paper. I find that I remember something better after writing it on the whiteboard, as it's a less common experience that my brain remembers better. Any time I have a test where I have to remember a few key points, I'll write them on the whiteboard to ensure I don't forget them.
On my desk I also have a picture of my Jack Russel, Jake, from when I was a child. We imprinted his paws into a clay mould and baked them, saving his paw prints forever. On the other side of the desk are a few framed pictures of my girlfriend and I on our recent trips. We were fortunate enough to use my Disney discounts on a trip to Disneyland earlier this year and had a fantastic trip. The photos are a constant reminder of the trips we've taken and the trips we want to do next. We both have the travel bug and want to see the world.
My workspace at school is constantly changing. I may be in a study room with a project group for part of the day, on a desk during a lecture, then at another desk studying by myself, all within one day. The higher resolution screen on my MacBook is perfect for seeing more work when I have just my laptop at school. I can still squeeze in two documents to avoid switching between them constantly. The only hinderance to my setup at school is that my MacBook doesn't have an all-day battery. This means that I'm usually finding a plug for it to keep it topped up. Almost all of the study rooms and lecture halls have power in them now, so it's not a big deal.
At Disney I use the Windows desktop work provides at my desk for most of my tasks, but for creating and delivering presentations, Keynote always produces better results in less time. When it comes time to work on my laptop, it normally ends up on my lap, a conference room table, or plugged into an extra monitor somewhere. I wish I could use my laptop more for work so I can return to using a Mac, but as of right now that's not an available option.
What software do you use and for what do you use it?
Dropbox is used to store all of my documents. No documents are stored outside of Dropbox. I have 37GB of storage available right now, which allows me to access every document I use anywhere I am. I have shared folders with my girlfriend, groups I'm working on projects with, and the pet supply company. I can access any file that I need from any computer or device that I'm using. Having that freedom and flexibility with school is huge.

I'm giving Safari another try to see if it works for me. I was using Chrome for the longest of times, but decided to try Safari again a few weeks ago to try use iCloud tabs. Safari hasn't been as reliable as Chrome, and I haven't used iCloud tabs as much as I thought I would, so I may switch back to Chrome in the future.

Apple Mail allows me to easily keep on top of my email. I use Outlook for work email, simply to keep the two separate.

Fantastical is used to enter appointments and reminders throughout the day, and Apple Calendar is used to view them or make any changes later on.

Apple Messages lets me text everyone, even those without iMessage, from my computer, which is a lot easier than taking out my phone to reply to them.

Word, Excel and Keynote are my go-to applications for word processing, spreadsheets, and presentations, respectively. Word and Excel are used since I'm often working with people who don't have or can't use Pages and Numbers. I don't often work with others on presentations, so I can create them in Keynote and export to PowerPoint if someone else needs access to them.

I'm starting to use Evernote more, especially when job hunting. Evernote allows me to quickly clip a job posting and tag it for applying later. When I have a bit of downtime, I'll look through the folder to find a posting, apply for the position, and mark it as applied for. Later on I can follow up with the company or keep an eye out for different positions from the company.

Aperture keeps all of my pictures organized. My family takes a lot of photos, and we've amassed over 40,000 in the last few years. iPhoto wasn't handling the larger library well, so I moved over to Aperture to keep things running smoothly. I wish I had more skill and experience editing photos to make them look even better, but I haven't had the time to learn yet.

Parallels is used to run Windows 7 for Windows-only programs, such as AutoCAD, SolidWorks, SAP and Epanet. Most programs have a Mac counterpart, but some still don't, or have a better version on Windows. Parallels and Aperture are the two main reasons that I have a bigger and more powerful laptop. I could probably get away with a less powerful laptop, but I'd rather not wait for things to load.

I switch between iTunes and Songza for my music. Some days I want to listen to the music I already have, but other days I want to choose a playlist on Songza and discover some new music. Favourited music from Songza usually ends up in iTunes after listening to it a few times.

Feedly and Instapaper handle my reeding needs. I feed all of the sites I read into Feedly and use Instapaper to open stories I've saved from any device. I also forward important emails into Instapaper to remember them.

1Password saves all of my passwords and keeps them secure. I'm working on updating my passwords as I realize they they aren't secure enough. It's a slow process, but I'm eventually going to get there.
How would your ideal setup look and function?
I keep looking at new MacBook Pro Retinas and wanting one, but the MacBook I have right now works well for me. I'm happy with the performance three years later and am hoping to keep it for a while longer.
If I had to get something new I'd pick up a 15" MacBook Pro Retina with 1TB of SSD storage and find a pair of high resolution, 27"+ monitors to go along with it. Hopefully they would be on an L desk that has some extra space for the monitors and laying out papers.
---
What iPhone do you have?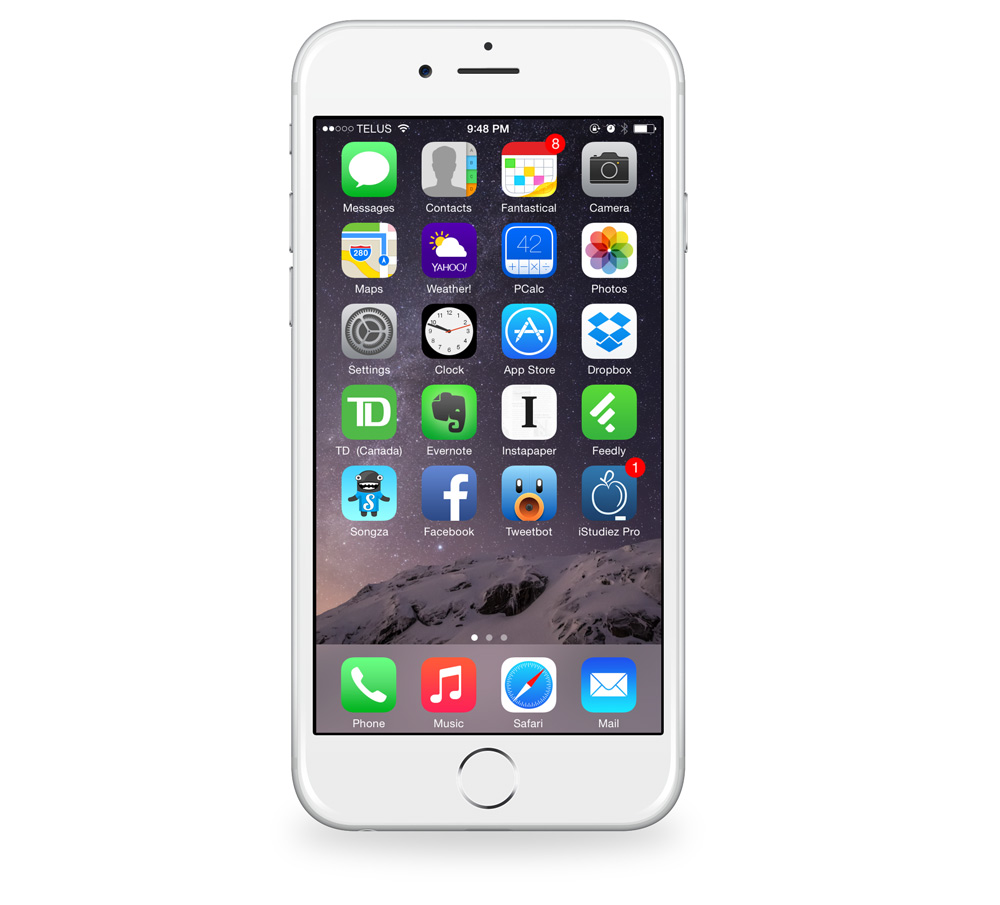 I have a 128GB iPhone 6 in silver. I've always had white devices, and silver is the closest I can get now. I like carrying around a lot of photos and music with me and don't like bumping up against the storage limits often. My 64GB iPhone 5 was almost full most of the time. Right now I have 50GB of space left, but I'm sure I'll find something to fill that space soon.
What apps do you use the most, and why?
I use some of the stock apps, specially Messages, Camera, Maps, Photos, Safari and Mail. It's been easiest to stick with these apps since they work best between devices.
Fantastical is a wonderful app to have. It allows me to keep track of my school and schedules, my girlfriend's school and work schedules, and reminders with ease. I can add new reminders or events easily by simply typing it in, instead of tapping multiple different fields to accomplish the same thing.
My banking app, TD Canada, is on the first page to keep an eye on my accounts and ensure I'm not spending too much in a month. It's an older app that could use some updating, but it gets the job done.
Instapaper and Feedly accomplish the same thing as they do on my Mac. Songza is normally used at work or school if I don't want to listen to my music library. 1Password is fantastic with the Touch ID integration; I no longer have to enter a long password on mobile thankfully.
Tweetbot is used to keep up with Twitter. It's the best app for quickly going through tweets and sending any interesting links to Instapaper. I don't tweet myself, but I like keeping up with what authors of websites I read are saying and doing.
One of my most used apps is iStudiez Pro. This app helps me keep track of my assignments, midterms, project due dates, and more. It's set so that the badge shows how many assignments are due in the next week. During busy times at school iStudiez Pro makes sure I finish and hand in assignments in time and have ample time to start on them.
Which app could you not live without?
The camera app is probably used the most. The best camera is the one you have with you, and I don't always carry my DSLR, which means that I take a lot of photos with my iPhone. We did our trip to Disneyland with only an iPhone 5 as the camera, and the photos turned out really well. It was so much easier than lugging a DSLR through a busy theme park.
---
Which iPad do you have?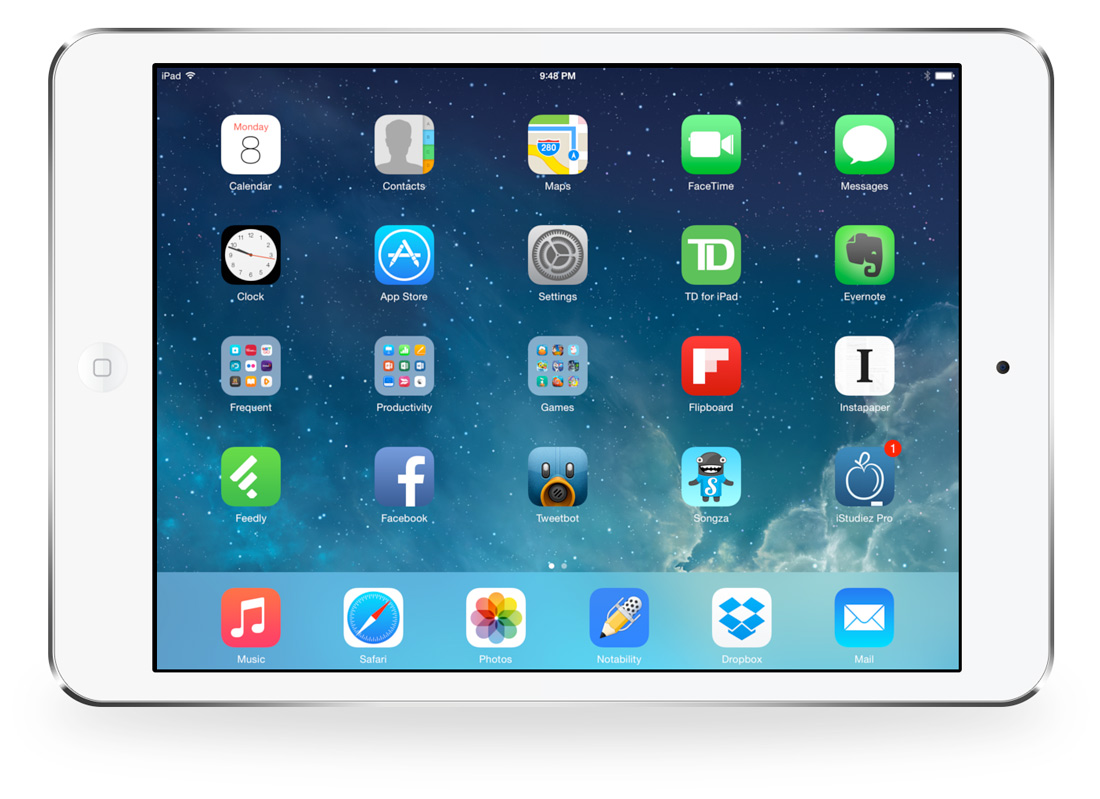 I have a 64GB silver iPad Air. I didn't spring the extra $100 for the 128GB version when I bought it, but some days I wish I did. There are days that I get close to running out of storage and have to delete things off of it to make space.
How are you using your iPad on a daily basis?
At school, my iPad is my notebook. I bought a 200-page notebook over a year ago, and I've only used a dozen pages from it. Using Notability and an Adonit Jot Pro pen I can take notes without using a single sheet of paper. All my notes are automatically synced with Dropbox and I can pull them up anywhere. It's easy to write out complex equations with the pen, or use the onscreen keyboard for classes without numerical answers.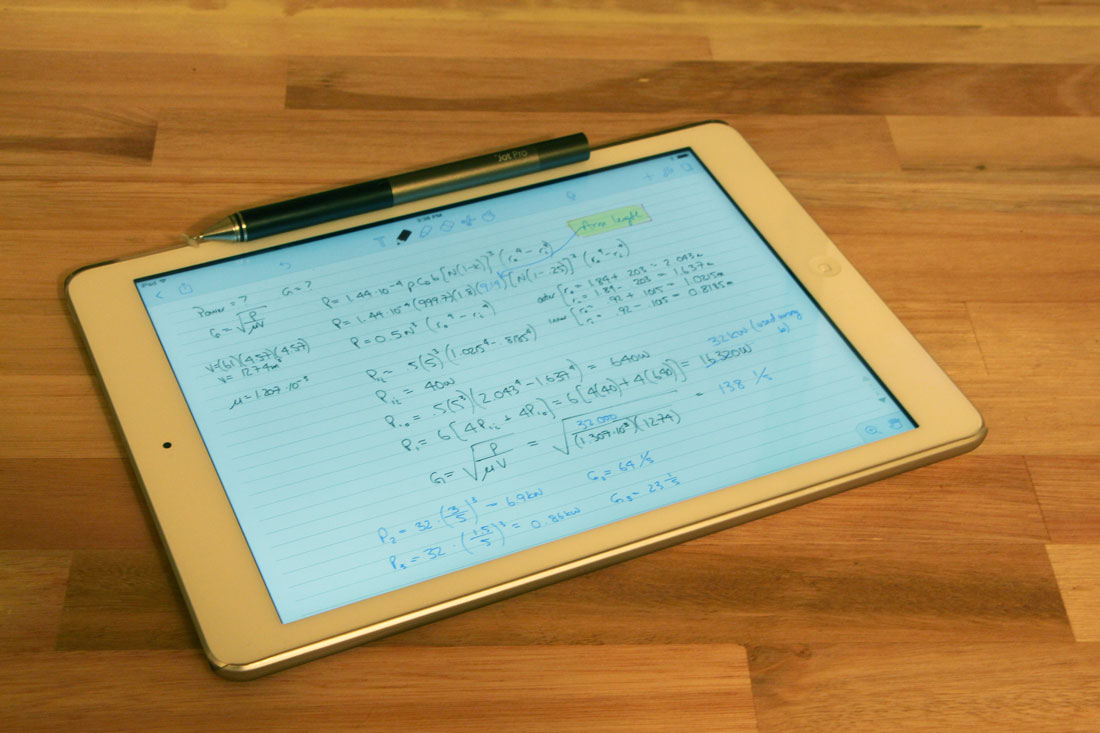 With Excel and Word integration in Dropbox, I can open and edit documents I've created on my laptop. This has allowed me to leave my laptop at home more and rely on my iPad, much to the relief of my back. I don't mind using the onscreen keyboard for the writing I have to do. I do most of my long writing on my laptop, and only write smaller pieces or make edits on my iPad.
When I need a break between classes and studying, I'll open one of the TV apps or Infuse to watch a TV show or movie. The ability to steam any recent show shortly after it's aired allows me to keep up with my favourite shows whenever and wherever I get a chance. I try not to watch too much TV at school, but sometimes a brain break is needed.
The pet supply company I work for has started using iPads to complete their orders. Before, they used to print off huge amounts of paper and enter the quantities manually, or have to type up everything and send it off. Now they can open the Numbers document with the 3,000 items on their iPad, enter the quantities, and send it off as a PDF to the warehouse. It's a simple solution to their problem, but has saved them tons of time when doing up orders. I've also set them up with Dropbox so they can show a client any catalog, product information, video, or other important information. Instead of a rep carrying around binders, notebooks, and their laptop, they can walk into a store with just their iPads now. It's taken some time to fine-tune the order form, but right now it's working really well for them.
What apps do you use the most, and why?
Like on my iPhone, the TD Canada app, Evernote, Instapaper, Feedly, Tweetbot, Songza, and iStudiez Pro are used for the same reasons. I like to have my iPhone and iPad set up in a similar fashion, as it allows me to easily switch between the two, depending on which is most convenient at the time. If I have a choice, I'll likely grab my iPad as it has more screen space and a longer battery life.
When traveling, my iPad is used as a daily backup of photos taken on my DLSR. I rarely travel with my MacBook Pro, instead using just my iPad. It's a lot easier to pack and take along than a large laptop. At the end of a day, I'll plug in the Camera Connection Kit and transfer the day's photos to my iPad in case something happens to my memory card or camera during the trip.
I also have all of our (Disney) most common mobile apps on my iPad, such as Star Wars: Commander and Frozen Free Fall. In my spare time I try to play as many of our apps as I can, as it allows me to answer questions much easier. I try to keep on top of any updates that come out so I'm ready for my weekend shifts and can provide the best response to our guests or coworkers that ask me questions. Playing apps on our weekends is not required for my job by any means, but it's allowed me to be more involved with training on new products, as they know I have knowledge of the app already.
Which app could you not live without?
Notability and Dropbox are my two most important apps. Those two allow me to do almost all of my school work, AutoCAD and such aside, from my iPad. I could do without other apps, but those two are critical to doing well in school.
---
There are more Sweet Setup interviews right here.