BizDevCon's Mac and iOS setup
July 20, 2015
Every week we post a new interview with someone about what software they use on their Mac, iPhone, or iPad. We do these interviews because not only are they fun, but a glimpse into what tools someone uses and how they use those tools can spark our imagination and give us an idea or insight into how we can do things better.
New setup interviews are posted every Monday; follow us on RSS or Twitter to stay up to date.
---
Who are you and what do you do?
Hello there — I am known to the Internet as BizDevCon. I am a native Austrian married to a lovely Filipina. We live in the beautiful city of Vienna, Austria. You can find more of me on Flickr.
I run my own business and I am highly-specialised in business development since 2007. I bring US-based high-tech companies to Europe and help them establish new markets and opportunities. My main client is a software company in the USA. We work over several timezones communicating via Slack mostly.
My second client is a local Austrian non-profit where I provide consulting services for finance and the growing IT infrastructure — like an outsourced CFO. Luckily, I can bring my own devices and implement software as I see fit.
I consider myself a Cypherpunk / Crypto Anarchist and I am interested in bitcoin and encryption. Last but not least, I am totally into pens and paper. I just love writing with a good fountain pen or playing with a cool ballpoint pen in a meeting. Like all pen geeks I collect pens and inks from various makers, but mostly Italian Montegrappa and German Montblanc. I write on Midori and Rhodia pads. (Field Notes do not work for me mostly because of my inks and B nibs.) I found a great workflow by drafting on pen and paper and then moving the content to the digital world by simply retyping notes or scanning pages into PDF.
What is your current setup?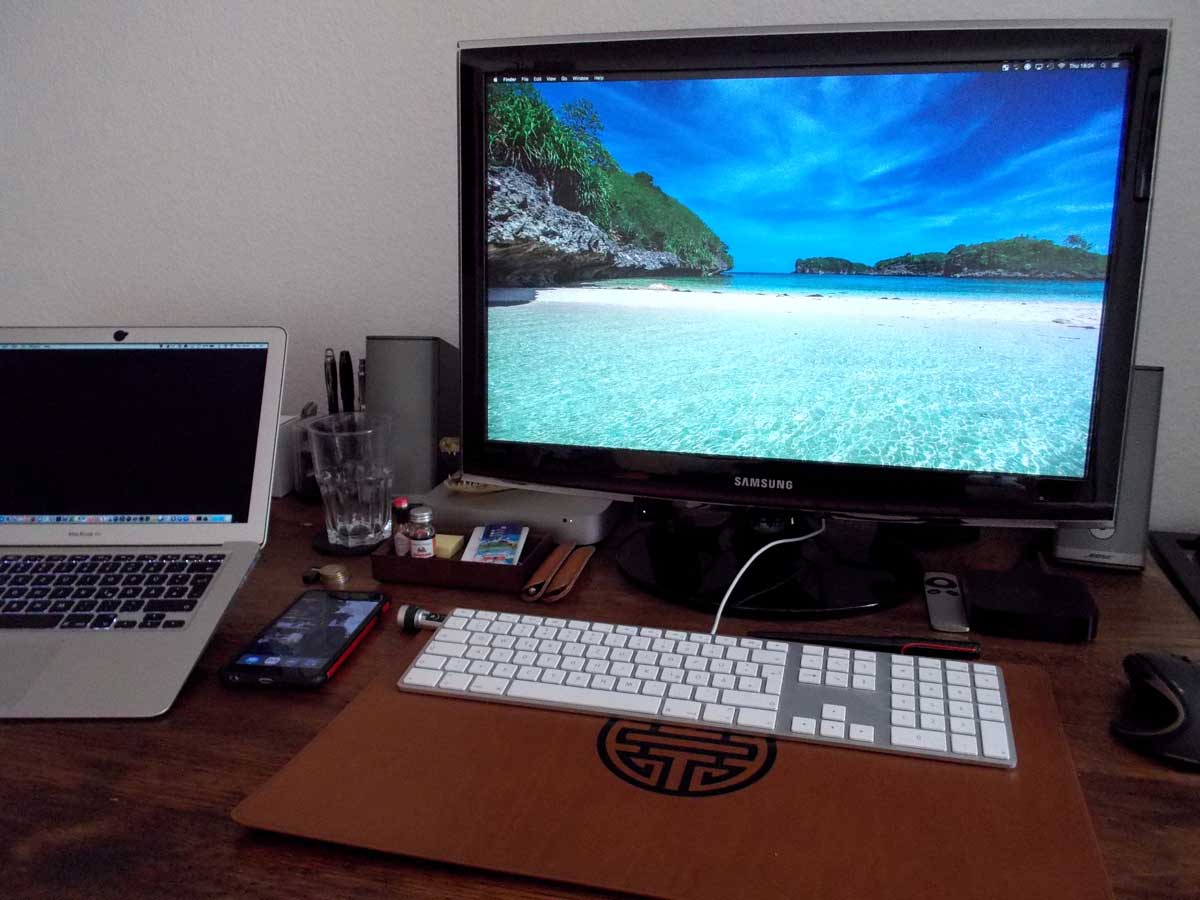 At home, my wife and I share a Mac mini (Mid 2011; self-upgraded the HD to a SSD) for entertainment with Netflix, iTunes, and of course running my private cloud. I do not sync anything via commercial cloud solutions (Box, Dropbox, Google Drive, SpiderOak, etc.) with one exception: iCloud for basic services like email and app settings. I still transfer all my documents via USB to my iOS devices. Whenever I add photos, PDFs, or videos, I need to connect my iOS device first. For me, there is no iCloud backup, shared photo stream, WiFi sync, which leave me with a mostly empty iCloud drive.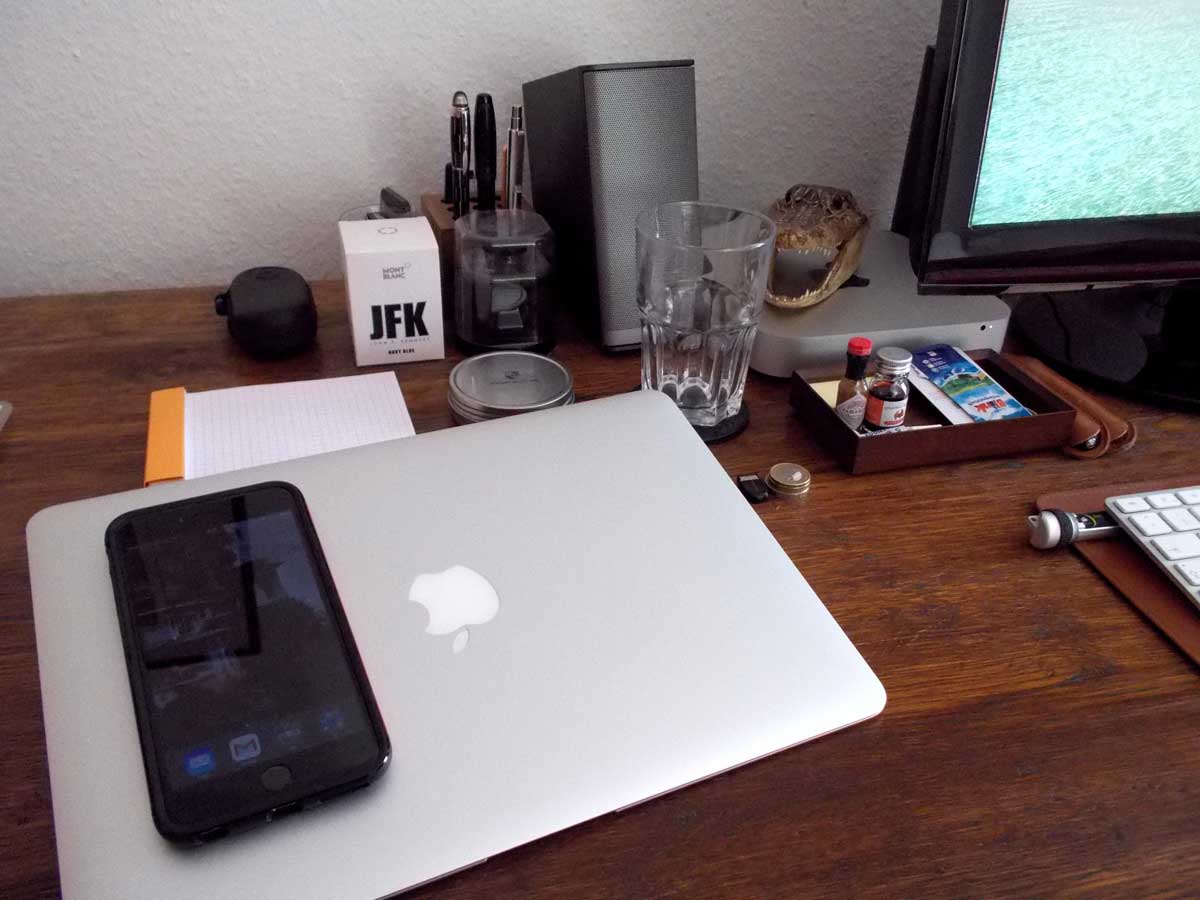 The trade-off is comfort versus security — the more comfort the less secure a solution is. I have no problem sharing some personal information on "comfort services" (in analogy to "comfort food") like Amazon Kindle, Bloomberg, or Netflix. Products where I feel my privacy is definitely violated are locked down in its settings. I also cut down notifications on iOS and OS X to a bare minimum.
Documents are critical in my professional life and I do not want to outsource backup and sharing to commercial services. I have two locations, two computers, and lots of USB storage. Since Dropbox's security breach in July 2011, I do not want to trust my data to commercial services anymore.
My daily driver is a MacBook Air (13-inch, Mid 2013 with i7 and 8GB). I love this MacBook Air and pimped it as much as I can. A Nifty MiniDrive holds more SD storage and I recently attached the brand-new Twelve South BaseLift. I always bring my MacBook Air in a TUMI 13″ notebook pouch, as it can hold accessories, documents, and a pen.
Where can we find your OS X wallpaper?
I usually prefer black — Apple's solid color "Solid Gray Pro Ultra Dark" — on my MacBook Air. It is like an architect wearing black only.
What software do you use and for what do you use it?
1Password every minute of the day. But I do not sync 1Password at all. I manually transfer the database every week to my other devices. In addition, 1Password is not at all allowed to receive or send any data. LittleSnitch is a second program running every minute of the day protecting my computers from unwanted data traffic.
I still live in Mail and Excel most of the time. Whatever I can do in Excel without Macros, I will program with nested formulas. I also started to use Soulver — more on that app later. BBEdit helps me with .csv exporting and cleaning up text I store from websites. I also like Mailplane 3 for all my "collect and delete" Gmail accounts. Unfortunately, it is easier to delete mails in the Gmail GUI than in Apple's Mail app.
Although my wife and I use Netflix & TFC.tv a lot, I cannot imagine a world without iTunes and VLC. I am still old school that I want to download and "own" some content. Every second day or so I download new or different music to my iPod Shuffle.
I clean my computers with AppDelete, EasyFind, Gemini, and OnyX about once per week. I protect my computers with BlockBlock, KnockKnock, and LittleSnitch. I follow Patrick Wardle's philosophy (see his personal website) and recommend reading his papers on OS X security. If this is too much work for you, then just watch his interview on Paul's Security Weekly and install BlockBlock.
My partners and I also use a lot of special apps that make no sense until you really need them: BitTorrent Sync, GPG for Mail, Fing, and Maltego Carbon are good examples. We use Slack and Silent Circle for day-to-day communication. I admit that Slack is one of the coolest apps and I spend too much on our "water cooler" channel posting stuff. Waay too much…
I use FolderWatch and Time Machine for storage attached to my computers. Two locations, two computers… two is one, one is none.
How would your ideal setup look and function?
I actually enjoy what I have. I upgrade my primary devices every two to three years. Last year it was the switch from iPad 4 to MacBook Air, this year I switched from iPhone 5 to iPhone 6 Plus. The Mac Mini is at end of life and will be replaced soon. I plan to replace the Mac Mini with a 11″ MacBook Air. I sometimes want a smaller MacBook without losing the comfort of standard ports.
---
What iPhone do you have?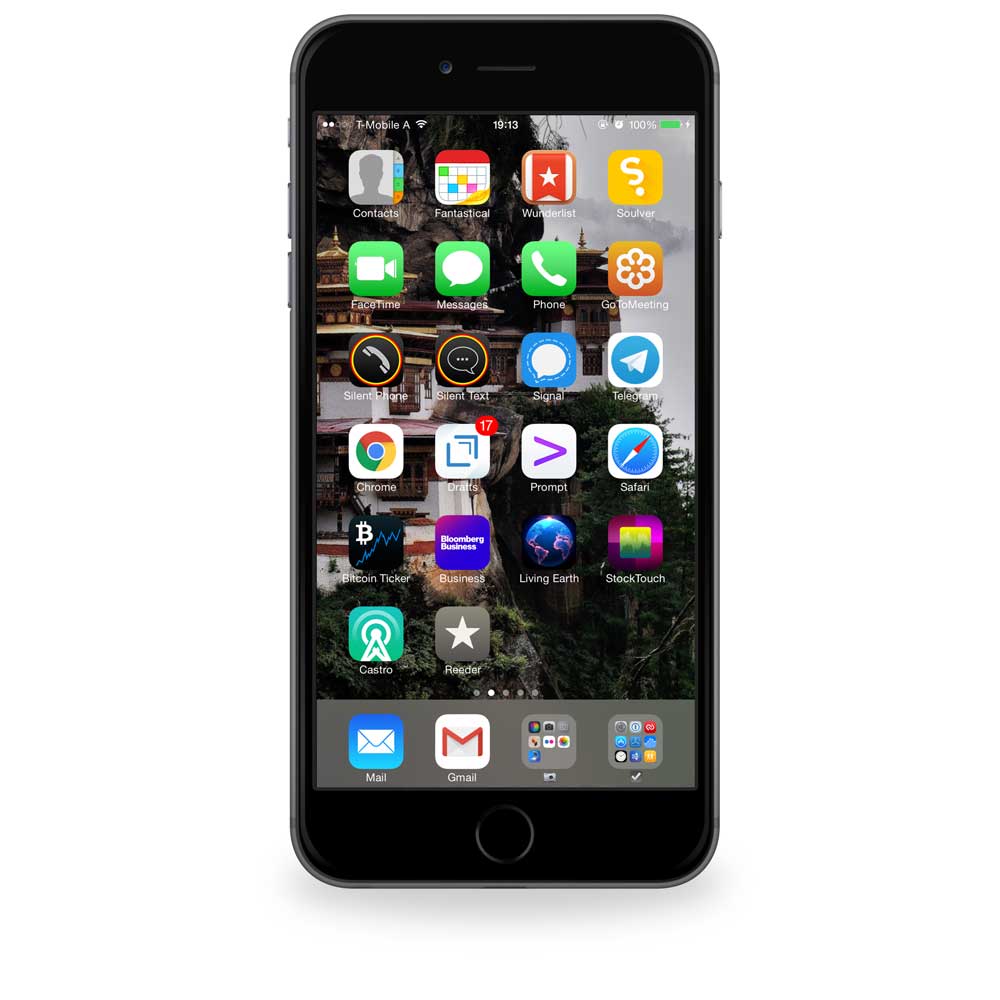 My primary phone is a carrier-free, unlocked iPhone 6 Plus 64GB called "Epiphyte(2)".
Whenever I see another YouTube reviewer telling the world how he or she switched back from the "insanely large" iPhone 6 Plus back to the "normal" 6, I would love to punch them virtually. The 6 Plus is a fantastic device and for the me the best iPhone ever made by Apple. It has a fantastic screen to enjoy pictures, read documents, play games, watch videos, and… and… and… much more. The battery life is amazing on top of it! (I still bring an Anker Astro battery pack if I am out with my wife.)
What apps do you use the most, and why?
1Password, Fantastical, Gmail, Mail, Safari, and Wunderlist for daily productivity. Scanner Pro and PDF Expert help me a lot with converting paper into digital content. Drafts is my go-to notetaker whenever I cannot rely on pen and paper. I so wish there was a Drafts companion app for OS X!
For RSS I use Reeder on all my devices, but mostly on my iPhone. I am news junky and whenever I open Reeder I see about 100 unread items. It is the first app I open every morning while still in bed.
I recently discovered Soulver and I love the way a "number-sheet" can work on mobile devices. It is so good, I purchased the Mac counterpart immediately. I now use Soulver instead of Excel whenever it makes sense. Excel requires a keyboard and mouse, while Soulver is really made for mobile devices.
I rely on Silent Phone, Silent Text, and Slack for communication. In our business, information is a valuable product and we want to protect this.
My favorite business apps are Bloomberg Business and StockTouch. StockTouch is amazing and I love the innovative GUI.
Which app could you not live without?
Definitely Castro. Castro is an awesome podcasting app. I've tried many and always come back to it. Castro helps me keep track of my local radio news and everything related to my interests. I am addicted to Anarchast, Daily Tech News, Paul's Security Weekly and The CultCast.
I also have to admit that I got seriously addicted to the game Alto's Adventure. I love every small detail of this game from the graphics, effects, and sounds.
---
There are more Sweet Setup interviews right here.