Bethany Stephens' Mac and iOS setup
May 22, 2017
Every week we post a new interview with someone about what software they use on their Mac, iPhone, or iPad. We do these interviews because not only are they fun, but a glimpse into what tools someone uses and how they use those tools can spark our imagination and give us an idea or insight into how we can do things better.
New setup interviews are posted every Monday; follow us on RSS or Twitter to stay up to date.
---
Who are you and what do you do?
My name is Bethany Stephens, and I'm a marketer & writer married to a biologist & chemist, and we live in northwest Arkansas with our two daughters, Sophie & Ainsley. I work for Kendal King Group – a shopper marketing agency and retail display company – where I run our Soapbox Insights + Influence division. We crowdsource shopper and consumer insights and build sponsored content and influencer programs for retailers and consumer packaged goods companies.
I'm also a blogger, writer, and tech enthusiast, so I get to spend both my day job and my down time playing in the social media and tech space. My primary blog is The Little Magpie, but I also post about food and wine on The Food Adventuress as well as tech and marketing over on Magpie Marketing. What can I say — I have a lot of words.
Living in northwest Arkansas, we have access to some of the most gorgeous terrain in the country just steps from our door, so I disconnect and decompress by hiking, mountain biking, gardening, sitting on our back deck staring at the woods, or heading to nearby lakes or the Buffalo National River to canoe or kayak.
What is your current setup?
A mid-2013 MacBook Air at home and a mid-2015 MacBook Pro (Retina, 15") at the office.

Bethany's home office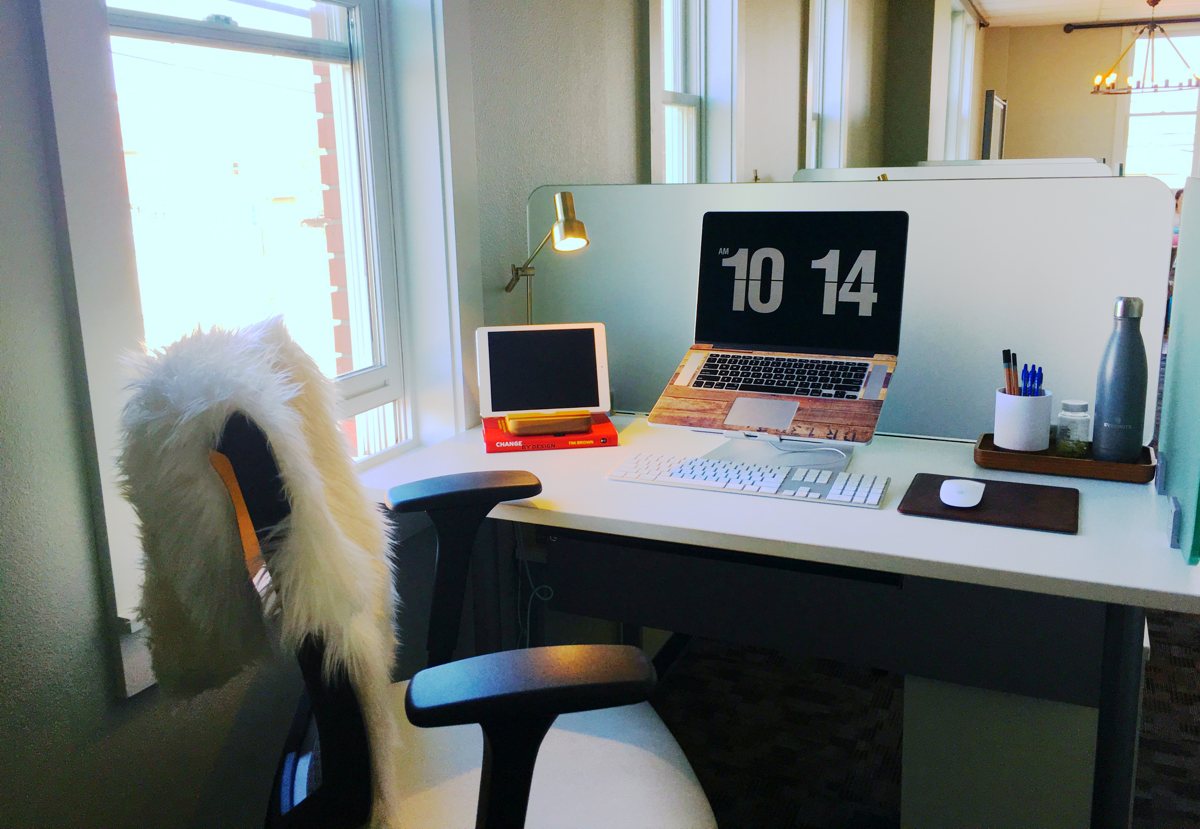 Bethany's work desk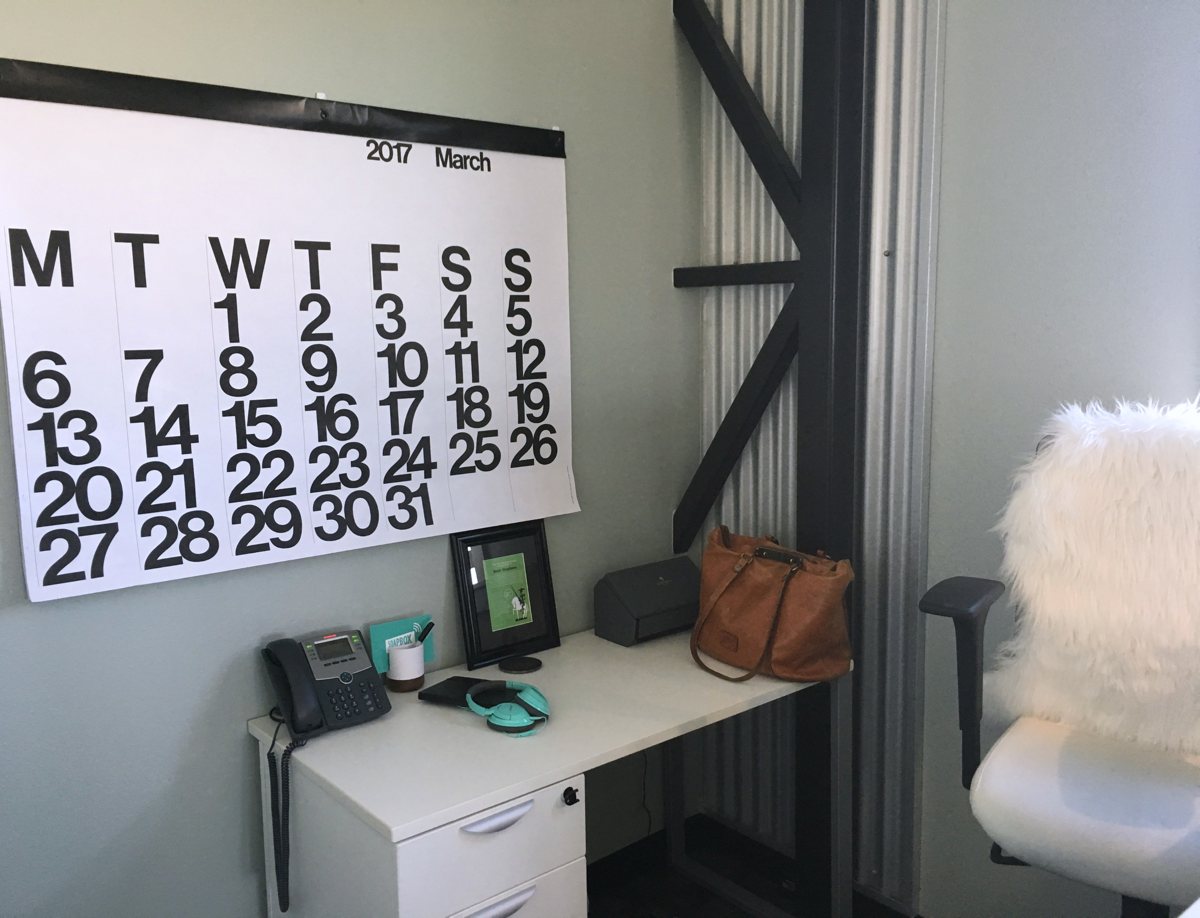 Bethany's work desk, opposite
Where can we find your OS X wallpaper?
My home wallpaper is a photo I took near the Buffalo River last spring of a Mayapple – a woodland plant (also known as an American or wild mandrake) and one of my favorite signs of spring in the Ozarks. At the office, my wallpaper is actually another photo from the same trip: it's a view of the hills through a weathered old metal gate attached to a split rail fence outside our log cabin. They're both available on my site.
What software do you use and for what do you use it?
I rely on Evernote as my external brain – at home, at work and everywhere in between. Just about every single thing I do is either written or stored in Evernote. In a related vein, Skitch has become my quick go-to for grabbing and marking up screenshots of webpages and quick, low-tech editing.
The vast majority of the programs I use are browser-based versus installed software (such as Emma for email marketing, Wrike for project management and SurveyGizmo for gathering shopper opinions), so I use the Fluid app to install browser-based programs as "apps" in my dock and Bitly to create branded links.
For social media scheduling I use Buffer, and my preferred email and calendar clients are Airmail and Fantastical because they are so much faster and more intuitive than native apps (I really miss Sunrise, though). I've also become a big fan of CleanMyMac – it's an incredibly impressive tool for keeping both my Macs at peak performance, and I honestly believe it's the reason my older Mac still functions so well.
I'm also really fond of Chrome extensions, so I've got OneTab for sweeping my excessive open tabs into a simple link list, RescueTime for tracking my time, and 1Password for all the passwords I need for our programs and client social platforms.
Within the office, we use HipChat for instant messaging. I definitely get teased a lot for the variety of programs and platforms we use (especially since we can all technically communicate in our open office format via text, email, Evernote Workchat, email, HipChat…), but it doesn't bother me. There are so many great, evolving solutions out there, and they're improving and becoming more integrated every day. In fact, I blog frequently in my Shiny Objects series about tech tools and tips and my tendency to try allthenewtech but quickly discard what doesn't make my life better.
How would your ideal setup look and function?
I always thought I would love a giant, gorgeous iMac and a slick iPad Pro, but to be really honest, I'd be pretty darn happy with a new Macbook Air, these gorgeous Master & Dynamic headphones, and two more Google Home devices.
---
What iPhone do you have?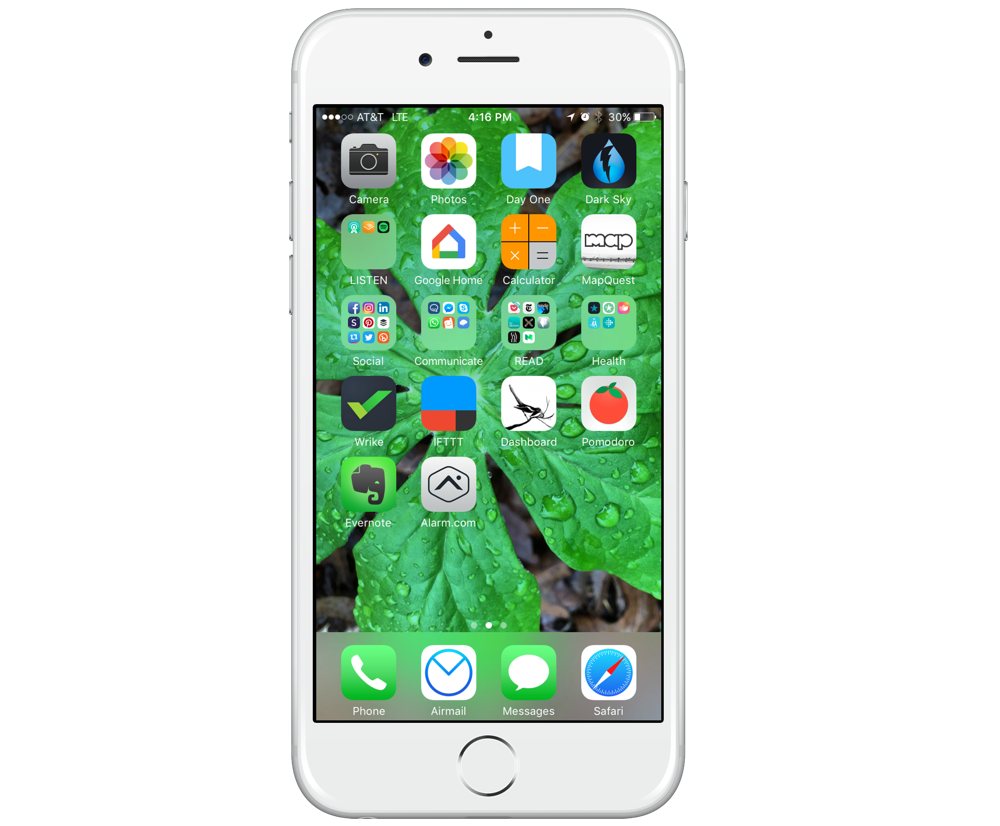 I currently use a silver 64GB iPhone 6S.
What apps do you use the most, and why?
Frequent uses on my phone include Dark Sky for the daily weather (because: aesthetics), Day One for quick, location-based journal entries, and the Google Home and Alarm.com apps since I'm on a mission to incorporate smart tech in our home.
My LISTEN folder is home to Castro for podcasts, Audible for audio books, and Spotify for music. Since I work in social media, I have a LOT of apps in that folder. Instagram is probably the one I use most paired with Plann, which I don't actually use for Instagram scheduling – I just like it for hashtag storage. Another standout social platform I love is Steller (incredible storytelling/building app). In terms of daily reading, I'm a huge fan of the Skimm and the New York Times.
Which app could you not live without?
Evernote still takes the prize for my single most used app across all devices.
---
Which iPad do you have?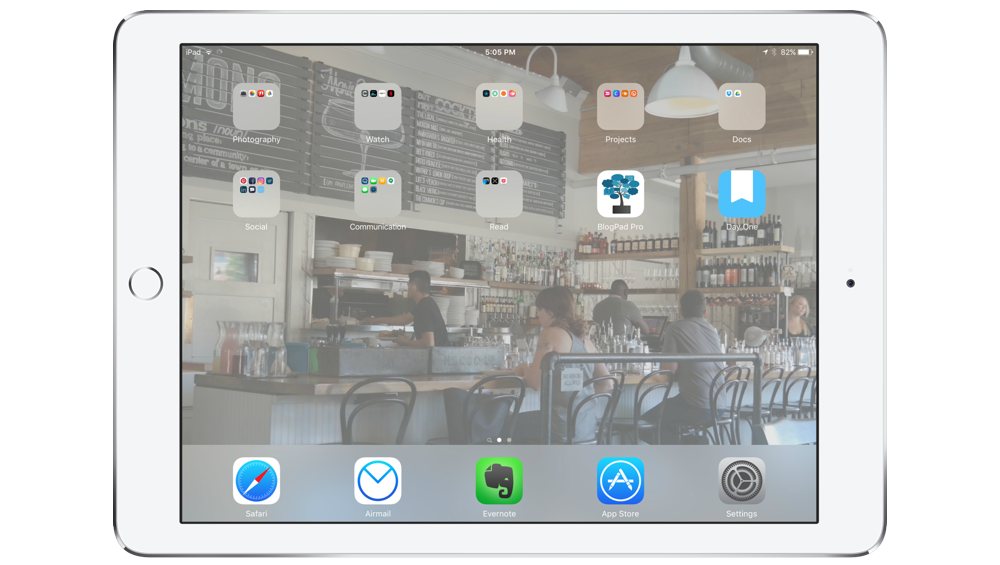 I'm currently using a 16GB iPad Air.
Where can we find your wallpaper online?
Same one as the Mac section. It's a photo I took at a coffee shop and restaurant called the Commons in Woodinville, Washington (outside Seattle) in August 2015. It's a really cool town with a population of about 10,000 and nearly 150 wineries, breweries and restaurants.
How are you using your iPad on a daily basis?
I tend to use my iPad to consume content. I still have quite a few social and communication apps, but it's my tool of choice for reading and watching.
What apps do you use the most, and why?
On the iPad, I use my two workout apps (FitStar and FitStar Yoga) almost daily along with the Fitbit app and Headspace for guided meditation, although not as frequently as I'd like. I like to take the iPad with me on my lunch break, and I use it to read (saved articles in Pocket or digital magazines in Texture) and write – I like BlogPad Pro for posts to my blogs. And again, I use the Airmail app for email.
Which app could you not live without?
At risk of sounding tedious, Evernote for the win once again.