Belle B. Cooper's Mac and iPhone setup
November 28, 2016
Every week we post a new interview with someone about what software they use on their Mac, iPhone, or iPad. We do these interviews because not only are they fun, but a glimpse into what tools someone uses and how they use those tools can spark our imagination and give us an idea or insight into how we can do things better.
New setup interviews are posted every Monday; follow us on RSS or Twitter to stay up to date.
---
Who are you and what do you do?
My name is Belle B. Cooper, and I'm a co-founder of Hello Code, a Melbourne-based software company. We make Exist, a personal analytics app, and Larder, a bookmarking app for developers. I handle marketing and iOS development, as well as sharing the load on customer support and keeping the business running.
I also work part-time as a freelance writer, mostly doing content marketing for start-ups. You might have seen my work on Lifehacker, The Next Web, Fast Company, Zapier, or Buffer.
What is your current setup?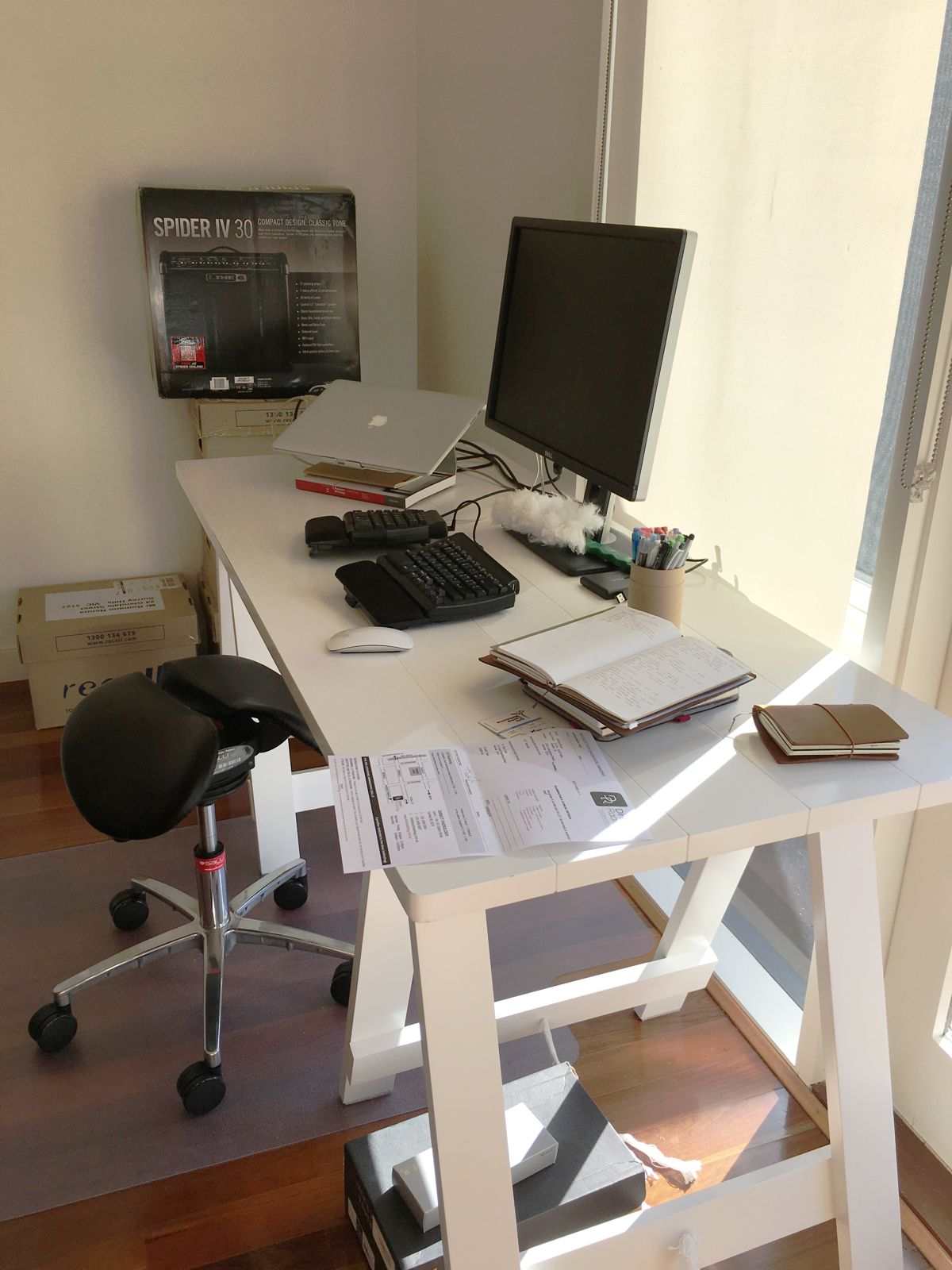 I use a late-2013 MacBook Pro that I bought second-hand from a friend. I previously had a MacBook Air, which I loved, but it was struggling to keep up with my iOS development activities. Because it's my only computer, I wanted something beefy enough to not freeze or slow down when I'm working.
When I'm writing I mostly sit at the dining table with just my Mac and a pair of headphones. For iOS development I like to sit at my desk with some extra gear to make working more comfortable. I have a Dell 24″ monitor and a Rain Design mstand for my MacBook. I also plug in a Matias Ergo Pro keyboard and an Apple Magic Mouse. I sit on a Salli Sway saddle chair, which improves my posture and helps me avoid back pain when I'm at my desk for hours.
Where can we find your OS X wallpaper?
It's just the default one that comes with macOS Sierra. I never look at my Mac's wallpaper because I always have some kind of app open, so I usually don't bother changing it.
What software do you use and for what do you use it?
I mainly use Ulysses for writing. I really like the goals feature for my freelance work, as I have a rough word count goal for most of those pieces. I also really like the themes in Ulysses. I used to use iA Writer most of the time, and I still return to it occasionally for simple things like writing up company reports.
I use Bear for notes, which is still in beta. It's a really slick notes app that syncs quickly and lets me use inline tags, Markdown formatting, and inter-note linking.
For development, I use Xcode and Dash to look at Apple's docs.
I use Alfred for everything: quick calculations, opening apps, searching the Amazon store, and more. I also rely on PopClip heaps to copy and paste things, change title case headings to sentence case, translate words in Google Translate, and get a word count when it's not available in the app I'm using.
For music I use Deezer. The Mac app isn't great, so I use it in an app called Musicality, which bundles up the web apps of various services like Spotify and Pandora, but gives you native features like media key support and notifications.
For task management I use Todoist. I wish it had start dates and handled sub-tasks better, but it does most of what I need and has the best natural language parsing around. It also integrates with Exist, so I can track how my productivity is affected by things like the weather, what I'm eating, my caffeine intake, and how active I am.
I really like menu bar apps, so I use Bartender to clean up all the ones I have installed. I use Degrees to see the weather, Fantastical for my calendar, Clocks to see different time zones around the world, and Instashare for quickly sending files from my iPhone to my Mac.
A few other apps I love: Wren for sending tweets without getting distracted by my Twitter timeline, Numi for doing quick conversions (especially for currency), Spectacle for snapping app windows around with keyboard shortcuts, RescueTime to track my productivity, BetterTouchTool for adding custom shortcuts to my trackpad and Magic Mouse, IconJar for organising icons for my iOS projects, and Reveal for debugging weird layout issues in my iOS apps.
How would your ideal setup look and function?
I'm pretty happy with what I've got!
---
What iPhone do you have (color, size, etc.)?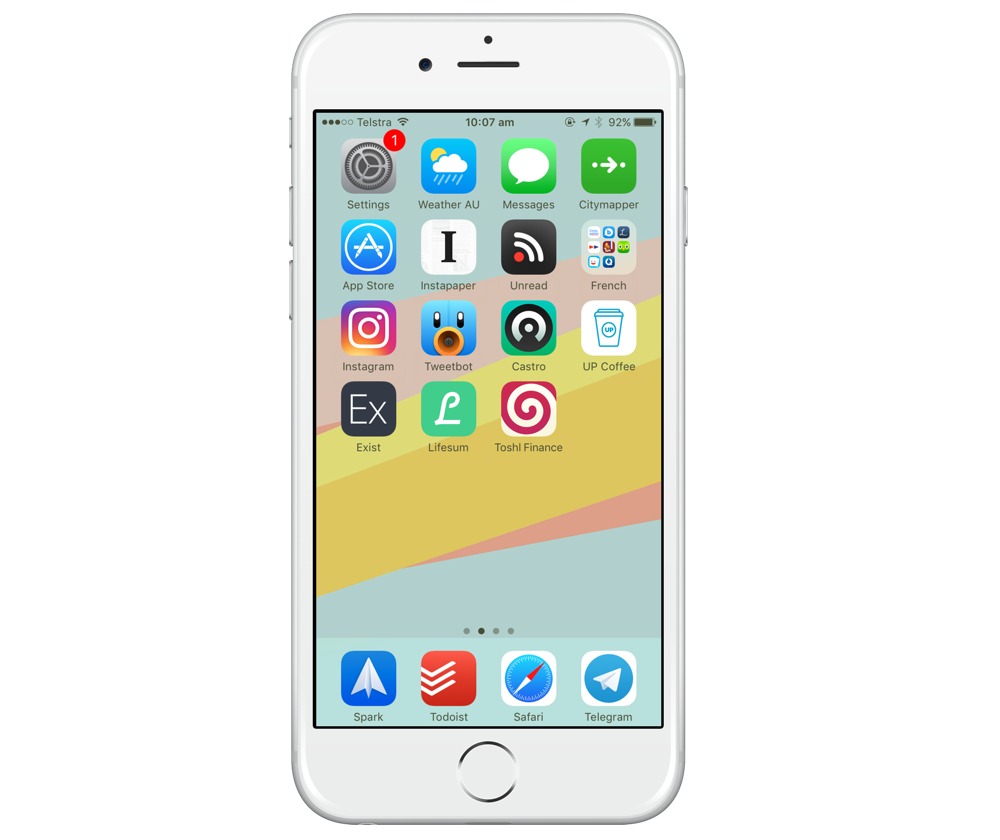 I currently use an iPhone 6S 32GB in silver/white.
Where can we find your wallpaper online?
I don't have the exact link, but I got it from poolga.com, which has lots of cool illustrated wallpapers.
What apps do you use the most, and why?
Safari for browsing and searching. Lots of people say they never use 3D Touch, but I use it all the time — especially to open a new tab from the Safari icon. If I could wear a dent into the screen, it would be where the Safari icon is, for sure.
I use the Exist iOS app every night to rate my mood and write a note about my day. I also use it throughout the day to see whether I've hit my goals for activity and productivity. Exist creates personalised goals based on your recent average for this day of the week, so I check in each day to see what my goals are.
I use Instagram, Tweetbot, Unread (for RSS), and Narwhal (for Reddit) whenever I'm bored or procrastinating.
I also spend lots of time in Telegram, which is the app I use with my co-founder and partner, Josh.
Deliveries is one of my favourite utility apps. I love that it can notify me when my packages change status. Other utilities I rely on are Citymapper for transport planning, Pocket Weather for the most accurate Australian weather forecasts, and Fantastical for my calendar.
Which app could you not live without?
Even though it's not an exciting or an overly pretty app, I'd have to say Safari because I use it more than anything else. Telegram would be a close second, though.
---
There are more Sweet Setup interviews right here.
Want to share your setup? We'd love to hear from you. Just fill out this form with some basic information and we'll be in touch.
---
Free Productivity Guide: Download our simple guide to productivity to help you improve your workflows and be more focused with your time and attention. Get it here.