Bear 1.7 Introduces Security Features, New Safari Extension for Mac, New Themes, and More
September 5, 2019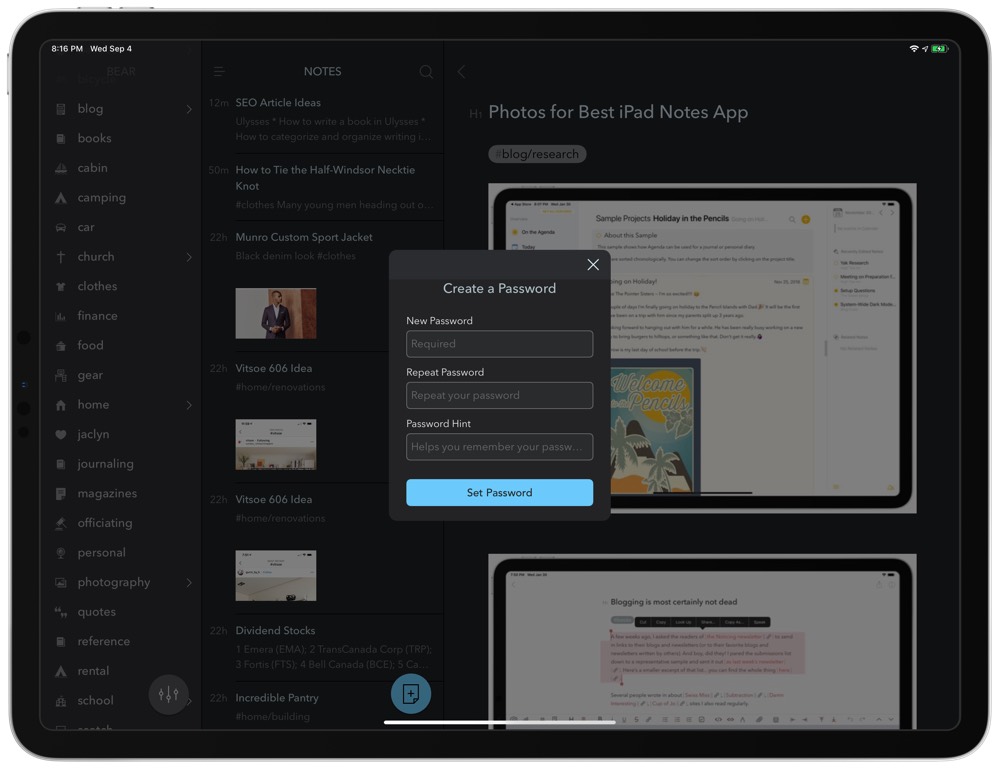 Bear has gone a long time without a major app update. The last time I wrote a Bear update blog post was September 20, 2018.
Lots has happened since last September. We have new iPads, new Macs, and an ever-growing number of Apple cloud services sucking subscription dollars out of our pockets. We have new app options too, like Keep It (which we named the best app for housing long-term research), and an incoming app called Allegory which has really piqued my interest.
Quite honestly, I have been getting worried about Bear. It's one of the dearest apps to my heart. I've captured all sorts of stuff in Bear and I reference something inside of Bear multiple times a day.
But I've started to wonder whether it's worth subscribing to both Keep It and Bear, considering how much the two apps are alike. The lack of updates and an increasingly-stale feature-set has had me shopping around.
Bear 1.7 introduces some nice improvements and seemingly preps the app for iOS 13 and iPadOS 13, but I'm still wanting more.
New Security Features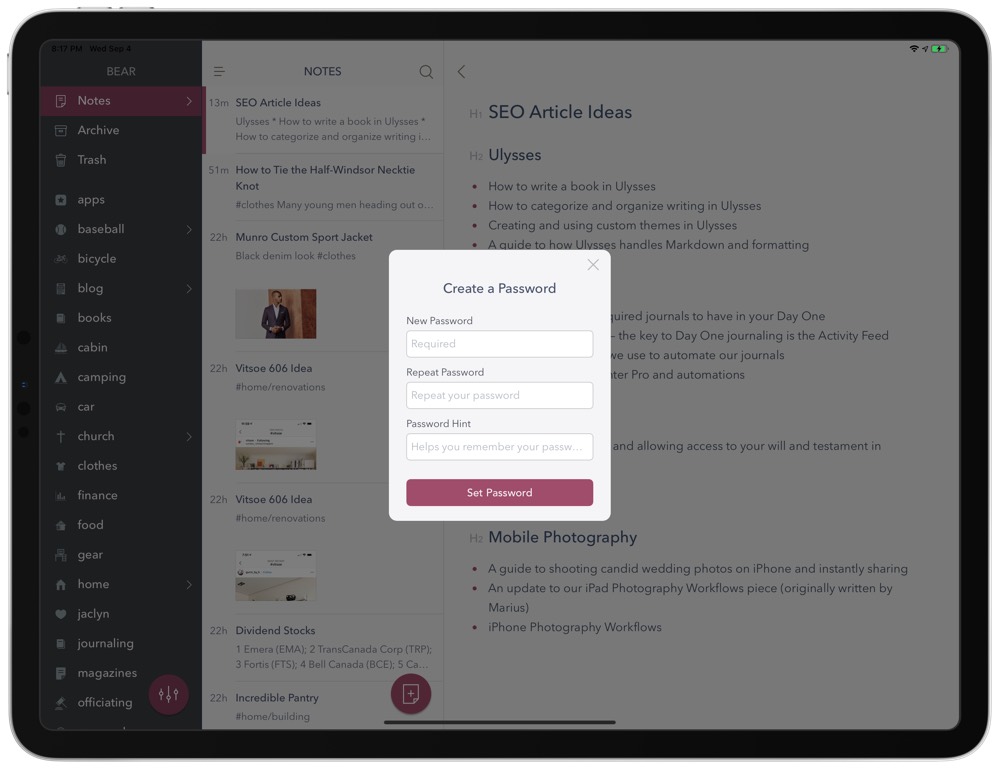 The hallmark feature inside Bear 1.7 is the ability to lock and encrypt individual notes and to lock the entire app itself. Swiping left on a note in your note list unhides the "More" button, which you can tap to find the option to set a password for the note. After you've set a password and provided yourself with a hint, your note will be unlocked using either the password or Face ID/Touch ID.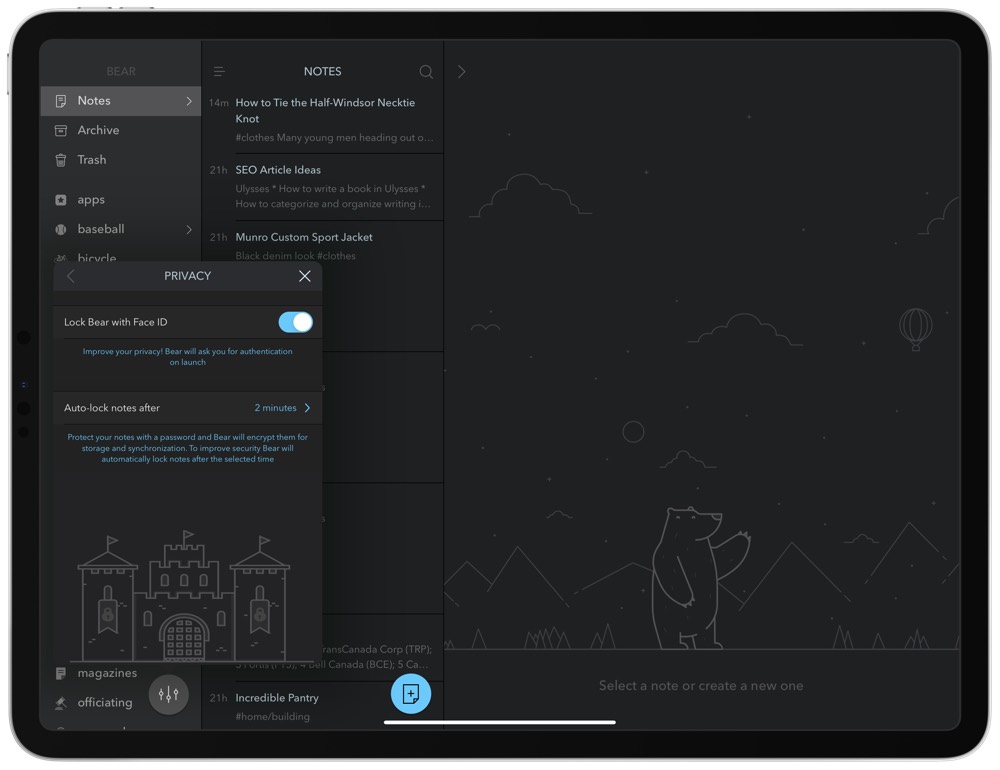 Same goes for the whole app itself — you can now lock Bear every time you exit the app. Under the "Privacy" heading in Bear's settings, you can toggle the security settings and have Bear accessible only after a Face ID or Touch ID authentication.
New Safari Extension for the Mac
I wore through Bear's old Safari extension on the Mac. I probably saved a full website a few times each day. When I upgraded my Mac and went to set everything up again (I'm part of the "Start-From-Scratch" club every time I get a new Apple device), I was sorely disappointed to find the Bear Safari extension had been discontinued.
Bear 1.7 reintroduces the Safari extension. The extension is downloaded as part of the Bear 1.7 download, so all you have to do is enable it in your Safari preferences to find it on your Safari toolbar.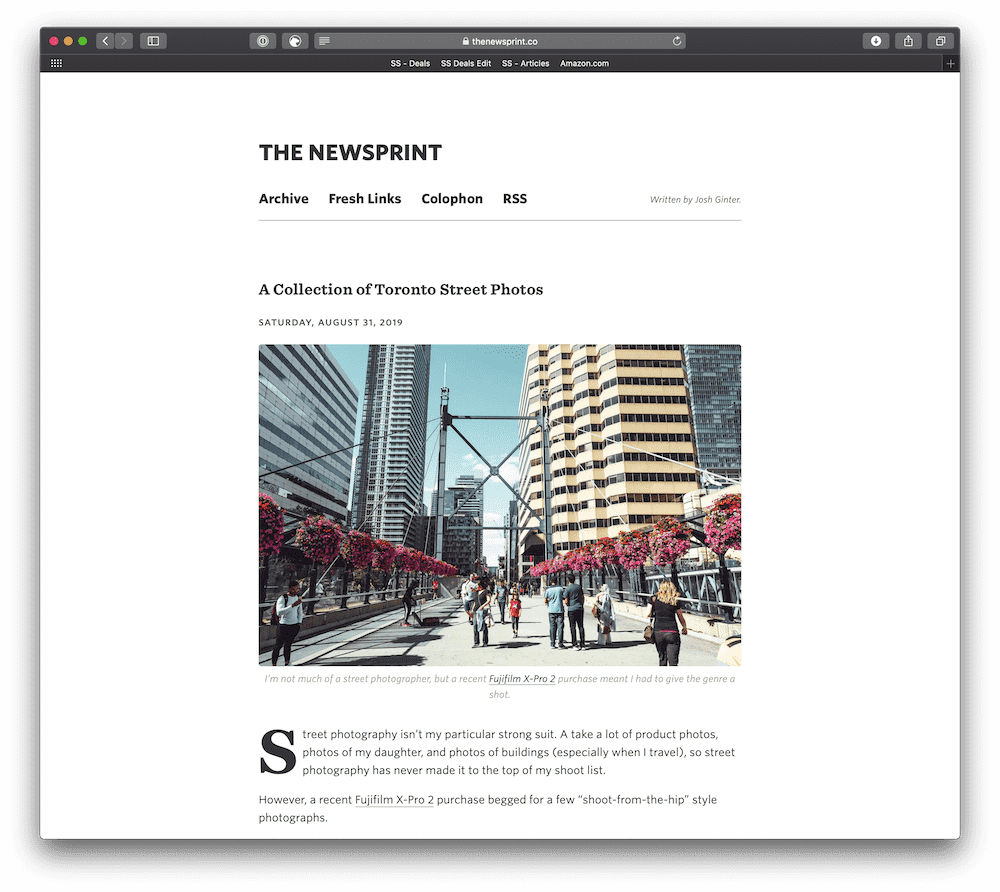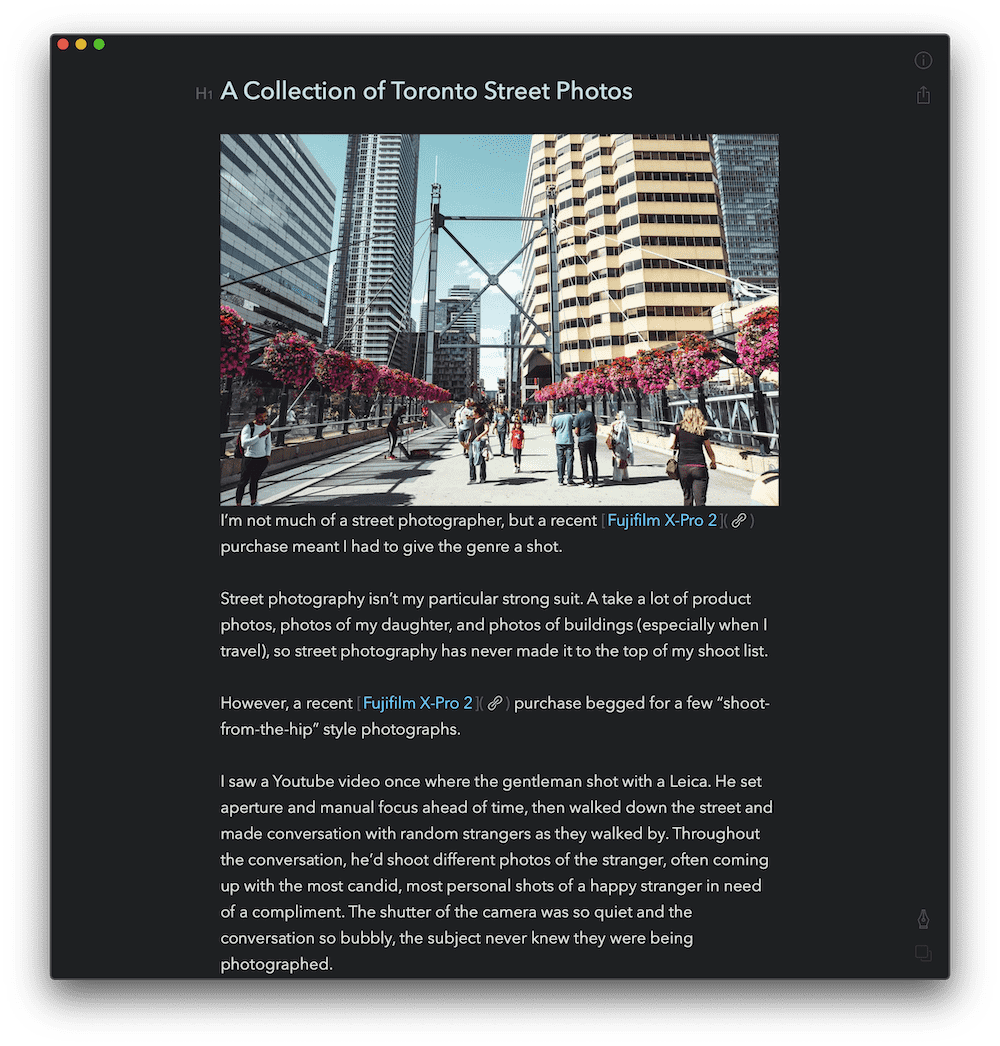 Once enabled, clicking the extension generates a complete extraction of the webpage inside Bear. This is great for saving the contents of an entire webpage without saving it as a PDF or as a long set of screenshots. Plus, you can find webpage assets quickly and easily using the Safari extension.
Some New Themes and Some New TagCons
One thing every Bear update — both big and small — seems to include are new themes and new TagCons, which is great news. TagCons have been somewhat of a hit in the past. (For the entire list of TagCons, check out this page.)
I'm a big fan of the Ayu theme which debuted well over a year ago. The matching orange Bear icon fits wonderfully on a colorful home screen and provides a gentler bright theme.
In Bear 1.7, Ayu gets a complimentary dark theme known as Ayu Mirage. The theme is a little lighter than the now-standard Dark Graphite, and the icon is a light gray to boot.
Beside Ayu Mirage, we have a new Gandalf theme. The berry-or-wine purples nicely round out the rainbow of color across Bear's themes.
Lastly, as Bear 1.7 provides the inner workings to support iOS 13 when it drops, you can now have Bear use the Dark Graphite dark theme whenever your iPhone or iPad is set to the system-wide dark mode. This is a good choice for the default dark mode theme — it's much easier on the eyes than any true black theme.
Other Improvements
As always, lists like these can get pretty long. Here is a smattering of other new features debuting in Bear 1.7:
Live Note Links: If you have linked to a specific note anywhere in iOS or macOS and that note link changes, the link will automatically update across all locations. This is especially handy when you have a specific note set inside a shortcut, for instance.
Spotlight Search in macOS: You can now search through your Bear notes using Spotlight in macOS, perfect for searching while working in other apps.

Emoji Auto-Complete: Type ":" and Bear will automatically pop up a little emoji auto-completion button. You can even scroll through the list of emojis using your keyboard's arrow keys.
At this point in time, Bear 1.7 is designed specifically for iOS 12. Features that take advantage of iOS 13 — like the system-wide dark mode or multiple app windows — appear to be slated for the debut of iOS 13 later this month (I can't seem to get multiple app windows to work on my iPad Pro running iPadOS). So if you're looking for iOS 13 features ahead of time, it looks like you'll need to be patient a little while longer.
What I'm Still Waiting For
Despite a fairly lengthy list of improvements (and vastly improved security features, at that), I expect some users will be clamoring for more in Bear 1.7. Rumors of a web app have not yet come to fruition, and there isn't any support for iOS's Files app, support for standard Markdown, or for expanded support of embedding files in notes.
I'm nitpicking a bit, to be fair. Bear can do so much as a note-taking app and it has yet to let me down.
But, I'd like to be looking for reasons to keep Bear in my note-taking workflow rather than for reasons to jettison the app. Bear 1.7 hasn't done enough to reinvigorate my love for the app, but it also hasn't spelled doom either.
I hope the Shiny Frog group have a few tricks up their sleeves for Bear in the coming months.
Our Must-Have, Most Used Productivity Apps
We spend an inordinate amount of time sorting through hundreds of apps to find the very best. We put together a short list of our must-have, most-used apps for increasing productivity.