Bart Kesner's Mac and iOS Setup
March 1, 2021
In this series, we post a new interview with someone about what software they use on their Mac, iPhone, or iPad. We do these interviews because not only are they fun, but a glimpse into what tools someone uses and how they use those tools can spark our imagination and give us an idea or insight into how we can do things better.
New setup interviews are posted every Monday; follow us on RSS or Twitter to stay up to date.
---
Who are you and what do you do?
My name is Bart Kesner and I'm currently responsible for IT transformation efforts for a global engineering/consulting firm in the Kansas City area. This entails partnering with internal and external resources to analyze the delivery and use of products and services to enhance overall effectiveness, and lead teams to resolve any identified issues. Prior to that, I ran the Customer Experience program for a global manufacturing firm.
What is your current setup?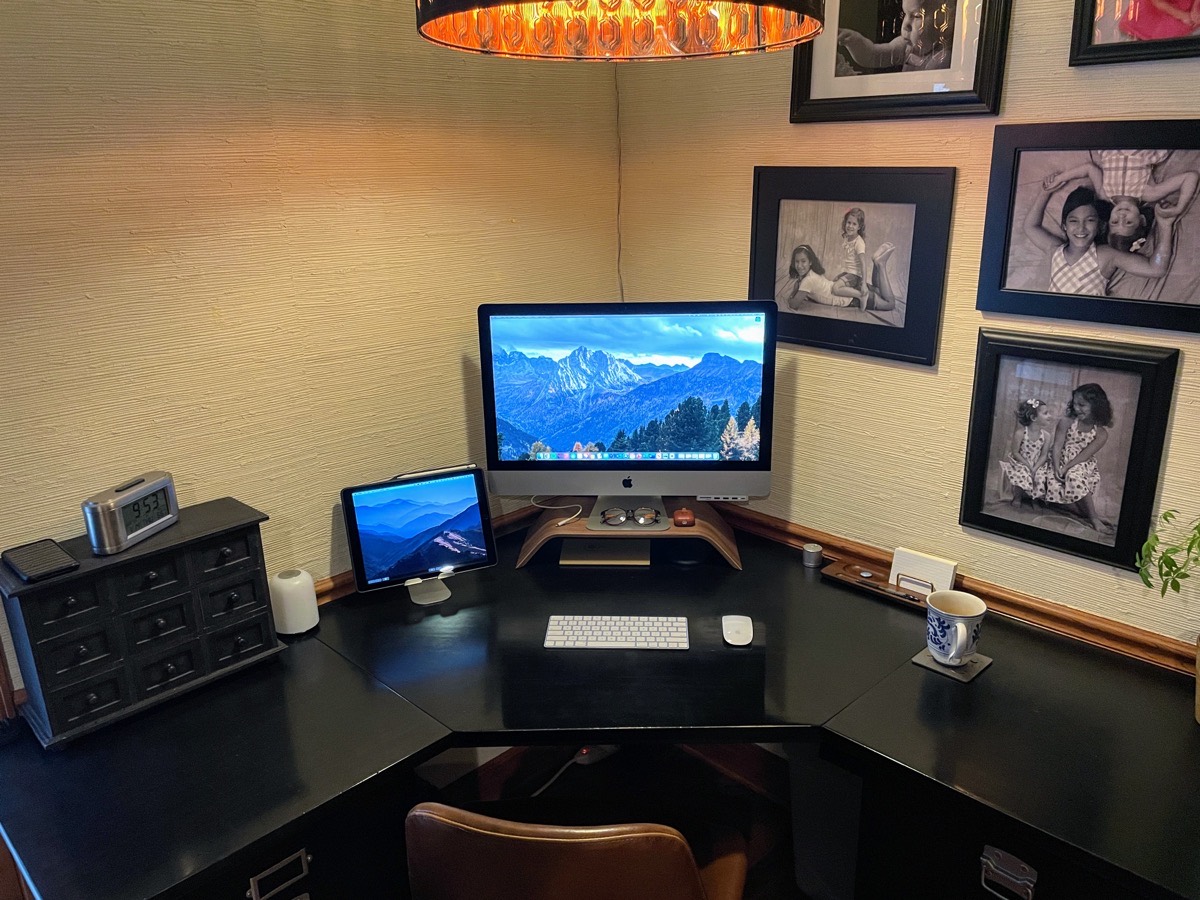 I've never necessarily considered myself a brand loyalist when it comes to hardware. Some of that wasn't by choice as company issued laptops were always some mid-tier Windows 10 device, but my personal hardware varied between Apple and Google/Android products. All that changed with the mandated work from home order due to Covid-19. I was no longer trapped behind a corporate network and had the flexibility to use anything I wanted for my primarily web-based workflow. But even with this new found freedom, I still value products and services that are platform agnostic. All that said, my refurbished 2017 27″ Retina 5K iMac with 3.4GHz quad-core i5 processor, 16 GB of memory (with open slots for 16 more) and a 1 TB Fusion Drive has become my primary workhorse.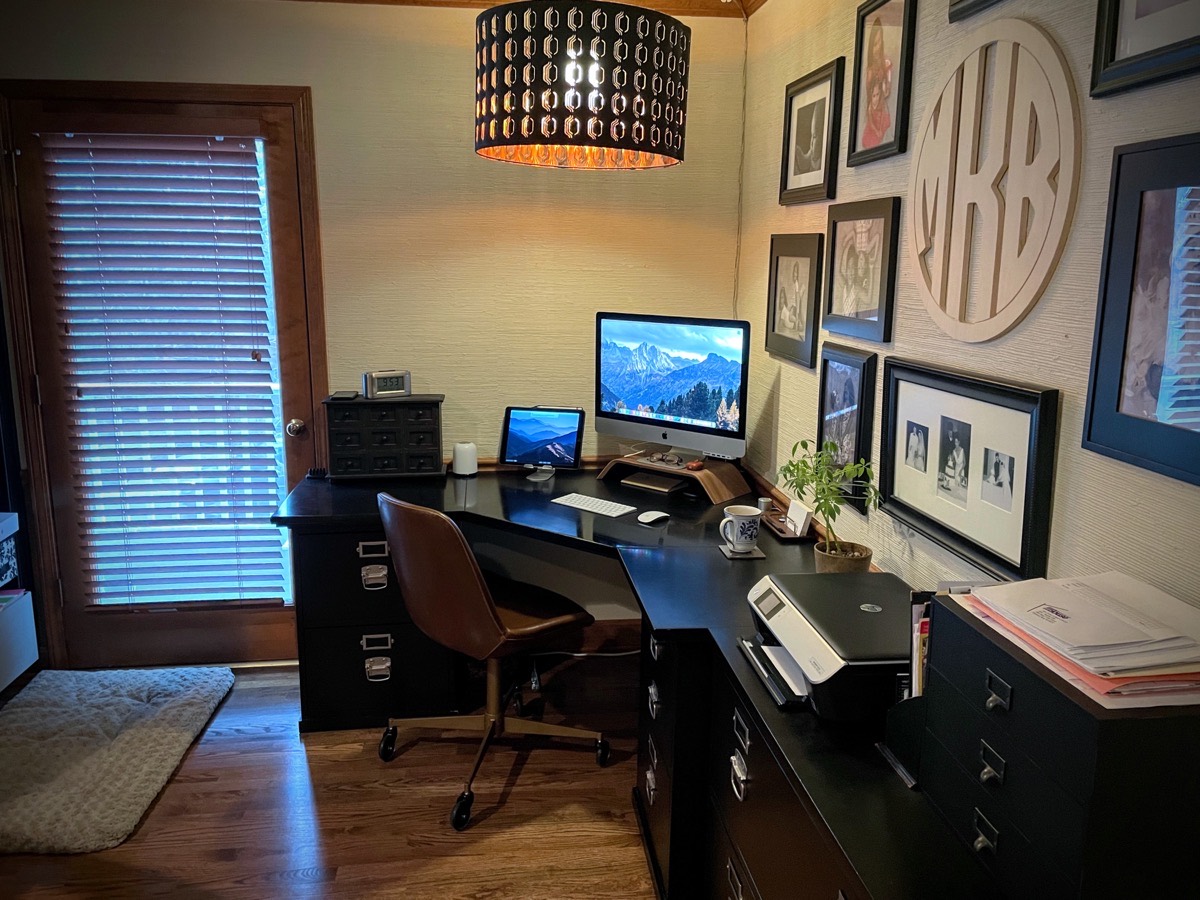 Where can we find your macOS wallpaper?
I periodically scroll through Unsplash and grab a new wallpaper when I'm feeling bored or need a boost of inspiration. This is made much easier by the app running in my menu bar. The latest one gracing my desktop can be found here.
What software do you use and for what do you use it?
While a lot of what I use is web-based, there are some applications that are critical to my workflow. These include:
Notebook — If I'm writing it down, it ends up here; everything from long-form writing to meeting notes. This app developed by Zoho offers the most comprehensive list of features I've ever found in a free version.
Zenkit — My task and project management tool of choice for work-related items. It's similar to Notion, but in my opinion has a much easier learning curve.
TickTick — All personal tasks and reminders are captured here. I've toyed around with Google Keep, Apple Reminders, and countless others, but found TickTick to be the best multiple platform app around.
Microsoft Teams — Purely for business use; it is the corporate equivalent of Zoom. Easily, the most used app on all of my devices and surprisingly a pretty enjoyable experience.
Spark — While Microsoft Outlook handles all the corporate stuff, my personal email lives here. I've bounced around quite a bit between Gmail and Apple Mail, but what really sold me on Spark is its native interface with TickTick. While it doesn't offer a web-based or Windows version, gmail.com works just fine when I am using my corporate laptop.
Journey — I've had a consistent journaling habit for a bit now and this is the only app I've ever used. With a UI like Day One, it was first on the scene with multi-platform support.
Apple Calendar — While I don't consider any calendar app to be the most exciting thing in the world, what Apple's native app really excels at is consolidating data from other services. Personal and business meetings from Google and Outlook, tasks from Zenkit and TickTick, and a variety of subscribed calendars all live here.
Spotify — If it's a lo-fi chill beat, I'm playing it on my iMac while I work. I generally default to Spotify, but Pandora gets a fair amount of use as well. Both work well across all my devices which also includes my Roku TVs.
How would your ideal setup look and function?
I have commitment issues.
Wait, what? I mean I'm never completely satisfied with my work setup! I know myself too well to say that if I just had this desk, or this computer, my setup would be complete. I just look for things that can make me more effective, are enjoyable to use, and present the best value for the money.
---
What iPhone do you have?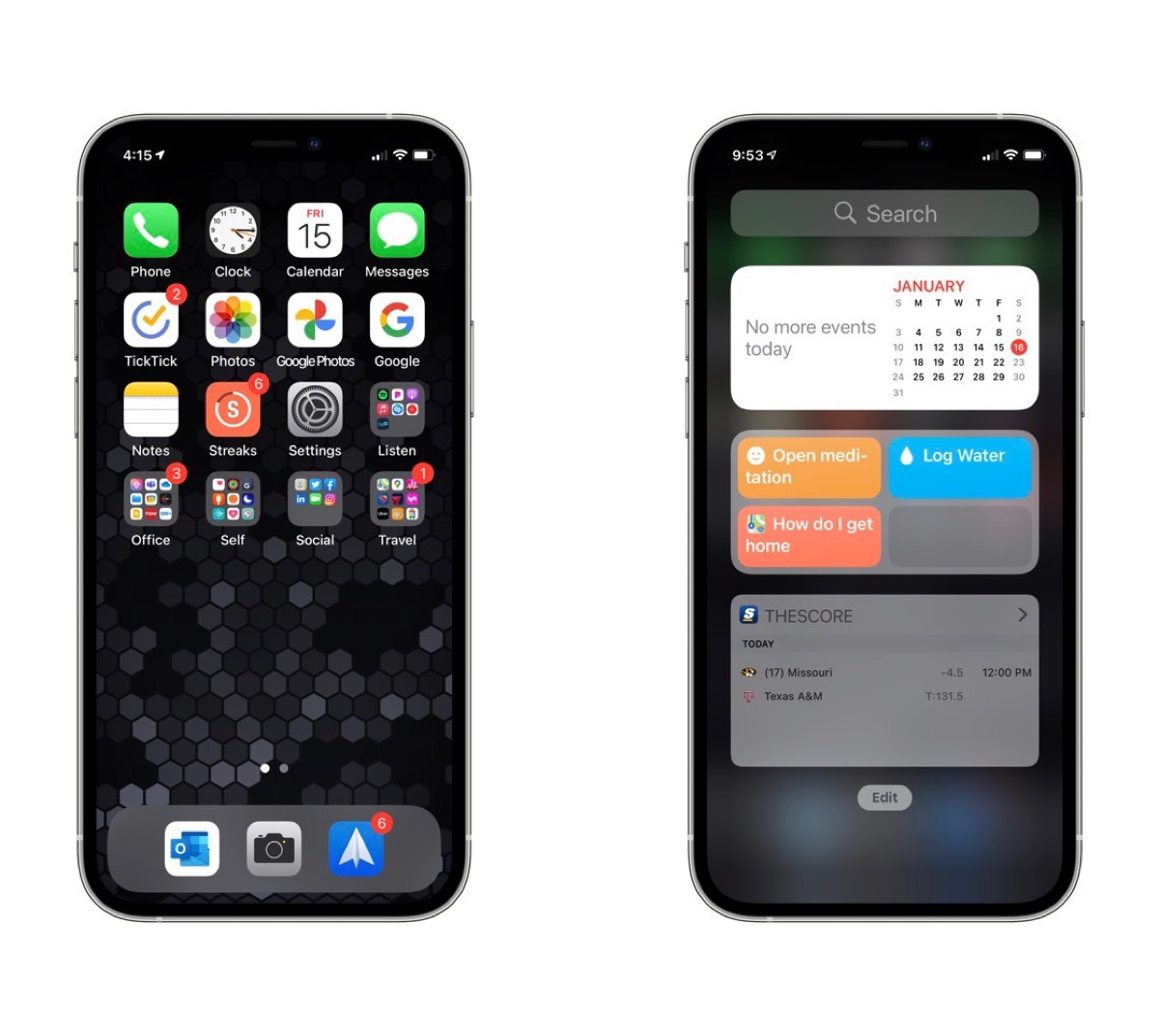 I recently retired my Just Black Pixel 2 XL, 64 GB from Google and have been enjoying the Pacific Blue iPhone 12 Pro, 128GB. The primary consideration for me when purchasing a new phone is the camera, as it is my primary photography/videography device. While it's always debatable as to what is best, the iPhone 12 family seemed to generally be considered the leader.
Where can we find your wallpaper online?
A hold over from my Pixel days, this wallpaper was shared in the android home Xperience group in Google Photos.
What apps do you use the most, and why?
In addition to the apps I mentioned above, the following are used almost exclusively on my iPhone:
Which app could you not live without?
I think I'm happy to report none. I'd worry a little if I actually started to put an app in that category. That being said, not getting texts wouldn't be fun.
---
Which iPad do you have?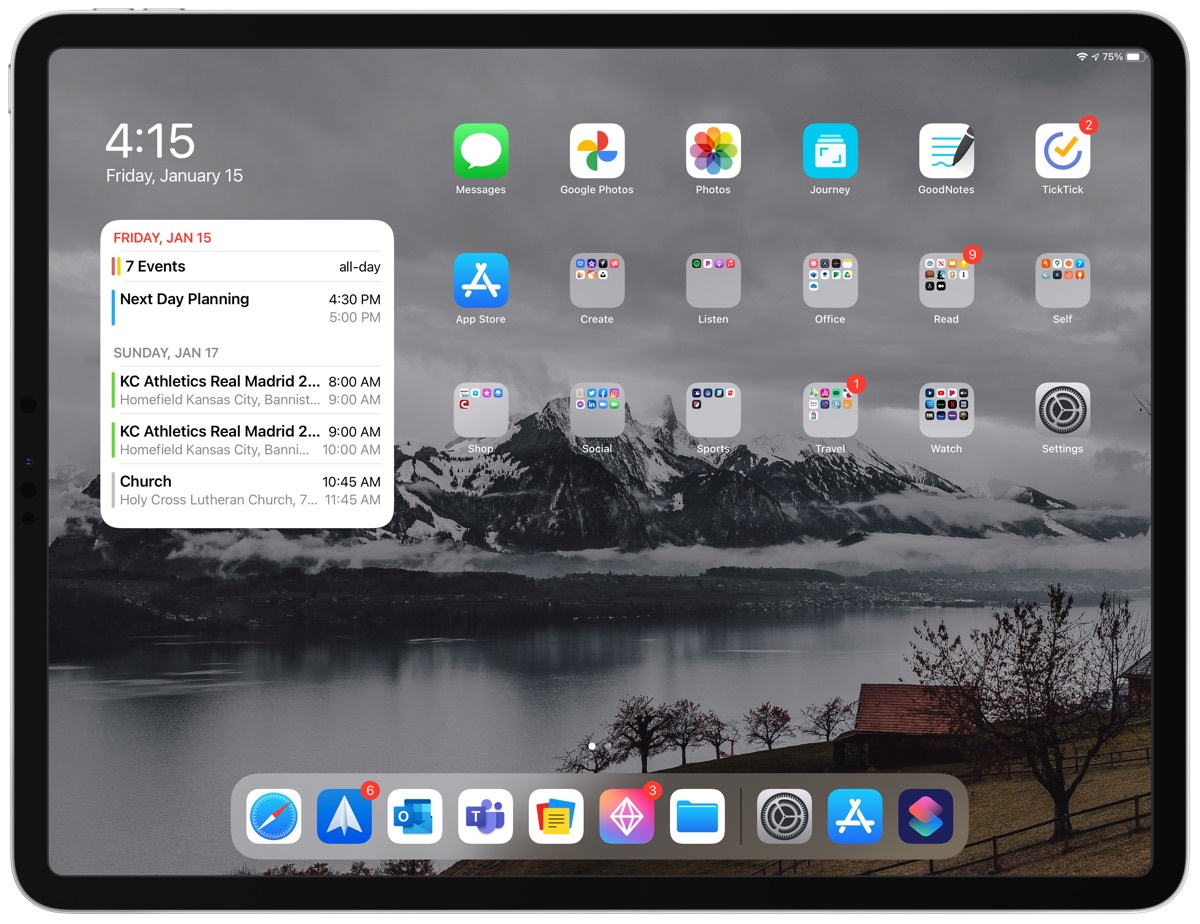 Believe it or not, I'm still using my 12.9 in. iPad Pro, 128 GB in space gray (2015). I keep waiting for the day it starts to choke on an iOS update, but it handles 14.3 like nobody's business. This coupled with the Apple Smart Keyboard, Apple Pencil, and mouse provides incredible flexibility.
Where can we find your wallpaper online?
This too was found on Unsplash.
How are you using your iPad on a daily basis?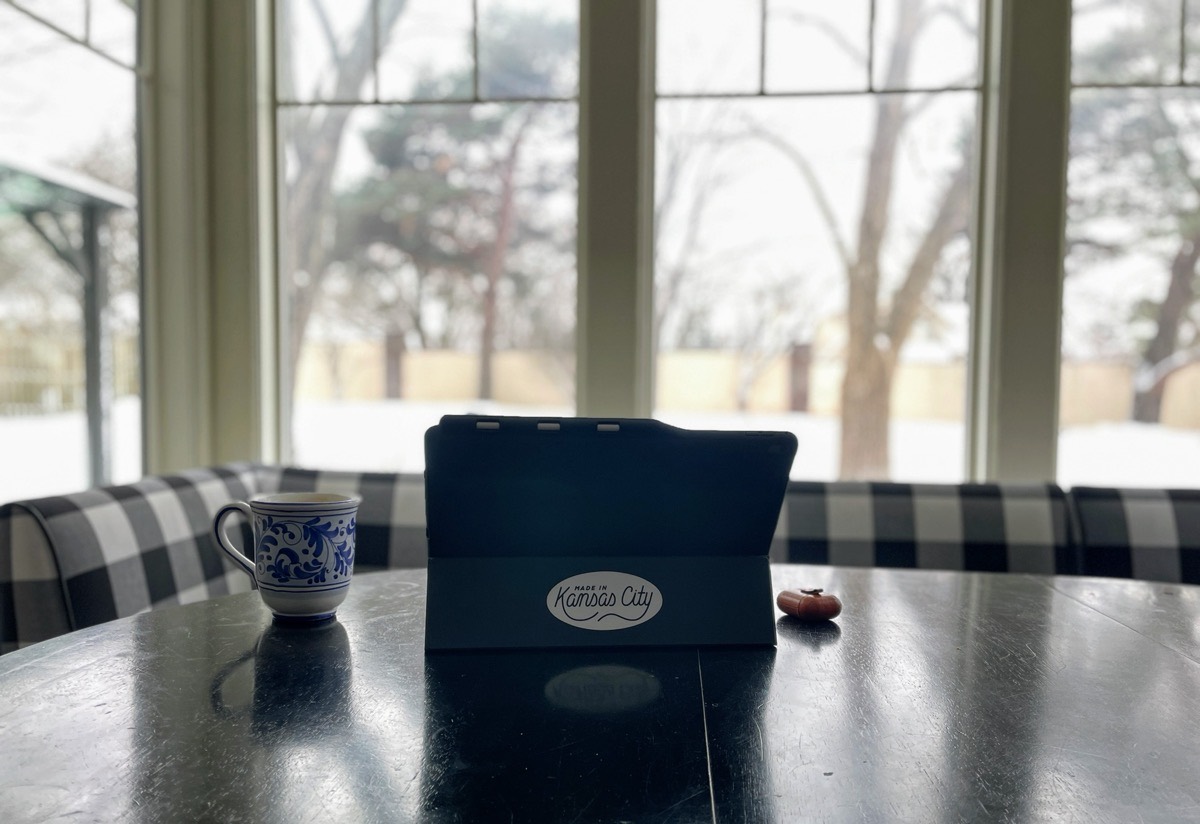 Everything I've mentioned above works great on the iPad. That's really important to me as I hate to be confined to my desk even when working from home. From my deck, to the kitchen, to the living room, my iPad will follow and I won't skip a beat. Essentially, the iPad is an extension of my desktop I can take anywhere. Prior to March 2020, my iPad was the perfect tool for face to face meetings (remember those?). I could take notes without the physical barrier of a laptop sitting between myself and the other person.
What apps do you use the most, and why?
In addition to all of the ones above, There are a few exclusive to the iPad:
Goodnotes — I'm preaching to the choir here, so I can't tell you anything about this app you don't already know. I will tell you this though, Notes Plus has the absolute best ink effects. It was the only app that actually made my handwriting look better. Sadly, the developer rarely updates and when he does it seems to be defensive in nature. If interested, INKredible is worth checking out, which is the developer's free version.
Netflix, Hulu, Prime, YouTube — Pandemic and binge watching. Enough said. How is your Sicilian Defense?
---
There are more Sweet Setup interviews right here.
Want to share your setup? We'd love to hear from you. Just fill out this form with some basic information and we'll be in touch.
---
Wait. There's a Bonus….
Custom Productivity Templates
We have a set of custom productivity templates that work well with the iPad app, GoodNotes. And if you want to try them out, we've put together a free guide that can help you.
We'll show you…
How to create and save custom page templates in GoodNotes.
How to use those page templates to transform GoodNotes into your own productivity notebook (or any other type of notebook replacement).
Plus, we also have included a couple of our custom productivity templates for you to get started with. These templates are right out of our popular productivity course.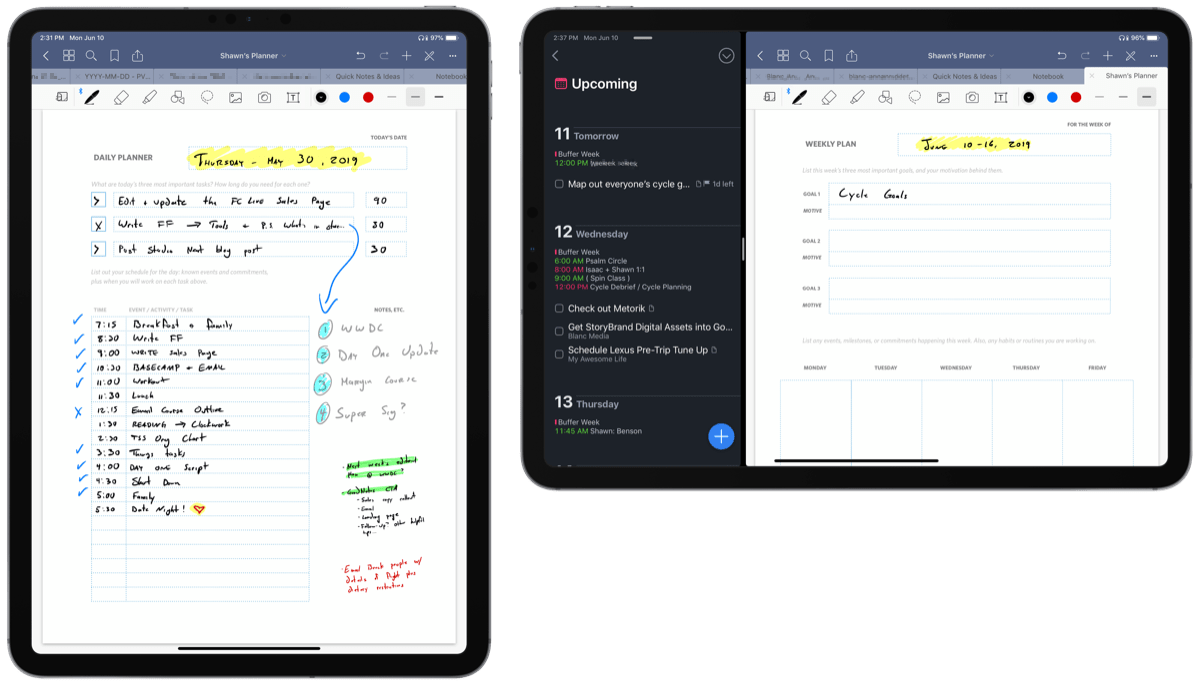 The custom templates and the guide are available for FREE to our email subscriber community. And you can get it right now. By joining the Sweet Setup community you'll also get access to our other guides, early previews to big new reviews and workflow articles we are working on, weekly roundups of our best content, and more.