Asier G. Morato's iOS setup
December 19, 2016
Every week we post a new interview with someone about what software they use on their Mac, iPhone, or iPad. We do these interviews because not only are they fun, but a glimpse into what tools someone uses and how they use those tools can spark our imagination and give us an idea or insight into how we can do things better.
New setup interviews are posted every Monday; follow us on RSS or Twitter to stay up to date.
---
Who are you and what do you do?
Hi! My name is Asier G. Morato and I'm the chief editor of El Imperdible, a lifestyle website from Spain that talks about shopping, culture, travel, and gastronomy. It's a young and small business, so I need to stay on top of it all day.
In a typical day I write, shoot and edit photos, talk with our collaborators and sponsors, and keep an eye on the feedback of our readers. Sometimes I also take some freelance work as a ghostwriter for some companies that need help with their blogs.
Which iPad do you have (color, size, etc.)?
I have a 128 GB 12.9″ iPad Pro in Space Gray with a Smart Keyboard and some accessories like the Apple Pencil and the Lightning to SD adapter.
Where can we find your wallpaper online?
It's a Firewatch wallpaper and you can find it on their blog. You should play this game.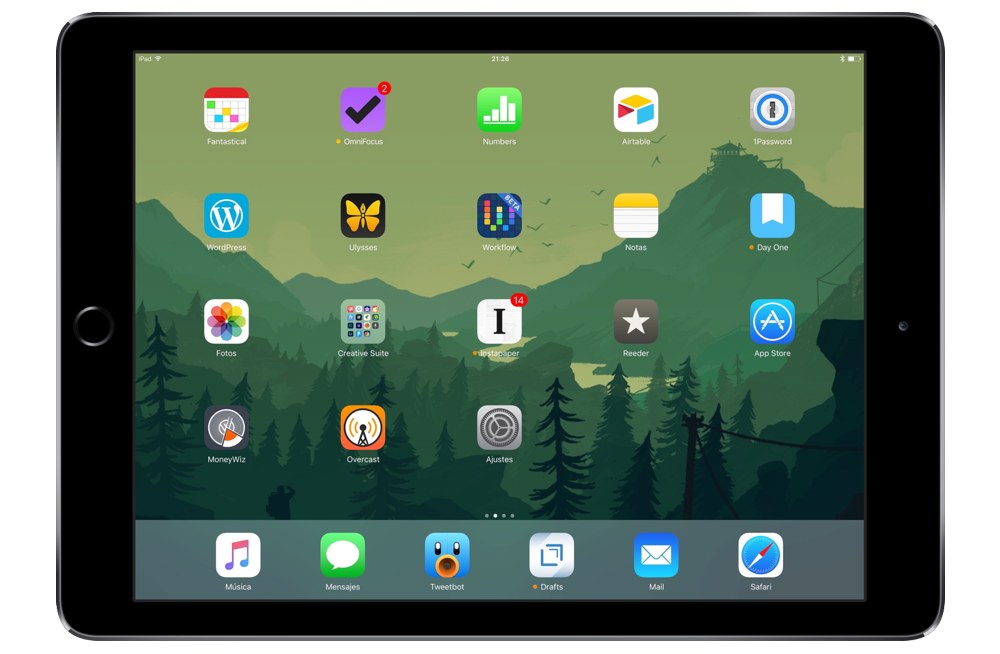 How are you using your iPad on a daily basis?
With the launch of the iPad Pro, I decided to make it my main computer, and so far so good. I need a computer that I can bring with me all day around the city without worrying about battery or weight. I could choose a Macbook, but it's more expensive and it would complicate my workflow.
As I said earlier, I need to keep an eye on my business 24/7 and this means I need to be able to do work even with my iPhone. With a Macbook, I would need to think in two ways to do things: one when I'm on the laptop and one when I'm on the phone. With the iPad Pro I can use the exact same apps on both devices so I only have one workflow for each task. At first this decision has given me some headaches, but now it's paying off. iOS still has room for improvement, but it's powerful enough for my daily work at El Imperdible.
I use my iPad Pro for:
Writing, editing, and publishing content on our website.
Editing and watermarking photos.
Keeping in touch with our readers, collaborators, and sponsors.
Managing the daily tasks of a small business.
And, when it's time to call it a day, I chill out by reading, catching up on social networks, or viewing some videos.
What apps do you use the most, and why?
For writing I use:
Ulysses has been my main text editor since 2013. Its design helps me focus on the words, the library is the best way to keep an archive of my work, and with the last update I can publish my texts (with photos) on WordPress without leaving the app.
I usually take notes on my Field Notes notebook, but when I need to collect some links or large text I use Notes.app.
I also use TextExpander to quickly insert frequently used text blocks. It saves me time and avoids errors.
For managing my time and the business I use:
All my tasks and projects live in OmniFocus. I used to use Things for its sync and design, but it lacks some advanced features I need during my daily routines. I can create complex project hierarchies, use automation to create repetitive tasks, and personalize the view with Perspectives.
I don't rely on it as much as I used to, but Fantastical is my calendar app of choice.
Still has some room for improvement, but Airtable is the head of El Imperdible. In its databases I keep organized the most valuable information of the company. All the data lives in the cloud so I can collaborate without fear of losing it.
I'm not so happy with it, but I keep track of expenses and income in a Numbers spreadsheet.
For photos I use:
iCloud Photos to keep them safe on the cloud. I pay for the 200 GB plan.
VSCO for light editing and color correction.
Pixelmator for advanced photo editing.
I also use apps like:
– Slack or Mail for communication.
– MailChimp, Buffer or Facebook Pages to manage our social profiles and newsletter.
– Transmit and Coda to make little changes to the website.
– 1Password to keep all my accounts safe.
Which app could you not live without?
Workflow. Without it, I couldn't do all my daily work on iOS. I use it to upload media to WordPress, resize and watermark photos, make GIFs, generate affiliate links for Tradedoubler, archive documents, embed YouTube videos, download files, clean links… Workflow also helps me create all the repetitive tasks I need to accomplish each week to publish content. I already lost track of all the time it has saved me.
---
What iPhone do you have?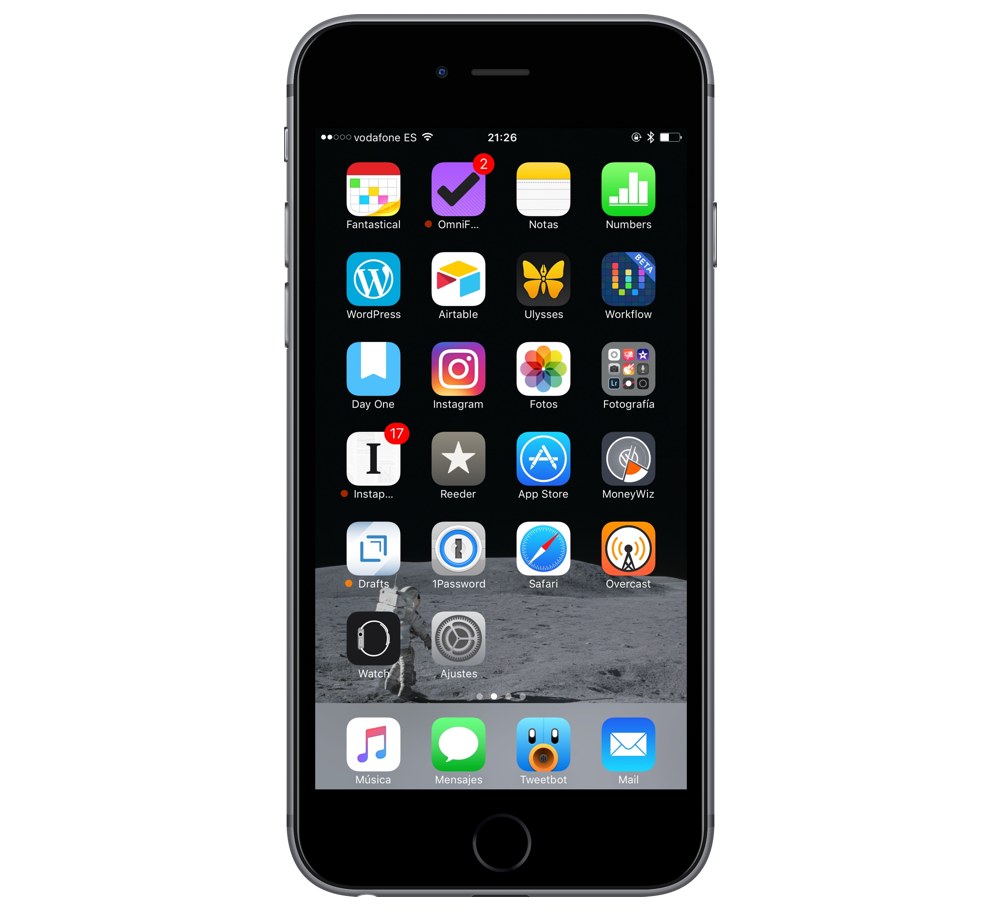 I have a 64 GB iPhone 6 Plus in Space Grey.
Where can we find your wallpaper online?
It's a photo from the Apollo missions that NASA shared on it's Flickr account. You can find it here.
What apps do you use the most, and why?
While my iPad is more 90% work and 10% fun, my iPhone is more a 50/50 device. I do work on it, but it's usually more lightweight. I have the same apps installed in case of an emergency, but my most used apps are different:
Usually when I pick my iPhone it's to keep me entertained, so my truly most used apps are:
I also view some videos on YouTube/Netflix, but I switch to the Apple TV/iPad as soon as possible. The same goes for games and my Nintendo 3DS.
Which app could you not live without?
Overcast. It's, by far, the best podcast client I've ever used. Whenever I'm riding my bike, walking around the city, or having lunch, I have a podcast playing on my phone. With it's Smart Speed and Voice Boost effects, it lets me listen better and more. Can't wait to get a pair of AirPods to cut the cord.
---
There are more Sweet Setup interviews right here.
Want to share your setup? We'd love to hear from you. Just fill out this form with some basic information and we'll be in touch.
---
Free Productivity Guide: Download our simple guide to productivity to help you improve your workflows and be more focused with your time and attention. Get it here.