Arturo Goga's Mac and iOS setup
October 12, 2015
Every week we post a new interview with someone about what software they use on their Mac, iPhone, or iPad. We do these interviews because not only are they fun, but a glimpse into what tools someone uses and how they use those tools can spark our imagination and give us an idea or insight into how we can do things better.
New setup interviews are posted every Monday; follow us on RSS or Twitter to stay up to date.
---
Who are you and what do you do?
Hi! My name is Arturo Goga. I'm a technology writer for a fairly popular Spanish opinion website that also goes by my name: arturogoga.com, and my YouTube Channel.
My main job consists of mainly producing content every day. I focus on some news, but at least once of twice a week, I try to prepare a more in-depth article or video.
What is your current setup?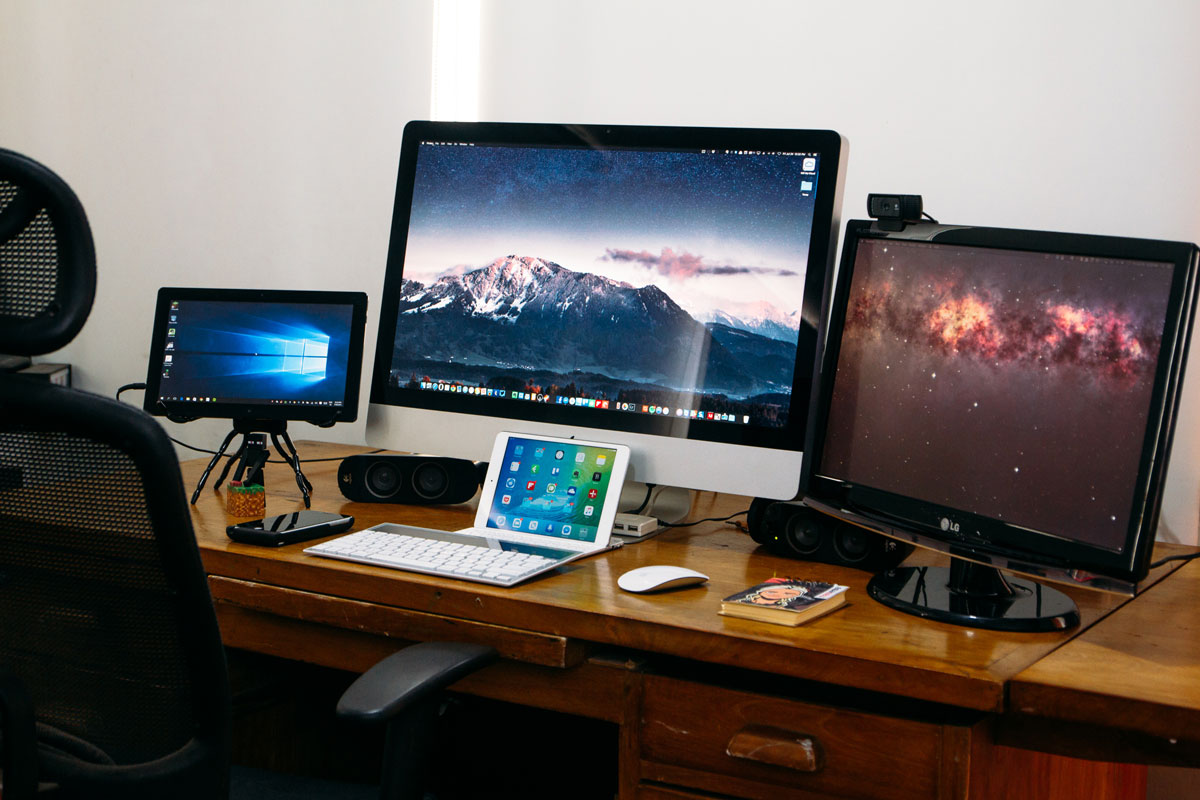 I run two different setups, but my main workstation consists of a mid-2011 27″ iMac running OS X El Capitan with a secondary 23″ 1080p monitor. I ended up dissassembling the iMac in order to replace the HDD with a 480 GB SSD (not quite a walk in the park, let me tell you!), and the performance has improved ten-fold. To the left of it, I have a Windows 10 device, a Samsung Series 7 Tablet. Since it has a Core i5 Processor, it's still quite snappy and runs the latest Microsoft OS like a champ. I have this tablet on top of a "gorilla stand," but am on the look-out for a better stand or elevator.
Such a setup allows me to try both of the newest OSes side by side, and even run demanding tasks on one device while working on the other. In order to use the same mouse and keyboard (and essentially treat the tablet as a secondary monitor), I use Synergy.
The mouse is a standard Apple Wireless Mouse because I can't live without the gestures embedded in the OS. I have also configured my own, expanding the functionality of the mouse with BetterTouchTool. For a keyboard, I use the Logitech K760 Wireless Solar Keyboard. It essentially behaves exactly like a Mac keyboard, except it has a solar panel on top that allows the keyboard to be recharged (or essentially powered) by light. It even gets power from artificial light (my LED light bulb).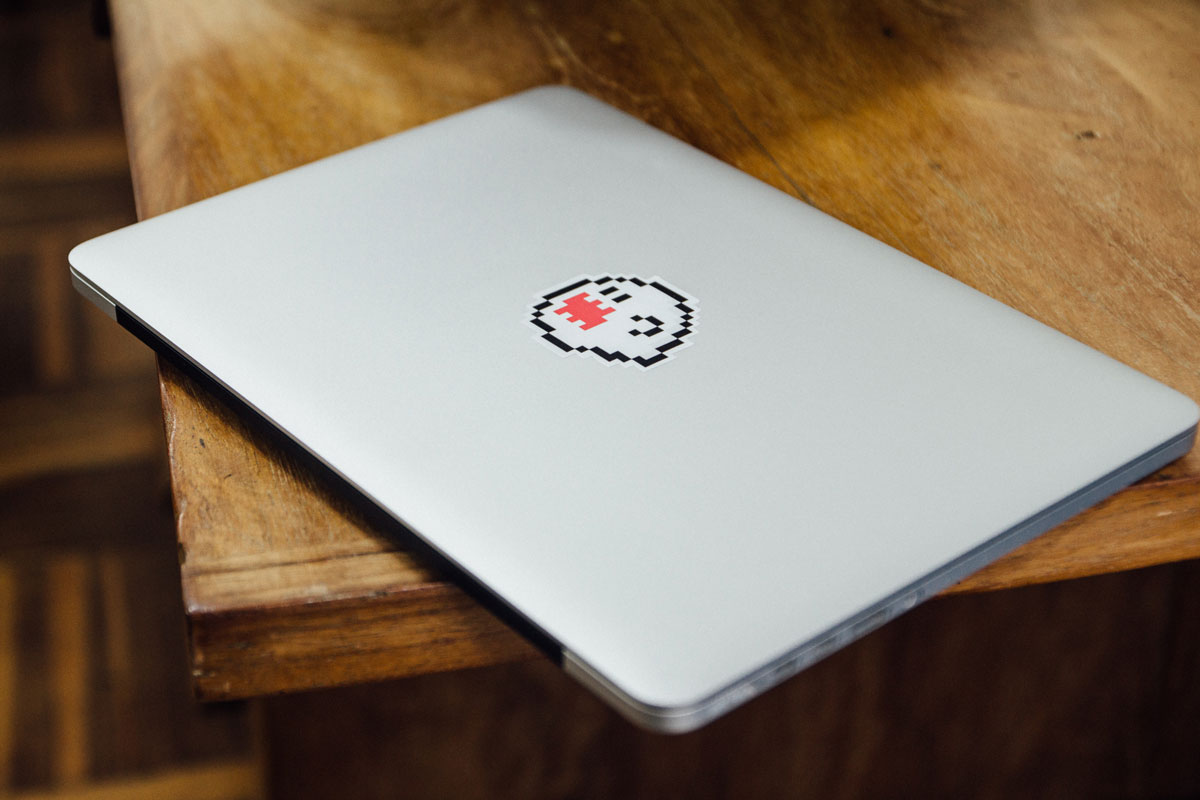 My second setup is my mobile setup. I usually have to go to events or conferences, and, as such, I need a portable computer. I had a Macbook Air (2012 model), which I recently replaced with a new Macbook Pro 13-inch (2015) — loving the Force Touch so far! It's a great, portable and powerful Macbook. And the best thing is that it only adds a little bit of bulk and weight to what I was used to carrying. I ended up going for the 256 GB version because 128 GBs is just not enough.
Where can we find your OS X wallpaper?
Here's the rotation of Wallpapers I'm currently using right now.
What software do you use and for what do you use it?
For daily use:
As mentioned while describing my setup, I rely on Synergy to connect both my iMac and my Windows 10 tablet seamlessly. BetterTouchTool is also an important part of my setup because it allows me to do many gestures with either the Magic Mouse or the MacBook Pro trackpad. That wouldn't be possible with the default gestures Apple has enabled. With the enhanced gestures, I can switch between tabs in a browser, close said tabs, and much more.
And even though OS X El Capitan has improved Spotlight, it still lags behind the awesomeness that is Alfred 2. Besides App Launching, Alfred is really amazing once you get some Workflows for it. For example, typing "Movies" automatically launches a Worflow that searches for the movie title and gives me back results about the IMDB rating, RT rating, main actors, and more. Whenever I type "TR," Alfred does a Google Translate of whatever word or phrase. And all of this is done from Alfred without needing a browser window. It's magic. Or, at least, what I always wanted Quicksilver to be but couldn't get it to work properly.
For writing:
MarsEdit is hands-down the best blogging tool available on the Mac. It offers great integration with WordPress, and I prefer it over the web interface. It's less cluttered, but still simple. I use it every time I have to write a quick article. For more in-depth stuff, I rely on Byword, which is great for writing without interruptions. Oh, and it integrates neatly with MarsEdit.
Oh, and Evernote is also an integral part of my setup. Every article, every idea, and every list resides in my Evernote account.
How would your ideal setup look and function?
I'd love to change my iMac for a new Retina iMac 27″. Oh, and replace my Windows 10 tablet with a Surface Pro 4.
---
What iPhone do you have?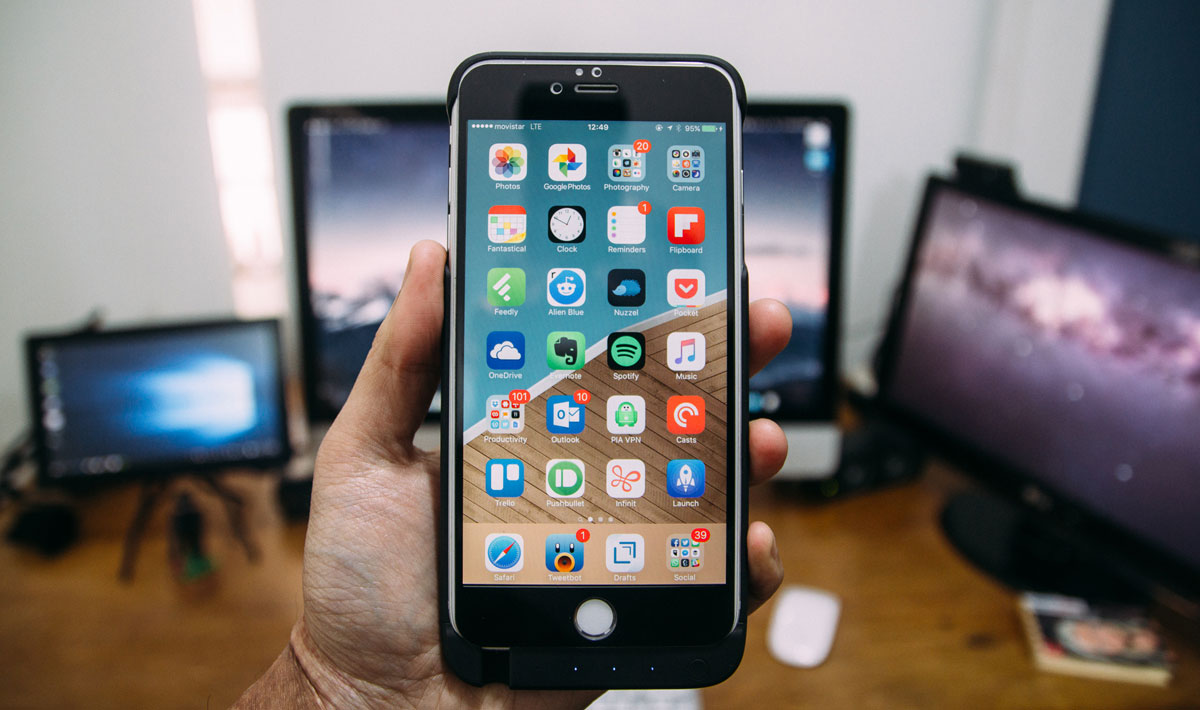 My current iPhone is the iPhone 6 Plus 64 GB. I have it outfitted with an external battery (4000 mAh) which allows me to recharge the iPhone anywhere I am.
Where can we find your wallpaper online?
You can find my wallpaper at papers.co. Specifically, I use this one now.
What apps do you use the most, and why?
My most used apps are Alien Blue (I just love Reddit, and Alien Blue is still the best app for it), Outlook for emailing (best mail app in my opinion), Pocket Casts for listening to podcasts. I also use Pocket daily for reading articles later.
Drafts is also essential for me since everything I write start at Drafts (and usually ends up in Evernote).
One thing I can no longer live without are the App Extensions that iOS 8 brought. I use them daily to post stuff to social media (through HootSuite or Buffer), right from their app extensions.
Which app could you not live without?
That would be Evernote. Evernote has become an essential part of my life. At first, it was hard to find uses for it, but once you commit to using it exclusively for everything that involves lists, or writing, it really starts to shine. It also has a great search engine.
---
Which iPad do you have?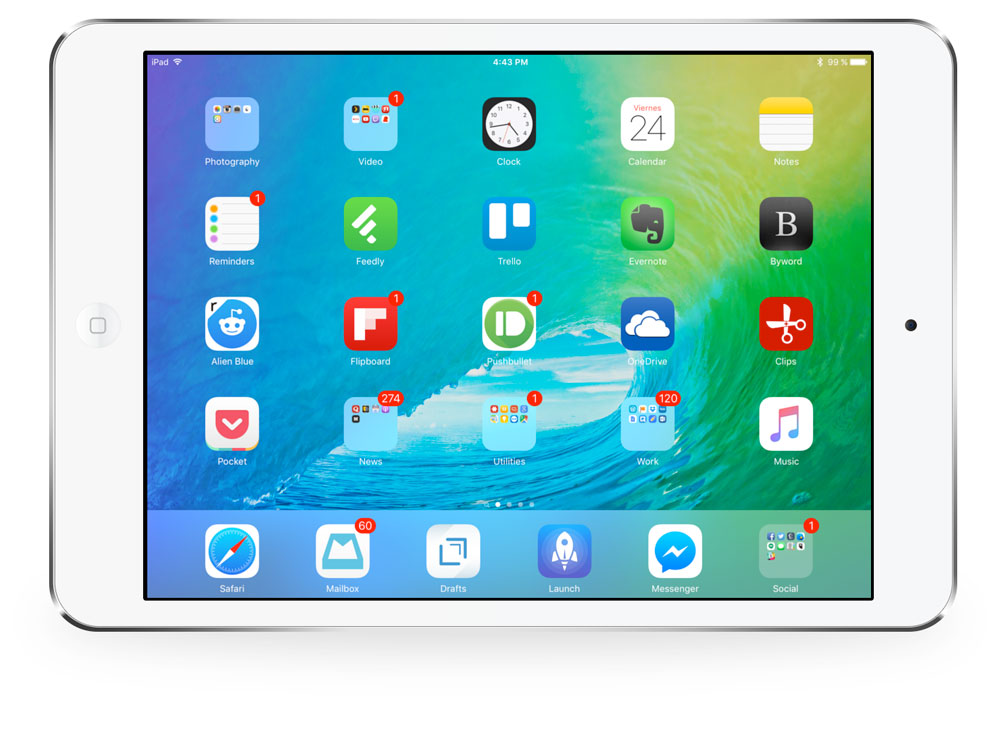 I own an iPad Mini 2 32 GB and use a Logitech Ultrathin Mini Keyboard.
How are you using your iPad on a daily basis?
I use it mostly to catch up on news, watch videos, and read my Pocket queue. I also find it to be a great device for reading books.
What apps do you use the most, and why?
My iPad usage is pretty similar to my iPhone. It's mainly a Drafts / Evernote machine, but complemented by tons of reading on the Amazon Kindle app, Feedly, and Flipboard.
Because I use it with a keyboard, many articles on my blog begin as a brainstorm session on the iPad. Because of its portability, and single-task nature, it's a great tool for when you want to focus on something.
Which app could you not live without?
On the iPad, I'd say Trello. Trello by itself is great as a way to organize things to do or do some planning. On the iPad, however, it's a great tool because I can have Trello open at all times next to my computer. Plus, sliding cards from the "To Do" to the "Done" columns (as per Kanban standards) is much more satisfying on a touch screen.
---
There are more Sweet Setup interviews right here.