The Twelve South StayGo USB-C Hub Review
August 8, 2019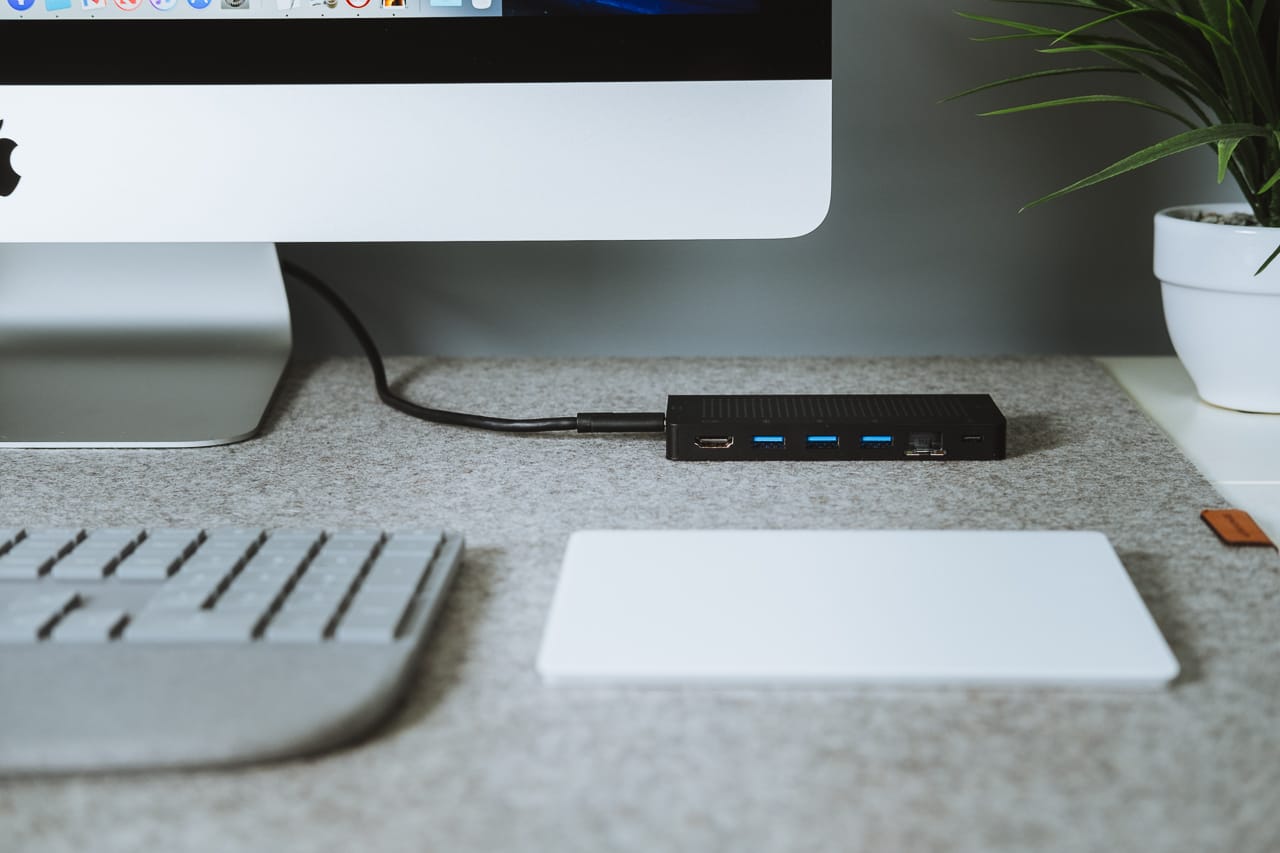 "Think different."
In a world of homogenized, dime-a-dozen products, standing out from the crowd is difficult to do. In the computer and tech world, I'm thinking about computer mice, standard keyboards, hard drives — all products that everyone needs and where differentiation is hard to come by. (Admittedly, preference, at least when it comes to keyboards, is beyond measurement.)
USB-C docks are slowly falling into this category. I haven't been able to keep straight the number of nearly-identical USB-C docks from the likes of Aukey, HooToo, OWC, Vava, Satechi, or this one from BoltHub. To me, they all look the same, and I am not overly happy with the Satechi hub I purchased for the 12-inch MacBook a few years ago.
So with that hovering around in the background, I was skeptical of a USB-C dock from Twelve South — mainly quality and port selection skepticism — and doubly skeptical when I saw the initial price tag.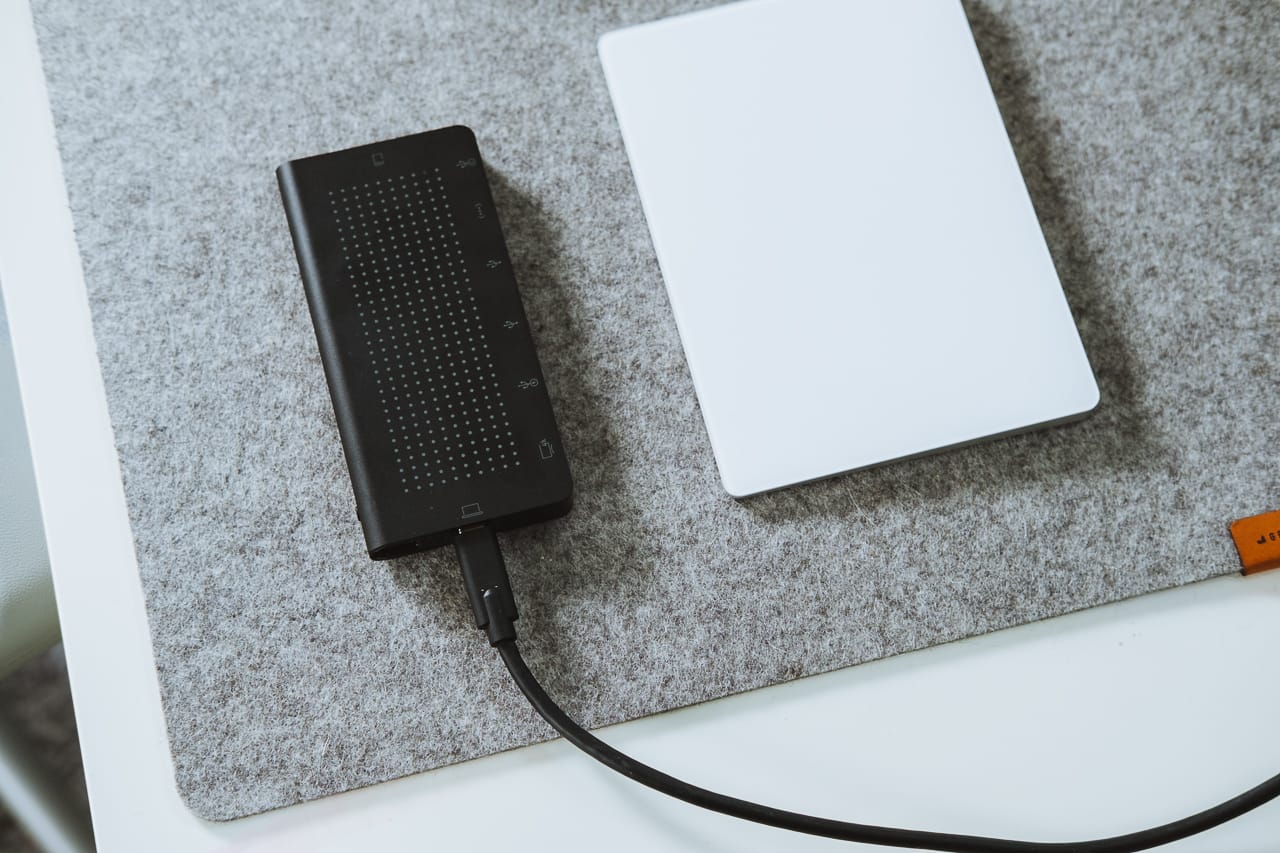 But like everything else Twelve South has launched in the last few years, their new StayGo USB-C hub finds a way to justify its existence — both in price and in differentiation.
Editor's Note: The Twelve South StayGo was provided by Twelve South for the purposes of review.
A Worthy Build Quality
I've frowned upon my Satechi USB-C hub for years now. I pushed an SD card into the slot a little too hard (which wasn't very hard, I might add) a few years back and the entire hub slid out of its casing. It still works, but it wasn't hard to damage.
Twelve South's StayGo's build quality far, far, far surpasses that of the Satechi hub, and likely surpasses most of the other USB-C docks on the market as well.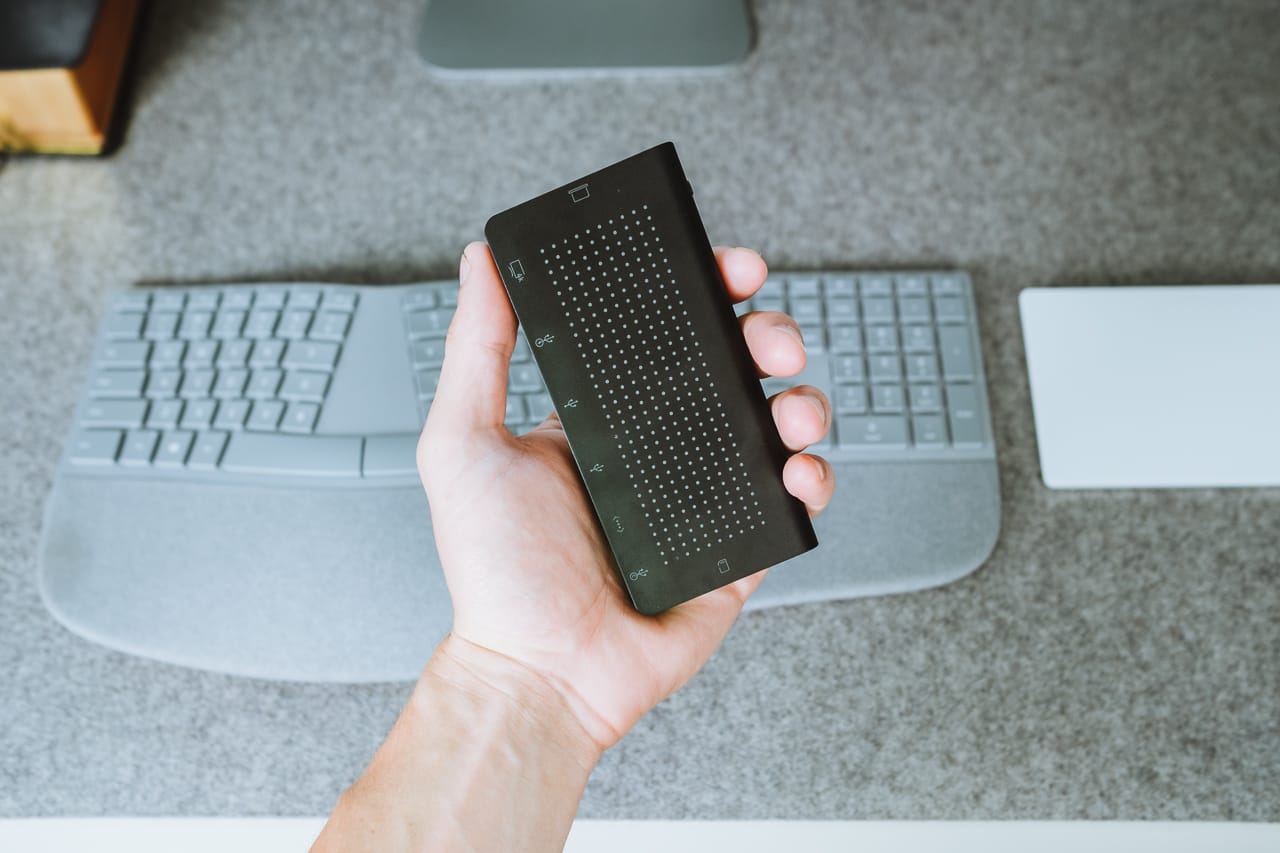 First off, the StayGo is heavy. Not brick-heavy, but noticeable-heavy. It's like that feeling when you're used to writing with Bic pens and then you hold a heavy pen like a Pilot Vanishing Point in your hand. Thicker, heavier, denser — they all make the StayGo feel like a premium product.
The same premise extends to the included USB-C cords — both a short travel cord built right into the dock and a "desk" cord that measures about a meter in length. Both are thick and evidently durable and feel like more expensive Thunderbolt 3 cables which cost $50+.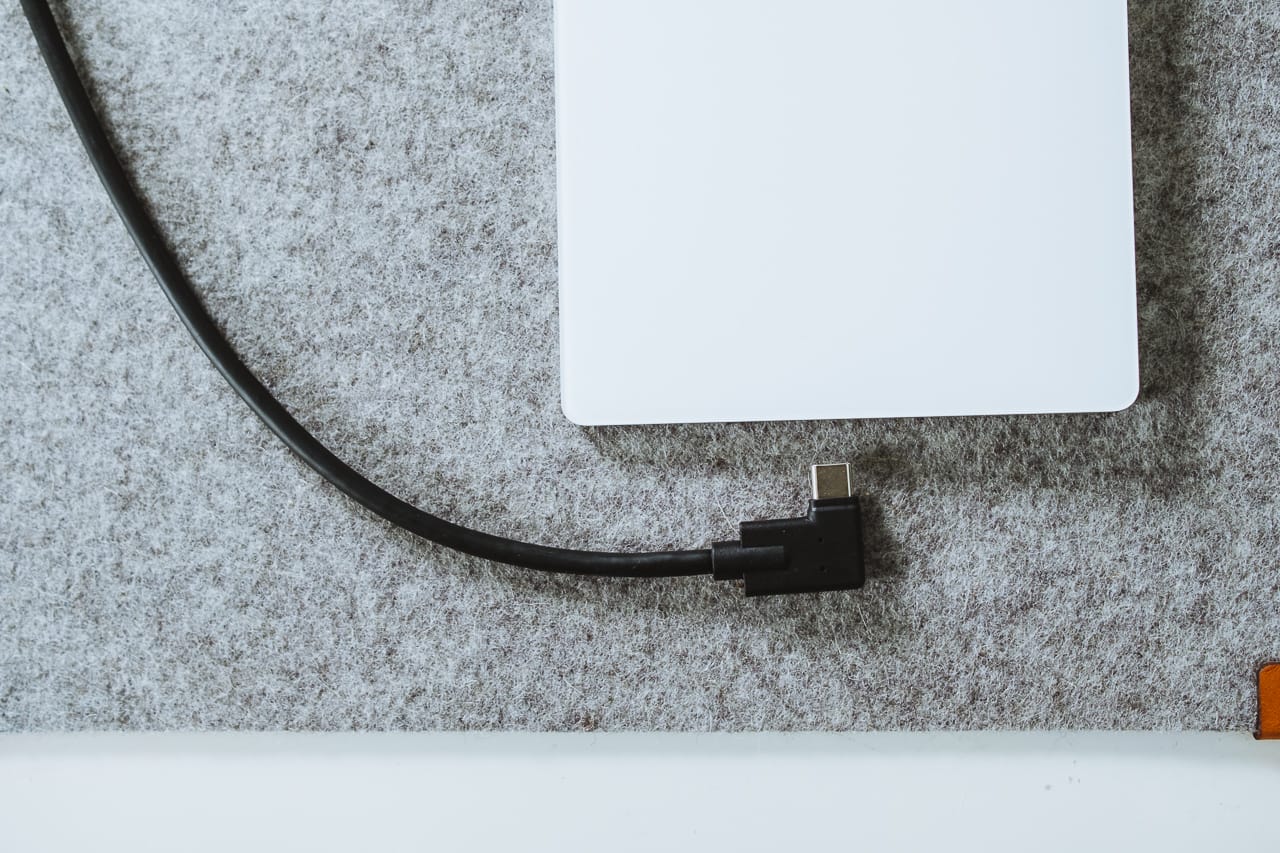 In fact, Twelve South's attention to detail with these cords is likely unprecedented. The longer cord sports a 90-degree connector, enabling it to connect in those hard-to-reach areas. And the shorter travel cord has a little nub on the side to slide it in and out of the StayGo with ease.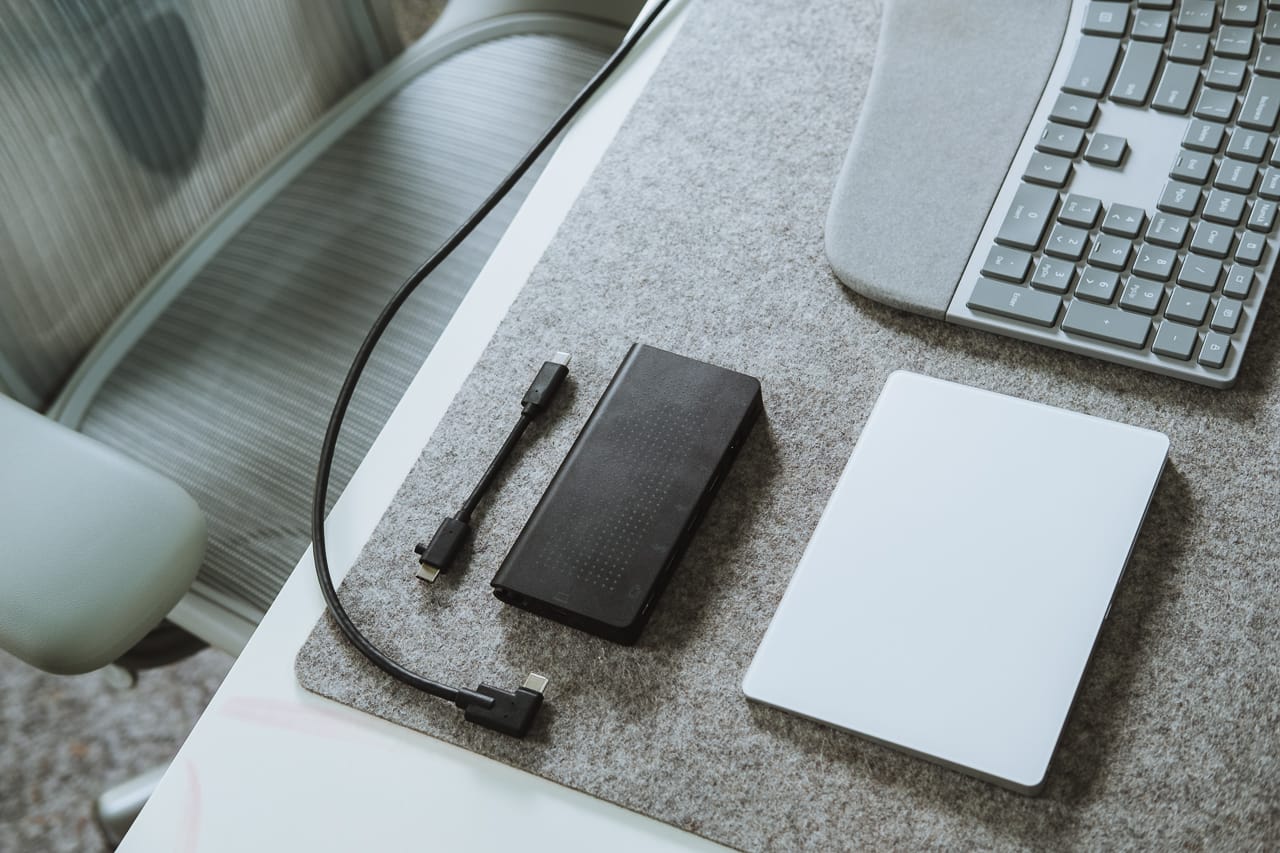 If all companies paid as much attention to detail on their base products as Twelve South paid to the StayGo cables, we'd all be a lot happier with our product purchases.
I/O Ports and Functionality
I'm clearly the only person out there who doesn't need a Display Port connector. So many USB-C docks come with a DisplayPort/Mini DisplayPort connection that goes unused on my desk 100% of the time. Even HDMI in many instances is a waste, but this I can see being more essential for a broader range of people.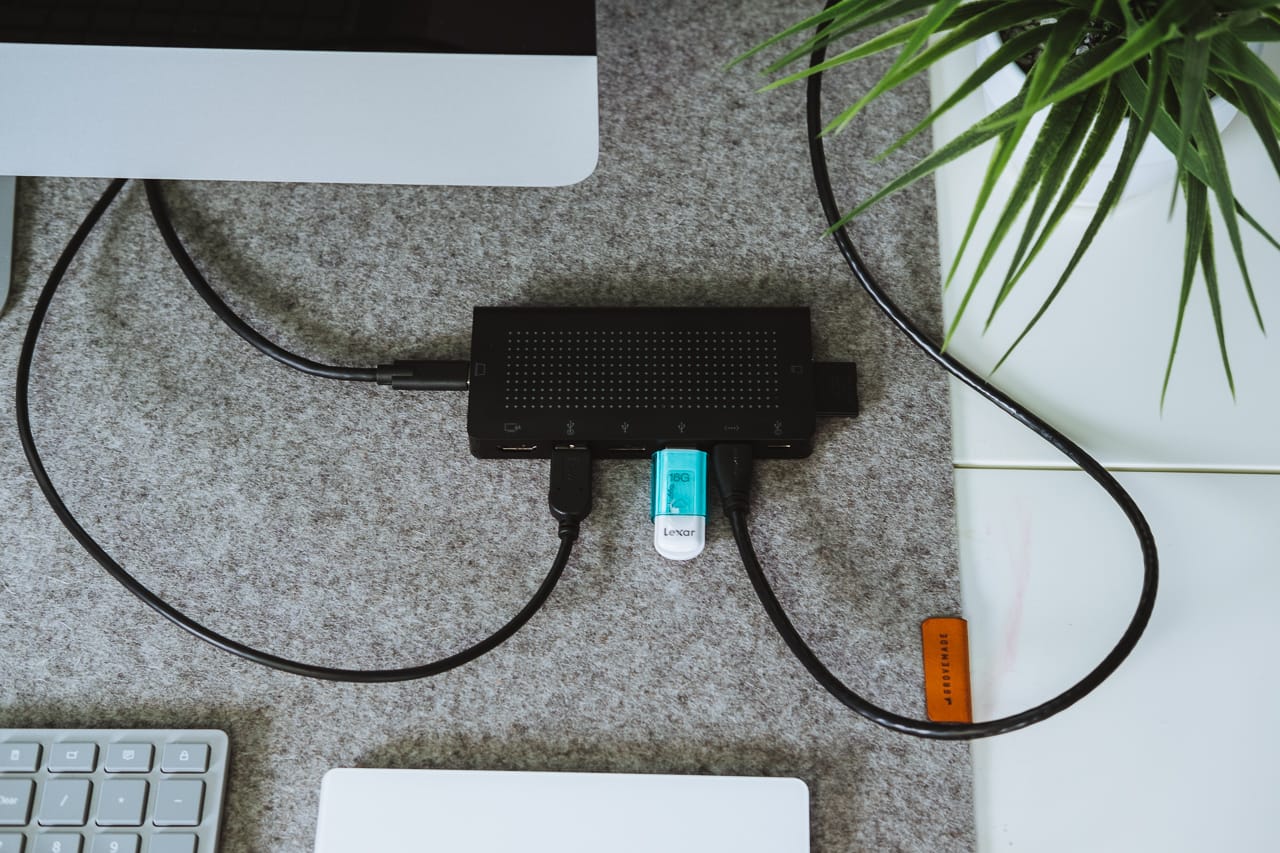 Fortunately, the StayGo foregoes the (Mini) DisplayPort connector in favor of a range of ports that should meet the needs of a general group of users. Connections include:
4K HDMI
Gigabit Ethernet
USB-A 3.0 (x3)
Independent SD and Micro-SD card slots
85W USB-C pass-thru power
All three of the USB-A ports are super-speed 5Gbps ports designed for the fastest USB 3.0 hard drives, while one port has the ability to fast charge devices with BC 1.2 7.5W Fast Charge capabilities. The Gigabit Ethernet port supports 10/100/1000Mbps speeds with a standard RJ45 connector and the 4K HDMI port supports 4K x 2K resolutions @ 30Hz. Finally, the SD card slots are rated as UHS-I ready, not the UHS-II ready connector that an increasing number of SD cards are requiring.
Each of these ports meets the needs of a general audience and don't include faster or higher quality features. We don't have 10,000Mbps ethernet speeds here, nor do we have 60Hz functionality in the 4K HDMI port. I wouldn't view these as compromises. It would be rare that the average person would need these types of connections, but some may find the lack of these ports to be dealbreakers if they're working in a demanding environment. But if that's the case, they're probably better off with something like the CalDigit TS3 Plus Thunderbolt 3 Dock.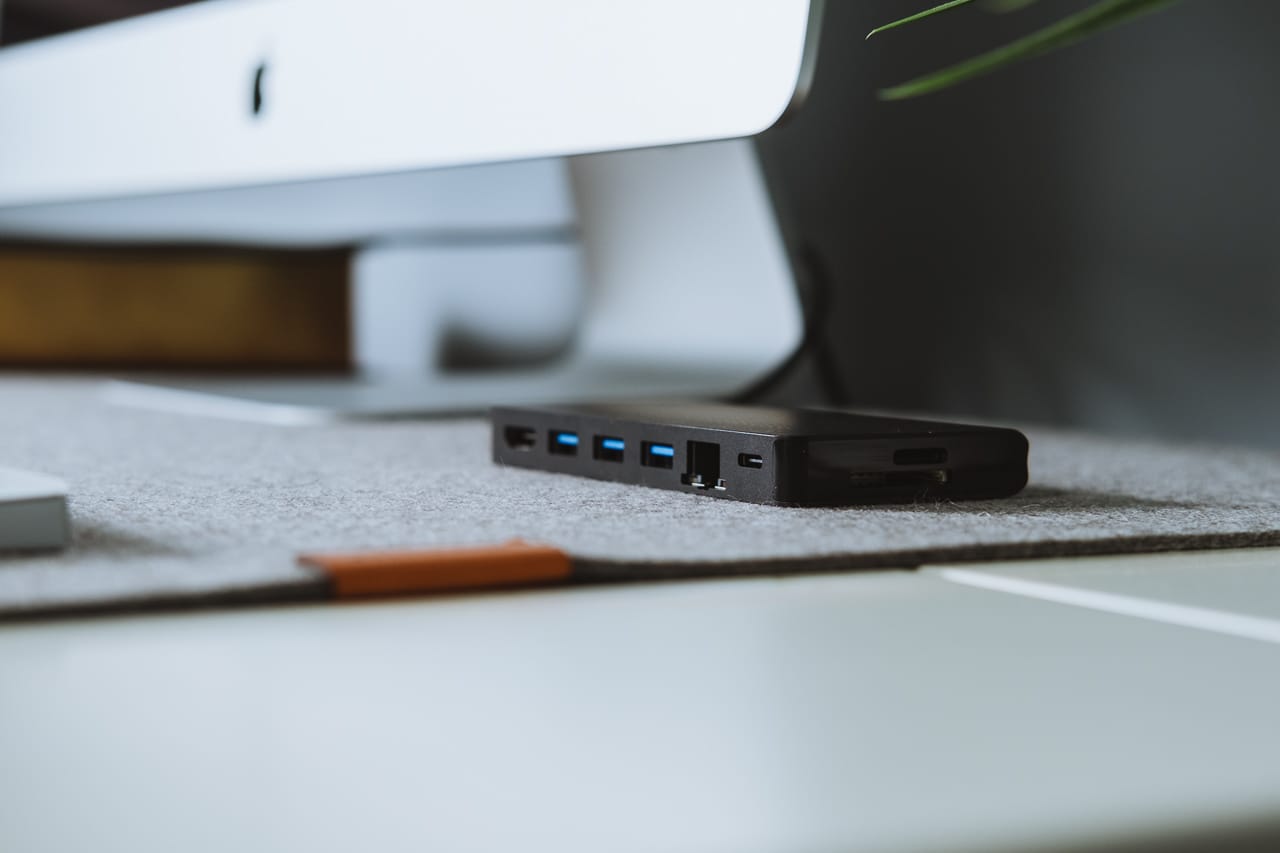 Nowhere is this more evident than in the USB-C power pass-through port. The USB-C port can take in 100W maximum USB-C power input, utilizes 15W for its own purposes, and passes 85W to your device. For those using a MacBook (for whom the StayGo is likely specifically designed), this means you can have 8 attached devices and power, all with the standard charging brick shipped with your MacBook Pro.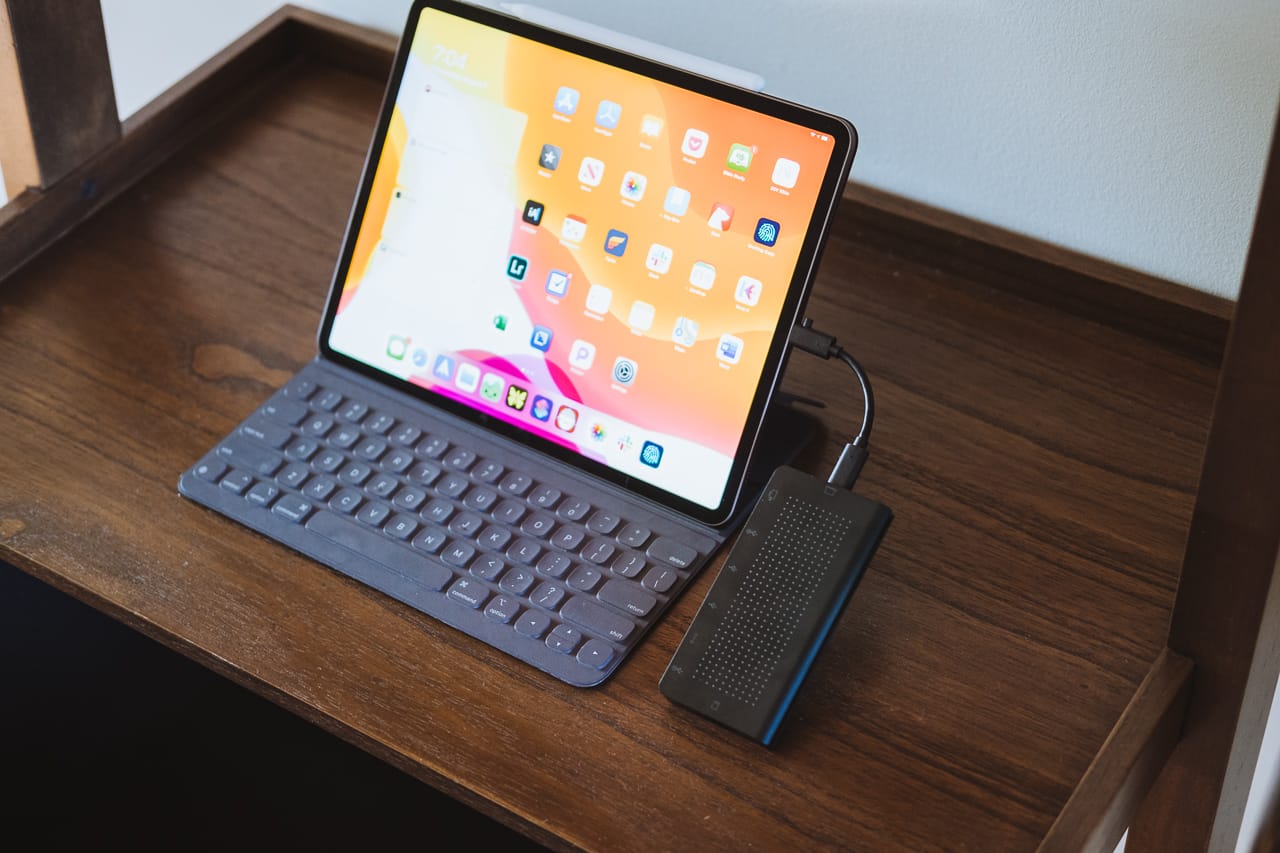 For those who plan to use the StayGo specifically with the iPad Pro, you're in for a small buzzkill. The puny 18W standard charger shipped with the iPad Pro comes nowhere close to being able to charge your iPad through the StayGo. Pass-through USB-C charging for the iPad Pro and StayGo requires a more powerful charger. (Also note that the small travel cord doesn't work overly well with the iPad Pro either (as seen above). While this works in practice, it's not an ideal way to use the StayGo on the go with the iPad Pro.)
My original intention for the StayGo was to connect it to my iPad Pro at the office, opening up a wide world of wired ethernet, USB-A ports, SD card slots, and even, in a pinch, an HDMI monitor. To make this dream come true, I'm going to have to buy a more powerful charger to get the job done.
Some Other Miscellaneous Thoughts on the StayGo
"Compromises" (if you will) aside, there's a lot to like in the Twelve South StayGo beyond build quality and cord quality. And, on my end, these are the reasons why I'm going to buy that more powerful charger just so I can use the StayGo at my office.
Port Quality: While great build quality generally sums up the entire StayGo's body, each individual port also has fantastic quality. The ethernet port clicks into place and provides only a little cord wiggle. The USB-A ports also feel great and provide even less cord wiggle, and the SD card slot is probably the best of all. You can feel the SD card slide into the slot with a confident click and there's no questioning whether the SD card is in place. My Satechi USB-C hub in particular has terrible port quality and Twelve South's execution here is a breath of fresh air.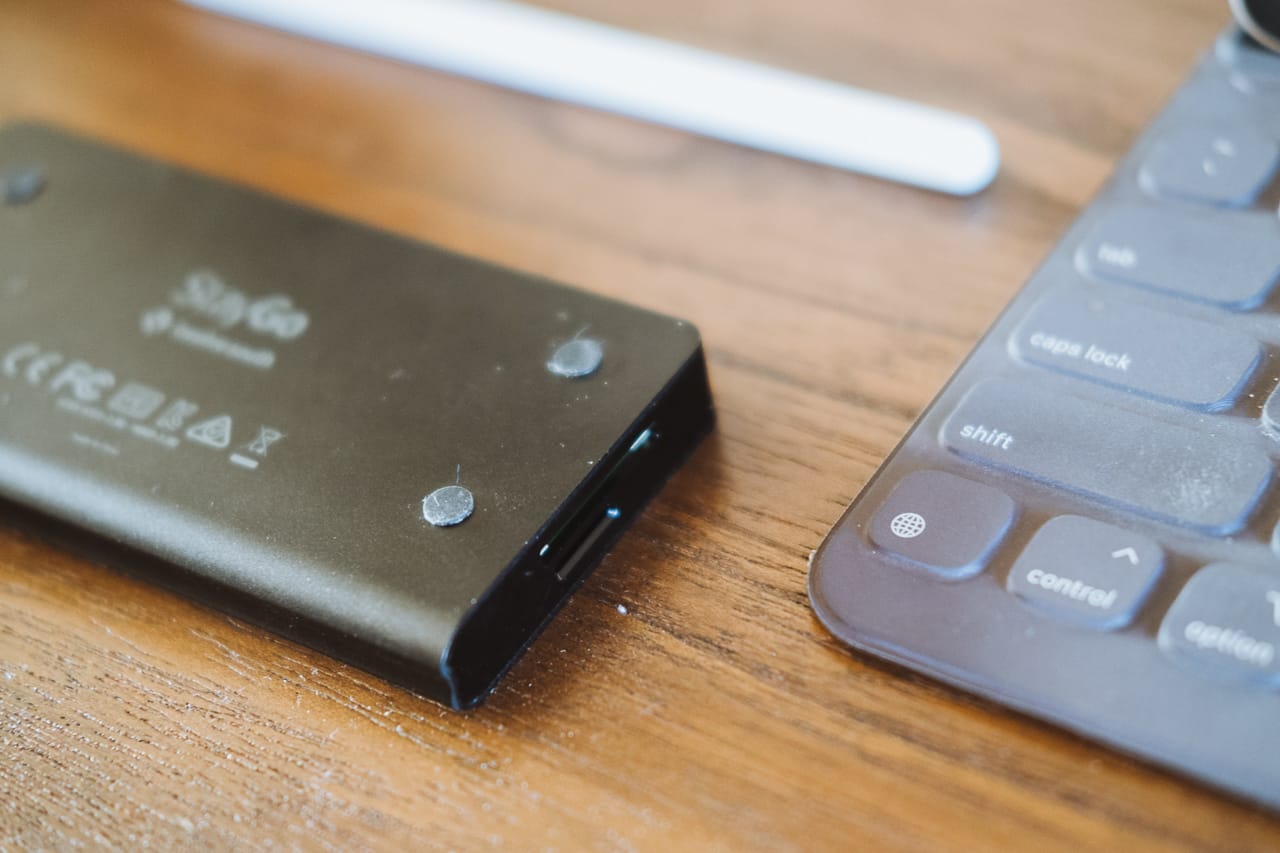 Bottom Rubber Feet: The bottom-side of the StayGo has four rubber feet to increase friction with your desk and keep the StayGo in place. These types of rubber feet are usually just placeholders and provide next to no stability on your desk (I had a Apple Magic Keyboard in the past with "rubber feet" that slid all over my glossy desk). The StayGo's feet are super friction-y. Bottom-heavy cables aren't going to easily pull this USB-C dock off your desk. The only way I see this dock moving is if you're hanging a heavier portable hard drive from the StayGo off the side of your desk.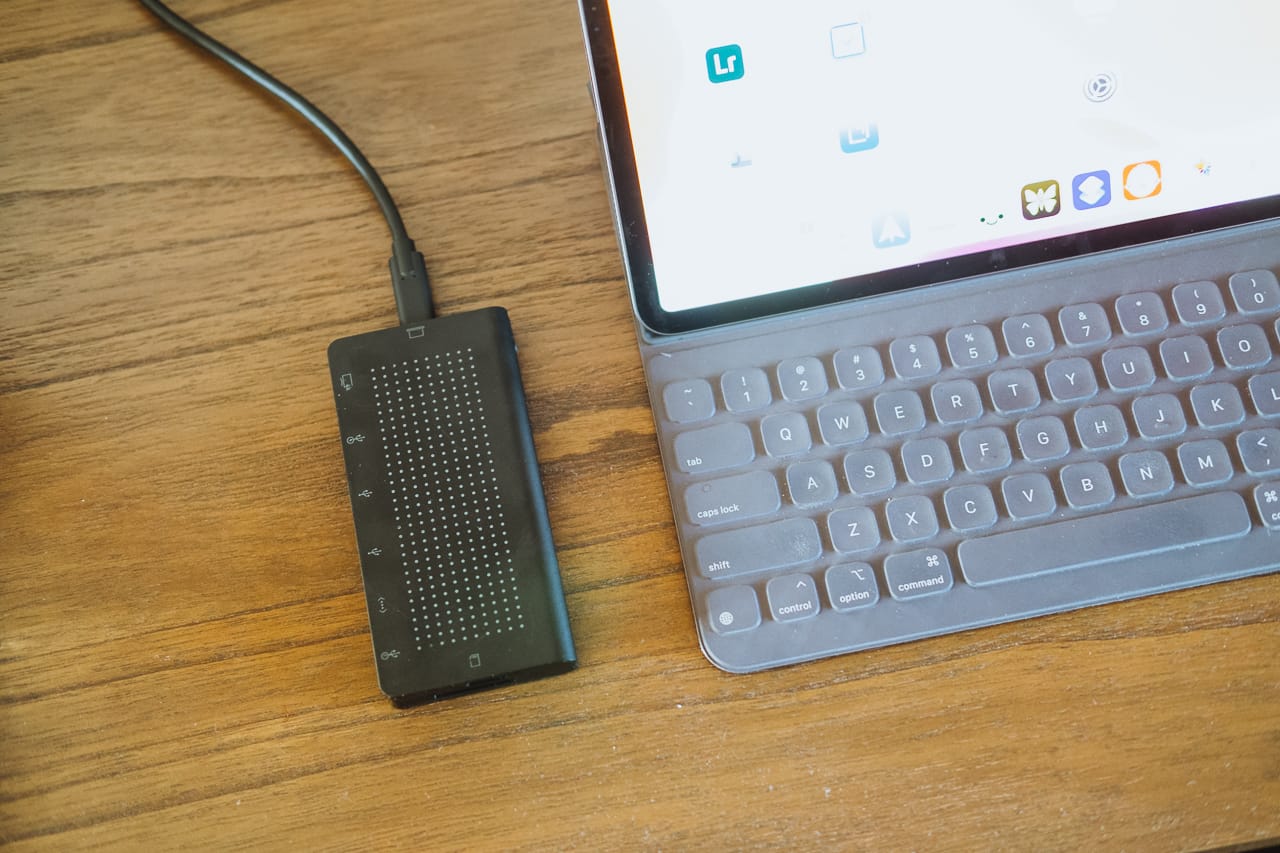 iPad Pro Ready: I've alluded to this already, but while USB-C docks might immediately register as Mac accessories, I fully intend on using this with my iPad Pro only. With iPadOS, the StayGo is particularly handy for connecting to a TV to showcase a Powerpoint presentation or video, while still being able to navigate from a far-off couch or chair with an external keyboard and Bluetooth mouse. For those who do more demanding online gaming, the ability to utilize gigabit ethernet and pass-through power will enable long hours of online/mobile gaming.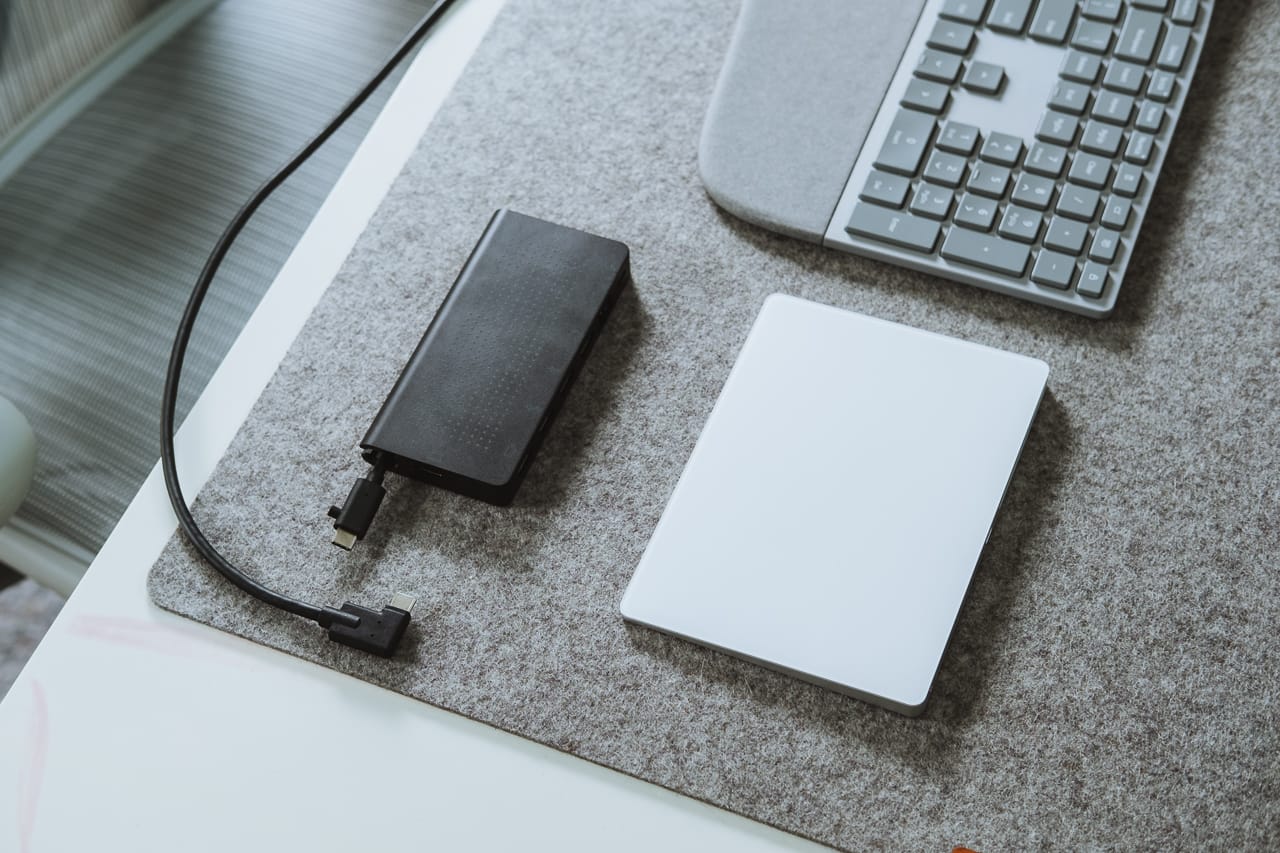 Portability: The StayGo comes with the built-in travel cord so you don't have to pack a variety of long, tangly cords in your bag. The travel cord is a bit short, but it'll work in 90% of travel scenarios. Further, the StayGo, while dense and somewhat large, at least in comparison to Apple's USB-C adapters, is likely smaller and far less obtrusive than having to carry 6 or 7 USB-C adapters in your bag. Although larger and heavier, I'd rather carry the StayGo in my day bag than 2 or 3 Apple USB-C adapters.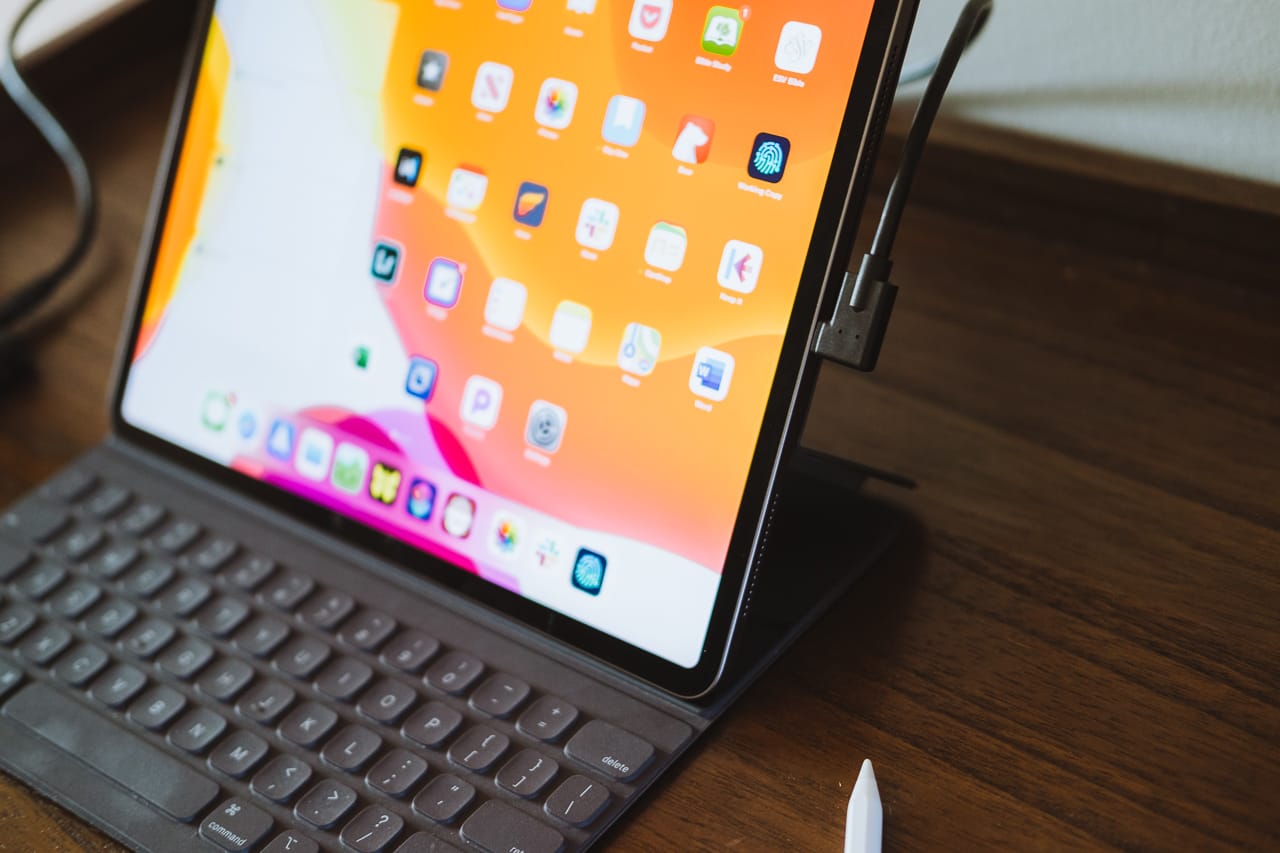 Black Cords and Build: My only complaint (other than the previously listed "compromises"): I wish the included cords and the StayGo itself came in a white color. This would better match my desk, personally, and it would fit in better with the white cord shipped with MacBook Pros.
Price
The Twelve South StayGo comes in at a nice and round $100 (well, $99.99), a little above the price tag of some other USB-C hubs on the market. You may get more ports in other USB-C docks, you may find cheaper prices, or you may find smaller, more accessible on-the-go USB docks, but for the price, I doubt you'll find this build and cord quality. I spent $50 on my Satechi USB-C hub a few years ago. Had I pushed just a little harder and broken it entirely, I would have to spend another $50 for the same lackluster port functionality.
I don't think I could break the StayGo — not easily, at least.
Wrap Up
How do you differentiate yourself from the wide world of USB-C hubs? By including an unmatched build quality, secure and confident ports, and ports that everyone will use. To add a cherry on top, you'll probably ship the best cords in the business and throw a small travel cord in to ensure it gets used both at home, at the office, and on the road.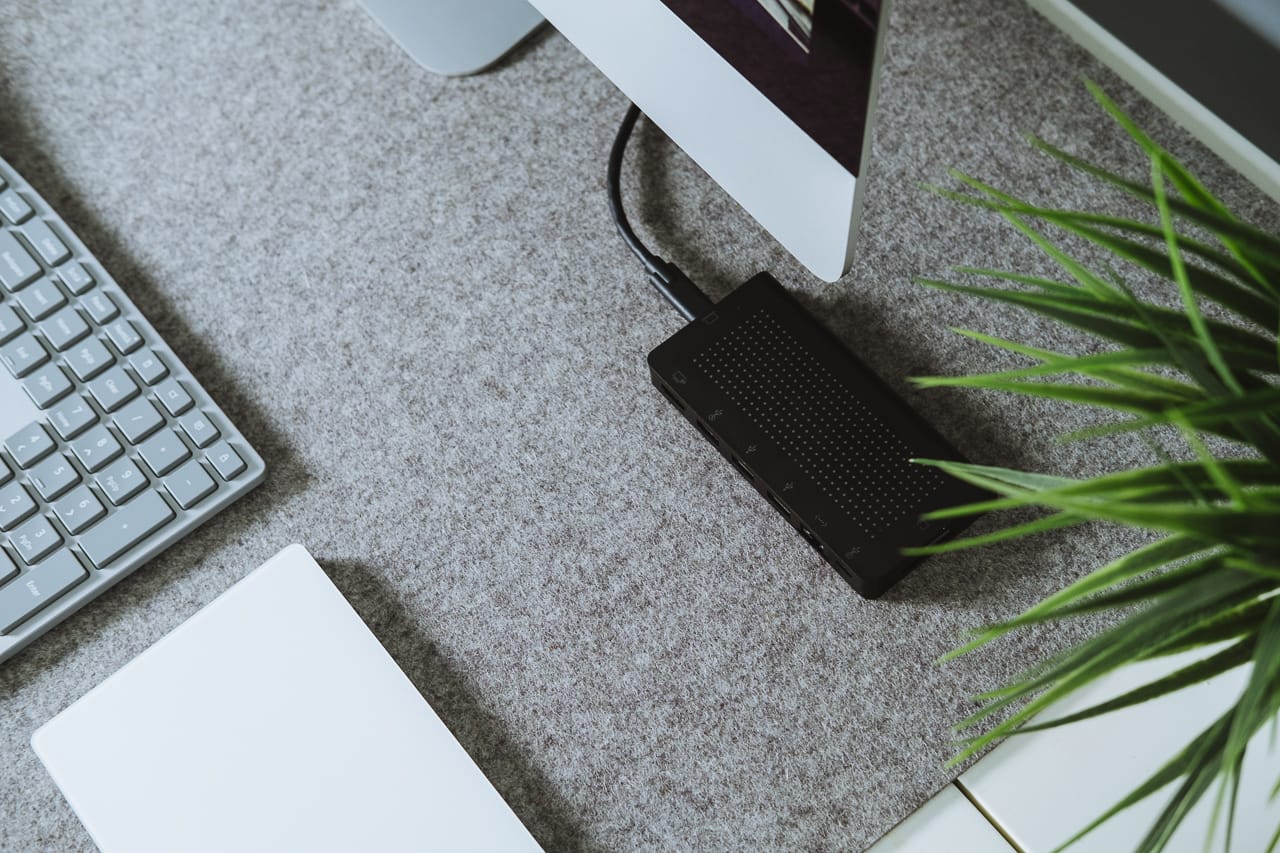 That's the Twelve South StayGo. The small "compromises" in the ethernet port, power pass-through port, 4K HDMI port, and SD card slots (again, if you call them compromises) are probably not deal-breakers for anyone considering the StayGo. And while $100 isn't cheap, I think this is one of the best-built peripheral devices I've put my hands on in recent years.
You can purchase the Twelve South StayGo directly from Twelve South or on Amazon for $99.99.
Wait. There's a Bonus…
Curated List of Must-Have Apps
We spend an inordinate amount of time sorting through hundreds of apps to find the very best. And based on our own usage, plus the feedback of our readers, we have put together a short list of our must-have, most-used apps in 2022.
You will get…
The current list of The Sweet Setup's top 8, must-have apps.
A special, pro tip for each app to help you save time and become more of a power user.
A hidden feature of each app that you may not have known about.
These apps work on iPad, iPhone, and Mac. And they range across several different categories but are mostly focused on productivity. We hope this will help you get the most out of your devices and your day.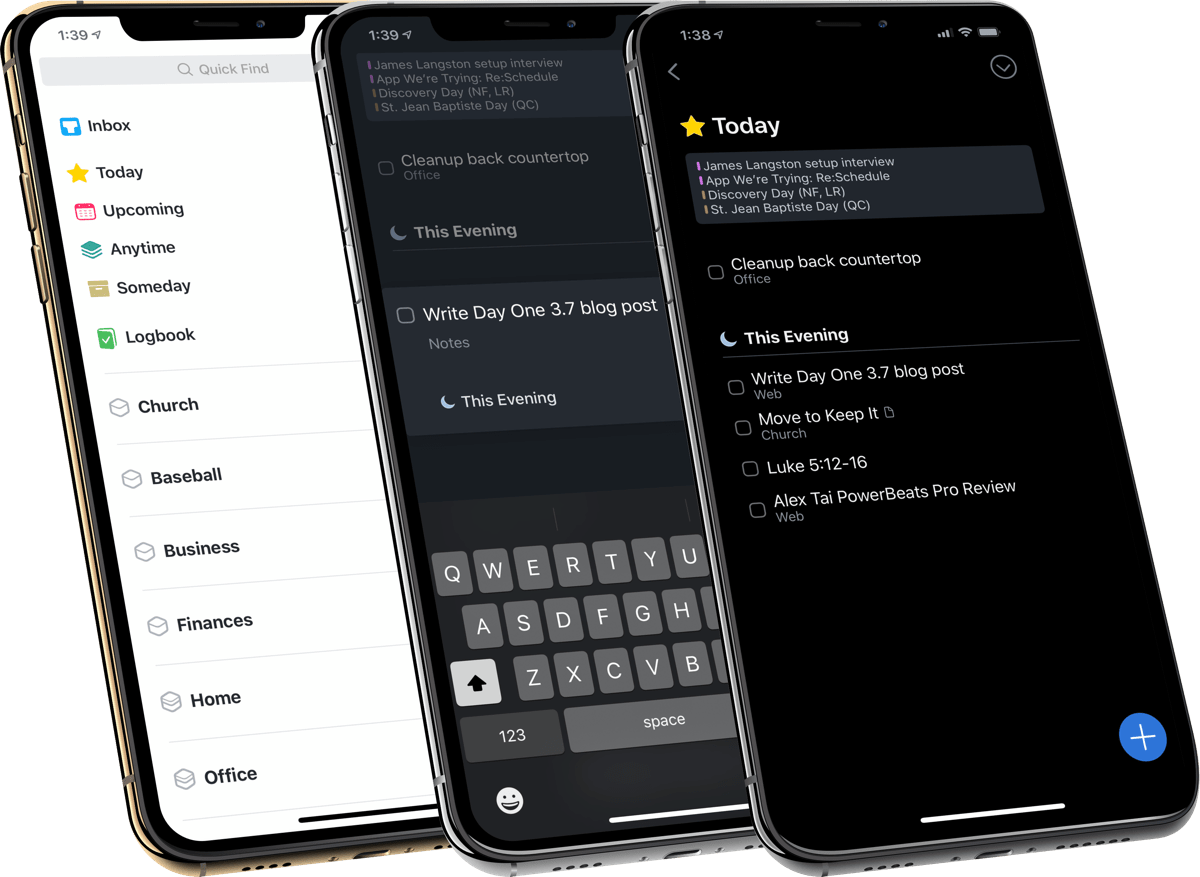 This guide is available for FREE to our email subscriber community. And you can get it right now. By joining the Sweet Setup community you'll also get access to our other guides, early previews to big new reviews and workflow articles we are working on, weekly roundups of our best content, and more.