The Twelve South HiRise Wireless Charger Review
July 18, 2019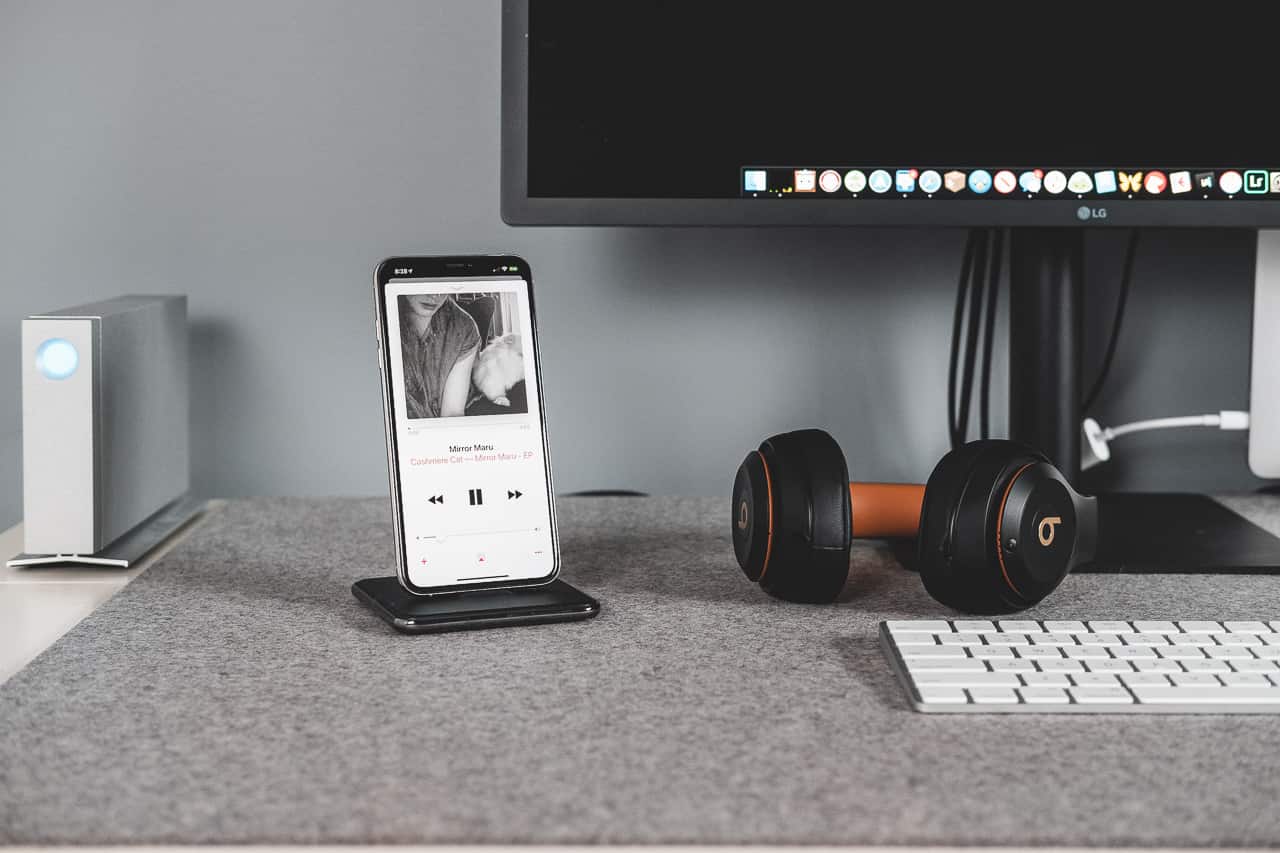 I've tried at least half a dozen wireless Qi chargers since the iPhone 8 and 8 Plus debuted two years ago with wireless charging capabilities. Without fail, those chargers have all been disappointing.
It started with Samsung's Wireless Charging Pad — a big, clunky charger that currently sits on my desk at the office. The build quality of the Wireless Charging Pad is disappointing, the bright blue light keeps a dark room lit throughout the night, and the size and weight make it difficult to take with you.
I have a Belkin Boost Up Wireless Charging Pad sitting on my nightstand at home. The Belkin is superior to Samsung's Wireless Charging Pad in every way — build quality is superior, the light isn't nearly as bright, and the somewhat tacky ring lining the top of the pad keeps your device relatively stationary during unwanted bumps. But that light still shines annoyingly in my eyes each night and there's nothing nice about the Boost Up's design, either.
Even Twelve South's PowerPic wireless charger left something to be desired. The picture frame design is very unique, but the bright light flashes throughout the night, setting up the PowerPic actually resulted in a sliced fingertip, and there's no way you can take the PowerPic with you on-the-go.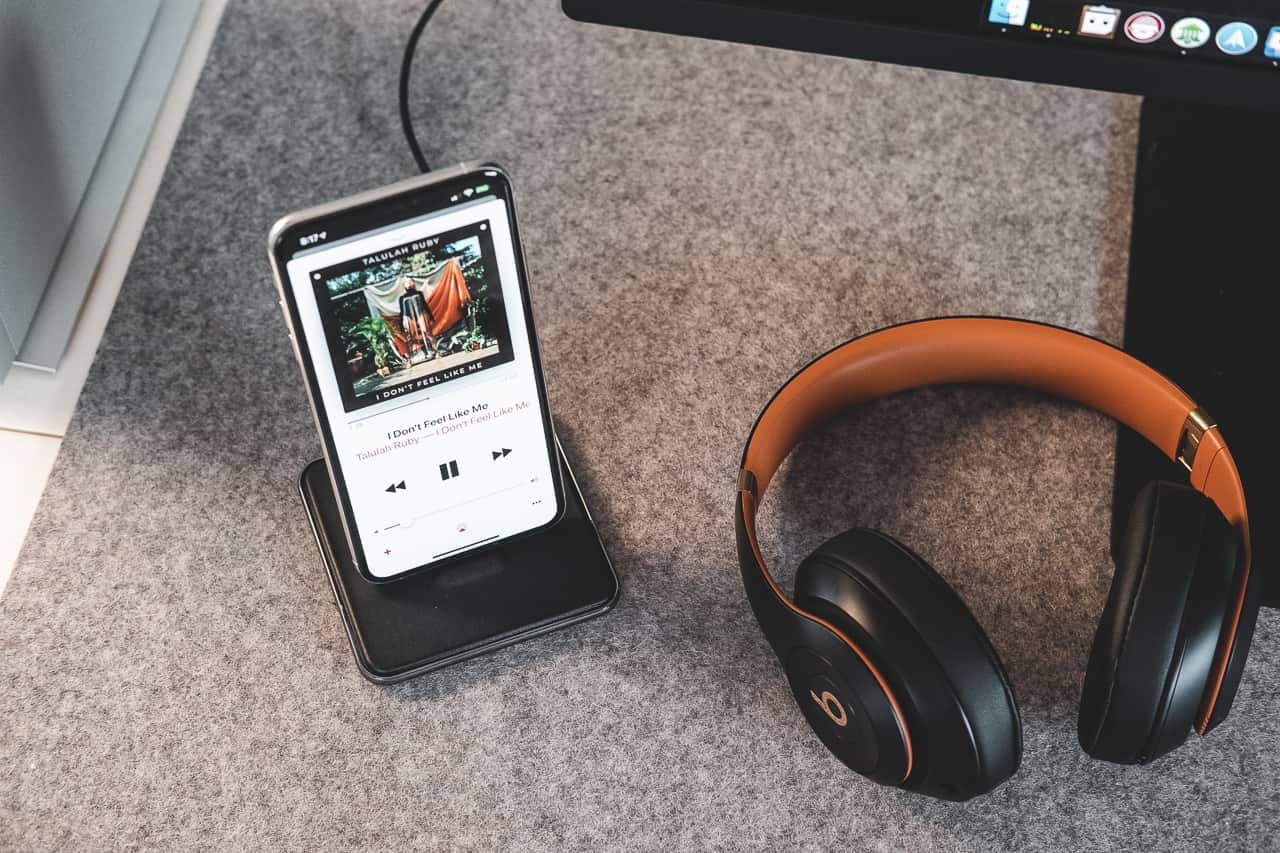 So when Twelve South's HiRise Wireless debuted a few weeks ago, it appeared like someone had finally created a near-perfect wireless charger. Twelve South's HiRise Wireless exceeds expectations in terms of design, materials and build quality, and ease of use — and best of all, it even ships with a handy travel feature for those who don't want to buy multiple chargers for at home and on the road.
Over two years later, I've finally found a good wireless charger that also happens to be a great travel charger to boot.
Editor's Note: Twelve South sent us this HiRise Wireless charger free of charge for purposes of review.
Design and Materials
Twelve South lists the HiRise Wireless's design and materials as the first stand-out feature on its marketing page, and this is — without a doubt — the element that stands out most.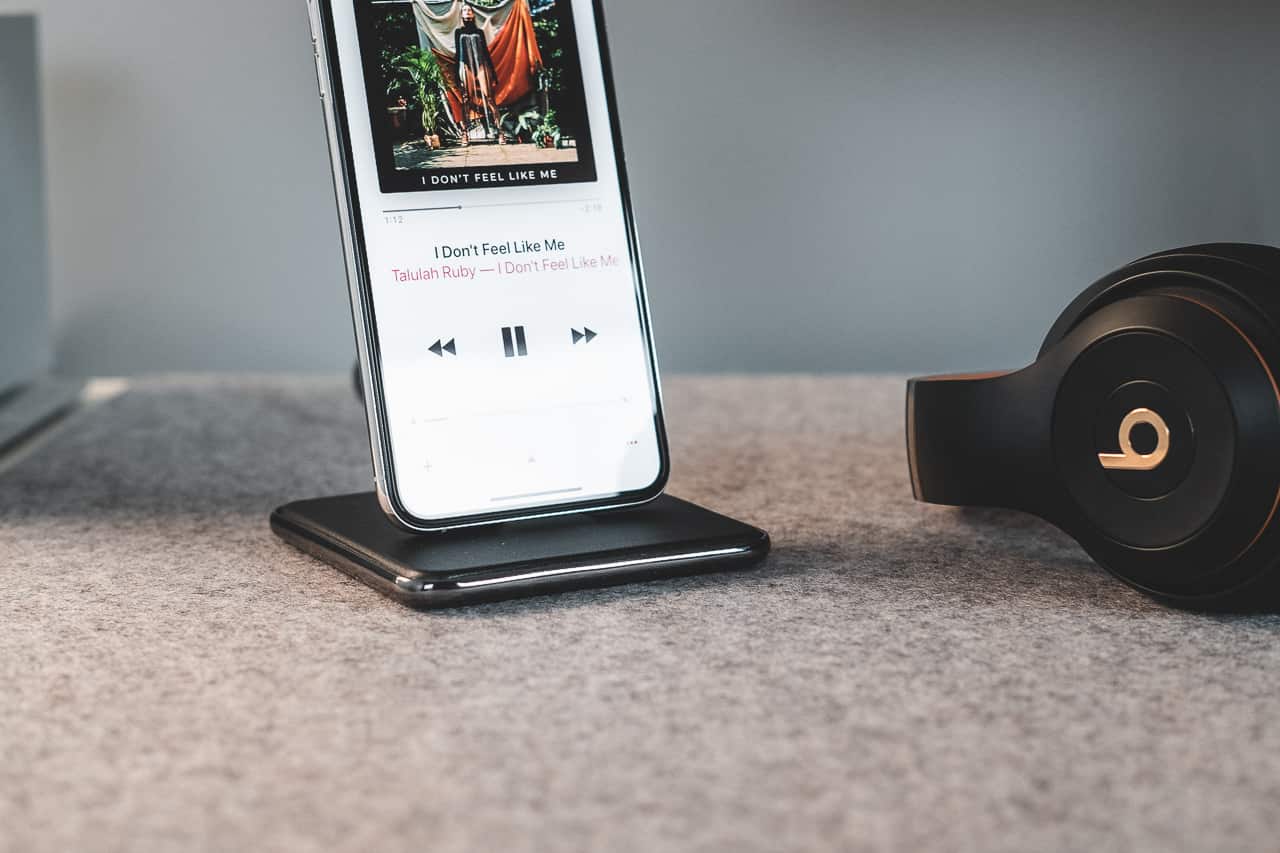 The base of the HiRise Wireless is made of solid metal, polished in a gunmetal silver finish, and is topped with a soft leather pad.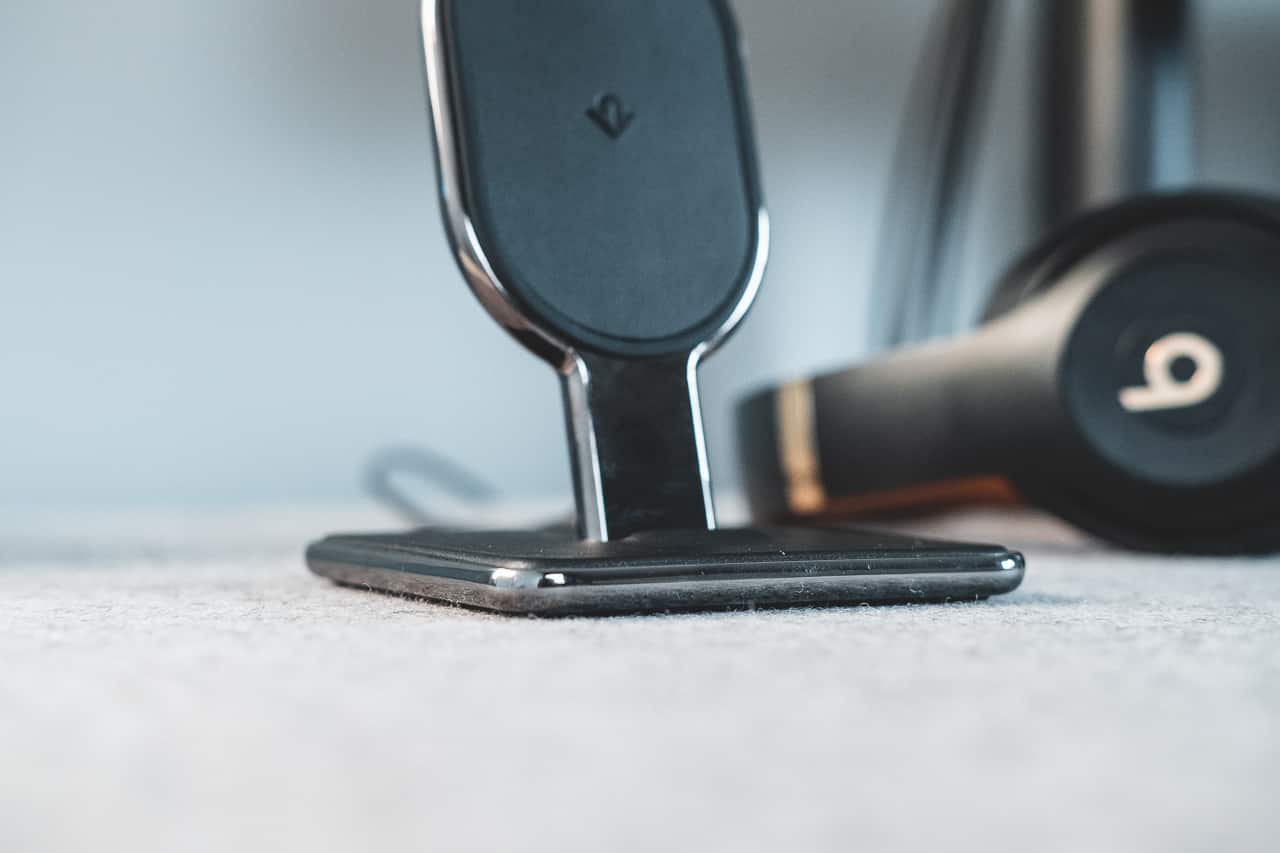 The solid metal base ensures the base is nice and heavy — a fundamental feature that almost all wireless chargers I've played with have screwed up. You're not going to slide the HiRise Wireless across your desk accidentally and grabbing your iPhone quickly won't result in accidental charger pickups either. This is something the old Henge Docks Gravitas iPhone/iPad dock did so well. That dock was a full 2.5 pounds, making it inordinately heavy. The HiRise Wireless is nowhere near 2.5 pounds, but it's surprisingly heavy nonetheless.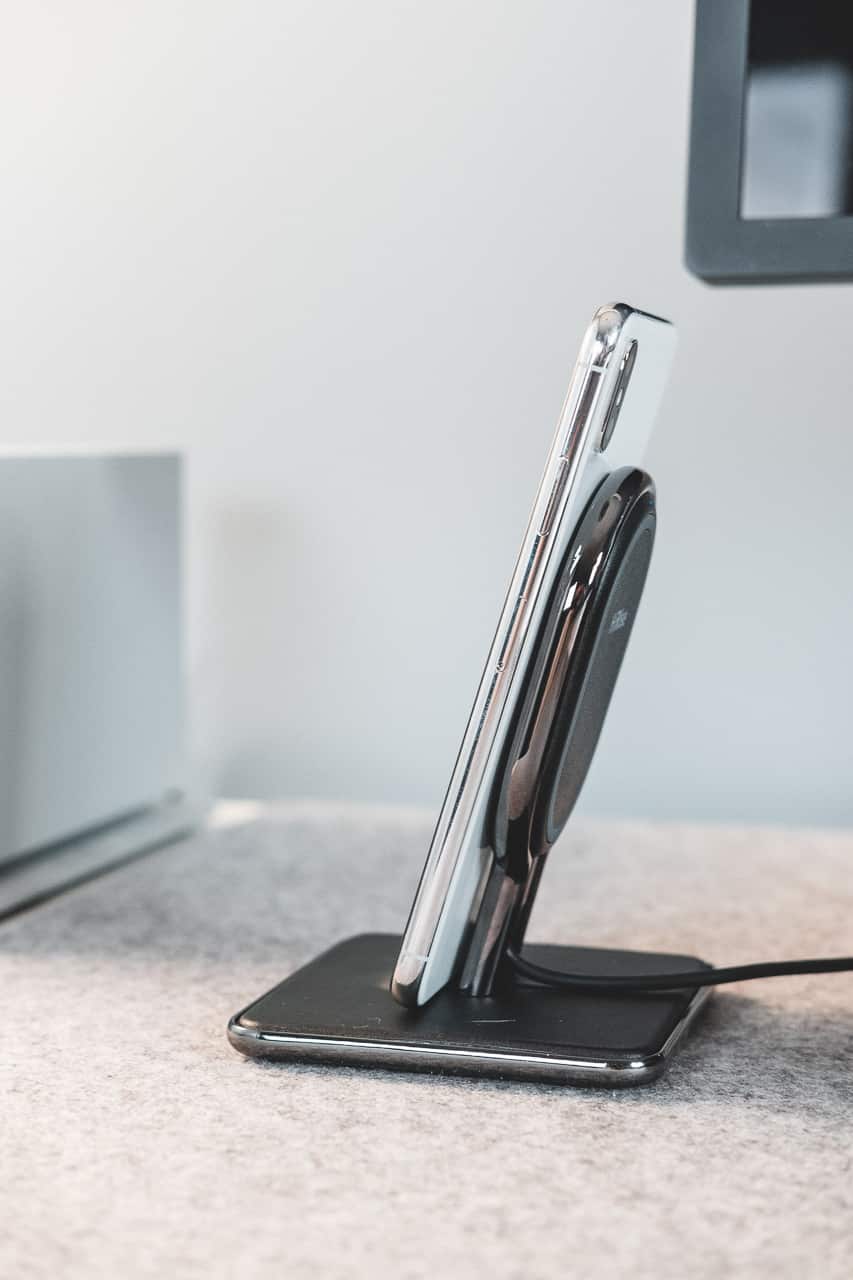 The HiRise Wireless is a vertical charging stand, meaning the charging pad rests inside the HiRise's stand. The stand itself appears to be made of a polished plastic, which is both necessary due to the realities of electrical charging and also somewhat disappointing, at least when standing next to the immaculately metal base.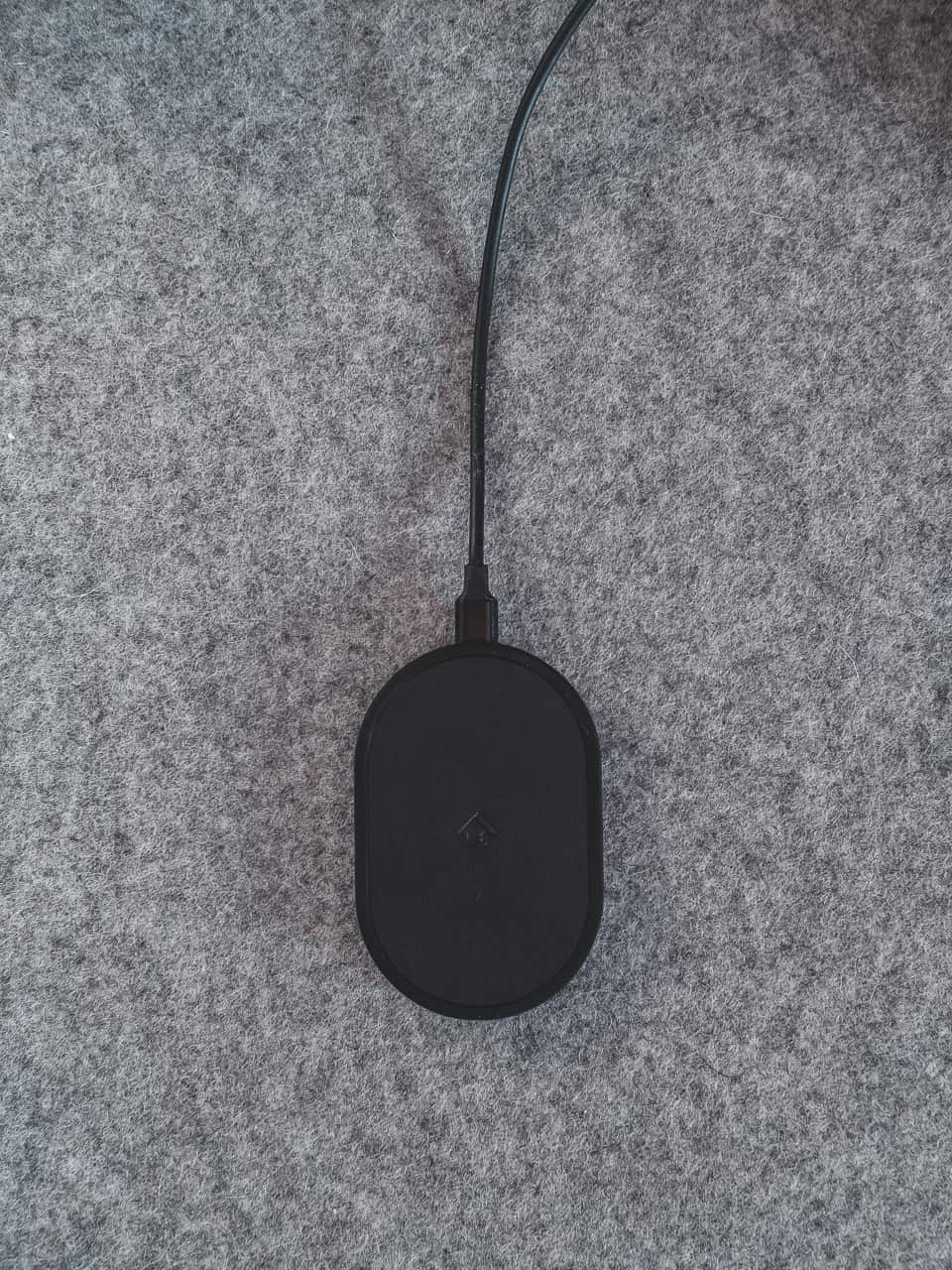 The charging pad — coined Power Disc — doesn't skimp on any material quality either. The pad feels like an artificial leather and is lined with a tacky ring to keep your device resting on the pad. The backside of the charger has the HiRise logo and a second tacky ring for keeping the charger in place on your desk or nightstand if resting on its back.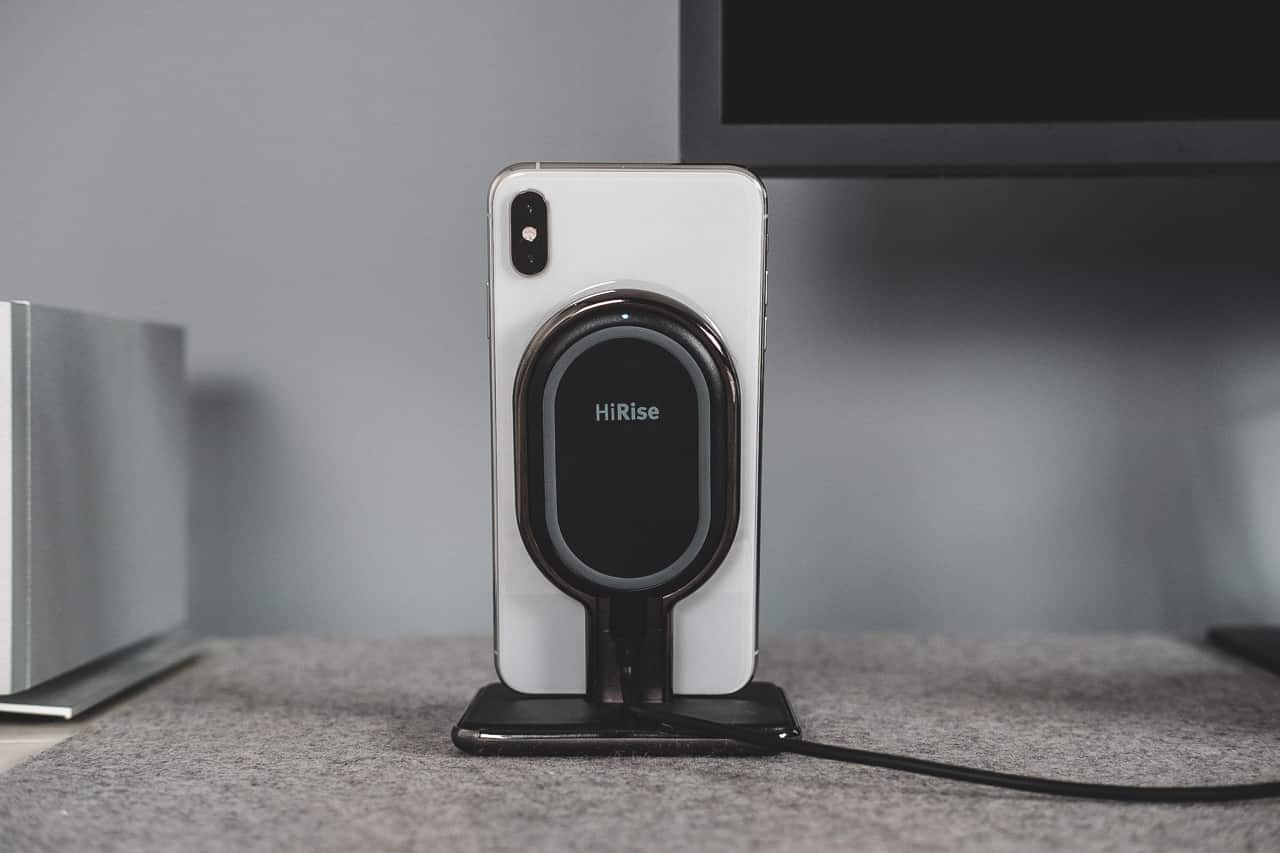 The bright blue or green lights on the Samsung and Belkin wireless chargers is replicated here, albeit at a far smaller size. In fact, I hadn't noticed there was a light on the charger until I turned it around at night.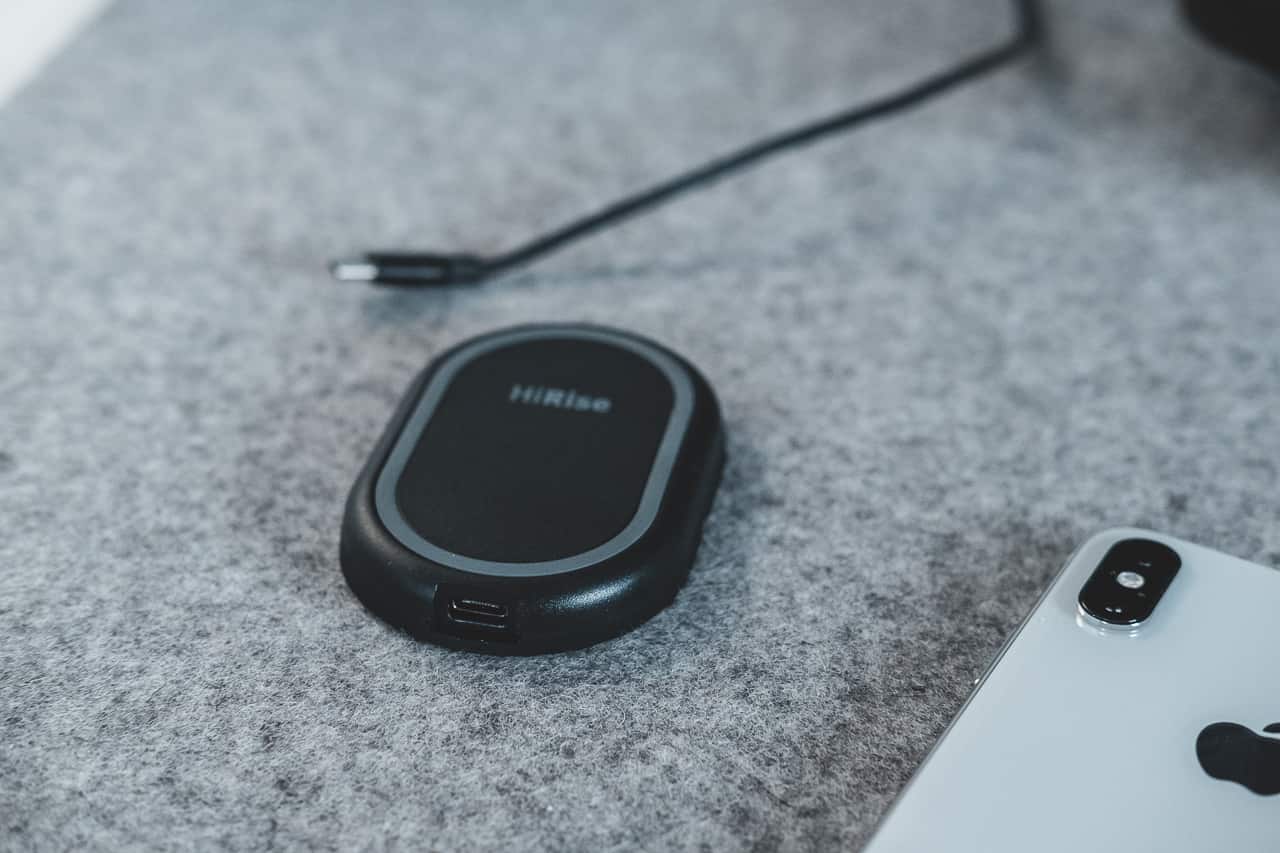 The included USB-A-to-USB-C charging cable is plenty long enough at 1.5 meters for most ventures and bends somewhat awkwardly into the bottom of the HiRise Wireless's charging pad. I'm always hesitant to bend cables at this degree, but once in place, the wire seems to hold up well.
The cable runs free willy on the back of the charger — there's no cable passthrough or channel to keep the cable from flopping all over the place. I expect the decision here was to allow the cable to be easily removed when the Power Disc was removed from the stand. Either way, it could become a nuisance.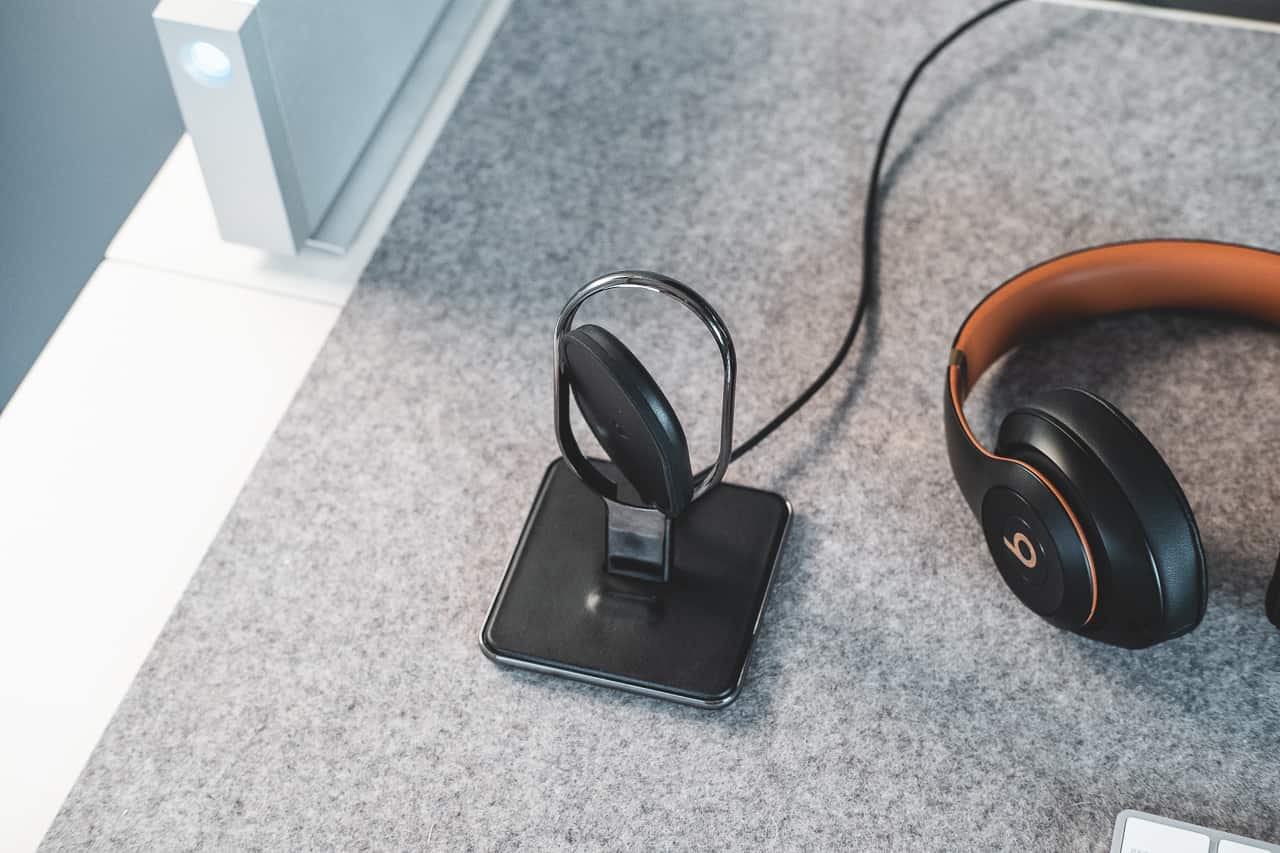 Of course, the semi-hidden feature here is that the Power Disc can actually be removed and used as a lay-flat charging pad all on its own. This is perfect for throwing into your bag when traveling, or for resting your wirelessly-capable AirPods charging case for a quick recharge. Removing the charger is very easy: Simply push the charging pad through the vertical stand and remove. Once removed, the base and stand can stay on your desk until you return. And because it charges via USB-C, you can use the same cables you use for your iPad Pro or MacBook Pro, eliminating the need to carry an extra cable while traveling.
Again, design and materials appear to be Twelve South's raison d'être for the HiRise Wireless, and I think Twelve South is spot on here. The HiRise Wireless feels like a wonderfully luxurious product and is worthy of sitting on any dream desk setup. The ability to remove the Power Disc is just a bonus and adds an enormous amount of flexibility to an otherwise boring product category.
Using the HiRise Wireless
There are two main ways to use the HiRise Wireless: at your desk and on-the-go. For me personally, the at-the-desk category is more important currently. But as the tech gadget world continually evolves to include wireless charging, the more important the HiRise Wireless's on-the-go capabilities will become.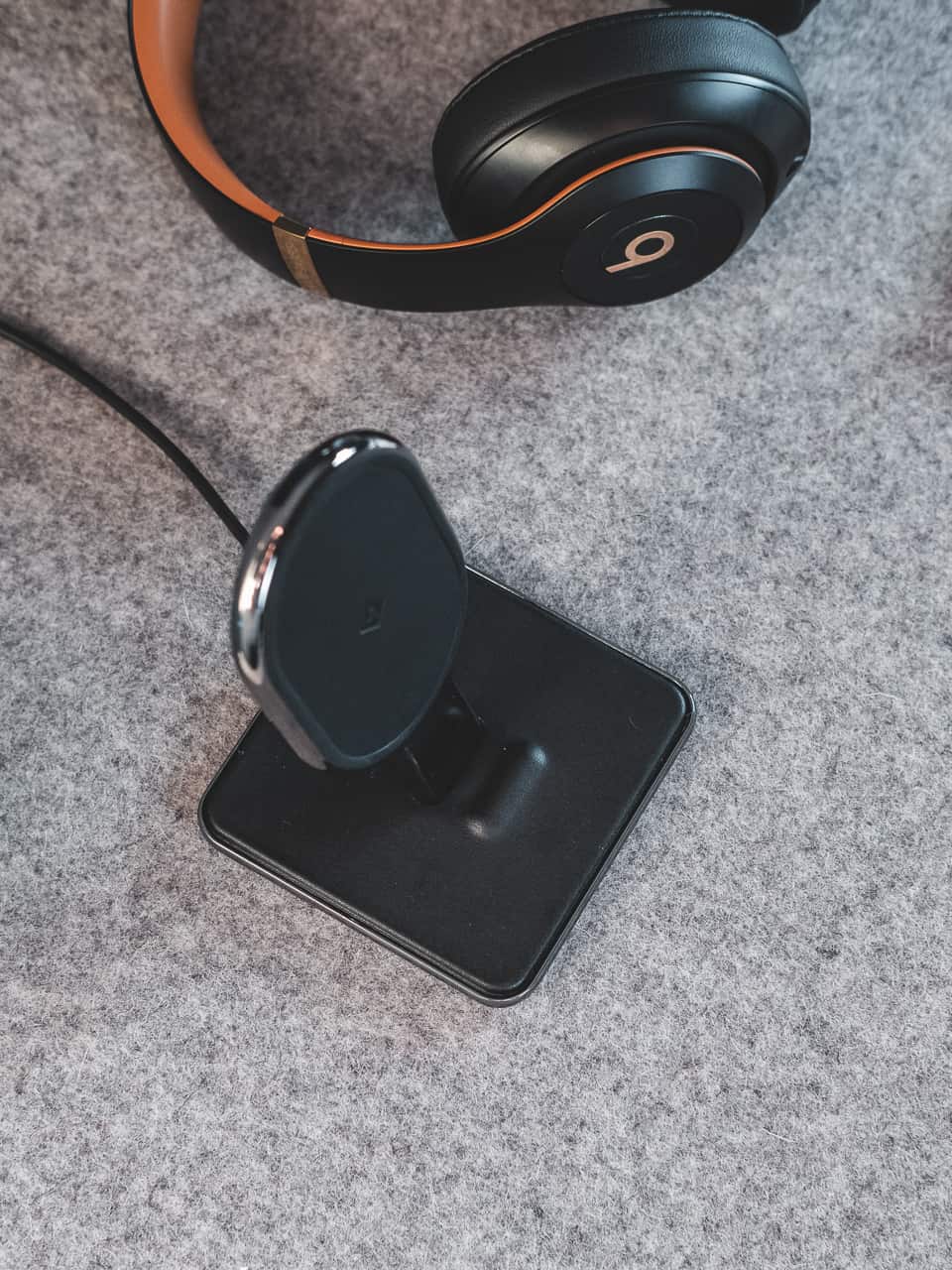 On a desk of premium and expensive computers, the HiRise Wireless fits right in. Beside an iPhone X/XS/XS Max, the chrome finished edges continue the design aesthetic, making the HiRise Wireless feel like it was designed by Apple. And because the iPhone hides the plastic stand behind, it'd be even easier to think this was designed by Apple.
The stand rests your iPhone at a comfortable angle for desk or nightstand viewing. Twelve South says you could use this stand for FaceTime video calls, but I think the angle — 75 degrees — may be a bit too steep for that, depending on how far away your iPhone is from you. On the flip side, the angle is ideal for initiating Face ID on an applicable iPhone. Overall, initiating Face ID or controlling your podcast or Apple Music/Spotify playlists won't require any awkward tilting of your neck to see what's on the screen.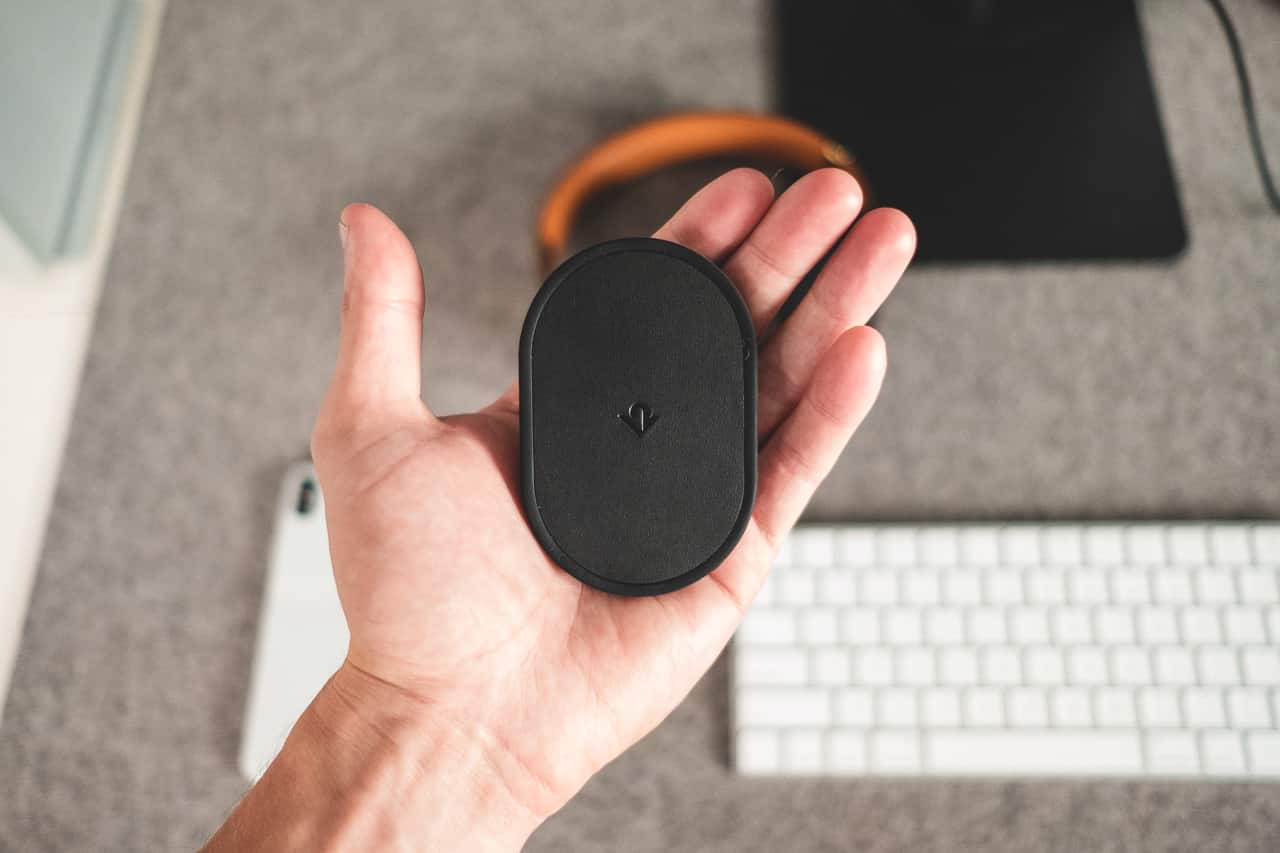 When in travel mode, the HiRise Wireless is a substantially smaller charging pad than the Samsung or Belkin options. This Power Disc will fit into any backpack, messenger bag, or tech dopp kit with ease.
What's interesting is that this size difference doesn't seem to result in any impact on charging surface area. You can place an iPhone on the charging pad at any angle to initiate a charge, and the target is just as forgiving as any other wireless charger. I figured the placement of the iPhone on the HiRise Wireless would be much pickier due to the charging pad's size. As it is, this hasn't been the case.
Lastly, the weight of the Power Disc itself is quite light — almost all of the weight of the HiRise Wireless is housed in the leather and metal base. I'd argue the charging pad could be a bit heavier, just to reduce the amount it moves around on your desk or nightstand when traveling. The tacky ring does a good job at maintaining friction with the surface, but a little more weight wouldn't hurt anyone.
On the plus side though, this lightweight travel charging pad isn't at all noticeable in a bag, it eliminates an extra charging cable, and is more than capable of charging your iPhone and AirPods when on-the-go.
Charging
The HiRise Wireless can charge devices through most phone cases and can fast charge up to 10 watts. This meets the wireless charging capacity of any current iPhone at 7.5 watts. And should you have any other device types — like a Samsung phone with a larger charging capacity — you'll be able to charge those devices at full speed as well.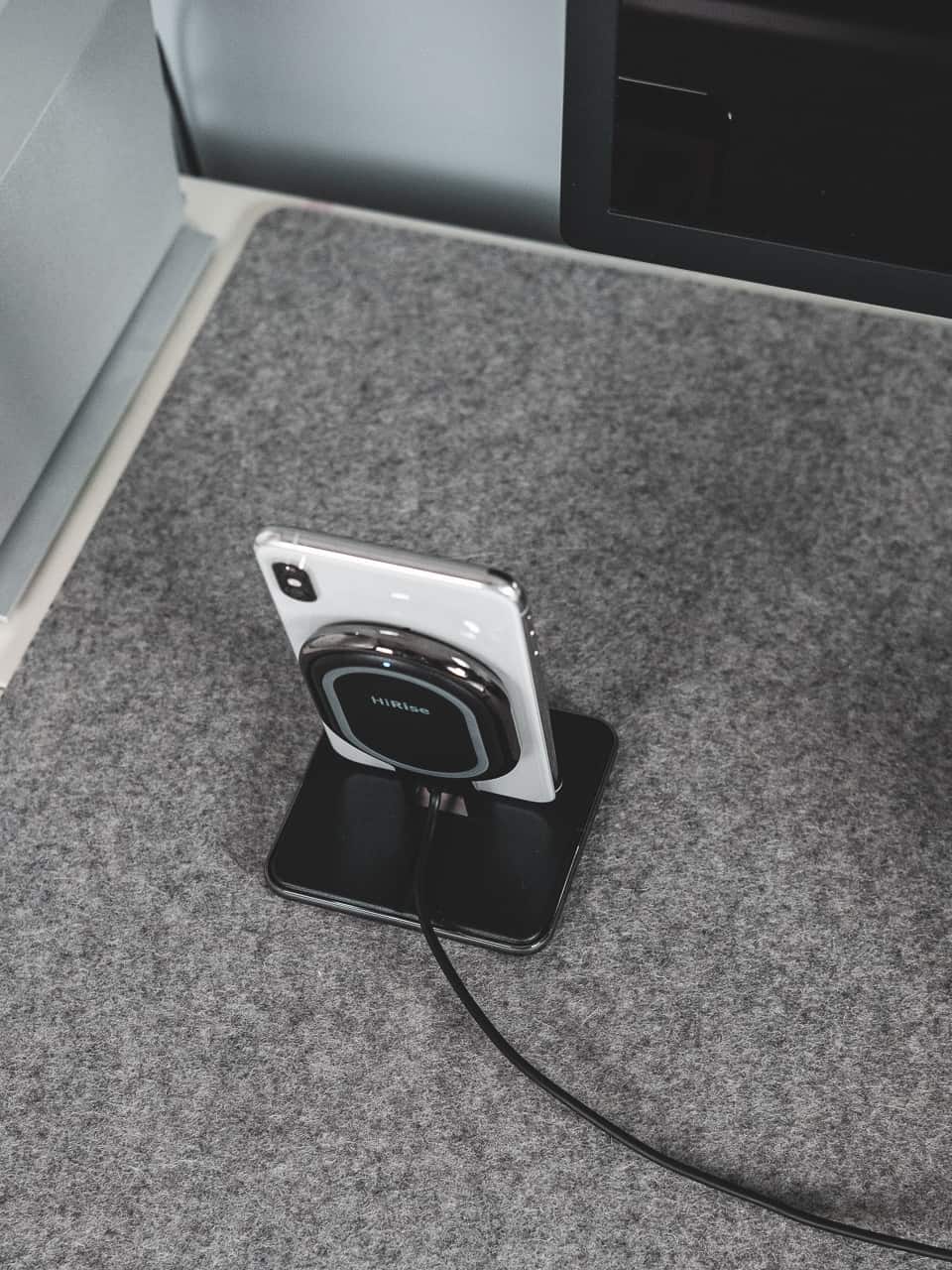 Perhaps it's just my use case, but I never feel like these wireless chargers charge too slowly. If you have a wireless charger in most of the places you spend most of your time, and if that becomes your main home for your iPhone or AirPods, you can be confident you'll often have a full or decent charge to get you through the day.
This said, there's no fast USB-C charging, which has become quite the rage recently.
Wrap Up
Twelve South has always made the highest quality accessories for Apple devices, and my home office is littered with Twelve South products. I have a BookArc for the MacBook Pro, a Curve for keeping the MacBook open on my desk, and a ParcSlope for boosting the iPad to a more comfortable angle for on-screen typing.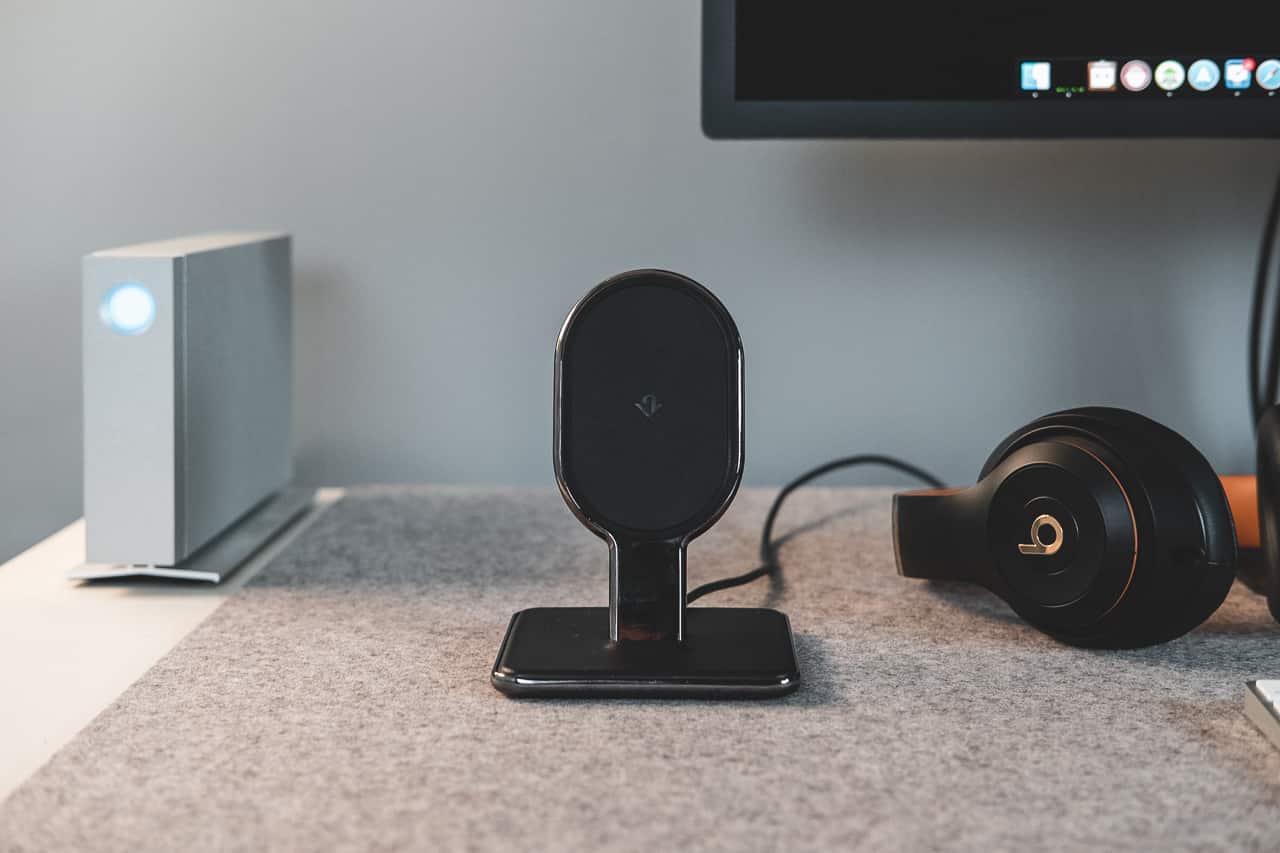 What's crazy is that the HiRise Wireless seems to have actually surpassed all these other accessories in terms of quality. The metal and leather base is exquisite, and even though it may feel like plastic to a degree, even the HiRise Wireless's stand is of a high quality.
The fact this type of quality is matched with the equally handy ability to take the Power Disc with you wherever you go is a testament to Twelve South's continued innovation.
To me, the HiRise Wireless solves the wireless Qi charging problems of the last two years. Sure, at $80, this is $30 or so more than most other Qi chargers available, but none of those other chargers house the same material quality or have the capability of being a portable charger.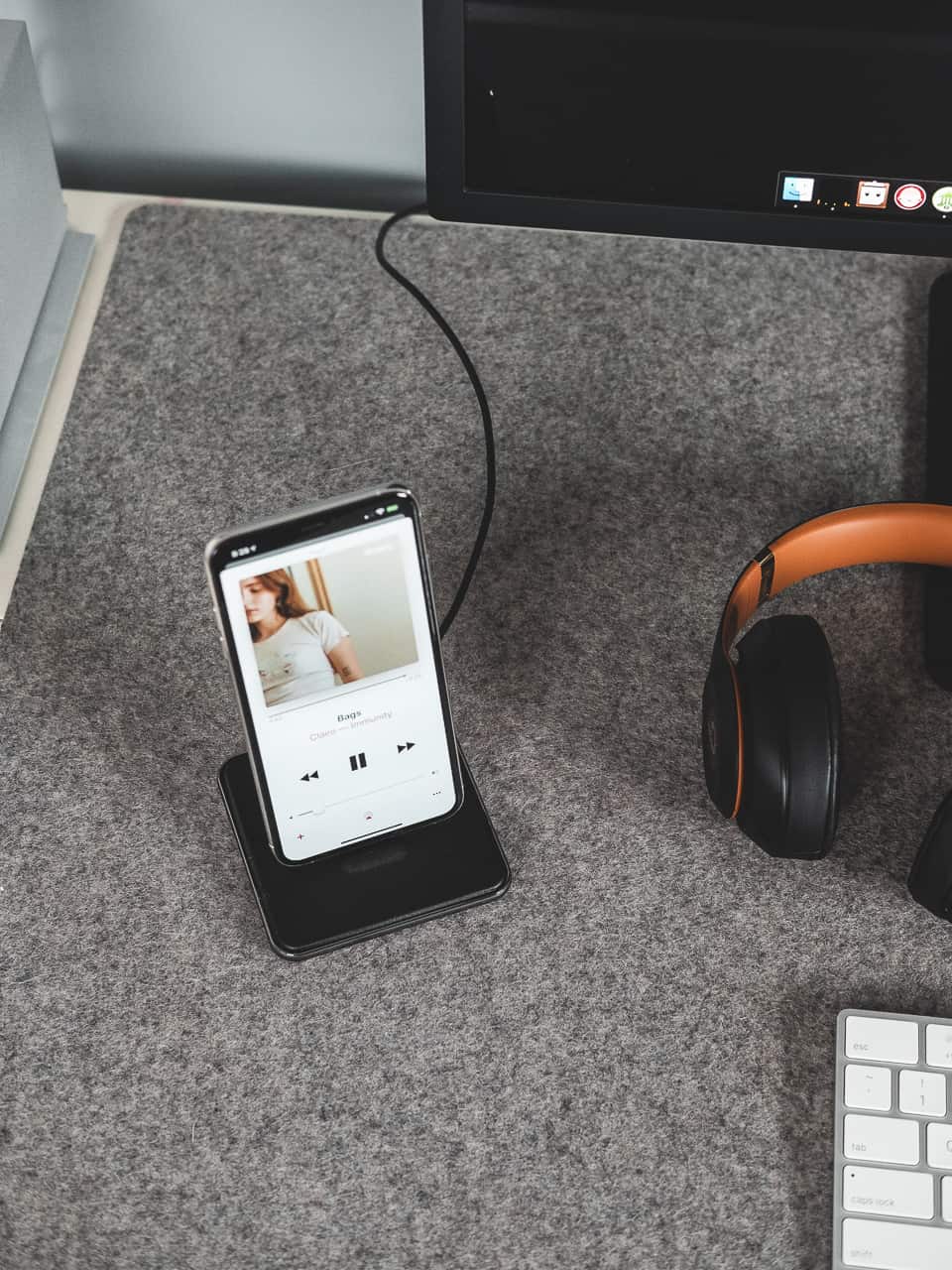 Save your time and money — don't purchase a wireless charger for the road and another for at home. Buy a Twelve South HiRise Wireless, solve your Qi charging frustrations, and then buy another one for your significant other.
Wait. There's a Bonus…
Curated List of Must-Have Apps
We spend an inordinate amount of time sorting through hundreds of apps to find the very best. And based on our own usage, plus the feedback of our readers, we have put together a short list of our must-have, most-used apps in 2022.
You will get…
The current list of The Sweet Setup's top 8, must-have apps.
A special, pro tip for each app to help you save time and become more of a power user.
A hidden feature of each app that you may not have known about.
These apps work on iPad, iPhone, and Mac. And they range across several different categories but are mostly focused on productivity. We hope this will help you get the most out of your devices and your day.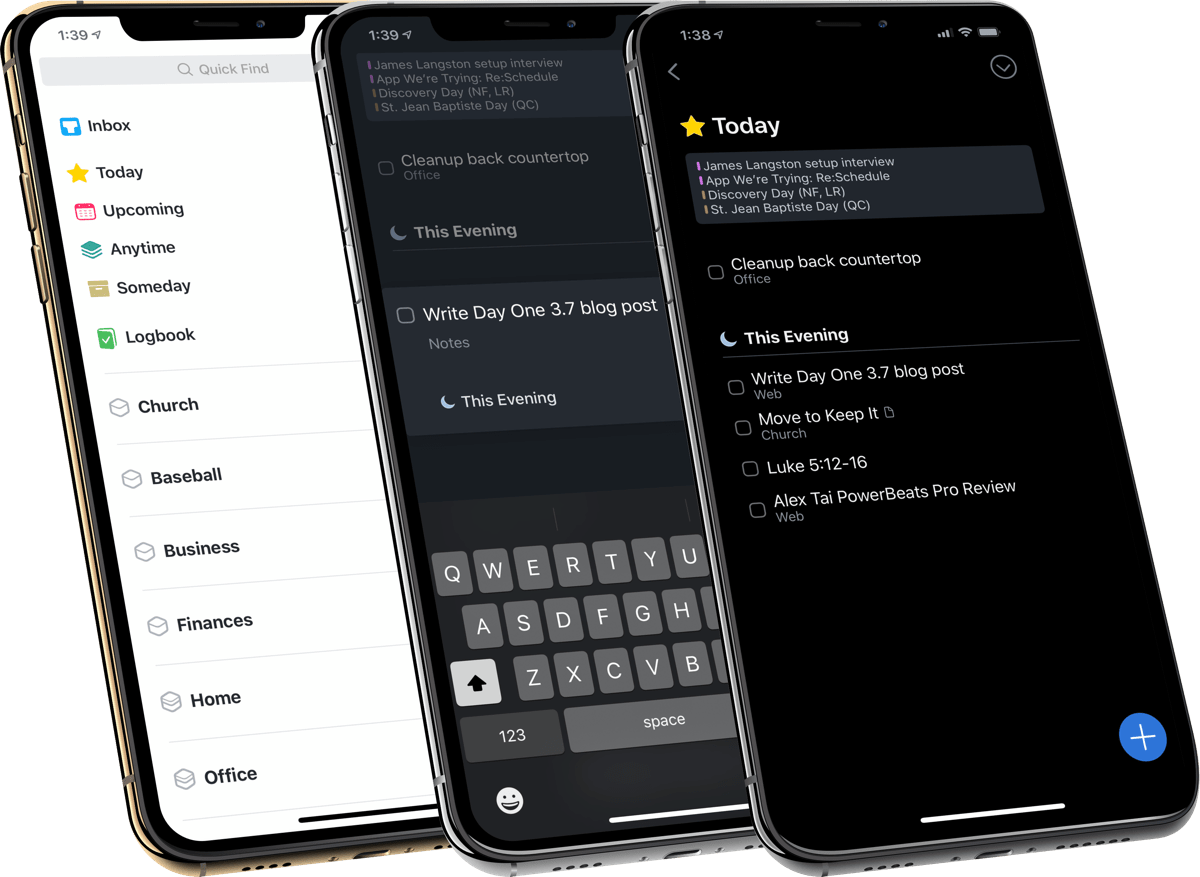 This guide is available for FREE to our email subscriber community. And you can get it right now. By joining the Sweet Setup community you'll also get access to our other guides, early previews to big new reviews and workflow articles we are working on, weekly roundups of our best content, and more.