A review of the Twelve South AirSnap
August 29, 2018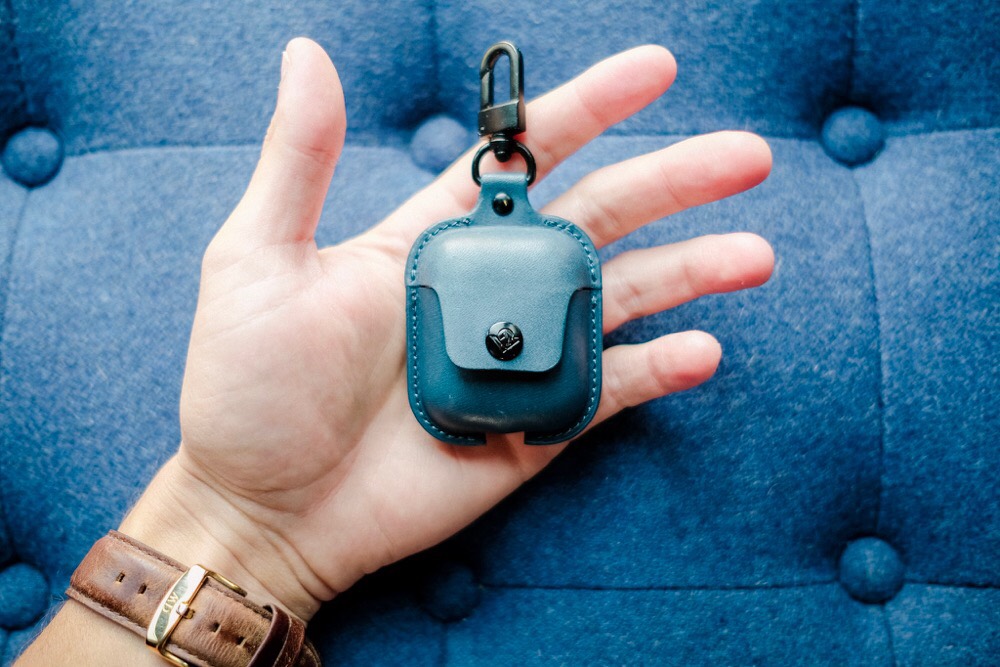 Apple's AirPods have little in the way of downsides. They're somewhat expensive (although, considering the technology, not really) and the long stem may be a design flaw to some picky customers. But overall, there's little to complain about.
My own personal pet peeve with the AirPods is their portability. They're not not portable — the dental floss sized case is wonderful for carrying in a messenger bag, in a backpack, or in a purse — but to me, they aren't pocketable.
I admit, I don't utilize my pants pockets to their maximum ability. I throw my wallet into my left pocket and my iPhone into my right pocket and leave my back pockets empty. I simply cannot stand to sit on anything in my back pockets. Even Field Notes notebooks are enough to annoy me.
As a result, I need to find a different place to carry my AirPods if I want to bring them along.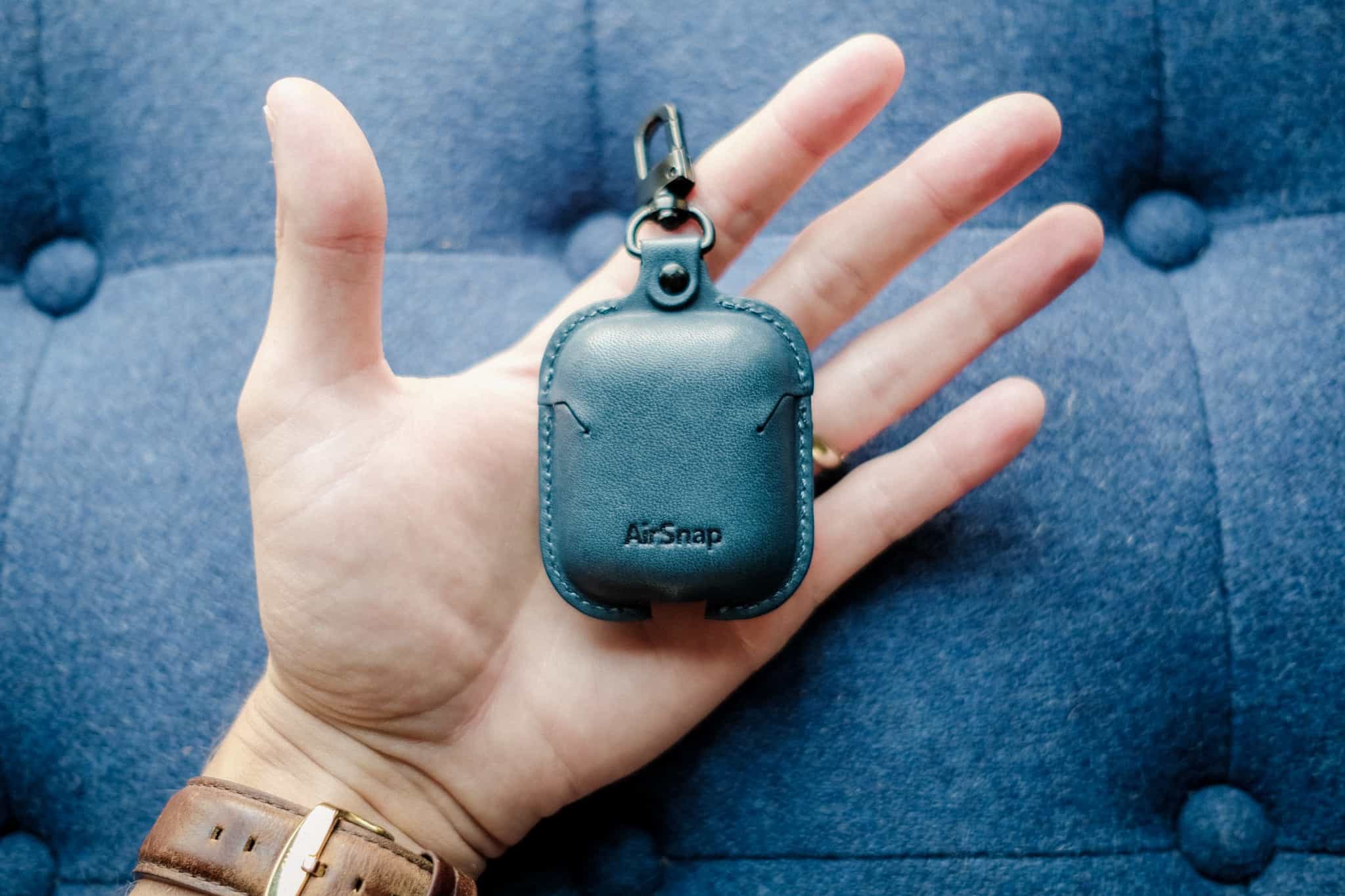 Despite the fact Twelve South markets their new AirSnap as an AirPod carrying case designed to be attached to a purse or backpack, I recognized immediately they'd fit perfectly on my keychain. The AirSnap makes my already-bulky keychain bulkier, but since I almost never carry my keys in my pocket (they're either in the vehicle ignition or resting on a safe place at home or at the office), there's no longer anything standing in the way of me having a set of AirPods on my person at all times.
---
Editor's Note: Twelve South provided this AirSnap free of charge for purposes of review.
---
Design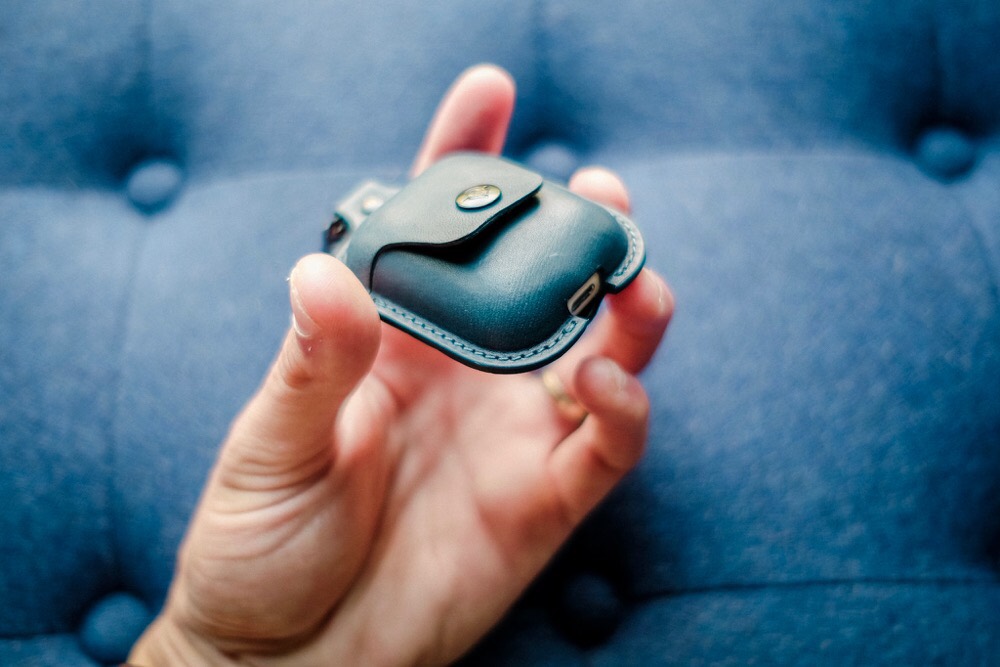 Twelve South's AirSnap is a full-grain leather carrying case that comes in three colors: Dark Teal, Cognac, and Black. The leather is reasonably thick and durable — we're not talking Traveler's Notebook leather thickness, but there's nothing to be disappointed about here either. "AirSnap" is debossed on the case's back, and the stitching around the edges are firm and durable.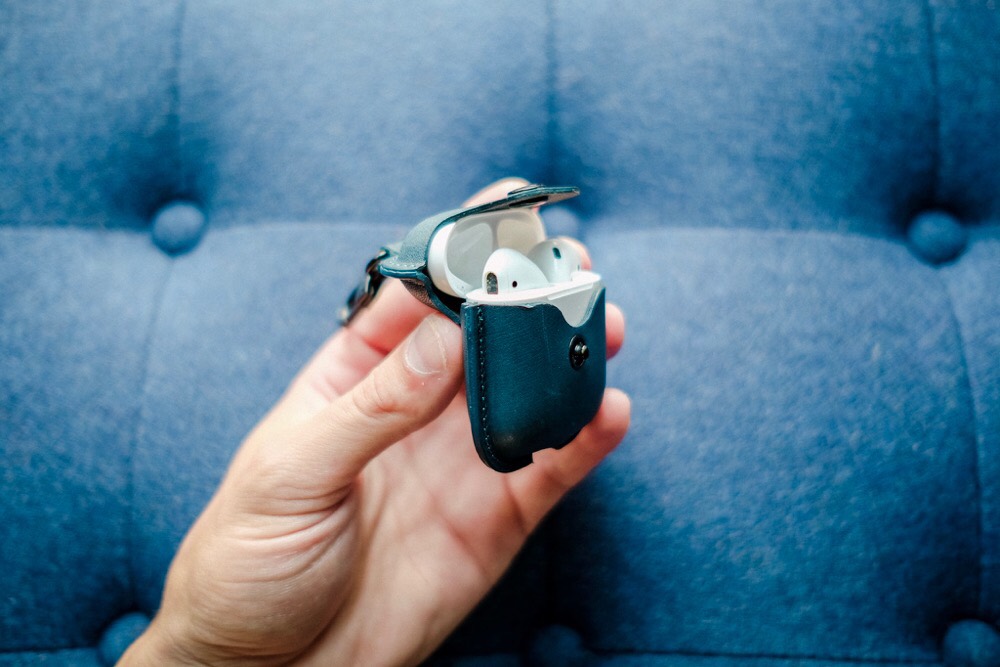 The AirSnap's snap enclosure and clip are both made of metal, although it's not the most durable metal I've come across. The snap snaps well into place and early use shows no cause for concern.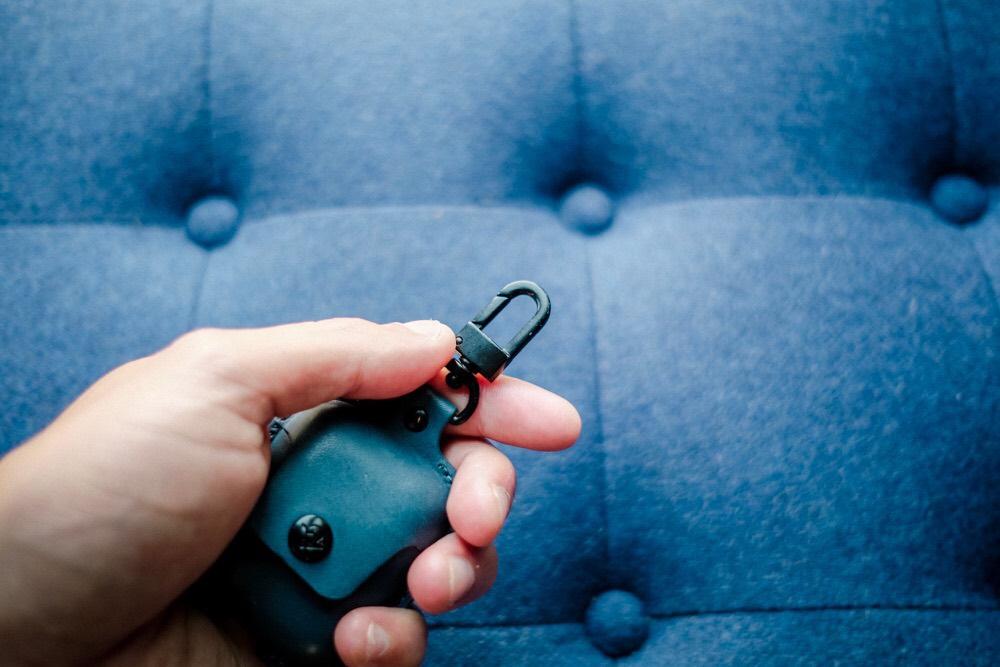 The carabiner clip doesn't have a major heft to it, but it does snap nicely around a keychain or backpack loop. I don't think this kind of case would be used mercilessly out in the wild, so I see no concerns with the AirSnap's longevity.
The Cognac AirSnap absolutely jumps out as the color to get, with its rich leather hues. I opted for the Dark Teal AirSnap as it matches my teal Bellroy wallet quite nicely. The Dark Teal is indeed dark and borders on the edge of navy blue more so than teal, in my opinion.
Using the AirSnap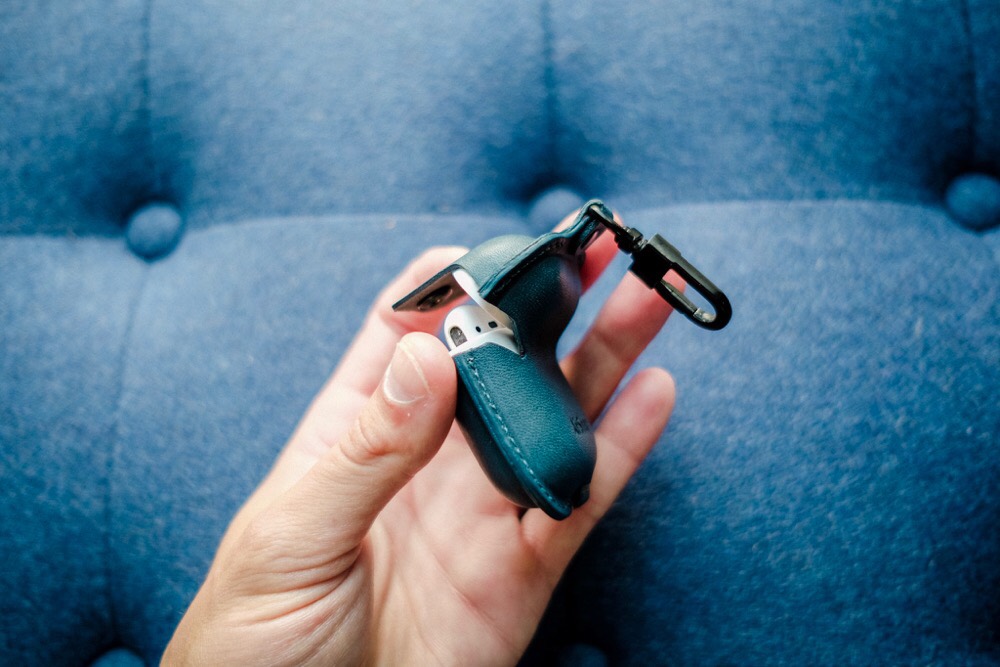 The AirSnap is less a "carrying case" and more of an "enclosure" as I've found little need to remove the AirPod case from the AirSnap since receiving the leather case. The AirSnap's leather has cut-outs to allow the top lid enclosure to fold back easily and without worry of tearing the leather. Once you unsnap the snap, just a little pressure with your thumb to push back the top lid enclosure also opens up the AirPod case inside, revealing your AirPods. Simply fold over the top lid, snap the snap in place, and you're safe and ready to go.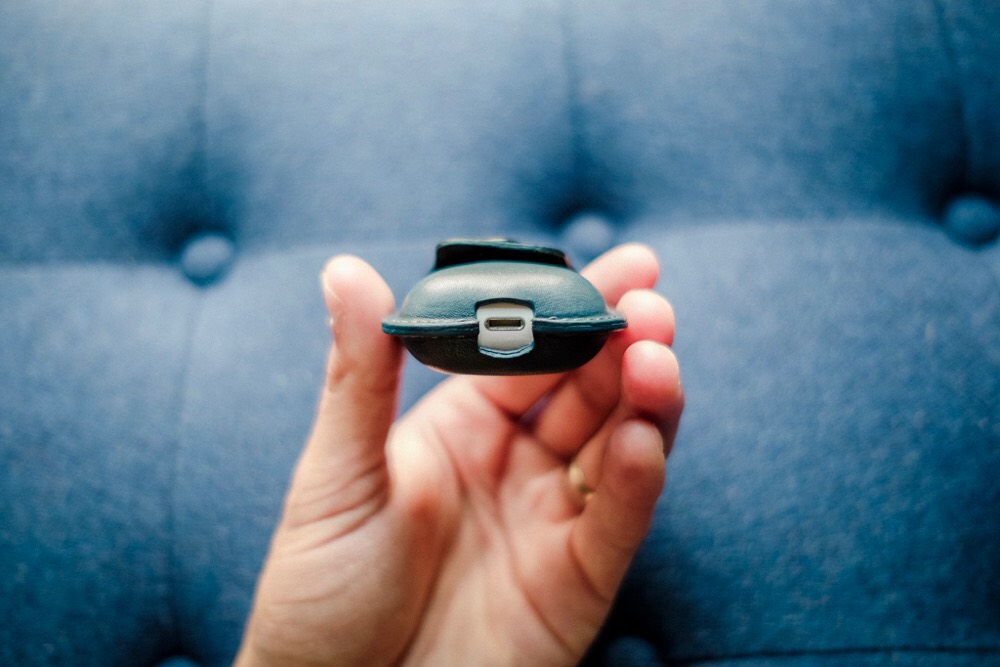 The other reason for not removing the AirPods from the AirSnap is thanks to the handy port cutout at the bottom of the AirSnap. Clearly, debris or other dust will find a way into the AirPod case Lightning port, but that was also a concern without the AirSnap case. Otherwise, being able to charge the AirPod case right in the AirSnap is a wonderful inclusion. It's very easy to remove the carabiner buckle from my keychain and plug in the AirPod case in the kitchen so I'm ready to go for the next morning.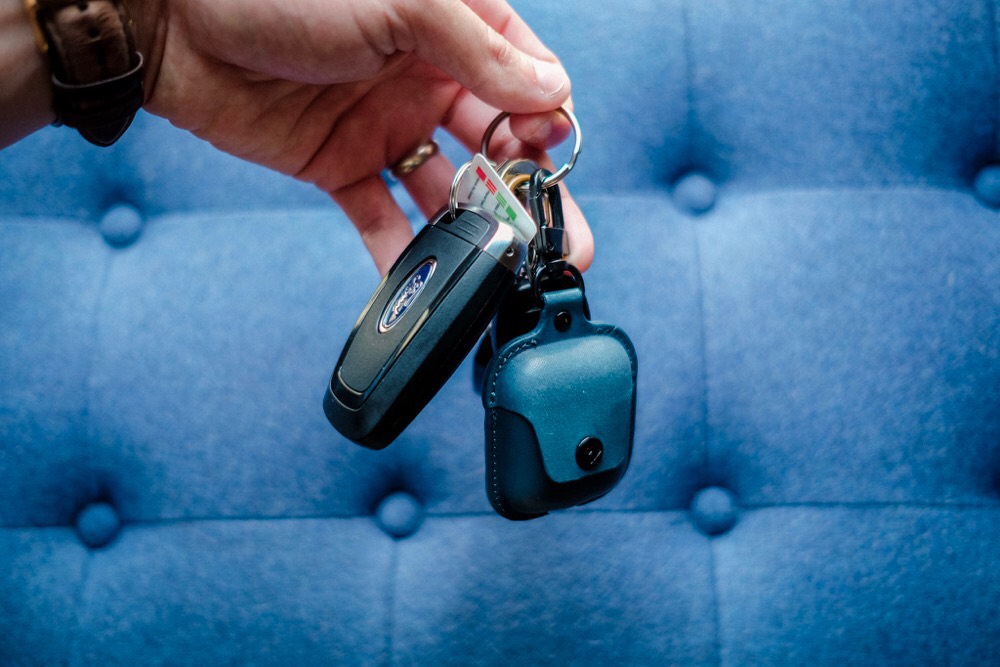 Of course, you don't need to lock the carabiner to your keychain. If you prefer to keep your keys locked inside your messenger bag or backpack, the carabiner buckle snaps into place just about anywhere you can set the carabiner. It's worked well enough attaching it to the buckle on the Peak Design Everyday Messenger, for instance, which has a fairly thick shoulder strap buckle. If it can attach nicely to the Everyday Messenger Bag, I don't see it being an issue with most other bags on the market.
Wrap Up
The Twelve South AirSnap is a fairly simple product with a fairly simple premise: provide some protection to the AirPod case and allow the AirPods to be carried in a more accessible fashion on your person. Not only does the AirSnap look great, its leather shell, sturdy stitching, and metal buckle and snap should have no problem living up to the daily wear and tear of hanging off the edge of your backpack.
If you're carrying the AirSnap on your keychain like I do, it's certain to make your keychain more bulky and less accessible for any of your pants pockets. However, as someone who drives to and from work, sits in the office for most of the day, and rarely needs a place to keep my keys, I'm more than happy to buckle the AirSnap to my keychain and have them available for calls in the car or at the ready when a call comes at the office.
Get Our Best Photography Tips & Workflows
Transform your photos and edits from average to awesome with our in-depth, mobile photography course. It's jam-packed with training, ideas, and lessons that can literally transform your photography overnight.