Apps We're Trying: GoodLinks
July 6, 2020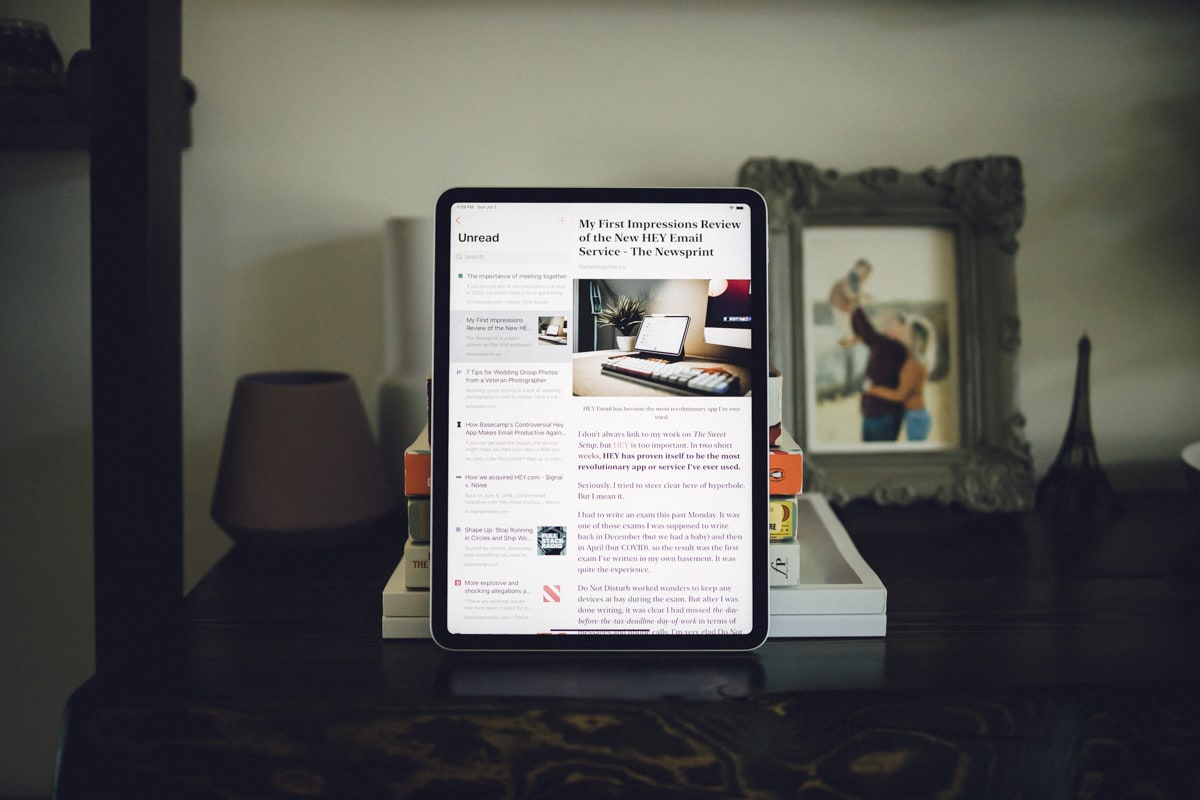 MacStories ran a review in late May 2020 on a new read-it-later app named Keep. With some of the latest improvements to iOS, there's been a flock of new read-it-later options for folks to try, and Keep ranked high on Ryan Christoffel's list.
I tried Keep for a few days and didn't find it to work for me. Namely, in my opinion, Keep fell short in terms of speed to save a URL, in terms of readability inside the app (Keep sends you to a browser and provides no reading mode whatsoever), and in terms of cross-platform compatibility (there's currently no Mac app for Keep).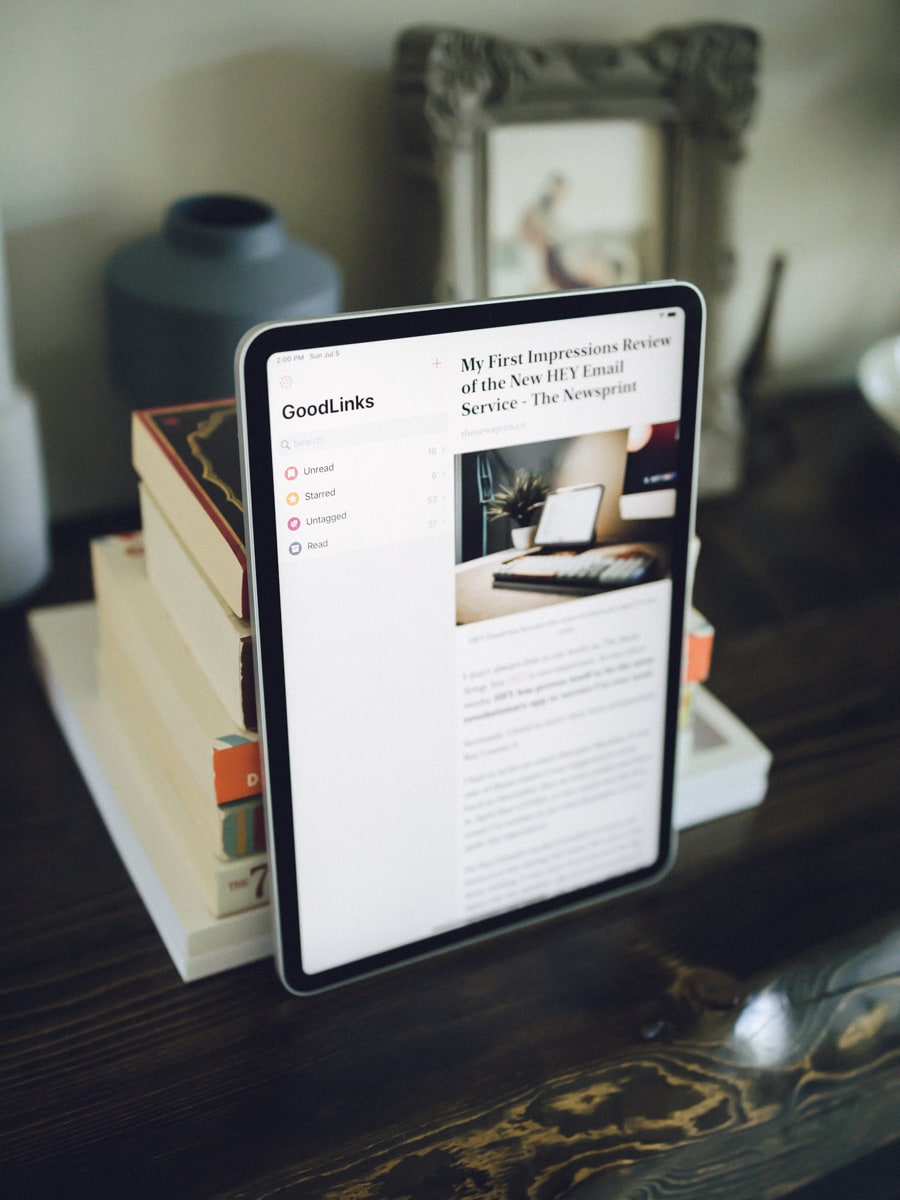 But MacStories's further review of GoodLinks a few short weeks later opened my eyes to a much better read-it-later service.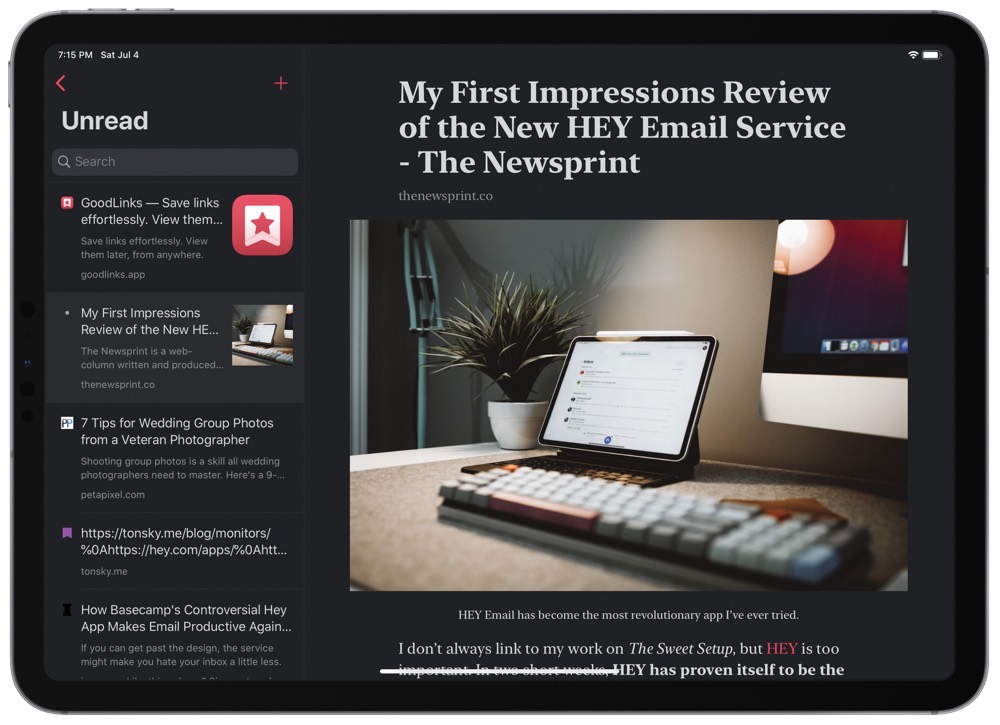 GoodLinks' quick share sheet saving extension, great reading mode, cross-platform compatibility, and extensive action support make it a better read-it-later app for me.
GoodLinks's Design (With Special Attention on the Dark Mode)
GoodLinks, from the makers of 1Writer, feels like the lightest app on my iPad. Whether that's due to how easy it is to use or how light and simple it looks is up for debate. Regardless, I really appreciate the simple utilitarian feel to the app.

Like many iOS apps these days, GoodLinks provides the option to change the app icon on your home screen, change the accent color within the app, and rotate between light and dark modes (Light or Sepia on the light side and Dark or Night on the dark side).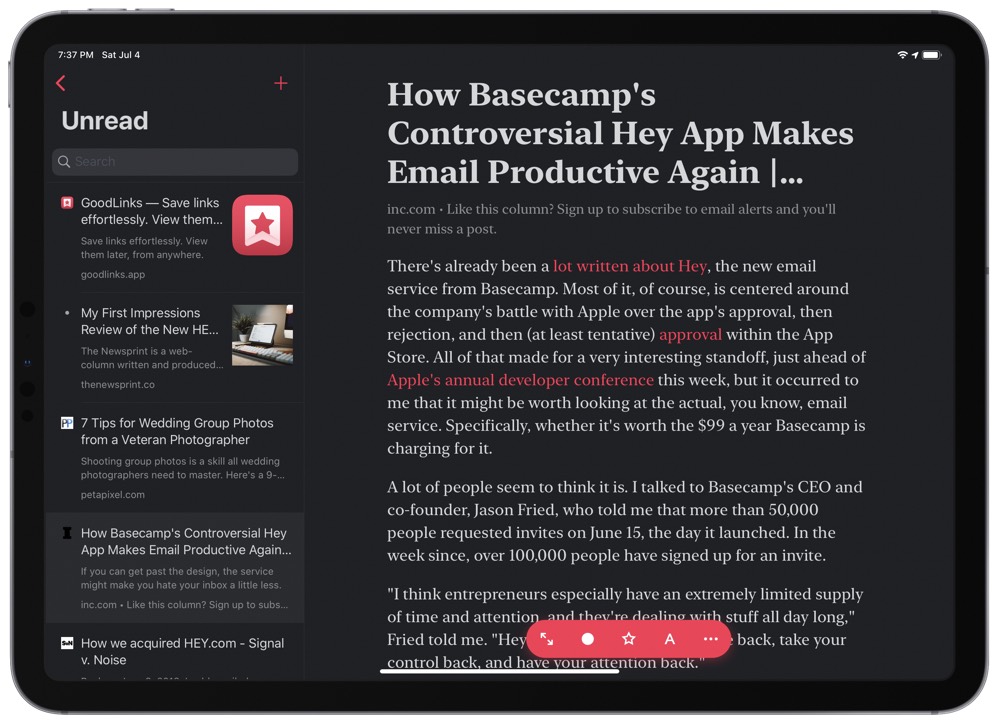 I've left everything default, but I greatly prefer the Night theme. Over time, I've tended away from "True Black" themes — generally designed to take advantage of the iPhone's OLED screen — as I find them to be too high contrast for reading and viewing at night. Instead, I've grown more and more fond of deep blue-gray themes (like those found in Unread 2 or Things 3, for instance). The "Night" theme in GoodLinks is one of the best deep gray themes available on the App Store today. It's deep enough to be easy on the eyes late in the night while also being light enough to avoid those harsh contrast issues of a true black theme.
All told, I'm a big fan of GoodLinks' Night mode and hope to see other developers ensure more and more support for dark mode themes that have deep gray color schemes.
An Extra Customizable Reader Mode
I was surprised to learn how few apps in the App Store support Apple's own New York serif font. Aside from Books and Reader View in Safari, New York can't be found in Instapaper, Pocket, or Reeder. Perhaps there's a limitation on the use of the New York font, but I found this surprising.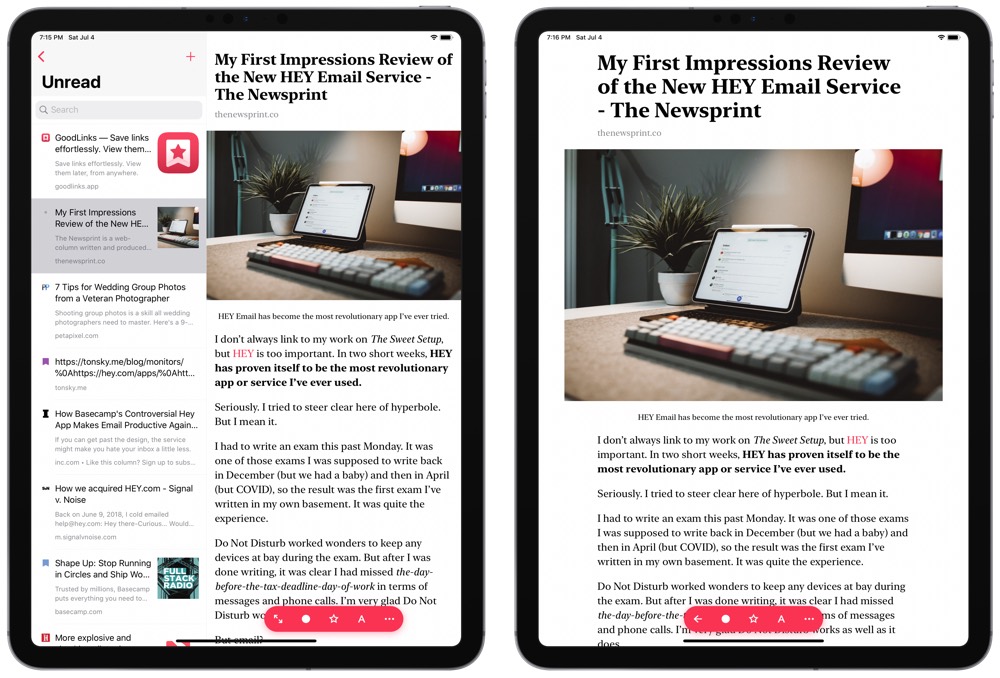 Nevertheless, in the midst of GoodLinks's fairly default set of custom fonts is New York, making the app an instant winner for me. New York has to be my favorite reading font ever and is responsible for more Books Store purchases over Amazon purchases than I care to admit.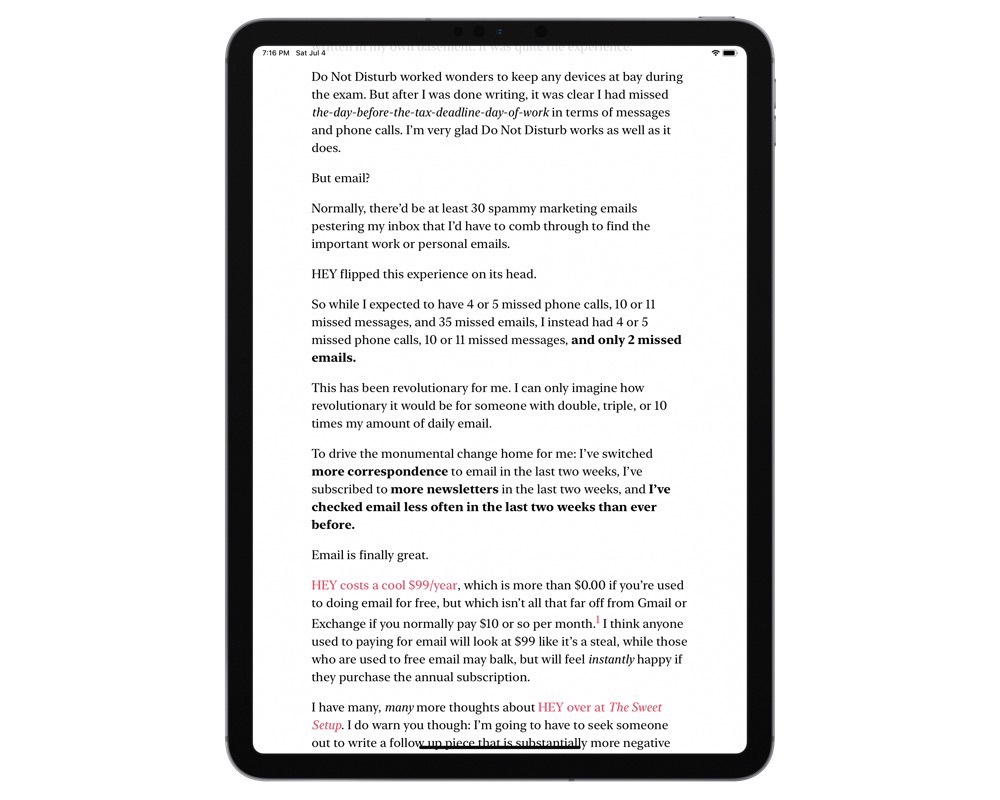 If you're into New York as a reading font, you're in luck in GoodLinks. If you're looking for more custom fonts (like Whitney, or Tiempos, or other fun fonts offered inside Pocket's premium package), you'll be disappointed with GoodLinks.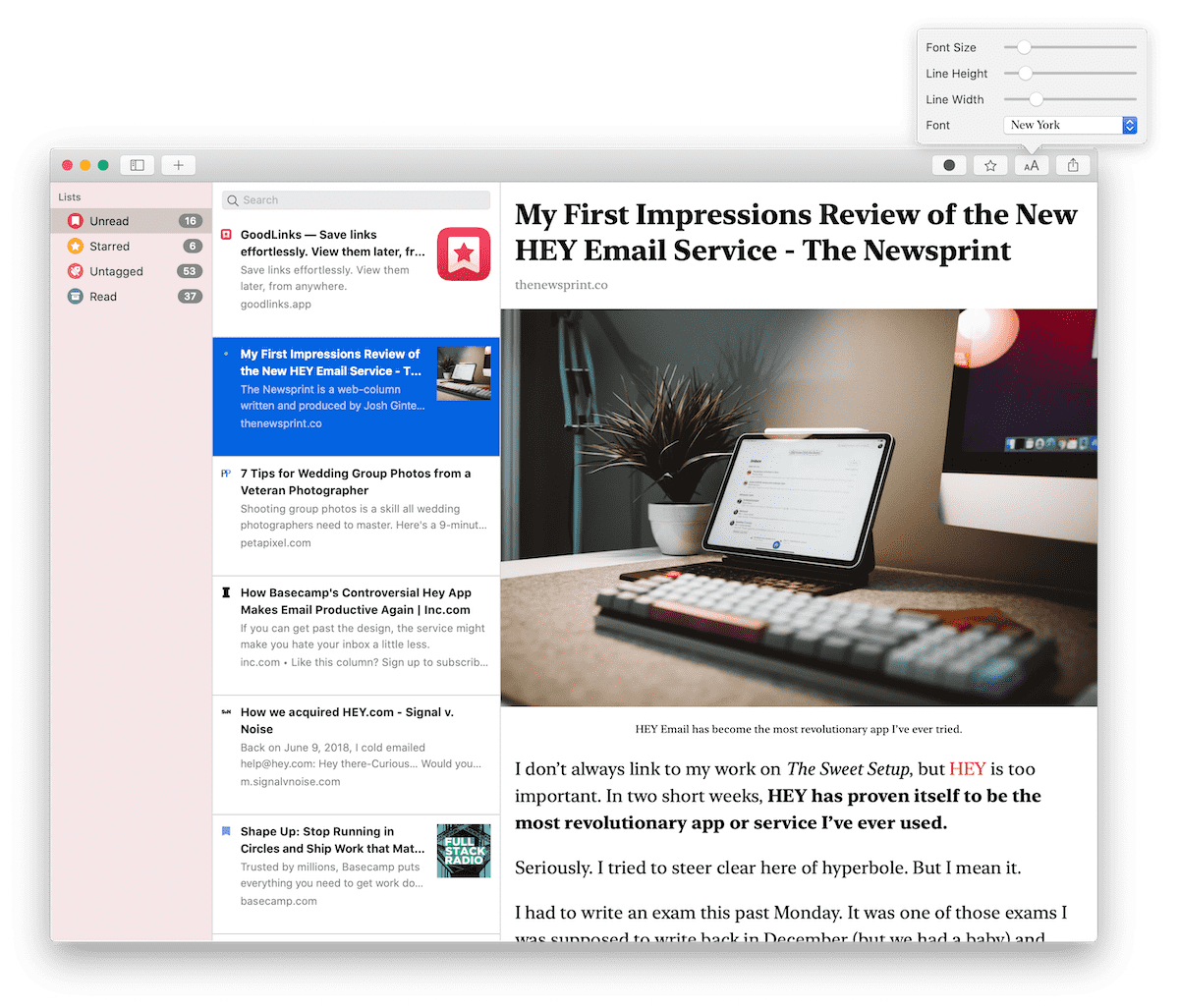 Aside from font selection, you have the ability to change font size, line height, and body width all with sliders. The sliders are fairly finicky, ensuring you can have massive or tiny fonts and body widths — whatever you prefer.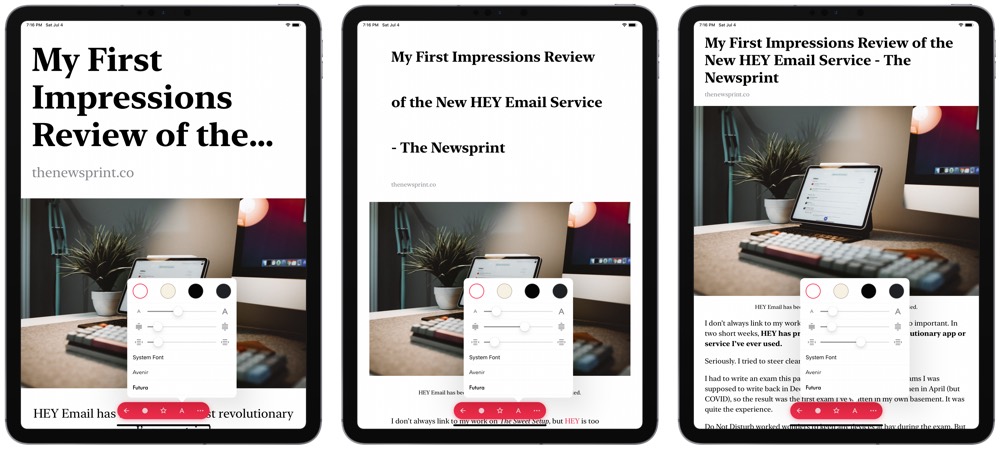 I find GoodLinks's margin control needs a little improvement, mind you. I feel titles hover too close to the top of the screen, making for a somewhat awkward placement on-screen.
Even still, the combination of a New York font option and a very customizable font size/line height/body width combination make GoodLinks my favorite read-it-later service for reading alone.
Speed
Putting links into GoodLinks is done much the same way as any other read-it-later service. If you're in Safari on an iPad, you can enable the share sheet extension, which includes a long version for saving URLs and a "Quick Save" short version: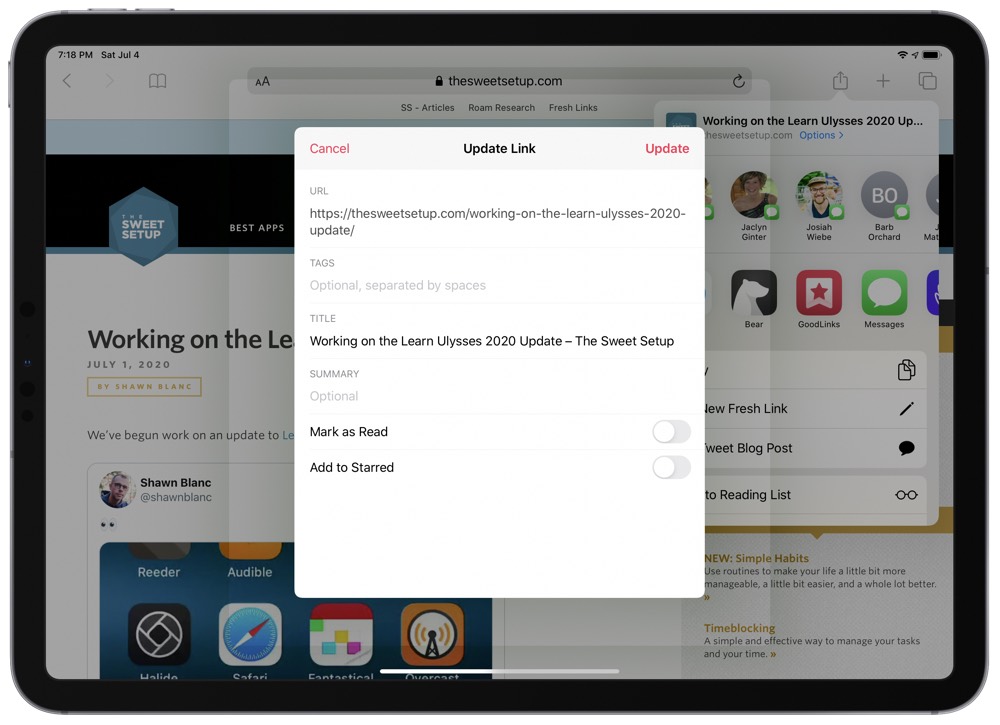 Long version: Tapping the share sheet extension provides a pop up window where you can optionally tag the saved URL, provide your own written summary, immediately mark the link as read, or immediately add the link to your starred list.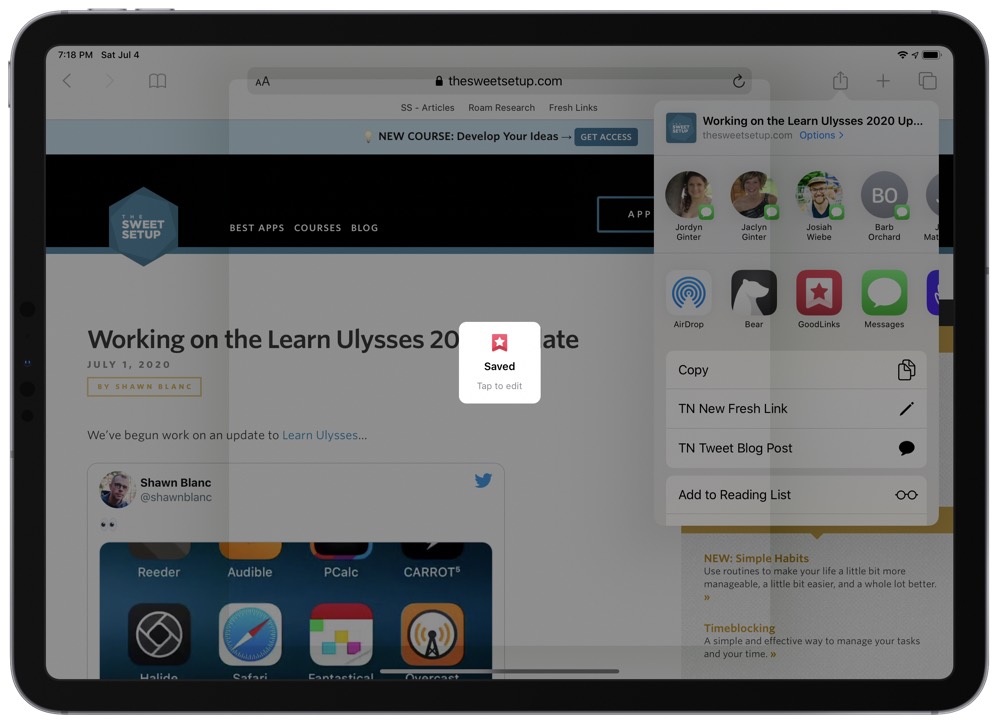 Quick Save short version: By enabling Quick Save in GoodLinks' settings menu, tapping on the share sheet extension immediately saves the URL to your unread list. You can tap the little pop up icon to edit the saved URL and enter the same "Long version" window mentioned above.
Quick Save acts a lot like Pocket and Instapaper's default share sheet extension behavior, but the miniature icon that pops up is smaller and less obtrusive. Further, I've found saving to GoodLinks to be noticeably faster than saving to Pocket or Instapaper. This could be because GoodLinks harnesses the power of iCloud sync instead of a broader web-based service — I'm not entirely sure. Either way, if you're looking to save a bunch of links in a short period of time (say, in your RSS feed), GoodLinks will likely win the race every time.
Shortcuts Support
Though my use of GoodLinks has been limited to "Save-Read-Share," there are a plethora of iOS features supported in the iOS apps. Multi-window and Drag & Drop make use of iOS's multi-tasking functionalities, while Custom Actions enable you to create custom workflows with URL schemes.
GoodLinks also has extensive Shortcuts support, especially in relation to Pocket, as seen in the screenshot below:

Put simply, GoodLinks will play nicer with Shortcuts and other apps baked into shortcuts workflows than most other read-it-later apps available for the iPhone and iPad. If you have a handy writing workflow for reading inside GoodLinks before triggering a shortcut that preps a blog post with all the correct metadata in the right spots, GoodLinks is sure to provide compatibility to your workflow.
Some Shortcomings
There are a few reasons why I am struggling to fully let go of Pocket for saving links from all corners of the internet:
macOS and iOS-only: GoodLinks is only available for macOS, iOS, and iPadOS devices, eliminating the ability to save to GoodLinks from a Windows machine. For anyone working with both systems, this may be a dealbreaker.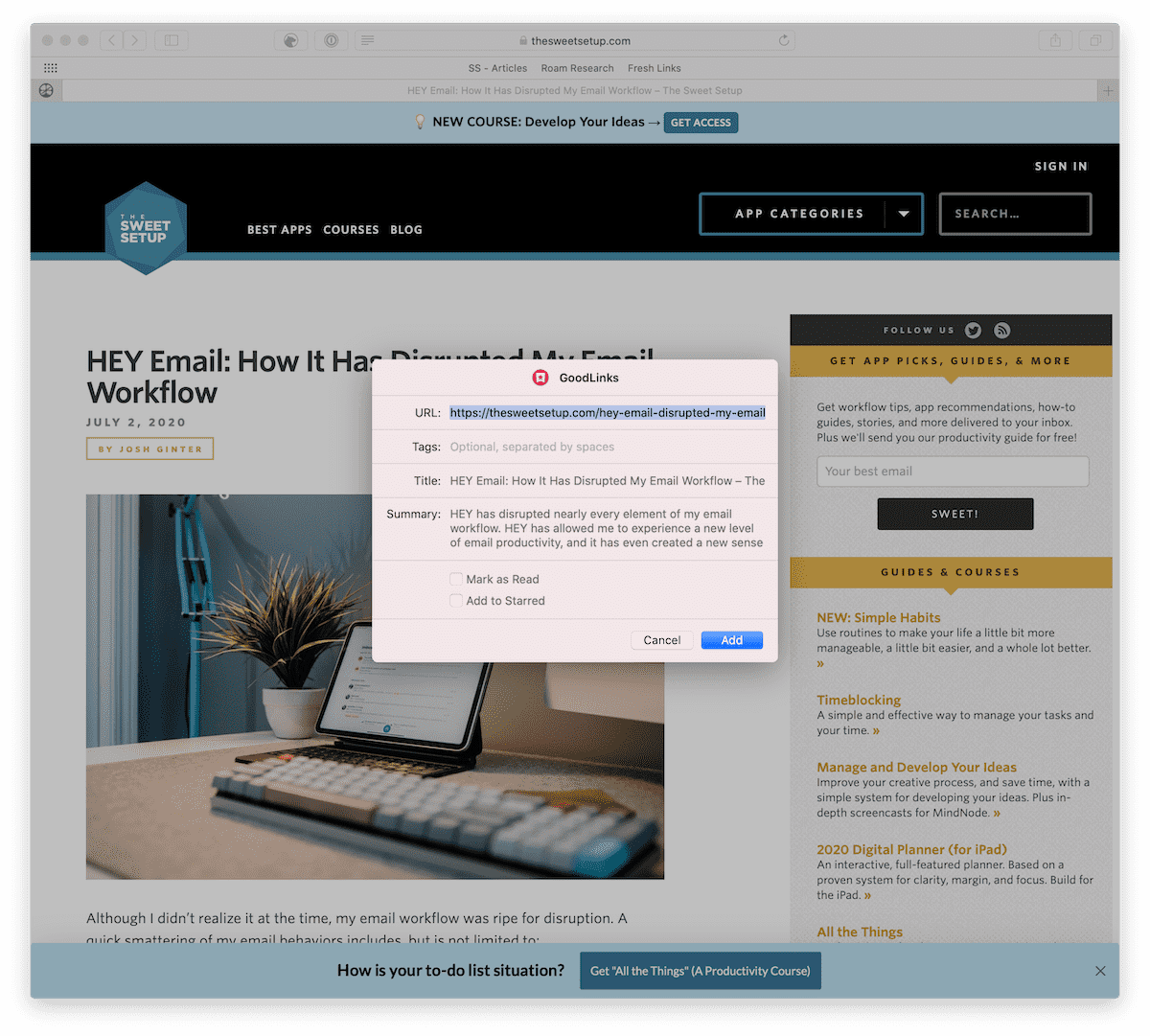 A limited macOS app: Just before the time of writing, GoodLinks debuted a new share sheet extension for Safari on the Mac, bringing the Mac app more in line with the iOS/iPadOS feature-set. However, the share sheet extension is only available as the "Long version" discussed earlier — there's no ability to click the share sheet extension and quickly save the URL to your queue. There also isn't any support for custom actions (inside the iOS apps, custom actions could be used to trigger a shortcut right from within the app) or trackpad swiping for marking a saved item as read or starred. Again, we just saw a big update to GoodLinks on the Mac to include a share sheet extension, so it's entirely in the realm of possibility that these other features are added in the near future.
Some odd design quirks: I mentioned this earlier, but I'd like to see some tweaks to the margins in the reader view. Titles are positioned too close to the edge of the screen so as to provide less breathing room for the text. The custom font size/line height/body width sliders are very sensitive, meaning it's hard to perfectly dial in the right reading settings. Five options like "Extra Small/Small/Medium/Large/Extra Large" might be a better option to more quickly dial in the best rating experience.
Some syncing issues: There have been the odd times where I'd be browsing on the Mac, find something I want to read in a more comfortable environment, save the link to GoodLinks, and not have it show up within a reasonable amount of time on my iPad. So far, the only way I've had luck with having GoodLinks on the iPad sync with the Mac is by force quitting and re-opening the iPad app. Once the app re-opens, the saved URL is there and waiting for me.
Wrap Up
I've breezed over some of GoodLinks' other notable features: Custom Actions and Shortcuts support could make GoodLinks a powerful read-it-later choice for power iOS users, while the ability to tag URLs at the point of save or within the app will be a hay day for tagging organizers. I don't find myself using tags at all in any app, so this specific feature is lost on me. However, the ability to easily bake GoodLinks into a writing workflow has piqued my interest.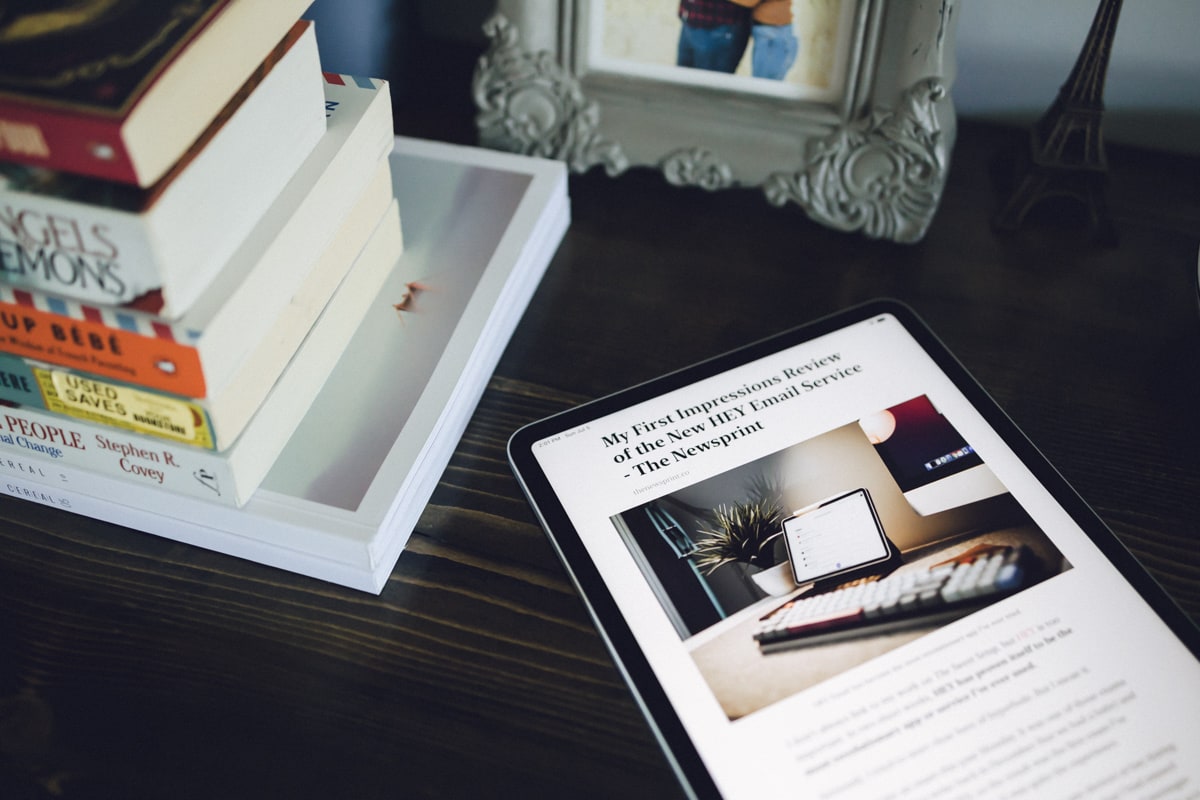 GoodLinks is three things to me:
The app is a quick-to-save, very lightweight read-it-later app that does one thing and one thing well.
The app provides a great reading experience and has customization options that rival the most customizable apps on the App Store (like Reeder or Instapaper).
The app utilizes iOS's most powerful multi-tasking features, making it an iOS-first app in my book.
This app may not supplant Pocket or Instapaper for those folks who work on both a Mac and Windows PC. Nor will it provide many of the most powerful premium features of those web services.
For a single $4.99 purchase, GoodLinks provides a great alternative for those looking for a lightweight, universal app across the iPhone, iPad, and the Mac.
Our Must-Have, Most Used Productivity Apps
We spend an inordinate amount of time sorting through hundreds of apps to find the very best. We put together a short list of our must-have, most-used apps for increasing productivity.