Anna Crotty's Mac setup
January 8, 2018
Every week, we post a new interview with someone about what software they use on their Mac, iPhone, or iPad. We do these interviews because not only are they fun, but a glimpse into what tools someone uses and how they use those tools can spark our imagination and give us an idea or insight into how we can do things better.
New setup interviews are posted every Monday; follow us on RSS or Twitter to stay up to date.
---
Who are you and what do you do?
I'm Anna Crotty. I'm 44 and I live in San Diego. I do database stuff for member-supported news organizations. I majored in computer science many years ago at Wellesley, where we were taught to go out and do something good for the world. I've done a lot of things over the years, but no matter what kind of good I start out trying to accomplish, I always wind up behind the computer, so now I embrace it!
What is your current setup?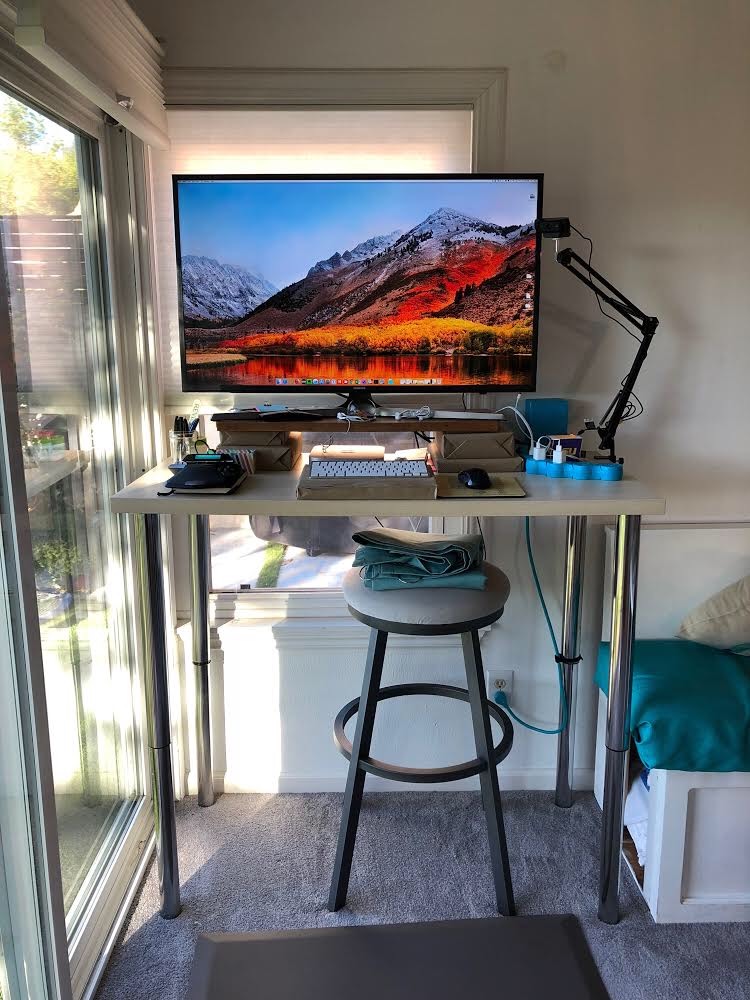 There's a lot going on here. I actually wrote a Medium story about it. It is the Sweet Setup interview I wanted to read before I bought it all. The short version is a standing desk, 40" monitor, and Mac mini.
What software do you use and for what do you use it?
I use Firefox, Chrome, and Safari for accessing a variety of web-based tools, especially Salesforce, Stripe, and Mailchimp. I use Harvest to track my time and invoice clients. I use Anaconda Navigator to make it easy to use pandas when Excel won't work for the data I'm dealing with. I use Excel to review exports of data, make small changes, and summarize with the occasional pivot table. I use Slack to chat with dozens of people every day. I use Evernote to make notes about absolutely everything. I use Skitch to take screen shots and share them with people. Lately, Skitch seems to be dying, and I'm very sad that Evernote doesn't seem to be trying to save it. I use OmniFocus to keep track of everything I'm doing, and I am always linking to Evernote from OmniFocus. I use 1Password to track my hundreds of logins.
I spend a lot of time with Slack and 3 browsers open. I might be getting questions about several different Salesforce orgs and answering them (that's what the 3 browsers are for.) I also do a lot of checks of data inside Salesforce, for which I might want a Salesforce report up side by side with Stripe search results or a Mailchimp window. I do a decent amount of work in Excel that has been inserting a column, adding a VLOOKUP to another sheet, populating the column, copying and pasting the values there, and then saving the whole thing and doing something with it.
Keyboard shortcuts for most of those things on my Logitech gaming keyboard save me tons of time. If I worked for people I just wanted to extract money from, I guess that would be a bad thing, but I work for news organizations because I think a free and vibrant and very active press is critical to democracy, so saving time and getting more done is a great thing.
My job is a weird blend of being responsive to non-technical people's questions and actually solving technical problems. I work hard to give myself the time I need to focus on the problem-solving and the time to be available for people, and I need the tools I use to be able to switch between the two more easily than my brain does!
I create a lot of documentation for people, so being able to display the browser window I'm writing about, a Skitch window where I'm drawing arrows on a screen shot, and the Evernote window where I'm writing is extremely helpful and a big time-saver.
How would your ideal setup look and function?
My ideal setup would have a 40" monitor that floats and can hold a position anywhere I want. Other than that, I think I've got my ideal setup. It would also look really pretty, but I've given up on that.
I use an iPad and an iPhone, but not in any particularly sweet way. Unsurprisingly, they've both got the biggest screens available.
---
There are more Sweet Setup interviews right here.
Want to share your setup? We'd love to hear from you. Just fill out this form with some basic information and we'll be in touch.
---
The 5 Best Productivity Apps (Sweet Setup Favorites)
Download: We spend an inordinate amount of time sorting through hundreds of apps to find the very best. This list of must-have productivity apps includes app links, quick-start info, and pro-tip workflow recommendations for each app.