Andy Young's Mac and iOS setup
October 17, 2016
Every week we post a new interview with someone about what software they use on their Mac, iPhone, or iPad. We do these interviews because not only are they fun, but a glimpse into what tools someone uses and how they use those tools can spark our imagination and give us an idea or insight into how we can do things better.
New setup interviews are posted every Monday; follow us on RSS or Twitter to stay up to date.
---
Who are you and what do you do?
My name is Andy Young. A couple of months ago I took a leap into the unknown and left my steady corporate job in London to set up a web publishing company.
At the moment I'm working on a site called Country Digest. It's an educational website that provides information about different countries around the world — information about their population, flag, national anthem, leader, and so on.
What is your current setup?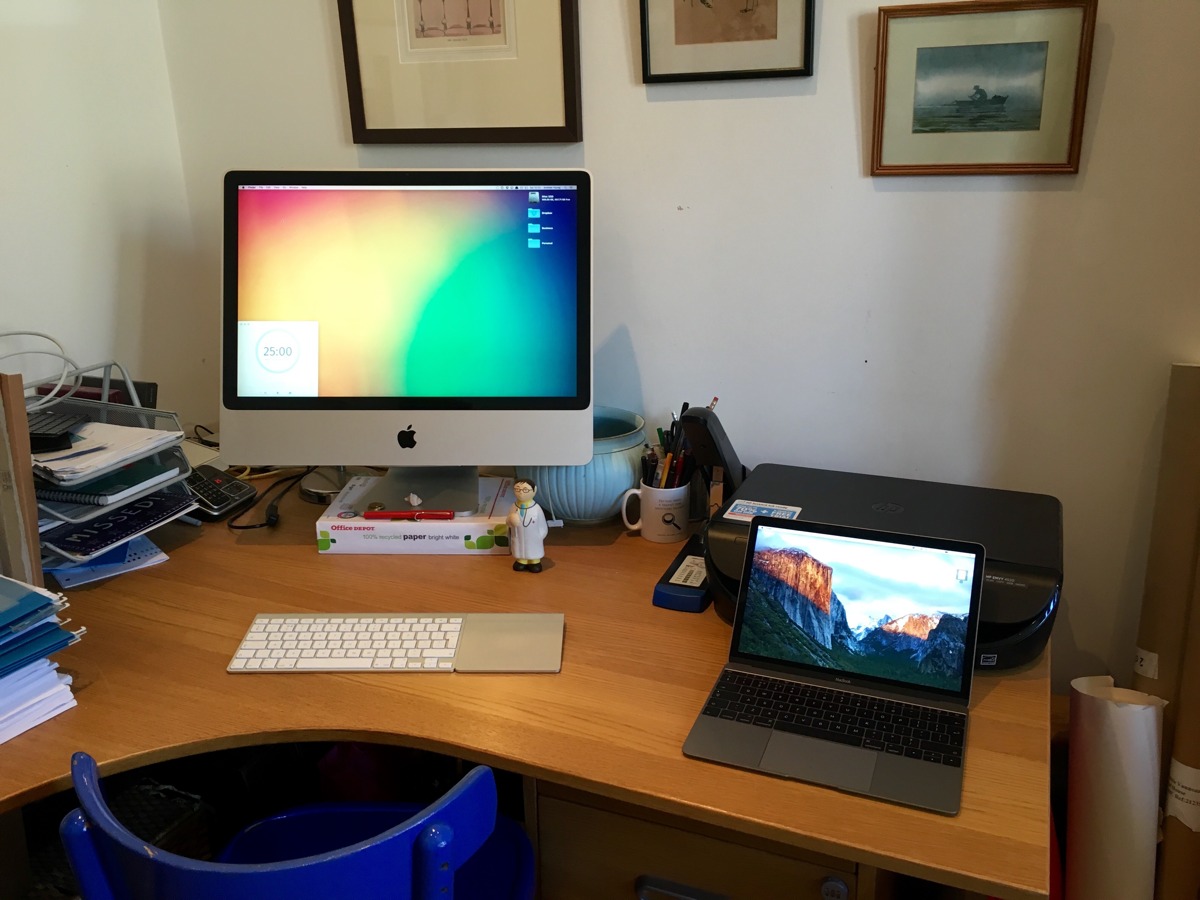 My desktop workhorse is an early-2008 24-inch iMac that is still going strong — especially since I replaced the original internal hard drive with a 1 TB SSD.
The upgrade was pretty easy (thanks to Analog Senses and iFixit for the guides) and has really given my iMac a new lease of life. Before the upgrade, just starting up the computer would take 3 to 4 minutes and it would randomly grind to a halt during daily use. Now my iMac takes just half a minute to start up and runs like a dream.
Befitting my new self-employed status and ability to work from coffee shops, I also bought a 12-inch Retina MacBook. I mostly use the MacBook while I'm on the road, but I'm finding that I turn to it more and more even when I am around the house.
When it comes to iOS devices, I am the proud owner of not just one but two iPhones. I know it sounds absurd, but bear with me for a moment while I explain.
My main iPhone is an iPhone 6S that I use when I'm out and about and for keeping track of Twitter, counting steps, etc. I even use it for the odd telephone call. My other iPhone is the iPhone 5 that I owned before I bought the 6S. I've taken the SIM card out and repurposed it as a sleep monitor and as a music player that I can plug into my stereo.
Where can we find your OS X wallpaper?
The desktop wallpaper on my iMac is a simple colour gradient. It's available on lots of wallpaper sites, but I think I found it on Wallpaper Zone. I haven't gotten around to changing the stock wallpaper on my MacBook.
What software do you use and for what do you use it?
I'm a writer by trade so I spend almost all of my day using writing software of one kind or another. I tried a lot of different options before I finally settled on Ulysses as my workhorse for writing on the Mac. I really like its combination of simplicity, ease of use, and great power under the hood. And, I really love that it syncs beautifully between my different Macs and iOS devices.
A couple of years ago, I was diagnosed with inflammatory (rheumatoid) arthritis, so being at my desk and typing all day can really put a strain on my body — particularly my arms, wrists and elbows. I've recently been experimenting with dictation software and have found it to be a great help. Although, my throat does seem to be a little more sore at the end of the day.
I use Dragon for Mac, which I'm really impressed with. But now OS X comes with dictation software included that also works well. To turn it on just go to System Preferences → Dictation & Speech. I recommend selecting Use Enhanced Dictation for the best accuracy.
Most of my day is spent searching through many, many websites looking for statistical data which I then try to turn into a straightforward and easy-to-understand article. I've tried all of the major web browsers, but always come back to Safari because I just can't seem to live without it. Usually I run it in split screen mode, side-by-side with Ulysses.
For my website, I need to do some basic picture editing. I do this using a combination of the stock Preview application and Paintbrush.
To keep files in sync between my Mac and my iOS devices, I mostly use Dropbox. Although I am using iCloud more and more, I find that Dropbox is suitable for almost all of my needs.
One of the biggest struggles that I have is being disciplined enough to do the work consistently day-in and day-out. I find that Things helps to keep everything straight in my head so that I know what needs to be done next. And Focus Timer is a beautiful little app that breaks my day into manageable chunks. It really helps that it seamlessly synchronises between my two Macs.
Some other apps that I use include:
The final application that I'd like to mention is called Pyramids. It's a relatively obscure application that just does one thing and does it really well. I use it every day to create population pyramids that I use on my website.
I imagine that few, if any, of the people reading this interview have ever heard of (or will have a use for) Pyramids, but I wanted to mention it because I think it's a great example of how you can find even the most niche applications on a Mac.
How would your ideal setup look and function?
I really like my current setup; it provides a really nice balance between working on a big screen and portability at a relatively low cost. With a new SSD, I can't see any reason why my iMac won't work at a good speed for at least another 2 to 3 years.
The only slight concern that I have is that the new Mac OS won't be compatible with my current iMac. It'll be interesting to see how long I can work effectively with a desktop computer that is running OS X El Capitan and a MacBook that is running macOS.
---
What iPhone do you have?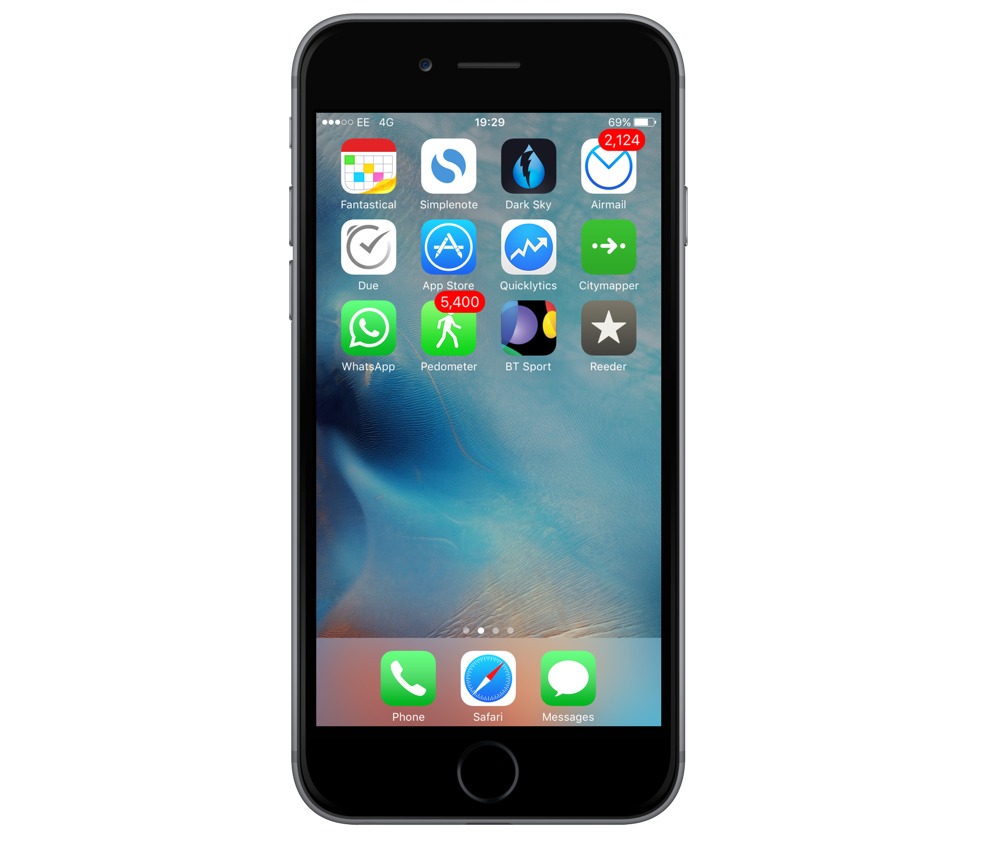 I have a 64Gb iPhone 6S. I upgraded in October last year after three years of using a 16GB iPhone 5. After a year of use I can honestly say that I am still thrilled with it.
I've looked at the new iPhone 7, but although the improvements are impressive, they don't offer enough for me to get excited about upgrading. I'll be sticking with my 6S for the next twelve months at least.
What apps do you use the most, and why?
Mostly I use my iPhone 6S for keeping up with emails and social media.
For emails, I use Airmail which syncs nicely with Airmail on my Macs. I need an IMAP client for my email (I use runbox.com, an independent provider from Norway who place an emphasis on security) and, unlike some of the other uber-trendy new email apps out there, Airmail handles IMAP without breaking a sweat.
Because I have three Twitter accounts (one personal, two for business), I use three different Twitter clients – the official client, Twitterrific, and Tweetbot. I know I can have multiple accounts on the stock Twitter app, but I'm too nervous I will accidentally tweet something from the wrong account.
Other apps that I use regularly are:
When I got the 6S, I thought about selling my iPhone 5, but instead decided to repurpose it for use at home. I've taken everything off except for four apps, which are Sleep Cycle, Audible, Overcast, and Amazon Music.
During the day, my iPhone five sits on my stereo dock ready to play music or podcasts through Overcast's new syncing engine. Then, at night, it goes under the sheets of my bed to tell me how well I'm sleeping.
Which app could you not live without?
Due. I'm really forgetful and this app constantly nags me to do things. Sometimes it drives me nuts, but I would be in so much trouble without its constant reminders.
A brief note about my iPad
I have an iPad Mini Retina. It saw heavy use when I used to commute into work by train, but now that I commute from one room in my house to another, I find I barely touch it.
---
There are more Sweet Setup interviews right here.
Want to share your setup? We'd love to hear from you. Just fill out this form with some basic information and we'll be in touch.
---
Free Productivity Guide: Download our simple guide to productivity to help you improve your workflows and be more focused with your time and attention. Get it here.