Adam Lee's MacBook Pro Setup
October 14, 2019
In this series, we post a new interview with someone about what software they use on their Mac, iPhone, or iPad. We do these interviews because not only are they fun, but a glimpse into what tools someone uses and how they use those tools can spark our imagination and give us an idea or insight into how we can do things better.
New setup interviews are posted every Monday; follow us on RSS or Twitter to stay up to date.
---
Who are you and what do you do?
My name is Adam Lee, and I am a (part-time) computer science student while working as a software developer. I also write my own site about things that interest me.
What is your current setup?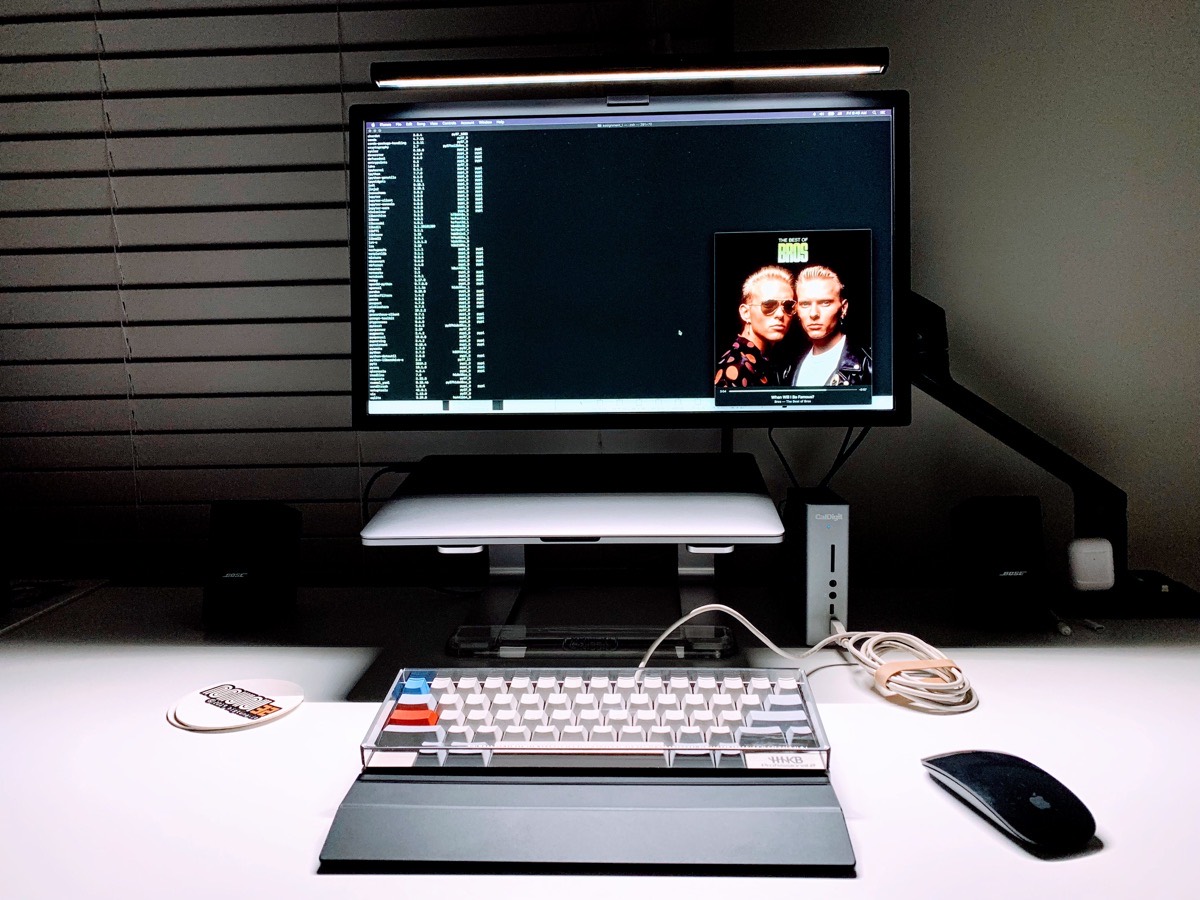 I began using this with my white MacBook (Core2Duo anyone?) back in college. Since then, it's served many more laptops and is still looking sleek as ever.
I bought this keyboard in my 2nd year of college I believe. It helped me get through my undergrad, and has been with me through all kinds of ups and downs. I also carry it everywhere. I can forget my mouse, but I get very cranky when I forget the keyboard. The case I carry it in is made specifically for the keyboard and fits like a glove.
I like how compact these are. They sound superb as well!
I fidget a lot and switch postures throughout the day. A monitor arm is a must now.
Probably my favorite purchase of the past ~5 years. Image quality is just amazing. It lets me charge my MacBook with the display cable as well. It's quite small at 22 inches, but I find I focus better with this single monitor setup.
What can I say? I like it. Great screen, performance, and quality all around except for the keyboard and the heat. I am already excited for the next generation of MacBooks. For the next while, this is my workhorse.
It's got its quirks, but I like how slim it is. I carry my keyboard with me all the time, so I don't want a bulky mouse. This does the job. Sometimes I even carry it in my pants pocket. That said, I don't use it too much as I spend most of my time in the terminal.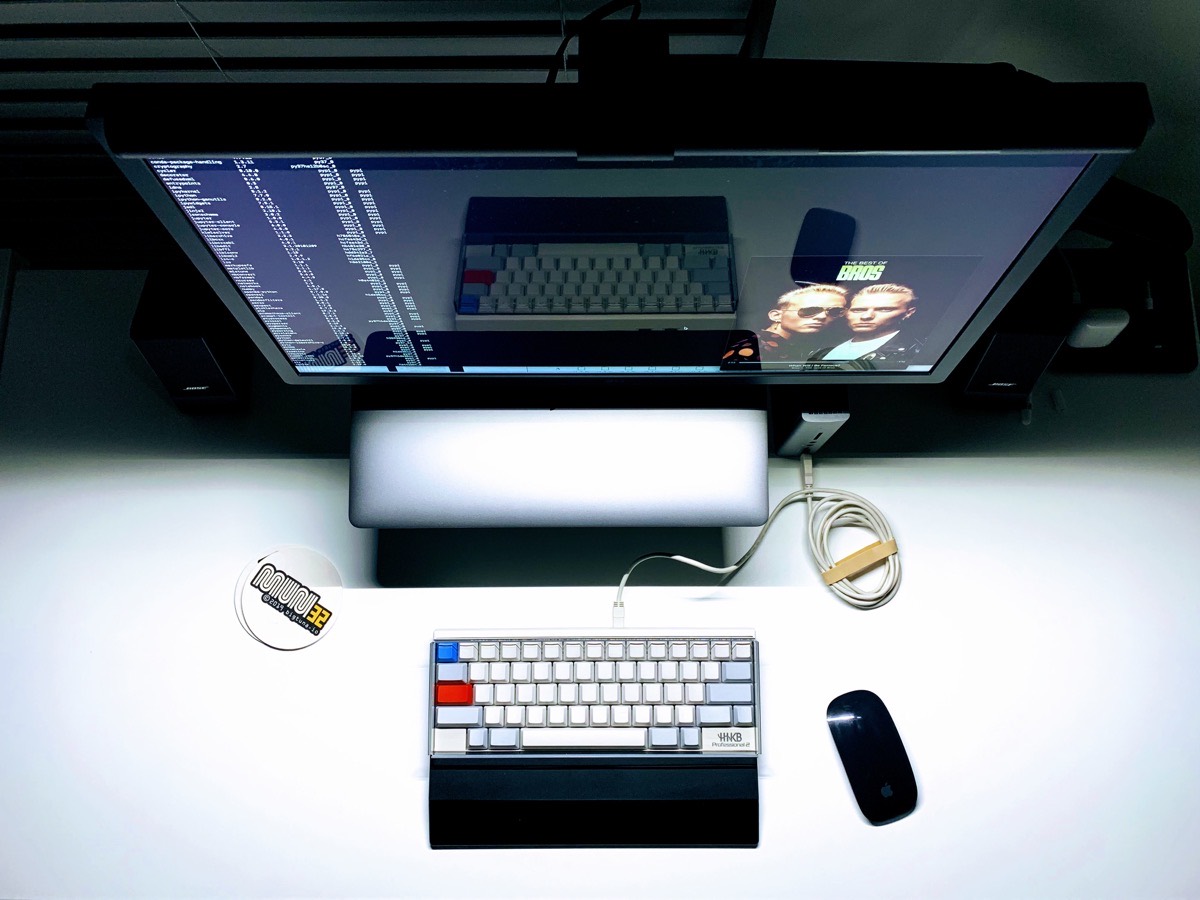 I can never go back to wired earbuds, especially when I am out and about.
My arms and shoulders got stiff and sore over the years. I knew my posture had problems, but I never knew my wrists were part of the issue until I straightened them with this.
Dongles and adapters added up. So I forked out $$$ and bought this instead. This thing is a beast. Not only does it charge my laptop, it also has a passthrough for the display. It's got everything I need, like the SD card reader, audio in/out, USB ports (both powered), HDMI, etc.
It's pricey, but it's worth it. I no longer have to adjust the monitor AND the desk lamp to kill the glare. Most of the time this is the only light I use in my room.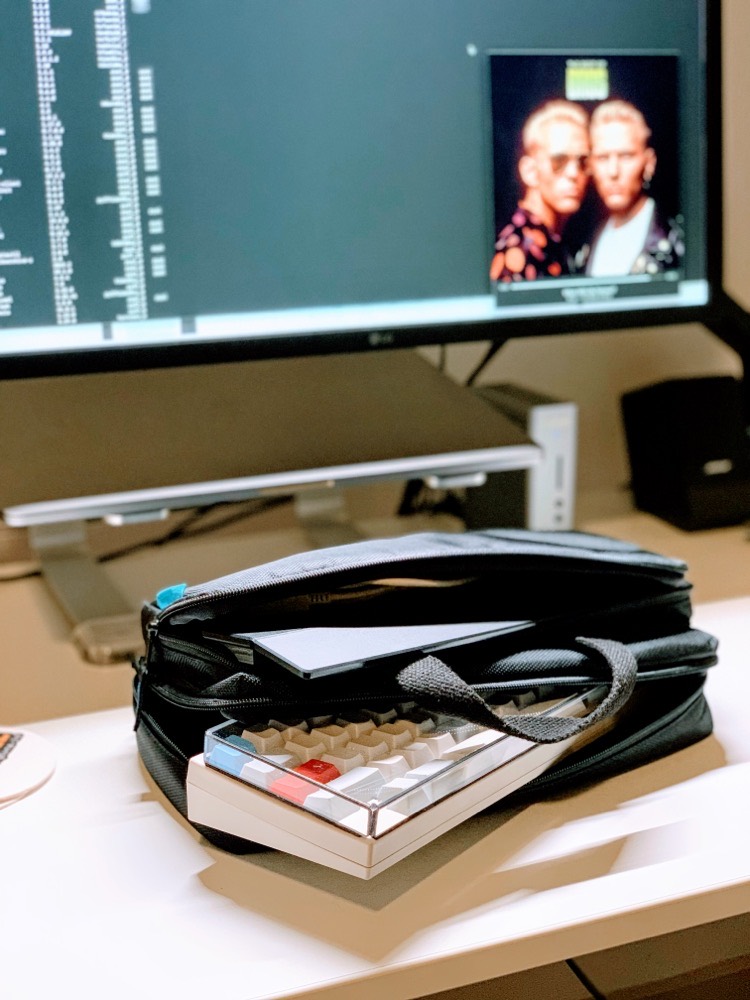 Where can we find your macOS wallpaper?
It's a photo I took with my iPhone, and you can find it here.
What software do you use and for what do you use it?
Oh My Zsh: I use zsh as my shell, and this makes it easy to manage my zsh configurations. Check it out if you don't know. It's addicting.
vim: My go-to text editor. I use it partly because it's available everywhere, but also I find GUI tools annoying.
VS Code: I'm still figuring it out, but I've been doing my assignments with it, and it's pretty good with lots of keyboard shortcut options.
Apple Music and Spotify: I go back and forth between the two all the time. I've been using Spotify more and more as of late though. It recommends songs that speak to me deeply.
Microsoft OneNote: What I use to take notes for my courses. I haven't really tried any other note-taking apps, but OneNote has been around for a long time with great cross-platform support.
How would your ideal setup look and function?
Flexibility is everything for me. I tweak my posture a lot while I am sitting, so the monitor arm has been great for that. I also enjoy the ability to dock my laptop with a single cable to the docking station, and AirPods have completely untethered me from the desk.
---
There are more Sweet Setup interviews right here.
Want to share your setup? Wed love to hear from you. Just fill out this form with some basic information and we'll be in touch.
---
Wait. There's a Bonus….
Custom Productivity Templates
We have a set of custom productivity templates that work well with the iPad app, GoodNotes. And if you want to try them out, we've put together a free guide that can help you.
We'll show you…
How to create and save custom page templates in GoodNotes.
How to use those page templates to transform GoodNotes into your own productivity notebook (or any other type of notebook replacement).
Plus, we also have included a couple of our custom productivity templates for you to get started with. These templates are right out of our popular productivity course.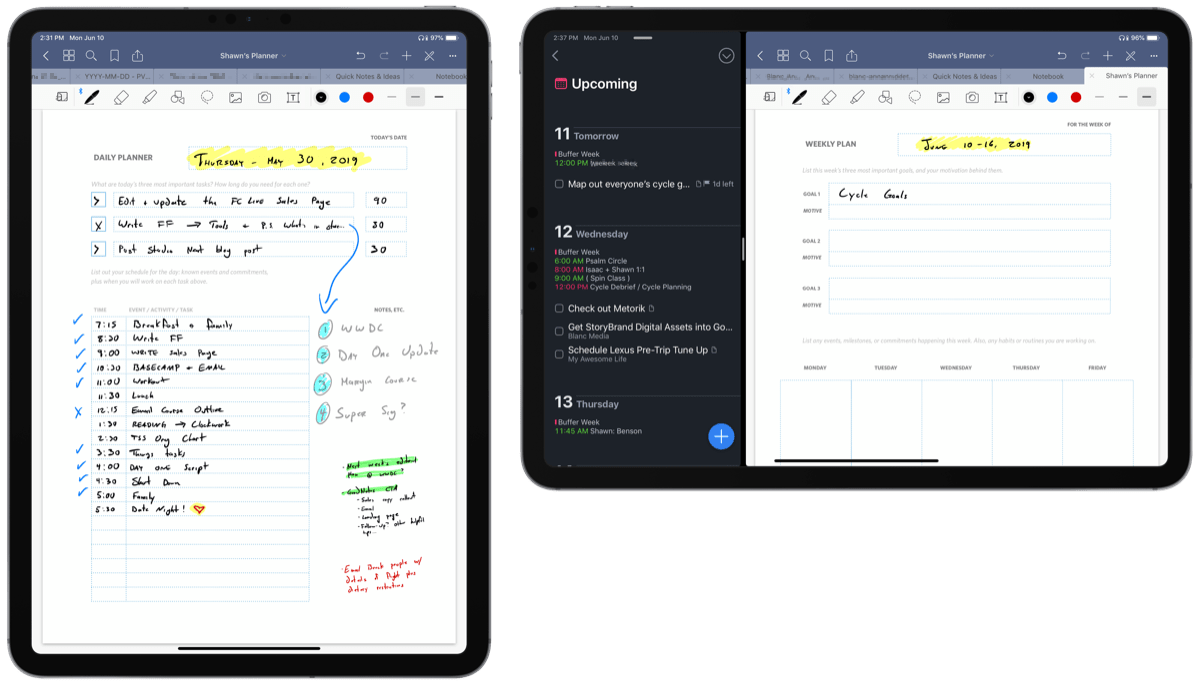 The custom templates and the guide are available for FREE to our email subscriber community. And you can get it right now. By joining the Sweet Setup community you'll also get access to our other guides, early previews to big new reviews and workflow articles we are working on, weekly roundups of our best content, and more.