A Summary of Apple's Peek Performance Event
March 8, 2022
Today's Apple event lived up to its teaser name by showing how Apple is delivering peak performance across their entire product line. Whether it's their more affordable iPhone or their latest desktop machine, speed was a core part of the sales pitch everywhere. While the company didn't announce a product for everyone today, they did make it very clear that everyone buying these products need not worry about performance one bit.
But what did Apple announce? Let's take a look at each one briefly, in the order we think is most exciting.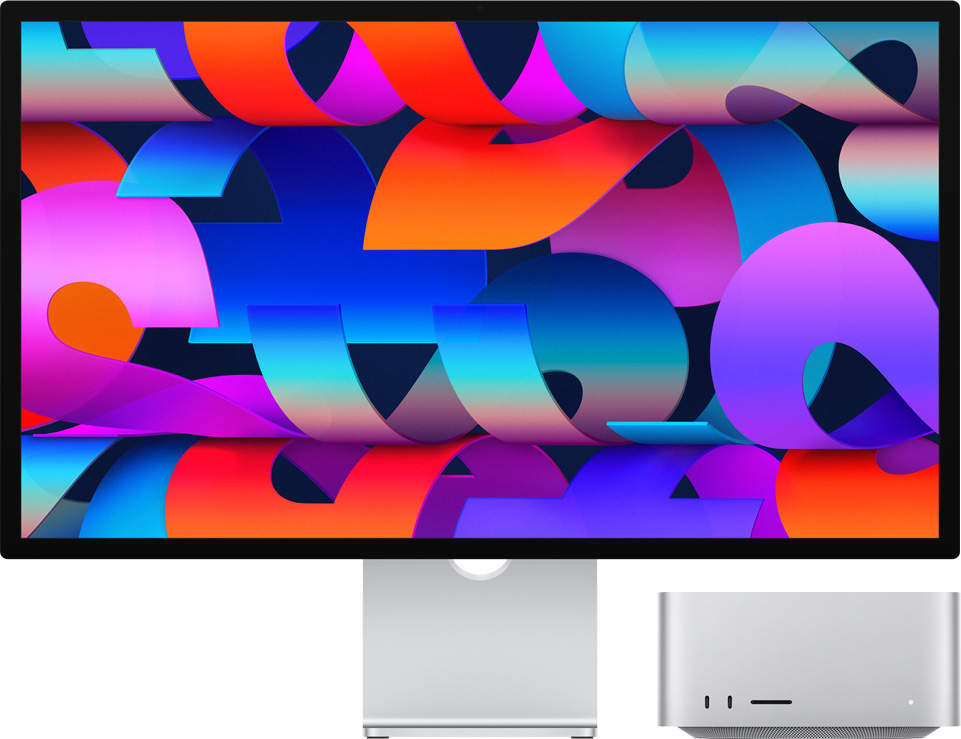 Studio Display
This was easily the thing I was most excited to see, and Apple delivered almost exactly the product I was hoping for. This is the ultimate display for most Mac users out there, or at least those Mac users who have healthy budgets for computer accessories. At a starting price of $1,599, the Studio Display is far from a budget display, but it's also at least in reach for far more people than the Pro Display XDR.
The specs you get with this are really competitive in the market. Assuming you're using a Mac, it includes some features that frankly are hard to compare directly to anything else on the market. The 5K resolution at 27″ is not surprising, but is very welcome. It has the same pixel density as the Pro Display XDR, a very similar design, the same I/O, the same nano-texture glass upgrade, and it even has the successor to the infamous $1,000 stand!
But how does the Studio Display cost so much less? Frankly, it all comes down to one thing: the display is simply not as extreme as the Pro Display XDR. It's still very good, but it only goes up to 600 nits of peak brightness (XDR goes to 1,600 nits), lacks some of the more particular image quality details, and it's unclear if the viewing angles are as good, but these seem like very reasonable compromises for most people.
You also get speakers, studio mics, and a camera with Center Stage, which makes a great display for working from home or the office.
One last thing before we move on: the display has an A13 chip built in — the same camera setup as the iPad Air — and more than enough space for the components, but it doesn't have Face ID. Of all of Apple's Mac products, this seems like the one most obvious to include Face ID, so its omission is as clear a sign as any that Apple doesn't see Face ID as making sense on the Mac right now.
Mac Studio and M1 Ultra
Based on the specs they were throwing on screen, I thought Apple was pitching the Mac Studio as the successor to the Mac Pro, but as they made clear at the end of the presentation, the Mac Pro is still coming, and at this point I find it hard to imagine what that's even going to look like.
Long-time Mac fans can rejoice — Apple finally did it! They finally gave us the xMac. For decades, Apple has made three desktops:
Mac mini
iMac
Mac Pro
And for the last few decades, there have been people asking for Apple to make a desktop computer somewhere in the middle. They wanted more power than the always entry-level Mac mini, but they didn't have $5,000+ to spend on a Mac Pro. For years, the iMac was the solution, but that was a fully integrated system that didn't appeal to the sort of person asking for a higher end desktop from Apple.
Amazingly, even as desktop computers are less of a factor for most people than ever before, Apple has finally made the closest thing we've ever seen to the fabled xMac. The M1 Ultra sounds incredible, fusing two M1 Max chips together to create an absolute beast of a machine, and it's awesome to see, even if most of us don't even push the M1 to its limits all that often.
I could go on, but ultimately the Mac Studio is built for someone who needs the most power they can get their hands on, wants good I/O (shout out to the front-facing USB-C and SD card reader ports!), and is okay with that sitting in one place forever. I think most people will still opt for the portability of a MacBook Pro, but it's great to have this option out there as well. I really never thought I'd see this product in my lifetime, so color me surprised.
iPad Air
Back to the performance focus, the updated iPad Air is very much the same as the 2020 model it replaces, but with a couple key updates. The star of the show is the M1 processor, bringing it to parity with the latest iPad Pros. It lags a bit behind with a USB-C port rather than the Thunderbolt from the Pros, although Apple did point out that the data rates were twice as fast as the previous model.
But the more notable feature for many people will be the new ultra-wide front-facing camera that brings support for Center Stage, a low-key brilliant update the company debuted in the 2021 iPad Pros about a year ago, and which has now made it into all of their iPads and the new Studio Display. For those who don't know, Center Stage basically turns your iPad camera into an active participant in video calls, following you around the room if you move, and zooming in and out to compose your video as other people come into or leave the frame. It may sound a bit odd, but it makes all other cameras feel limited by comparison.
iPhone SE and the Green iPhone 13
There's really not much to say about these other than that they were totally predictable. The iPhone SE got updated to use the top-of-the-line A15 chip, added 5G connectivity, and kept the same form factor it's had for a few years. The starting price also went up $30, now starting at $429.
The iPhone SE continues to be a bit of an anomaly in the phone space. While most other companies make their cheap phones look expensive, and then cut costs by skimping on performance, Apple puts their industry-leading system on a chip in their cheap phone and let it live on with a design from 2017. It may not be the right move for everyone, but it certainly seems to be working for Apple.
And we also get a green variant of the iPhone 13 and 13 Pro, and they look nice, but what more can you say about them?
Final Thoughts
This event was a little odd in that it was almost entirely dedicated to products that are kinda niche by Apple's standards. The iPhone SE and iPad Air will surely sell relatively well, and their updates were respectable, if a bit safe. The Mac Studio and Studio Display are definitely targeted at a higher-end crowd, but I think they'll make a lot of people really happy.
Ultimately, this event continues to show how on-point Apple is right now from a hardware perspective. You can pick some nits here and there, and you may not be the target market for some of it, but it's going to be tough to argue that any of these products are bad by any measure.