A Roundup of Apple's 2021 WWDC Keynote Announcements
June 7, 2021
If you had any inclination to think Apple's pace of product development was slowing down during the global pandemic, today's 2021 WWDC keynote event should knock you back into reality. At 1.75 hours, this was one of Apple's longer pandemic-keynotes, but in the end we were left with a dizzying array of features destined for our iPhones, iPads, and Macs in the fall.
The pandemic has seemingly enabled Apple to lock down its best kept secrets even better than in regular times. I didn't read a single "Develop and submit apps from an iPad" leak, nor did I hear about Universal Control, SharePlay, or any other headline feature in pre-keynote leaks. I don't think I've been this surprised by a keynote in at least a few years.
It'll be very difficult to give today's keynote justice in a summary post such as this one. Nevertheless, here were the biggest features that caught our attention for all of Apple's software platforms in today's WWDC keynote event.
Must-Have, Most-Used Apps for Thinkers
We spend an inordinate amount of time sorting through hundreds of apps to find the very best. Our team here at The Sweet Setup put together a short list of our must-have, most-used apps for writing, note-taking, and thinking.
iOS 15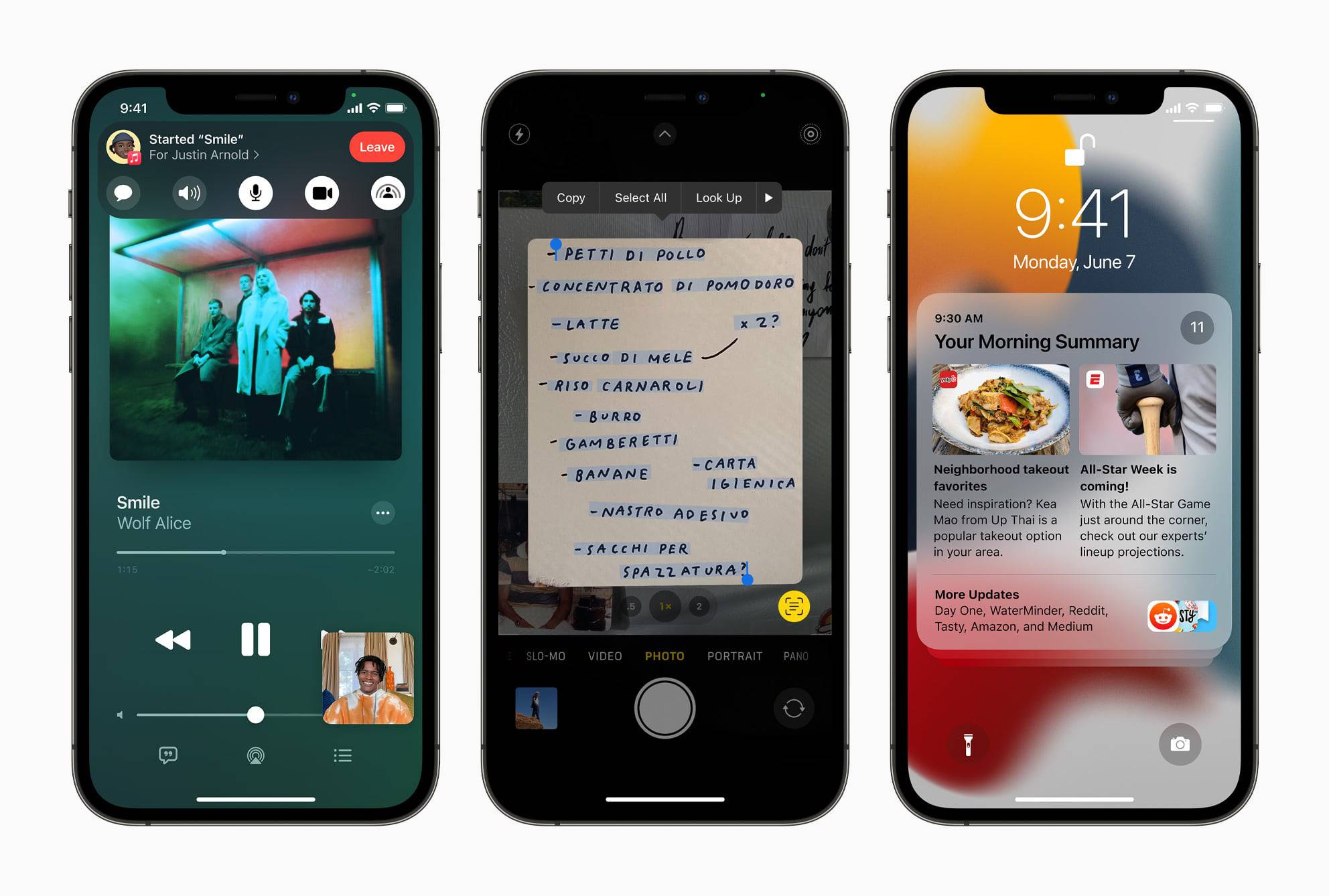 Craig Federighi categorized the latest features coming to iOS 15 in four different categories:
Staying connected
Finding focus
Using intelligence
Exploring the world
Each category had some headline features, especially "Staying Connected."
Staying Connected
Coming to iOS 15 are a wealth of new features for FaceTime calls, marking one of the first major improvements to FaceTime in years.
Spatial Audio is coming to FaceTime, purportedly allowing sound to resonate from where the person is in your FaceTime call. This, combined with Voice Isolation, whereby your iPhone measures the sound in the FaceTime call and isolates just spoken words, is sure to improve audio quality on FaceTime calls immensely. In the demo, FaceTime was able to eliminate a leaf blower operating right behind the individual in the FaceTime call. Impressive stuff!

Long overdue features like Grid View and Portrait Mode are also coming to FaceTime calls.
FaceTime will become a cross-platform service in iOS 15 — you can create sharable FaceTime links that can be used by anyone using a Windows PC or Android phone and have cross-platform users jump into your FaceTime call.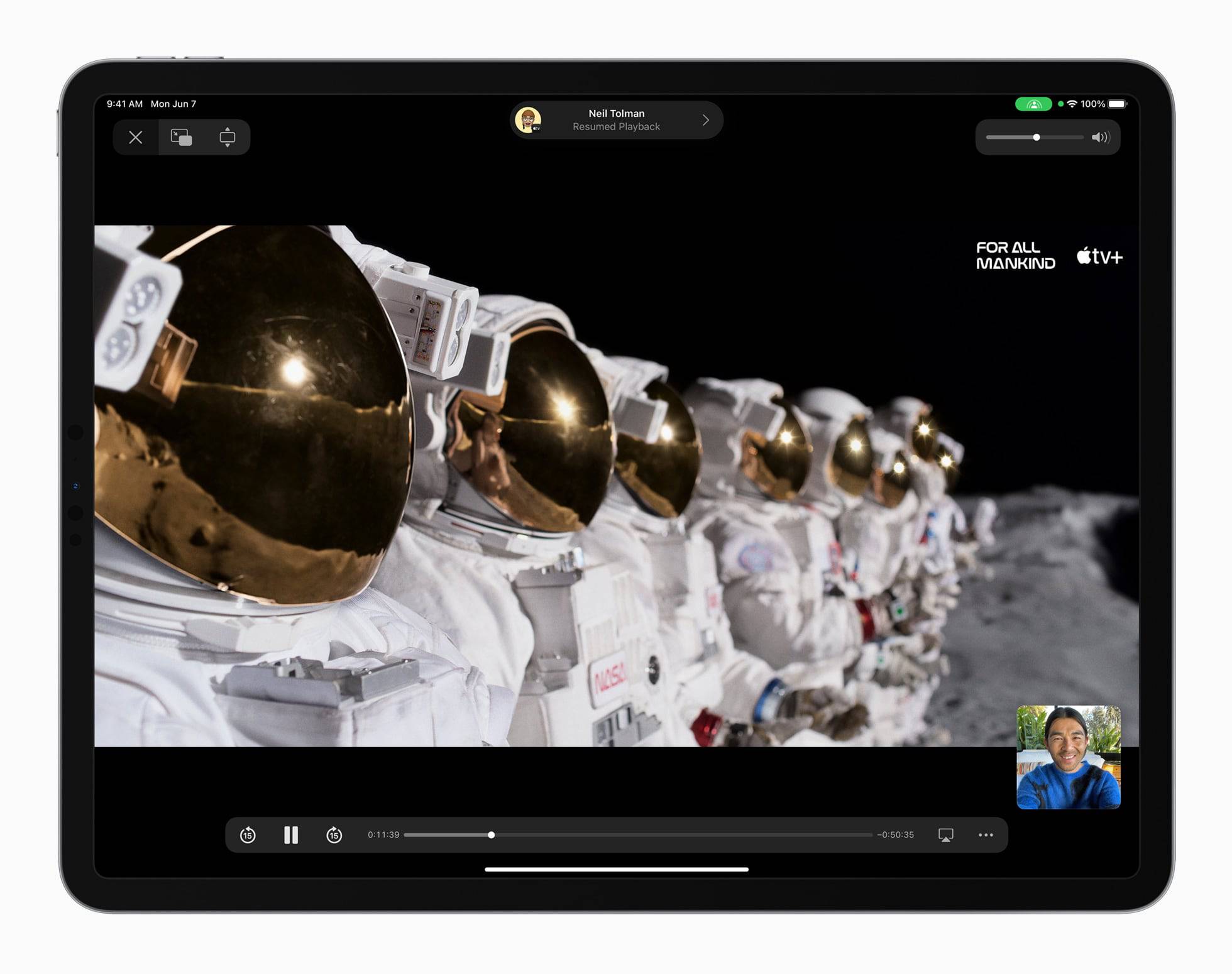 A transcending feature throughout the announcements today was SharePlay, a set of new features that enable you to share music, TV shows, websites, screens, and other information via FaceTime and enable groups of people to consume content together. So, via SharePlay, your FaceTime group could simultaneously load up an episode of Ted Lasso and you could watch the episode on your iPhone with all FaceTime recipients still appearing on-stage. iOS 15 will even adjust the volume of the TV show to enable you to chat about what's going on in the show.
The same type of SharePlay experiences will work for Apple Music and for sharing screens — which is sure to be a boon for those who find themselves playing the role of tech support for family members.
SharePlay was seen all over today's announcements and are surely a result of the global pandemic and our need to connect when apart. I'm excited to see how groups use SharePlay in FaceTime.
Alongside SharePlay are new Shared With You features baked into all of iOS. So, if a person shares a stack of photos with you in Messages, those photos will now appear in a new dedicated section in the Photos app titled "Shared With You." The same will appear for news articles shared with you in the News app, or TV shows shared with you in the Apple TV app. You can even pin a specific item in Messages to ensure it shoots to the top of the "Shared With You" section in the appropriate app.
Focus
Apple is debuting its own version of "states" in iOS 15 — you will be able to use iOS 15's new Focus features to signal to your iPhone what you are currently working on. So, if you need time to code a new part of your app or time to read a new book, you can tell your iPhone what you're working on and iOS 15 will use machine-learning to suggest different notification groupings and different widgets to match your mindset.
Little notifications will show up inside Messages to notify others of your current mindset, ensuring they know not to disturb you from your area of focus.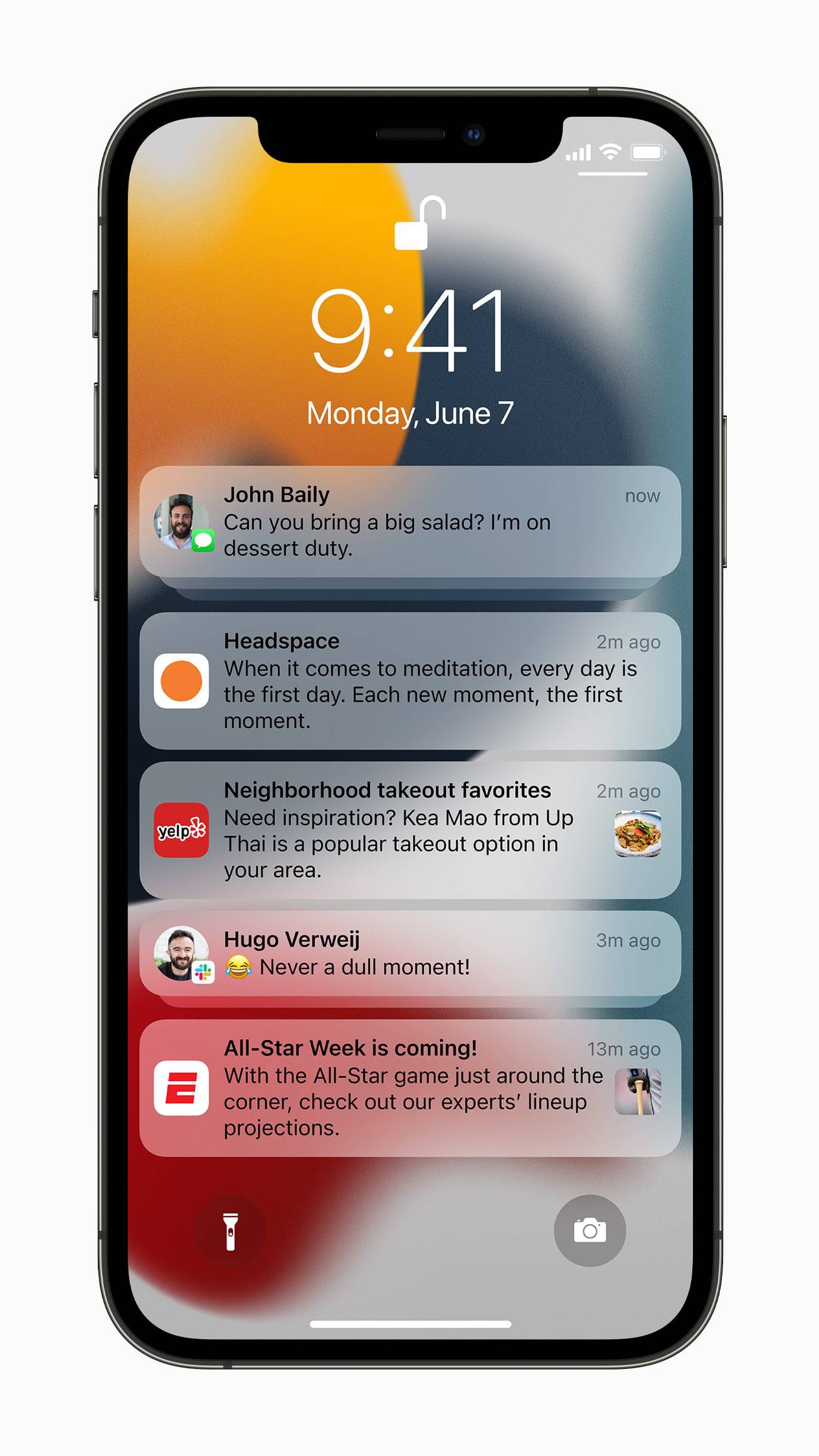 Also improved in iOS 15 are notifications in general — they will have a better design and have improved avatars, and a new Notification Summary can be shown to you at different times of the day so you aren't constantly looking at your iPhone when new notifications sneak in.
Intelligence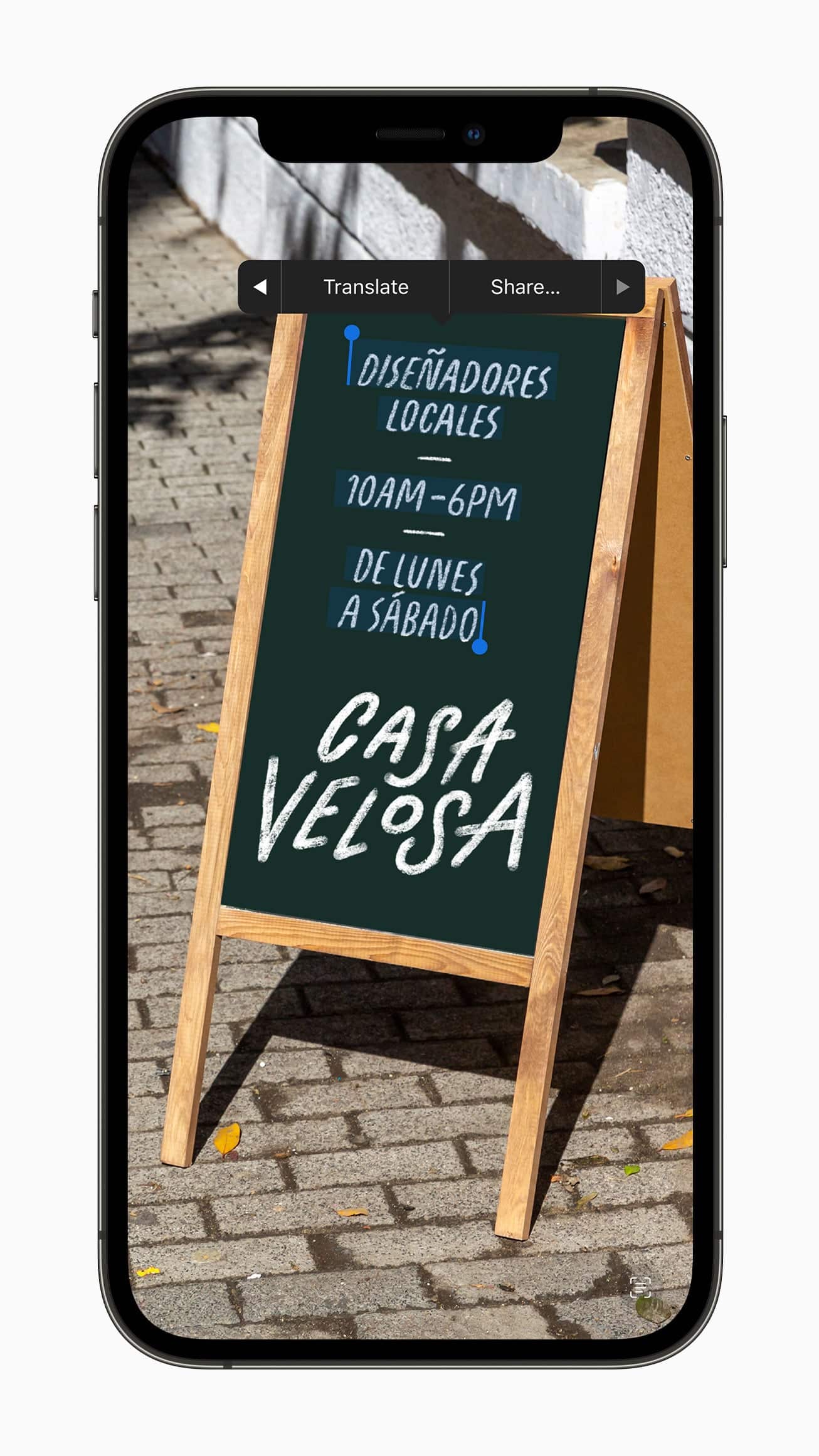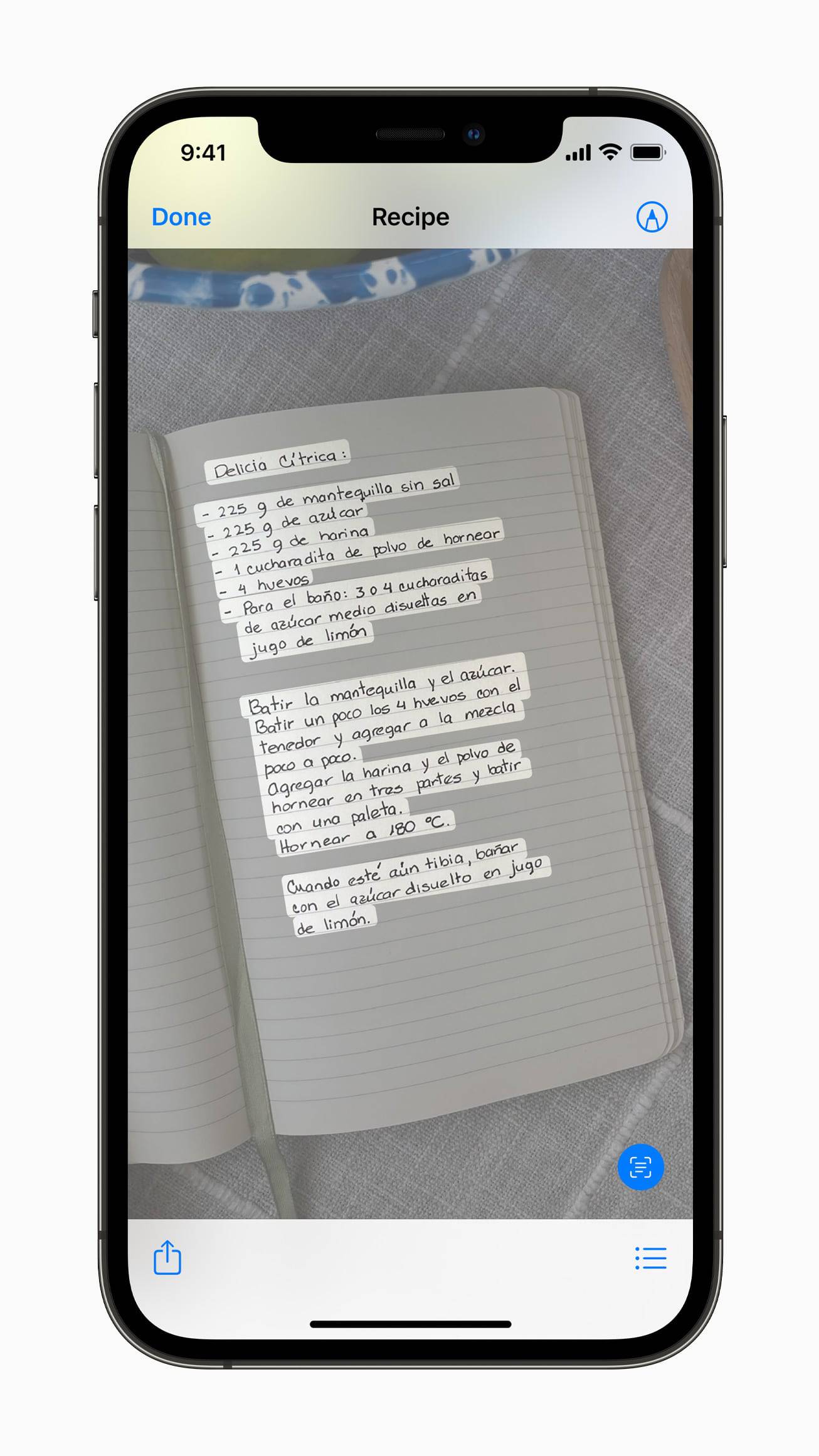 Under "Intelligence," Craig showed off the power of Live Text features. In short, iOS 15 will use machine-learning to scan through photos, screenshots, and other images to provide you with tappable and copyable text that you can use anywhere else in iOS. The demo of grabbing a whiteboard full of notes by simply snapping a photo and copying all the text in the photo looked tremendously powerful.
Under this section, Siri has also received some power boosts, specifically in the area of Siri Knowledge. Using Siri, you will be able to get definitions of things in photos, such as breeds of a certain type of animal. Core areas of Siri are also being moved on-device to speed up processes and to improve privacy, but there will be more on that in a bit.
Exploring the World
Last but not least, Apple is debuting three key new features to iOS 15 in relation to the world around you.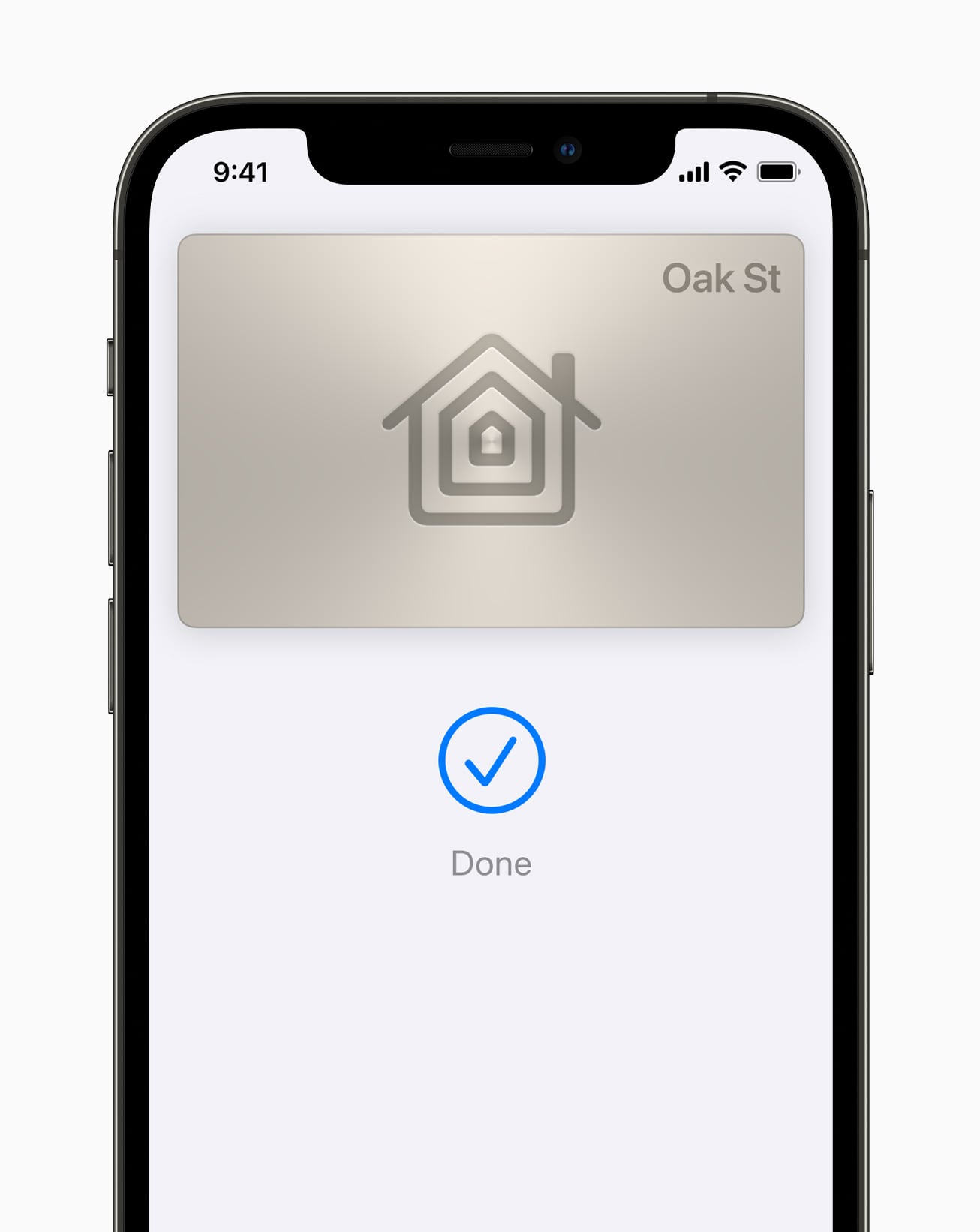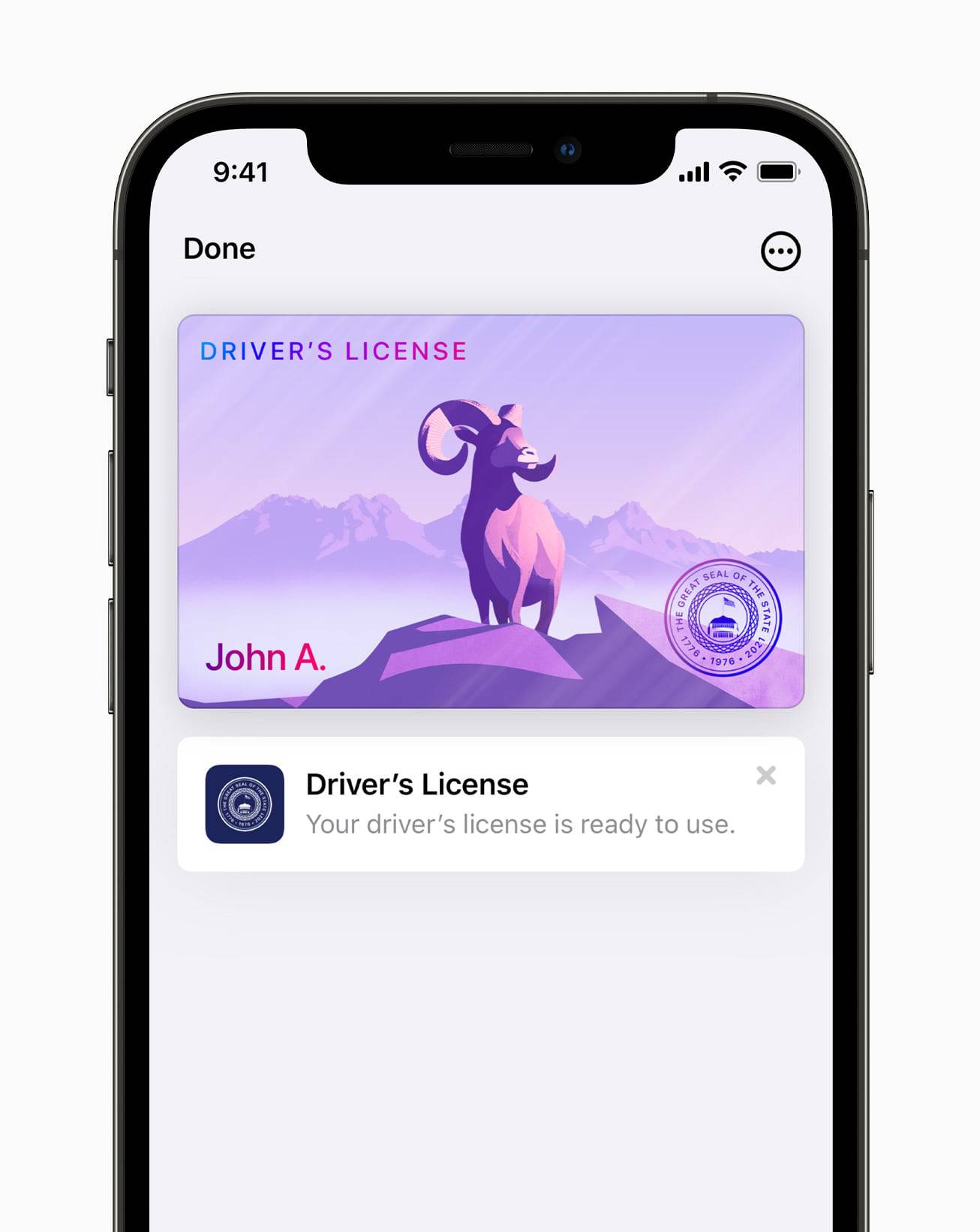 First, Apple Wallet is getting a rash of new features, such as the ability to store your house keys or office keys. Wallet will also be able to store additional transit cards, certain park passes, and perhaps as a sign of things to come, your own digital identification. In certain states in the United States, you will be able to scan a copy of your drivers' license into Apple Wallet and use the digital ID wherever your ID is needed.
Second, the Weather app has been completely redesigned, both for beauty and for usability. There are new live graphics around the app that make the app look cleaner and more friendly, but the bulk of the improvements will come by way of new radar and weather maps. Weather maps have long looked archaic and Apple has seemingly found a way to improve the graphics in a trusty weather map.
Finally, Maps continues to be iterated each year. This year, Maps is getting even more detailed features for a range of Apple's favorite cities in the United States. A new Night Time mode looks stunning, especially on the little 3D models used for landmarks in certain US cities.
Maps will also be able to use your camera to scan your surroundings and provide you directions in augmented reality to tell you which way to head after you come up from a transit ride. This, combined with new Maps driving features, are sure to make navigation that much more beautiful and that much more simple in everyday life.
iPadOS 15
iPadOS 15 was the most sought after portion of this keynote. Depending on who you are and where you set expectations, Apple either delivered immensely or fell flat on its face. I'll let you figure out where you stand.
Widgets and App Library
After what felt like decades, Apple is bringing widgets to the iPad home screen — iPadOS 15 will enable you to move widgets wherever you prefer. Apple is also debuting a new large format widget that looks beautiful on the larger iPad display. This will be great for showcasing For You photos, weather radar maps, and other media-rich apps.
App Library — naturally — is coming to the iPad this year as well, ensuring you can avoid page after page after page of once-used apps. One small difference from the iPhone though: You will be able to access the App Library right from the iPad's dock. All apps will be only two touches away.
Multi-Tasking
This is where the expectations were sky high, and I'm not sure if Apple fully delivered. iPadOS 15 is going to deliver on new multi-tasking features, hopefully paving the way for more users to more quickly understand how to multi-task with multiple apps on the iPad and how to move between different multi-tasking states on the iPad.
Continuing on in full force are Split View and Slide Over. In iPadOS 15 however, entering into Split View will be supposedly much easier — you'll be able to enter into Split View from iPadOS's Exposé view, via keyboard shortcuts, or by a new menu located in the middle top of every app view. If you tap on the button in the middle top bar, iPadOS 15 will provide you options to put the app into the left or right side of the iPad, and subsequently slide over for you to choose a second app for Split View. There's a lot of whimsy in these animations and, at least from the onset, it appears the interface is improved over iPad's current multi-tasking state.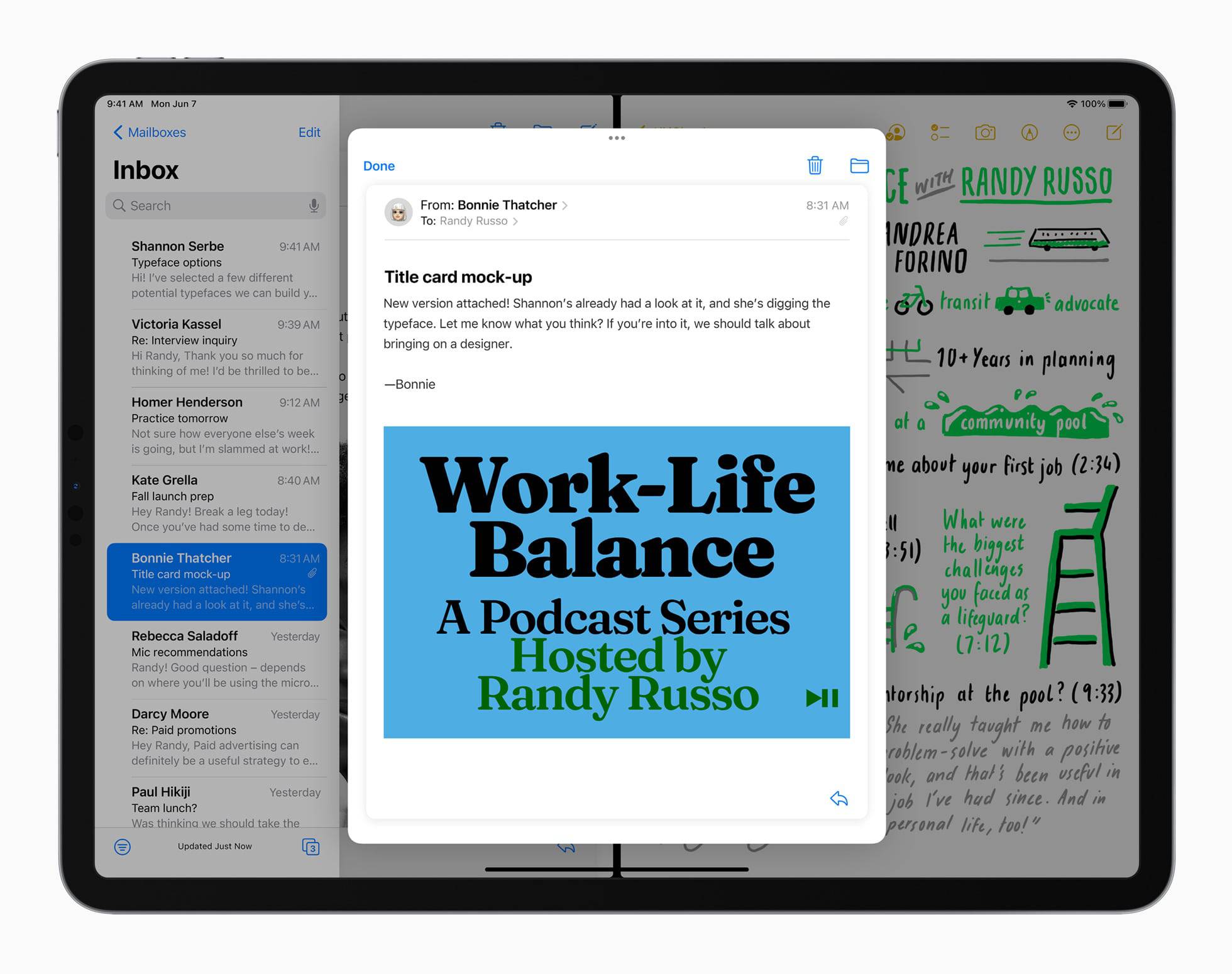 Two other multi-tasking features include the ability to open certain elements of an app in a "new window", or an app situated in the very center of the display on top of two apps in Split View. This may be handy for viewing an email right in the middle of the display rather than opening up an entirely new window for the email.
And finally, iPadOS 15 will now enable you to manage open windows and iterations of an app in a shelf at the bottom of the display. In this shelf will be all open windows of the app, enabling you to more quickly jump from window to window for the app. We felt Mr. Federico Viticci would be jumping for joy after seeing a feature he envisioned years ago.
A neat feature not mentioned in the keynote: It appears Apple is bringing a menu bar to the iPad, albeit hidden inside the keyboard shortcuts view when you hold down the "CMD" button on an external keyboard. We're excited to see how this menu bar performs in real life after we get our hands on the beta.
Notes and Quick Notes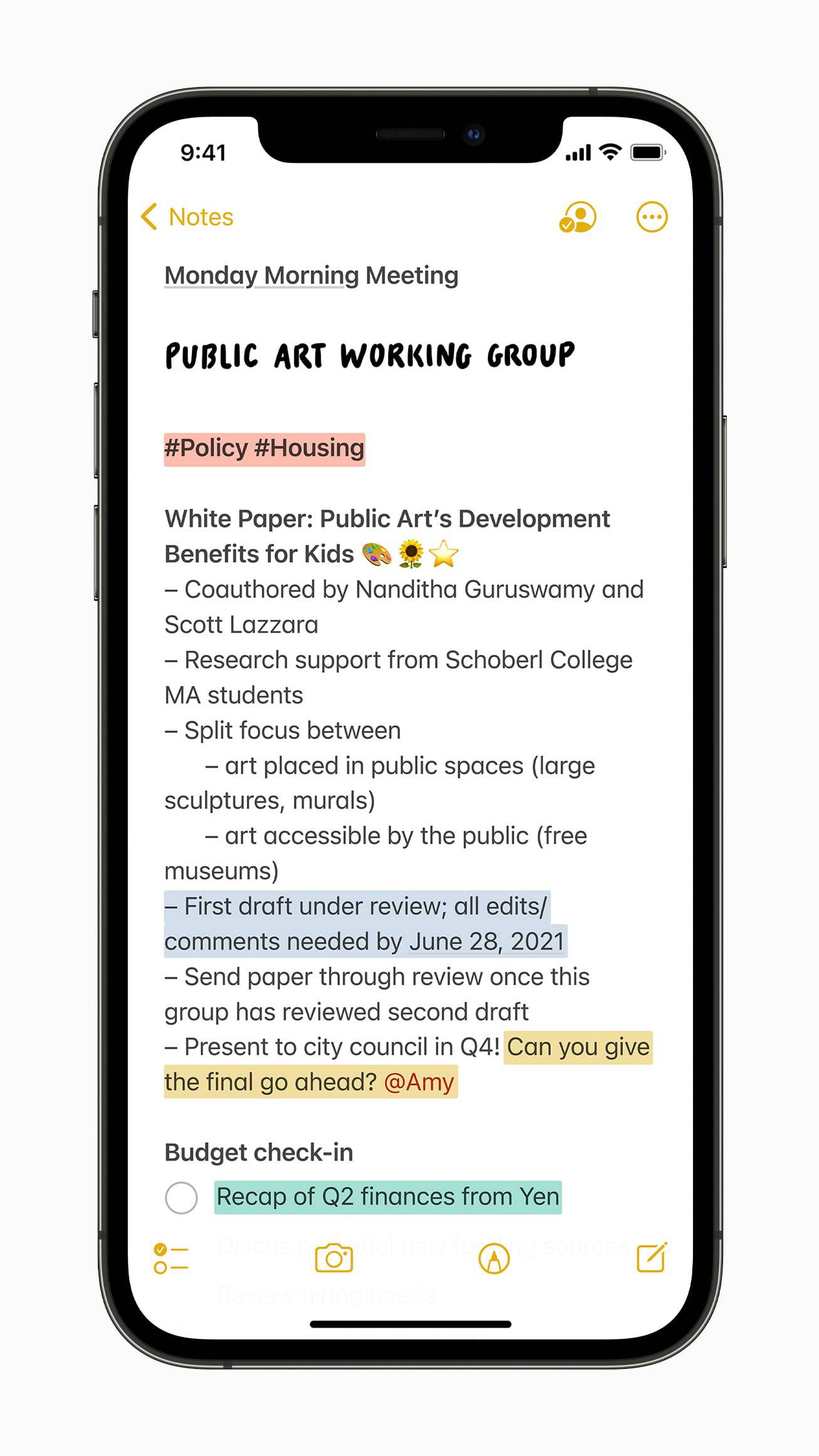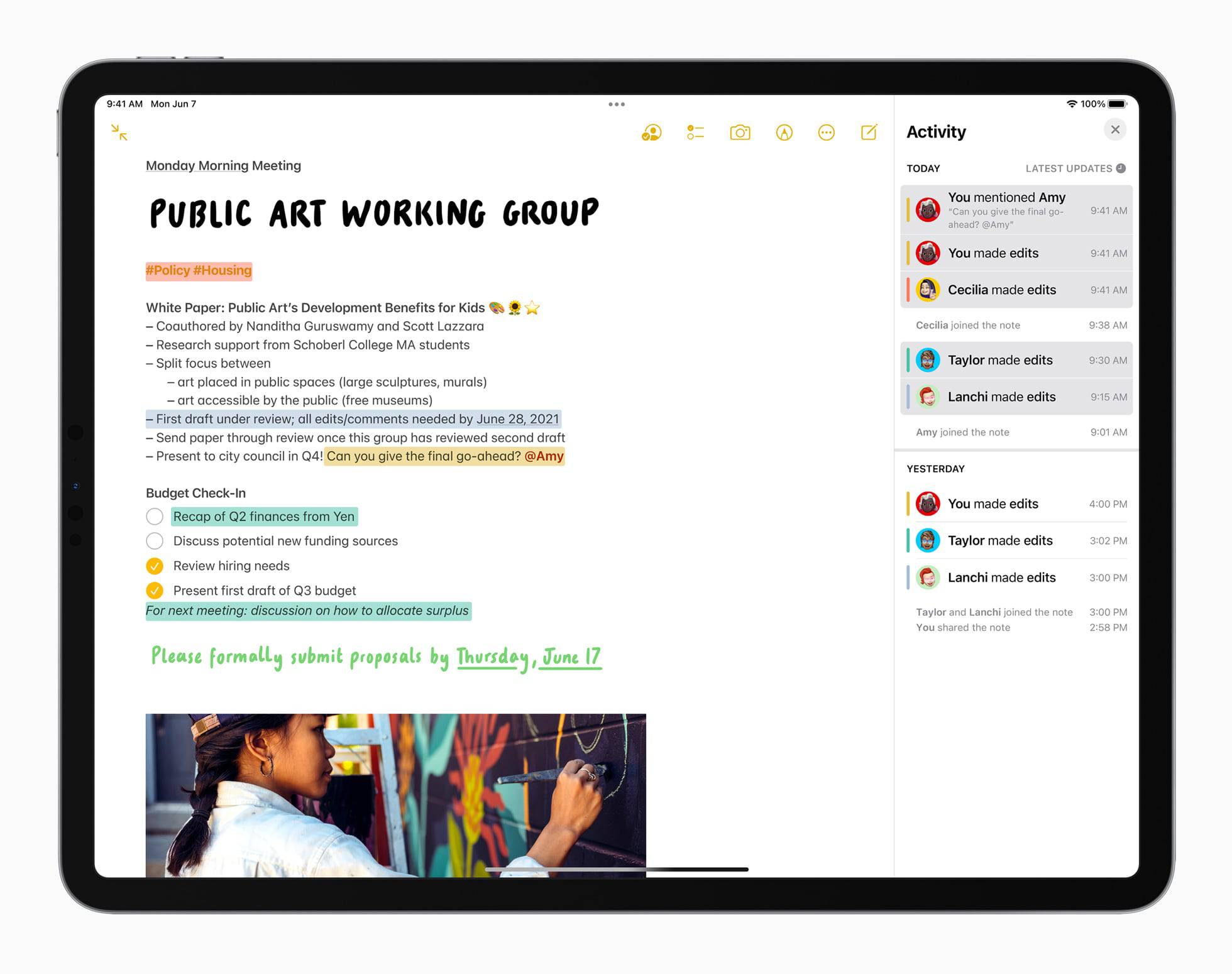 Notes are getting continual improvements in iPadOS 15, from new design elements to mentions in shared notes to note tags. You'll also be able to view an activity history of all changes to a shared note over time.
Something I'm especially excited for are Quick Notes. Using the Apple Pencil, you can swipe up from the bottom right corner of the iPad (just like you can swipe from the bottom left corner right now to take a screenshot) to create a Quick Note anywhere in iPadOS 15. A small note window will appear, where you can type in text, draw in shapes or handwriting with the Apple Pencil, or paste other types of content in the note. Quick Notes will be saved in a special tab in the Notes app where you'll be able to see all your Quick Notes at once.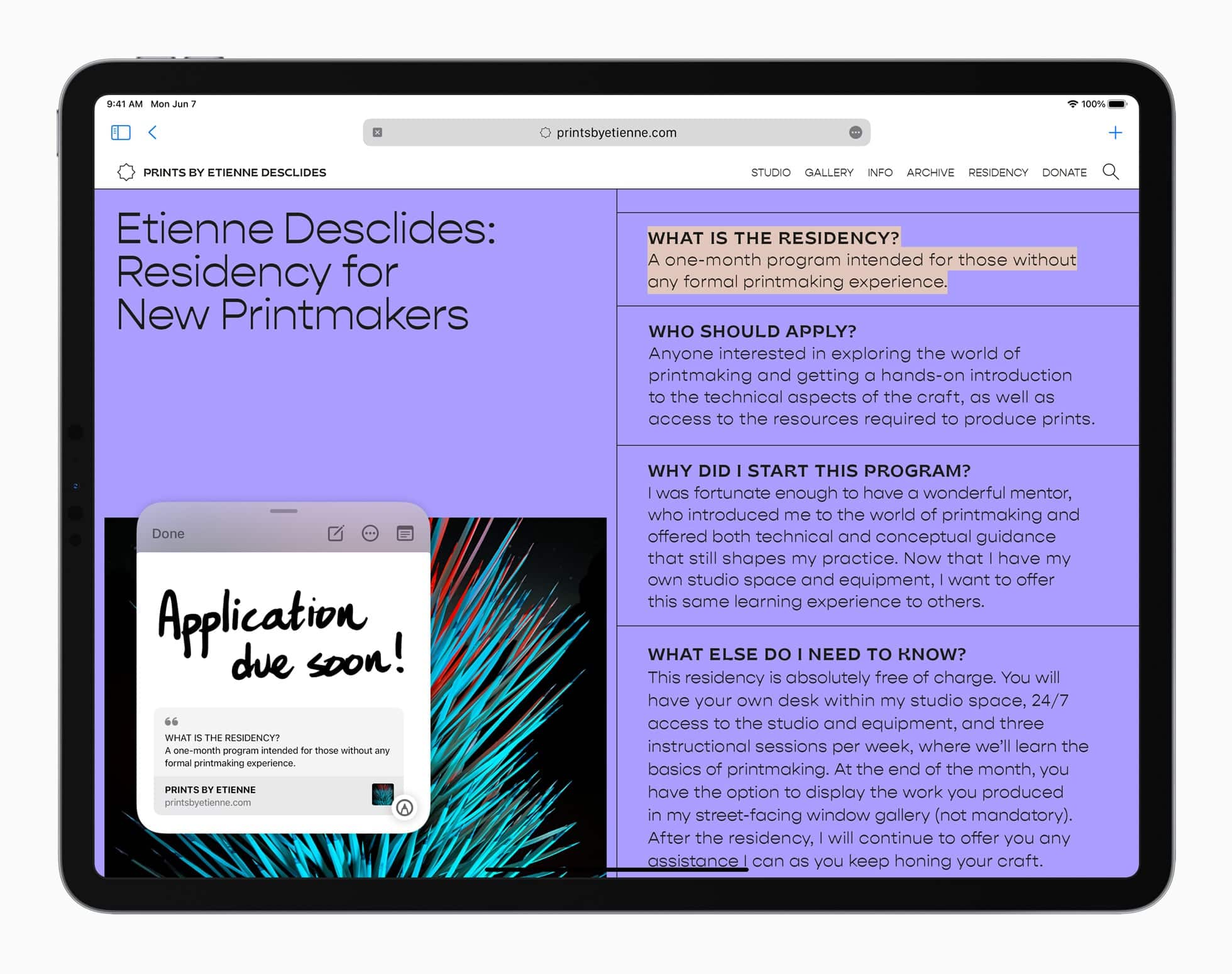 But of course, there's more — Quick Notes are smart and will add in text you've highlighted in an app like Safari and it'll add the URL of the webpage for you. Best of all, when you return to that URL in the future, a little popup window will appear with your Quick Note for that URL. To my mind, this is the first step of persistent sticky notes across iPadOS 15 and is something I've been itching to try for years and years. I can't wait to see where these persistent stickies go in years to come.
Swift Playgrounds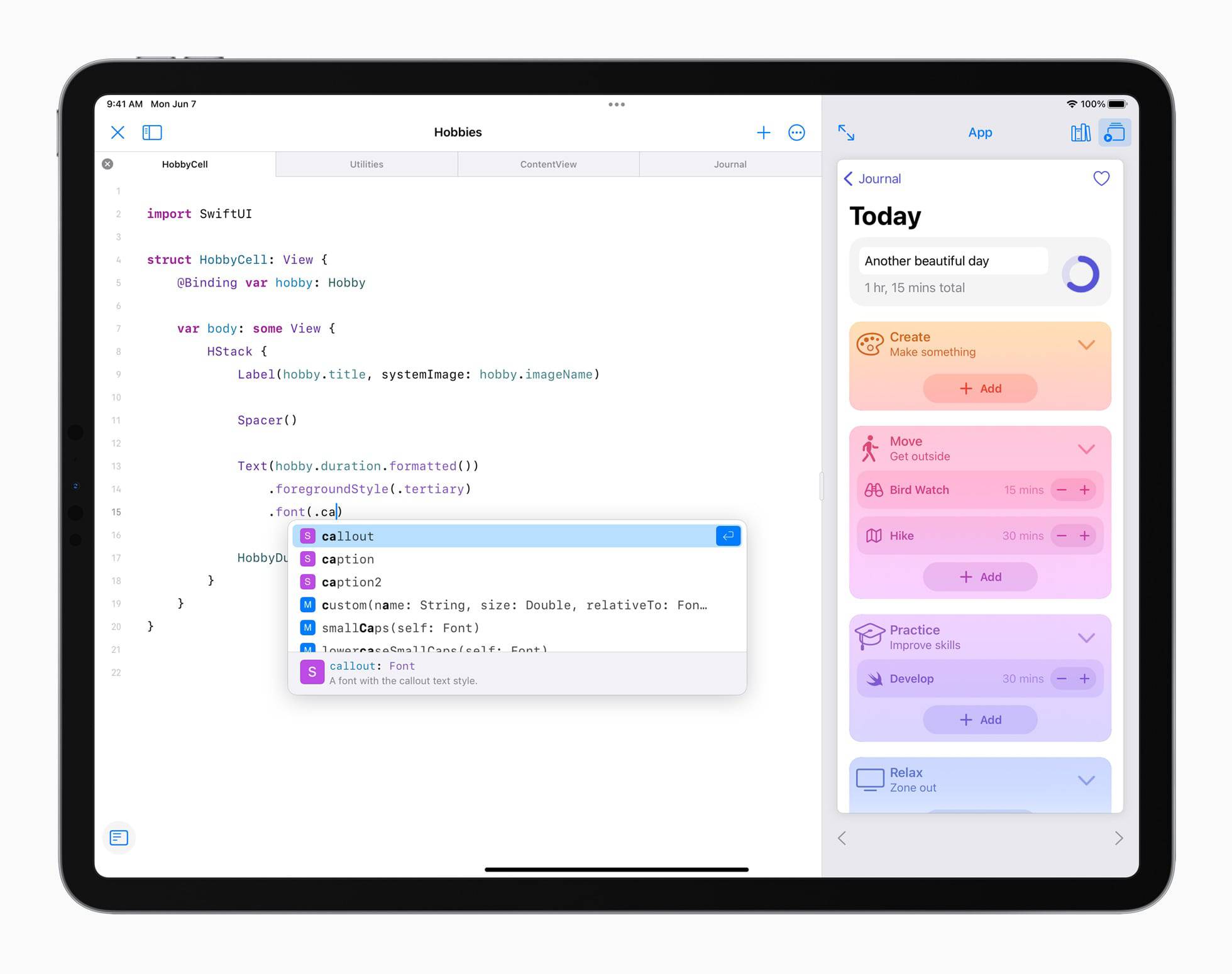 There were loads of announcements today, but there were none more surprising and exciting than the improvements coming to Swift Playgrounds. I'm no developer, but I could hear the collective shout of glee when Apple announced **the ability to code iPad apps and submit apps to the App Store all from the iPad. **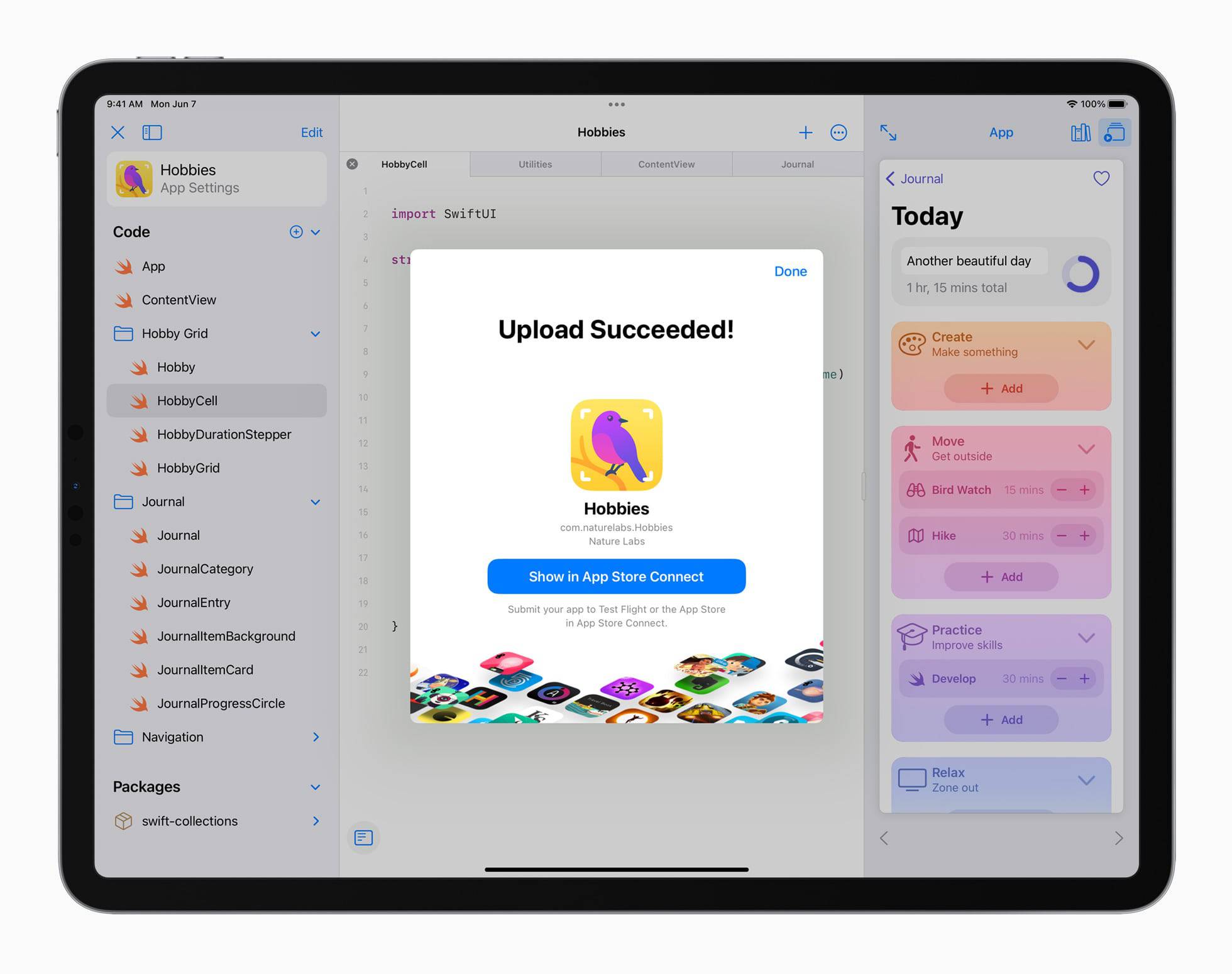 I can't imagine this is what many developers had in mind when they envisioned "Xcode on the iPad," but there are many ways in which Swift Playgrounds are more accessible than ever. Apple has promised lessons for beginners to learn how to code their own apps, ensuring newbies like myself can try their hand at app development.
Perhaps these are baby steps and foundational elements for a future Xcode on the iPad. For now, this felt like a giant leap forward for app development right on the iPad.
Our Must-Have, Most Used Productivity Apps
We spend an inordinate amount of time sorting through hundreds of apps to find the very best. We put together a short list of our must-have, most-used apps for increasing productivity.
watchOS 8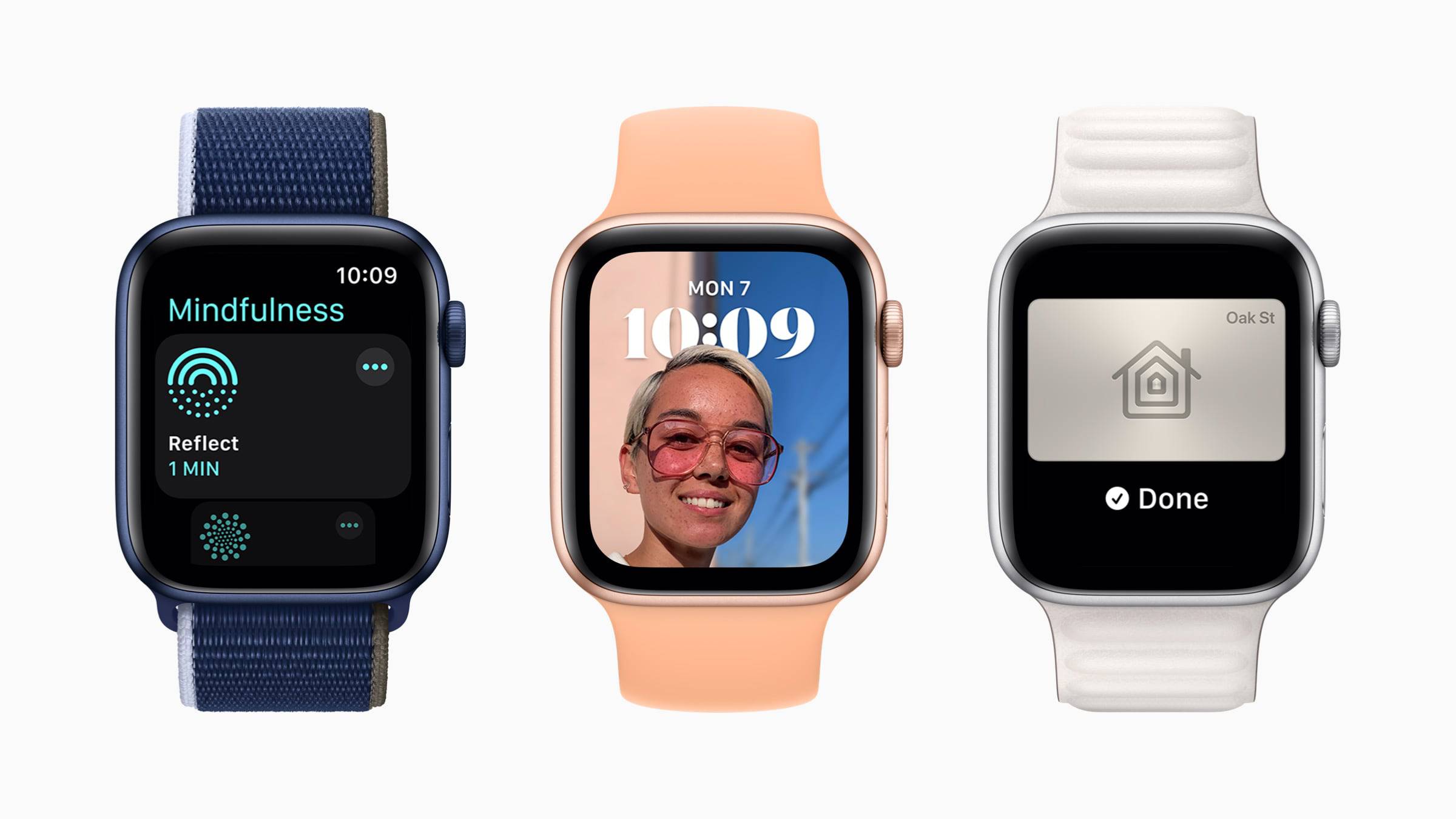 watchOS was probably the sleeper of the day — there wasn't much offered in the way of new features in the fall. This may hint, perhaps, at a slew of new hardware-tied features that Apple can't speak about until the next iteration of the Apple Watch debuts later this year.
For now, the Breathe app is being wound up into a new Mindfulness app, which combines an improved breathing activity with a "Reflect" feature. watchOS 8 will ask you questions and give you time to reflect on the answer.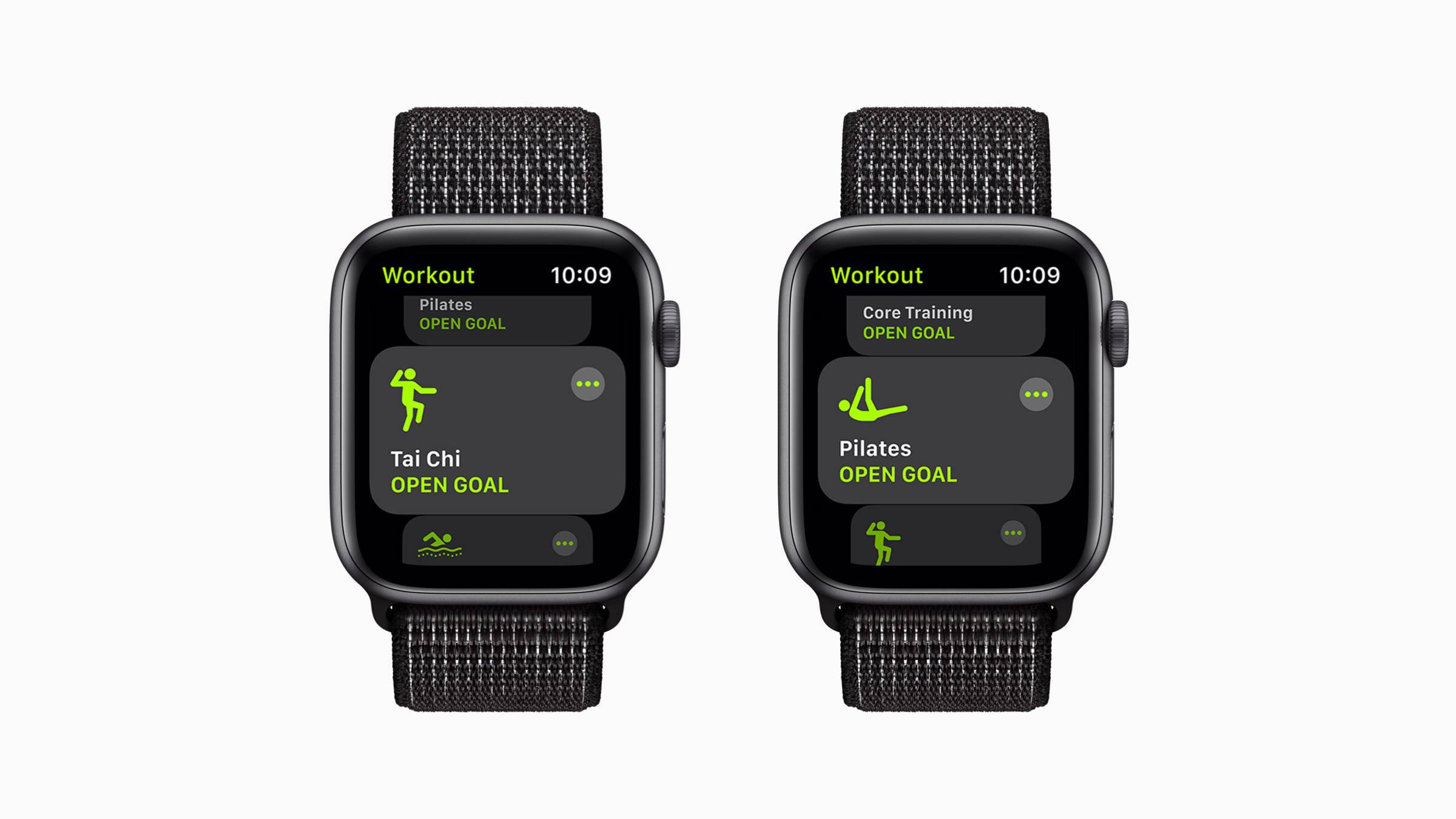 New activities have been added to watchOS 8's Activity app as well — new Tai Chi and Pilates activities will now be available to be tracked to fill your activity rings.
Lastly, the Photos app has been updated in watchOS 8 to better enable you to share and look at photos on your Apple Watch. There is also a new Portrait Watch Face that zooms in on a portrait photo in your photo collection.
Oh! And how could I forget — watchOS 8 debuts multiple timers on the Apple Watch. It's about time. (Pun intended.)
macOS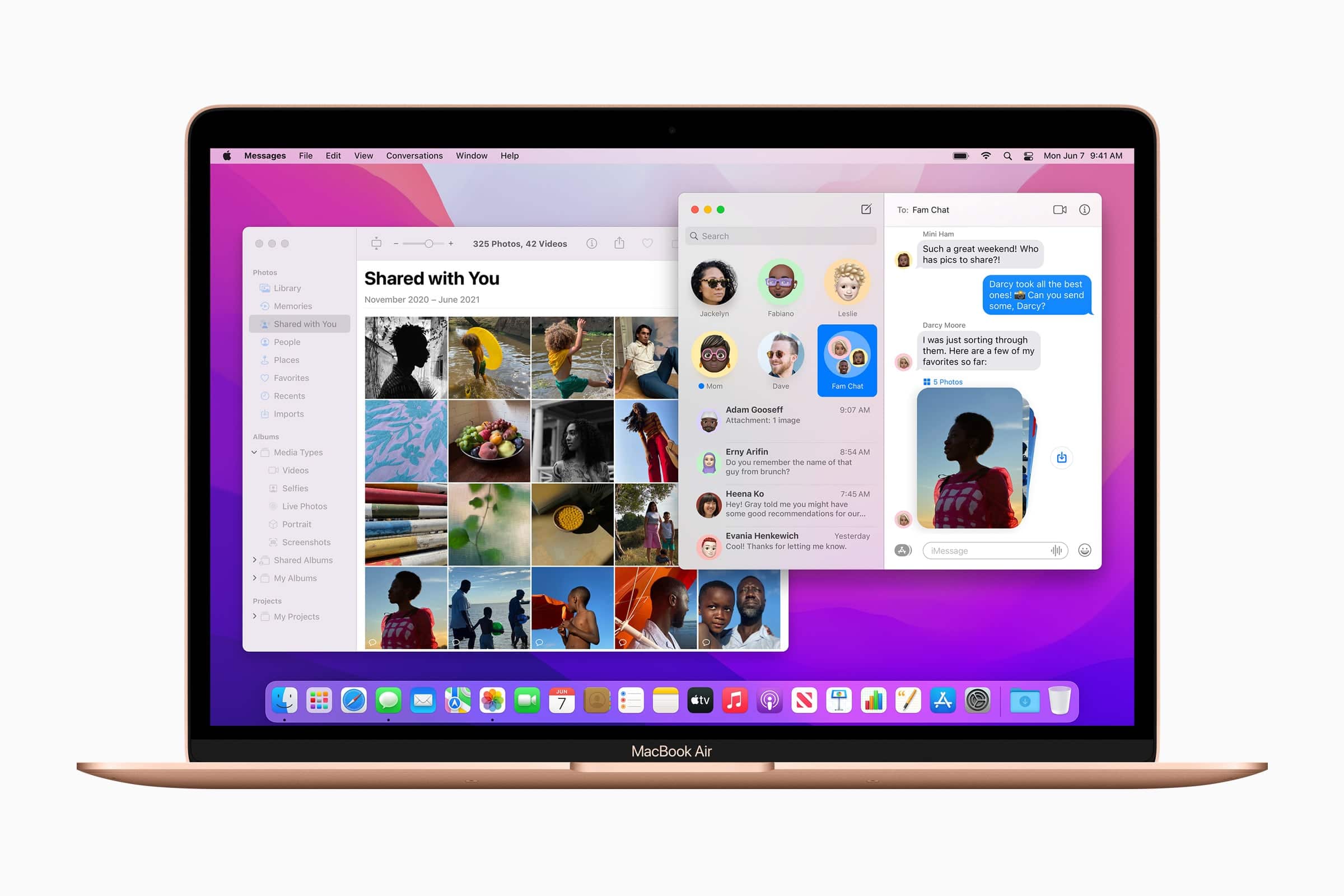 Last among Apple's major platforms (if you completely forget about tvOS — there were effectively no tvOS specific features discussed today, other than SharePlay) was the latest edition of macOS. Code named "Monterey," macOS continues the trend of blurring the lines between Apple's hallmark devices and continues to ensure you can use all devices together in seamless harmony.
Unless I'm mistaken, all (or nearly all) of the major features coming to iOS 15 and iPadOS 15 are making their way to macOS Monterey as well. This includes SharePlay, Quick Notes, the improvements to FaceTime, and the Focus features in iOS 15.
You can group Universal Control into shared iOS 15/iPadOS 15/Monterey features as well. Universal Control will enable you to control your iPad with your Mac's trackpad and keyboard if the devices are situated next to one another. The demo for this was fantastic — simply place the iPad next to your Mac and drag the cursor to the edge of the display. Without any prior settings, the cursor will magically jump over to the iPad, enabling you to control the app on the iPad display. You can even type text into the iPad using the Mac's keyboard, and you will be able to drag and drop content between devices as well. Finally, you can add a second Mac to the workflow and drag files from the iPad, through Mac #1, and into Mac #2. Again, the demo for this was tremendous and is sure to get huge usage when all the latest software debuts in the fall.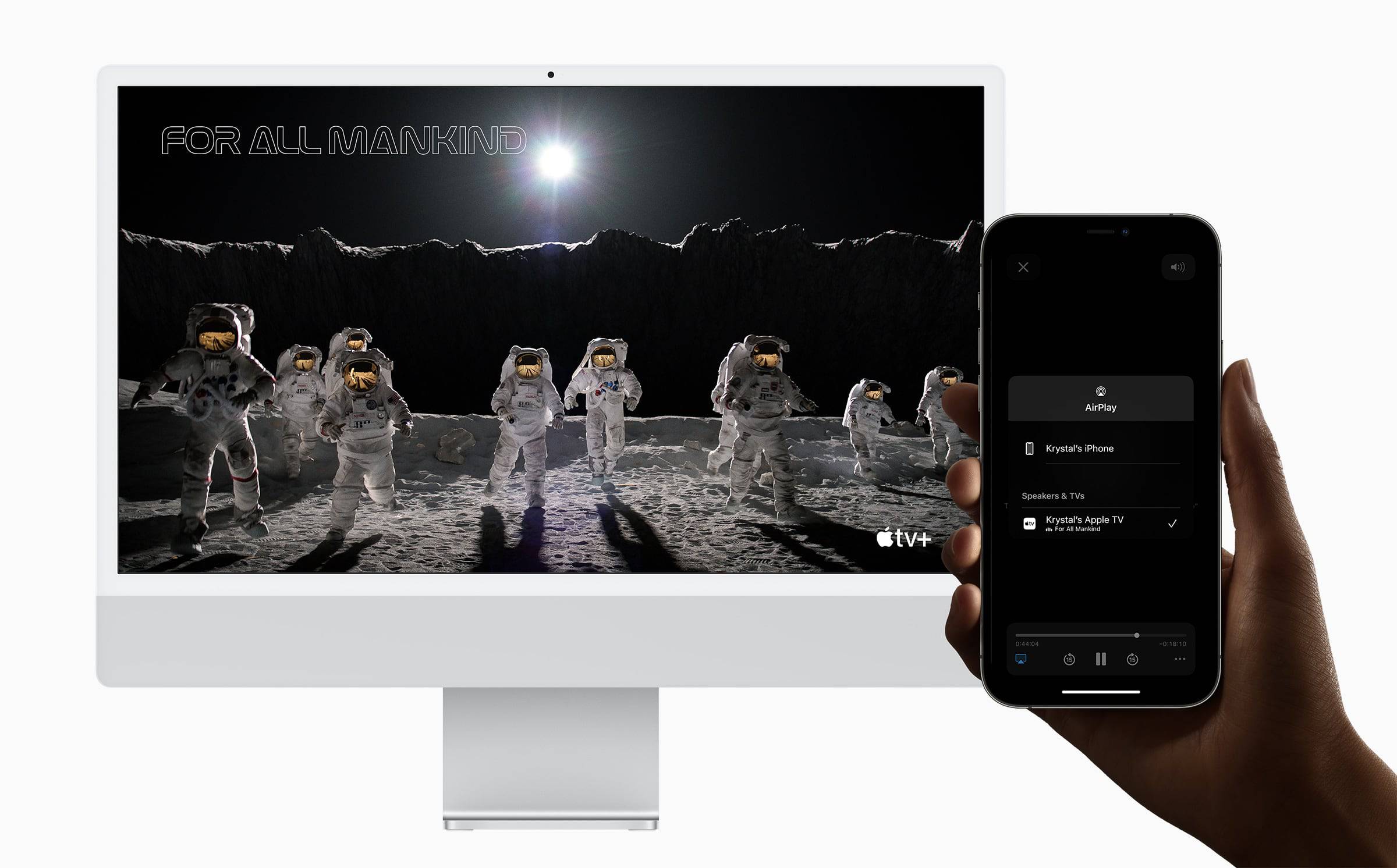 macOS Monterey (finally!) adds the Mac as an Airplay option. This likely should have been added 7 or 8 years ago.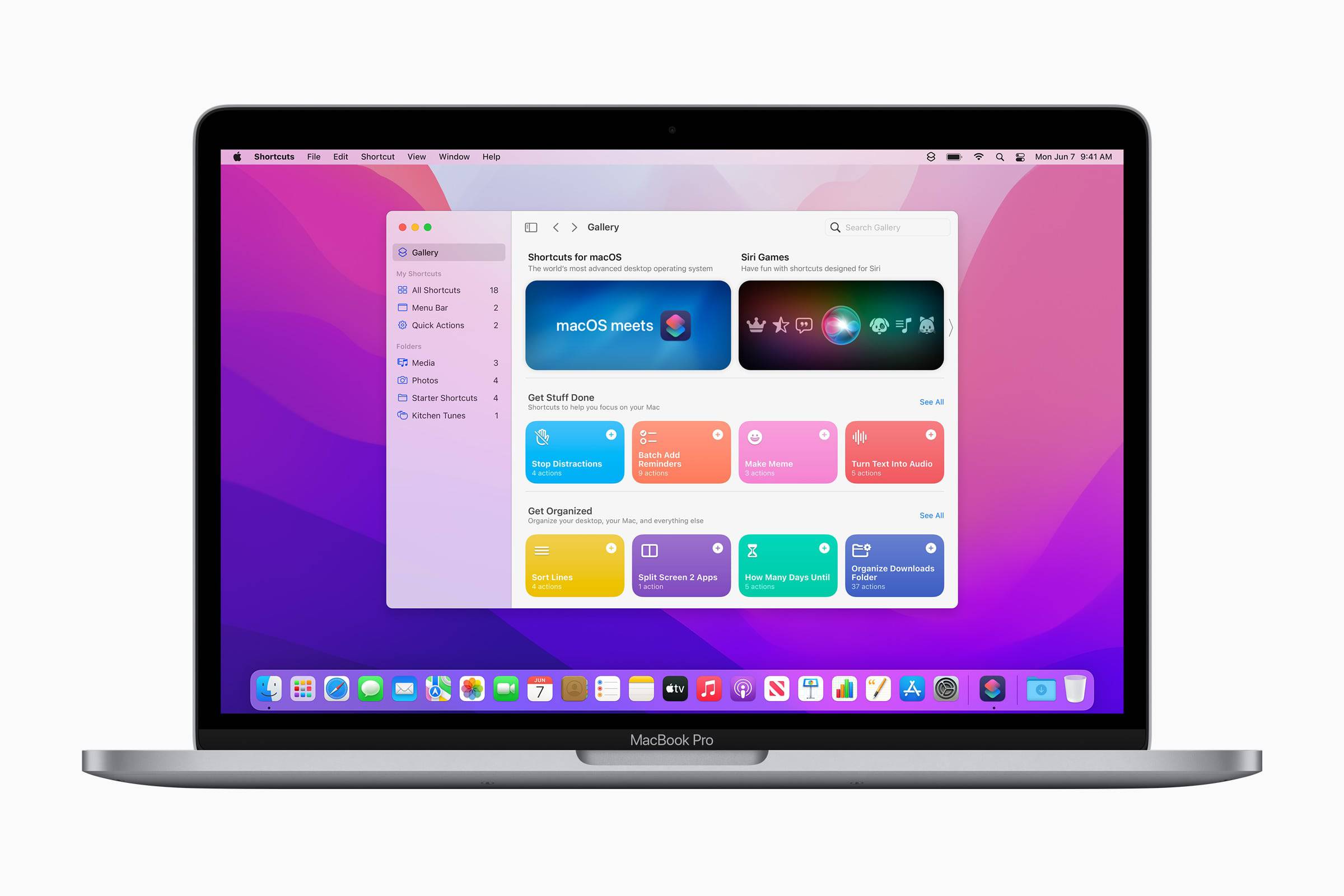 Lastly, the biggest macOS news of the day was the introduction of Shortcuts on the Mac. Shortcuts has taken the iOS and iPadOS automation world by storm and is now coming over to the Mac, ensuring a more accessible option for creating automations on the Mac. Current shortcuts in the Shortcuts app on iOS can be synced over to Shortcuts on the Mac and the new Mac app will likely become the core destination for creating and editing shortcuts before syncing them over to iOS and iPadOS devices.
For anyone not well-versed in the ways of Automator, Shortcuts on the Mac is sure to be a boon for productivity and efficiency. I have multiple shortcuts I use regularly on the iPad that I've missed on the Mac for years. I'm very excited to see Shortcuts transition to the world of the Mac.
Other Major Announcements
There were a plethora of major features announced today that weren't specific to any of Apple's major software platforms. By and large, each of these areas have become their own platform, so I apologize for relegating them to the bottom of this article.
Health
Apple continues to make huge strides in the Health app. Apple showcased how doctors at Johns Hopkins have used Apple's latest technology to better provide data to patients and to better allow the transfer of information from doctor to patient and patient to doctor.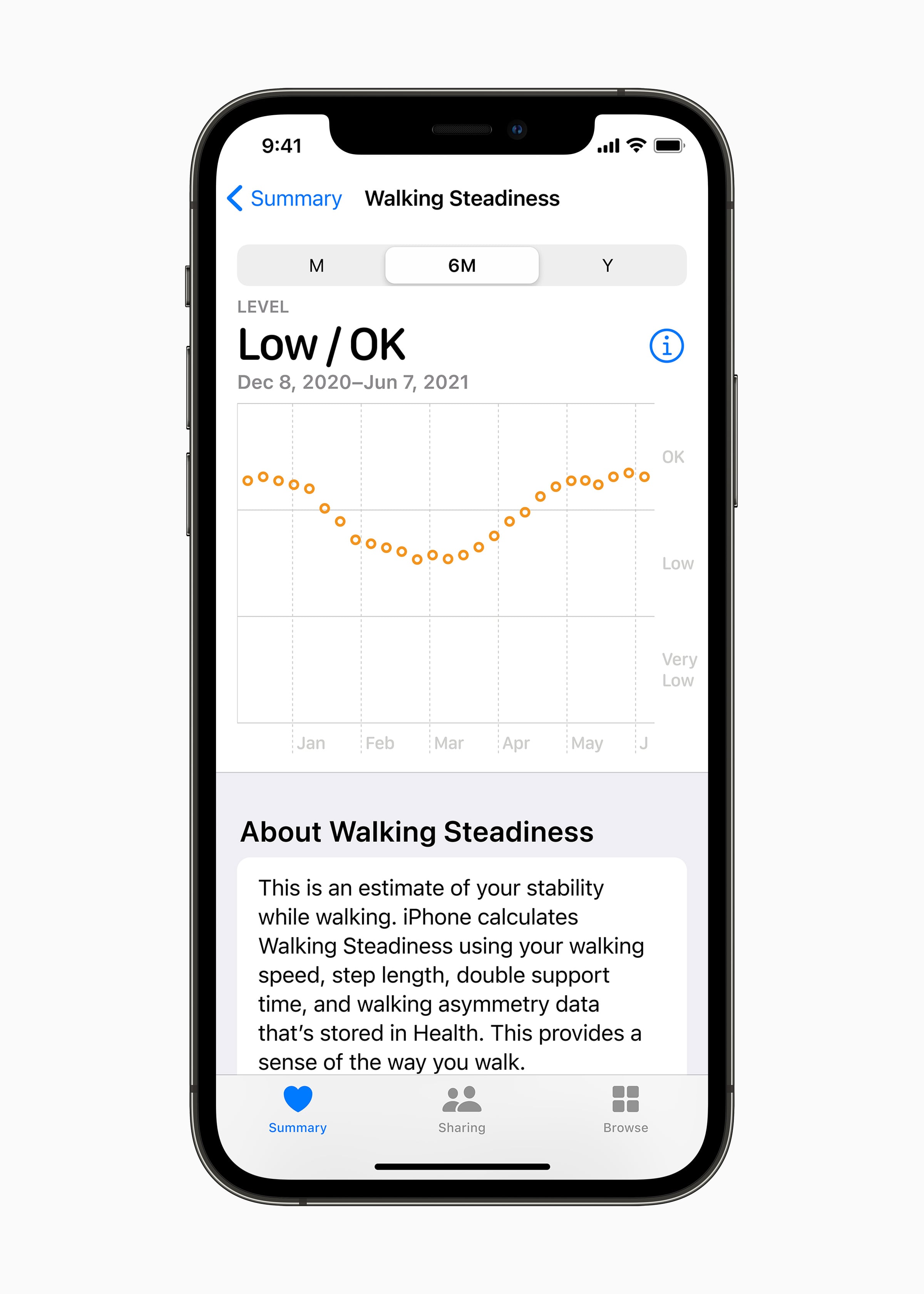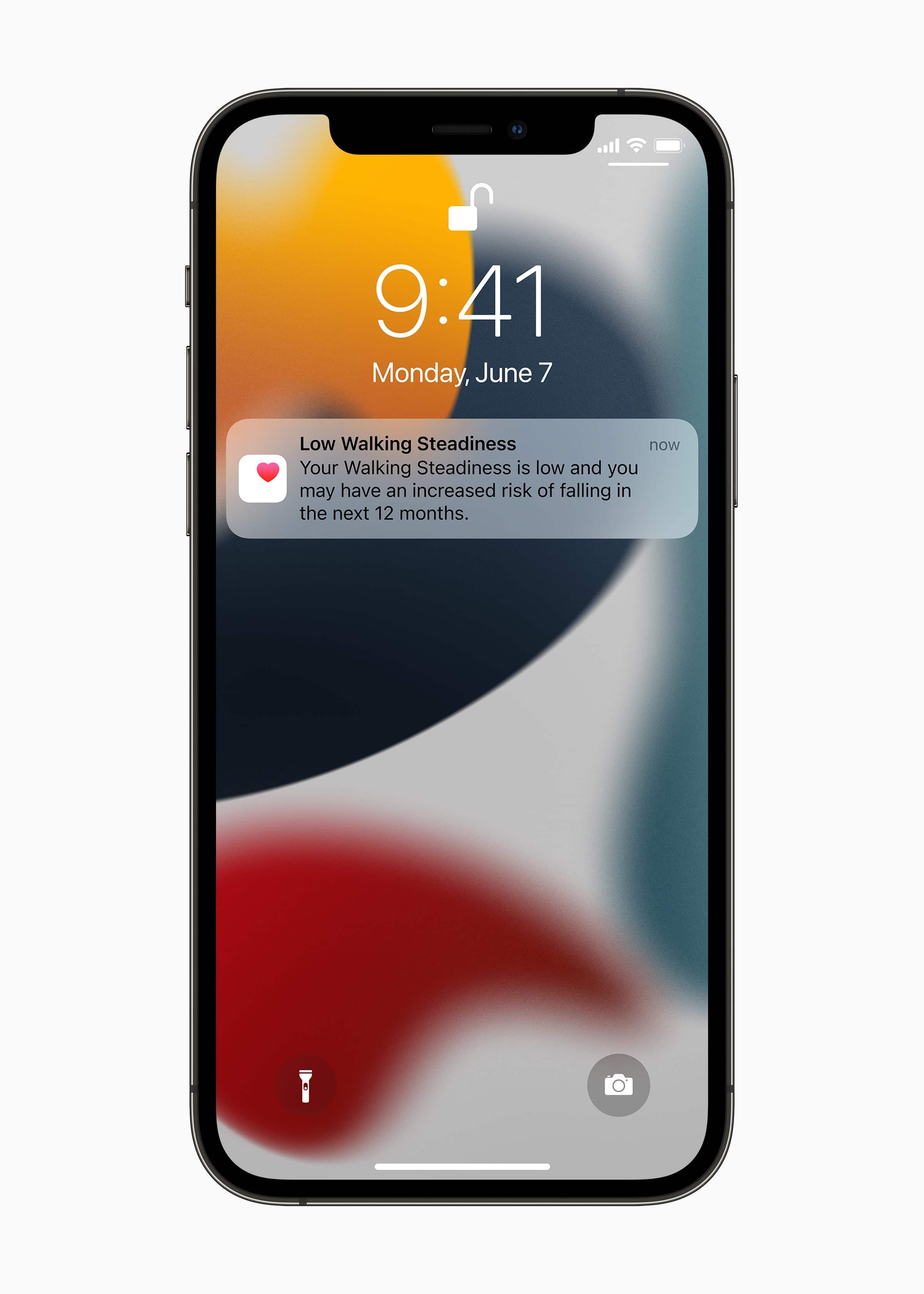 The Health app on iPhone will now be able to measure your walking steadiness and will help determine your fall risk. Using the complex measurements, the Health app will be able to transfer the required fall risk data to your doctor and even provide exercises to improve your walking steadiness.
You'll be able to monitor your cholesterol in the Health app in iOS 15.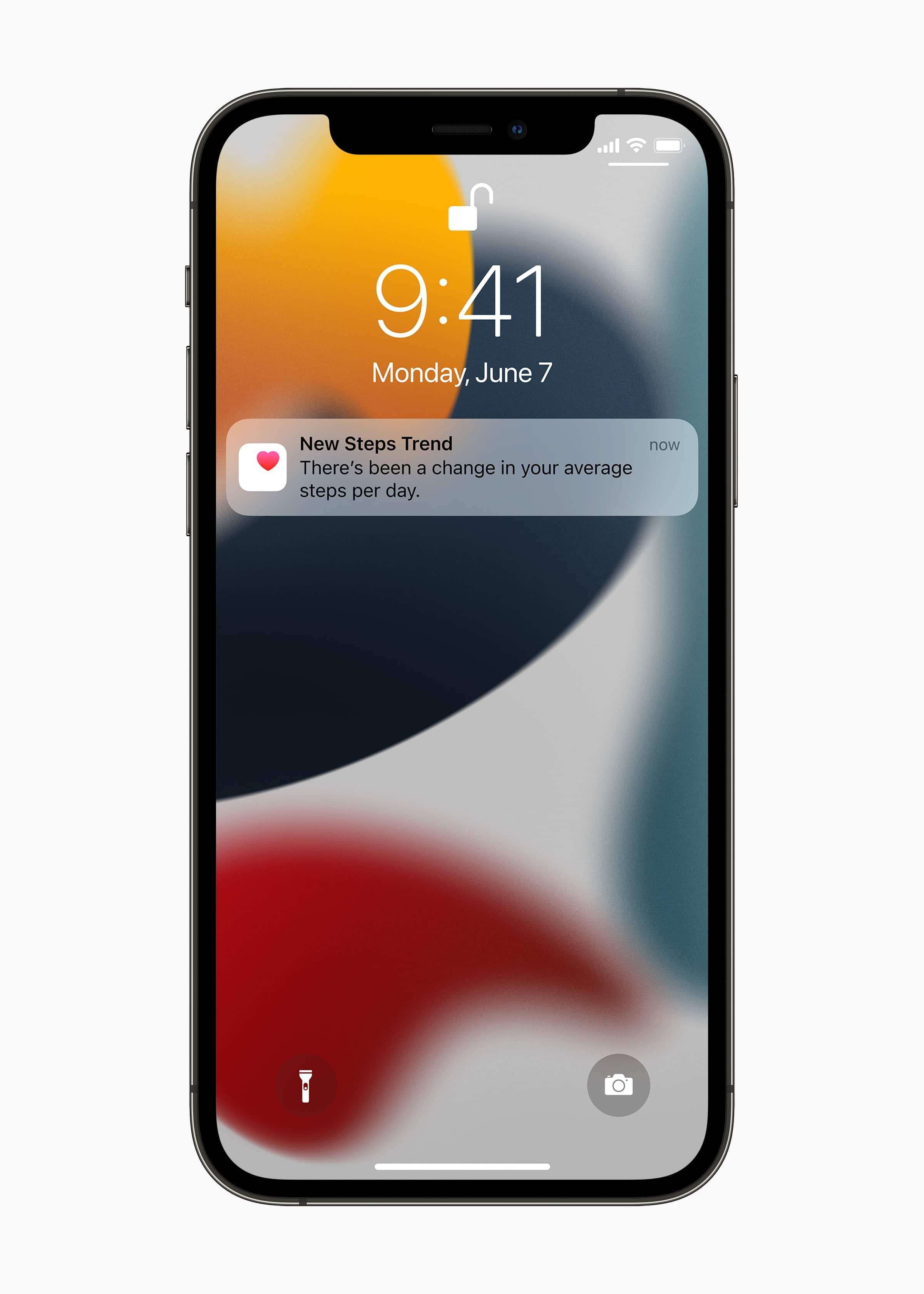 The Health app will also be able to measure new trends in your health and daily activity. Examples of trends include an uptick in the number of steps you're taking each day, or an improvement in your resting heart rate. These trends will be little success triggers in everyone's path to improving their overall health.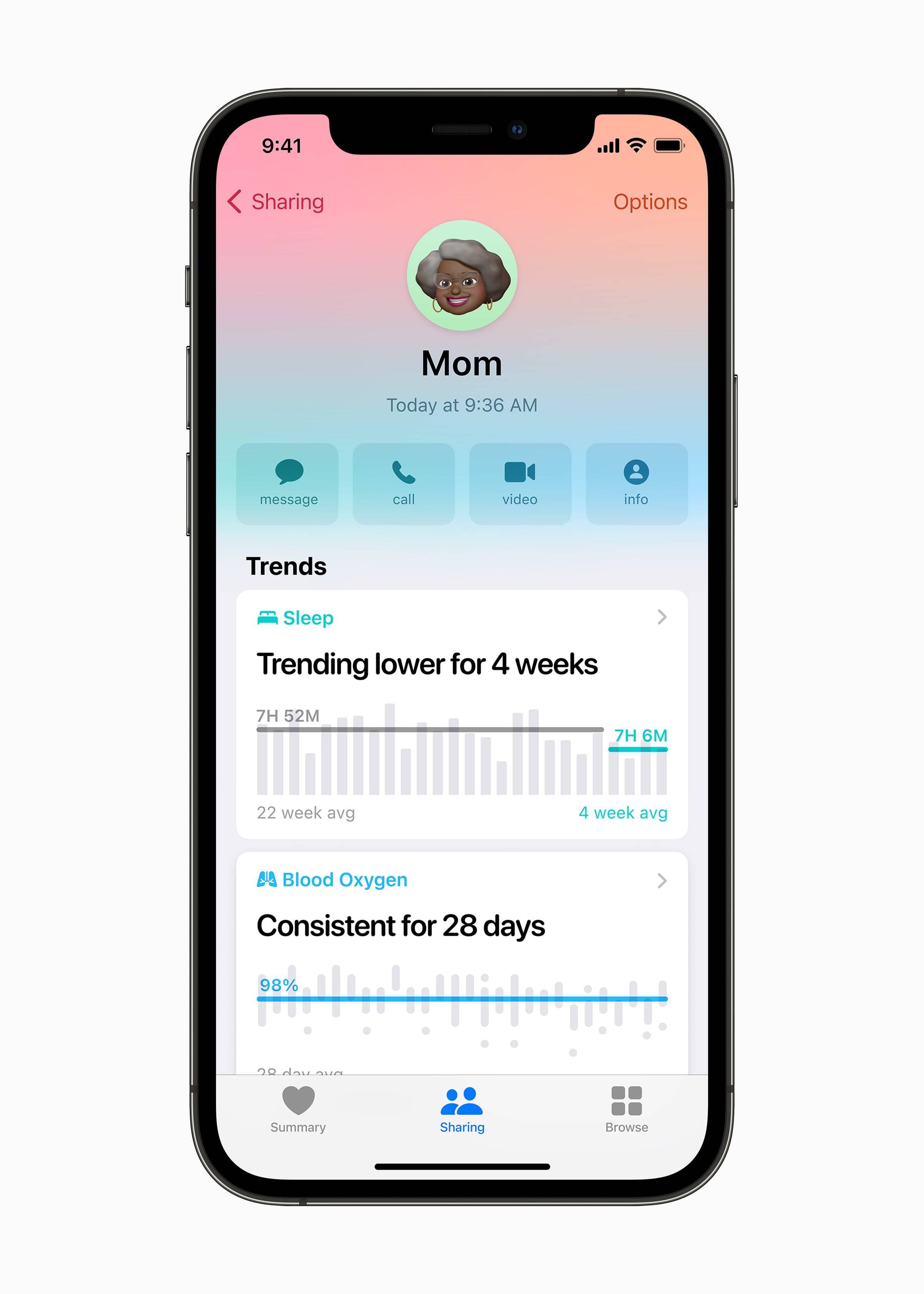 Finally, the Health app in iOS 15 will provide safe and secure ways to share health information with specified family members. If you are caring for an elderly parent or if you are caring for a child, the Health app will now enable you to track your loved one's specific health data and help you keep tabs on any health risks.
Privacy
Apple continued its focus on privacy features in this keynote. Nearly every feature had some sort of privacy mention, but there were also privacy-specific features announced that are sure to keep folks digitally safe and secure.
First up was Mail Privacy Protection — across iOS 15, iPadOS 15, and macOS Monterey, Mail will now hide your IP address and location and prevent senders from being notified whether you have opened their email or not.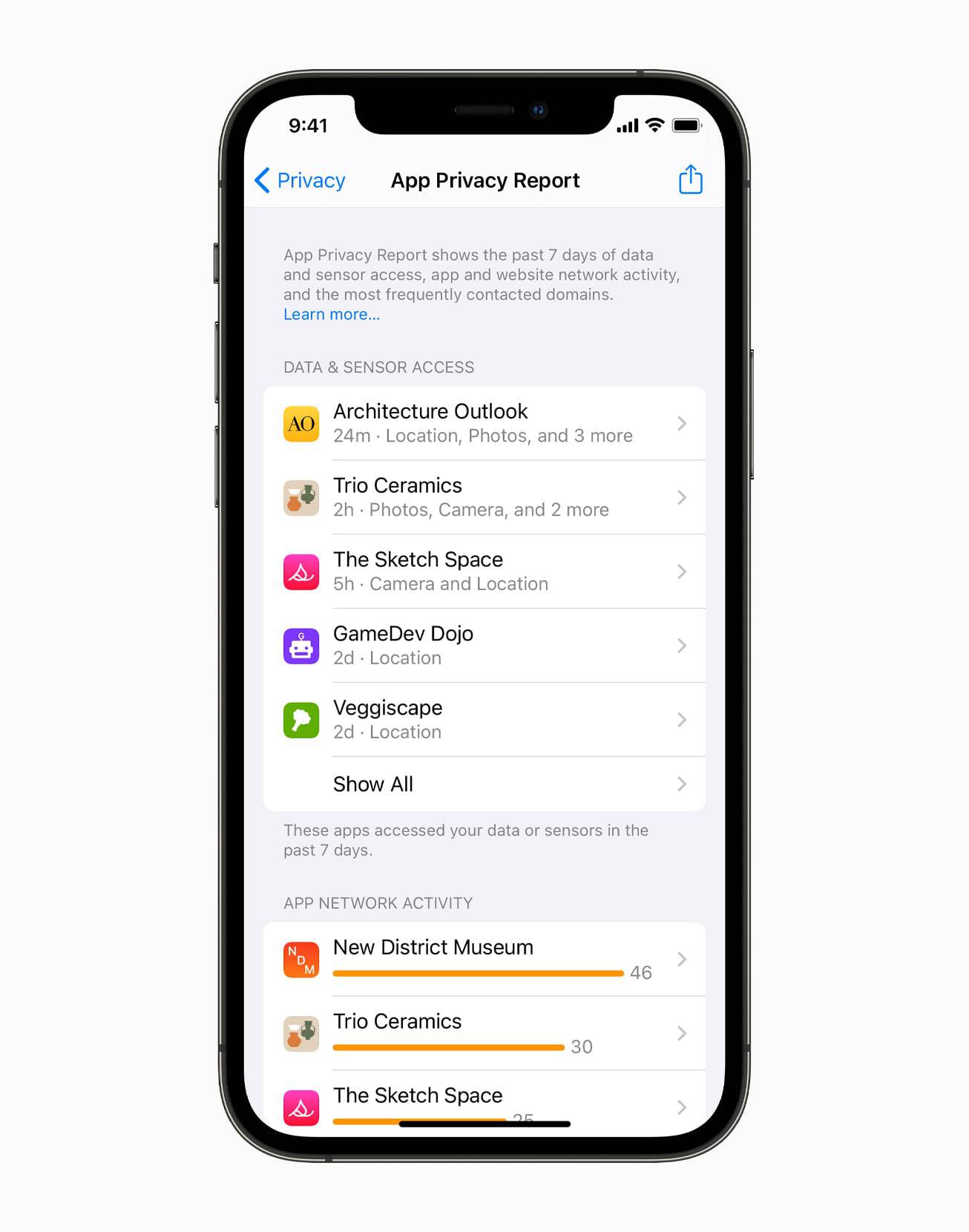 The same IP hiding and location hiding is present in the new Safari (more below). Privacy reports have also been expanded to include individual apps rather than just webpages, allowing you to quickly and easily see whether an app is respecting your privacy.
A range of core Siri requests have been moved on-device, resulting in a boost of both privacy and speed. Audio will never leave your device and will be processed locally rather than in the cloud. Simple tasks like starting timers, opening apps, and setting alarms will now be completed on-device, eliminating the lag time currently experienced between request and action. Finally, after years of having to install a third-party timer app because of poor reception in my garage, I will now be able to ask Siri to set a timer while grilling steak.
iCloud+
iCloud is scoring a range of improvements in the fall as well.
First, a recovery contact can be set should you forget your Apple ID or iCloud password. This individual can then relay you the authentication code so you can unlock your Apple ID and reset your password. This will be fantastic for my wife — we can never, ever remember her Apple ID password.
iCloud will also have a new Digital Legacy feature. Should someone pass away, Digital Legacy will ensure their data can be passed to a trusted individual handling affairs and ensure the digital data is taken care of. At my daily job, we deal with estate affairs very often and having a Digital Legacy feature to better enable the transition of passwords and other data will surely improve the administration of estates.
Finally, iCloud is now getting a premium iCloud+ tier which houses a range of great features.
First, iCloud+ introduces Private Relay, effectively a built-in VPN that hides your IP address, location, and other sensitive data when browsing the web.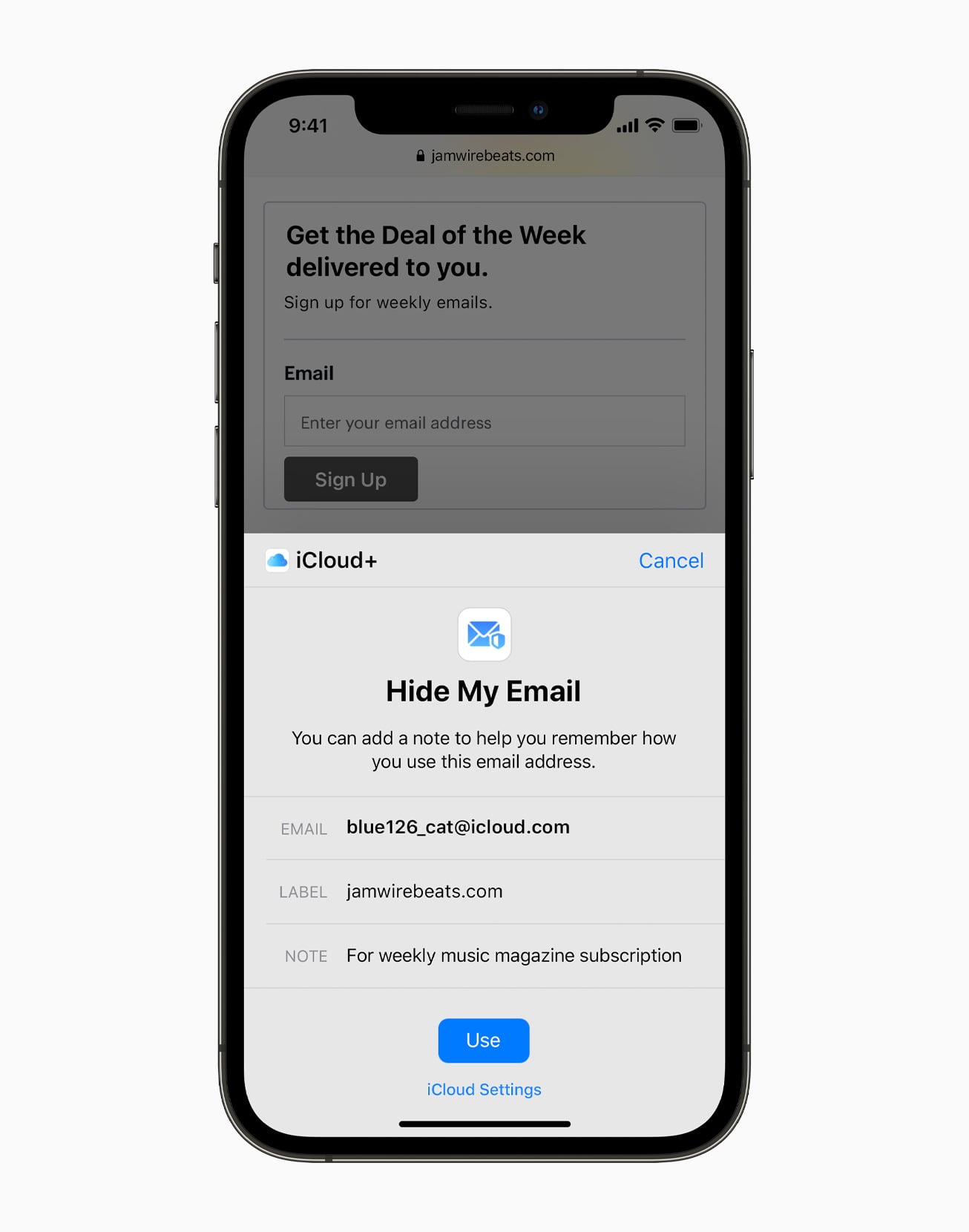 Your iCloud email will also see a privacy boost with Hide My Email, a feature that allows you to create an infinite number of email aliases so a company or institution can never gain access to your actual email address. These unique email addresses will forward to your main iCloud email account and you can delete these alias email addresses at any time.
Finally, iCloud+ will provide you with unlimited storage for storing HomeKit security video of your home.
These new iCloud+ features are all being added to the current iCloud subscription and there will be no price increases to the current subscription price. If you're an Apple One subscriber, these features will be coming to you free of charge.
AirPods
AirPods Pro and AirPods Max are getting some nice new features not named Spatial Audio. (But yes, they are also getting new Spatial Audio features as well, as mentioned above in FaceTime calls but also in Apple Music and in tvOS.)
Like the Announce Messages feature, AirPods Pro and Max will now be able to announce all sorts of notifications. You'll be able to control this on a per-app basis.
For accessibility features, AirPods Pro introduce Conversation Boost — using the technology in Transparency Mode, AirPods Pro can be used to boost voice the sound of conversations and improve hearing for those with difficulties.
Lastly, AirPods Pro and Max will now be easily findable via the Find My app. AirPods will play a loud chime and, like the AirTag demo a few months ago, will have a cool UI for showcasing your proximity to your lost AirPods.
Home
As mentioned earlier, keys for your house or office can be stored in Apple Wallet and new HomeKit devices for locking your home (and unlocking via iPhone) will now be available.
A feature I always thought existed but which is debuting in the fall: the ability to ask Siri to play a specific show on Apple TV. No wonder it hasn't ever worked for me in the past. You'll also be able to use the HomePod mini as a speaker for your Apple TV.
There are a range of extra features coming to Home in 2021:
SharePlay and Shared With You on Apple TV.
"For All of You" — essentially, "Shared With You" features, but combined for all the interests in your household.
Siri on HomePod mini will now be able to have personalized suggestions for all members in the household.
Matter — a new standard for smart home devices developed in conjunction with numerous other companies.
Apple TV will be able to play back multiple video streams of your security cameras located throughout your home.
Safari
Finally, Safari will see a range of improvements in the fall.
Safari will see a brand new design — tabs have been repositioned closer to the top of the window and everything looks cleaner and simpler than the current Safari edition.
Tab Groups have debuted. Inside Safari, you'll now be able to manage your tabs into special groups, which you can click and immediately load all tabs at once. This will be great for folks who like to read specific news websites each morning, or this will be good for tracking sites you want to revisit at a later time.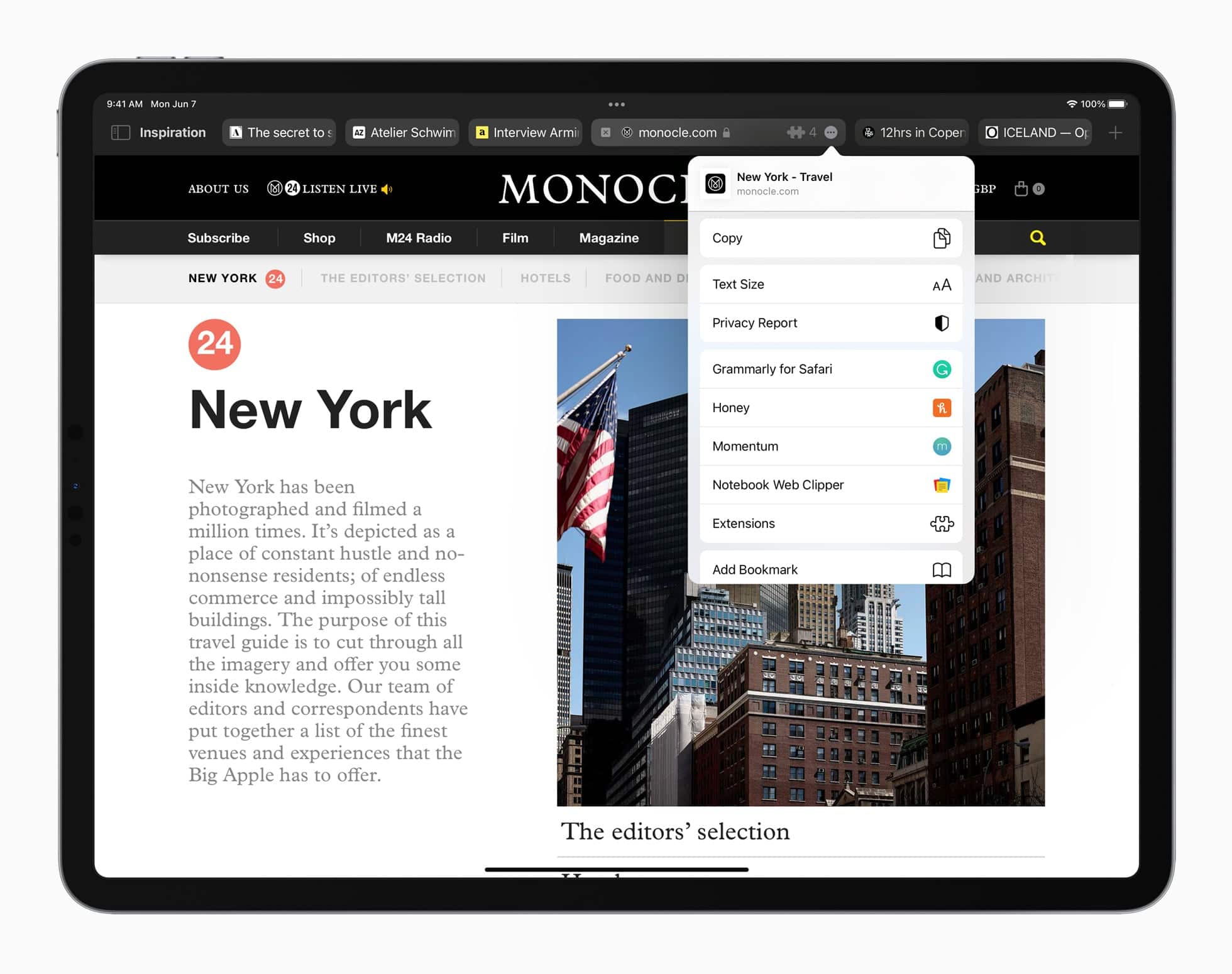 Web extensions, which have long been a nicety feature on the Mac, will be making their way to Safari on iPad and iPhone. I can't wait to see how extensions like 1Password or Pocket perform in Safari on the iPad.
Wrap Up
There are of course a thousand additional features I haven't been able to include in the above summary. Apple also announced a range of new developer technologies, such as Xcode in the Cloud for off-loading compiling workflows. New improvements are being discovered by the minute by those who have their hands on the earliest developer betas and there are sure to be more features discovered in the days and weeks to come.
In a world where so many folks are working from home, it seems a miracle has occurred in Apple's ability to keep so many new features locked down and out of leaky fingers. In our little groups discussing the keynote, there was genuine surprise to be had, especially around the improvements to Swift Playgrounds.
The first developer betas have been released to those with Apple developer accounts and public betas are promised for July. As always, we expect the latest editions of iOS 15, iPadOS 15, watchOS 8, macOS Monterey and all the new privacy and iCloud features to debut in the fall.