A Review of the Twelve South HoverBar Duo
April 20, 2021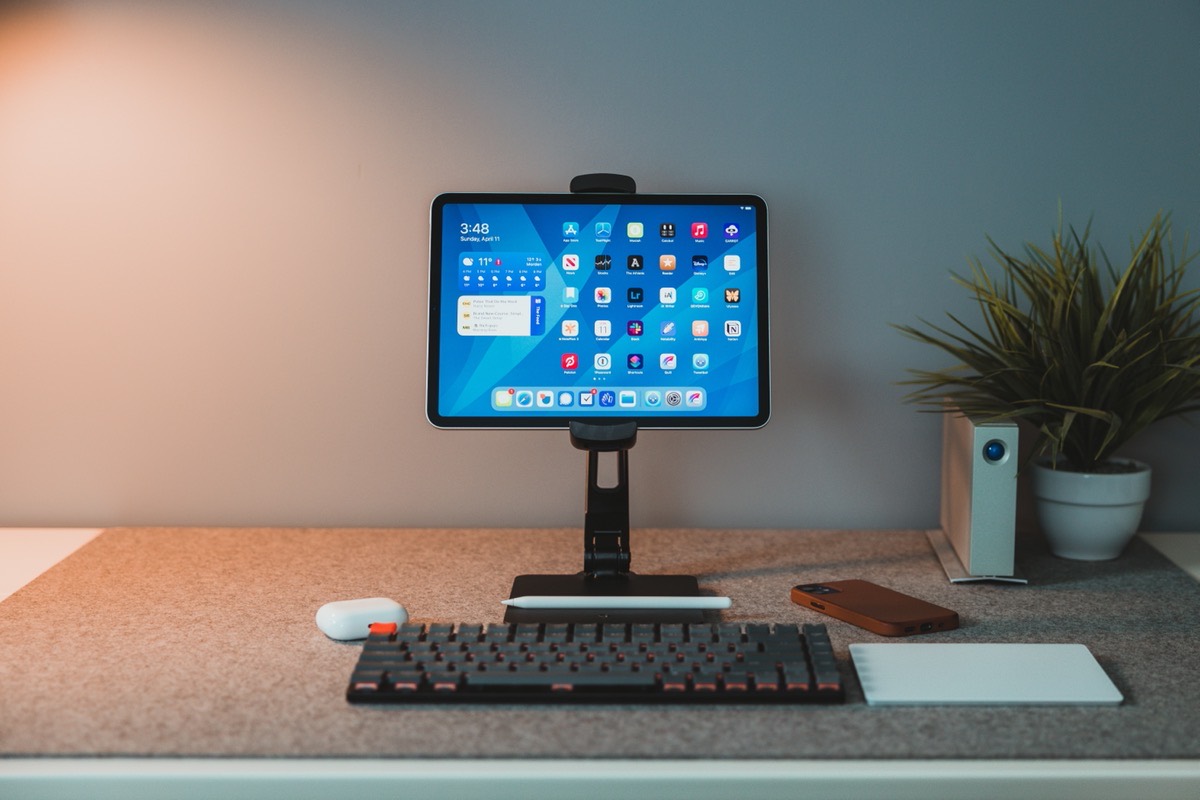 There are a few moments in Twelve South's HoverBar Duo marketing video that surely garner a "wow" moment. The video starts out showcasing a multitude of ways you could use Twelve South's new stand (like shooting a culinary video, recording an aesthetic video, or working at a desk with an iPad at an ergonomic height) and finishes off showcasing how easy it is to swivel, rotate, and maneuver the stand to fit your needs.
Chalk my review up to a "He's holding it wrong!" scenario, but hindsight doesn't serve that marketing video particularly well.
I simply can't replicate the ease highlighted in that video.
The 0:18 mark is a perfect example — the lady swiftly, easily, and graciously adjusts the HoverBar Duo down and into a writing position without nary a sweat. I'm not sure if Twelve South glued the stand to the desk for her to do this or if she has the strongest fingers in the world — there's no way I can adjust my HoverBar Duo with that level of ease.
In my case, adjusting the HoverBar Duo requires two hands, a clear workspace so as to avoid knocking things over, and a full pint-glass of patience to achieve the desired ergonomic position.
I also think it's notable that Twelve South left out the mounting process in the video. The ball-mount/swivel clamp is super strong and requires some uncomfortable finger-bending to ensure the iPad is clamped firmly in place. Un-mounting the iPad is arguably worse — once the clamp is open and the iPad has been removed, that spring will snap back into home position with quite the thud.
I felt it important to get my frustrations with the HoverBar Duo out of the way right off the hop, because the utility of this stand is off the charts. Once you have the HoverBar Duo set to your liking, this is probably the best iPad stand on the market. It rotates into just about any position you could ask for, sets the iPad at an ergonomic height no matter your physical build, and the rod clamp provides a new range of mounting possibilities throughout your office or home.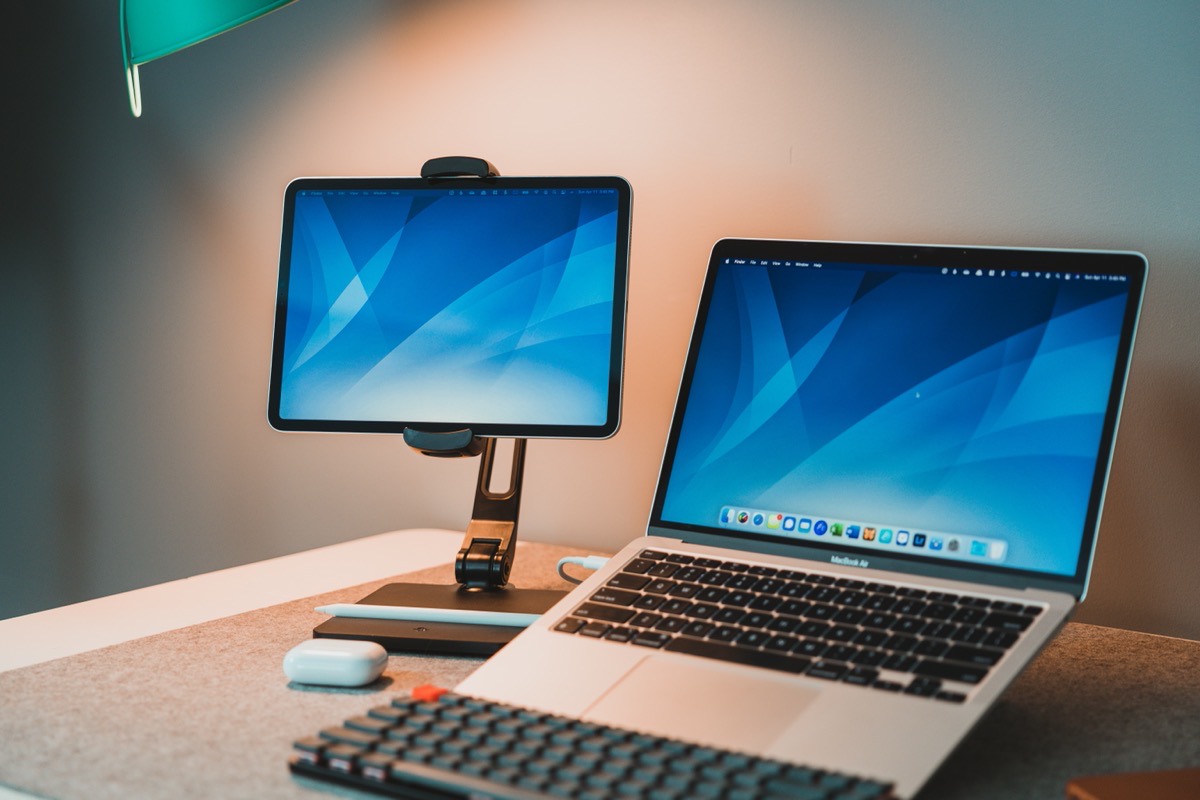 But it takes considerable effort and patience to set up your HoverBar Duo how you want. And it's very (very!) unlikely you're going to want to switch back and forth between the clamp and the weighted desk stand to use this stand in new and unique places — the transition is simply too onerous to undertake more than a few times.
It's hard to believe this product can be so revolutionary and so frustrating at the same time.
Materials and Quality
The Twelve South HoverBar Duo is made of strong metals and plastics, but the material choices for the different elements of the stand may raise an eyebrow.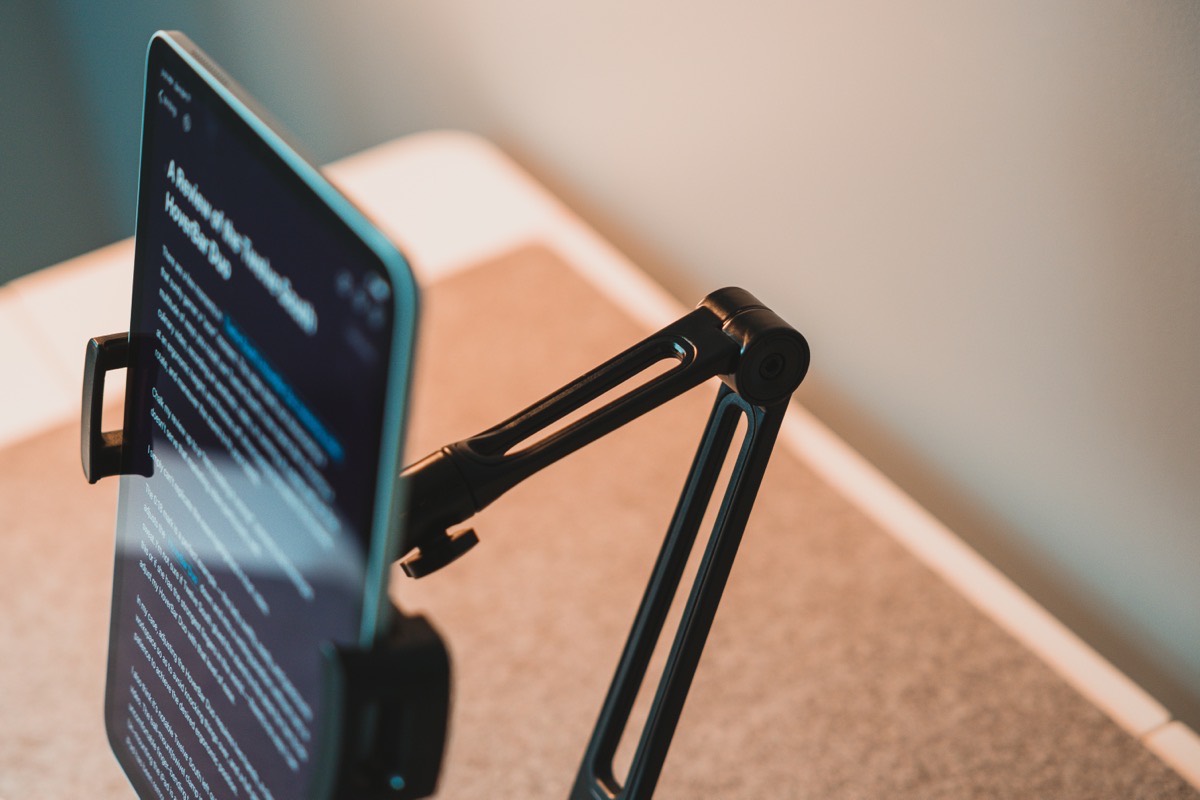 The ergonomic, adjustable arm is made of thick, sturdy metal — worthy of using as a hammer from time to time (not really, but it's sturdy). It adjusts in a 360-degree circle with its circular mount on the weighted base and has two swiveling elbows for your adjustment preferences. The first is located at the base of the mount and the second halfway up the arm. The elbows can both be adjusted forward and backward, to the point of allowing your iPad to face the opposite direction from you (though I wouldn't recommend it — the weight of the base isn't enough to keep the whole stand from toppling over).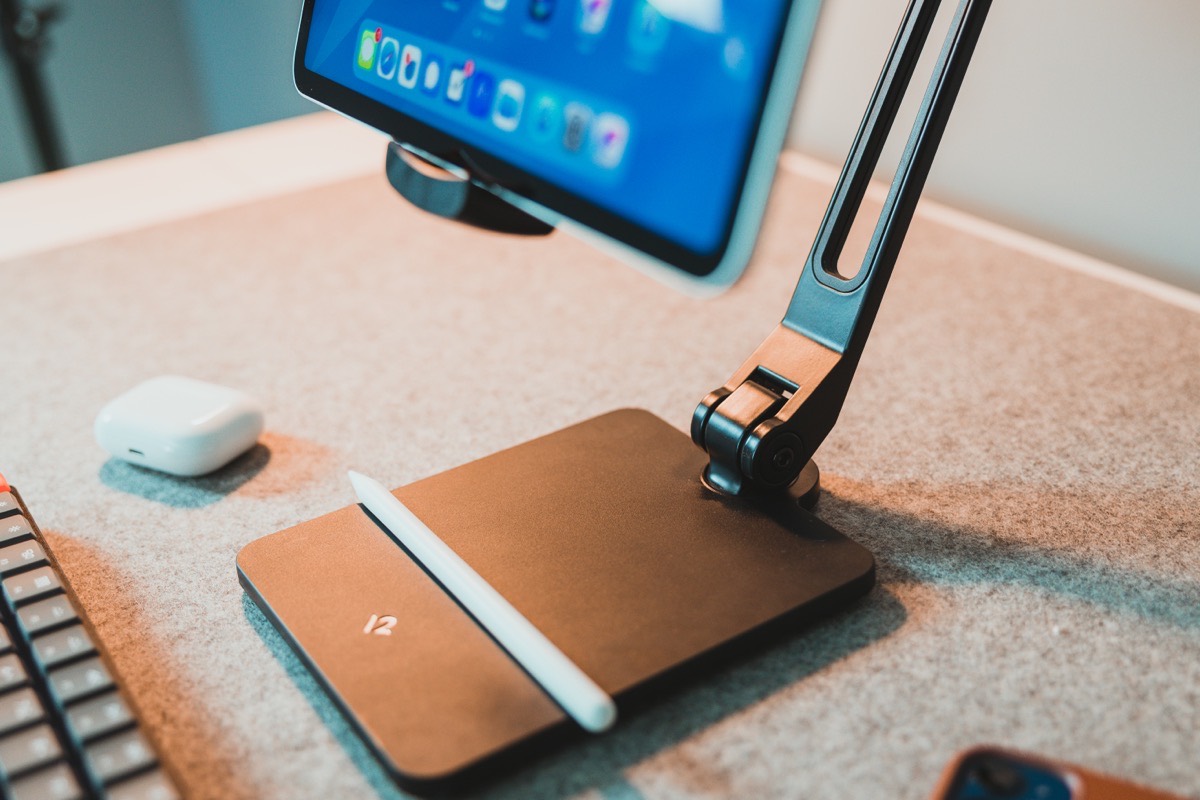 The weighted base is comfortably hefty, but not as hefty as I expected nor as hefty as I would prefer. The heavier the base, the easier it would be to adjust the stand to different ergonomic positions. Instead, the weight almost requires a third hand be available for making minor positioning adjustments.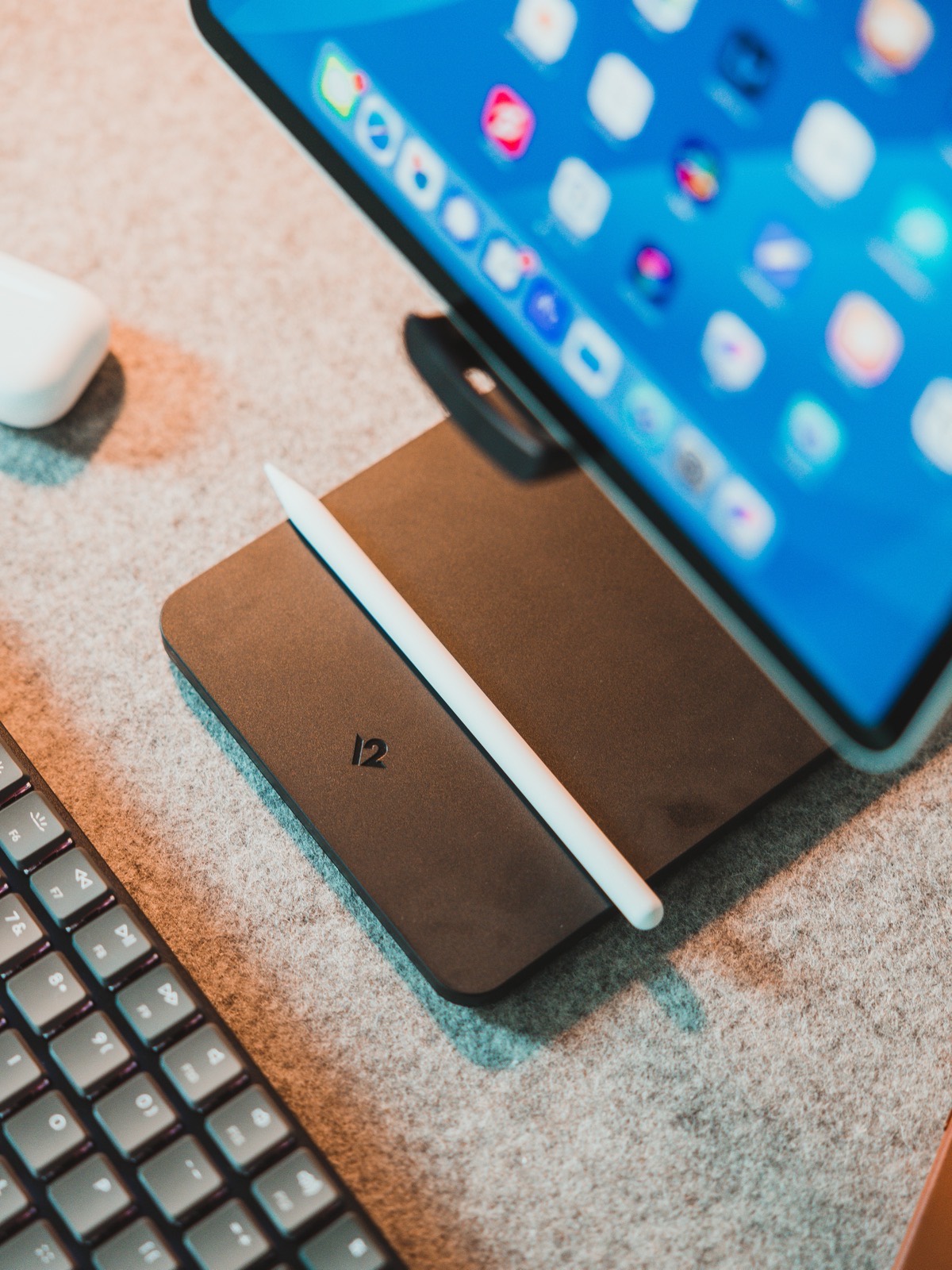 The weighted base is covered in a hard, matte black plastic with a debossed Twelve South logo and a nice little cutout for holding your Apple Pencil. You're not going to be keeping your Apple Pencil attached to the iPad due to the clamp's force, so you'll quickly grow fond of this Apple Pencil cutout.
The clamp itself is also made of hard plastic. The ball mount swivels in all sorts of directions — including 45 degrees, ensuring writers or developers looking for a portrait screen for writing will be pleased.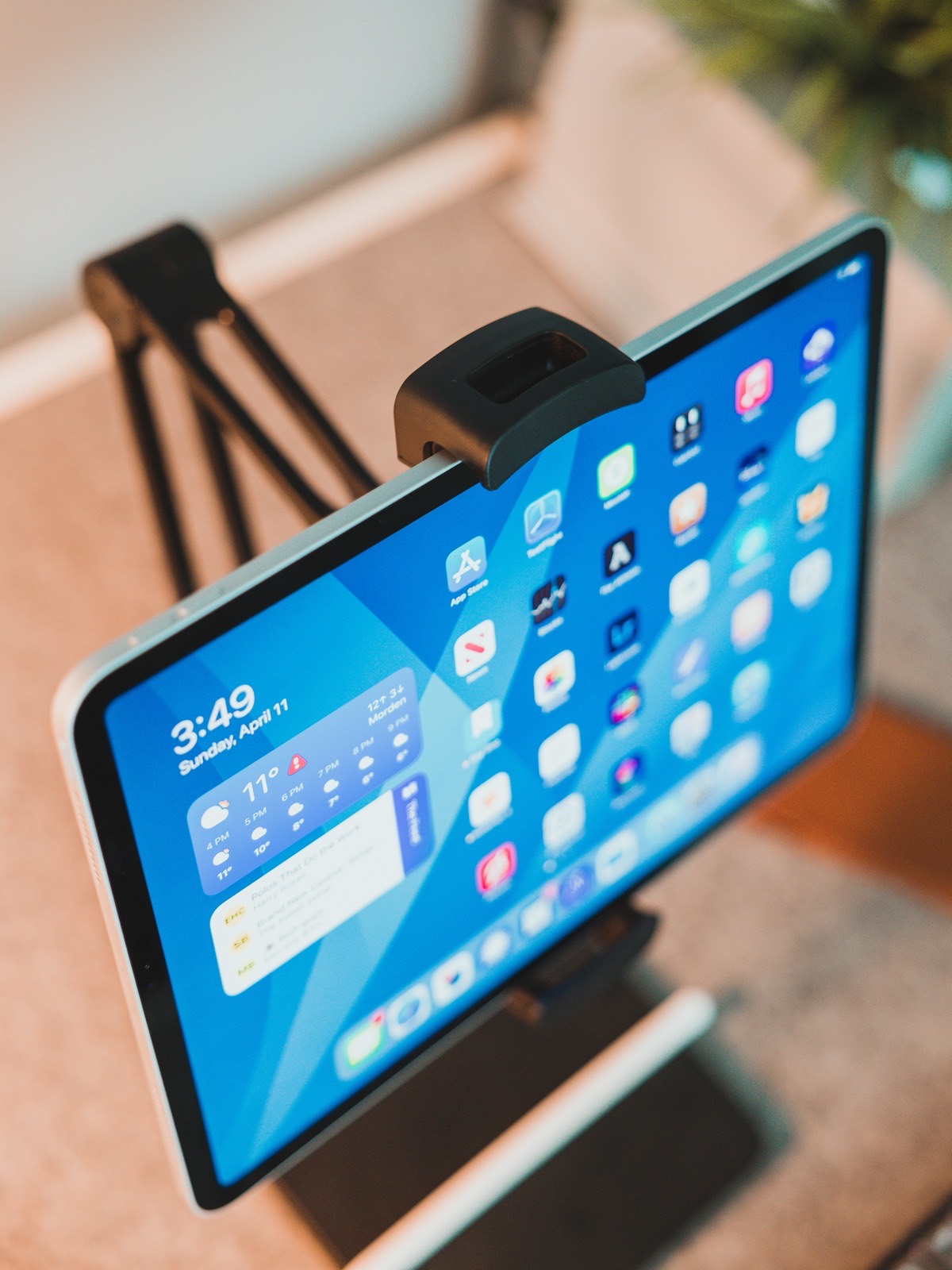 The inside of the clamp is lined with a soft rubber, ensuring you don't damage your iPad's exposed aluminum sides when mounted. The rubber allows you to maneuver the iPad within the clamp ever so slightly, but generally keeps your iPad nice and snug in its grip.
The clamp itself is spring-loaded and requires some finger strength to wedge open and mount the iPad. Twelve South's manual suggests you should mount the iPad horizontally and then adjust the ball-swivel mount to a portrait orientation if preferred. I can attest — mounting an iPad in portrait orientation is extra difficult and will result in both an iPad falling hard onto the desk and the spring-loaded clamp snapping back into its home position.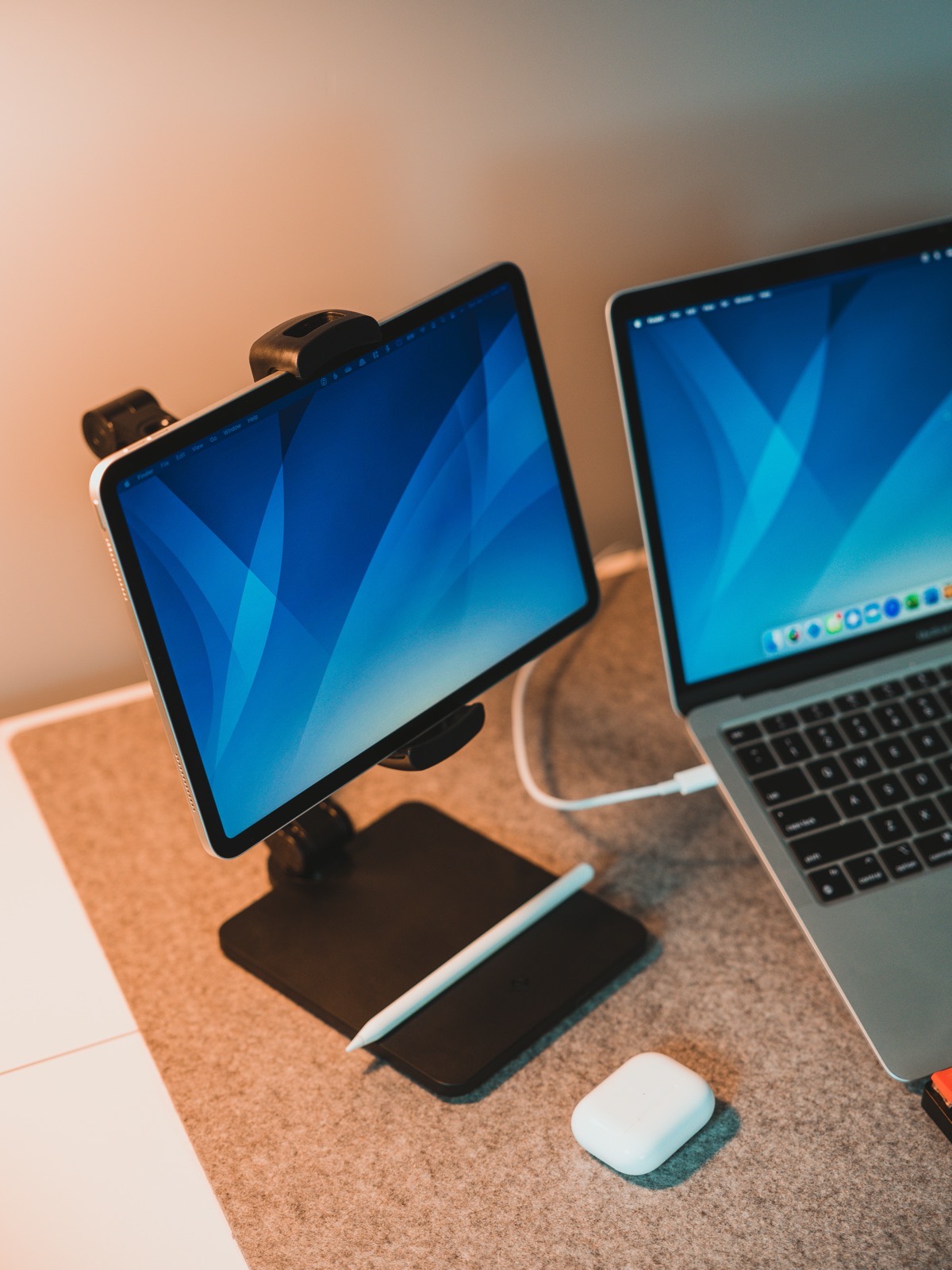 This said, it's immediately important to know the clamp's spring is strong and secure — the last thing you want is a poor quality clamp that might break halfway through a Zoom meeting.
The clamp is small enough to hold an iPhone 12 mini in landscape orientation. Of course, you can then swivel the mount to be upright for family FaceTime calls.
The HoverBar Duo is convertible to a clamp-based arm as well — by removing a few bolts with the included Allen wrenches, you can use the included clamp to attach the HoverBar Duo to a countertop overhang, a closet rod, or the edge of your desk. The mounting clamp appears to be made of a sturdy metal (a lot like the arm itself) and has some extra thick rubber pads on the inside to ensure you don't scratch or damage your countertop. It's thick and sturdy — exactly what you want to hear.
The infinite number of ways to adjust the HoverBar Duo means there are some adjustment knobs and bolts throughout the stand.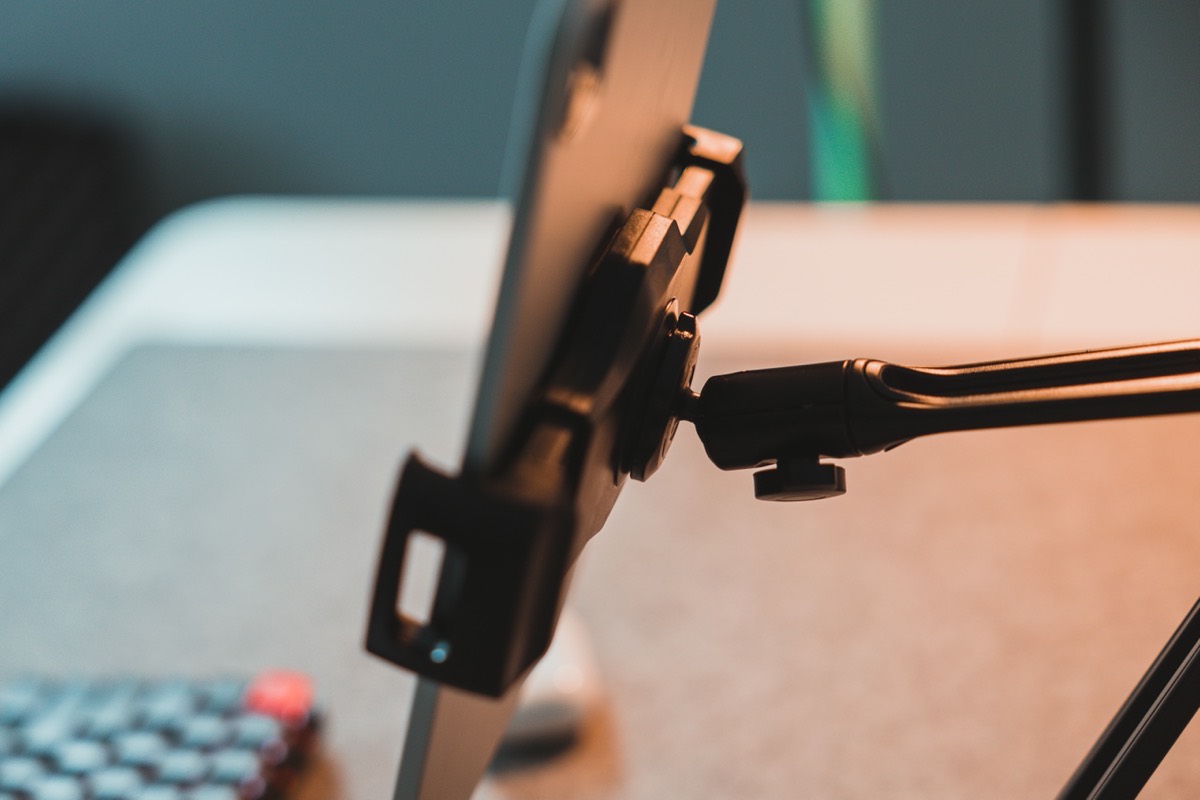 The tightening knob on the mounting clamp is made of hard plastic and is extra-difficult to turn. I'm repeatedly convinced mine is threaded wrong due to its turning difficulty.
The ball-mount also has a hard plastic adjustment knob. It's easier to adjust, but still requires some finger strength to turn and tighten to your needs.
And finally, the top elbow and bottom base elbow both require an Allen wrench for loosening and tightening. Out of the box, these elbows are tight and require two hands to adjust. A slight Allen wrench loosening has certainly improved elbow adjustments, as has a few squirts of WD-40.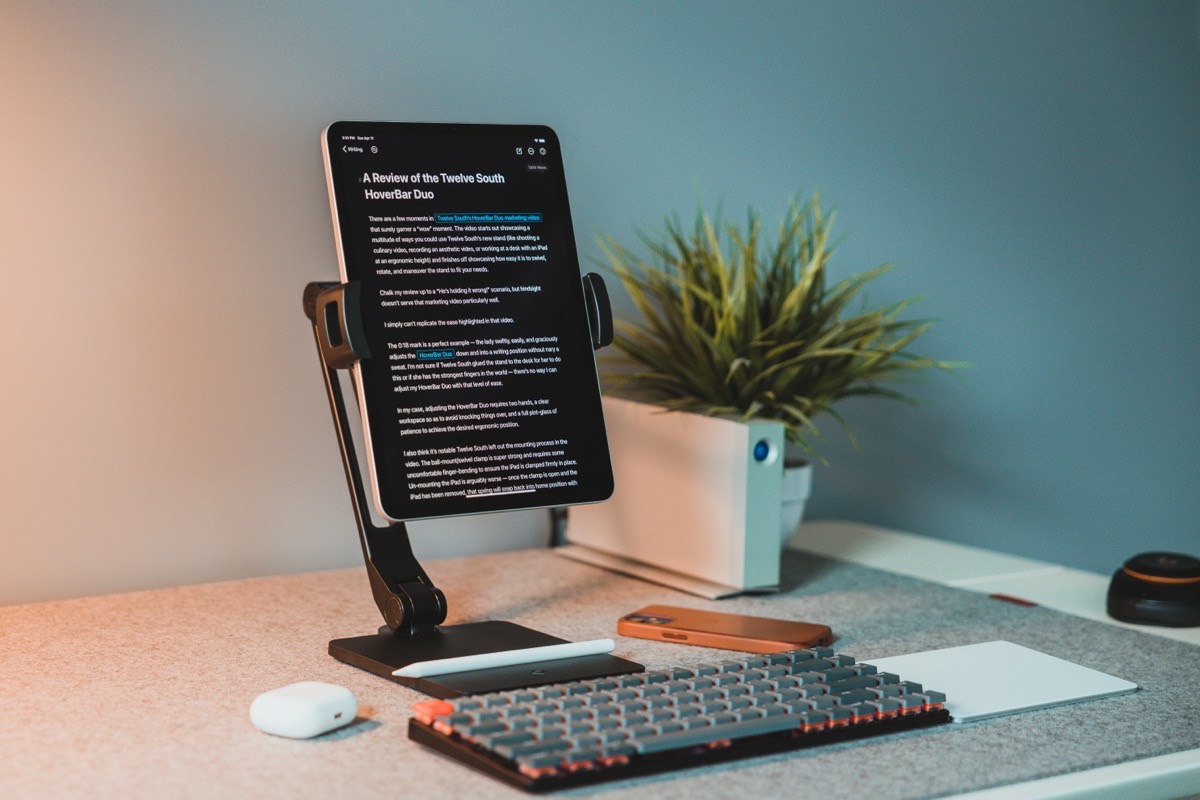 So in short, the HoverBar Duo is made of a combination of sturdy metal and matte black hard plastic. The metal arm is the best part of the entire stand, as is the strong spring-loaded mounting clamp for your iPad — both instill confidence and ensure your iPad isn't going to slip and fall to the floor.
That said, the hard black plastic leaves me wonting, especially in the ball-mount clamp. The ball-mount clamp feels somewhat cheap to me and is surprisingly difficult to hit your desired position.
Once you have that desired position, this is probably the most useful iPad stand available today.
Using the HoverBar Duo iPad Stand
I think I have all my complaints covered. Once you get past the material quality, finding the right position, and avoid pinching your fingers in the clamp, the HoverBar Duo is ultra, ultra useful.
I have used the HoverBar Duo in more places than I can count already: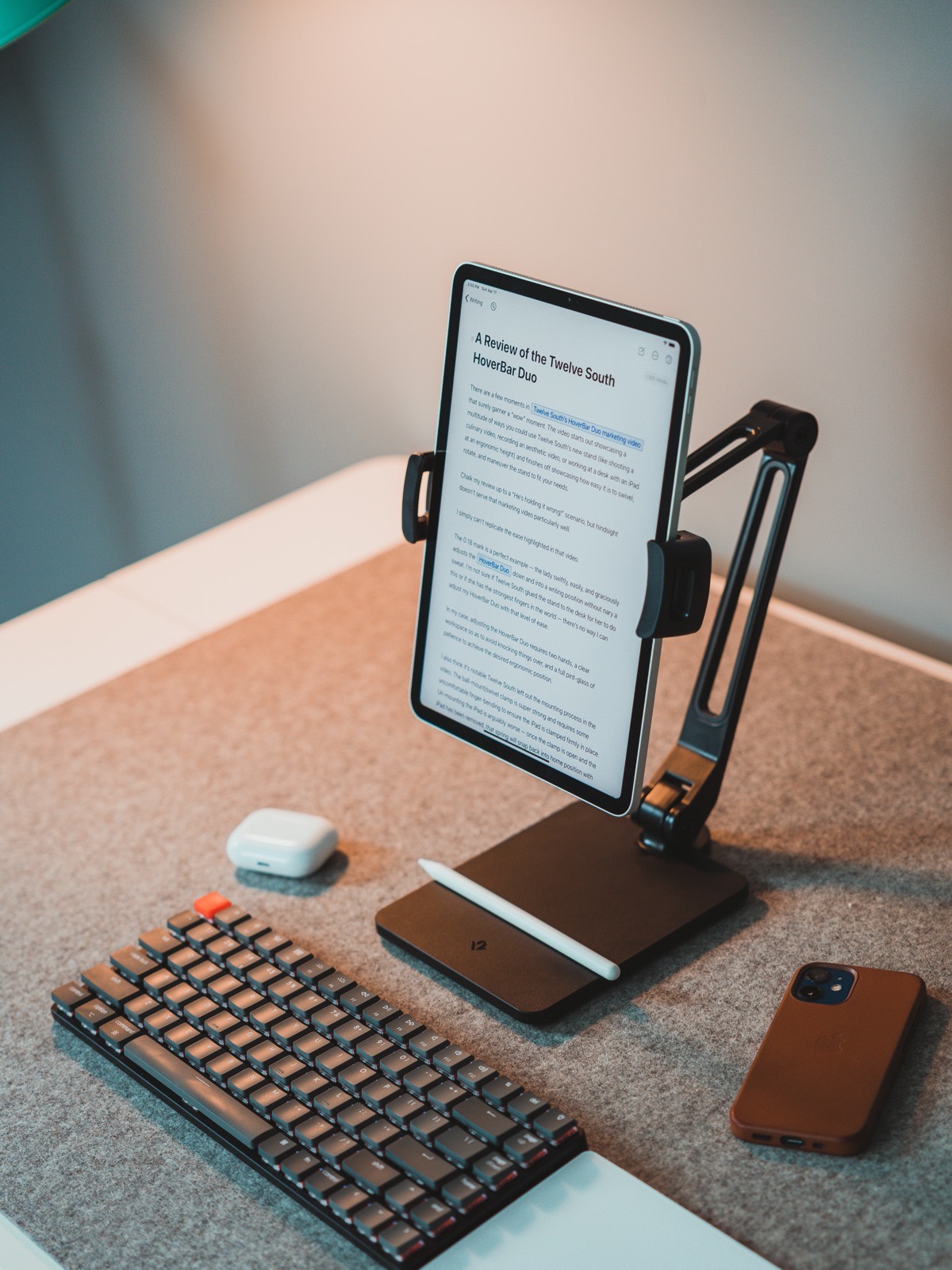 To position my iPad up and beside my iMac for FaceTime calls, calendar-watching, and Twitter streaming.
To position my iPad up and beside my MacBook Air to act as a small external reference display.
To clamp my iPad to the edge of the desk and provide more working space on my desk while writing.
To position my iPad in landscape orientation for browsing the internet and watching videos at my desk. (This works super well for watching baseball games on MLB.TV in the background while working at a computer.)
To position my iPad on a coffee table to watch baseball while playing console games on my TV.
To position my iPad in portrait orientation for writing sessions (like this one) — this works specifically great for standing positions on a bar-height countertop.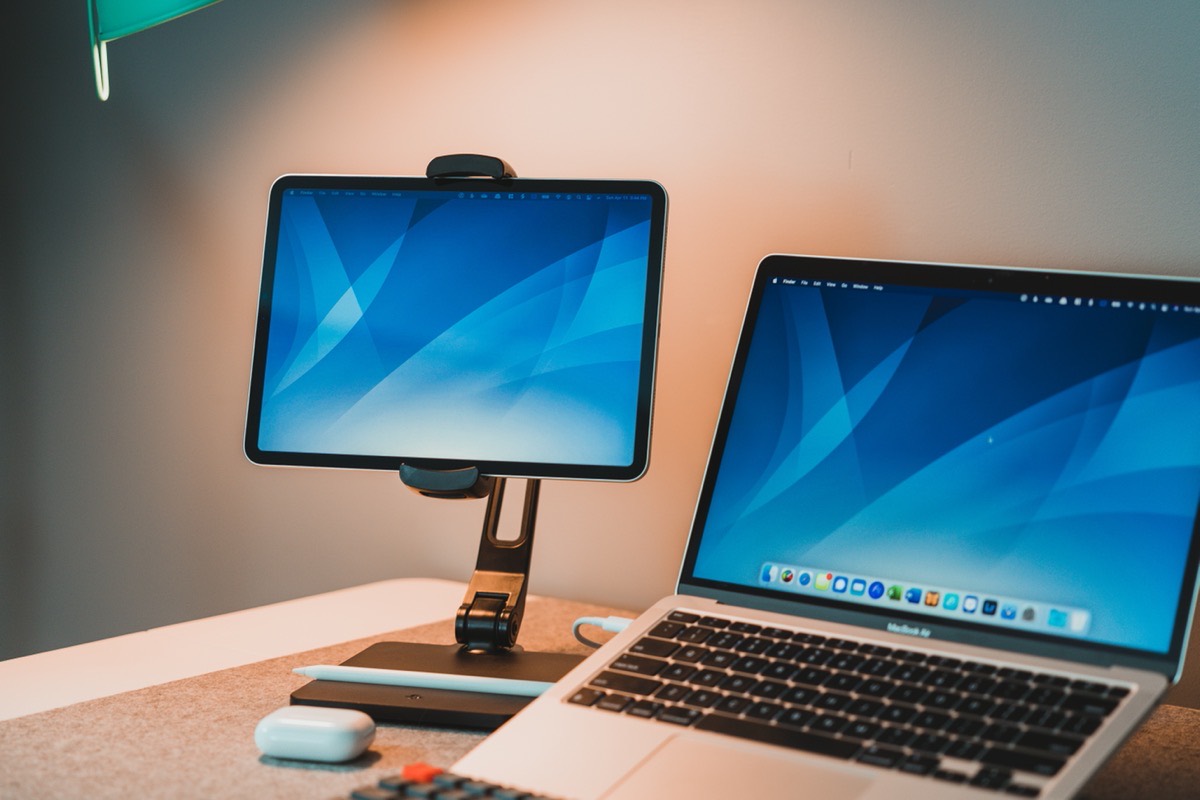 The HoverBar Duo is extraordinarily utilitarian — if you can dream of a spot to position your iPad, the HoverBar Duo will make it happen. The stand is reasonably easy to move around the house, allowing you to move it from your desk to a coffee table to take a FaceTime call. I also imagine some folks using the HoverBar Duo to position their iPad in a comfortable position for gaming. This stand can be used almost everywhere.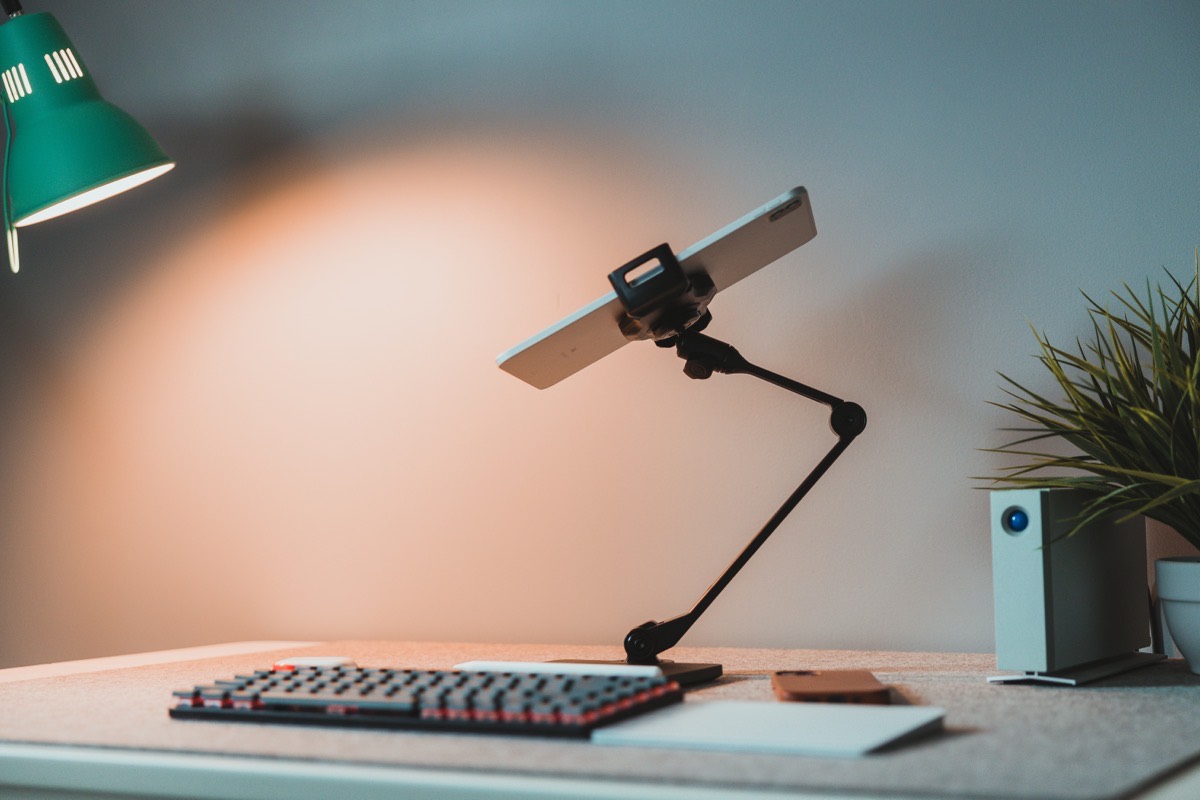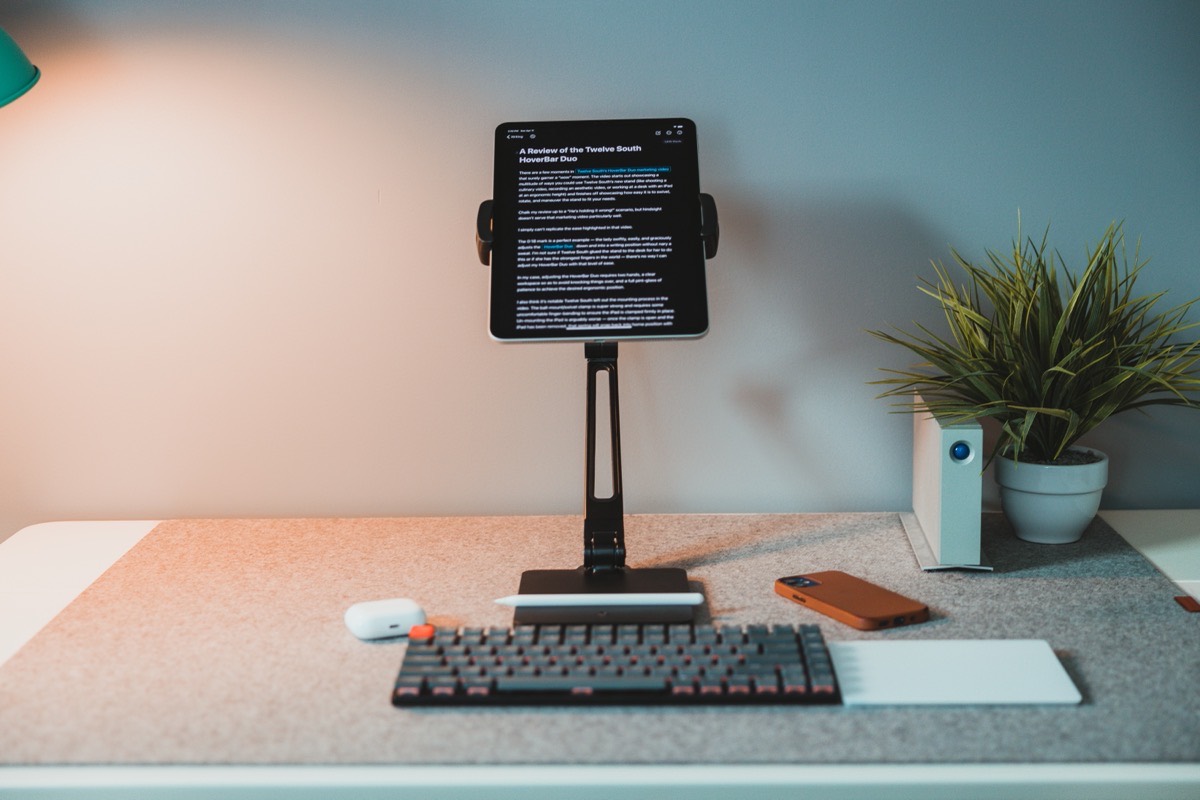 The HoverBar Duo has been so useful that it's introduced me to the world of ergonomic mounting arms. We have an office renovation happening at some point in the future and desks with ergonomic mounting arms have rocketed to the top of the list. They save so much desk space, they provide precise customization, and they provide for a more healthy work environment.
In fact, this last point is the most important to me. I quickly find myself opting for the "iPad in portrait orientation and standing at bar counter height" position — this position nicely rests the keyboard at a comfortable height, positions the iPad at an ergonomic height that doesn't hurt the neck, and allows for reasonably healthy work for a couple hours each day.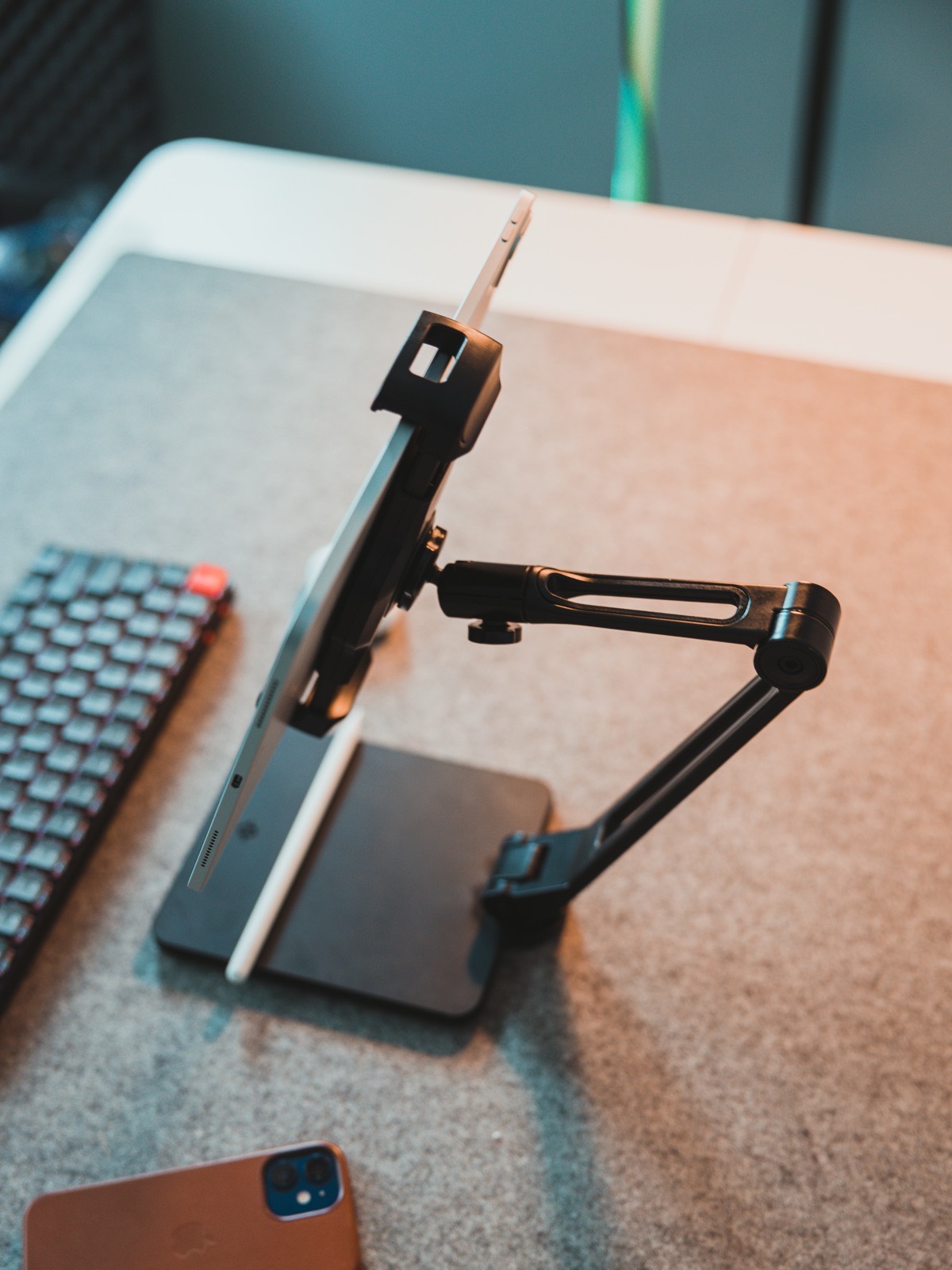 Transitioning the HoverBar Duo between these different positions could be easier — I imagine most folks will want to set and forget the HoverBar Duo once they've nailed their needs.
This is especially notable in the transition from desk base to clamp base. The clamp takes a few minutes to install — you have to unscrew the base, ensure a few washers are in place, and screw the clamp in place, all with an Allen wrench. Again, it's possible, but I don't expect folks will want to transition more than once a week.
I've also found a little WD-40 has helped move from position to position. I sprayed a small amount of oil on the elbow at the base, the elbow halfway up the HoverBar arm, and the ball-mount clamp. With just a little oil, everything adjusts that smoother and makes for an easier transition from one position to the next.
Wrap Up
All in all, the HoverBar Duo is a net win and will be a net win for anyone who uses it.
Materials? Yeah, they could be better. I'd like to see less plastic and more metal — the resulting stand would be extra heavy, but this sort of stand calls for heft and sturdiness. I also think higher quality materials would make for easier adjustments and transitions from position to position.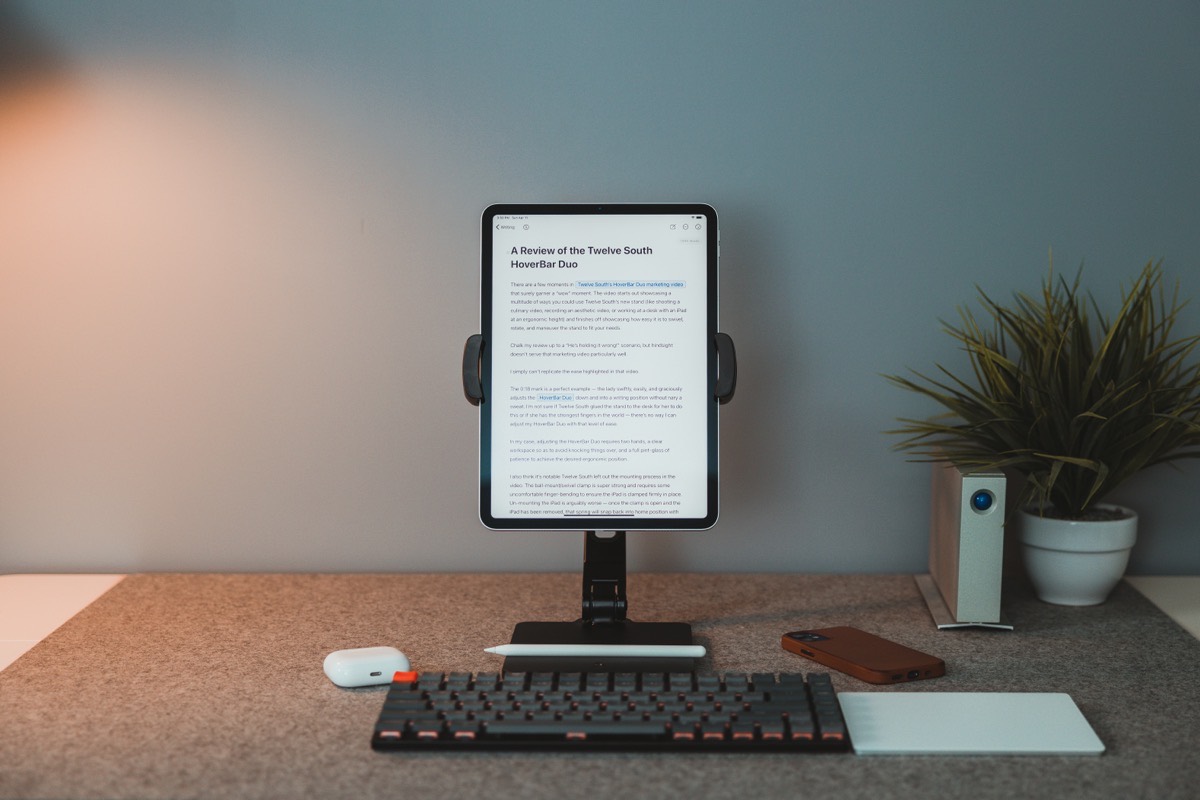 But once you get past those materials, the HoverBar Duo is the most useful iPad stand yet. If you can think of a way to position your iPad, the HoverBar Duo will make it happen.
And, if like me, you're looking for a comfortable working position to use an iPad, the HoverBar Duo will quickly become the go-to resource for ergonomic work.
You can pick up a Twelve South HoverBar Duo on Twelve South's online store or on Amazon for $79.99.