A Closer Look at the Upcoming Photos and Camera Apps in iOS 13
June 4, 2019
Apple put the pedal to the metal in yesterday's keynote, hammering out an extensive pile of checkmarks on many software wish-lists. (And hardware wish-lists, for that matter — that Mac Pro looks like something out of Star Trek.)
I went into the keynote with my fingers crossed, hoping for iPad-specific features, USB-C read/write capabilities for external drives, and a revamped Safari that empowered the iPad to better utilize web apps like Squarespace and WordPress.
I think every item on my wish-list was checked off yesterday.
Yet, oddly, the single feature I was most taken aback by was something I was never asking for, something I never thought I wanted or needed.
The Sweet Setup Staff Picks for 2019
We spend an inordinate amount of time sorting through hundreds of apps to find the very best. Our team here at The Sweet Setup put together a short list of our must-have, most-used apps in 2019.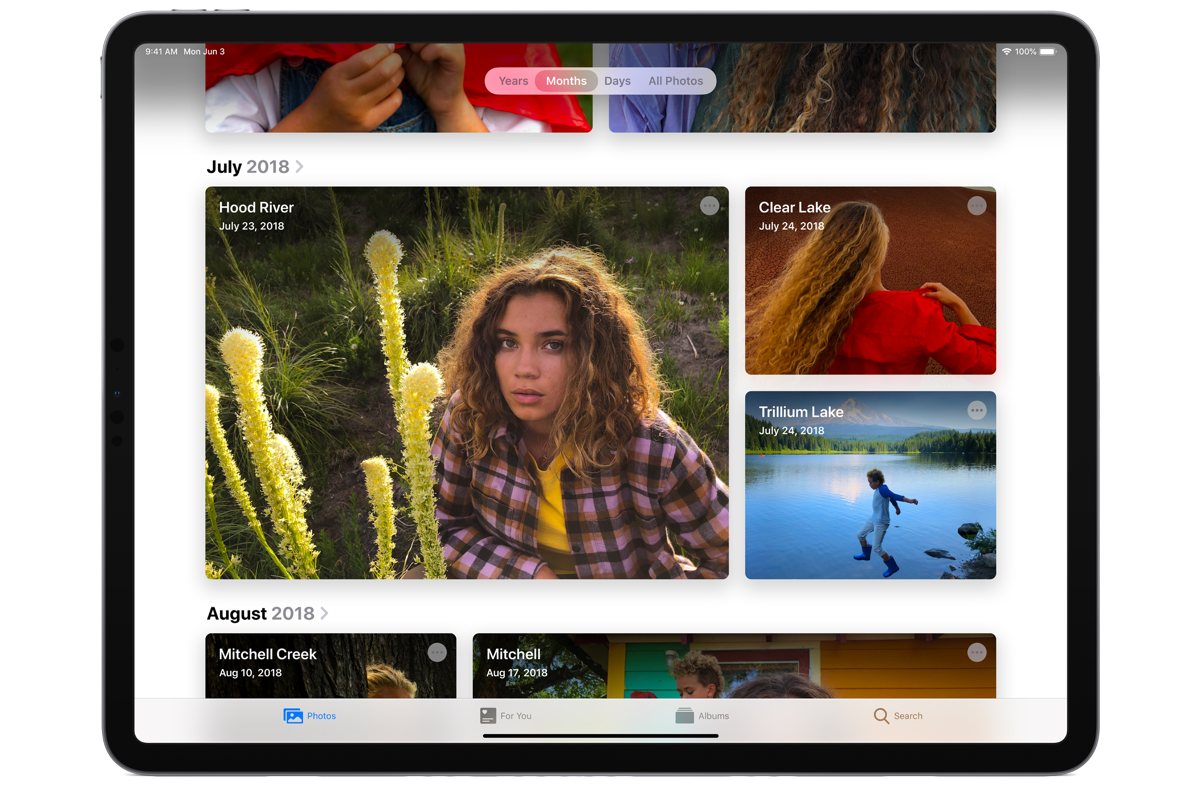 Instead, the most powerful moment for me was when Apple showcased the new Photos app in iOS 13. There was a specific touching moment when the presenter flipped into the Years tab and showed photos of each of his daughter's birthdays, dating back to her very first smile.
That scene gave me chills. I shed a quick tear (seriously, no word of a lie) as I imagined being able to scroll back through my own photo catalog of my little girl.
Apple always knocks it out of the park with under-the-radar photo features (Live Photos are still the bomb!), and it appears that the iOS 13 Photos and Camera apps are no exception.
Let's take a closer look.
All-New Photos Tab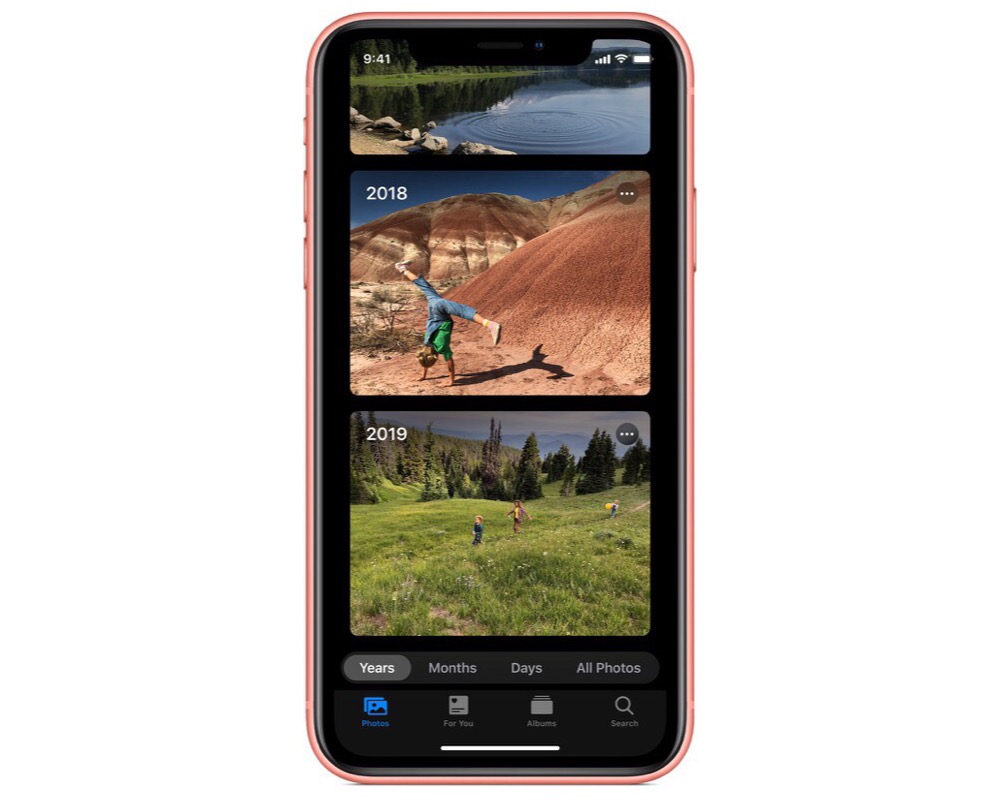 This is the feature that really kicked me in the gut yesterday. iOS 13's brand new Photos tab hones in on why everyone jumps into the Photos app to begin with: sharing and reliving memories.
The new Photos tab is designed to help you find, share, and relive your memories, and does so in an elegant and under-the-hood kind of way. First, the Photos tab can be navigated under four different filters: All Photos, Days, Months, Years. The Days tab presents your photos in a daily format, showcasing your best photos as the big, bold, header-style photos, while videos and Live Photos auto-play in the feed. The same goes for the Months tab.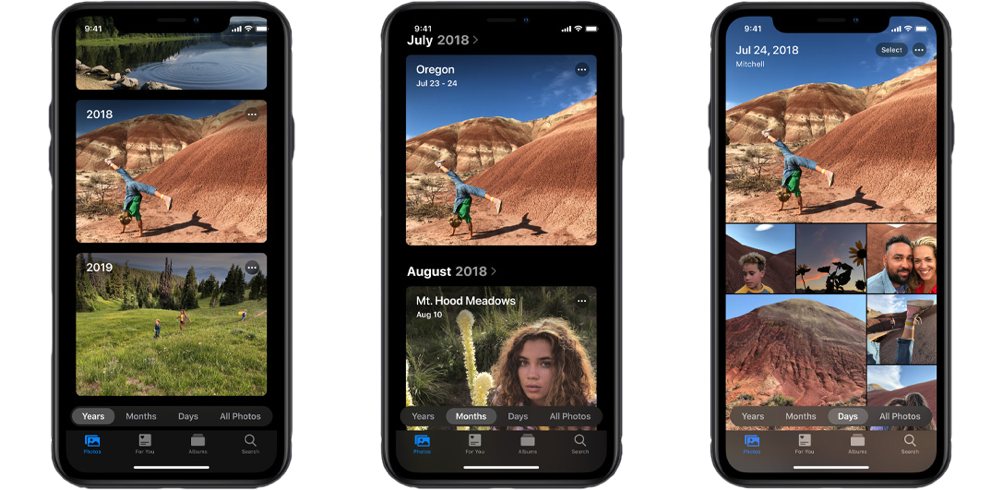 The Years tab is no different, but this is where Apple's on-device machine learning really kicks in. Using machine learning, your iPhone will gather information on your current context (say, your daughter's birthday) and will present photos from your daughter's birthday for each year in your camera roll. The presentation was stunning: The presenter slowly scrolled through all the years of his daughter's birthday parties, dating back to 2011. Just by scrolling through his Year tab, he could watch his daughter through the years, from the moment she first smiled all the way to her seventh or eighth birthday.
In this context, if you often do the same types of events at the same times of the year each year, Apple's new Photos tab is sure to resurface your most precious memories and present them in the most elegant form possible.
New Editing Tools
Apple has taken photo editing tools to a new level in iOS 13. You will be able to control any adjustment or filter using fine-tuned dials. And after completion, you will be able to quickly determine which adjustments have been increased or decreased with a quick glance.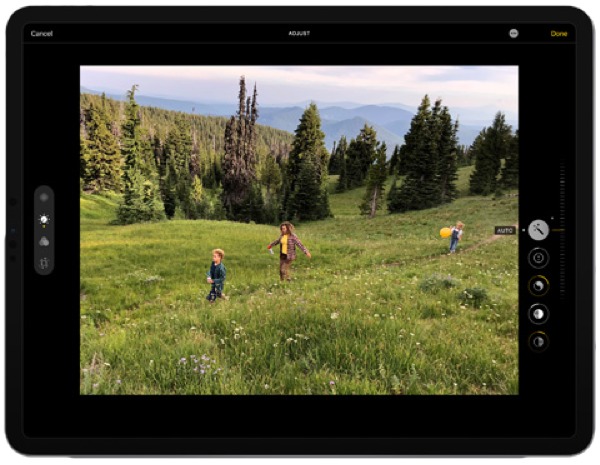 Perhaps most importantly, these editing features all come to video as well in iOS 13. Just like photos, you can apply filters, fine-tune adjustments, and even use simple editing techniques like Auto Enhance to quickly improve the quality of your video.
And, finally, you can rotate and crop videos as well.
While it doesn't appear there are any groundbreaking new features in the editing tool department, it's clear that iOS 13 is aiming to improve the photo editing experience on the iPhone and iPad, further ensuring most people can complete the entire cycle of shoot/edit/share on a single device.
Portrait Lighting Control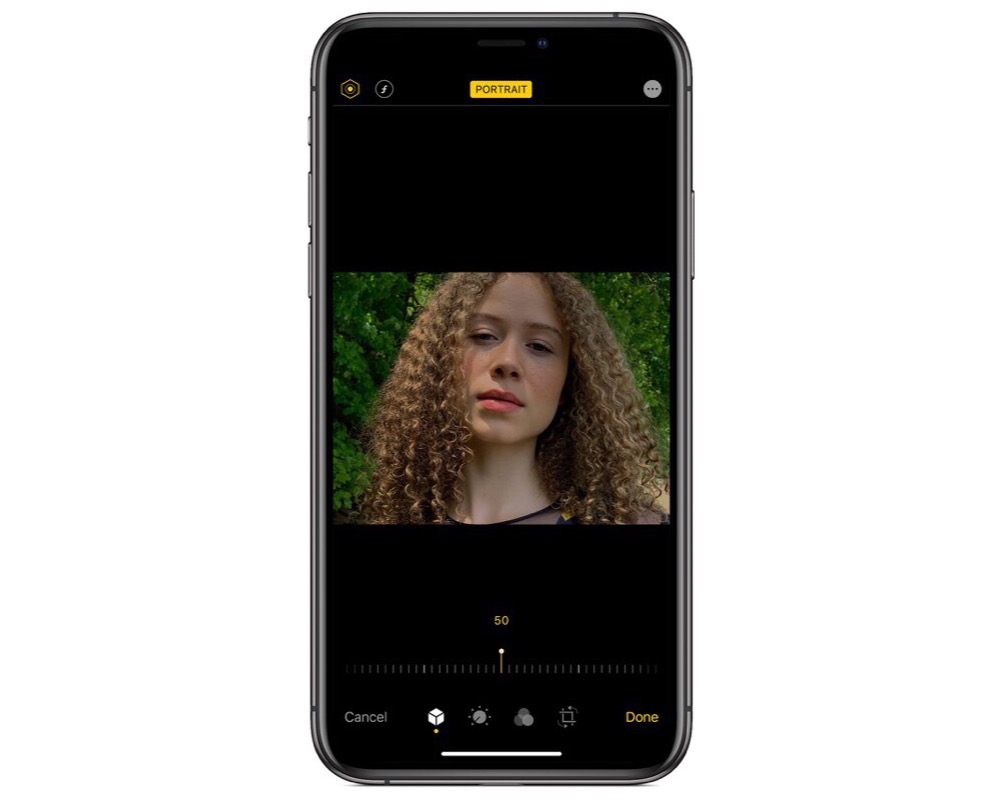 Apple continues to iterate on their unique Portrait Lighting feature inside the Camera app. When you shoot a photo in Portrait Mode in the Camera app, you can either utilize the Portrait Lighting effects live or apply the Portrait Lighting effects retroactively thanks to the wonders of computational photography.
Now, Portrait Lighting in iOS 13 takes this computational element further, allowing you to control the intensity of the light on your subject's face. So whether you want to sharpen a certain element of their visage or you want to brighten or smooth out their skin, these new Portrait Lighting Controls give you a new element of exposure control in the Camera app.
High-Key Mono
And any Portrait Lighting update wouldn't be complete without a new filter option to take advantage of. With iOS 13, you can use High-Key Mono in the Portrait Lighting setting to create a wonderful monochromatic effect on your subject.
High-Key Mono's monochromatic lighting effect joins a growing array of Portrait Lighting options, including Studio Light, Contour Light, Stage Light, and Stage Light Mono. Of course, these features, combined with the iPhone XS's Depth control, make the iPhone an ever-increasing photographic powerhouse.
Wrap Up
There are two apps on the iPhone and the iPad that have the capability to bring a tear to my eye: Day One (the best journaling app) and the Photos app. The fact yesterday's keynote struck such a touching chord with me, I think, showcases the potential impact Photos can have on our lives as parents and family members.
I can't wait for the new iOS 13 Photos app to apply machine learning to my Camera Roll, eliminate all the extra clutter, and remind me of all the wonderful times over the last year, five years, or decade.
The more photos you take and the more photos you keep on your iPhone, the more impactful those memories are sure to become.
The Sweet Setup Staff Picks for 2019
We spend an inordinate amount of time sorting through hundreds of apps to find the very best. Our team here at The Sweet Setup put together a short list of our must-have, most-used apps in 2019.