Veronica Domeier's Ulysses Setup
Veronica Domeier is a freelance designer and writer living in San Antonio, TX.
---
I began using Ulysses in early 2016. I have always been a fan of iA Writer, I loved the minimal set up and the simplicity of simply opening a new window with the freedom to just start writing without distraction. However the more I wrote, the more chaotic and unorganized it became for me. It was an endless list of articles that only grew much to longer and became very cumbersome.
Once I stared writing for more than one blog, and multiple other projects, I desperately needed the ability to not only create folders but to customize them.
The beauty of Ulysses is that it provides the library I need to keep everything organized in one place. Then my library can easily be hidden out of site while I go into Editor mode for distraction-free writing. Plus it syncs seamlessly across devices.
The majority of my writing consists of articles for blog posts, with a section for my podcast notes and scripts as well as a book project folder.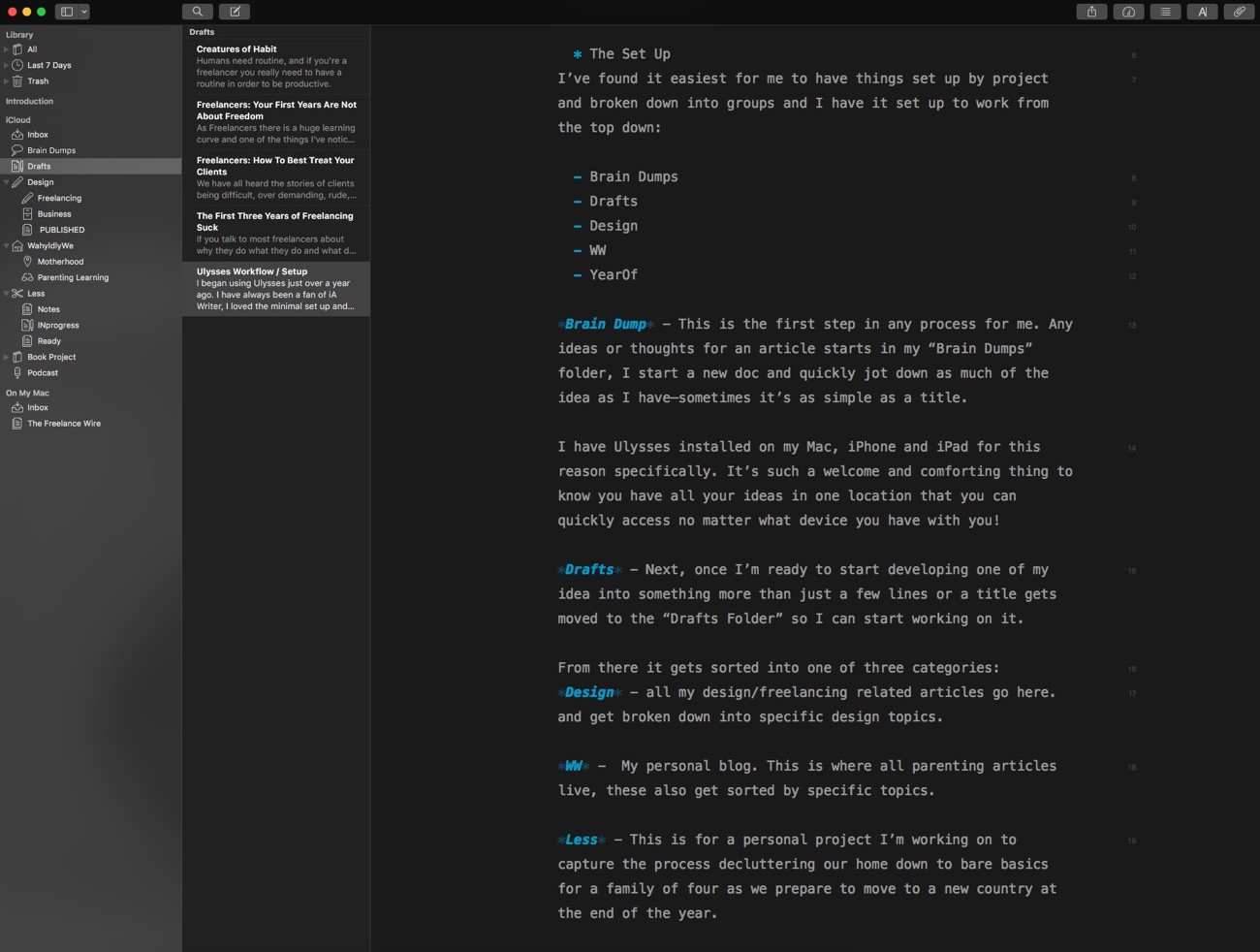 My Setup
I've found it easiest for me to have things set up by project and broken down into groups. I have it set up to work from the top down:
Brain Dumps
Drafts
Design
WW
YearOf
Brain Dump: This is the first step in any process for me. Any ideas or thoughts for an article starts in my "Brain Dumps" folder, I start a new doc and quickly jot down as much of the idea as I have–sometimes it's as simple as a title.
I have Ulysses installed on my Mac, iPhone and iPad for this reason specifically. It's such a welcome and comforting thing to know you have all your ideas in one location that you can quickly access no matter what device you have with you!
Drafts: Next, once I'm ready to start developing one of my idea into something more than just a few lines or a title gets moved to the "Drafts Folder" so I can start working on it.
From there it gets sorted into one of three categories:
Design – all my design/freelancing related articles go here. and get broken down into specific design topics.
WW: My personal blog. This is where all parenting articles live, these also get sorted by specific topics.
Less: This is for a personal project I'm working on to capture the process decluttering our home down to bare basics for a family of four as we prepare to move to a new country at the end of the year.
As I mentioned, within each of the last three categories are more specific folder to keep things organized accordingly. I like to keep things as organized as possible for productivity and speed. The less time I can spend searching for any thing the better to keep me on track.
---
One of my most used features are definitely attachments. I can attach any extras to an article I'm working on that I need or want to keep track of or reference to — such as URL links, notes and any images I may want to use with it. The Goals feature is also a favorite. As a visual person, seeing the character count keeps pushing me.
I prefer to work in dark mode in the Freestraction theme with Markdown XL enabled with Menlo Regular font, I've tried other fonts but keep coming back to this on for writing.