Welcome Friends of MacStories!
---
Stop being managed by your task list.
All the Things is our most popular course that has helped thousands of our customers to reclaim time and get in control of their task list. It covers productivity and task management with an in-depth series of screencast tutorials to help you become a power user with the award-winning app, Things. The course also features advanced training for calm productivity and easier task management.
» Learn More or Buy Now
---
Capture your ideas, and organize your writing.
It sucks to have your ideas, notes, and writing all scattered about with things all over the map. Learn Ulysses will help you take your notes, ideas, and writing from scattered to structured. The course includes easy video tutorials to help you quickly learn Ulysses, as well as additional training featuring advanced workflows, writing coaching videos, and example setups.
» Learn More or Buy Now
---
Get in control of all those images on your iPhone. In this screencast tutorial series, you will discover how to manage your photos on iOS, how to take better photos to begin with, how to use the best editing apps out there, and more.
» Learn More or Buy Now
---
Fourteen in-depth video tutorials to help you discover exactly how to use 1Password like a pro. This app is for much more than just passwords, and we'll show you how to make the most of it.
» Learn More or Buy Now
---
The most detailed and extensive guide to Day One available today. Featuring in-depth reviews that cover every function and feature found within Day One. Our handbook goes line-by-line showing you how to make the most of this award-winning journaling app.
» Learn More or Buy Now
---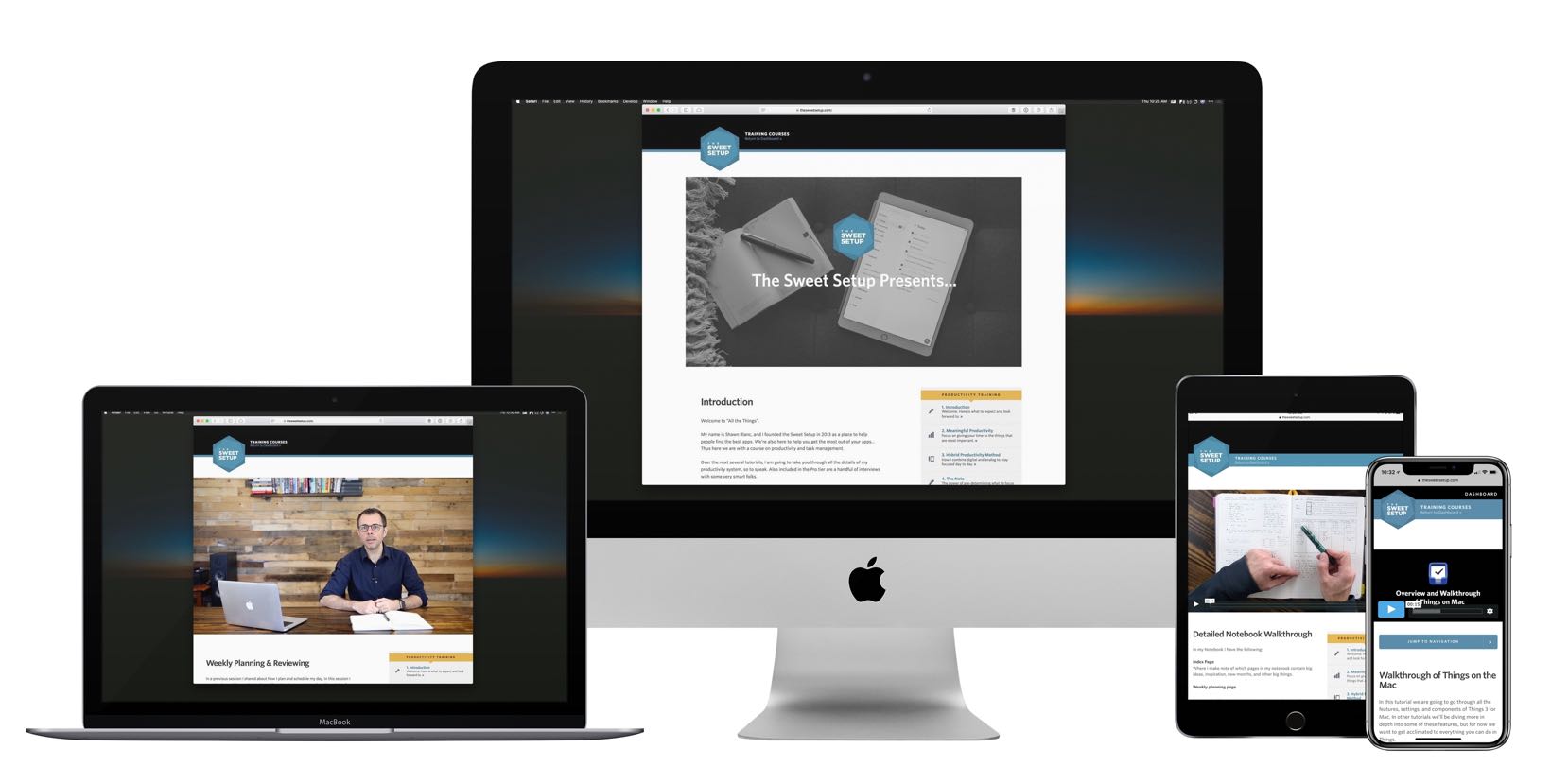 The Total Training Bundle (Save $57)
Get All Our Training Courses and Save $57
Most of our customers end up purchasing several, if not all, of our training courses. If you would like to get instant access to our entire library of training products and video courses, then the Total Training Bundle is the best option for you.
The bundle includes all of our courses:
All the Things ($57)
Learn Ulysses ($57)
Mobile Photography ($59)
Unlock 1Password ($29)
Day One in Depth ($29)
Total value: $231. Save $57 when you purchase everything at once.
All of our courses feature downloadable video files for offline viewing, transcripts of all video lessons, and lifetime course access.
Plus! You get a 30-day, money-back guarantee: If, for any reason, you're not completely satisfied just let us know and we'll be glad to give you a full refund. No questions asked! It's zero risk on your part.
---
Why do we offer video courses?
Here at The Sweet Setup our business model is simple:
We spend our time testing, reviewing, and recommending the best apps and workflows for you.

For the apps which are more-popular and more powerful, we create in-depth training to help you save time and enjoy your apps more.
You shouldn't have to waste your time trying to learn the ins and outs of an app. Who knows if you are missing out the best features, or not taking full advantage of all the ways an app can serve you and improve your work and home life.
You deserve to feel confident and excited with the apps and tools you use each day.
Moreover, by purchasing our training products you support the work we do here at The Sweet Setup. You are enabling us to publish more app reviews, do more research, and create additional training for you. Thanks!