Zaid Syed's Mac and iPhone setup
February 29, 2016
Every week we post a new interview with someone about what software they use on their Mac, iPhone, or iPad. We do these interviews because not only are they fun, but a glimpse into what tools someone uses and how they use those tools can spark our imagination and give us an idea or insight into how we can do things better.
New setup interviews are posted every Monday; follow us on RSS or Twitter to stay up to date.
---
Who are you and what do you do?
I'm Zaid Syed, and I'm a student living in Hong Kong. I also write on my blog and serve as the editor-in-chief of a new blog called Yellow Signal, which reviews apps and interviews interesting people. I'm also currently recording a podcast called Podcast and Chill with Harshit Choudhary. Along with that, I do web and graphic design for clients in my spare time, as well as dabbling in iOS development, reading news, and listening to podcasts about tech and design.
What is your current setup?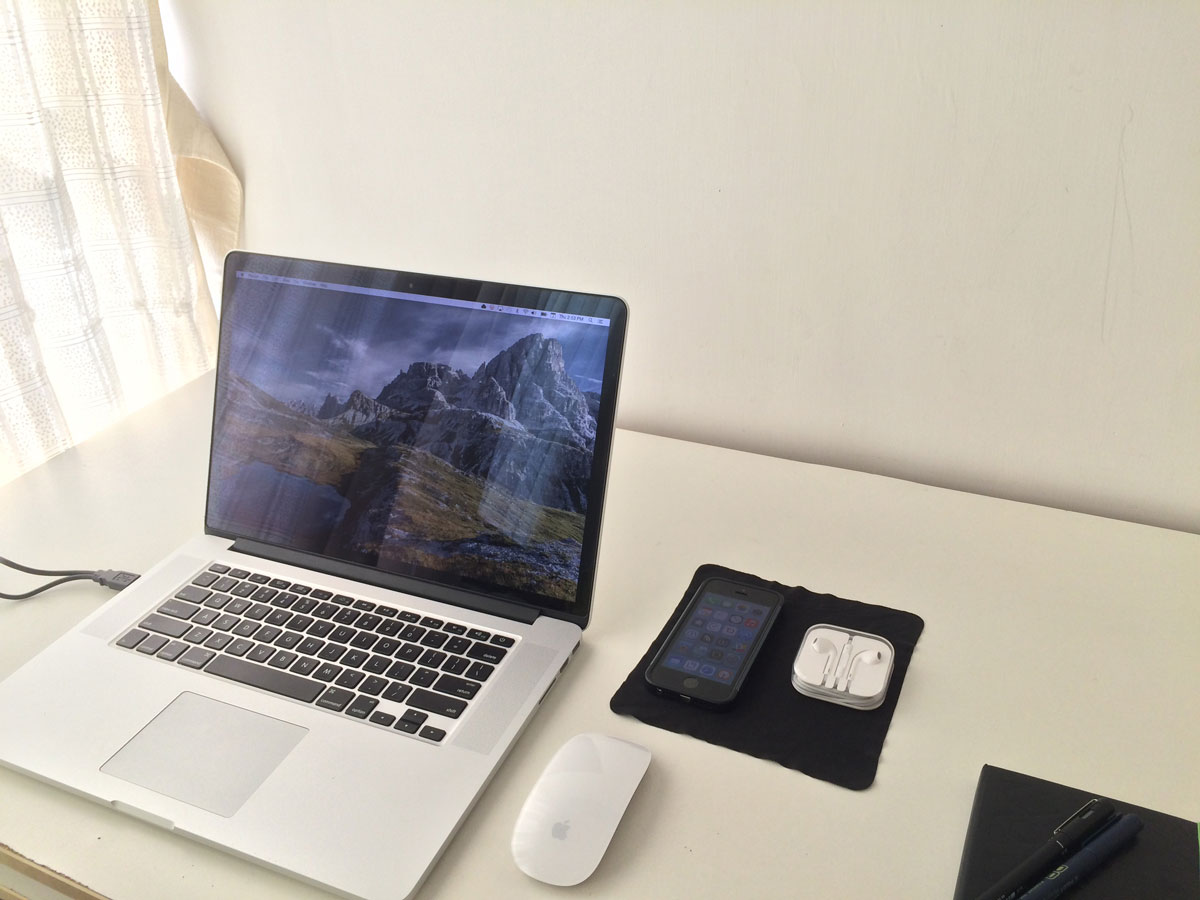 I have a mid-2012 15" MacBook Pro with Retina Display, 256GB flash storage, and 16GB of RAM. It's definitely a powerhouse, and perfect for graphic design and video editing for my Media Studies course.
I also have a 1TB Buffalo MiniStation external hard drive for external storage and backups, although I plan to migrate my backups to Backblaze soon because of the added safety. I also may have OCD when it comes to my desk and setup, so I try to hide cables and things that don't need to be seen. My external hard drive hides under the desk in the keyboard compartment since I don't need to see it. I keep my iPhone and EarPods on my Mac's cleaning cloth.
On the non-hardware side, I have an Evernote Moleskine notebook. I usually jot down quick ideas or thoughts in this book, and it's great because I can take a picture of a page and scan it into Evernote to have a searchable, digital copy.
What software do you use and for what do you use it?
1Password is the ultimate app for managing passwords and other sensitive data. There are other password managers out there, but these days simply storing a password isn't enough. What makes 1Password special is the integration with the whole system. 1Password links with the 1Password extension for Safari, so all I have to do is hit ⌘ + / to automatically fill in my long, complicated passwords.
For writing online for my blog and Yellow Signal, I use Realmac's Typed. Typed is a great new Markdown editor. I use it mainly because it looks great and isn't complicated. Zen Mode takes the window fullscreen and plays calming background noises as you write. I use Marked 2 to preview my Markdown mainly because it supports custom CSS in the preview, so I can load it up with my blog's CSS to see how it will look when published. Recently, however, I've tried out the new Ulysses 3 from The Soulmen on trial. I stayed away from it before because of the busy interface and the price, but the recent update makes it much prettier and worth the money. I've only started my trial period, but I'll probably end up purchasing it.
Safari is my web browser of choice. I was briefly using Chrome on Yosemite because Safari was unstable on earlier versions of Yosemite, but since 10.10.3, it's been stable again and I love it. I only ever go back to Chrome once in a while when testing out web design and when previewing responsive designs. I use Coda 2 as my IDE (integrated development environment) when I'm web designing, and Transmit for FTP — both by Panic.
The newly-released Fantastical 2 for Mac is a great update to Fantastical. I'm a fan of the iPhone app, and the Yosemite update was due to come out. While it's also become a fully-fledged calendar app, I've only really used the menu bar app in tandem with the Today View extension.
Finally, for school, I use the iWork suite for all my document processing, presentation, and spreadsheet needs. I hate Microsoft Office 2011 despite the fact that all my classes make use of it; however, I've tried the new 2016 version, which is less of an eyesore. I used Evernote for note-taking, but I've started to embrace OneNote because of the student-friendly workflow. I have the Adobe CC suite for Media Studies — I use tools such as Photoshop, After Effects, and Premiere Pro for video-editing and graphic design.
How would your ideal setup look and function?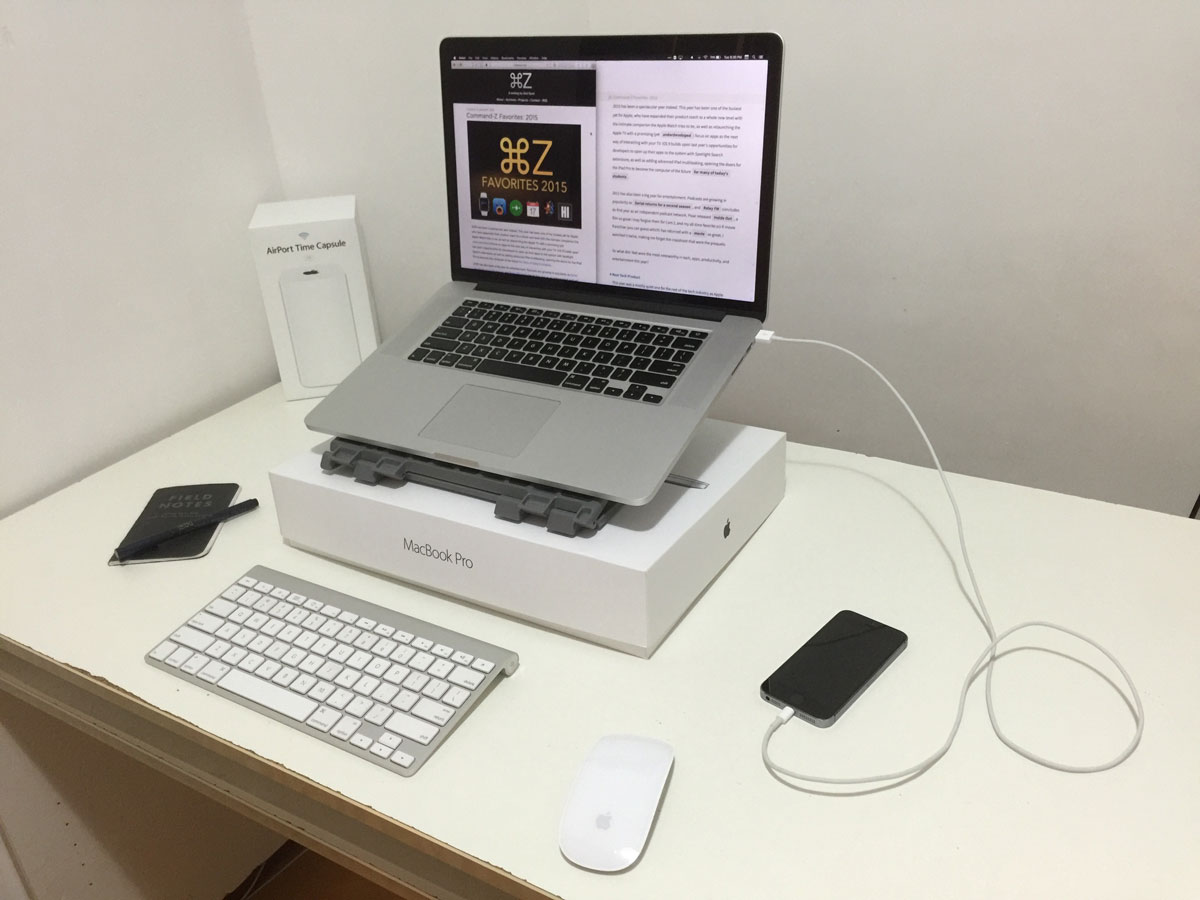 Ideally, I'd like an external monitor to connect my MacBook to at home, but because of the uncertain situation regarding the Apple Thunderbolt Display, I'd rather wait to see what Apple does with it before making any changes to my setup. If I went ahead with it, I could then convert my desk into a standing desk, place my MacBook into a docking station, and use my external keyboard and mouse.
---
What iPhone do you have?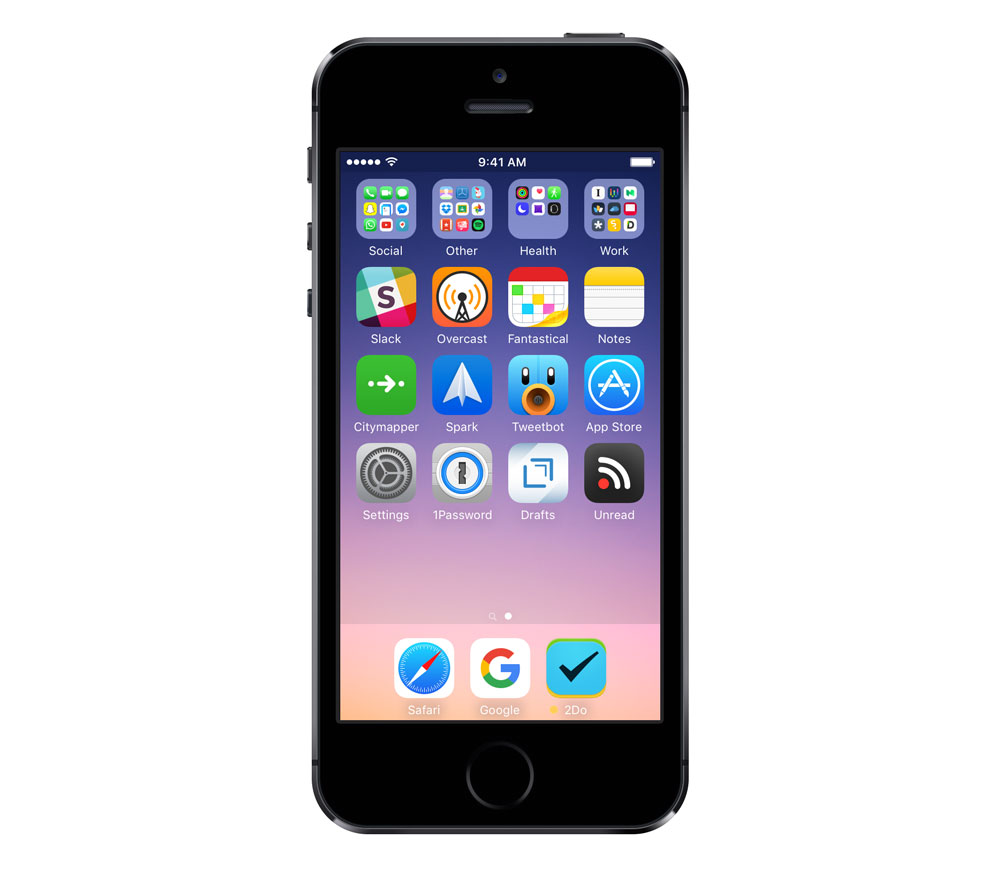 I have a 32GB Space Gray iPhone 5s from last year. The 4" size is perfect for my small hands, but I can definitely see myself upgrading to the 4.7" when the need arises.
Where can we find your wallpaper online?
A few years ago, I took this picture of the South China Sea from a helicopter flying above Hong Kong, and I recently chose it as my wallpaper while looking through old photos because it looked like the default iPad 3 wallpaper.
What apps do you use the most, and why?
The one app always running on my phone is Overcast by Marco Arment. I always have a podcast playing in the background when I'm busy. I use Overcast because of the thoughtful design that just clicks with me, excellent discovery and recommendations, and the Smart Speed feature that saves me a lot of time on some podcasts with breaks in them. I listen to podcasts on the way to school and back, at home, and whenever I'm traveling, and Overcast saves me a lot of time compared to a lot of other clients out there thanks to Smart Speed.
I may be addicted to Twitter, but I detest the official Twitter app for iPhone. Tweetbot 3 by Tapbots resolves many of the annoyances I have with the official Twitter client. It's better designed, is faster, and has nice features such as inline previews for GIFs and images not hosted on Twitter's server, support for read-it-later services, and mute filters. It's perfect for a Twitter completionist like me.
RSS is an incredibly useful tool, and if you don't agree, you're probably using it wrong. I use Unread from Supertop for browsing my RSS. Because of time zones (I live in Hong Kong), I wake up in the morning with around 50 or so articles to read, so I need a great interface to read it with. Unread's interface, with support for lazy swiping, is one of the best out there for reading. Animations that accompany gestures in Unread create a fluid feeling when swiping through articles, and the one font (Whitney) it ships with is beautiful. Multiple themes mean that I can read at night without damaging my eyes.
Slack is simply a great team communication tool. I use it for four different teams now, and the many integrations with other services make it a great app. It's easy to switch between teams and delegate tasks to others easily with integration with task management services. Search is fast and efficient and makes working in a group much more bearable since I'm not a people person.
Some other apps I love to use: Instapaper for read-it-later, Due for reminders, Drafts for note-taking and being able to take action to them, and Fantastical 2 for calendaring.
Which app could you not live without?
I apologize for being boring, but when my 1GB of data is running out, I can rely on one of the oldest forms of communication: the Phone app. Despite the bad sound quality, it's still the easiest way to communicate with others when I'm in a pinch. It would, however, be a different story if I had more data.
---
There are more Sweet Setup interviews right here.