Almost Done. Just One More Thing…
Hooray! We are so glad to have you as part of the Sweet Setup family.
I just sent you an email with a link to access your guide. You'll find the link to the guide in your inbox.
The email came from: Shawn @ The Sweet Setup <desk@blancmedia.org>
But first… There is one more thing
Get ALL 30 of our Ulysses training videos (including advanced writing workflows)
As a new subscriber, I wanted to offer you my best-selling writing course at a 25% discount right now.
Why?
Because this is the same special pricing we offered the rest of our community when the Learn Ulysses course first launched. I wanted to give you the opportunity to get it at the best price as well if you're interested.
Save 25% Right Now
No thanks, I just want the Ulysses publishing guide right now.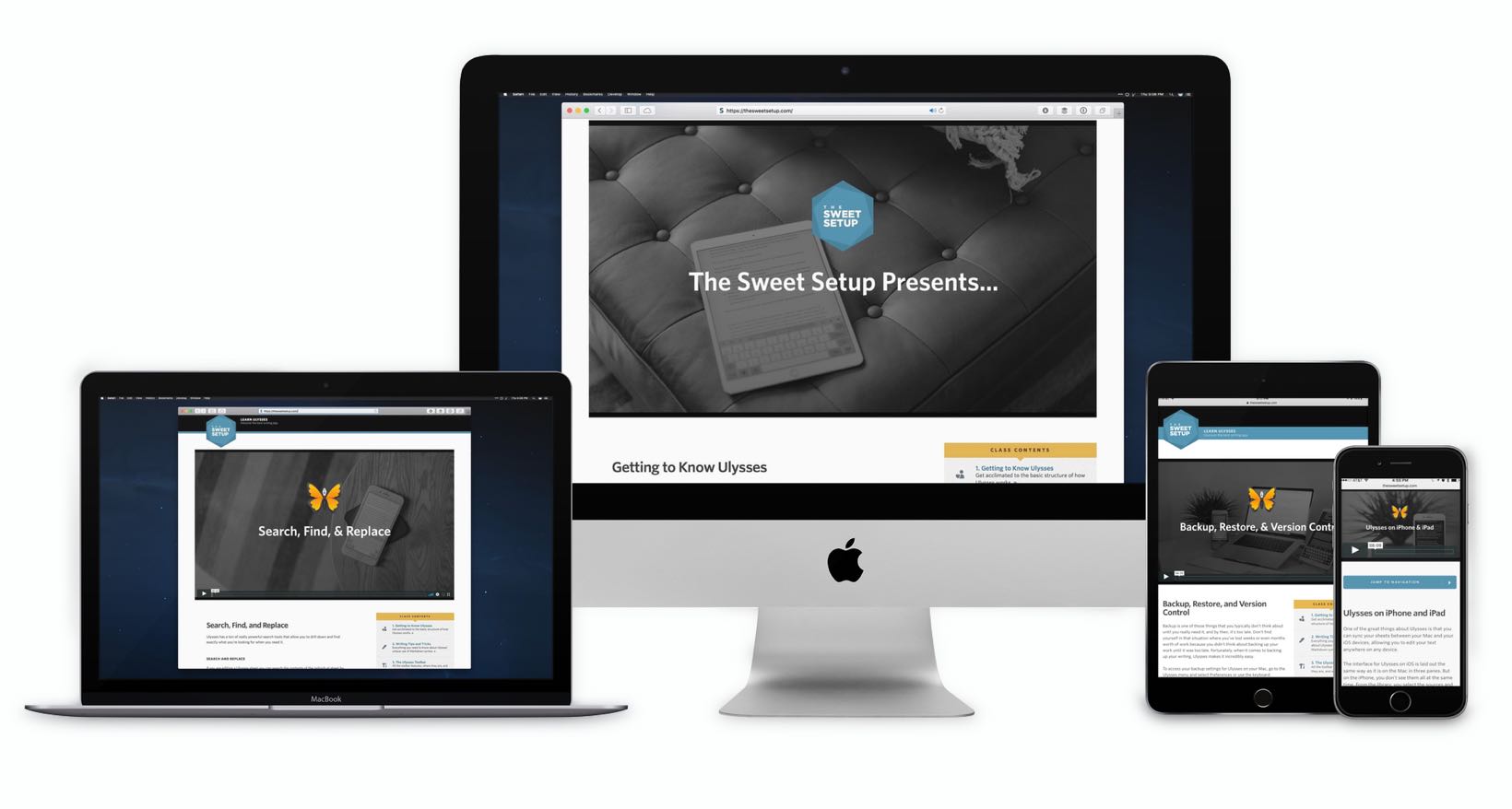 Capture Your Ideas.
Organize Your Writing.
Learn Ulysses is a video course to help you take your notes, ideas, and writing from scattered to structured. With over 3,000 students — it's been tried, tested, and approved.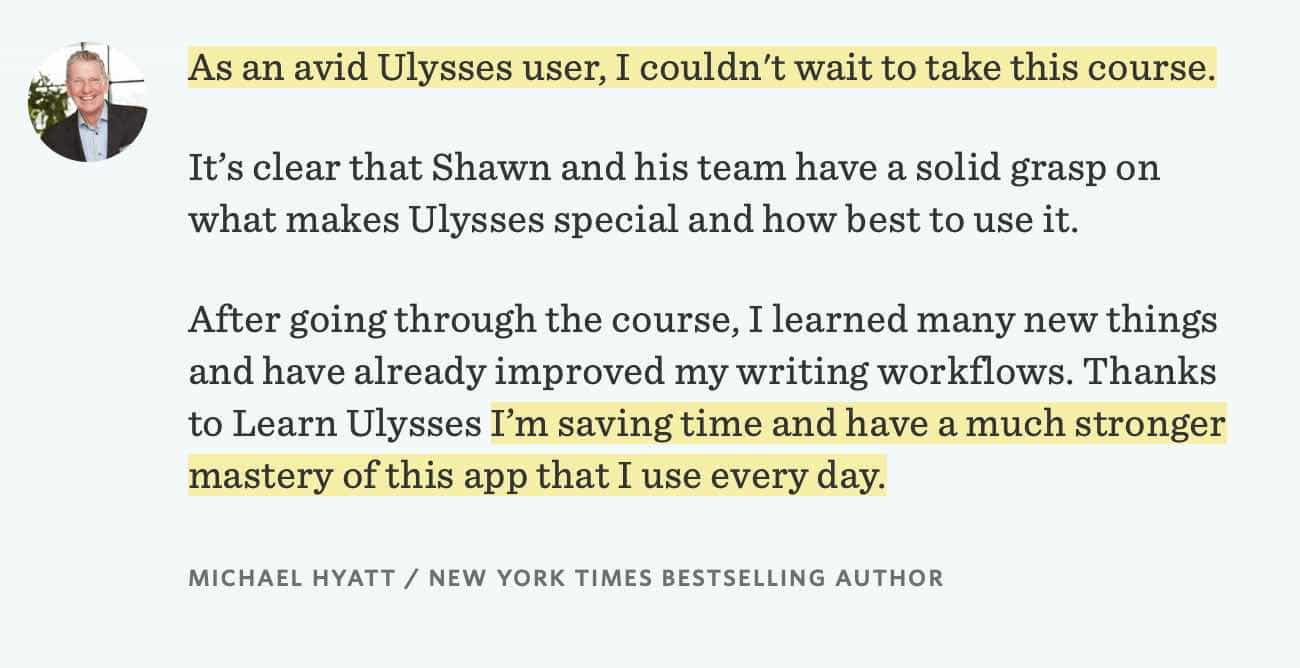 It sucks to have your ideas, notes, and writing all scattered about with things all over the map.
What do you do when you get an idea? Or when you want to write something down, where does it go?
For me, ideas, notes, and writing all used to live in different apps. It was a nightmare. Check it out…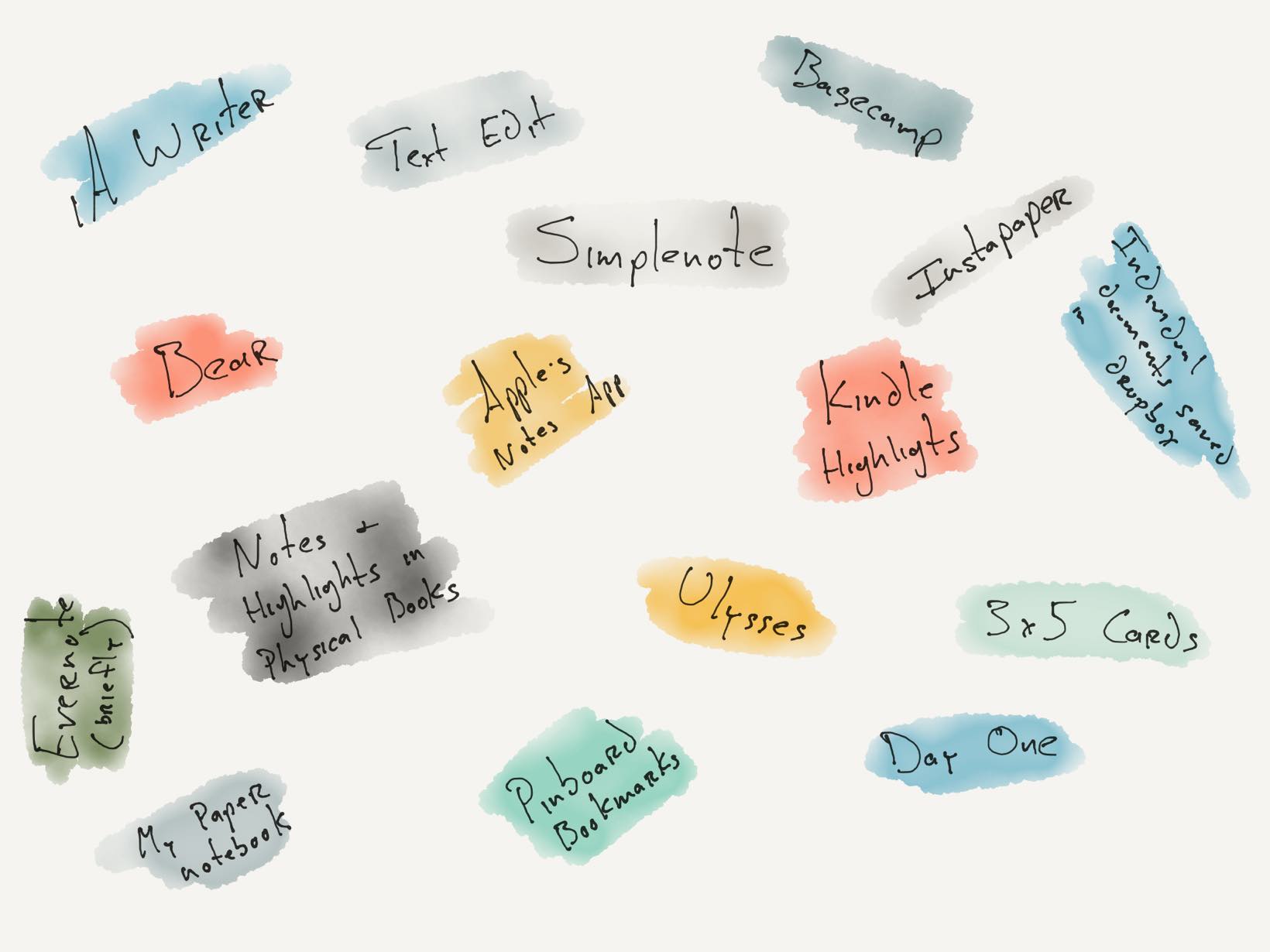 Stuff was everywhere!
As you can see, there were too many note-taking locations. Half the time I didn't know which one to use.
Ideas went wherever I happened to jot them down.
Notes from books I read stayed in the books.
Articles I was writing were saved to whichever writing app I happened to be using that day (could have been iA Writer, Byword, Simplenote, Bear, or whatever else).
This scattered note-taking system was frustrating. It lacked structure and it was super inefficient.
What I needed was a central spot to capture all my thoughts, ideas, notes, and inspiration.
Now, I had known about Ulysses for a while, and had even used it here and there. My impression of Ulysses was that it was just another minimalist writing app like all the others. I viewed it as merely part of the pile of writing apps I had at my disposal.
But then, one day in early 2017, I put everything into Ulysses…
Why? Because I'd seen how someone else was using Ulysses. I discovered new things about how I could organize and structure all my notes, ideas, and writing work. It was liberating, and I haven't looked back.
Stop losing ideas and wasting time.
How many ideas and notes have you lost track of? Or how often do you sit down to write, but just don't know where to start?
Ulysses is the central spot for where I store all my ideas, quotes, inspiration, writing, and research notes. It is also where I actually do all my writing because underneath all that power is a simple and easy-to-use writing app.
Ulysses makes it easy to find and organize all my stuff. This app makes it so simple to go from scattered to structured, and from cluttered to organized.
Having a place for everything, it turns out, is incredibly productive. And when it comes to your writing and your thoughts, you'll also find it brings about more inspiration and motivation…
I would love to help you get there, too.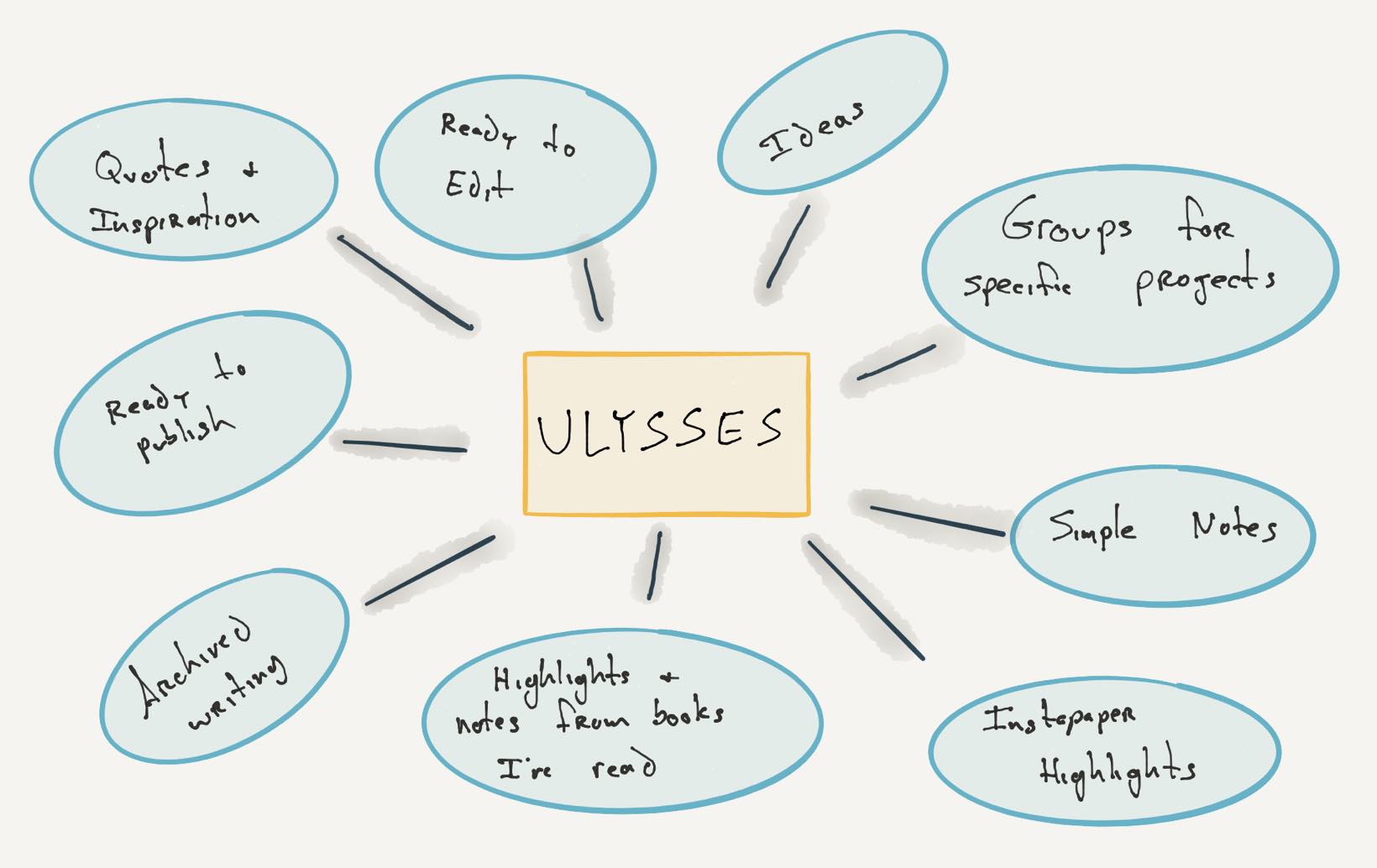 You deserve to be free to focus on your ideas, your notes, your research, and your writing.
You shouldn't be fumbling around, trying to remember which app or folder or even which device has that one thing you were working on the other day.
Ulysses is the best app for your writing, researching, note-taking, and ideas.
And our Learn Ulysses course will help you take full advantage of this award-winning app so you can get on top of things and be more productive.
Save 30% Right Now
Here's Exactly What You'll Get

More than 30 lessons and interviews to help you learn Ulysses. Discover all the ins and outs, plus get advanced workflows, writing coaching videos, and example setups.
Screencast Tutorials for Ulysses:
Meet Ulysses
Ulysses Interface Basics
The Writing Interface in Ulysses on iOS
Markdown 101
Tagging 101
Organizing Your Writing in Ulysses
Finding Things in Ulysses
How Ulysses Can Help You Achieve Your Writing Goals
Smart Copy & Paste
Customizing Ulysses
Backup, Restore and Version Control
Exporting from Ulysses
Publishing to WordPress
Publishing Your ebook with Ulysses (The Video Guide You're Getting)
Managing Writing Tasks in Things
Transferring Handwritten Notes to Ulysses using GoodNotes
Turning Your Ulysses Outline into a Mind Map with MindNode
Quick Capture with Ulysses on iOS
Ulysses and Shortcuts on iOS
Advanced Writing Workflows and Coaching Tips
Keeping Margin for Your Thoughts and Creativity
How to Write with Consistency and Focus
How to Create a Writing Habit
How to Take Notes and Take Action
My Writing Process
Plus: Ulysses Setup Interviews: Get you a behind-the-scenes look at how others are using Ulysses in their day-to-day workflows.

---
As I mentioned above, the reason we are offering this special pricing to you is that it's the same discount we offered our community when the course first launched. I wanted to give you the opportunity to get it at the best price as well, if you're interested.
But we can't keep the offer open forever. If you'd like to get the course at the discounted price, then you'll need to act fast.
30-Day, Money-Back Guarantee
Please take a month to check out the class. If, for any reason, you're not completely satisfied just let us know and we'll be glad to give you a full refund. No questions asked. It's zero risk on your part.
Our work has been featured in, and referenced by sites such as Entrepreneur, The New York Times, Daring Fireball, MacStories, and more…