Three Tips for Setting up Your iOS Email App
September 23, 2020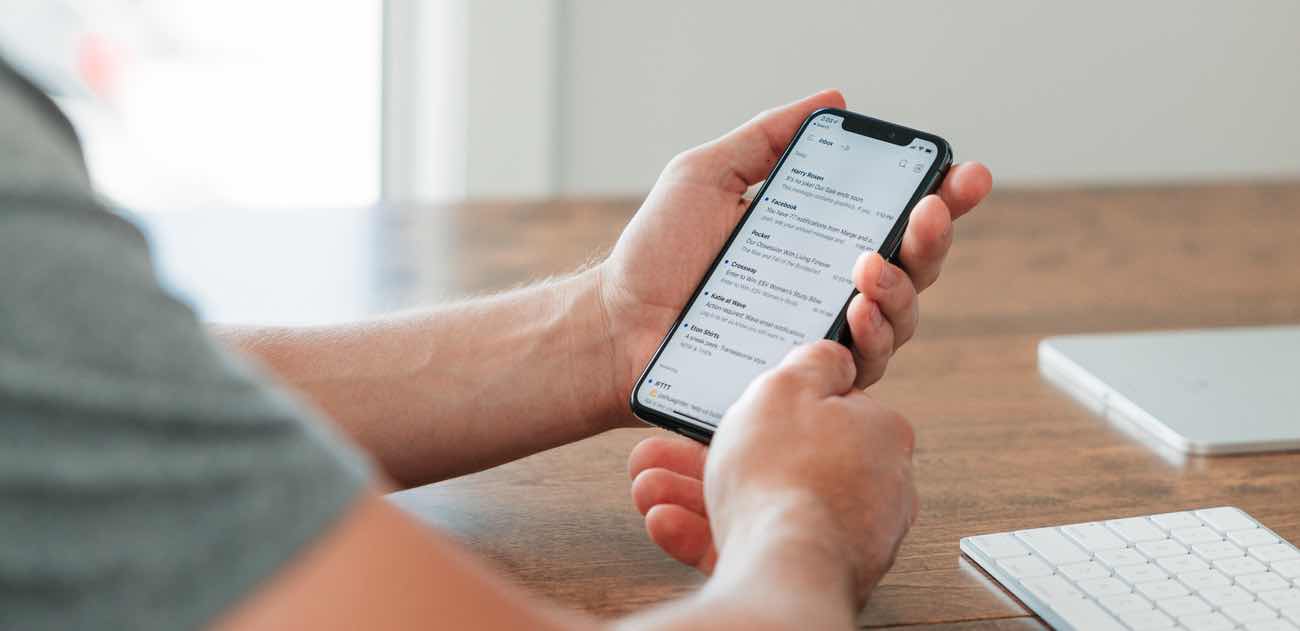 There are a plethora of fantastic email apps on iOS. Last week we posted our updated picks for the best email app on iPad and iPhone, and we created a quiz to help you decide which email app is best for you.
Call me old fashioned, but I personally still prefer the default email app that Apple makes. (Shrugs. Then ducks.)
But! I'm not handing in my Nerd Card. Because even though I use the stock email app (like an animal) I have made a few modifications to my iOS email setup to  make email on my phone faster, easier, less distracting, and … more calm.
I've compiled a few of these tips and tricks here for you in the hopes that you might find them useful and that you too can save some time and be more productive with your email.
Here are quick links the email tips (#3 is my favorite):
Side note: if you like these, you will love our popular Calm Inbox course.
---
---
1. How to Filter your Inbox View on iOS
If your inbox has everything in it, it can be a bit overwhelming. While I think it's best to archive as much as possible, sometimes you want to filter what you are dealing with.
With Inbox Filters on iOS, you can get a list that contains only the unread messages, or only the flagged messages, or only messages with attachments. Etc. Or, you can filter by all of the above…
Most of the fancy and feature-rich email apps make a point of this feature. And it's a good one, and most folks don't realize that Apple's own, built-in email all has it, too.
Here's how to filter your inbox view: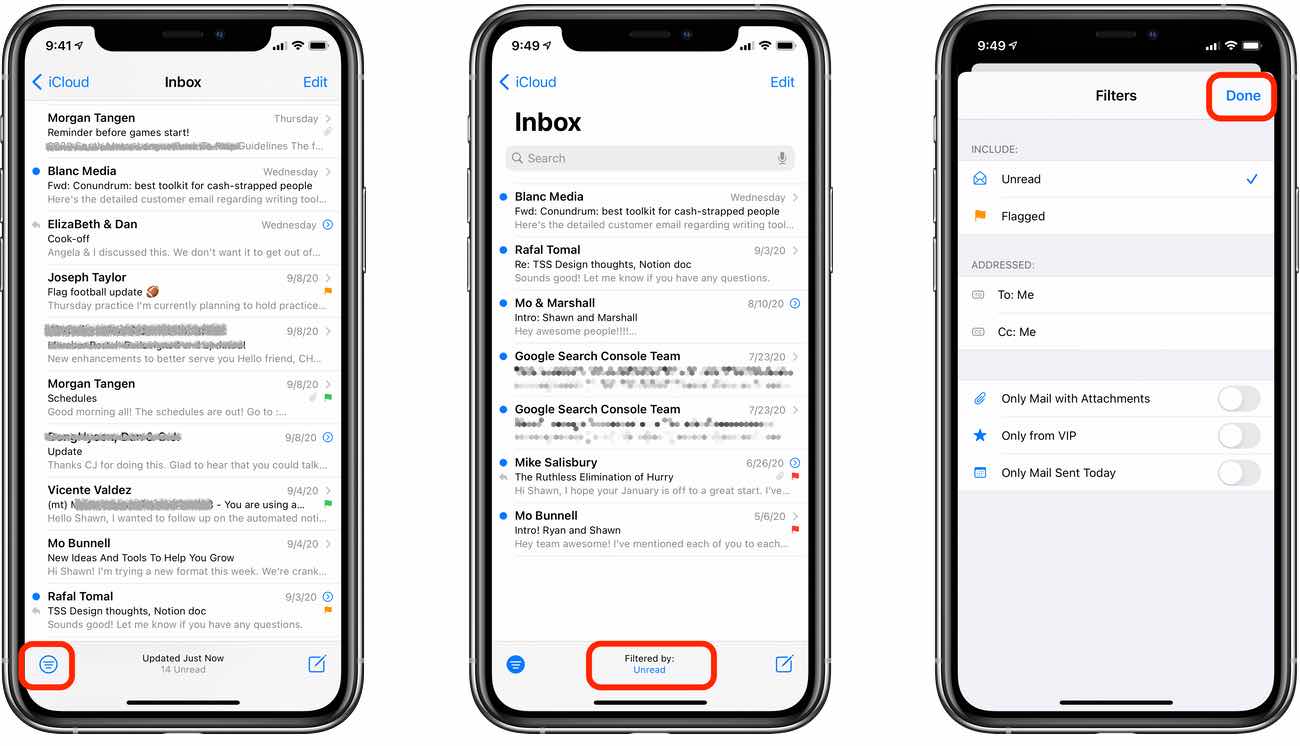 Pictured above, from left-to-right:
From the inbox, tap the "filter" icon button on bottom left enter into the filtered view of your inbox.
Tap the Filter By options in the bottom center to adjust what is and is not filtered.
Adjust your filter preferences if you like in order to show only the messages you are wanting in your inbox right now.
(Note, as we'll get to in tip #3, that there are some built-in Inbox filters already which can show you just messages that are flagged, just those which have been sent today, and more.)
---
2: How to Block Email Contacts From Sending to You Again
Do you ever get cold outreach emails from folks who follow up and then follow up and then follow up again? It's the worst.
There are some services you can use which will eliminate future emails from those folks. For example, SaneBox has what they call the "SaneBlackHole" where you just move a message into that folder and then you'll never see another email from that contact again. And HEY has what they call The Screener, where you have to give approval or disapproval of every new person who emails you for the first time.
These are both pretty cool. But you don't have to use a 3rd-party service or app if you want to block folks from ever emailing you again.
You can block senders from within iOS itself. And your block settings sync across all your Apple devices.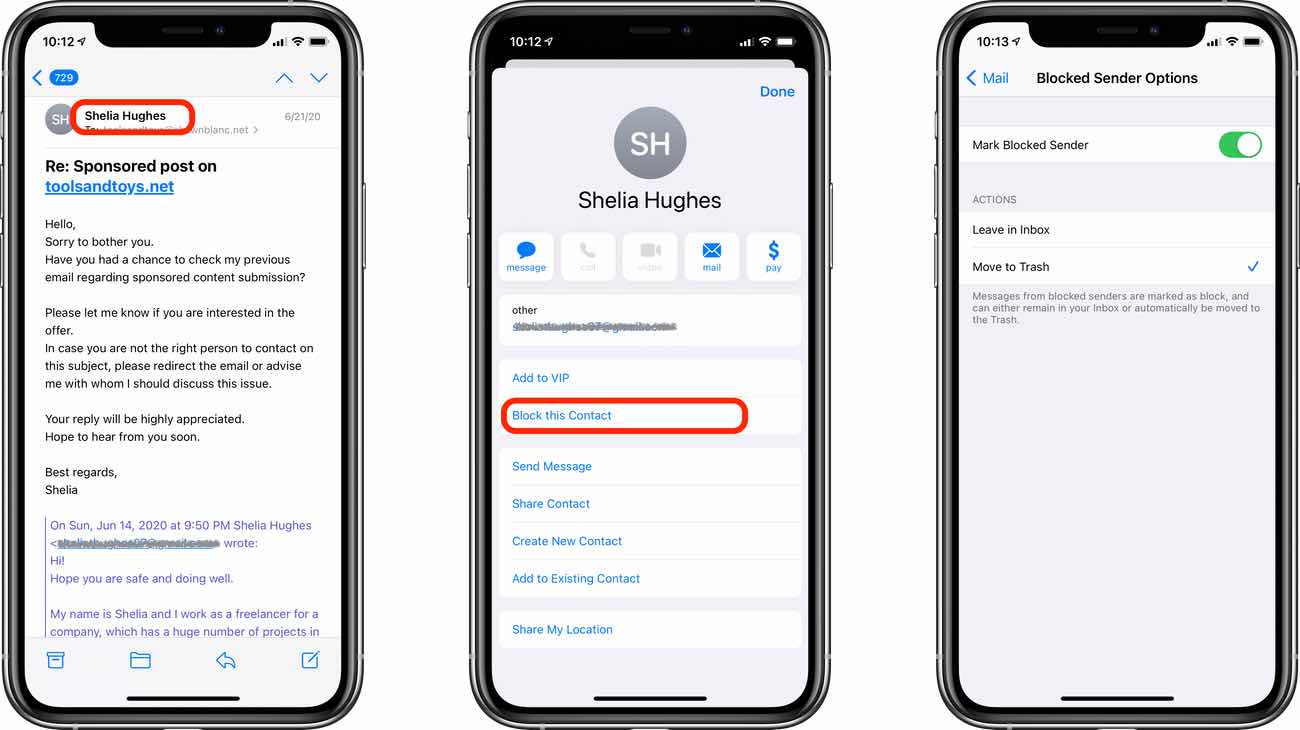 Here's how to block an email address from being able to get into your inbox again:
When you get an email from someone and you just know that they'll probably be emailing you again, and again, and again and you don't want to deal with it, do this to block them:
Tap on their name to bring up the contact info card
Tap Block Contact
Confirm
There are two options for where blocked senders go. You can have their messages still delivered to your Inbox, but with a red, crossed-out circle icon. Or you can have their messages moved to the Trash. I recommend the latter.
To adjust these settings for how blocked senders are dealt with, go to your Settings App → Mail → Blocked Sender Options
Note: While your list of blocked contacts will sync across your devices, the options for how to handle those messages is handled on a per-device basis. So if you want your blocked sender messages to appear in the trash you need to set that option on each of your devices.
---
3. Customizing Your Inbox List (And the glory of the Today inbox)
When you open up your iOS email app, what do you see? Here's what my email looks like:
Notice on the left-hand sidebar of my email inbox list?
Today: My "Primary" inbox is the Today inbox. And all it shows me are the emails which have arrived today.
Flagged: Then I have an Smart Inbox that only shows me the messages I have flagged.
All Inboxes: A combined inbox for all my accounts.
@SaneLater: This is a folder in my email that SaneBox sends newsletters, receipts, and other non-urgent messages.
Then, I have my two primary email accounts (personal and work) folded up and condensed, so I don't see a huge list of every mailbox for each of them.
It's very easy to customize which inboxes and folders you see, and which order they are listed in.
1: Start at the top-most level of the iOS email app: Mailboxes.
2: Tap the Edit button in the top right.
From there you'll see a list of all the various email mailbox types. From the specific inboxes of your primary email account (iCloud, Google, Etc.) to the mailbox for just VIPs, Unread emails only, etc…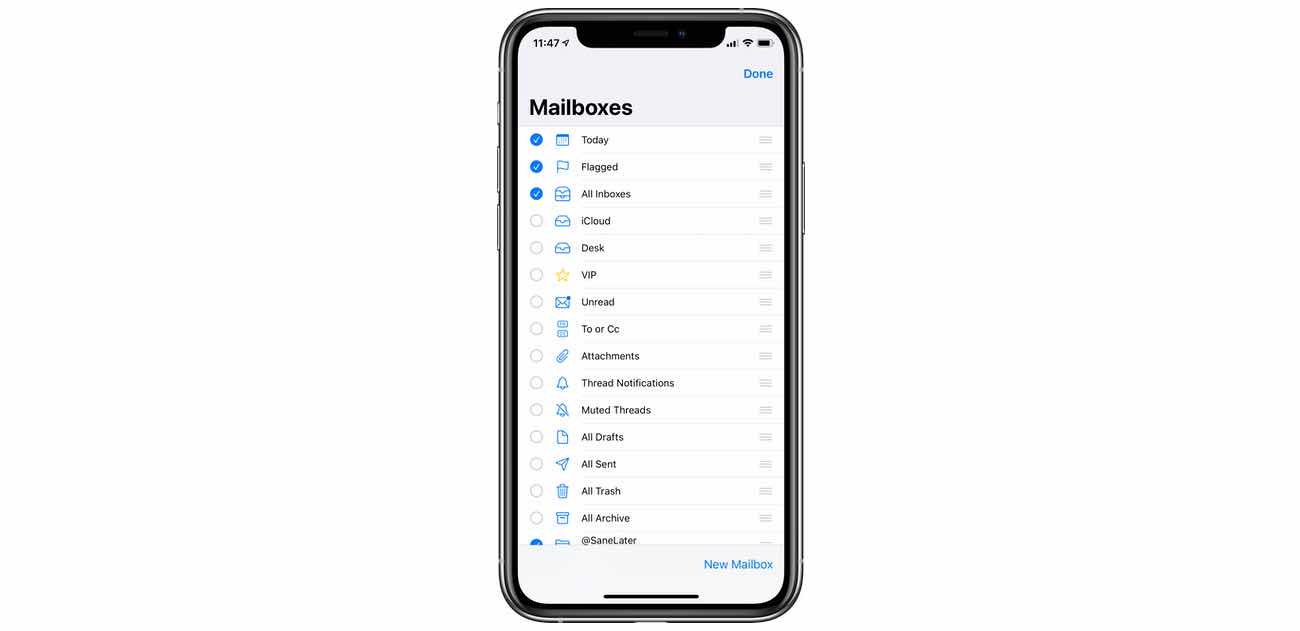 The Mailboxes that Apple Mail offers you are:
All Inboxes
Account Specific Inboxes
Today
VIP
Unread
Flagged
To or Cc
Attachments
Thread Notifications
Muted Threads
All Drafts
All Sent:
All Trash:
All Archive:
3: Toggle the list of mailboxes that you do and don't want to see.
I personally have the "Today", "Flagged", and "All Inboxes" toggled on.
4: Add additional mailbox folders by tapping "Add Mailbox…"
You can also move specific mailbox folders from your individual email accounts up into this list as well. Tap on the "Add Mailbox…." button at the bottom of the Mailboxes list (before your list of specific accounts). Then, tap the account you have a mailbox in, and then tap on the mailbox which you want to be visible in your top-most Mailbox listing.
5: Adjust the order of your Mailbox list
Before you tap "Done", you can rearrange the order in which these mailboxes are sorted. When in the "Editing" mode, just tap and drag on the "handles" on the right-hand side. Then, hit Done and enjoy your personalized Mailbox list.
---
Bonus Tip: How to compose an email without opening up the Mail app
Tired of trying to write an email to someone, but getting distracted by your inbox when you launch the email app? Do this instead…
On iOS, you can Create this Shortcut that is straight-up just a new email. And it brings up the new email sheet wherever you are. Allowing you to compose an email without having to go into your email app if you don't want to.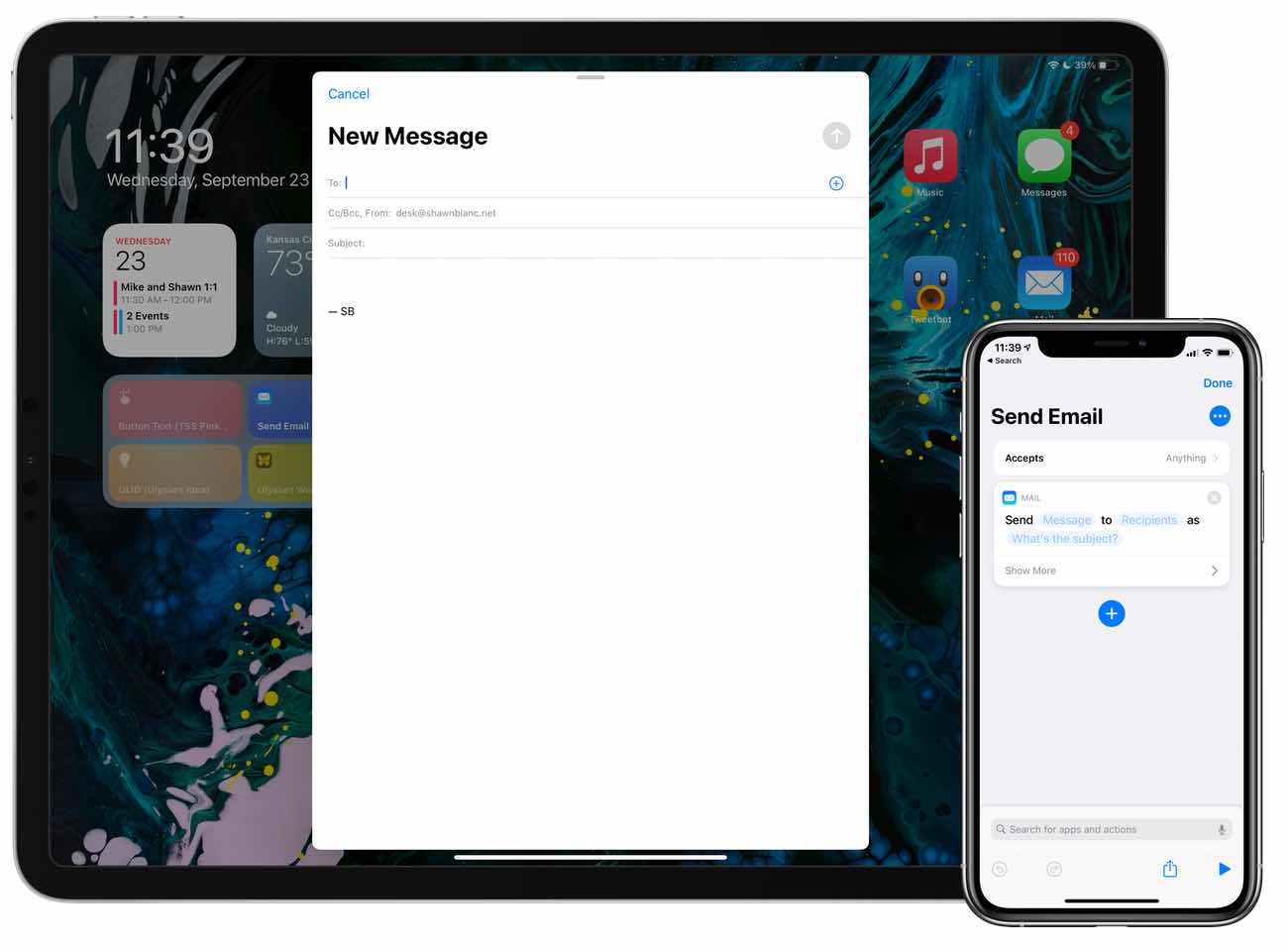 1: Create a Send Email Shortcut
Open the Shortcuts App
Create a new Shortcut titled
Add an Action and search for "Send Email"
Select the "Send Email" action in Shortcuts.
And that's it. That's the whole shortcut.
Save your Shortcut with the Title "Send Email" or "New Email" or whatever makes sense to you.
2: Use the Shortcut to compose new emails
You can have this shortcut exist as its own app on your Home Screen, as a quick-launch action from a widget, or you can launch it from the Universal Search.
When you launch this Shortcut, it will bring up a blank email message without opening up your inbox. And, since it uses your default mail client, you still get access to your list of contacts. Brilliant for sending an email without having to get distracted by what's in your inbox.
---
Make email suck less…
Take our Email App Assessment
Email doesn't have to suck. You can make it suck less by using an app that fits your email needs.
But with so many options, how do you know which email app is right for you?
Find out which email app is best suited for your needs to help streamline your email workflow so you can get back to the things that really important.