A 2-Hour Workshop to Save You Time, Frustration, and Mistakes
⭐️ ⭐️ ⭐️ ⭐️ ⭐️
Average 4.4 star rating. Over 1,500 Customers.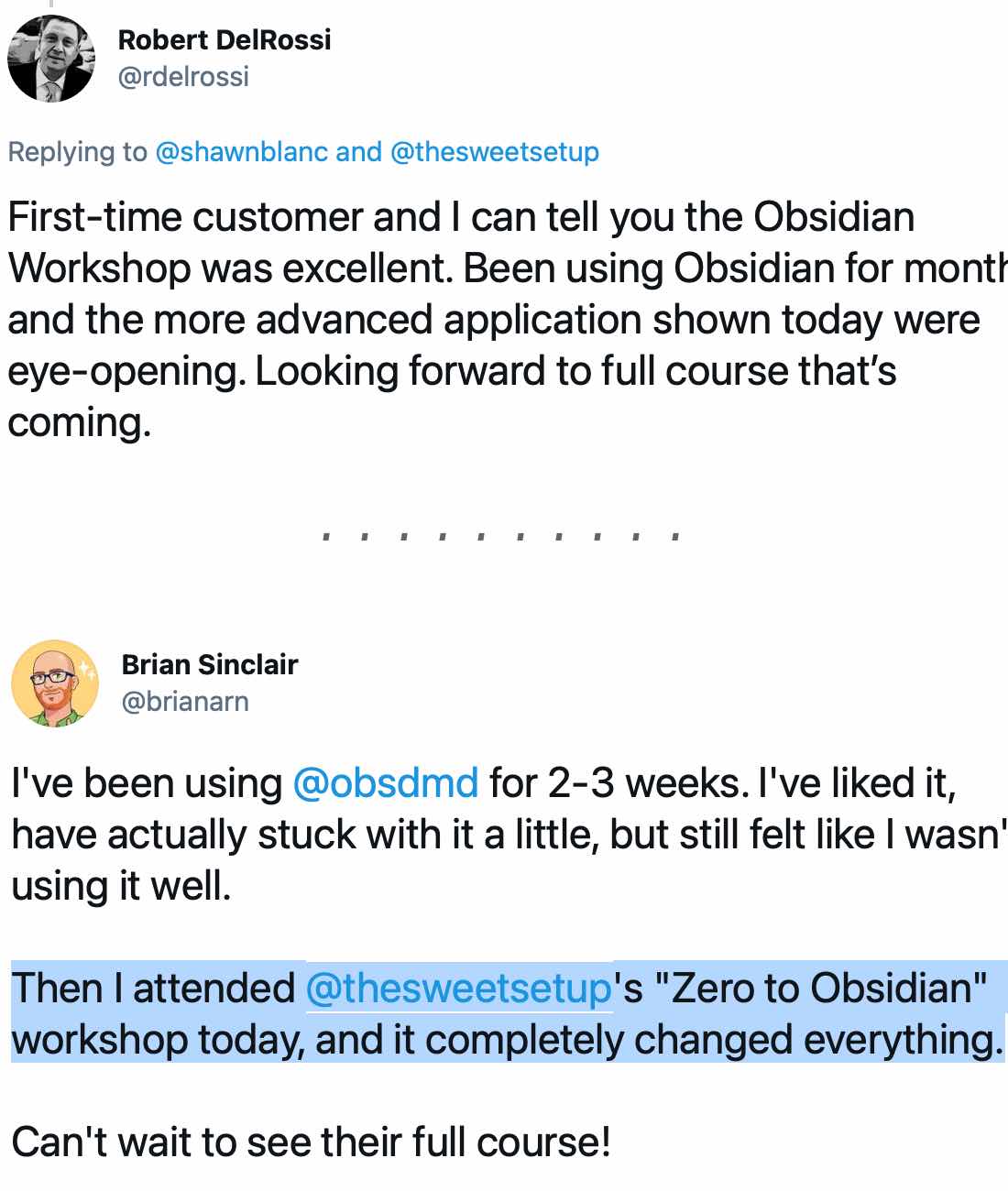 If you've heard of apps like Obsidian, Roam, Notion, and Evernote then you know how powerful and useful they can be.
Especially now, as we are seeing a huge rise in the wave of these powerful note taking apps and the increasing interest in building an "external brain" or a "second brain" and the popularity of Personal Knowledge Management (PKM).
In our experience and extensive research, we believe Obsidian is the best app out there for making, organizing, and connecting your notes and ideas.
Not to mention, the app makers and community behind Obsidian are rapidly developing new features and making the app better every day.
But, as you can imagine, with all that horsepower and functionality, there comes a learning curve.
Shortcut the Learning Curve
Zero to Obsidian is a 2-hour workshop with one goal in mind: to be the fastest way for you to get set up and running with Obsidian.
During this workshop, we have a very focused agenda. We will ensure that you are able to:
Discover your ideal way of using Obsidian, so that it serves your needs.
Get your Obsidian setup singing with the best plugins, themes, and structure.
Dive in with some example workflows, templates, and structures so that you can begin to actually use Obsidian.
After this workshop you will understand what is possible with Obsidian, how it can serve you best, and be set up and ready to use it.
What: In-depth Workshop for setting up Obsidian (Full Session Agenda listed below)
When: Available now, via on-demand video